Last Updated on January 7, 2023 by Soumya
Looking for the best things to do in Portugal? Wondering what are the must sees that you can easily pack into your Portugal bucket list? Musing over what Portugal activities would suit your travel needs?
Well, we have just the perfect travel guide for you here.
Portugal, despite its tiny size, is one of Europe's most beautiful countries. From the history-filled lanes of Lisbon to the tile-adorned streets of Porto and the gorgeous monasteries of Central Portugal, there are umpteen number of fun things to do and see in Portugal. Don't even get me started on Sintra's fairytale castles or Portugal's countless fishing villages and beaches.
As you can guess, this Portugal bucket list is going to be super long. In this comprehensive post, I have listed down 35 amazing things to do in Portugal, best activities that you cannot miss, and must see attractions. If I have missed your favorite Portugal attraction by any chance, do let me know and I will be sure to check it out on my next Portugal trip.
You'll also love:
Top things to do in Portugal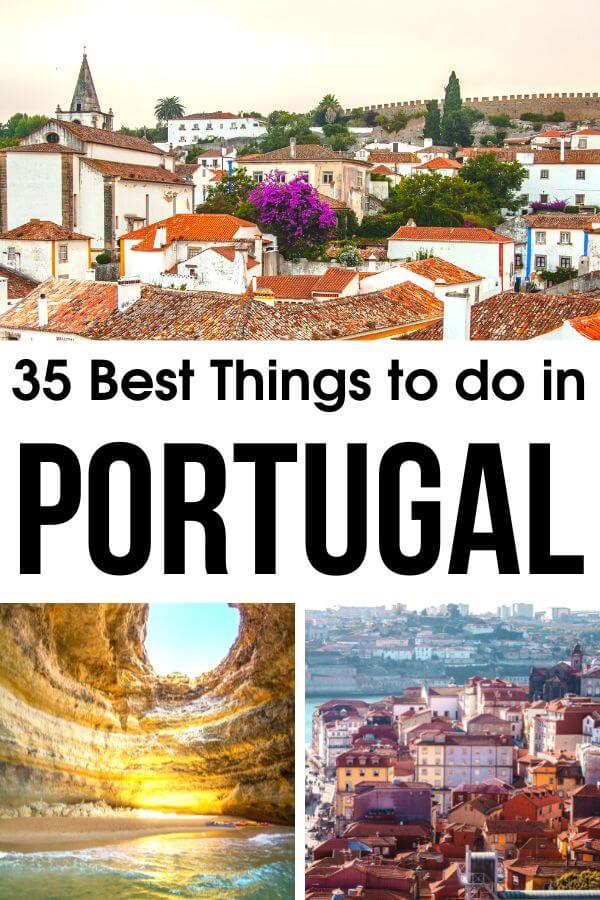 Please note: This post may contain affiliate links which means I may earn a commission if you make a purchase by clicking a link on this post. This will be at no additional cost to you. Affiliate links help me keep this website up and running. Thanks for your support!
Have a Pastel de Nata in Belem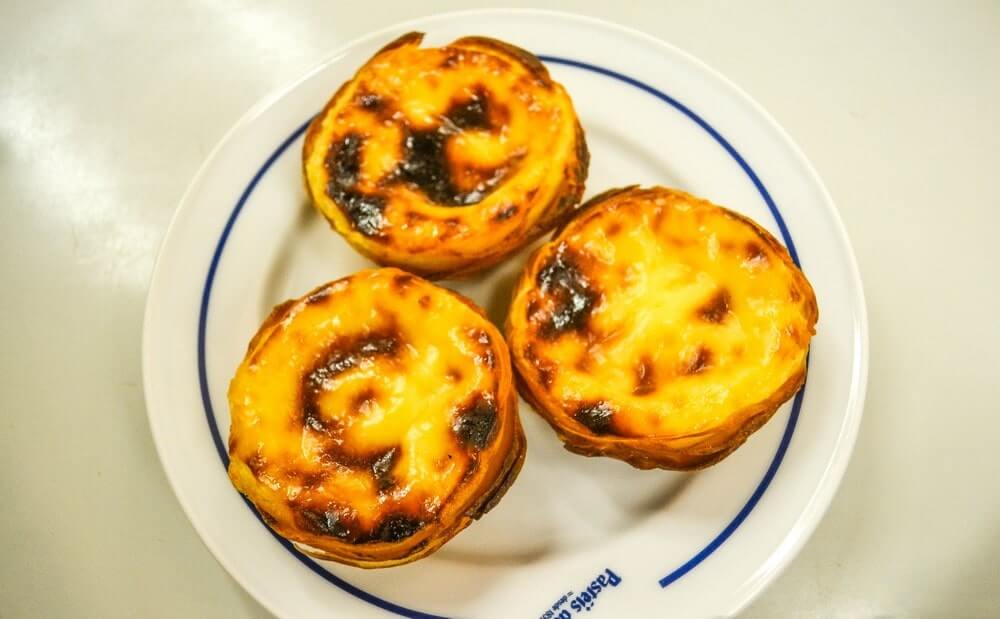 One of the best things to do in Portugal is to head to Belem and have a delicious Pastel de Nata.
Of all the wonderful desserts in Portugal, Pastel de Nata is the most famous. Travelers visit Belem only to have a taste of this flaky, little custard tart that is delicious and crunchy.
The Pastel has an interesting history. Monks of the Jeronimos Monastery invented this sweet in the 18th century under very interesting circumstances. After starching their clothes with egg white, a lot of egg yolk of would remain. The monks decided to bake these leftover egg yolks into custard tarts. And the famous Pastel de Nata was born!
Today, the Pastel is a celebrity in its own right. An old bakery by the same name sells thousands of tarts every single day. And people line up outside to get their share. Pastel de Nata is not just a dessert, it's an emotion in Portugal!
Walk through the quaint lanes of Alfama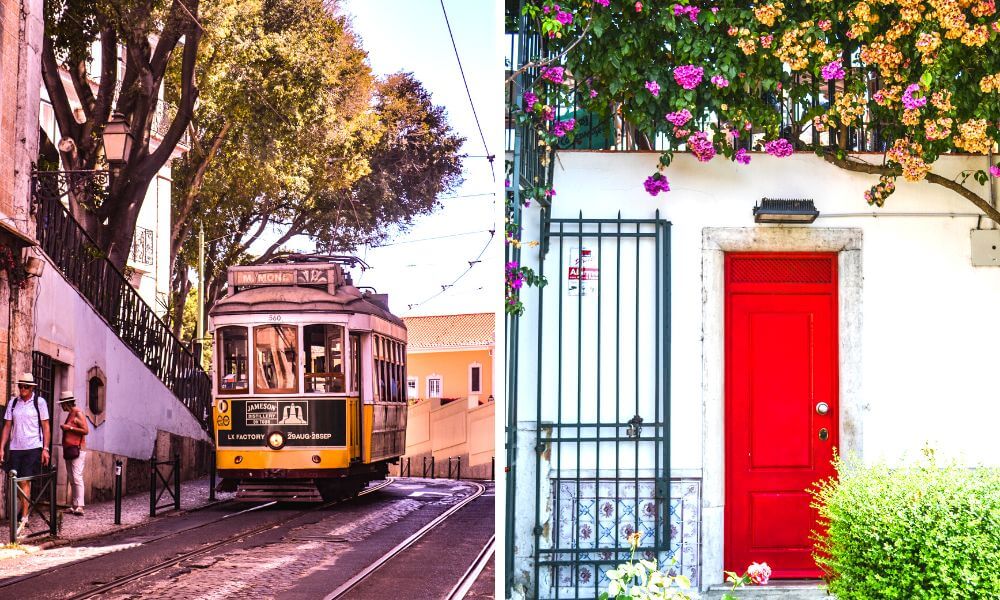 Alfama is one of Lisbon's most beautiful and photogenic neighborhoods. It is steeped in history because it was once inhabited by the Romans. Later, the Moors occupied it and named it al-hamma, a place filled with hot water fountains.
Pastel colored houses and narrow, winding lanes make Alfama one of Lisbon's most charming attractions. Walking through the cobbled streets of Alfama is one of the best activities in Portugal and an integral part of all Portugal tours.
So, put on a decent pair of walking shoes and explore Alfama on your own or on a walking tour with a local tour guide. Visit the Lisbon Cathedral, marvel at the views from St. George's Castle, learn all about the history of Fado, and click away at the picturesque streets and pastel homes.
Take a nostalgic tram ride in Lisbon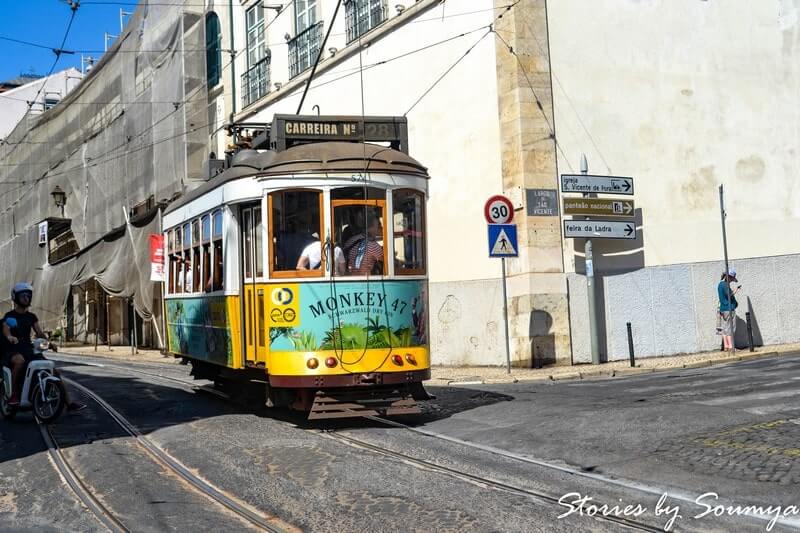 Riding a classic tram through the narrow, winding streets of Lisbon is a must have on every Portugal bucket list.
The most popular choice is Tram #28 which passes through the scenic neighborhood of Alfama as well as the touristy districts of Baixa, Estrela, and Graca. #28 trams are vintage Remodelados models and some of them still retain many features from the 1930s such as wooden interiors and brass handles. Riding on a 28E is like taking a walk through Lisbon's history.
One quick thing – Tram #28 can get extremely crowded during the day because it is so popular. Be sure to reserve your spot here or ride the more offbeat tram #24 which passes through the Church of Sao Roque, Sao Pedro de Alcantara viewpoint, and the Lisbon Botanical Garden.
Visit the fairytale Pena Palace in Sintra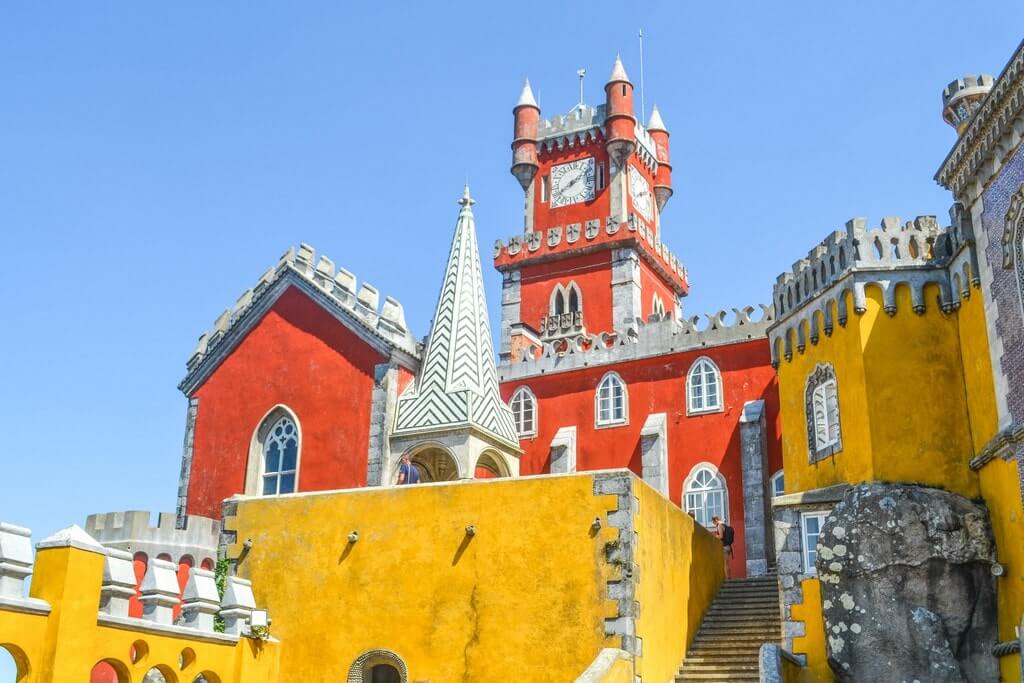 One of the top things to see in Portugal is the Pena Palace of Sintra. It is one of Europe's most-loved fairytale castles. Rich, colorful, flamboyant, sometimes garish, but never dull – that's Pena Palace for you!
King Ferdinand II built the Pena Palace in 1854. After that, several ornaments and symbolic elements were added for many years. This led to Pena Palace becoming a fusion of several architectural styles including neo-Gothic, Moorish, Renaissance, and Romantic.
Highlights of a trip to Pena Palace include the terraces and the gardens. Do not miss the ornate royal rooms decorated with gorgeous stucco art.
And be sure to get some beautiful pictures with the yellow and the red walls. You'll have to come in pretty early for that because the palace gets very crowded from 10:00am – 3:00pm.
Listen to Fado
Fado is a music genre that developed in Portugal in the early 1800s! Songs of fate, melancholy, loss, love, and longing define the essence of Fado. This popular musical genre was added to UNESCO's list of Intangible Cultural Heritage in 2011.
As it follows certain traditions and tunes, Fado is an extremely important part of Portuguese cultural heritage and is celebrated in festivals, parades, and so on. But you can actually hear locals sing the sorrow songs in any city and probably in any neighborhood. Ask any local, and they would have a piece up their sleeve in moments!
Taste wine in Douro Valley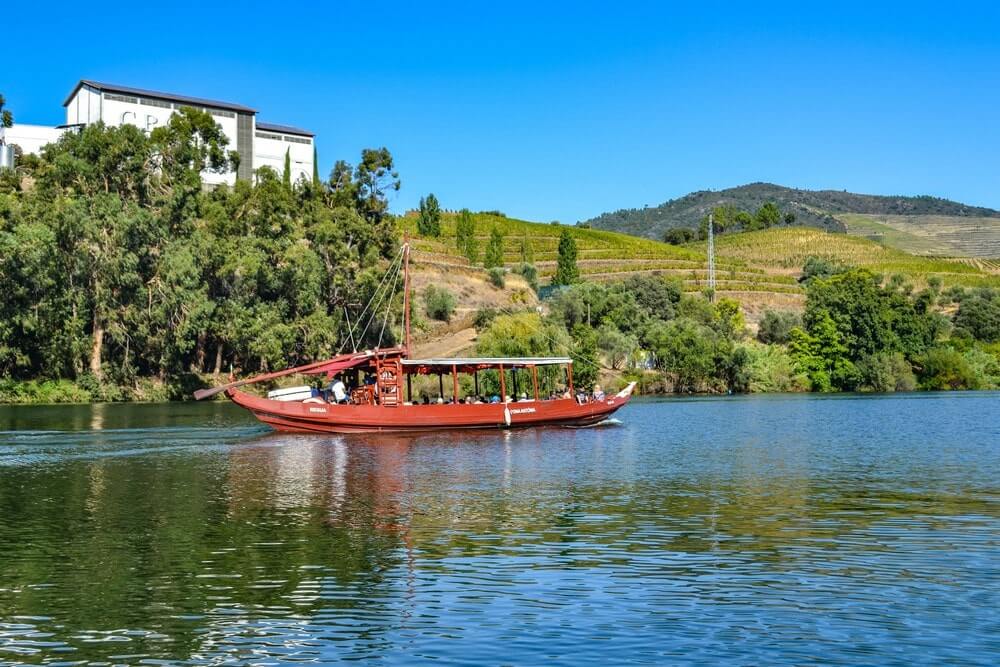 After trying out new flavors and checking your knowledge of drinks in Douro Valley, no other wine tasting will compare! This experience is a once-in-a-lifetime special.
A Douro Valley tour from Porto that includes wine tasting, cruise, and lunch is the best way see Douro Valley. You can also visit Douro Valley by train on your own and check out wineries in Pinhao.
Relax in the sun with delicious Portuguese treats and a light buzz from the wine, all while looking at the most stunning scenic landscapes, green endings, and lovely villages. The locals are incredibly proud of their world-class wine and long-going traditions for this craft. As they should be!
Visit the Sanctuary of Fatima
One of the best things to do in Portugal is to visit the Sanctuary of Fatima, an important pilgrimage center for Catholics around the world.
The Sanctuary or the Shrine of Our Lady of Fatima is home to the Chapel of the Lausperene where several Marian apparitions appeared in 1917. 3 shepherd children, Lucia, Francisco, and Jacinta had these visions where multiple prophesies including one about the Second World War were revealed.
Today, Fatima is a popular religious destination and sees more than 4 million pilgrims every year. On this full-day private excursion to Fatima from Lisbon, you can visit the sanctuary as well as the house of Lucia, Jacinta, and Francisco, the kids who experienced visions of Our Lady.
Go on a whale watching expedition in the Azores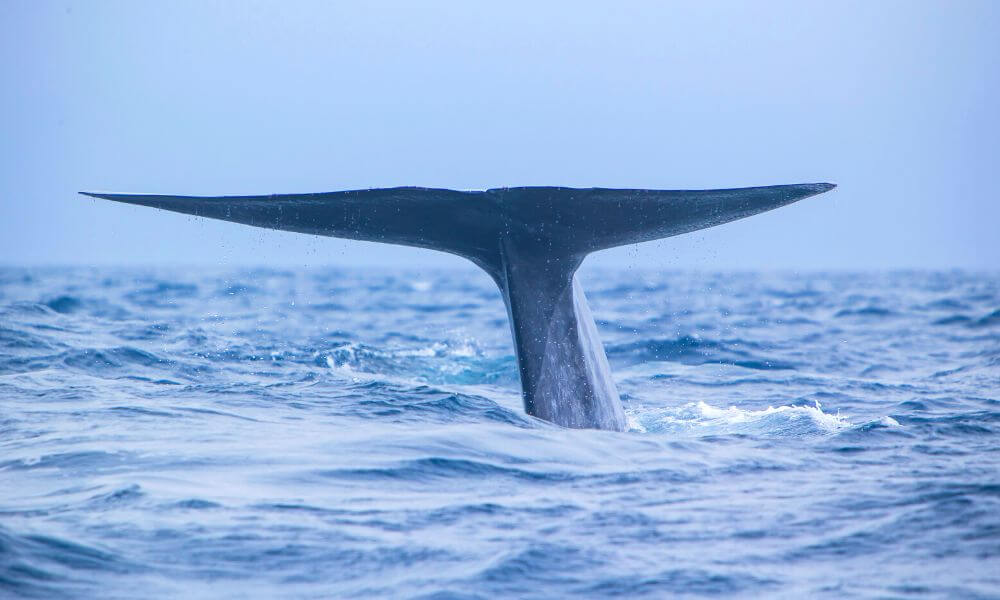 Looking for an adventurous and fun activity in Portugal? Try whale watching in the Azores.
Apparently, the group of islands at Azores is one of the best places to whale-watch in the whole world. Some of the most frequently sighted whales in the region are the sperm whale, the blue whale, the fin whale, and the pilot whale. The best time to see whales in the Azores is between April – October.
When visiting Portugal, you can join an exciting marine tour like this one where you will learn all about cetaceans from a biologist guide, watch whales and dolphins, and enjoy an exciting day at the sea.
Swim with dolphins in Madeira
Now that you have done some whale-watching, how about swimming with dolphins in Portugal? Madeira offers an amazing opportunity to swim with dolphins.
Swim with these majestic creatures in the crystal clear waters of Madeira, their natural habitat. The waters around Madeira are believed to have one of the largest concentrations of dolphins in the sea. Needless to say, chances of spotting dolphins are almost 100%.
Explore Benagil Sea Cave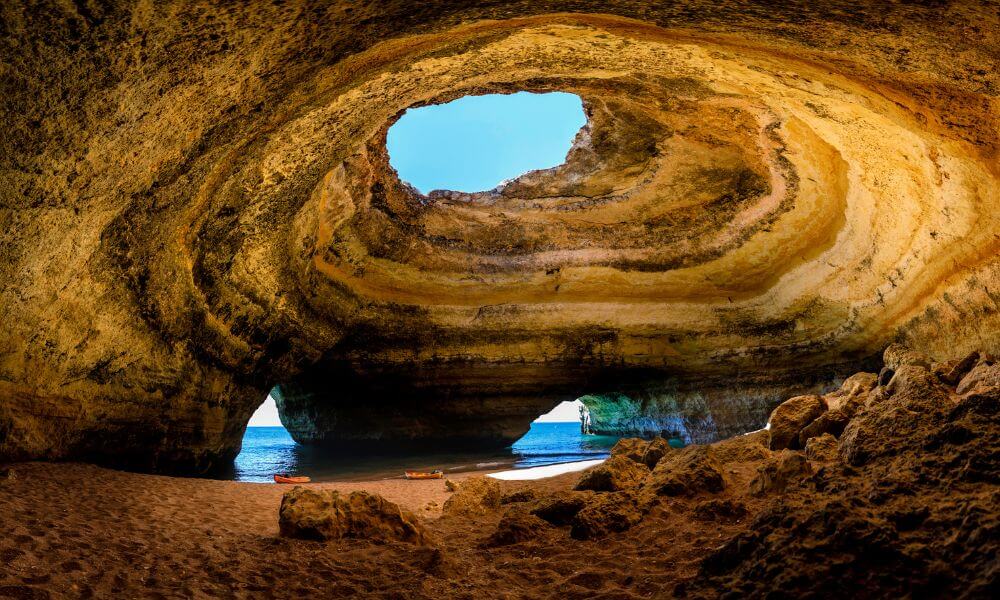 A perfect destination for nature lovers, the Benagil Sea Cave, located in the region of the Algarve, is a remarkable grotto with a hole in the ceiling, known as "the eye."
Located on the coastline, the cave is only 15 minutes away from the city of Lagoa and about 25 minutes from Portimao. You can explore the cave's exterior from the beach. But if you want to see the inside, which is the most interesting part, you will have to access it by sea. And that means you will have to kayak, paddleboat, or simply swim the distance to the prize!
Another great way to get there is on this speed boat tour from Portimao. On this highly-recommended tour, you'll visit the famous Bengail caves, admire stunning views of the Algarve Coast, make a short swimming stop, and watch a spectacular sunset.
Hike in the Alentejo
Filled with rolling hills and abrupt cliffs, Alentejo has some of the most beautiful outdoors. A part of the Rota Vicentina hiking routes, Alentejo has one of the best trails you can imagine. Look up the Fisherman's Trail, one of the most popular routes in the country!
Pristine beaches, dark, rugged cliffs, and baby-blue water dominate the landscape. The sceneries on all sides will make you forget all your worries. Get ready for a long journey – if you decide to complete the whole route, it will take you about 10 days!
Enjoy a 6-bridges cruise in Porto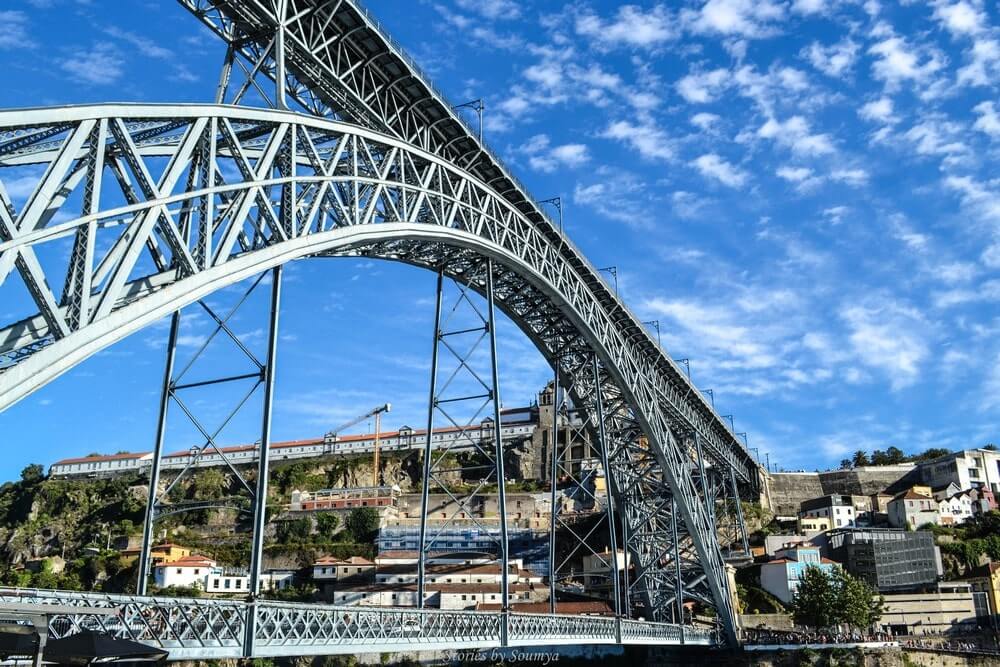 One of the best things to do in Porto is to cruise down the Douro River and enjoy the sights along the riverfront. The most popular cruise is the 6-bridges tour that takes you under 6 iconic bridges of Porto.
You'll begin the tour at the historic center on a traditional Rabelo boat once used to transport wine barrels. First up will be the famous Dom Luis I bridge built by a student of Gustav Eiffel. Then, you'll see and hear about Ponte de Infante, Freixo Bridge, Ponte da Arrabida, and a couple of other bridges of Porto.
All in all, the cruise is an enjoyable experience because it allows you to see Porto from the water. Be sure to carry your camera so that you can get some amazing pictures of the waterfront.
Cultural things to do in Portugal
Explore the unique museums of Lisbon
One of the most interesting facts about Lisbon is that it is home to an eclectic collection of museums. They have museums for art, history, architecture, tiles, design, Fado, coaches, and so much more.
Some of my favorite Lisbon museums are the National Azulejo Museum, Museu do Fado, and the Coaches Museum.
The National Azulejo Museum has an exquisite collection of Portuguese blue tiles and traces the history of azulejos. At the Coaches Museum in Belem, you'll find ornate royal carriages from the medieval times. And at the Fado Museum, you'll learn all about Portugal's soulful music genre.
Lisbon's museums, in my opinion, give you a deep dive into Portuguese history like nothing else does.
Walk down mysterious initiation wells of Quinta da Regaleira
Of all the wonderful castles and palaces in Sintra, Quinta da Regaleira is the most mysterious.
It was built in early 20th century by a rich Brazilian businessman, Carvalho Monteiro, as an enigmatic building where he could display items representing his beliefs and ideologies. Over time, Quinta da Regaleira came to house several symbols of Freemasonry, alchemy, and the Templars.
It is believed that the mysterious spiral wells of the Quinta (that draw hundreds of tourists today) were the location of Templar initiations in Sintra. Walking down these eerie initiation wells is an experience to remember and an absolute must do in Portugal.
Whether you visit Quinta da Regaleira on a guided tour from Lisbon or explore it on your own, the secrets of this medieval castle will definitely excite you.
Explore unique Manueline architecture in Belem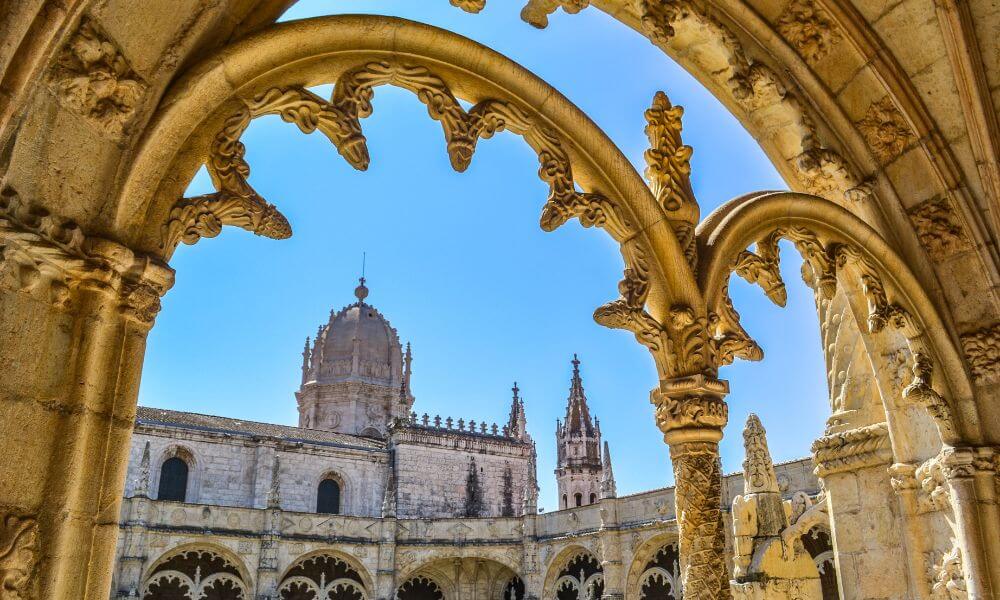 During the Age of Discoveries, a rich and elegant architectural form took birth in Portugal. It was called Manueline Architecture, named after King Manuel I who ruled Portugal at the time.
Manueline architecture was characterized by elaborate stonework featuring vivid ornamental designs. Artists drew inspiration from maritime voyages and religious themes. You'll find an abundance of anchors, ropes, shells, aquatic plants, and animals which gives the basic Gothic structures a completely new look.
The best place to experience the beauty of Manueline architecture is Belem, of course. Jeronimos Monastery and Belem Tower are two classical structures that feature stunning Manueline ornamentation in stone. Be sure to check out the numerous nautical motifs such as thick ropes, anchors, and armillary spheres.
By the way, the first ever monument to be constructed in the Manueline style was the Monastery of Jesus of Setubal that you can easily combine with a private wine tasting tour of the Setubal region.
Dig into Portugal's fishing tradition at Fonte de Telha
Portugal has a long history of fishing because of its long coastline. Apparently, Portugal had a host of fishing and garum (a kind of fish sauce) processing facilities during the Roman times. Ancient Lusitanians made garum here and exported it to Rome.
No doubt, Portugal has a long tradition of fishing of which tourists can get a sneak peek at the charming beach town of Fonte de Telha. The fishermen of Fonte de Telha still use traditional fishing techniques such as the xalavar which comprises of conical shaped net bags tied with long ropes. Fonte de Telha also boasts of splendid beaches and great seafood.
Visit the world heritage site of Evora
Evora is one of Portugal's prettiest and most iconic historic cities. The old town is a UNESCO world heritage site that boasts of a really long history that dates back to the Roman era. Then came the Moors and then a long line of Portuguese kings.
It was during the reign of the Portuguese that Evora rose to prominence and became a center of cultural excellence. Churches, monasteries, and palaces sprung up everywhere.
Today, Evora is one of Portugal's best tourist destinations with lots to do. Be sure to check out the ancient Roman forum, the Evora Cathedral with Gothic cloisters, and the Evora University which are some of Portugal must sees.
Do a special food tour in Lisbon
Foodies are going to love Lisbon because of the amazing eating options it provides.
Lisbon is not just the Portuguese food hub of the country but also the best place to try ethnic cuisines such as Angolan, Mozambican, Brazilian, and Sichuan. From quaint family-run eateries to tiny hole-in-the-wall bars and huge seafood specialty restaurants, Lisbon has everything.
Some of the must-try dishes in Lisbon are Bacalhau or salt cod, a juicy and meaty sandwich called Bifana, seafood, and a delicious liqueur called Ginjinha. A good idea to taste all of Lisbon's delicacies is to join a highly-rated food and wine tour like this one where you'll not only enjoy the distinct flavors but also learn about the culinary history of Portugal.
Spot Azulejos in Porto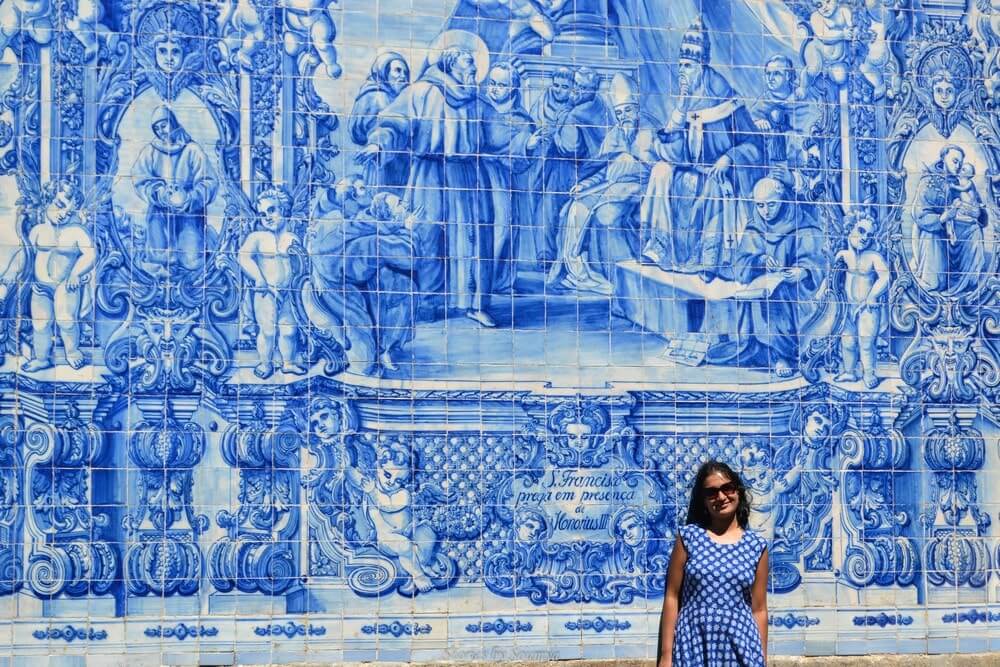 Azulejo spotting in Porto is one of my favorite things to do in Portugal.
The northern city of Porto is full of stunning blue facades covered all over by azulejos, Portugal's famous blue and white tiles. Be it churches, offices, homes, or even train stations, you'll find azulejo walls everywhere in Porto. And every wall has a different story to tell.
One of the best azulejo panels is that of Chapel of Souls (Capela de Almas) at Rua de Santa Catarina. More than 15,000 blue tiles adorn the outer wall of the chapel. They depict the life and death of St. Francis of Assisi and the martyrdom of St. Catherine. You'll find other pretty blue walls at the Church of St. Ildefonso, Church of Carmo, and Sao Bento train station.
Visit the oldest university of Portugal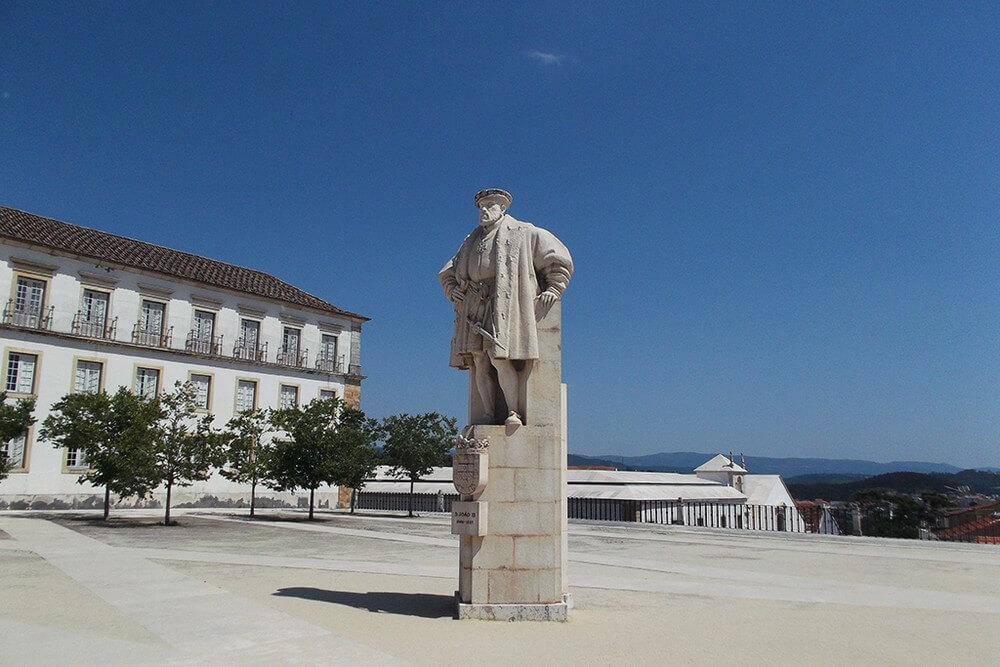 How about visiting the oldest university of Portugal which is also a UNESCO World Heritage Site? Head to Coimbra for a day and tour the University of Coimbra.
Built in 1290 CE, Coimbra University is Portugal's oldest educational institution. Coimbra was the capital of Portugal from 1139 – 1260 CE when it was replaced by Lisbon. It was then that the University of Coimbra was built, cozily housed in the royal palace.
Imagine a university in a palace complex. Think about all the opulent designs and the gorgeous architecture that it might have. Well, Coimbra University is exactly like you imagined.
Some of the most remarkable buildings to see at the university are the Royal Palace, the Cathedral of Santa Cruz, and the Chapel of Sao Miguel. Do not miss the baroque Joanine Library which is said to have inspired the famous Hogwarts library in Harry Potter.
Dig into the Roman ruins of Conimbriga
Did you know that Portugal has some of the most impressive Roman ruins in the world? Yes, you heard me right. Not very far from Coimbra, you'll find the ancient Roman town of Conimbriga with its exquisite collection of Roman mosaic floors.
Conimbriga has a long history. Celtics inhabited this land in the 7th century BCE after which it was taken over by Romans. The Romans left when German Suevi tribes attacked in the 5th century. However, they left behind a beautiful legacy of Roman homes decorated with colorful mosaics.
Highlights of a Conimbriga tour include the forum, amphitheater, the public baths, and of course the mosaics at the House of Fountains & the House of Swastika.
Step into two heritage monasteries on the same day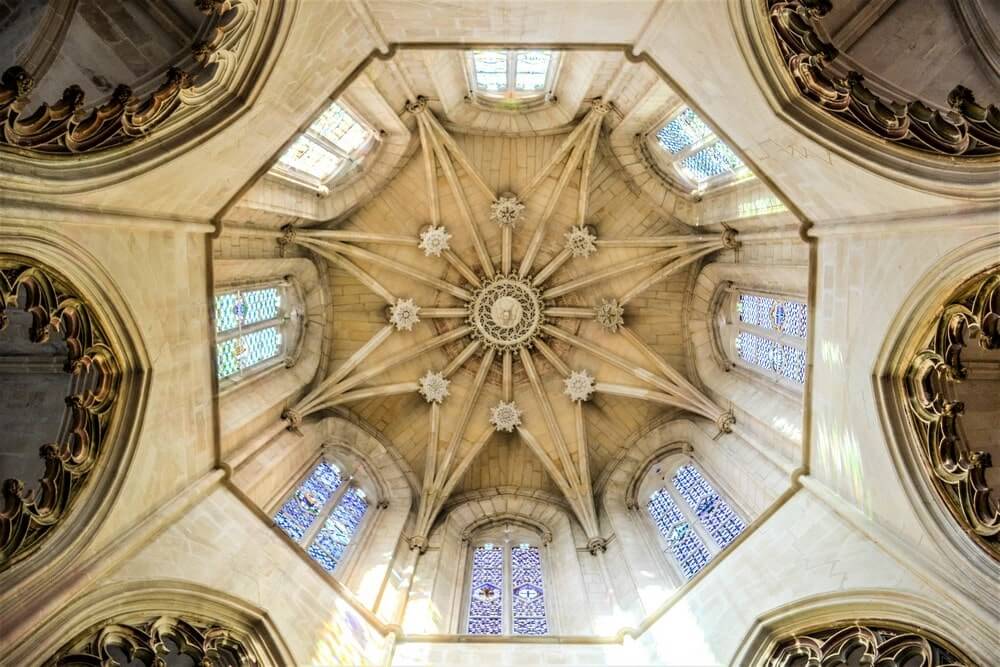 Centra Portugal is full of beautiful monasteries. The best part is you can visit two of the most amazing monasteries, Batalha and Alcobaca on a day trip from Lisbon. Or maybe even combine the convent of Tomar with the two monasteries in a tour like this one.
Both Batalha and Alcobaca are stunning examples of Gothic architecture mixed with stunning Manueline elements. At Batalha, you'll see the Royal Cloisters, the tomb of Henry, The Navigator, and an eerily-beautiful unfinished chapel. This monastery was built in 1385 CE to commemorate Portuguese victory at the Battle of Aljubarrota.
On the other hand, Alcobaca was built in 12th century and was Portugal's first ever Gothic structure. Highlights at the monastery include the graves of King Pedro I and his lover, Ines de Castro.
Visit Tomar
This charming historic city of Portugal is best known for Convento do Cristo, a Catholic Convent. The convent was once a stronghold of 12th-century Templars.
Tomar is loved by history buffs and movie enthusiasts who love a good historical mystery, especially ones surrounding stories and legends about Knight Templars. Apart from the convent, you can also visit the lively Republica Square with the Church of St. John, the Baptist, Church of Santa Maria do Olival, and the Matchbox Museum.
Visit the Anchors Cemetery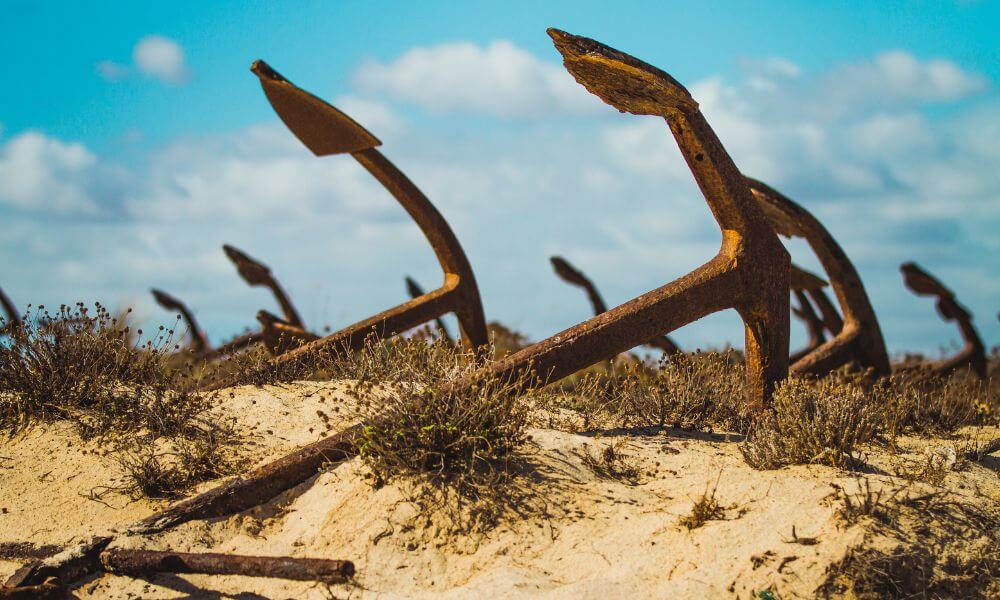 Yep, this is exactly what it sounds like! In the region of the Angra do Heroismo in Azores lies the subaquatic archeological site of large anchors in sand.
According to historians, back in the day, traveling by boat and trying to win the waters was very unsafe and difficult, resulting in multiple shipwrecks. Many crews lost their anchors to the fury of storms, and to commemorate all the ships that sank, people kept retrieving anchors and collecting them into what is now known as the Cemetery of Anchors.
Discover different sides of Braga
Braga is one of the oldest cities in Portugal. It is more than 2000 years old and has everything you would expect from a city of this age and importance. The ancient feel when you walk the streets, the stunning intricate architecture, and delicious traditional food – all of it fits into Braga.
However, do not think that Braga is quiet and, at all-times, serene. There are fun bars, loud clubs, and underground entertainment establishments right here. Discover the perfect mix of past and present in Braga to spice up your Portugal itinerary. A tourist by day, a merrymaker by night? Why not?
Spot street art in Lisbon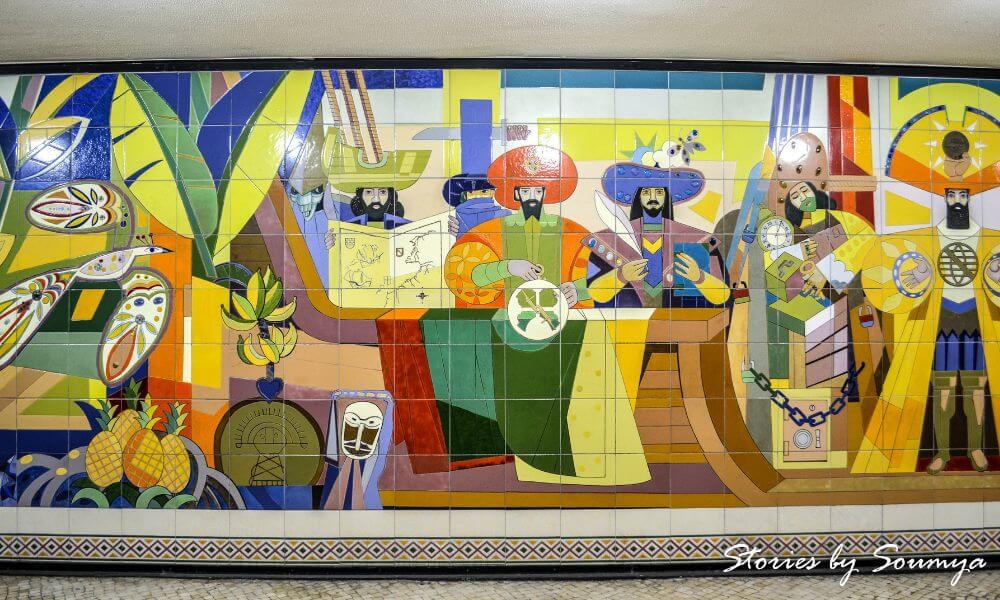 Now, let's travel back to the capital city, Lisbon. Here, among the most significant buildings in Portugal, cobblestone streets, and many stunning establishments, lies the imprint of artists that just wanted to leave their mark on the face of the city.
Walls are painted in various sketches – landscapes, faces, poems, nature, and many other themes. There is no vandalism because the artists are respectful and crazy-talented! In fact, joining a Lisbon street art tour is the best way to honor these artists.
If you'd like to see underground street art in Lisbon, then that's possible too. Many of Lisbon's metro stations feature beautiful paintings and exquisite tile work like the one in the picture above.
Fun things to do in Portugal
Get some amazing views from Lisbon's miradouros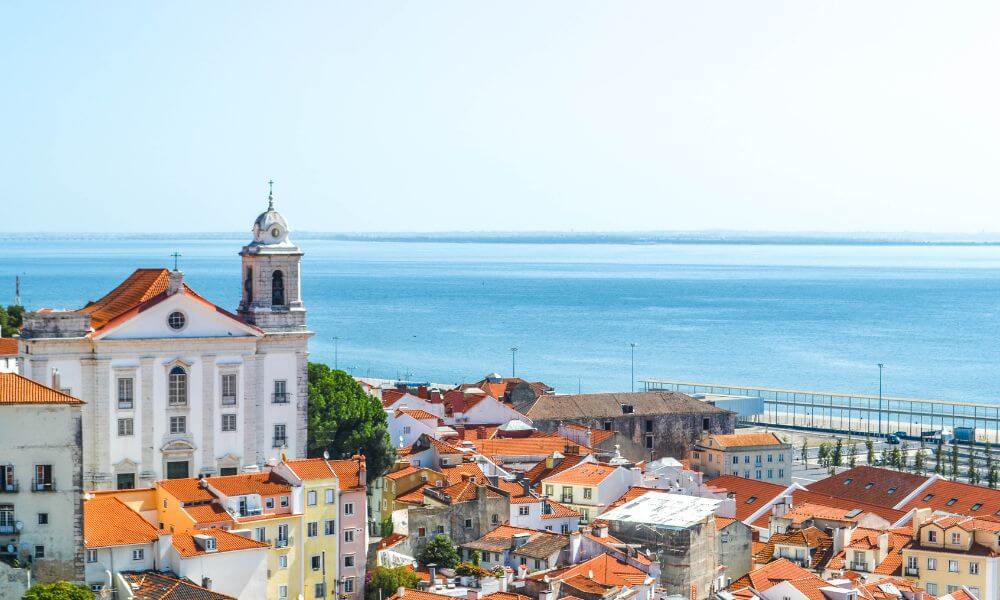 A fun thing to do in Portugal is to head to one of Lisbon's miradouros (viewpoints) and get a stunning view of the city.
Lisbon is a city of hills. Therefore, there are like a thousand viewpoints from where you can get sweeping views of Lisbon and River Tagus. Some of the best ones are from the miradouros of Sao Pedro de Alcantara, Graca, and Santa Luzia. You can also go up to Arco de Rua Augusta, Sao Jorge Castle, and Santa Justa elevator to get some more panoramic views.
Lisbon's viewpoints are great places to soak in the vibes of the city. Grab a cup of coffee, relax on a bench, and watch the world go by at a Lisbon miradouro.
Climb an aqueduct in Lisbon
Looking for something fun and unique to do in Lisbon? How about walking on an aqueduct?
Lisbon is home to a massive aqueduct from the 18th century. It is the Aguas Livres Aqueduct in the Alcantara valley and is 19km long.
Walking on an aqueduct is a thrilling experience in Portugal. You'll learn all about how water was carried from one end to another. Plus, you'll enjoy gorgeous views of Lisbon over the Alcantara valley.
Watch a sunset at Cabo da Roca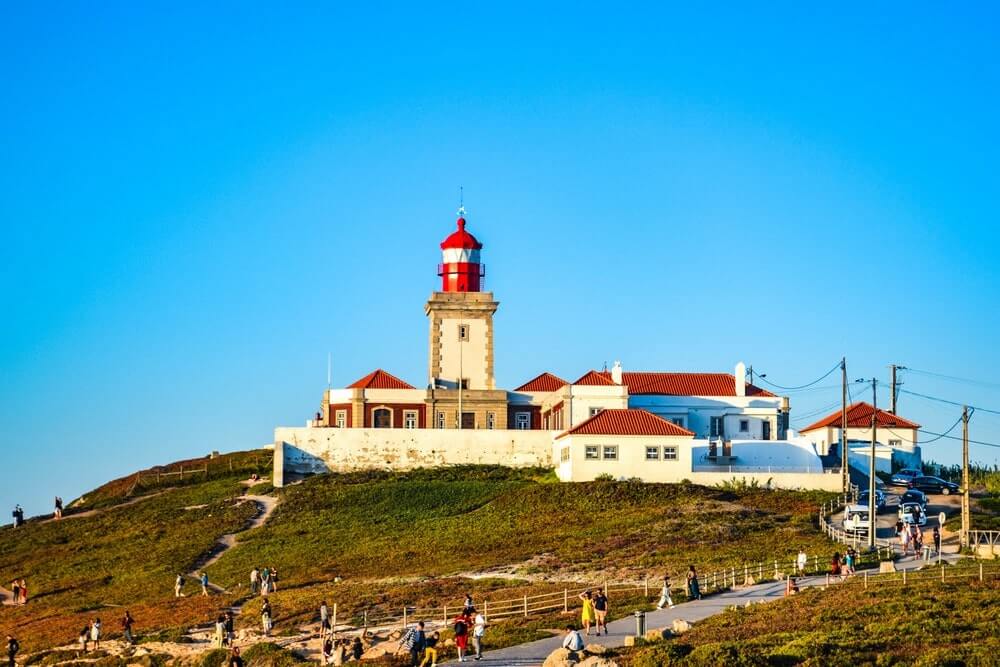 Portugal is home to the westernmost point of continental Europe. It is called Cabo da Roca. And the views from here are magical.
Cabo da Roca is a cliff perched at the western end of Sintra National Park. It is special because it is literally the last point of mainland Europe. Beyond the cliff, there's just water as far as your eyes can see.
Cabo da Roca is one of the best places in Europe to watch an incredible sunset. Travelers often couple it with a day trip to Sintra from Lisbon.
Start the day early in Sintra, visit Pena Palace, Moorish Castle, and Quinta da Regaleira and end your day with a sunset at Cabo da Roca. Breaking waves, alcove beaches, and sweeping views – Cabo da Roca is absolutely magical at sunset. And honestly, at any time of the day!
Do a Harry Potter tour in Porto
All Harry Potter fans will be glad to know that J.K.Rowling spent a good bit of her pre-Potter life in Portugal. She was teaching English in a school in Porto.
It is quite natural that she took inspiration from many things in Porto – shops, cafes, and university uniforms – while writing her book. Livraria Lello bookstore, Majestic Cafe, and the Lion's Fountain are all believed to have inspired Rowling.
The best way to discover these magical gems is to go on a Harry Potter inspiration tour in Porto. You'll learn all about the places where Harry Potter was conjured and get an insight into little secrets that went into the making of world's most famous magician.
Head to Aveiro, Portugal's city on water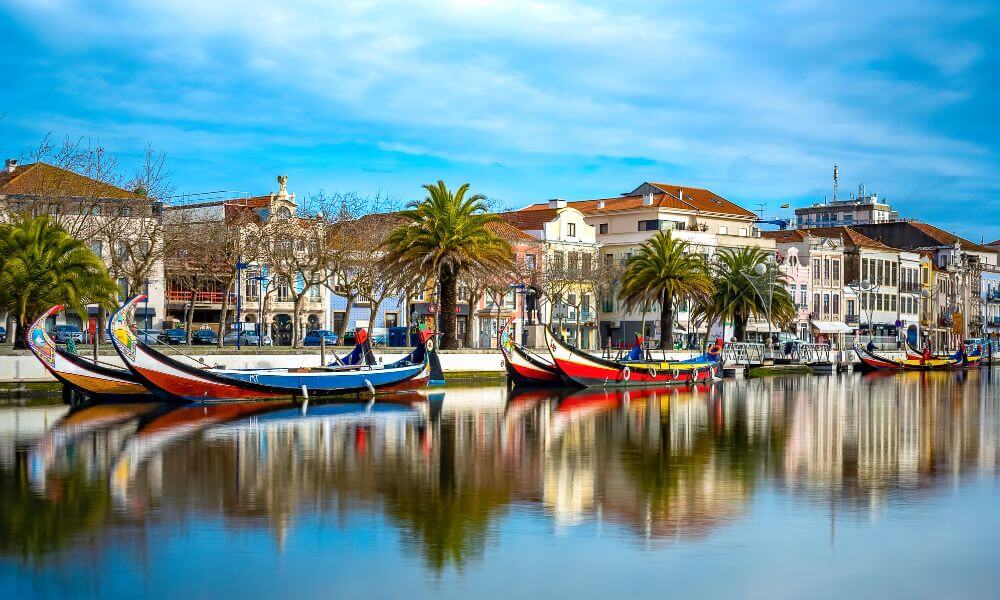 Often dubbed as the Venice of Portugal, Aveiro is an easy day trip from Porto. The town is filled with canals and colorful boats called "moliceiros".
In the olden days, fishermen used moliceiros to collect algae and seaweed. Today, they use them to show tourists around. Doing a traditional moliceiro boat tour is one of the best ways to see Aveiro.
Aveiro also has a number of colorful Art Nouveau buildings that are an interesting tourist attraction. The Ovos Moles House and the House of the architect Silva Rocha are some of the most notable ones.
Visit the National Railway Museum of Portugal
Do you know that Portugal has a National Railway Museum in Entroncamento that displays more than 160 years of the country's rail history? Yes, this is one of the best railway museums in all of Europe. It is an absolute must see in Portugal for train buffs.
There are nearly 36,000 objects on display at the National Railway Museum. Highlights include a Royal Train that was used by the Portuguese royal family to travel between Barreiro and Vila Vicosa. There's also a Presidential Train that diplomatic heads used between 1910 – 1970. Find all about opening hours, admission, and how to get there on the official website here.
Walk through the colorful lanes of Obidos
Obidos in Central Portugal is one the most beautiful medieval towns in Europe. Cobblestone streets, whitewashed houses, and framed windows make Obidos absolutely picturesque. A stone-walled castle adds to the medieval effect.
One of the best things to do in Obidos is to walk through the narrow, winding alleyways and discover colorful houses and hidden crannies loaded with bougainvillea.
When you get tired of doing that, head to the City Museum that has a good collection of sacred art. Stop by one of Obidos' churches because they have pretty azulejo walls. Also, climb the castle walls and get some sweeping views of the city and beyond.
Soak in the thermal waters of Vidago Palace
Let's take the word relaxation to the next level, shall we? In Portugal, you can have a full spa day, not at a spa treatment center or a resort, but at an enormous stunning palace! Well, I am talking about the Vidago Palace here.
When the thermal springs began back in the 19th century, showering and soaking at the Vidago Palace was worth all the hype. Now, you can do the same thing and warm up in clean, fresh water! Isn't this one of the most relaxing things to do in Portugal?
Explore Tavira
Situated on the south coast of Portugal, the city of Tavira is a lovely place that travelers often choose for a calm and cozy holiday. The picturesque streets are inviting and vibrant. Whitewashed houses, colorful windows and doors, soft architecture, and laid-back locals make Tavira a wonderful place to visit.
Take a stroll through the cobblestone streets and sit at a local restaurant to try out authentic Portuguese delicacies. And do not miss a tour of the Castle of Tavira!
Loved this list of fun things to do in Portugal? Pin it for later!