Last Updated on April 11, 2022 by Soumya
Are you looking for an easy-to-do 10 day itinerary for Portugal? Then I have just the thing for you.
Portugal is a beautiful country blessed with years of history, an interesting culture, and gorgeous golden sand beaches. If you are worried about how much you can see with 10 days in Portugal, then this itinerary is for you.
You will learn
This 10-day travel itinerary for Portugal is extremely flexible. Even though we went from north to south, you can easily turn it the other way round depending on where you arrive.
If you ever feel a little too overwhelmed with all the planning, feel free to check out some amazing guided tours that allow you to see the best of Portugal. Else, keep reading to plan your own, memorable 10 day Portugal itinerary by train and bus.
What trains and buses to use for 10 days in Portugal?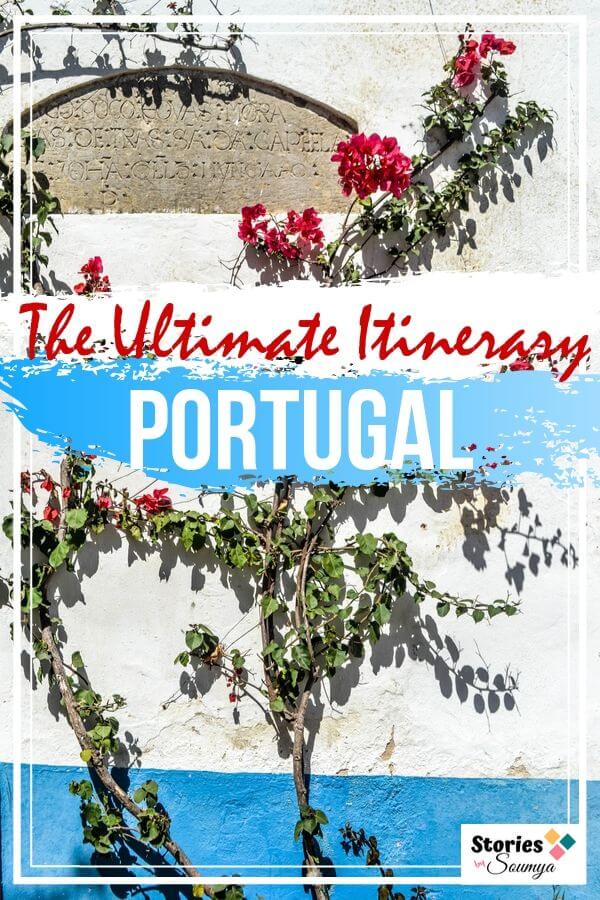 Please note: This post contains affiliate links which means I may earn a commission if you make a purchase by clicking a link on this post. This will be at no additional cost to you. Affiliate links help me keep this website up and running. Thanks for your support!
Since we don't drive, our 10 day Portugal itinerary was completely done on trains and buses. And we found public transport in Portugal to be quite easy to use though a tad bit late sometimes. Within cities, we always used buses, metros, and trams. And they were super convenient.
For intercity travel in Portugal, we used the following.
The best 10 Day Portugal itinerary
We started our 10 days in Portugal in the north at Porto and finished in Lisbon. In between, we stopped in many different cities in Central Portugal.
I dreamed a lot about egg tarts (vegan versions also available), Azulejos, and picturesque Portuguese landscapes long before embarking on our trip. Needless to say, you will find tons about them in my 10 day itinerary for Portugal.
Plus, we have a lot of day trip options, heritage hotspots, and practical tips to help you plan your Portugal travel itinerary.
Many travelers combine Spain and Portugal together when they visit. If you wish to do that, you can evaluate Spain vs Portugal first and plan your trip accordingly. Our 10-day itinerary for Portugal will still help you sort your days in Portugal.
Read next: Curated List of the Top 17 Places to visit in Portugal
Day 1: Porto – The beginning of our Portugal 10 day itinerary [Reversible]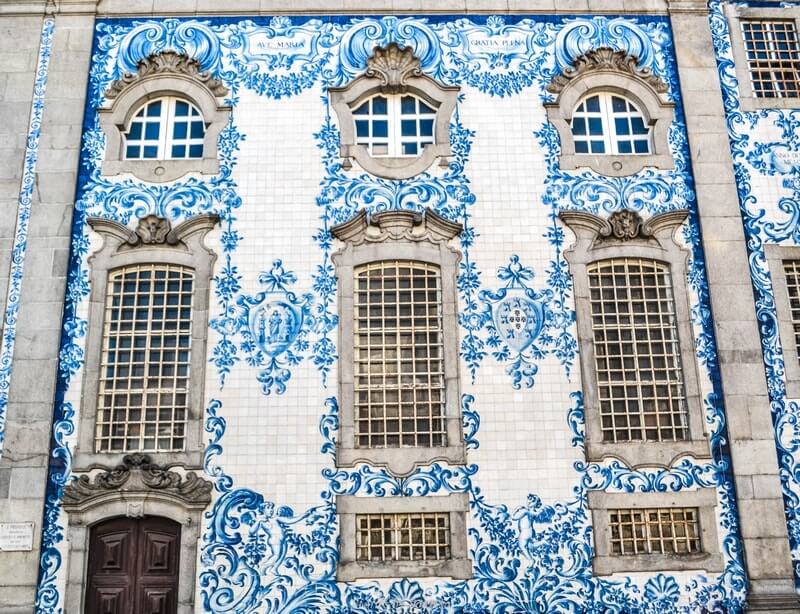 Porto is the second-largest city in Portugal after Lisbon. And to say the truth, it is as pretty as a picture.
Apart from being home to the world-famous Port wine, Porto is one of the best places to spot azulejos (blue and white ceramic tiles that depict life and culture).
We flew into Porto Airport on a Ryan Air flight from Brussels and spent two days sightseeing Porto.
On Day 1, we ticked off many highlights on our Porto bucket list such as climbing the Clerigos Tower, being stumped by the beauty of Palácio da Bolsa, walking the Porto Ribeira and strolling the Dom Luis I bridge.
Tips for visiting Porto
Read our detailed review of the Porto Card with numbers.
Day 2: Day Trip to Douro Valley from Porto by train
On our second day in Porto, we took a much-awaited day trip to Pinhão and Pocinho from Porto.
The train ride through the majestic Douro Valley, a UNESCO Heritage Site, is extremely picturesque and well worth your time.
Douro Valley is one of the oldest wine-growing regions in the world and outright beautiful. Sprawling vineyards, fragrant orange groves, and sleepy villages dot both sides of the valley as Rio Douro snakes through in between.
A traditional Douro valley tour is highly recommended if you are looking forward to some great wine-tasting.
Tips for visiting the Douro Valley by train
Day 3: Porto
This was our second day in Porto. We spent a good amount of time Azulejo-spotting, tasting the best of Pastel de Nata, visiting the offbeat Tram museum, and taking a 6-Bridges Cruise down the Douro River.
Plus, we checked out some of the stunning churches such as Igreja de Carmo, Igreja de Santo Ildefonso, and Capela das Almas.
Read next: 17 Best Things to do in Porto.
Leaving for Coimbra by train
We left for Coimbra the same day. We took a late evening train to Coimbra from the Sao Bento Station in Porto. The train journey was a little more than an hour and included two easy changes.
Click here to check for trains from Porto to Coimbra.
Day 4: Coimbra and Conímbriga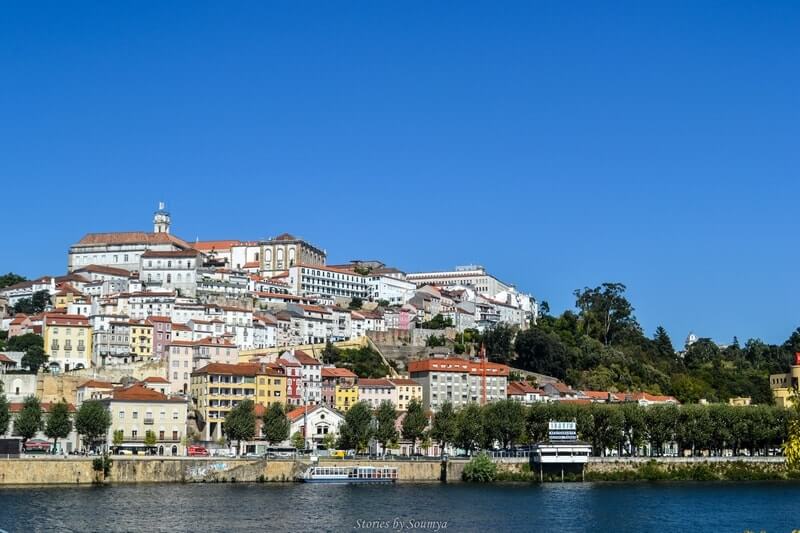 Coimbra is the often-ignored, culturally-rich cousin of Lisbon and Porto. It hardly figures on tourist itineraries. But once you get here, you will realize there are so many things to do in Coimbra.
Visiting one of the world's oldest universities, having great family time at the miniature wonderland, and strolling through medieval streets resonating with Fado music are only a few of them.
You can also take a half-day trip to the Roman ruins of Conímbriga where you can see some wonderful floor mosaics from the Roman era. Use Transdev buses for the purpose. Refer to our guide on Conimbriga Roman Ruins for bus details.
Or do a full-day tour of Coimbra and Aveiro to get a flavor of Portugal's canal town.
Where to stay in Coimbra?
In Coimbra, we stayed at Pensão Flôr de Coimbra, an extremely cozy place with a very friendly owner. The rooms are spotlessly clean and extremely comfortable.
Close proximity to the bus stop and the train station is an added advantage. They do not serve breakfast but we still recommend it wholeheartedly sans the breakfast. Break into a chat with the owner and he will be happy to indulge you.
Book your stay at Pensão Flôr de Coimbra here.
Tips for visiting Coimbra & Conímbriga
Day 5: Leiria, Batalha, and Alcobaça
Our next stop on our Portugal 10 day itinerary was Leiria, another city in Central Portugal that does not see too many tourists.
Yet, it has some really interesting historic treasures such as the Leiria Castle, a 12th-century church, and the famous Rodrigues Lobo square – all doable in half a day.
When in Leiria, you can choose to stay at the impeccable, spacious, yet inexpensive Hotel D.Dinis that we really loved. Their breakfast cakes are drool-worthy.
Book your stay at Hotel D.Dinis in Leiria here.
Leiria is also an easy gateway to the monastery towns of Batalha and Alcobaça which is another reason why we chose to stay here.
We got to Leiria from Coimbra on a Rede Expressos bus. The journey took an hour.
Batalha from Leiria – 15 minutes
The Monastery of Batalha, a UNESCO Heritage Site, is a Gothic building with beautiful Manueline expressions. It is an absolute must-see heritage site when you are in Portugal.
While the main church is free to enter, you need to pay a small fee to see the beautifully-crafted cloisters and the melancholy but stunning Unfinished Chapel.
Alcobaça from Batalha – 30 minutes
After Batalha, we visited the Alcobaça Monastery yet another UNESCO Heritage Site in Portugal's historic Estremadura Province.
The monastery houses the tombs of King Pedro I and his lover Inês de Castro. Theirs was one of the most tragic love stories in the history of Portugal, proof of which you can see on their tombs today.
Tips for Visiting Leiria, Batalha, & Alcobaça
Day 6: Day trip to Obidos
Many people prefer to do a full-day tour of Obidos, Batalha, and Alcobaça but we chose to reserve Day 6 for a trip to Obidos. This was because we were traveling with our 6-year-old and we wanted him to spend quality time climbing the city walls, enjoy looking at the flowers and colored houses and stroll the narrow, cobblestoned streets of Obidos.
Obidos is a charming village in Central Portugal that looks like it has jumped out of a postcard. It retains its medieval flavor with a number of old churches and bookshops peppered all over.
Obidos is also a great place to shop for colorful Portuguese souvenirs or take some really cool Insta-worthy pictures. When we were planning our itinerary for 10 days in Portugal, we were pretty sure we wanted to visit Obidos. And so we did!
Tips for Visiting Obidos
Check out 24 stunning pictures from Obidos to further inspire your wanderlust!
Day 7 & 8: Lisbon – The last stop on our 10 day Portugal itinerary
Out of our 10 days in Portugal, we spend the maximum time in Lisbon and for good reason. We were here for 4 days. Though we thought 7 would have been better since there is so much to see in this city.
Recommended: If you are here for a shorter time, have a look at our 2 days in Lisbon itinerary.
Since we were on a budget, we stayed a little further away from the city center at Hotel Ibis Lisboa Alfragide. There is a bus stop right next door and you can easily get to the city center from here in less than 15 minutes.
Book your stay at Hotel Ibis Lisboa Alfragide here.
We spent the first two days exploring Lisbon's best attractions, Portugal's Azulejo history, riding an antique tram, hopping onto a funicular, and strolling through the Alfama district and unearthing its multiple treasures. Also took a short trip to the beach of Carcavelos and my little one really enjoyed it.
Southern Portugal has many natural landmarks including the beaches of Algarve, the islands of Madeira and Tenerife, and the Rota Vicentina and Fishermen's Trail. Unfortunately, we did not have time for them this time. On my list for my next 10 days in Portugal.
Tips for Visiting Lisbon
Day 9: Day trip to Sintra & Cabo da Roca
On our third day in Lisbon, we decided to take a day trip to Sintra. We just took the train from Lisbon to Sintra.
Pena Palace and Quinta de Regaleira were the highlights of our Sintra day trip itinerary. And then, there were the famed travesseiros of Casa Pirquita. Delightful flaky, pillow-shaped pastries that you must absolutely try when in Sintra.
We then took a bus to Cabo da Roca, the westernmost point of continental Europe. After this, we rode to the beach town of Cascais and enjoyed a hearty dinner there.
Tips for Visiting Sintra and Cabo da Roca
Read next: Perfect 1-day itinerary for Sintra Portugal
Day 10: Day trip to Belem
On the last of our 10 days in Portugal, we chose to visit Belem. Belem is home to some of the most iconic tourist attractions in Lisbon such as the Belem Tower, the Jeronimos Monastery, and the Discovery Monument.
You can also try the famous Portuguese dessert, Pastel de Nata, at Fábrica Pastéis de Belém right here.
Tips for Visiting Belem
Check out more amazing day trips from Lisbon.
This was how our 10 day Portugal itinerary by train looked like.
If we had some more time, we would have loved to visit the beaches of Algarve, the medieval city of Evora, and the heritage town of Braga. For the next time, then.
Are you planning to visit Portugal for 10 days or more? Need help with something? Drop us a comment below and we will get back to you.
More than 10 days in Portugal?
If you plan to spend more than 10 days in Portugal, refer to our amazing list of Portugal posts for more ideas and itineraries.
Loved our 10 day Portugal itinerary? Pin it for later!