Last Updated on October 3, 2022 by Soumya
Are you planning a trip to Porto Portugal and wondering if you can make any quick day trips from Porto? The answer is a big YES!
There are many interesting things to do in Porto which you will never tire of. Yet, if you have some time and wish to get out for a quick and easy Porto day trip, then that is possible too.
In this short round up on the best day trips from Porto, you will learn all about.
The quickest one day trips from Porto – all under 2 hours journey time one way.
How to easily get to your destination from Porto?
What to see and do at your day trip destination?
In this round up, we not only have Douro Valley, one of the most frequently-done Porto day trips but also some hidden gems that no one else will ever tell you about. If you are a lover of the offbeat, you can easily add these to your Porto itinerary.
In case you are feeling overwhelmed by all the planning at any point in time, feel free to check out the recommended tours under each destination. If not, read along to find out all about the best day tours from Porto.
8 Amazing day trips from Porto Portugal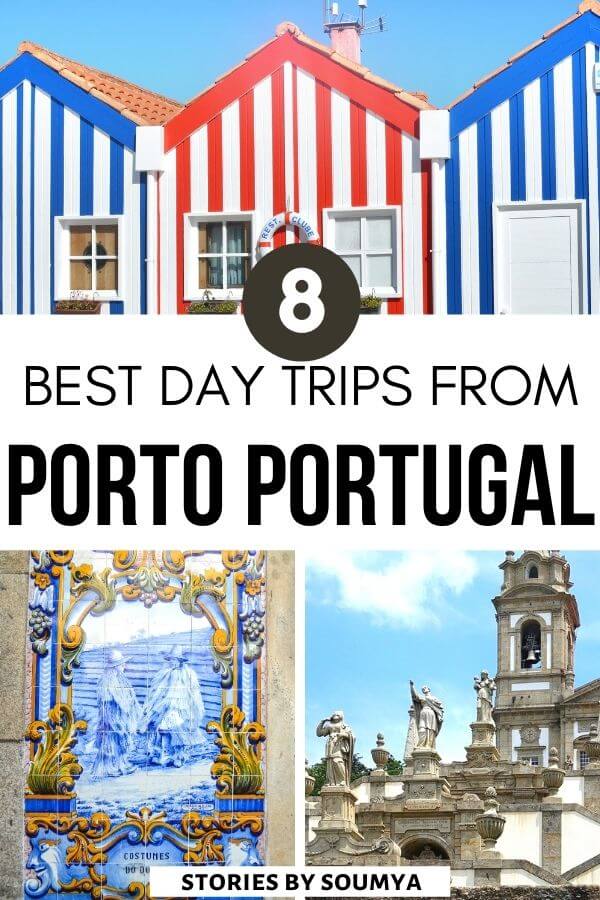 Please note: This post may contain affiliate links which means I may earn a commission if you make a purchase by clicking a link on this post. This will be at no additional cost to you. Affiliate links help me keep this website up and running. Thanks for your support!
Douro Valley – One of the must-do Porto day trips
Editor's choice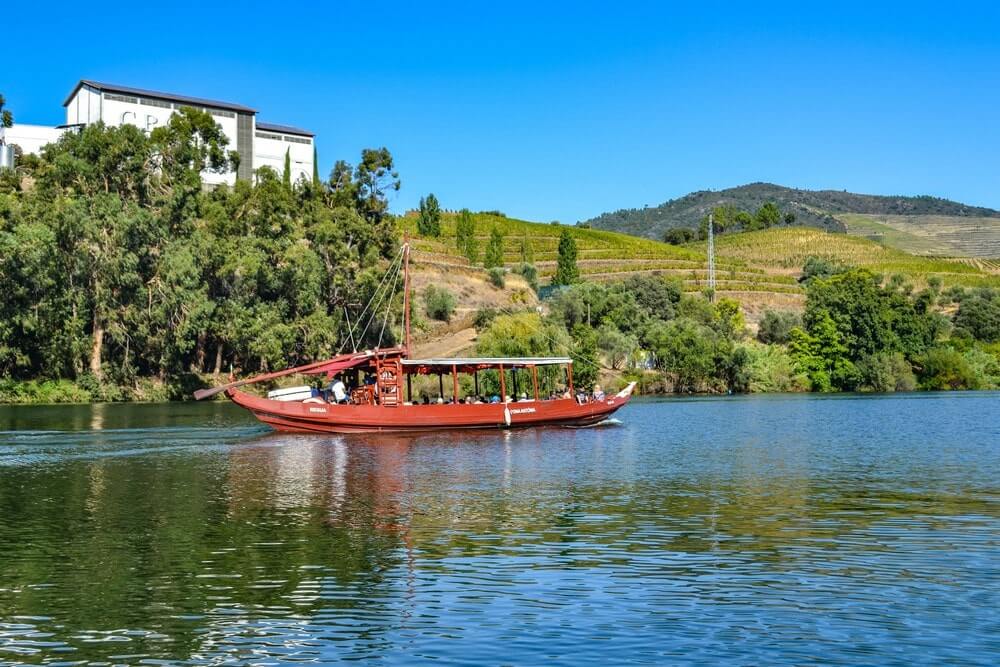 Douro Valley comes as one of the most highly recommended day trips from Porto. And I quite agree with that. If you have time for just one Porto day trip, do Douro Valley.
Douro Valley, also known as the Alto Douro Wine Region, is a UNESCO World Heritage Site that has long been the main producer of Portugal's famous Port Wine. The cultural vibrancy of this region coupled with traditional viticulture practices and gorgeous sceneries makes it one of the best places to add to your Portugal itinerary.
Sitting on a rabelo boat and slowing wafting down the Douro River here is as beautiful as sipping a glass of Port while taking in the gorgeous sceneries. Even more comforting is getting down the train to admire the painted blue tiles of the museum-like train station in Pinhao. There are just so many wonderful things to do in Douro Valley.
Practical information to plan your Douro Valley day trip from Porto
A rabelo boat tour on Rio Douro is highly recommended.
Do not forget to stop at the Pinhao train station for a wonderful immersion into Portuguese azulejos.
Here are some highly recommended guided day trips if you are keen.
Aveiro
Recommended by Eva from Elevate Calm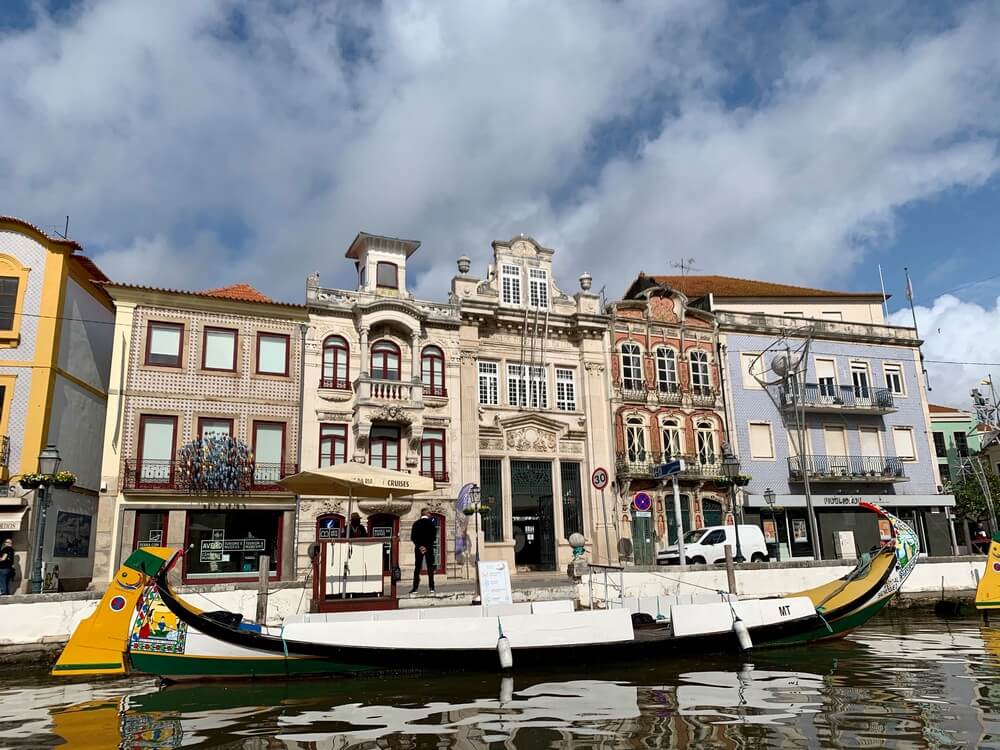 Aveiro is often dubbed "the Venice of Portugal" for its canals and colorful boats. However, this is a bit of an overstatement as Aveiro has only three canals. The town which grew thanks to its port is nonetheless delightful. And makes for a wonderful Porto day trip.
The town's major industries were fishing, salt-making, and seaweed harvesting. The town flourished and its historic center was dotted with wonderful examples of art nouveau architecture. If you are a fan of this style featuring floral decorations and other elements found in nature, you might also enjoy a visit to the Arte Nova museum.
After a few hours in the historic center, you can take a bus ride to the Costa Nova beach. It is popular for its wooden houses, painted with stripes in various colors. The boardwalks that stretch over the sand are lovely for walks and jogs by the ocean.
Costa Nova's inconsistent waves make it less popular for surfing than most beaches in the north. Away from the crowds, this beach is perfect for peaceful activities such as meditation and some soul searching.
Practical information to plan your Aveiro day trip from Porto
The train trip from Porto (Campanhã station) to Aveiro takes around 50 to 80 minutes with the prices starting at 3.55 euro for a single ticket
There are trains roughly every half an hour so it's easy to organize a day trip. Click here to plan your Porto day trip to Aveiro.
If you are a day trip person, then you will love these amazing Lisbon day trips too.
Guimarães
Recommended by Marco Santos from Travel-Boo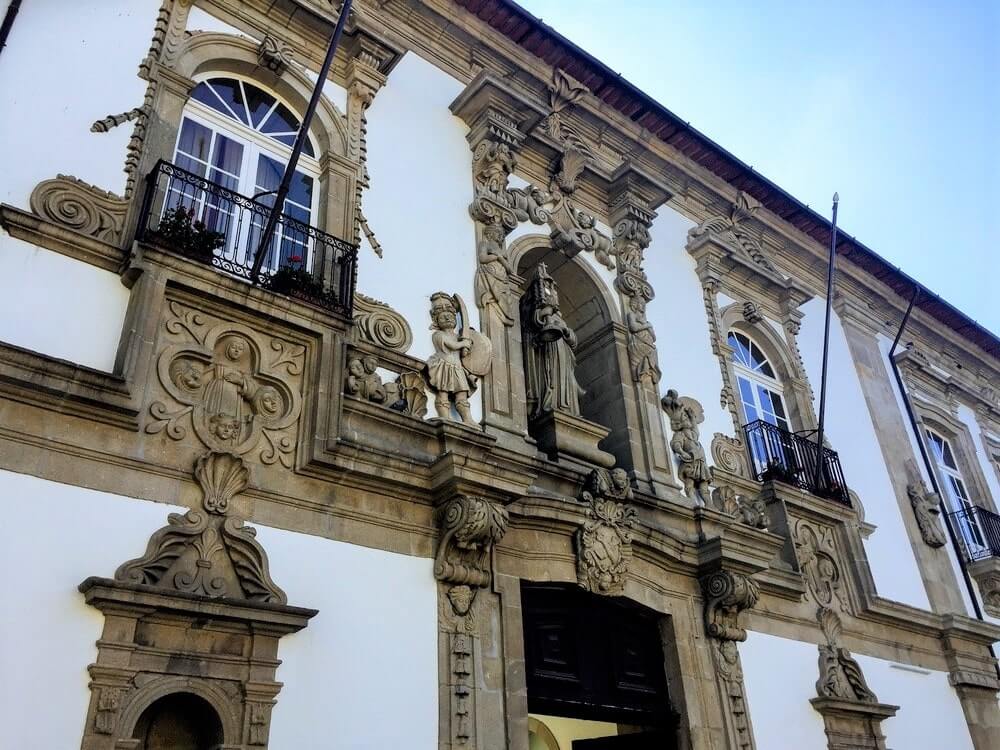 A visit to beautiful Guimarães, regarded the birth-place of Portugal, is one of the best things to do when visiting Porto in northern Portugal. Set just over an hour by train from Porto's São Bento train station, Guimarães is a perfect day trip destination and must-add to your Porto travel itinerary.
Dating back to the 9th century when the city was known as Vimaranes, Guimarães is one of Portugal's most historic & culturally important cities. Said to be the birthplace of Portugal's first king Afonso Henriques, the city is within close proximity to where the Battle of São Mamede took place, playing an integral part in the eventual establishment and acknowledgment of the Kingdom of Portugal in the year 1139.
Today you can visit Guimarães and wander through the charming historic town centre, visit the Ducal Palace (Palace of the Dukes of Braganza), check out the Guimarães Castle or pay a visit to the Igreja de Nossa Senhora da Oliveira church.
Practical information to plan your Guimaraes day trip from Porto
Take a morning train to spend maximum time in the city. The train journey takes about 1 hr 15 minutes and costs €3.25.
Guimarães' city center is a short 10-minute walk from the train station.
Before you head out to explore, pay a visit to the tourist office. Here tourist officers will hand you a free map of the city and explain all the top sights and attractions that you'll want to see when visiting.
Braga
Editor's choice
If you are looking for more culture-filled day trips from Porto, head to Braga to see some of Portugal's finest monuments. Visiting Braga is one of the most historic things to do in Portugal.
One of the best things to do in Braga in a day is to visit the religious landmark of Bom Jesus do Monte with its Sacred Staircase, a true Baroque masterpiece. You can also visit the Sameiro Sanctuary, one of the largest shrines in Portugal.
Braga also has a pretty city center that houses the Braga Cathedral and several Roman ruins, and the notorious Raio Palace.
Check out our detailed guide on the best things to do in Braga in one day.
Practical information to plan your Braga day trip from Porto
You can easily and quickly get to Braga from Porto Sao Bento train station. The journey takes a little more than 1 hour and costs €3.25. You can also get a bus which would be slightly faster.
Viana do Castelo
Recommended by Jorge from Travel Drafts
Viana do Castelo is a coastal city in the North of Portugal, located at the mouth of the Lima river. The city has a mixture of natural beauty and historic relevance making it well worth visiting on a day trip from Porto.
Viana do Castelo has a big connection to the sea with a big port and a historic shipbuilding (although declining) and fishing industry. It is one of the best places in Portugal to to eat fish.
It also has an impressive historic center with old beautiful buildings and cobbled streets. The two most iconic attractions that you can't miss are the Santa Luzia Basilica with its panoramic views and Gil Eanes, a former hospital ship converted into a museum.
Practical information to plan your Viana do Castelo day trip from Porto
The city is only about 70km north of Porto. It takes just one hour to reach by car or close to 2 hours by train from Porto-Sao Bento train station.
There are several trains in a day. You can also take a bus. Click here to plan your journey on OMIO.
Vila do Conde
Recommended by Alya & Campbell from Stingy Nomads
Vila do Conde is a small charming town 30 km north of Porto. It's a perfect place to visit as a Porto day trip to relax on its beautiful sandy beaches and discover impressive historical monuments. The town is situated on the Portuguese Camino, one of the most popular Camino de Santiago routes. Thousands of pilgrims walk through it every year.
Vila do Conde is famous for its well-preserved historical center that includes Convento de Santa Clara, Fort of São João Baptista, the Aqueduct, Manueline Igreja Matriz, and others. It's a real pleasure to explore the town on foot; walk along narrow cobbled streets, stop for coffee with a pastry at a cozy café, visit a picturesque harbor.
The town is a great place for outdoor lovers too; beautiful sandy beaches (Praia do Forno and Praia Azul), boardwalks along the coast, cycling routes, and watersport activities attract thousands of local and foreign tourists to Vila do Conde every summer.
Practical information to plan your Vila do Conde day trip from Porto
It takes about 30 minutes to get to Vila do Conde by car from Porto city center.
There is a direct train from Porto to Vila do Conde, metro line B, that takes about 1 hour. And there are buses too.
Amarante
Recommended by Chrisoula from Travel Passionate
Amarante is a picturesque town in Northern Portugal just 60 km away from Porto.
The town is part of the Romanesque Route because of the number of cultural sights you can find here. Some of the main attractions include the Ponte de São Gonçalo, a beautiful bridge over the Tâmega River, that leads to the impressive church of São Gonçalo with the 16th-century Renaissance doorway.
Other interesting sites include the baroque church of São Domingos and the municipal museum Amadeo de Souza-Cardoso that hosts contemporary exhibitions. You should also make a stop at Confeitaria da Ponte and definitely try the local Portuguese desserts.
Lastly, if you are interested in wine the area is famous for the production of Vinho Verde. A nice winery nearby to visit that does wine tastings is the Quinta da Aveleda housed in a beautiful mansion.
Practical information to plan your Amarante day trip from Porto
From Porto, you can get to Amarante by a rental car or by bus that you can catch at the Rodonorte bus station in Porto. The journey takes around 50 minutes.
If you decide to visit Amarante by car there are many interesting sites to see outside the town like the Monastery of Travanca, and the Neolithic sites of Aboboreira.
Learn why you should never do a day trip from Lisbon to Porto!
Coimbra
Recommended by Renata from Bye Myself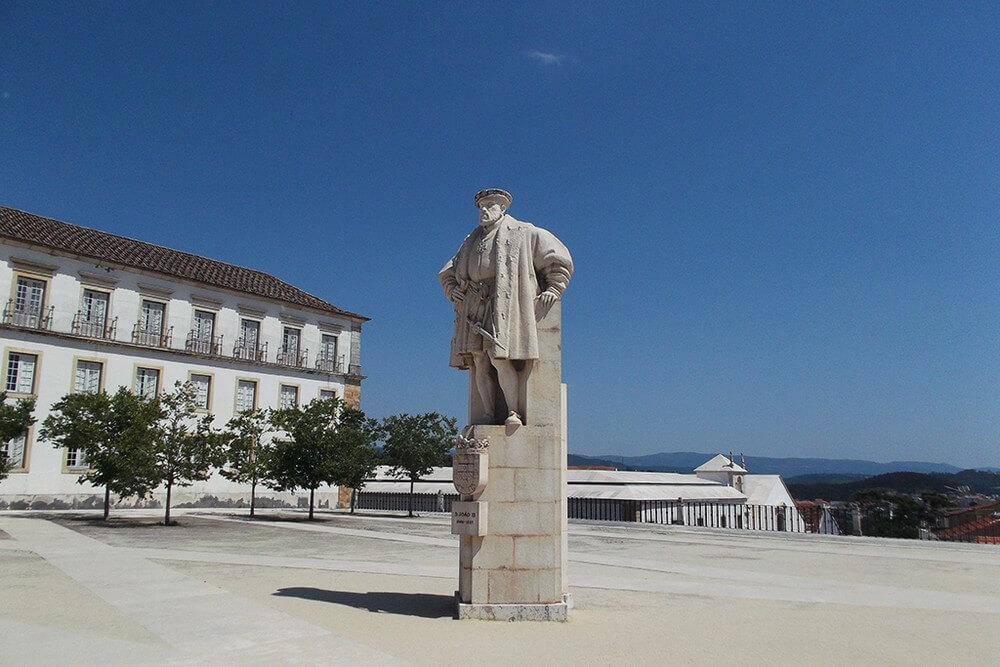 The university town of Coimbra is one of the best places to visit in Portugal. Plus, it is so walkable that as soon as you get off at the train station, you can start exploring right away by walking.
Coimbra's most important landmark is the University complex, which moved to the city from Lisbon in the 16th century. While the Paço das Escolas, the impressive main square, some galleries, and of course all the streets between the outer university buildings can be visited for free, you only need a ticket if you want to see the famous Biblioteca Joanina, the university's old library, completed in 1728.
There are more amazing structures to admire on the premises. For instance Chapel São Miguel and Torre da Universidade that grants a fantastic panoramic view of the city and the surroundings. What is interesting is that before you climb up, a student has to announce your arrival upstairs. Mind you, the staircase is so narrow that only one person at a time can go up or down at a time.
Once done with the university, there are so many wonderful things to do in Coimbra in one day. Visiting Portugal dos Pequenitos, walking through the old town, and exploring the Roman ruins of Conimbriga are just a few examples.
Practical information to plan your Coimbra day trip from Porto
You can reach Coimbra from Porto by train in a bit over an hour. Hence, it makes for one of the best day trips from Porto.
The best way to explore Coimbra is by walking. However, you'll have to do some serious climbing in narrow alleys covered with slippery cobblestones. Make sure to wear sturdy shoes with slip-resistant soles.
If you are looking for a guided day tour, have a look at this one which has some rave reviews.
Loved this collection of day trips from Porto? Pin it for later!