Last Updated on December 6, 2023 by Soumya
Traveling to Alacati, Turkey? Looking for the best things to do in Alacati? Wondering if there's anything special that Izmir's Alacati has in store for you?
Glad to say that your search ends here because we have the most comprehensive Alacati travel guide on the web.
Alacati is a charming, old, Greek town on the Aegean Coast of Turkey that has an interesting history and lots of amazing things to do. Alacati's historic center is filled with adorable stone villas and narrow, cafe-lined streets leading up to them. It has classical windmills, a unique mosque, and a happening marketplace. Not to mention, countless Alacati beaches and windsurfing opportunities.
In this detailed blog post, I have a list of the best activities in Alacati, stuff you cannot miss, best places to stay and eat, and lots of travel tips. If you are ever confused about what to do in Alacati, Turkey, all you need to do is scroll through our super comprehensive blog post.
A brief introduction to Alacati, Turkey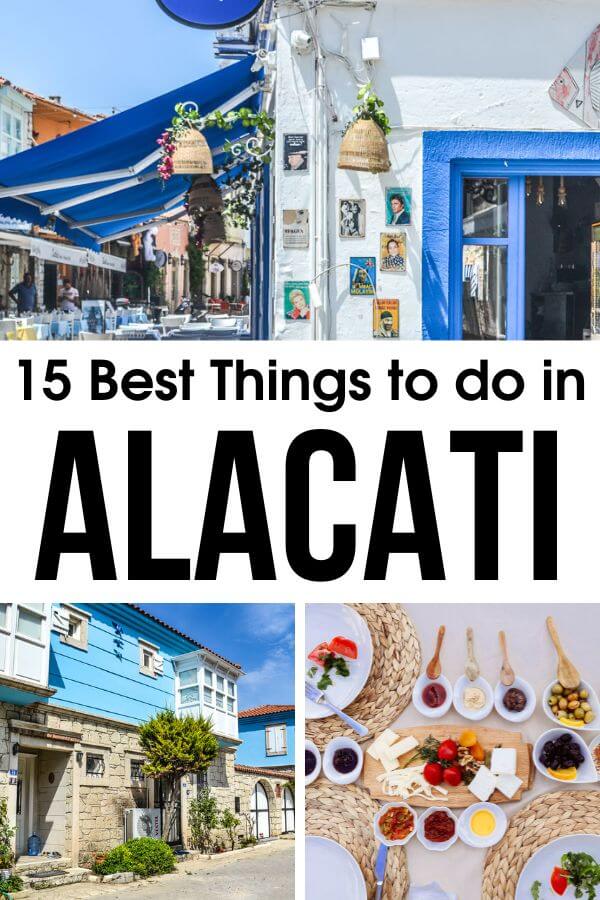 Please note: This post may contain affiliate links which means I may earn a commission if you make a purchase by clicking a link on this post. This will be at no additional cost to you. Affiliate links help me keep this website up and running. Thanks for your support!
Ottoman Greeks founded Alacati in the 17th century and settled here. They built natural stone houses with colorful doors and alcove windows. Even today, these houses form the crux of the city's old town.
The Greeks fled the region after the population exchange treaty was signed between Greece and Turkey in 1923. Immigrant Muslims settled down in the city after that. And Alacati went from being a Greek Christian town to a Turkish Muslim city.
You can still experience Alacati's engrossing history as you walk through its narrow winding lanes, taste the cuisine which is a delicious mix of both worlds, and step into the marketplace mosque which was once a Greek church.
15 Best things to do in Alacati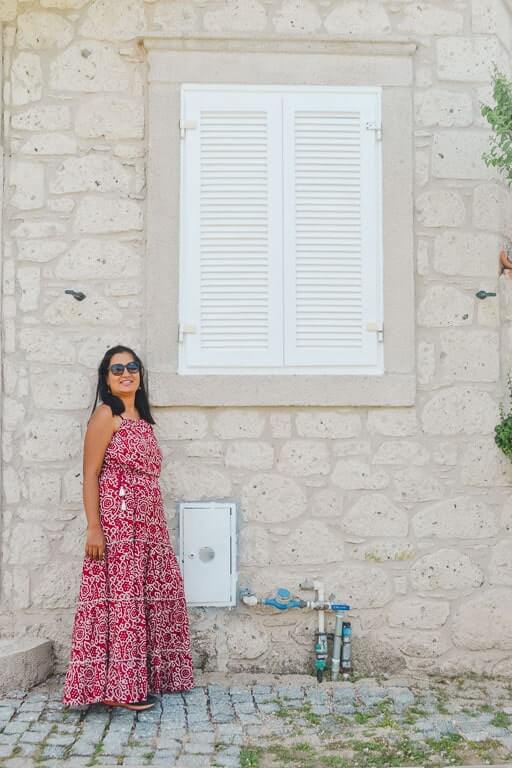 Explore the old town
An absolute best thing to do in Alacati, Turkey is to roam the streets of the old town.
Quaint, cobbled streets run through this Instagrammable town in every possible direction. Old stone houses draped with hot pink bougainvillea dot every lane. Pastel-colored doors and window shutters make Alcati's homes absolutely photogenic. Add to that numerous cozy, alfresco cafes and you almost feel like you've arrived in Greece.
The highlight of the old town, also known as Alacati Carsi, is definitely its collection of unique natural stone villas. The use of pebble-shaped stones gives these houses an unusual texture and appearance, that makes them extremely photo-friendly.
Walking through the streets of Alacati brought back fond memories of my trip to Santorini in Greece. The houses, the colors, the flowers, and the bright, sunny weather was just the perfect thing I needed after a nippy 3 days in Cappadocia. And, I was not complaining.
Schedule a photo shoot
"Click lots of pictures in Alacati" – that's my advice to all my friends and readers. Alacati is one of Turkey's most picturesque destinations. You'll find aesthetically pleasing corners literally everywhere in the town. So, keep your camera ready and click away.
If you'd like to take your photographs to the next level, I highly recommend scheduling a professional photo shoot like this one. A fun photo and video shoot on the historic streets of Alacati is a great experience to have in Turkey.
Spot some street art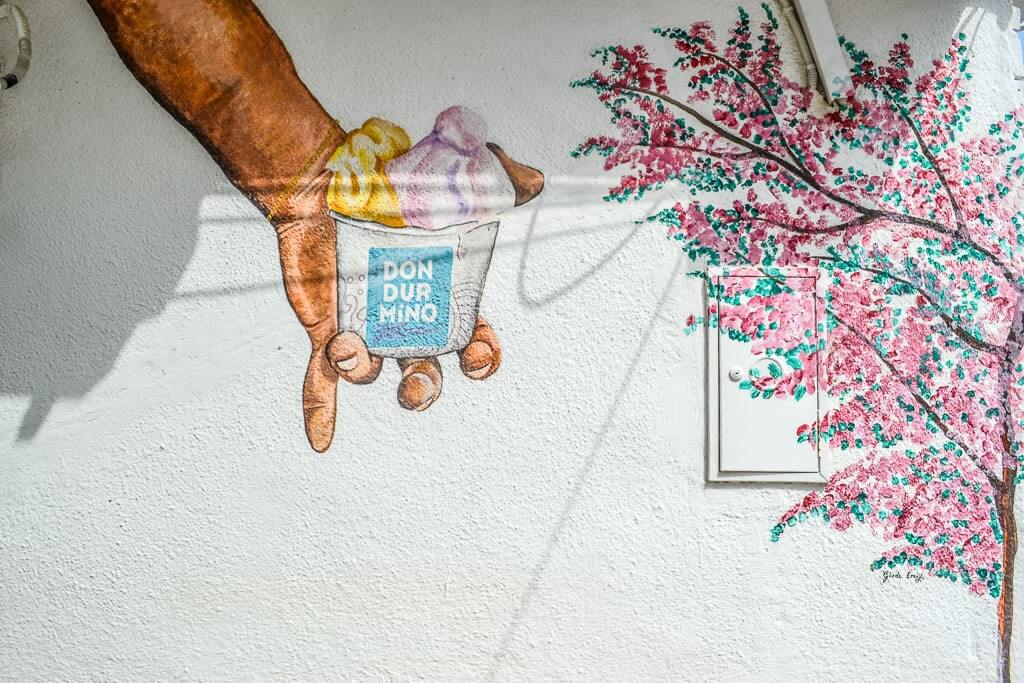 Not everyone tells you this, but the streets of Alacati have an amazing collection of art. From cute little pandas, flowers, and birds, to interesting representations of food – you'll find all kinds of street art here. Just wander the alleys and spot your favorite piece.
Step into an art gallery
Alacati's narrow, winding lanes are lined with art galleries and artsy cafes. I am sure you'll stumble upon a couple during your walk through the historic town.
If you are looking for popular names, try Kirli Çiki Sanat Galerisi on Kemalpasa Caddesi. This place is full of handmade artsy stuff in Alacati that you can enjoy exploring while sipping on a cup of coffee. A great place to pick some beautiful Turkish souvenirs, if you want to.
See the windmills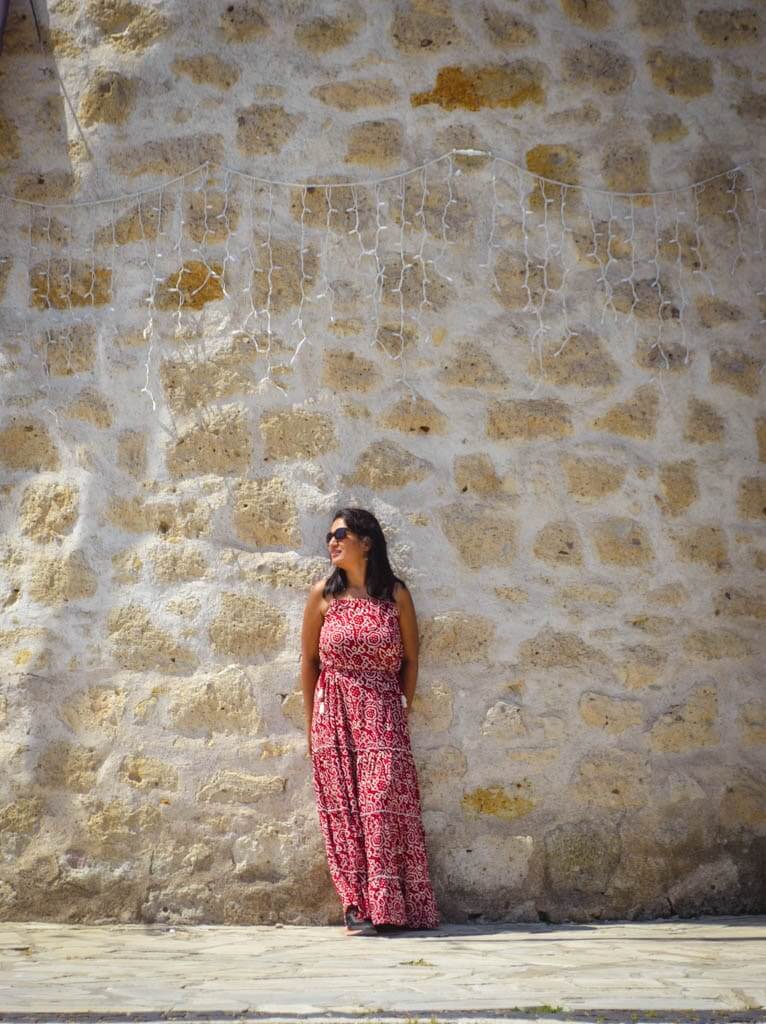 Perhaps, the most historic thing to do in Alacati is to visit the town's windmill park. 4 stone windmills stand tall at the highest point in the city center. They were built in 1850 and have become the symbol of Alacati today.
The Aegean coast of Turkey gets strong gusts of wind, almost throughout the year. Having windmills in this area is quite natural. Even though these 4 windmills don't function now, you can see several more modern ones right across the historic windmill park of Alacati.
Because of its location at the highest point, the windmill park is also where you can stunning views of the old town and beyond. It is just the perfect place to get some awesome pictures for your Gram.
Check out the marketplace mosque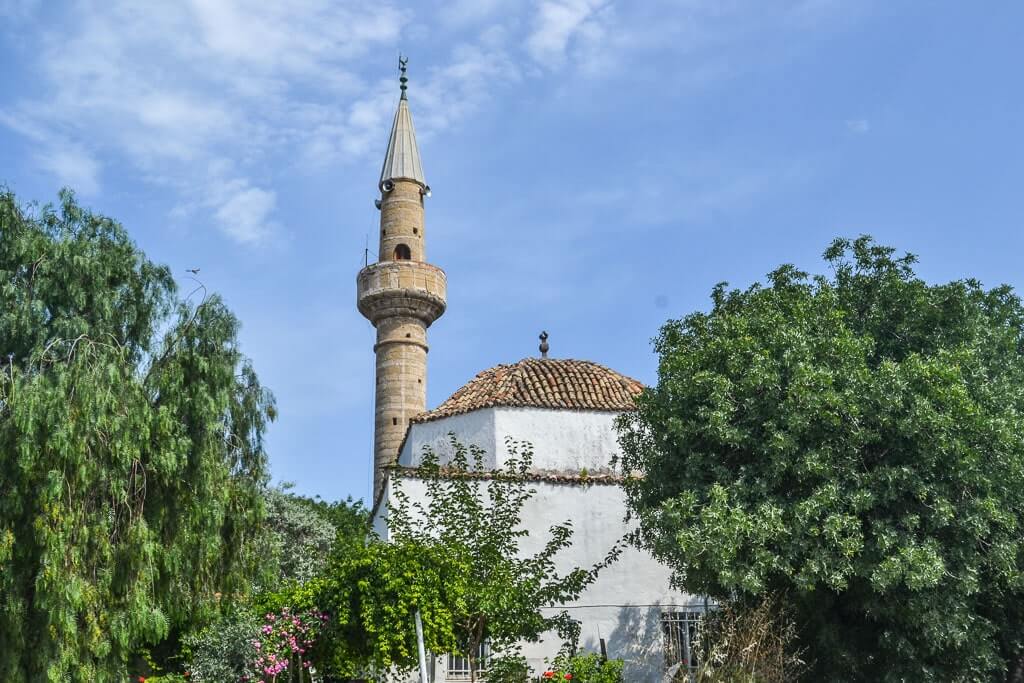 Another historical attraction is the Alacati Marketplace Mosque. It was first built as a Greek church in 1874 and later, converted into a mosque. The exterior is simple and made of the same stone that was used to built Alacati's stone mansions. That makes this mosque quite different from mosques elsewhere in Turkey.
I did not get a chance to enter the mosque building. But I am told that the interior features both a mosque and a church nowadays. I cannot be sure because I did not see it myself. But even the thought of that happening is a beautiful thing. Isn't it?
Have lunch at a charming cafe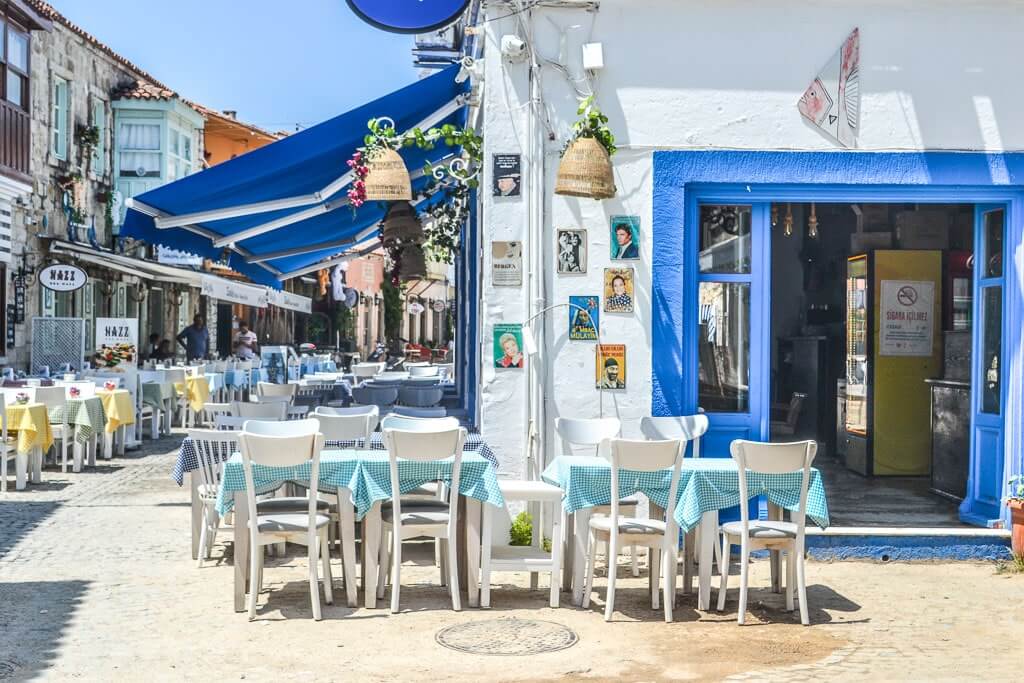 After all the climbing and walking around city center, I am sure you are hungry and looking for a good lunch. Step into one of Alacati's many al-fresco cafes and dig into some authentic Aegean cuisine.
You'll find an abundance of tomatoes, olives, beans, eggplants, and of course, the sun and the sea in your food at Alacati.
Some of the best places to eat are Fava Alacati and Ortaya Alacati. Fava Alacati is absolutely fabulous and everyone's favorite. Their mezzes are to die for. If you are looking for burgers and hot dogs, try Mahalle Alacati.
Try some Turkish dondurma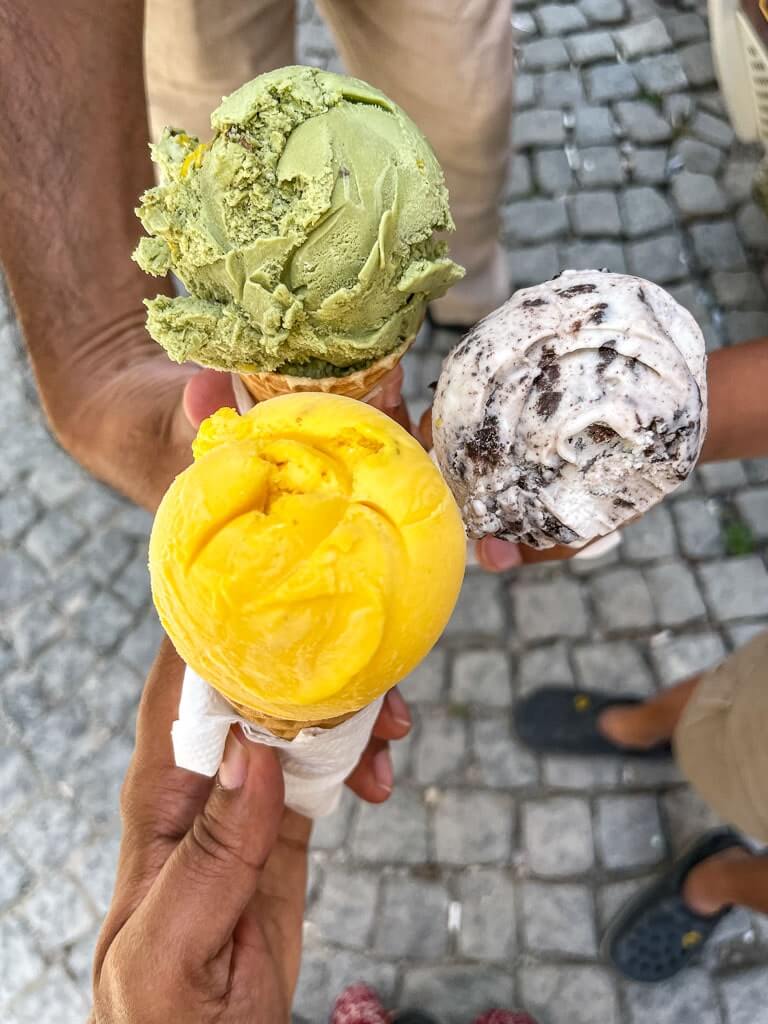 Now that you are done with lunch, how about some ice cream?
Alacati has a number of dondurma (Turkish ice cream) shops that serve delicious local flavors. You'll find a couple on every street. They have painted walls, cute furniture, and good looking (as well as the best-tasting) desserts. A couple of the most popular dessert places are Dondurmino Gelato and Alakoy Alacati Pastanesi.
Try some unique flavors such as gum mastic (local to the region), pista, mango sorbet, or fruit feast the next time you are here.
Head to the beach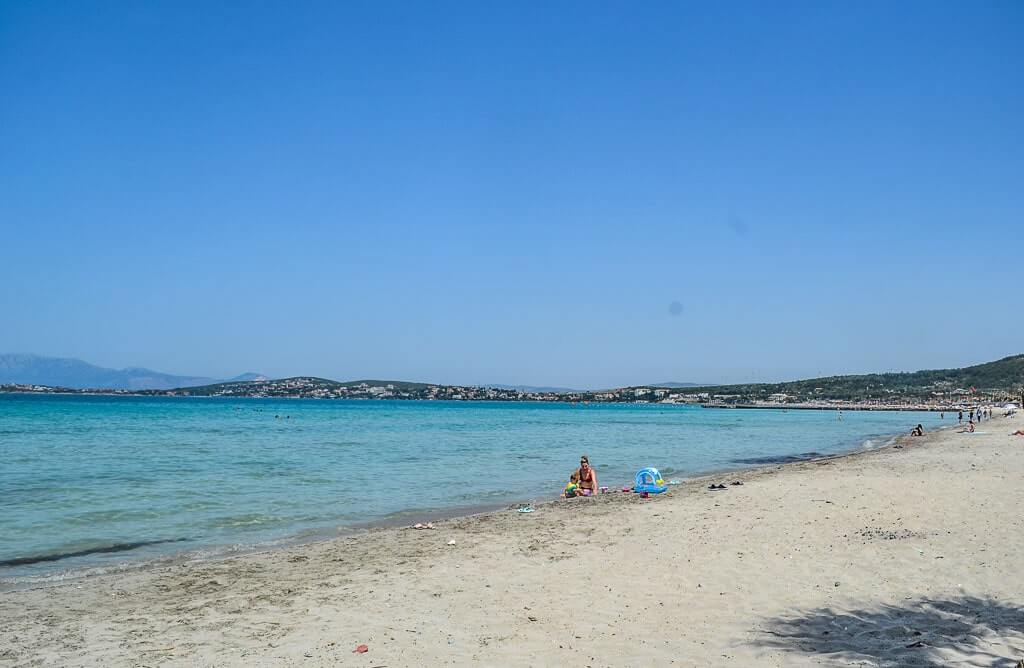 The best part about Alacati is that it is extremely close to the coast. Therefore, there are several white sand beaches nearby. You can literally spend a day just beach hopping.
Some of the most popular beaches nearby are Delikli Koyu, Spiaggia Grande, Ilica Beach, and Wyndy Beach.
We had time to check out just one. So, we did Ilica Beach which is 15 minutes by car from Alacati's old town. We rode the minibus and got there in 30 minutes.
This area has an efficient network of teal-colored minibuses (dolmus) that run every 10 minutes from Alacati to Ilica. We boarded the bus from Ataturk Boulevard, from in front of Alacati Belediyesi, the municipality office. The bus dropped us 2 minutes away from the beach. When you board the minibus, just let the driver know that you are going to Ilica beach and he will drop you at the closest stop.
Go windsurfing
Alacati is one of the best windsurfing destinations in the world. Every year, thousands of windsurfers flock to Alacati Bay for world windsurfing championships such as the PWA.
Whether you are an amateur or a professional, you can try your hands at windsurfing here. You'll find a number of windsurf schools that'll help you get started. May – October is a good time because the wind is more reliable during these months.
If you are here in July, be sure to attend the Surf Festival which is filled with action and enthusiasm.
Stay in an old stone house
Have you even visited Alacati if you have not stayed in a quaint stone house draped with bougainvillea and adorned with colorful doors and windows?
Many stone villas in the old town and outside have now been converted into boutique hotels with gorgeous interiors, luxurious amenities, and perfect-Instagrammable courtyards and porticos. Staying in one of Alacati's stone house hotels is an experience in itself. Some of the best choices are Morisi Avlu, MaSaLa Otel, and Kayezta Otel.
Visit Cesme Castle
Cesme Castle is a historic 16th-century fort built by the Ottomans to ward off attacks by Venetians.
Today, it is a popular tourist attraction and houses the Cesme Museum where you can learn all about local history and culture as well as exhibits that commemorate the 18th-century Battle of Cesme.
It is a nice historical stopover and a great place to get some amazing views of the sea. You can get here by car (20 minutes) or public transport (40-50 minutes).
Shop for souvenirs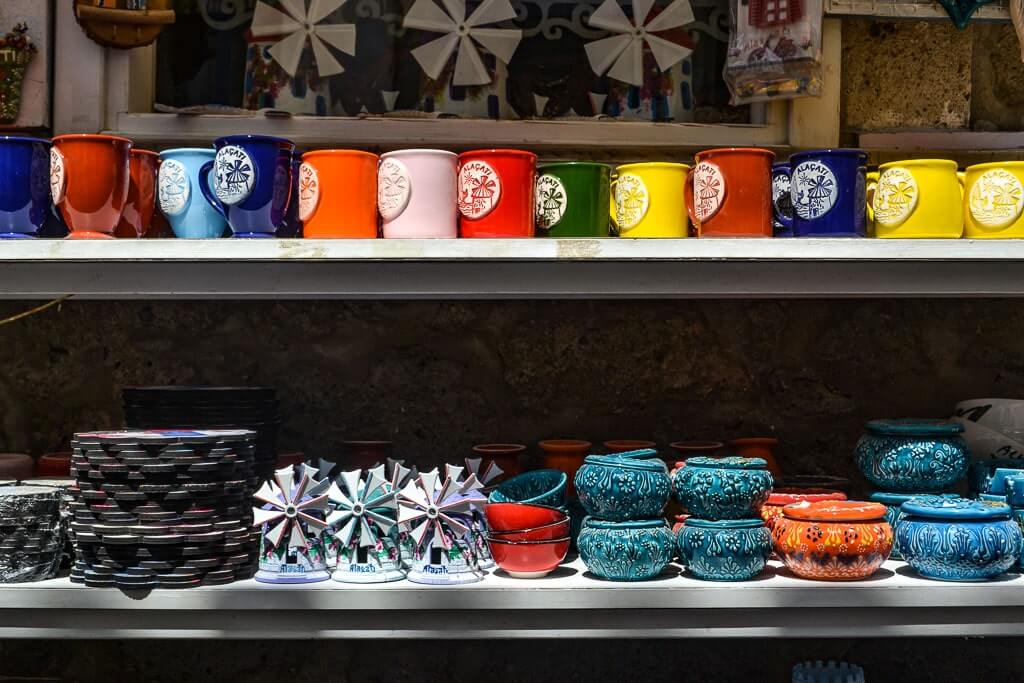 Wrap up your day in Alacati with some souvenir purchases from Turkey. Pretty souvenir stalls line every Alacati street. They stock everything including ceramics, keychains, wall hangings, handmade soaps, evil eyes, and dried herbs and flowers.
If you are here on a Saturday, be sure to drop by the Alacati Bazaar, a farmer's market that sells fresh fruits and vegetables, olives, jams, hand-embroidered textiles, and painted crockery. You'll find them at the city center and extending into several smaller streets.
Participate in a fish auction
The daily fish market in Alacati gives tourists a nice peek into local life and culture. Every day, the fish auction begins at 11:00am in the marketplace area. You'll find everything starting from the popular red mullet to octopus, squid, and lobster. If you want, you can also participate in the auction. It is open to everyone.
I love fish markets. The vibe, the noise, the haggling – all that is simply amazing. One of my favorite travel experiences is from the Negombo Fish Market in Sri Lanka where I not only clicked some amazing pictures but also got to know a lot about local life.
Unfortunately, I did not know about the Alacati fish auction when I visited. Therefore, I could not get there to photograph it. But I will make sure I get there the next time I am there.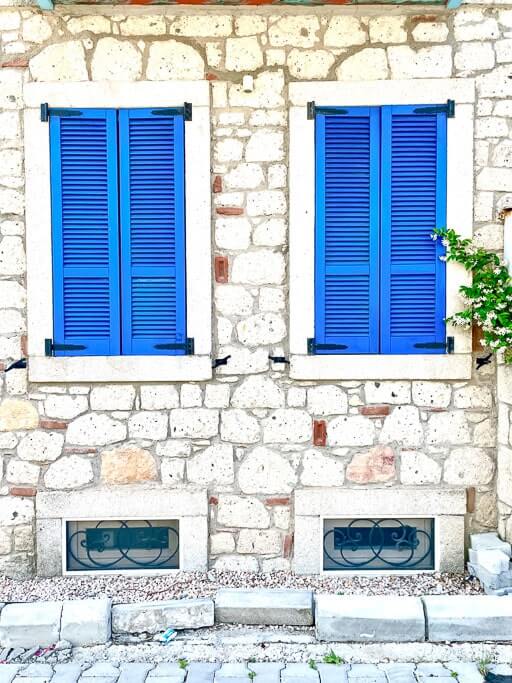 Attend a colorful Alacati festival
The people of Alacati celebrate many vibrant festivals throughout the year. Some of the most popular ones are the Herb Festival, Wine Festival, Kite Festival, and Fishing Tournament.
Alacati Herb Festival is organized in March – April every year. Every year, there is a different herb that is chosen as the theme of the festival. You'll find various kinds of natural herbs and homemade foods on display. Stuffed vegetables, cakes, pastries, jams, cookies, and olive oil are available in plenty. Everything is fresh and scrumptious.
Another interesting festival is the Kite Festival when the skies are painted with colorful kites like sprinkles on a cake. I haven't attended this festival but would love when I am in Alacati next. The only other kite festival I know about happens in Ahmedabad, India, so I am pretty excited about this one.
Here's a helpful website that puts up announcements about events and festivals in Alacati and Cesme. Check it out if you would like to plan your Alacati trip around one of these festivals.
Where to stay in Alacati, Turkey?
The best place to stay in Alacati, Turkey is in an old stone house, of course. Alacati's old town has several boutique hotels (converted from natural stone mansions) that are beautiful to live in. They are super-comfy, stocked with essentials/luxuries, and an absolute treat to your eyes.
One of the most highly-rated hotels in the old town is Morisi Avlu. It features a garden, courtyard seating area, tastefully-decorated interiors, and nice views of the city. Guests love their breakfast, clean rooms, and perfect location.
Alacati Kayezta Hotel is another superbly-rated hotel that boasts of a green garden complete with chairs and hammocks. Their rooms are very comfortable and staff is extremely helpful.
If you are looking something budget, you'll find plenty of accommodation further away from the historic center.
For example, we stayed at the small but classy Ivy House in Alacati. We chose this over old town hotels because it was super close to the Alacati bus stop (otogar). Plus, it was cheaper. Also, we could easily walk to the city center which was just 10 minutes away.
I highly recommend Ivy House because our stay here was just perfect. Our bedroom was neat, comfortable, and spacious. Their pool was gorgeous and the breakfast was out of the world! Have a look at the picture below to believe what I am telling you.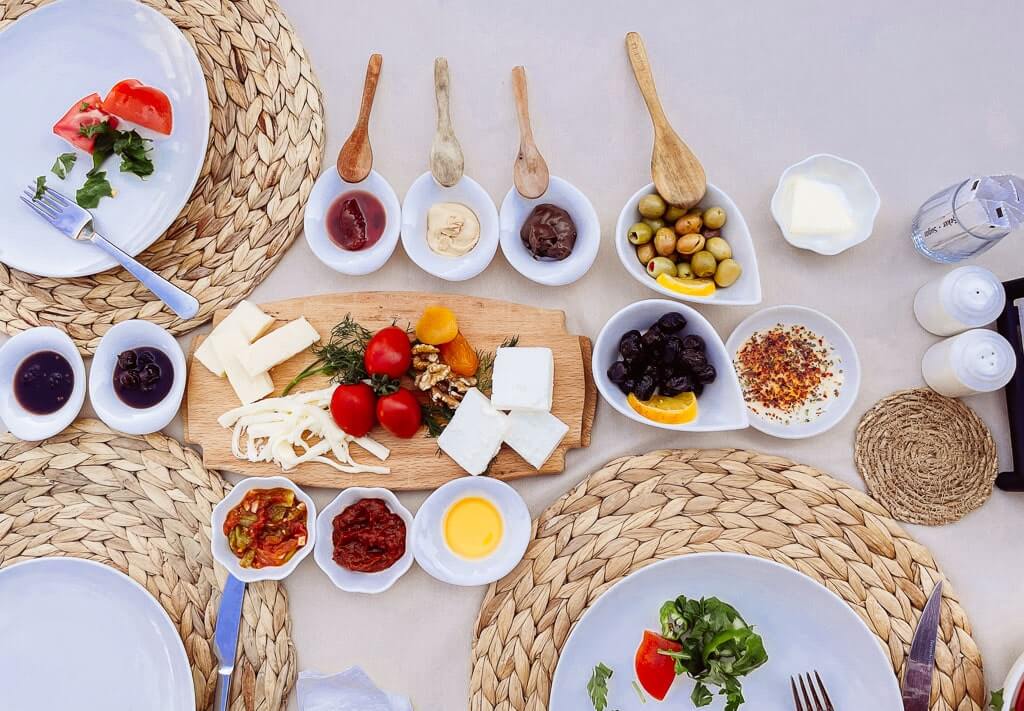 Practical information for visiting Alacati
Best time to visit Alacati
The best time to visit Alacati is in spring (March – May) and summer (June – September) if you can bear the sun.
Spring is a good time to go to Alacati because the weather is nice and relatively dry. It is a great time to be outdoors and exploring the old city because the sun is not as bright as in summer. We went in May and trust me, it was already getting super sunny.
June – September are the driest months of the year. Temperatures go up and the weather is perfect for beach. That said, this is also a busy time for Alacati. Prices go up and it is hard to get the best deals on stay and tours.
Winters are a bad time to visit Alacati. It is one of those places that experiences winter rain. That makes winter season wet and chilly. And honestly, there's no point in going in the winter if you cannot swim in the turquoise blue waters of the Aegean Coast.
Getting to Alacati
The best way to get to Alacati is to first get to Izmir Airport and then take a Havas bus from there. The journey takes about an hour. Find all the bus details on the Havas app or their website. We found the app to be more updated than the website. So, I highly recommend using the app. Alternately, you can also book an airport transfer here and have a relaxed journey from Izmir Airport to your Alacati hotel.
Getting around Alacati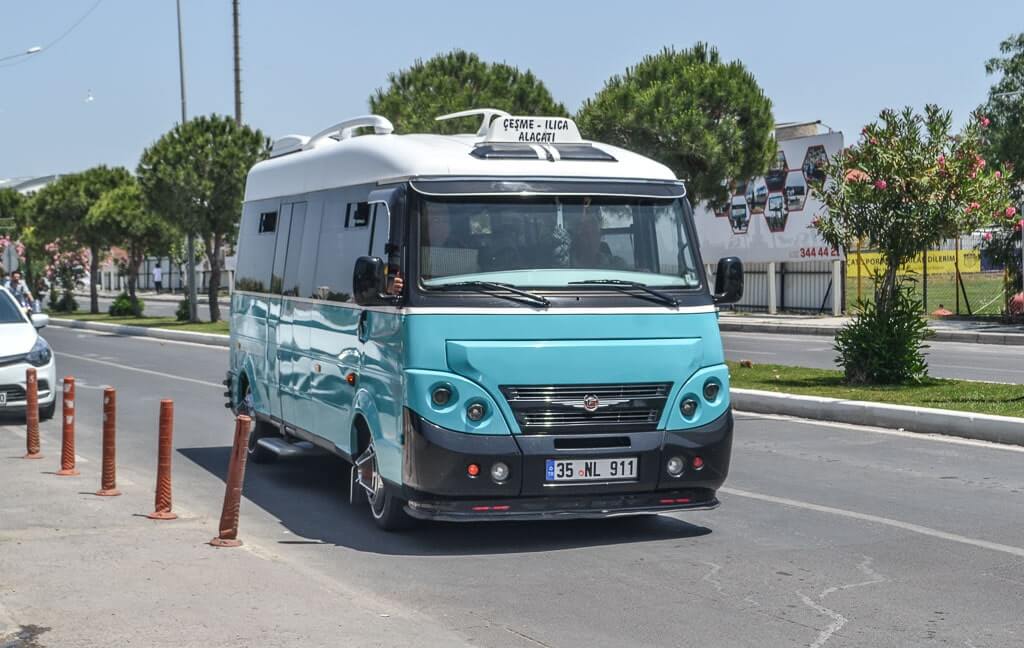 The easiest way to get around Alacati old town is on foot. The streets are narrow and winding in this part of the town – not really ideal for a car. Walking is the best way to explore and soak in the beauty of the historic center.
If you wish to go further like the Cesme Castle or Ilica Beach, you can rent a car or use public transport which is pretty decent too. The city has teal colored minibuses (locally known as dolmus) that run between Alacati and Ilica every 10-15 minutes. These are cheap and super convenient. And, you don't have to worry about parking.
Alacati travel tips
Alacati gets super hot during the day even in early spring and fall. Be sure to carry water, sunscreen, sunglasses, and your hat.
Do not forget to get your swimming kit. The beaches and the pools at the hotels are gorgeous and so inviting.
Get a good pair of walking shoes because there's a lot to explore on foot. The more you walk, the more you'll see in Alacati.
Stay in a boutique stone house hotel in Old Alacati for an authentic Aegean experience. Morisi Avlu and Kayezta Otel are two great choices.
If you are not planning to stay in Alacati, sign up for this guided tour from Izmir that'll take you to both Alacati and Cesme where you'll walk through Alacati's charming old town, visit Cesme Castle, and stop for a swim at Ilica Beach.
Alacati travel FAQ
What is Alacati known for?
Alacati is known for its charming old town that is filled with ivory-colored stone mansions adorned with pink bougainvillea and pastel-colored doors, windows, and alcove balconies. These mansions are representative of medieval Greek architecture and were recently added to Turkey's list of historic sites.
Is it better to stay in Cesme or Alacati?
We feel it is better to stay in Alacati than in Cesme because in Alacati, you'll find a larger number of stone-houses-converted-into-boutique hotels that give you the true feel of Turkey's Aegean Coast. On the other hand, Cesme has a greater number of big, mainstream hotels which have wider options and more choices.
How do you get around Alacati?
The best way to get around Alacati old town is by foot because it is hard to maneuver cars in the narrow lanes here. If you wish to travel to Ilica or Cesme, you can use the dolmus. In order to get to beaches that are further away, you'll need to rent a car.
How many days do you need in Alacati?
You need at least 2 days in Alacati to explore the old town, see the windmills, check out the local markets, sample Aegean cuisine, head to a couple of beaches, and try your hands at windsurfing.
Loved our travel guide for Alacati Turkey? Pin it for later!