Last Updated on July 14, 2022 by Soumya
A day trip to Sintra is undoubtedly one of the nicest things to do in Portugal.
Sintra is a lovely, little Portuguese town dotted with fairytale castles and historical legends. If you've heard of the quirky Pena Palace or the enigmatic Quinta da Regaleira, you'll be pleased to know that they're both located in Sintra.
The best part is that Sintra is only 20 miles from Lisbon, making it an excellent day trip destination for travelers.
There are two different ways of enjoying your short, one day in Sintra. One, join a top rated Sintra day tour, such as this one, and see the best with a local tour guide. Two, plan your own day trip from Lisbon to Sintra by train and go at your own pace to see all of Sintra's sights.
I went with the second option and saw a lot in one day.
That's why, I have this ultimate Sintra travel blog where you'll discover everything you need to plan your one day trip to Sintra from Lisbon, including how to get there, how to get around, what to do, and where to eat.
I also have a section where you'll find an amazing selection of Sintra guided tours if you prefer to leave the planning to the professionals.
Quick links to plan the best Sintra day trip
If you prefer a guided day trip to Sintra, this GetYourGuide Originals tour, which includes the charming Pena Palace, Cabo da Roca, and Cascais, comes highly recommended.
Do not miss walking down the initiation well at Quinta da Regaleira. That is an absolutely surreal experience and very different from what you may have experienced in other European castles.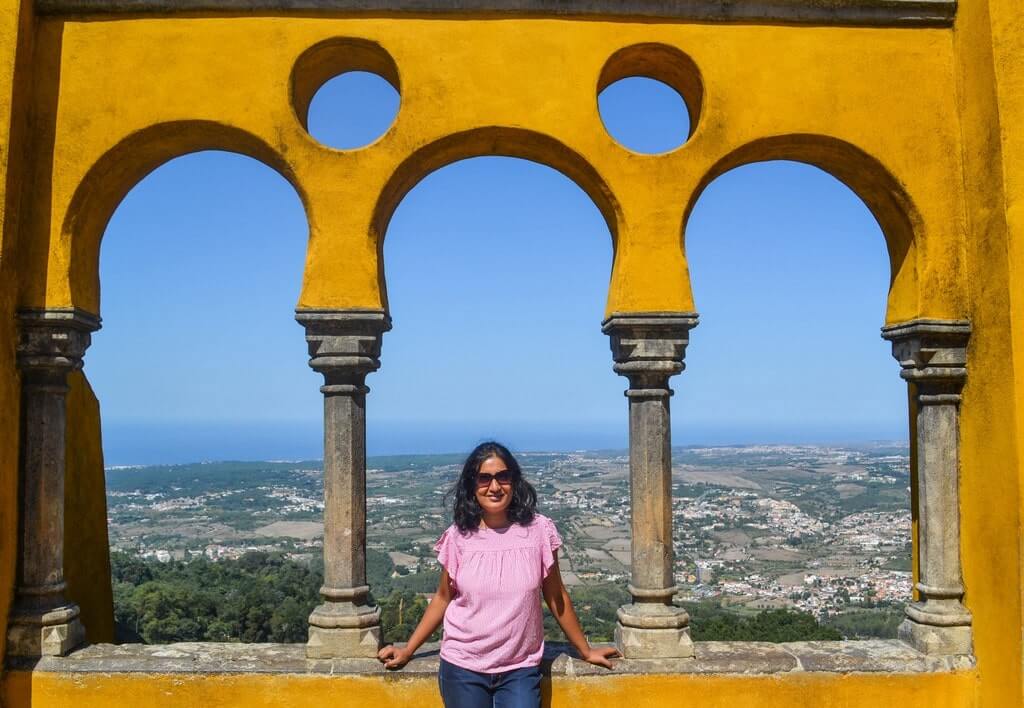 Please note: This post may contain affiliate links which means I may earn a commission if you make a purchase by clicking a link on this post. This will be at no additional cost to you. Affiliate links help me keep this website up and running. Thanks for your support!
How to get to Sintra from Lisbon?
First, let's get the logistics sorted. One of the common questions that I get from my readers is "how to get to Sintra from Lisbon"?
Well, there are a couple of ways. You can either take the train (the cheapest option) or do a guided tour from Lisbon (most convenient option).
Another way is to drive but I wouldn't recommend that to anyone. Driving on the narrow, hilly streets of Sintra is no joke! Add to that the pain of finding a decent parking space.
Key takeaway – don't drive to or within Sintra.
If at all you decide to drive, here's a list of parking spaces available in the outskirts of the town.
I took the train to Sintra and it was pretty convenient. You can take a train from the popular Rossio station in Lisbon or one of the smaller stations that I talk about in my Lisbon to Sintra train guide. The ride takes around 45 minutes and costs 2.30€ each way.
If you are looking for a great guided tour, have a look at our section on the highest rated Sintra day tours from Lisbon.
Have a Lisboa Card?
If you already have a Lisboa Card, you can ride the train for free like I did.
The Lisboa Card also offers a 10% discount at Pena Palace and Sintra National Palace and a 20% off at Quinta da Regaleira. There is also a 15% off at the Moorish Castle (something I realized just now as I was going through the inclusions page – gosh, I spent a 15% extra the last time I visited. Always pays to read the fine print!).
As far as I am aware, you can avail these discounts only on tickets purchased at the ticket counters in Sintra. Don't think they are applicable on online purchases. Let me know if I am wrong.
Have a Viva Viagem card?
Viva Viagem card is the Lisbon transport card. You can purchase one for 0.50€ and then load money onto it for your Sintra day out (2.30€ each way).
Alternately, you can load a 24h Carris/Metro/CP pass onto your Viva Viagem card to cover all your transport costs for the day.
In my opinion, it is cheaper to zap your Viva Viagem card only for the Sintra train rides rather than buying the 24h pass.
The Sintra Pass
There is a new kid on the block and it is called the Lisbon – Sintra Pass. The pass includes a Lisboa Card (valid for 1 day) + tickets to Pena Palace + tickets to Moorish Castle. However, you still have to pay for your hop-on hop-off bus rides to and from Sintra station to Pena Palace.
I feel getting a Lisboa Card is far better value for money than getting a Lisbon – Sintra Day Pass.
How to get around Sintra on your day trip?
The best option to get around Sintra is by bus. And thankfully, Sintra has regular tourist buses (run by a company called SCOTTURB) to cater to newbie tourists like us. These buses are 434 and 435.
Colored white with red and blue lines on them, 434 and 435 wait right outside Sintra train station. Exit the train station to your right and walk a 100 meters to find the stop.
Bus 434 | Pena Circuit
434 is called the Pena Circuit or Circuito da Pena.
Because of Sintra's mountainous roads, 434 goes in a one-way loop. Here is a list of all the stops.
Sintra train station
Sintra city center called Sintra Vila (this is where you get down for the National Palace of Sintra.)
Moorish Castle
Pena Palace
Sintra city center
Sintra train station
In summer, the 434 runs from 9:15am – 7:50pm. In winters, it runs from 9:30am – 6:20pm. It usually departs every 15 minutes but sometimes, you may have to wait a little longer, say 4-5 minutes more.
You can get your tickets from the helper who will be standing right in front of the bus with a ticketing machine in hand.
Get a day pass for the 434 for 6.90€ or a single ticket for 3.90€. I recommend getting a 6.90€ day pass because that is economical even if you ride the bus just twice. And trust me, we are going to need at least 2 rides to be able to plan this Sintra day trip efficiently.
Alternately, you may also buy a 24-hour pass for all buses in Sintra. They have a promotional price of 11.50€ now (2022). Usually, this is priced at 15€+. Check out the official page for tourist bus passes here.
I highly recommend taking Bus 434 if you are going to be spending only one day in Sintra. Walking/hiking is not an option.
Bus 435 | Villa Express
435 is called the Villa Express. That is because it stops at 4 palaces – National Palace (Palacio da Vila), Quinta da Regaleira, Seteais Palace, and Monserrate Palace. Note that Pena Palace is not included in this list.
A round-trip on the 435 will cost you 5€. But honestly, this bus makes sense only if you are spending more than 1 day in Sintra.
Pin this post for later!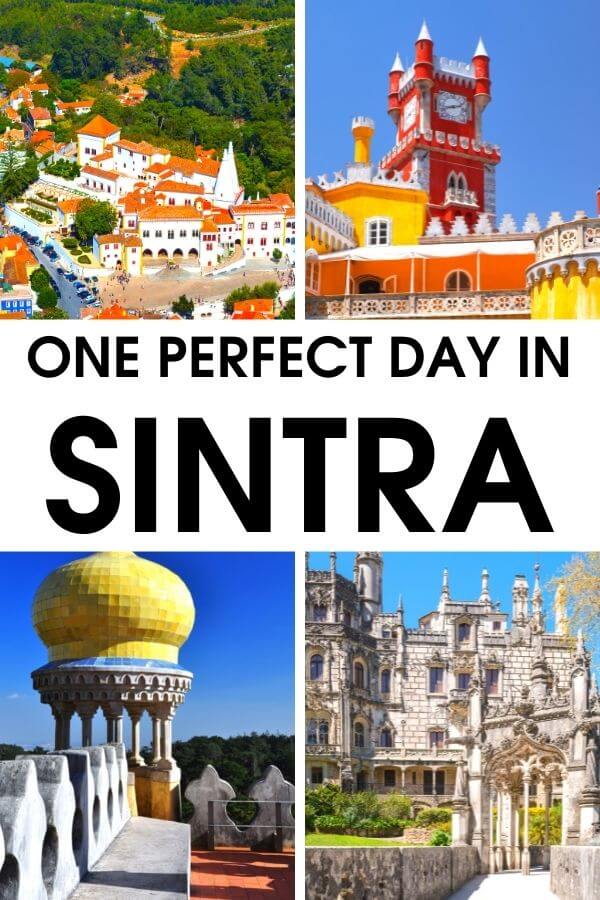 Recommended one day trip itinerary for Sintra
Begin your day at Pena Palace
As soon as you arrive in Sintra by train, exit the train station to your right and queue up for Bus #434. Take the first available bus and head straight to Pena Palace which is located at the highest point on the hill. Skip Sintra City Center and Moorish Castle for now.
Pena Palace opens at 9:30am. If you manage to get on the first bus from Sintra station, you will also be one of the first ones to get into the palace though the palace can already feel crowded at 9:30am.
There are usually 3 queues to get into the Pena Palace.
1 – Queue at the ticketing counter – which you can skip if you purchase a ticket online.
2 – Queue at the entrance gate which wasn't very long. We entered almost instantly after getting our ticket and walked up the hill to the palace. It is a short 5-6 minutes walk. However, if you choose to ride the bus that takes you from the gate to right outside the palace entrance, you will have to wait a few minutes.
3 – Queue to get into the state rooms – this one was pretty long and it took us about 15 minutes to enter.
What to do at Pena Palace?
At Pena Palace, you can do a tour of luxurious staterooms that were once the summer residence of the Portuguese royal family, visit its colorful and eclectic terraces, and stroll around its charming gardens that are home to fountains, chalets, sculptures, and many exotic plants.
I suggest you begin your Pena Palace tour at the terraces, go on to the state rooms next, have a little something at the cafeteria, and finish with a walk through the gardens.
Here's a free map of Pena Palace and Park for you to download.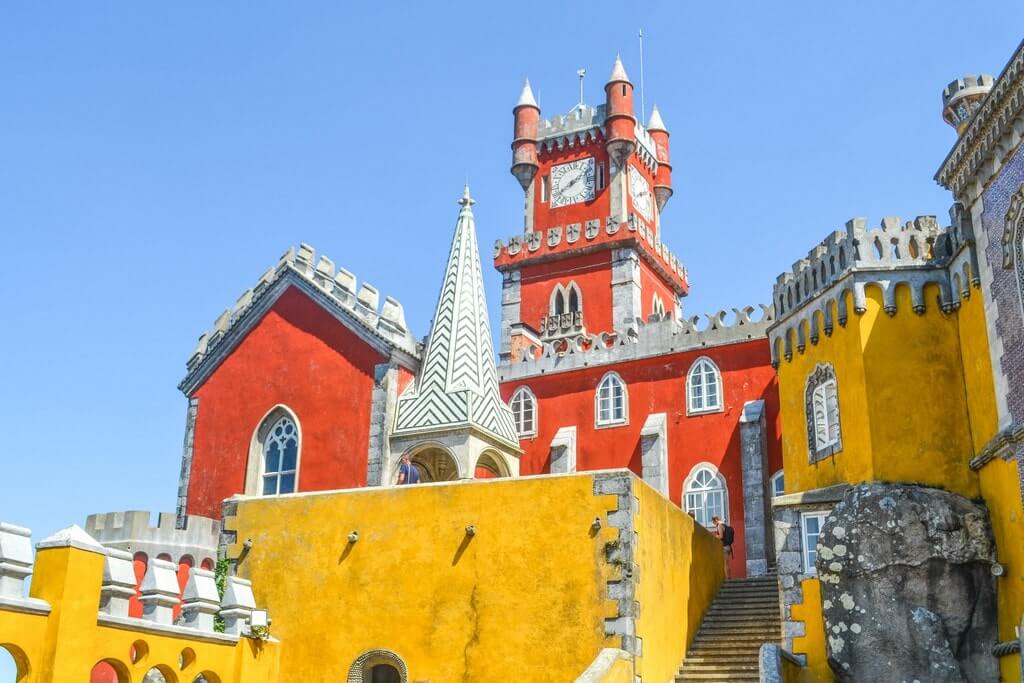 Pena Palace terraces
The terraces were definitely the highlights of my day trip to Sintra. I urge you to see them first and then do the state rooms tour.
All the dreamy pictures that I had seen while researching for my Sintra visit came to life right there on the terraces of Pena Palace.
The mix of yellow, red, blue, and white made the terraces so unique. You will find pretty yellow arches, exquisite onion domes, and a plethora of interesting sculptures like the mythical Triton. Add to that some gorgeous views of the valley and the Moorish Castle.
There are 3 terraces to visit at Pena Palace of which you can visit 2 with only the parks ticket. To enter the Queen's Terrace, which is also the highest one, you'll need a Palace and Park ticket. Learn more about Pena Palace tickets in the section here.
Pena Palace state rooms
I know a lot of people will tell you to skip the state rooms. But if you are a history buff like me or love to see what luxury meant to kings and queens of yesteryears, I urge you to visit the interiors.
Pena Palace was the summer residence of the Portuguese royal family for a long time. It is modest in size when compared with other palaces in Europe.
There is a dining room, bedrooms, a chapel, and a noble room. Plus, an adorable kitchen. Photography is not allowed within the state rooms.
You'll also see a beautiful Manueline cloister that you can that you can walk around and photograph. Remember the cloisters of the Jeronimos Monastery from our day trip to Belem? Well, this one is a much smaller but similar one.
Pena Palace cafeteria
After walking through the rooms, you'll head straight to the cafeteria-cum-restaurant where you can have a sumptuous lunch.
Contrary to what you may have read/heard, the cafeteria at Pena Palace serves elaborate meals which include a soup, a salad, mains, and dessert. It is not just a coffee stop.
I highly recommend having an early lunch here and then moving on to the Pena Palace gardens and Moorish Castle for your second visit.
Prices at the restaurant are decent and not as exorbitant as you would imagine for a touristy place like this. And you won't find any other food joint in the vicinity.
They have a terrace café which will be crowded at all times because hey! everyone wants to have a coffee on a Pena terrace! Sit in the restaurant instead. It was almost empty when we went. After getting our self-serviced trays loaded with food, we enjoyed a nice and quick meal.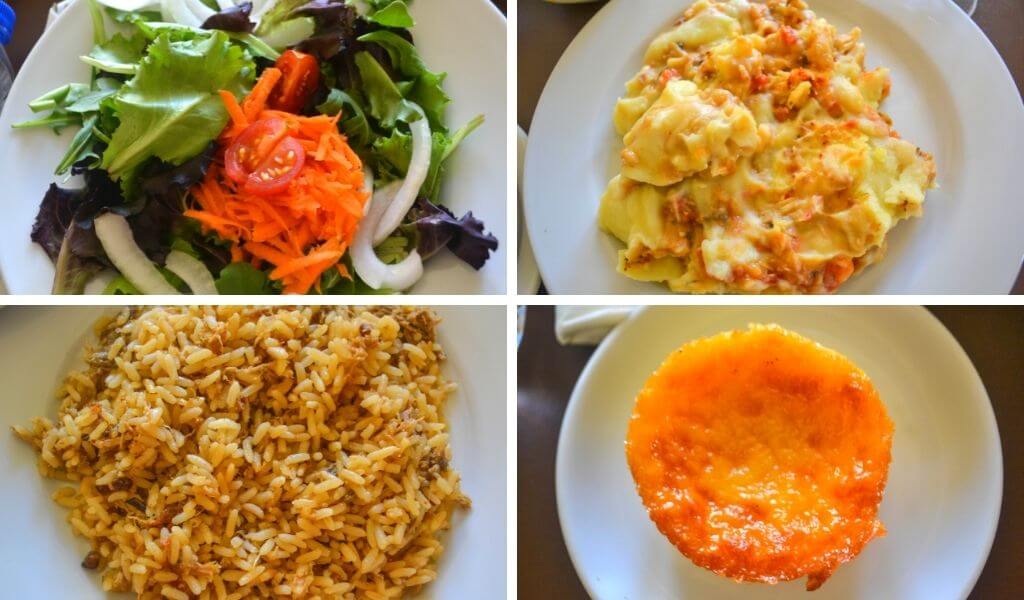 Pena Palace park & gardens
Head to the gardens once you exit the palace building. Some of the highlights here are the Statue of King Fernando II, Cruz Alta (from where you get a good view of the palace), a Neo-Moorish pavilion, and the Chalet da Condessa d'Edla.
Unfortunately, when we traveled in September, it was super hot in Sintra and the parks were closed for the fear of a forest fire. Since we could only visit the palace, we got a cheaper ticket for the palace alone.
We could not do the parks, so decided to visit the Moorish Castle which was the second stop on our Sintra 1 day itinerary.
Pena Palace tickets
Tickets for palace and park are priced at 14€ per adult. For 7.5€, you can access only the gardens which, I think, makes no sense because the palace is absolutely more attractive.
I highly recommend getting an online ticket for Pena Palace if you don't want to spend hours waiting in the ticketing queue.
You can also buy an online ticket on their official website although my preferred place to buy tickets is always the Get Your Guide portal. I love their flexible cancellation policies. I can cancel up to 24 hours in advance and receive a full refund.
Pena Palace opening hours
Palace is open from 9:30am – 6:30pm.
Park is open from 9:00am – 7:00pm.
Ticket office closes at 5:30pm.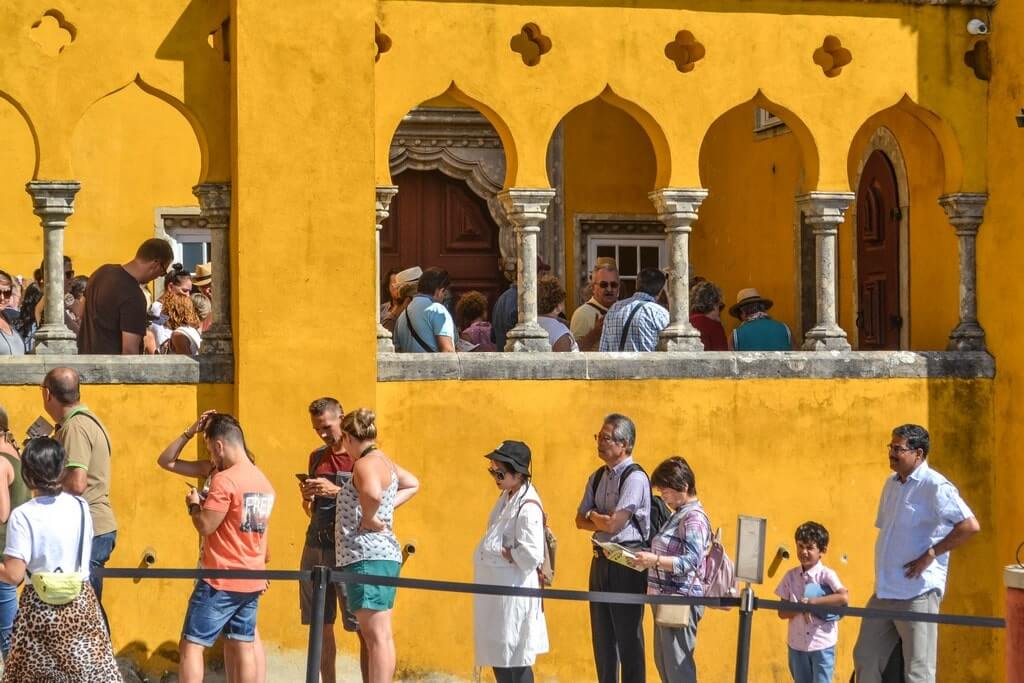 Head to Moorish Castle
Moorish Castle or Castelo dos Mouros was our second stop for the day in Sintra.
It is just 0.5 miles (under 1km) from Pena Palace and the walk is all downhill. You'll get to Moorish Castle from Pena Palace in less than 10 minutes of walking.
Do not take Bus 434 because that goes in a loop and you'll go all the way to the station and city center before you can get back to Moorish Castle.
Once you are at the gates of the Moorish Castle, you will need to hike up to the fort walls from where you can get some stunning views of the valley and Pena Palace.
Built in the 10th century by the Moors, this castle was once a strategic viewing point. The Historical Interpretation Center (located within the castle grounds) gives you an interesting perspective and deep dive into the history of the castle.
Download a free map of Moorish Castle here.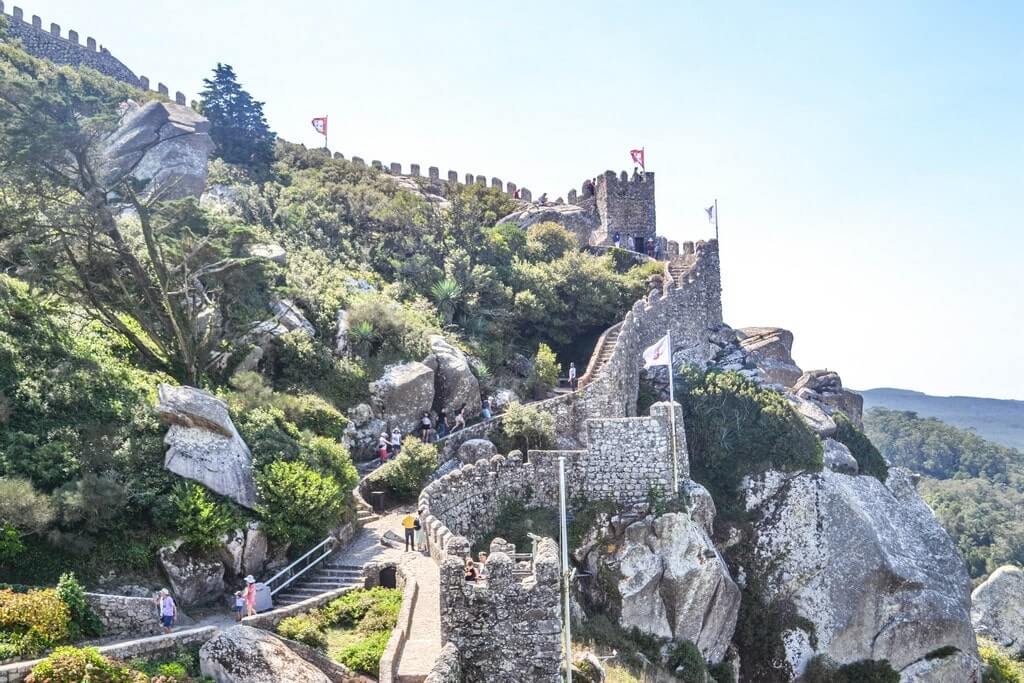 Moorish Castle tickets
One adult ticket for Castelo dos Mouros costs 7.60€.
Again, I highly recommend getting a skip-the-line ticket for Moorish Castle online. Because this Sinta itinerary is going to be extremely packed and we want to save whatever time we can.
Moorish Castle opening hours
The castle is open from 9:00am – 6:30pm. Last admission at 6:00pm.
Take the bus to Sintra City Center
Hop on Bus 434 again and head to the Sintra City Center.
Visit the National Palace of Sintra
At the city center, you'll find the Sintra National Palace which is yet another jewel in the Sintra castle list.
The National Palace is the oldest palace in Portugal. You'll catch a glimpse of it as you ride in Bus 434, on your way to Pena Palace.
Unfortunately, I could not make explore the National Palace in detail because I just did not have the time. Doing 4 castles in a day in Sintra was next to impossible. But if you really want to see the National Palace, skip Moorish Castle and get to the city center right after Pena Palace.
The National Palace is huge with many rooms. Spare at least 2 hours to see it all.
Here's a free downloadable map for your easy reference.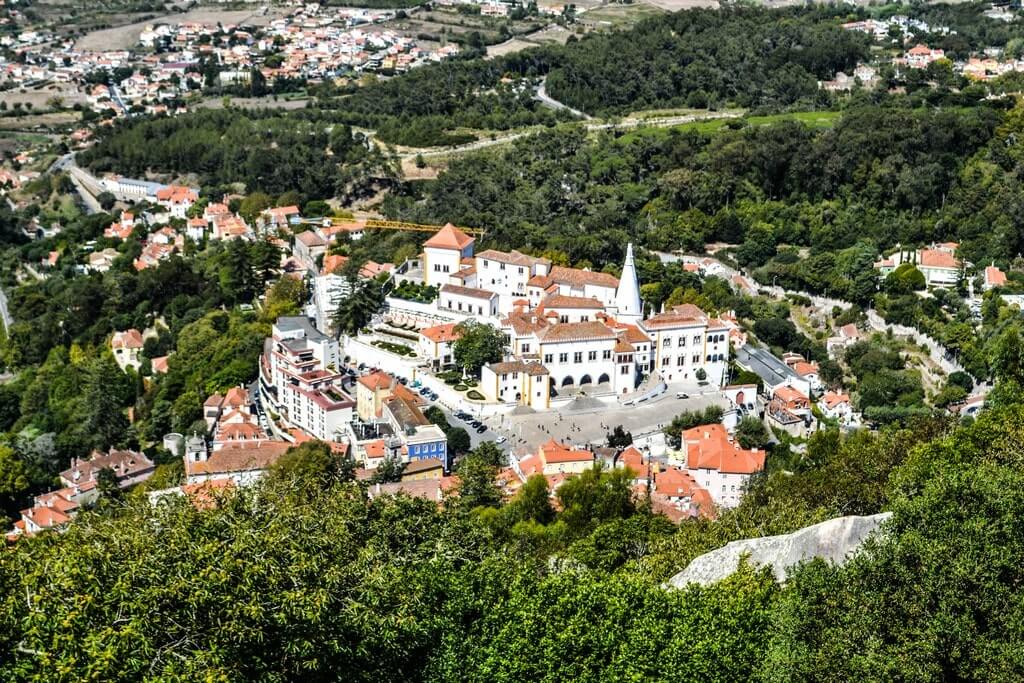 What to do at the National Palace of Sintra?
There are many wonderful things to do at the National Palace of Sintra including a tour of its magnificent state rooms, a trip to the Central Patio and Water Grotto, and a walk around the gardens. You cannot miss the the mind-blowing ceiling of the Blazons Hall and the tiled wall coverings that adorn several important rooms.
The most striking feature of the National Palace are two white, conical chimneys that stand tall over the royal kitchen.
The palace is home to several impressive rooms such as the Manueline Room, the Arab Room (reminds of Palacio da Bolsa in Porto), the Swan Room, and the Palatine Chapel. You should not miss the Central Patio and the Water Grotto which are decorated with beautiful Azulejo panels.
One of the highlights of the National Palace of Sintra are its majestic ceilings which are an amazing blend of Gothic, Moorish, and Renaissance architecture.
National Palace tickets
Tickets to the National Palace of Sintra are priced at 10€ per adult. You can visit the gardens for free.
Be sure to purchase your skip-the-line ticket for Sintra National Palace beforehand to avoid the queues.
National Palace opening hours
Palace and parks are open from 9:30am – 6:30pm. Last admission at 6:00pm.
Enjoy the travesseiros of Casa Piriquita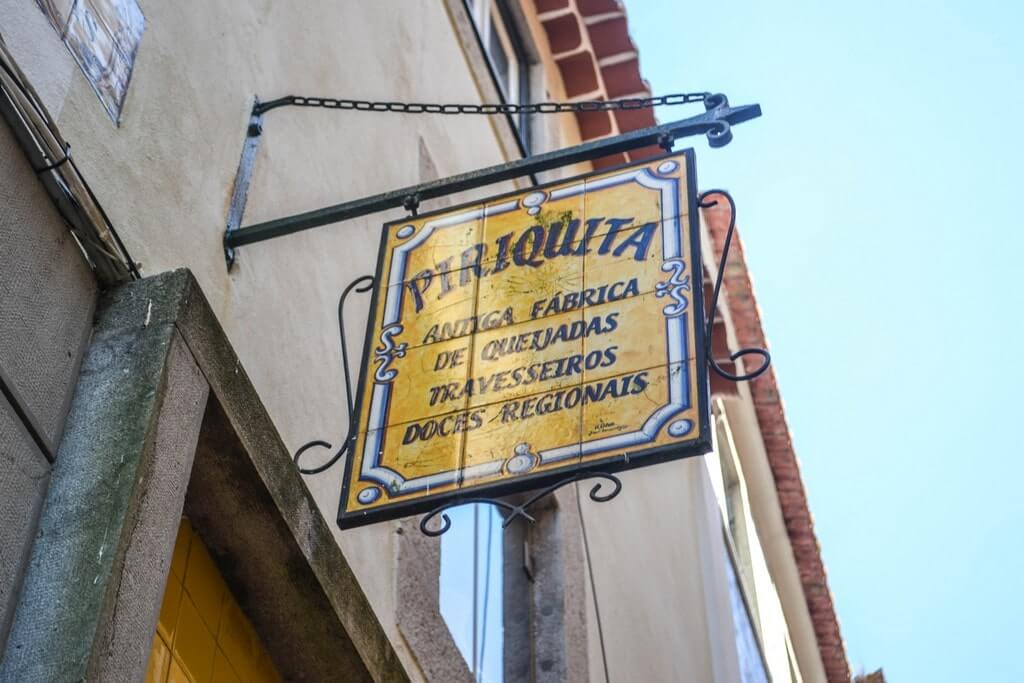 Foodie or not, you are going to love the travesseiros of Casa Piriquita at the city center.
One of the best desserts in Portugal, travesseiros are pillow-shaped flaky pastries that are filled with almond cream. They are so soft they almost melt in your mouth.
Not many travelers know that Sintra is also popular for yet another sweet delicacy called the queijada. Apparently, this soft cheesecake was once the favorite dessert of the Portuguese king. You'll find queijadas at Casa Piriquita as well as Queijadas da Sapa.
End your day at Quinta da Regaleira
The last stop for this exciting Sintra day trip from Lisbon is going to be the mysterious Quinta da Regaleira.
You can get here by Bus 435 or simply walk. We just walked and it took us about 10 minutes to get there from the city center. Refer to the map below for directions.
Quinta means a large country estate. Sintra's Quinta da Regaleira is a historic home dating back to the 19th century built in a fusion of Manueline, Renaissance, and Medieval architectural styles.
This country home was owned by Antonio Augusto de Carvalho Monteiro and designed by Italian architect, Luigi Manini. It is filled with interesting sculptures, fountains, benches, grottos, lakes, and of course two famous initiation wells.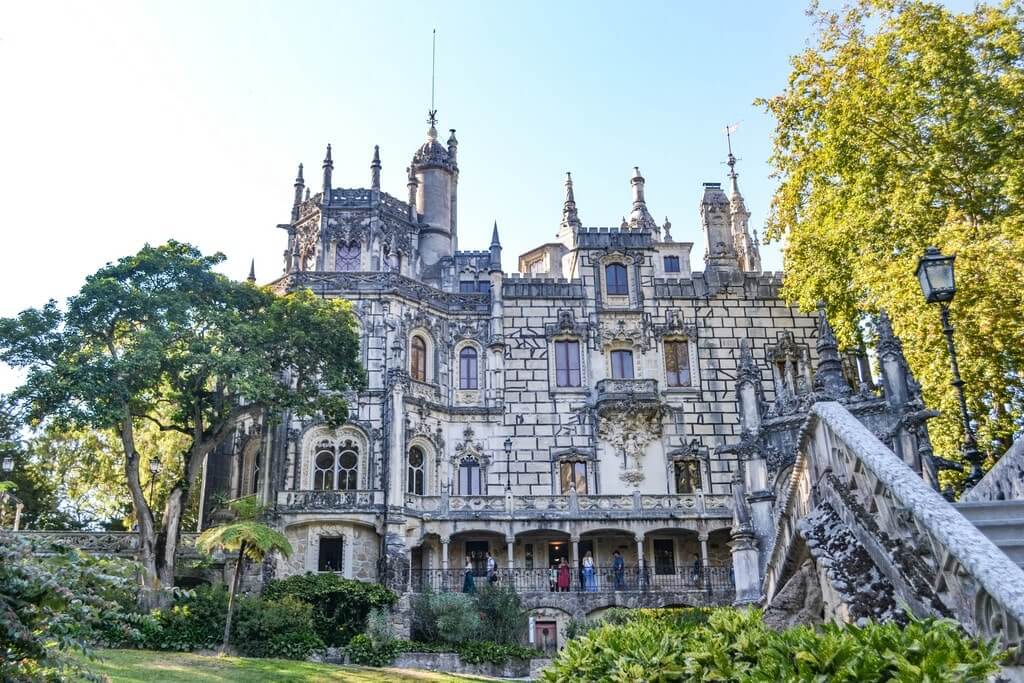 Initiation wells of Quinta da Regaleira
The highlights of Quinta da Regaleira are a couple of mysterious initiation wells that were once used for ceremonial rites. It is believed these wells were connected to Tarot mysticism and Templar myths.
You can climb down the spiral stairs of the first, more well-maintained initiation well and then follow a tunnel that connects it to the another smaller well. At the bottom of the bigger well, you'll see a beautiful floor lined with mosaics.
It is a little unnerving to realize that these wells were never used for storing water. Rather, they were once the venue for mysterious rituals that we will never know for sure.
If you keep going along the tunnel, you'll come to a grotto at the end of the tunnel, beyond which lies a beautiful garden.
Note: There is no light inside the tunnel and it may be pretty dark even during the day. Use your mobile flashlight to maneuver yourself through.
Quinta da Regaleira tickets
Tickets to Quinta da Regaleira are priced at 10€.
Lisboa Card holders get a 20% off the ticket but you'll have to purchase the ticket at the counter.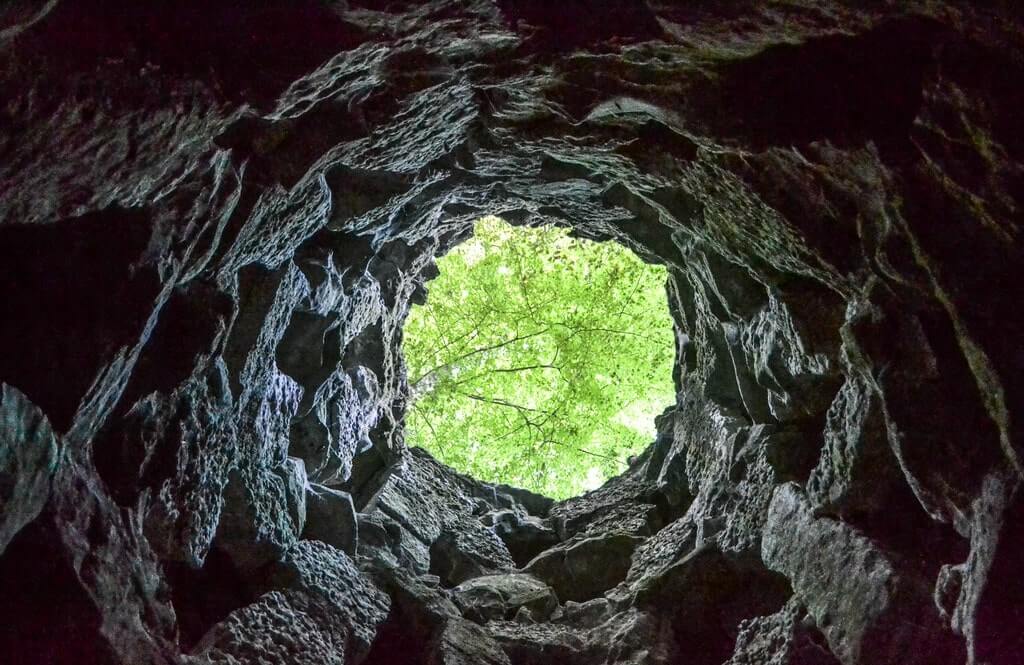 Quinta da Regaleira hours
The palace is open from 10:00am – 6:30pm. Last admission at 5:30pm. In summer, the palace is open until 7:30pm.
Popular Quinta da Regaleira tours
Quinta da Regaleira is one of Sintra's most popular castles. No wonder, it is a favorite among tourists too.
Therefore, there are a number of amazing guided tours that are dedicated solely to Quinta da Regaleira and a few smaller attractions. Here's a list.
Interactive map of Sintra day trip attractions and walking trails
More than 1 day in Sintra?
Visit Cabo da Roca, the westernmost point of mainland Europe. It is easy to get here by Bus #403 (details in my Lisbon to Sintra transport guide). This clifftop destination with stunning vistas is one of the best places to watch a sunset in Europe.
Head to the coastal town of Cascais, a traditional Portuguese fishing town that is well-preserved even today.
Best Sintra day tours from Lisbon
There are several amazing day tours from Lisbon to Sintra. Here are some of my favorites that are also the highest-rated on GetYourGuide.
One of the most popular guided tours in the market, this full-day GetYourGuide original takes you to the Pena Palace, Sintra's city center, the stunning Cabo da Roca, and finally the seaside town of Cascais. All this without burning a hole in your pocket.
On this full-day tour from Lisbon, you'll explore 3 of the most beautiful palaces in Sintra – Pena Palace, Quinta da Regaleira, and Monserrate Palace. This is probably the only comprehensive tour that does 3 castles in the same day. Check out availability and reviews here.
Sintra travel FAQ
Can you do Sintra in a day?
Yes, you can easily do Sintra in a day and see some of the most beautiful Portuguese castles including Pena Palace and Quinta da Regaleira. However, if you wish to see all of Sintra's beautiful palaces, plan to spend at least 2 days here.
Is Sintra worth visiting?
Sintra, a charming hillside town in Portugal, is absolutely worth visiting. Sintra was long home to the kings of Portugal and is, therefore, full of stunning palaces and magical castles such as Pena Palace and Quinta da Regaleira. The cultural landscape of Sintra was inscribed on the UNESCO heritage list in 1995.
Can you walk around Sintra?
Yes, you can walk around Sintra but taking a bus/tuk-tuk is highly recommended in some steep areas. For instance, you can easily walk from the city center to Quinta da Regaleira as well as from Pena Palace to Moorish Castle. But it is advised that you take the bus from Sintra bus station to Pena Palace because the climb is very steep.
Can you do Sintra in half a day?
You cannot do a lot in Sintra in half a day but you can definitely see one important castle. That has to be either Pena Palace or Quinta da Regaleira. You cannot do both in half a day. For example, this tour of 5 hours duration takes you through a guided visit of Quinta da Regaleira only.
How much time do I need in Sintra?
You need at least a couple of days to see all that Sintra has to offer – the castles, the gardens, the city center, and tasting of desserts. However, one day in Sintra (which is a popular day trip from Lisbon) is also a good way to see the highlights – Pena Palace, Quinta da Regaleira, + one more palace (could be Moorish Castle or National Palace of Sintra).
Explore more of Sintra

Read our posts on
Castles and Palaces | From the extremely popular Pena Palace to the lesser-known Monserrate, here are the

7 most beautiful castles

you should you visit in Sintra.
Pena Palace | Got any questions on Pena Palace and Parks? Find all your answers in this ultimate travel guide for Pena.
Sintra train travel | Traveling from Lisbon to Sintra by train? Find all details in this Sintra train travel guide.
Loved our Sintra day trip guide? Save it for later!