Last Updated on April 25, 2023 by Soumya
Lisbon has been hot on the world tourist map for some time now. There are innumerable tourist attractions in Lisbon. But there are enough crowds too. So how do you go off the beaten path in Lisbon?
How do you find the most unusual things to do in Lisbon? Explore some of Lisbon's secret places all on your own? By following our guide to the best offbeat experiences in Lisbon!
Here, you will learn all about
Secret and unusual things to do in Lisbon.
What makes these hidden gems of Lisbon so special.
Practical information on how to plan your trip to these unusual Lisbon attractions.
Please note that we highly recommend these offbeat things to do in Lisbon only if you are spending more than 2 days in Lisbon. If you would rather see the most popular things in Lisbon, feel free to refer to our guide on the must-do's in Lisbon.
But if you are here for the hidden gems, then read on. Let's get started with the 9 most unusual things to do in the capital city of Portugal so that you can have a more rested and fulfilling Lisbon trip.
An Offbeat Lisbon Guide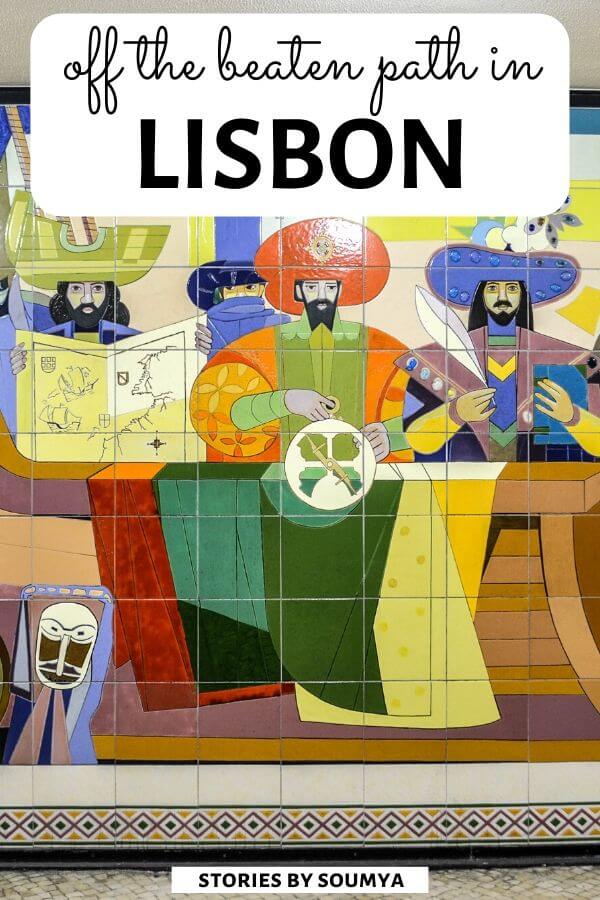 Please note: This post may contain affiliate links which means I may earn a commission if you make a purchase by clicking a link on this post. This will be at no additional cost to you. Affiliate links help me keep this website up and running. Thanks for your support!
9 Offbeat things to do in Lisbon
Explore the lesser-known monastery of São Vicente de Fora
This was my favorite destination on our Lisbon off-the-beaten-path itinerary. The historic monastery of São Vicente de Fora is a 17th-century Mannerist church located at Largo de São Vicente in Lisbon.
Apart from being one of the most stunning viewpoints in Lisbon, the monastery of São Vicente de Fora houses a beautiful Baroque entrance hall with a vaulted ceiling. This creates an illusion of the hall being taller than it actually is. Reminded me of Villa Oplontis in Italy where the rooms had these clever paintings to make them look bigger than they actually were.
Some really beautiful azulejo panels adorn the cloisters and the fable gallery, an interesting spot for both adults and kids in Portugal. Stories are told through azulejos and you will love them. The highlight, however, is the sacristy decorated with colored marble. One of the prettiest I have seen in Portugal. And then there is the creepy Braganza Pantheon that houses the tombs of Braganza family members.
See Also: What to do in Lisbon: Top 15 Lisbon attractions that you cannot miss!
Walk on an aqueduct – offbeat and unknown in Lisbon
Of all the interesting things on our Lisbon itinerary, the most unexpected was walking on an aqueduct. I have always seen and admired aqueducts from a distance. Contemplated reasons for their existence. Been perplexed at how they could carry water for such long distances. But to walk on one was certainly a one-off!
If you wish to do something as offbeat in Lisbon, head to the Águas Livres Aqueduct in the Alcântara valley. The aqueduct is 19km long and stands on 35 tall arches. It was built in the early 18th century and is a tentative UNESCO heritage site today. The aqueduct is one of the few structures that survived the disastrous Lisbon earthquake of 1755. So, you know you are walking on strong paths. You can access the aqueduct from its entrance in Armoreira.
The walk to the end of the aqueduct and back takes around an hour. More if you are stopping to enjoy the views of the Alcântara valley. Midway, there is a spot where you can peep in and see the huge pipes that carried water to Lisbon. The aqueduct is definitely one of the most exciting things to do in Lisbon especially with kids.
See Also: 15+ Unique Things to do on a Family Holiday in Portugal
Visit Church of São Domingos – Off the grid in Lisbon
There are so many churches to visit in Lisbon. Many of them are quite popular attractions such as Sé de Lisboa, Church of São Roque, and the unique Carmo Convent. One church that you would have never heard of is Igreja de São Domingos, a Baroque church from the 13th century.
The Church of São Domingos survived the earthquake of 1755 and a deadly fire in 1959. The strain of survival kind of shows in its almost-damaged walls and scorched stone pillars. As soon as you enter the church, a strange damp feeling envelops you. But in the dampness, there is warmth. A welcoming hug. A cozy interior that beckons to you. Somehow, I felt more at peace in this old, musty church. This was my real connection with Portugal.
Right outside the church is the Star of David memorial that marks the location of an anti-Semitic massacre in 1506.
Take a tour of the Coaches Museum in Belem
The Coaches Museum in Belem is yet another secret place in Lisbon untrodden by tourists. Museu Nacional dos Coches is housed in an old horse riding school of the Belem Palace.
Several antique coaches, many heavily gilded, are put on display here. These bogies were built and used between the 17th and the 19th centuries. The history associated with some of these ornate coaches is mindblowing. Make sure you spot the three luxurious coaches presented by the Portuguese ambassador to the Pope in Rome at the end of the gallery.
See how to incorporate the Coaches Museum even in your short 2-day Lisbon itinerary.
Enjoy authentic African food
Because of Portugal's Age of Discoveries and widespread colonial pursuits, you will find ethnic immigrant communities all over the country. A good chance is that you will stumble upon authentic Angolan and Mozambican cuisines in the bigger cities of Lisbon and Porto.
We tried some really good Angolan food at Casa de Angola, one of the hidden gems in Lisbon. Even though the menu was all in Portuguese and the owner understood minimum English, he made us comfortable and brought us exactly what we wanted. A steamy hot bowl of Moamba (Angolan chicken stew), a gelatinous porridge made of cassava flour, beans, and an insanely hot condiment called the Gindungo. Make sure you try some when you get to Lisbon.
Shop at the Market of Female Thieves – an offbeat market in Lisbon
Now that's an interesting name? Isn't it? The Market of Female Thieves or the "Feira da Ladra" is located in the Alfama district of Lisbon and is one of Lisbon's secret spots. It is held twice every week (Tuesday and Saturday) near the National Pantheon, an iconic Lisbon attraction. Legend has it that this market has been around since the 12th century.
You will find tonnes of antiques here. Plus lots of handicrafts, local food, clothes, and other artisanal items. Even though the market is so named, trading here is perfectly legal. Hard to say how it got the name. But it is fascinating to imagine rebellious women stealing by the night and selling here by the day!
Visit the National Tile Museum
The National Tile Museum or the Museu Nacional do Azulejo was another wonderful destination on our itinerary for offbeat Lisbon. It is housed in a former convent and takes you through the entire history of azulejo tiles in Portugal from the 15th century. If you are a culture lover, then you will want to visit this place.
Lisbon's Madre de Deus convent was converted into the Azulejo Museum in 1971 to preserve this age-old art form after it had fallen out of favor in the early 20th century. Azulejos of all kinds, colors, and shapes can be sampled here. The highlight of the museum is the panoramic panel on the top floor which showcases old Lisbon city, before the 1755 earthquake, in all its glory. Don't miss this piece.
All you need to do is to get your tickets, collect your free audio guides at the reception, and glide through each and every room experiencing the resplendent history of Portuguese blue tiles. You can check out hours and admission details on the official website here.
You can buy your entry ticket for the National Tile Museum here. Admission to the museum is complimentary with the Lisboa Card, in case you already have one. Or get your Lisboa Card here.
See Also: The best azulejo spots in Porto
Ride Tram #24 instead of #28
You will have already heard of the picturesque ride on tram #28 in Lisbon. And you must have heard how very crowded it is. That is because it is on everyone's bucket list for Lisbon. We suggest you try a more comfortable ride on tram #24.
Tram #24 had been closed down in 1995 after running for 90 years. It was recently opened up again in 2018 and connects Campolide to Praça Luís de Camões in Bairro Alto. Some of the must-see stops on this route are the Church & Museum of São Roque, the viewpoint of São Pedro de Alcantara, and the Lisbon Botanical Garden. Go when the tram is still our little secret!
See Also: The 10 Most Stunning Viewpoints in Lisbon
Tour the unique metro stations of Lisbon
The metro stations of Lisbon are definitely worth a see because of the exotic azulejo art that adorns their walls. It was in these metro stations that the azulejo art was revived. I especially liked this panel called the "Arrival" at the Restauradores Metro station in Lisbon. It was created to commemorate the 500th year of discovery of Brazil.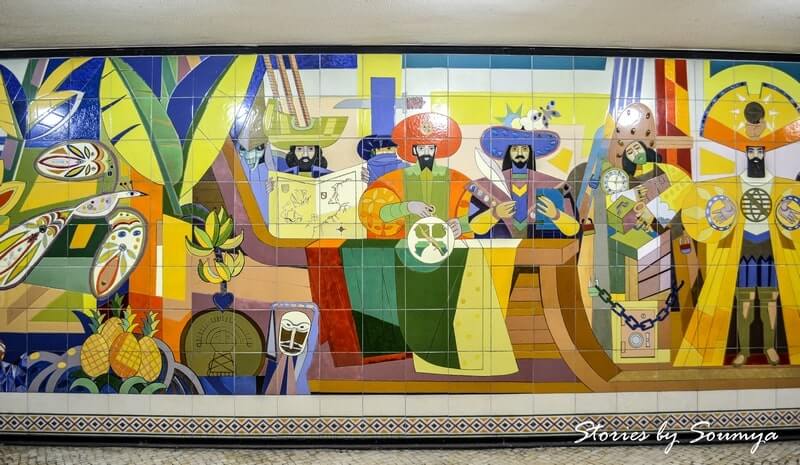 The Parque metro station, clad in more than 400,000 blue tiles that create the vision of a blue dome, is unique in its own right. And so is the Oriente station. Multiple panels depicting world maritime history adorn its walls. If the weather is bad and you don't want to get out, feel free to stay underground and explore the fantastic azulejo-clad stations in Lisbon.
These are some of the most offbeat experiences we had in Lisbon.
There weren't any crowds here. And it was easier to enjoy and learn in peace.
We don't hate crowds. Sometimes we actually love them. But at other times we like to explore on our own. What about you? Do you like crowds? Or would you rather spend the day without having to jostle your way through? If yes, then you will surely find our Lisbon off the beaten path itinerary helpful.
Read next
Loved our picks for Lisbon off the beaten path? Pin it for later!