Last Updated on September 1, 2023 by Soumya
Wondering what are the best day trips from Lisbon? We have an excellent collection for you here, all by train and bus. From castles to beaches to monasteries, here are some of the most amazing one-day getaways from Lisbon Portugal.
In this Lisbon day trips round up, you will learn all about.
The best and easiest day trips from Lisbon by train – all under 2 hours journey time.
How to get to your destination cheap and quick?
How to plan your day and what to see when you get there?
Very often, travelers think that Sintra is the only easy one day trip from Lisbon. But that is so not true. Here, we have not one but 6 amazing places around Lisbon that you can easily add to your Lisbon itinerary.
If you feel overwhelmed by all the planning at any point in time, feel free to check our recommended tours option under each destination. But if you love planning and wish to craft your own DIY tour, read on to plan some of the most memorable day trips from Lisbon.
6 Best day trips from Lisbon by train
Please note: This post may contain affiliate links which means I may earn a commission if you make a purchase by clicking a link on this post. This will be at no additional cost to you. Affiliate links help me keep this website up and running. Thanks for your support!
Sintra – A must-do Lisbon day trip
Located less than an hour away from the hustle and bustle of Lisbon, the small hilly town of Sintra is dotted with palaces and castles.
If I had time for just one day trip from Lisbon, I would pick Sintra. That is because the vibe of Sintra is quite unique and so are its castles.
Quirky, exotic, out-of-the-place, Pena Palace in Sintra is hugely popular among travelers. And so is Quinta da Regaleira with its mysterious initiation wells and fascinating gardens.
Even the National Palace in the historic city center is pretty with its beautiful azulejo walls and Arabesque architecture. The Palace of Monserrate is yet another wonderful addition.
If you're spending anything more than one day in Lisbon, then you have to visit Sintra.
How to get to Sintra from Lisbon?
You can take the train from many stations in Lisbon such as Oriente, Rossio, Sete Rios, and more. Refer to our Lisbon to Sintra train guide for details on train tickets and schedules.

Ticket prices: €2,25 for train + €6,90 for Bus #434 [as of Dec 2020]

When visiting Sintra on a day trip from Lisbon, I would recommend taking the Pena Circuit Bus #434 from Sintra train station and going all the way up to Pena Palace. Then walk down to Moorish Castle, next the city center, and later Quinta da Regaleira. I have covered all details in my Lisbon to Sintra guide.
If you are not a train person and do not wish to drive on Sintra's narrow roads, have a look at these highly-rated guided tours below. This full-day tour from Lisbon comes highly recommended.
Practical information to plan your Sintra day trip
Start the day early. That way you can avoid the tour groups which start thronging the castles between 10:30am – 3pm.
Begin at the top i.e. at the Pena Palace and walk your way down to the city center/Quinta da Regaleira via the Moorish Castle. Tour groups usually do the reverse.
Do not forget to try delicious travesseiros (a famous Portuguese dessert) at Casa Piriquita at Sintra's Historic Center.
Cabo da Roca
Cabo da Roca is the westernmost point of Portugal as well as the westernmost point of mainland Europe. You can literally jump off here and swim all the way to North America. Yeah, that's right! But don't try that. Atlantic waters are freezing cold.
Honestly, Cabo da Roca is beautiful. It is a small cliff rising nearly 500ft (150m) above the sea level and provides stunning views of the ocean and coast. Perhaps, the most attractive thing about Cabo da Roca is its picturesque, red and white lighthouse that is still an important point for navigation.
It is believed that there used to be a fortress in Cabo da Roca that functioned as a defensive coastal bulwark for Lisbon. But nothing remains today.
Since there isn't a whole lot to see at Cabo da Roca, travelers often club it together with a day trip to Sintra. Or you can do it as a part of your Parque Natural de Sintra-Cascais hiking trail.
How to get to Cabo da Roca?
Take Bus#403 to Cabo da Roca from Sintra train station. The journey takes about 40 minutes. Check here for bus schedule.

Ticket prices: €4,30 for Bus #403 [as of Dec 2020]

You can purchase tickets on the bus.
Practical information to plan your trip to Cabo da Roca
Combining Cabo da Roca with Sintra is the most efficient way of seeing this natural landmark.
Leave Sintra an hour before sunset so that you can catch some jaw-dropping sunset views at Cabo da Roca.
Carry a light jacket with you because it is going to get chilly especially as the sun goes down. Those Atlantic winds will drive you crazy.
If you are looking for a guided tour, then this one comes highly recommended.
Cascais
Cascais is the prettiest resort town on the Portuguese Riviera. And guess what? It is just 20 miles (35km) away from Lisbon and easy to get to by train. That makes Cascais a wonderful beach day trip destination from Lisbon.
Historically, Cascais was a small fishing village. It rose to prominence in the late 19th century when it became the summer residence of Portuguese nobility. Today, you will find the remnants of both fishing and royal history at the city center. The coastal promenade and many delightful beaches are added attractions.
If you are feeling energetic and adventurous, walk down the Cascais to Estoril promenade (a 3km walk) along the sea and explore some of the best beaches in the region.
How to get to get to Cascais from Lisbon?
Cascais is directly connected with Lisbon through Linha de Cascais train line. The line starts at Lisbon Cais do Sodre and ends in Cascais. That makes it super convenient to get to Cascais on a day trip from Lisbon by train.
Ticket prices: €2,25 for train [as of Dec 2020]
Buses usually take longer. Car parking is hard to get. So, the train it is! Click here for train schedules and tickets.
Not keen to plan on your own? Try this legendary small group tour of Sintra and Cascais.
Belem – A must-do Lisbon day trip
Yet another must-do on your Portugal itinerary has to be the UNESCO district of Belem in Lisbon. Belem is home to two of the most popular landmarks in Portugal. So, there's no way you can miss this iconic heritage site in Portugal.
Frankly, Belem is not even a separate city. It is just one of Lisbon's many neighborhoods. But there is so much to do here that you can easily spend a day or two.
Of course, Jeronimos Monastery and Belem Tower have to be on your itinerary. You can also add the Monument of Discoveries, several interesting museums, and a wonderful sunset cruise on the Tagus.
How to get to Belem from Lisbon city center?
It is easy to get to Belem from Lisbon. There are so many ways to do it. But my favorite is Tram #15E which gets you there in 30 sweet minutes.
The tram ride is free with the Lisboa Card which I highly recommend buying when you are visiting Lisbon and its attractions. Or a single tram fare costs €3,00 [as of Dec 2020].
Here's a copy of Tram #15E schedule for you to download.
Check out our complete guide to visiting Belem from Lisbon with many other travel options listed. And get a free one-day itinerary for Belem!
Practical information to plan your Belem day trip.
Start early and visit the Belem Tower first to get some great pictures. The morning sun casts a wonderful golden hue on Belem Tower.
Do not miss the cloisters of Jeronimos Monastery because they are absolutely worth it. You can enter them for free with the Lisboa Card or buy a skip-the-line ticket for Jeronimos if you do not wish to spend hours waiting in the queue.
If you get scared of the long queues at Pasteis de Belem Café, do not worry. The queues are usually for picking up. You can always get a table inside and enjoy the famous Pasteis de Belem.
Obidos
Yet another great day trip option from Lisbon is the medieval town of Obidos. The Obidos Castle features in the list of famous landmarks in Portugal and is absolutely worth a visit.
Part of the castle has been converted into a pousada. If you wish to get pampered and feel like the Portuguese royalty for a while, then this is the place.
Apart from walking the old fort ramparts and witnessing some stunning views of the valley below, you can simply walk the quaint, colorful lanes of Obidos. Have a look at this amazing collection of Obidos' pictures and you will understand exactly what I mean.
Apparently, Obidos was a traditional wedding gift that every Portuguese King gave his Queen. And it quite looks like a big wedding cake!
There is always so much going on in Obidos. There are museums, medieval churches, boutique shops, festivals, and amazing restaurants. And there are great photo opportunities.
Plus, the town is a great place for book lovers. From interesting libraries to the Obidos International Literature Festival that is celebrated every year in Oct-Nov, Obidos has a lot to offer.
How to get to Obidos from Lisbon?
To get to Obidos, I would highly recommend taking the bus rather than the train because buses are faster/more frequent in this case. An average train journey takes slightly more than 2hrs whereas the bus can get you there in 1.5hrs.
Rapida Verde 788 buses run from Lisbon Campo Grande to Obidos Rua da Praca. Look out for the Rapida Verde bus stop at Campo Grande. If you are confused, here's a very helpful guide to spot the exact bus stop for Obidos.
The bus journey usually takes 1hr 15minutes. Check here for the schedule. You can buy tickets on the bus.
The train for Obidos departs from Lisboa Santa Apolonia station. As far as I am aware, there are just 3 trains everyday. So, you will have to plan ahead.
Ticket prices: €8,00 for bus and €8,95 for train [as of Dec 2020]
If you are looking for an amazing guided tour of Obidos, then check out this highly-recommended day trip from Lisbon.
Practical information to help plan your Obidos day trip
Wear a good pair of shoes because there is a lot of walking involved and the cobbled streets are slippery in some places.
Come early because Obidos is popular and tourists groups start thronging it between 10am – 3pm.
If you get here during the busy tourist hours, the best way to see the place is to venture off the main street, Rua Direita. Surprisingly, the by lanes are usually empty and more peaceful.
Evora
Yet another one of the best day trips from Lisbon is Evora in the Alentejo region of Southern Portugal. It is located at a distance of 83 miles (roughly 135kms) from Lisbon and is kind of a longish day trip but very much worth the effort.
Founded by the Romans and later ruled by the Moors, Evora has an interesting mix of ancient and medieval monuments. The Diana Temple is one of the most impressive Roman structures in and around the area.
You can spend some time at the iconic Praca do Giraldo which is surrounded by exquisite buildings of the Gothic era. Or marvel at the engineering of the Evora aqueduct and get spooked at the Bone Chapel. And do not forget to get some pictures with the charming Evora houses – whitewashed and trimmed with a dash of yellow.
How to get to Evora from Lisbon?
The easiest option to get to Evora from Lisbon is by train. Intercity trains running on the Alentejo Line depart from Lisbon Oriente station. The average journey takes around 1hour 40minutes. And there is no train change involved. Check here for train schedules and tickets.
Buses are more frequent (hourly) than trains (4 times a day and only 3 times over weekends). But beware, buses can take longer than trains depending on the number of stops and changes.
Rede Expressos buses depart from the Sete Rios Terminal in Lisbon and arrive at the Evora bus stop which is a 10 minute walk from Praca do Giraldo. A bus journey can take anywhere between 1hr 45minutes to 2hr 30minutes. Plan your trip on the Rede Expressos website.
Ticket prices: €12,45 for train [as of Dec 2020]. Bus may be slightly cheaper.
Here's a great guided tour of Evora (+ some wine tasting) if you are looking for one.
Practical information to help plan your Evora day trip
Summers are intense and draining in Evora. I would recommend choosing Evora as a day trip from Lisbon only in the shoulder months.
If you plan to spend a day or two in Evora (click here for accommodation options in Evora), plan to visit the fortified town of Elvas on the Portugal-Spain border. Multiple layers of defensive walls and a unique star-like structure (when seen from above) make this place utterly delightful.
Is it possible to do a day trip from Lisbon to Porto?
Honestly, no.
I have been asked this question far too many times to just leave it at that. So, I have decided to go ahead and write an entire post on whether a Lisbon to Porto day trip is worth it.
I do not recommend doing a Lisbon to Porto day trip at all. And that is because of multiple reasons.
Even an Alfa-Pendular (Portugal's high speed trains) train journey from Lisbon to Porto takes 2 hours 40 minutes. That is nearly 5.5 hours in the train! Feasible but would you want to do it?
There are so many amazing things to do in Porto including taking a walk around the Ribeira, cruising on Rio Douro, checking out the exotic Bolsa Palace, and spotting beautiful azulejo panels. A day trip will never give you enough time to do all that.
Plus, there is so much to see and do around Porto like taking a day trip to Douro Valley or Braga.
You can easily spend a few days in Porto and still not see it all. We did 3 days in Porto and barely scratched the surface.
However, if you still want to get to Porto on a day trip from Lisbon and get a feel of Portugal's second largest city, getting on a high speed train (Alfa-Pendular) is the ideal way to do it. Check out train schedules here. Another efficient way to do a day trip to Porto is book a full day private tour from Lisbon.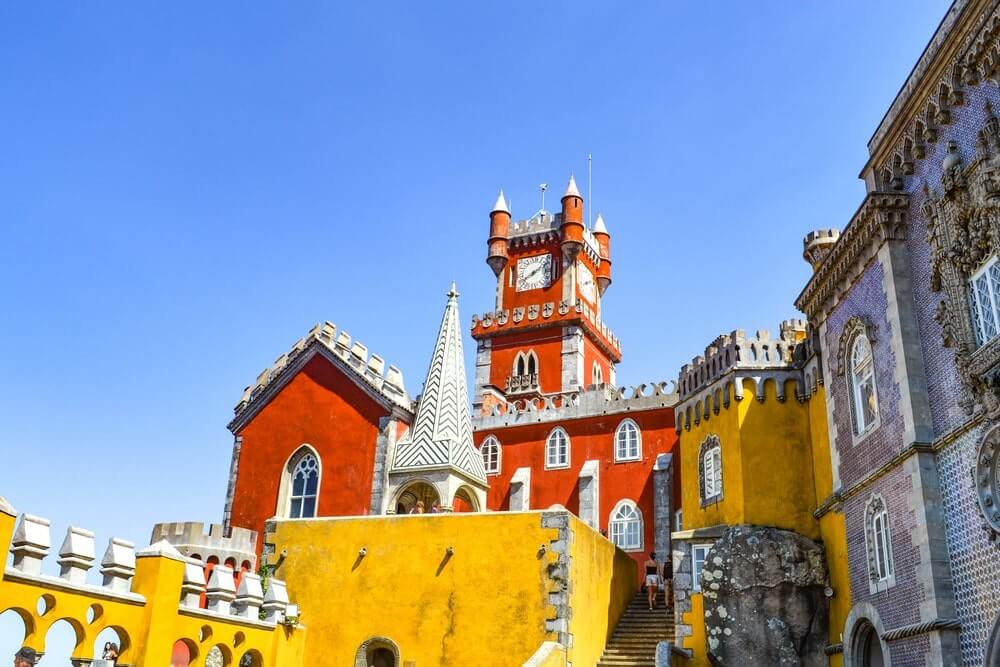 More Lisbon resources
If you are spending some time in Lisbon, do not forget to check out our other resources.
If you need any further information for planning your day trips from Lisbon, please feel to drop me a comment below and I will get back to you as soon as possible.
Love these day trips from Lisbon? Pin it for later reference!