Last Updated on July 9, 2022 by Soumya
Are you visiting Portugal and planning to spend a day in Coimbra, the university city? Looking for interesting things to do in Coimbra?
Then you have come to the right place. Here's an exciting itinerary for spending one day in Coimbra and the best things to do and see here.
You will learn:
How to visit and tour the University of Coimbra, one of the oldest in the world.
Other popular and lesser-known things to do in Coimbra.
How to take a day trip to the Roman ruins of Conimbriga, another UNESCO Heritage Site nearby.
If you wish to explore Coimbra on a guided tour instead, try this highly-rated tour of Coimbra and Fatima from Porto.
If you wish to plan your own DIY Coimbra itinerary, then read on to find out the very best things to do in Coimbra Portugal. Because there's no way you can miss this beautiful heritage place in Portugal.
Please note: This post may contain affiliate links which means I may earn a commission if you make a purchase by clicking a link on this post. This will be at no additional cost to you. Affiliate links help me keep this website up and running. Thanks for your support!
What to do in Coimbra in one day?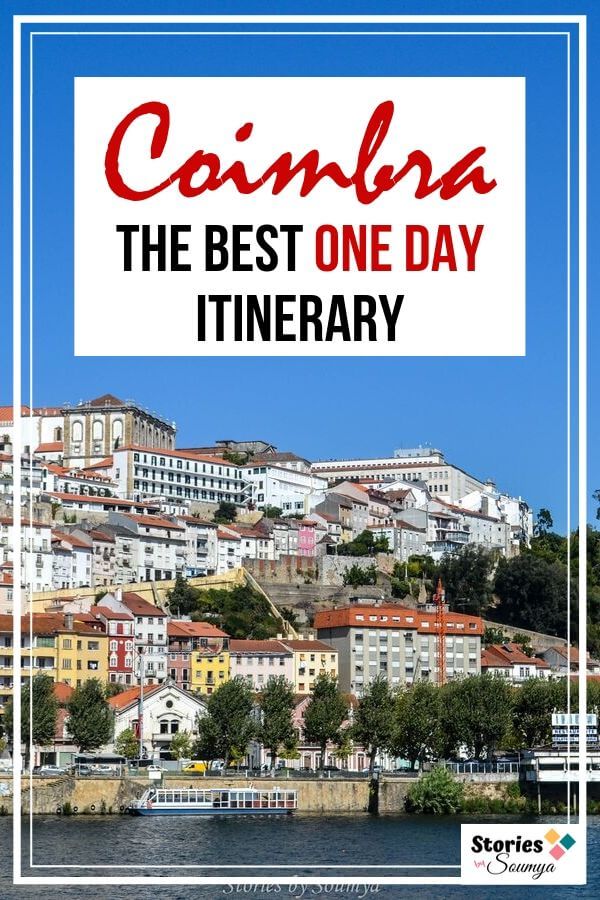 Coimbra was the second stop on our 10 day Portugal itinerary. After doing so many interesting things in Porto, we moved a little south to arrive at this university town.
A train ride from the Sao Bento station – one of the must-see azulejo spots in Porto – to Coimbra takes a little more than an hour with a couple of easy changes in between.
We started our day early will a filling breakfast of sandwiches and pastels right next to our pension (scroll below to find out where we stayed in Coimbra). And then ticked off some of the best things to do in Coimbra.
Begin with an early-morning trip to Conímbriga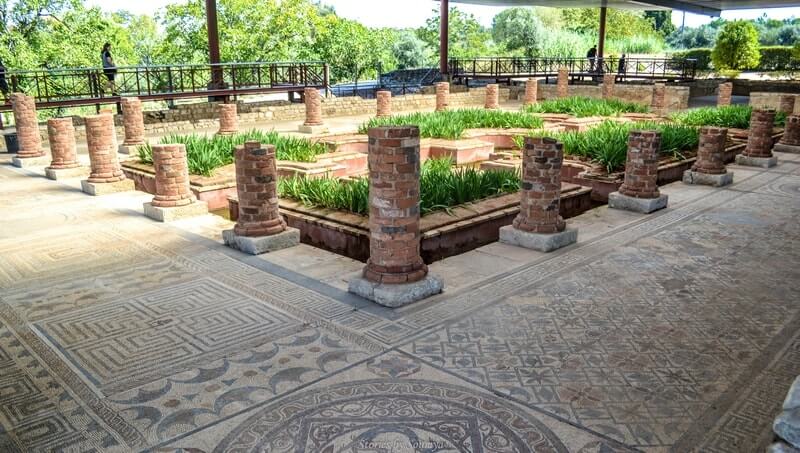 We started with a short trip to the ruins of Conímbriga, less than 20 km from the Coimbra City Center. Conímbriga is one of the largest Roman settlements outside of Italy and the best-preserved one in Portugal. Visiting Conímbriga was on the top of our historical bucket list for Portugal.
Conímbriga is different from other Roman ruins because it has some of the most beautiful, adequately-restored, still-vibrant mosaic floors from the Roman times. Plus, a sprawling mansion called the House of Fountains gives you deep insights into the lives of the Roman rich. Reminded me of my trip to Villa Oplontis near Pompeii.
Getting to Conímbriga from Coimbra was not difficult. We boarded a Transdev Bus to Condeixa-a-Nova at the bus-stop in front of Coimbra Train Station. After a short bus ride, we alighted right in front of the gates to ancient Conímbriga.
Visit Little Portugal at Portugal dos Pequenitos
Once done at Conímbriga, we got back to Coimbra at around 1 pm and visited a really unique theme park, the Portugal dos Pequenitos – a relatively unknown Coimbra attraction. The pension owner recommended it to us. And we are so glad he did.
Portugal dos Pequenitos has an exclusive collection of monument miniatures from Portugal and around the world. And there is a small Lego center and museum if you have some lego fans in the family. This is one of the best places to visit on a family holiday in Portugal.
But the real treasure lies behind these famous monuments – a miniature wonderland full of small houses, tiny churches with bell towers, cute balconies, mini squares, and petite farms. And these are not only to be looked at. Kids can actually enter the houses, pose in the balconies, pray in the churches, and enjoy a chat on the baby benches in the park. Almost like a different world created for the little ones. Portugal dos Pequenitos is an absolute must-visit if you are traveling to Portugal with kids.
Looking for more offbeat attractions in Portugal? Check out our guide on 9 off-the-beaten-path experiences in Lisbon.
Enjoy the views from Ponte Pedro e Ines
After visiting Little Portugal we walked across the Pedro Ines bridge in Coimbra to get to our next destination. However, once we got on to it we realized that the bridge was a destination in itself. Ponte Pedro e Ines provides you with some amazing views of Coimbra city from across the River Mondego.
Make sure you stop for a while and appreciate the beauty around. It was breezy and sunny in the middle of a hot September day. And we were able to get some great pictures of the city.
Explore the University of Coimbra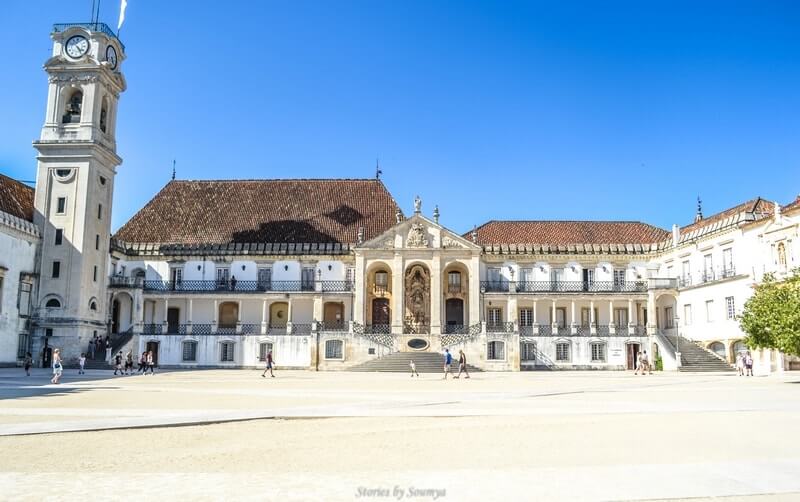 Our next stop, after a long hike up a hill, was the University of Coimbra – a must-have on any Coimbra itinerary. Coimbra University was founded in 1290 and is one of the oldest universities in the world today. It was accorded the UNESCO Heritage Site status in 2013 and sees thousands of visitors every year.
Imagine studying in a school where there are hundreds of tourists every day, many Instagrammers, continuously clicking pictures?? I would freak out! Thankfully, at the University of Coimbra, tourists don't cross paths with students much. The visitor's area is pretty well-defined and you won't see too many students except for tourism volunteers.
The University of Coimbra is home to some remarkable buildings such as the 12th-century Cathedral of Santa Cruz, the Royal Palace of Alcáçova, a baroque Joanine Library, and a number of medieval college buildings. Coimbra is one of the best heritage places to visit in Portugal. I never imagined seeing so much art at a university and here I was, moving lightly through old corridors and gaping wonderstruck at all the art around me.
If you are a history and culture lover, go ahead and check out our list of Top 17 heritage places to visit in Portugal.
Enjoy some great views of Coimbra
Once you finish your Coimbra University tour, you can sneak out to open spaces around the university and enjoy some really stunning views of the city from above. There are some really good spots within the university too to get panoramic views of Coimbra against the backdrop of Rio Mondego.
Porto has some great views too. Find out where to find them on our guide on 17 best things to do in Porto.
Walk back through the old town of Coimbra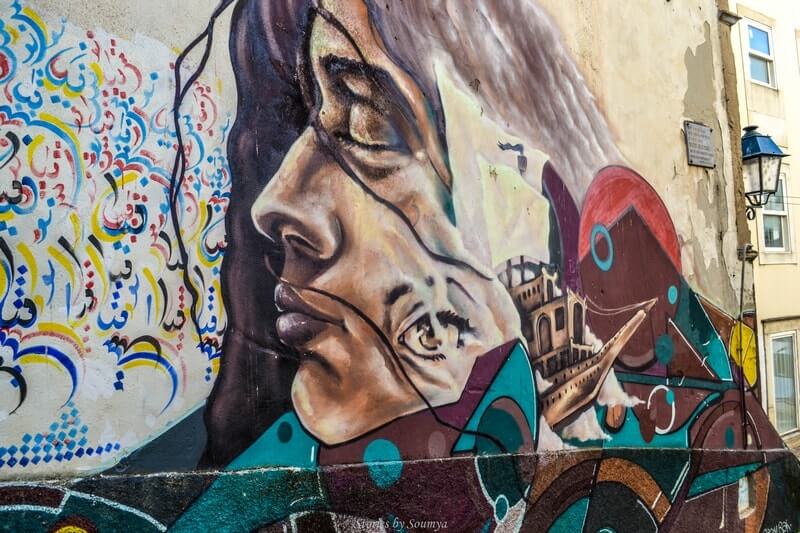 One of the best things to do in Coimbra is to wander the narrow streets of the old town that still bear remnants of Moorish influence. A tall gateway (Torre de Al Medina) could almost transport you to some Arab souks of the Middle East.
Yet, there is so much of modern Portugal here. Eclectic street art welcomes you in all directions. You can listen to heated discussions on world policy amidst a distant rendition of Fado. Traditional tascas (small budget eateries in Portugal) invite you in with their delicious aromas. Old town Coimbra is where you experience it all and I would not miss it for anything else.
Finish your day in Coimbra with some delicious Portuguese food
After a long day of walking, climbing, and traveling in Coimbra, we thought we deserved a good hearty meal. And of course, it consisted of Portuguese fish and potatoes. And some delectable Portuguese desserts.
We had some really good Pastel de Tentúgal during our time in Coimbra. Since Tentúgal is only 30 minutes away from Coimbra, we highly recommend trying out these Portuguese pastries when you are here.
Where to stay in Coimbra?
We arrived late in the evening on a Wednesday and checked into one of the friendliest pensions in the world, Flor de Coimbra.
The pension has been at the same spot for generations and the owner is one of the warmest ones you would ever meet. He is always happy to take you through the history of the hotel and how it has changed hands and strategies.
The rooms are spotless and cozy. However, there's no breakfast here – the owner has an interesting story about this too. Plan to stay here and you won't regret it.
From what I have heard, Flor de Coimbra had to close its doors during the pandemic and is not taking any more guests. That is really unfortunate and we can only hope that they will bounce back, soon. You can still try connecting with them through their website here. Or look at more Coimbra hotels here.
So, this was how our one day in Coimbra, the university town of Portugal, turned out to be. We did some of Coimbra's best sights, had some great food, and learned a lot about the city's history.
Are you planning to travel to Coimbra soon? Need more tips for your trip? Drop us a comment below and we will get back to you.
And if you are looking for more information to plan your Portugal trip, read our posts below.
Loved our post on the best things to do in Coimbra? Pin it for later!