Last Updated on November 1, 2023 by Soumya
If you are visiting Portugal, then there are pretty high chances that you are visiting the famous Sintra castles, only an hour away from Lisbon.
In Sintra you will find some of the most stunning palaces, fairytale castles, scenic gardens, and intriguing historic sites. Can't resist all that, can we?
On my last trip to Portugal, I visited Sintra on a day trip from Lisbon.
We took an early morning train from Lisbon to Sintra, spent an entire day there (though I would have loved to spend more), sampled some much-loved Portuguese desserts, and visited these beautiful Sintra castles.
Let me take you on a journey through the best ones.
Please note: This post may contain affiliate links which means I may earn a commission if you make a purchase by clicking a link on this post. This will be at no additional cost to you. Affiliate links help me keep this website up and running. Thanks for your support!
The Best Sintra Castles and Palaces
Note that all the palaces and castles mentioned here are included under the Cultural Landscape of Sintra, a UNESCO World Heritage site. For ticket prices and opening hours, visit the official website of Parques de Sintra.
Read next: How to plan the perfect Sintra day trip from Lisbon?
Pena Palace and Park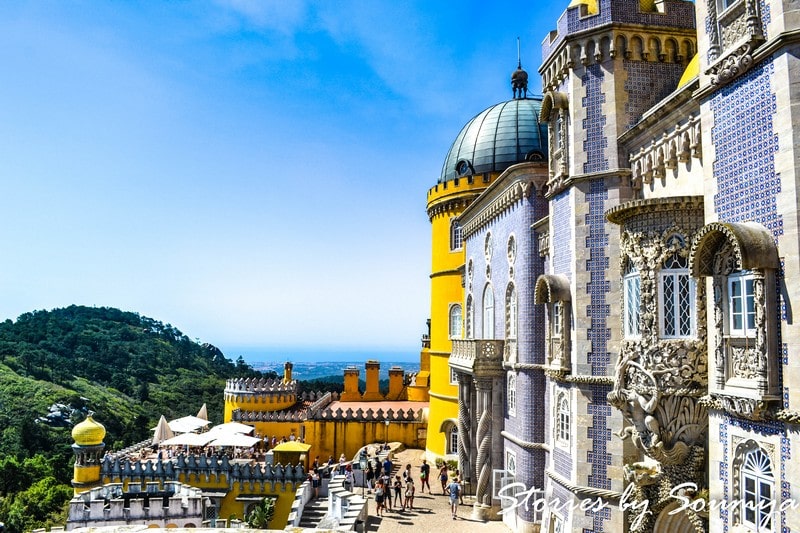 Pena Palace is definitely the most iconic and unmissable castle of Sintra. Perched on the top of a hill in the Sintra mountains, this palace is a 19th-century, Romanticist castle and also one Portugal's 7 Wonders! And rightfully so.
Built by King consort Ferdinand II on the spot of an old, ruined monastery, Pena Palace is an eclectic mix of architectural styles that are decidedly not Romantic. You can see Medieval and Islamic elements in abundance.
Parque de Pena is equally remarkable. It is a series of gardens and walking paths that lead up to the palace. These paths are filled with tropical plants adding to the eclectic feel of this castle. If you stumble upon a hidden pathway staring at a mysterious-looking statue, then don't be surprised.
Practical Information for visiting Pena Palace
Recommended: Ultimate travel guide to visiting Pena Palace in Sintra
Castle of the Moors
El Castelo dos Mouros or the Moorish Castle in Sintra is yet another hilltop castle that was constructed during the Moorish Era of 8th and 9th centuries. This was more like a fort that provided the rulers with a vantage point. It enabled them to see advancing enemy troops from a distance.
Needless to say, the views from the Moorish Castle are stunning. But it requires a lot of walking and climbing to get there. This castle is also a great place to view and photograph the Pena Palace which is not very far away.
Practical information for visiting Moorish Castle Sintra
La Quinta da Regaleira
The most beautiful thing about Sintra castles is that they provide so much variety and complexity. With every new castle or palace, you experience something novel and extraordinary. And La Quinta da Regaleira is probably the best example of it.
Built in the early 20th century by an Italian architect hired by a well-traveled Brazilian-Portuguese businessman, Quinta da Regaleira is a heady mix of various architectural styles. You can see elements of Roman, Gothic, Renaissance, and Manueline here.
However, what attracted me most were the palace's fascinating gardens and intriguing initiation wells. A pair of spiraling initiation wells at Quinta da Regaleira are probably the most visited attraction in Sintra apart from Pena Palace.
Practical information for visiting Quinta da Regaleira
National Palace of Sintra
Often referred to as the beating heart of Sintra, the National Palace is also the oldest palace in the whole of Portugal. Wow! That's news for me too!
The National Palace is located at the historical center of Sintra and is actually quite accessible. However, it is often skipped for the more famous Sintra castles such as the Pena Palace or Quinta da Regaleira.
This palace has been around since the 13th century at least and continuously inhabited by various kings and queens each leaving their marks on it. Therefore, you will see elements of Gothic, Manueline, Moorish, and Mudéjar architectural styles vying for attention here. Some of the notable rooms are The Swan Room, The Palatine Chapel, Coat of Arms Room, and The Magpie Room.
Practical information for visiting Sintra National Palace
Palace and Park of Monserrate
Monserrate Palace is probably one of the prettiest villas in Sintra. Yet, it is one of the least visited and does not feature in day trip itineraries from Lisbon. And that is because of its out-of-way location (about 4km away) from the Sintra City Center.
However, if you are staying in Sintra for a day or two, you must definitely visit this palatial villa. Featuring elements of Romanticism and Moorish Revival Architecture, Monserrate Palace is a treat for sore eyes. The Islamic influence is particularly noticeable in the domes, arches, and ornate stone filigree work.
The villa is a small one when compared to Pena Palace or Quinta da Regaleira. So, tourists often spend more time in the palace's exuberant gardens filled with exotic species from all around the world.
Practical information for visit Monserrate Palace
Seteais Palace
A neoclassical palace from the 18th century, Seteais Palace was built by Daniel Gildemeester, then Dutch Consul in Portugal, on lands granted by the Marquis of Pombal.
The palace was expanded a couple of times in the 19th-century. Soon, the consul's house became one of its wings. The palace's façade is decorated with attractive neoclassical motifs such as vases, busts, and floral reliefs. Inside, the walls are painted gorgeous frescoes that include plants, flowers, and mythological creatures.
Today, the palace operates as a luxury hotel and is one of the best places to stay in Sintra if you are prepared to splurge and experience the life of Portuguese royalty.
Click to book your luxurious stay at the Seteais Palace.
National Palace and Gardens of Queluz
The National Palace of Queluz and its historical gardens are yet another set of magnificent castles that you cannot miss when traveling in Portugal. Located midway between Lisbon and Sintra (a little closer to Sintra, in fact), Queluz makes for an amazing day trip either way.
Truth be told, the National Palace of Queluz reminded me of the Versailles of France, albeit on a much smaller scale. Resplendent and dripping with grandeur. Queluz is filled with Rococo, an art form that you can also see in abundance at Potsdam's Sanssouci Palace in Germany. The gardens are even more scenic with grottoes, fountains, canals, and terraces.
That said, the Palace of Queluz also holds some dark secrets like serving as a secret place of captivity for Queen Maria when she started going mad after her husband, Dom Pedro, died. This is absolutely an intriguing palace to add to your Sintra castles list.
Practical information for visiting Queluz Palace
Which Sintra castle to visit?
Now, that is really the million dollar question. With so many great options to choose from and so little time, it is hard to figure out the right answer. But here are my two cents.
If you are visiting Sintra on a day trip from Lisbon by public transport, you will be strapped for time. I would highly recommend deciding, beforehand, which Sintra castles you would want to visit.
I visited Pena Palace and Park, Moorish Castle, and La Quinta da Regaleira. Pena Palace and Moorish Castle are pretty close to each other, so you won't spend much time commuting between the two. But if you are not very keen on fort walls and forests, honestly you can skip Moorish Castle. Climbing up those walls takes time and energy. If you would rather explore the artsy Palace of Monserrate in that time, then so be it. Monserrate Palace is definitely prettier and more appealing to culture seekers.
I would not miss Pena Palace and Quinta da Regaleira for the world, though. Yes, even with all the crowd. Pena Palace is unique and something you will never see anywhere else in the world. And the initiation wells of Quinta da Regaleira are absolutely mindblowing.
Best time to visit Sintra
The best time to visit Sintra, Portugal is in the spring and early fall when the temperatures are low and crowds are bearable. Summer, between July and August, can get extremely crowded!
Highly recommended guided tours for Sintra castles
Since there is so much to see here and so many beautiful castles to explore, I would highly recommend doing a guided tour of Sintra so that you do not miss out on your coveted monuments.
By the way, did I tell you that the travesseiros (a delectable Portuguese dessert) of Sintra are uber famous? So you would want to include that in your itinerary too.
So, here are a few guided tours that are a great mix of everything nice that Sintra has to offer.
Where to stay in Sintra?
Even though Sintra is usually done as a day trip from Lisbon, I would highly recommend spending an extra day here in order to see all the historical delights. Here are a few accommodation options if you decide to do that.
Luxury accommodation in Sintra
Budget accommodation in Sintra
How to get to Sintra?
Sintra by train
Since we were staying in Lisbon, we took a train to Sintra from Lisbon Benfica station. Read my detailed guide on how to take the train from Lisbon to Sintra and how to get to Sintra's castles from the train station. The guide also includes details on how to get to Cabo da Roca and Cascais from Sintra if you wish to go further. The sunset at Cabo da Roca (the westernmost point of mainland Europe) is stunning and a perfect end to the day at Sintra. So, I would highly doing recommend that.
Sintra by car and bus
Getting to Sintra by train is by far the easiest and most convenient option. Traveling to Sintra by car is difficult because parking is a problem in Sintra. Also, Sintra's streets are hilly, narrow, crowded, and not very easy to maneuver.
There are direct buses from Lisbon to Sintra but they take longer than trains. However, I recently heard of a faster bus service called the Sintra Express. But I feel their fares are high. So, check before booking.
Read next
Loved our post on Sintra castles and palaces? Pin it for later reference!