Last Updated on July 8, 2022 by Soumya
Chalking out a great food plan for a city is something we love to indulge in while planning for a trip. That usually involves finding the best places to eat and scrounging for local delicacies. I am sure you do the same too. And that is why we have this amazing foodie guide for Lisbon by guest author, Amber Charmei who talks in detail about where and what to eat in Lisbon Portugal.
If you are planning a trip to Portugal and spending a few days in Lisbon, then this is the food guide you would want to steal. Packed with local delicacies, iconic sweets, and traditional liqueurs, this guide will not only help you with what to eat in Lisbon but also where to find them.
Where and What to Eat in Lisbon Portugal?
Please note: This post may contain affiliate links which means I may earn a commission if you make a purchase by clicking a link on this post. This will be at no additional cost to you. Affiliate links help me keep this website up and running. Thanks for your support!
Lisbon is a great city for food. On the Tagus river at the mouth of the Atlantic, the seafood is bountiful and fresh. Yet, despite this abundance, they have a taste for preserved fish, too. In fact, no one has elevated either salt cod or canned seafood to such heights as the Portuguese.
Despite the country's overwhelming love for fish, you will find lots of vegetarian and vegan restaurants in Portugal, several of which are in Lisbon.
Additionally, Portugal's southern European lifestyle embraces both an excellent coffee culture and lively local wines, plus small glasses of liqueur to add grace to the day. And Lisbon's sweets are a divine, morning through night.
Eating and drinking in Lisbon is a delicious cultural experience, the foundation of 3 days in Lisbon. Here are the 9 things that you should not absolutely miss eating in Lisbon.
Coffee and Cake, Lisbon-Style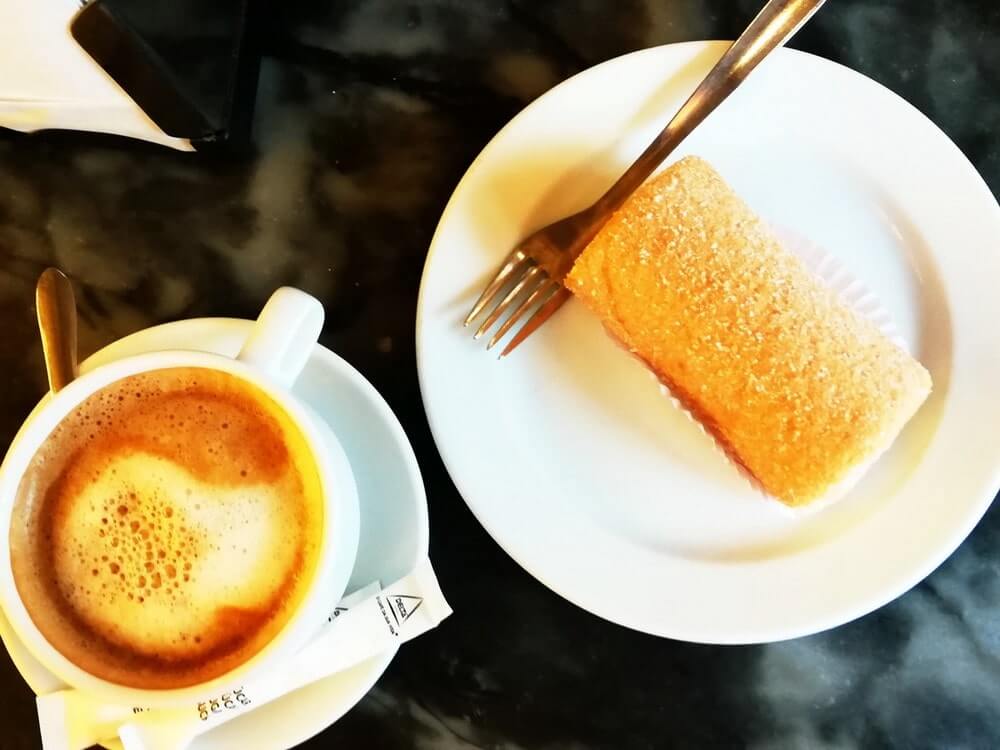 In Lisbon, one can start the day by ordering "Uma meia de leite," which is about half strong rich coffee and half hot milk. For a coffee drink that's even milkier, one orders "Um galão" – more milk than coffee.
What to have with coffee? The classic "pao de lo" is an egg-rich sponge cake. Sometimes it's made as a roll, with even more egg – in the form of a silky egg-yolk custard filling.
La Confitería Nacional, on the Praça da Figueira, has been serving Lisbon's classic pastries since 1829. It's a perfect place for a coffee and pastry, under the gorgeous mirrored ceiling.
Looking for a guided tour to savor the tastes of Lisbon. Try this highly-rated food and wine tour of Lisbon.
Fresh Seafood – A must-have in Lisbon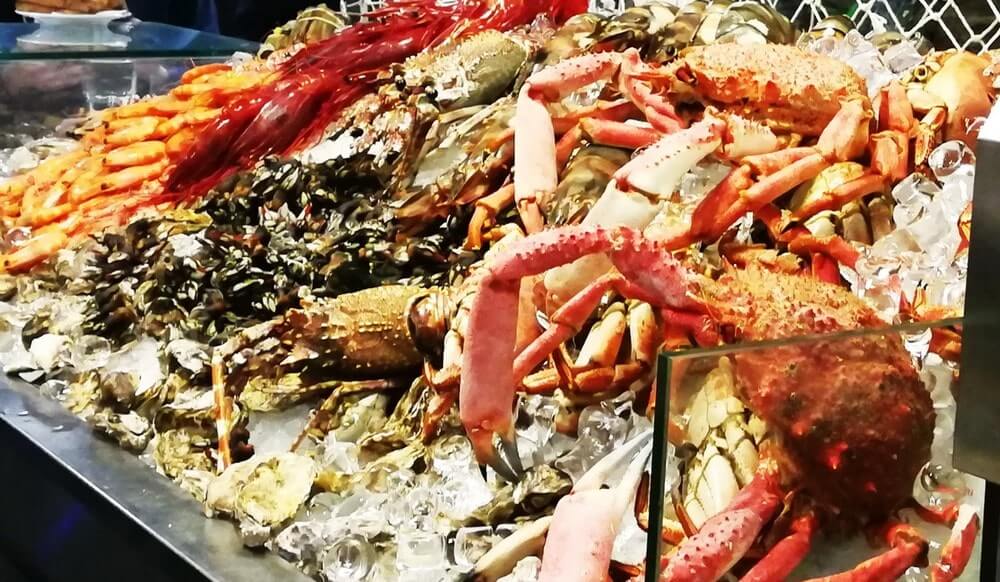 Lisbon's seafood is so fantastically fresh you might want to sample it on its own. The clams, langoustines, barnacles and oysters are heaped on ice as lovely as flowers.
Check out the raw bars at the Time Out Market. At Marisqueira Azul, they have crisp and delicate Oysters on the half shell. Barnacles are as delicious as they are humble-looking – a sweet and briny surprise.
There are also cooked seafoods – like a pan of clams sautéed in a garlicky sauce. Here, one sits at the counter, a good way to see the raw bar and the skilled seafood chefs in action.
Local Wines – Vinho Verde
What to have with your raw oysters? As the name sounds this does mean "Green Wine," but actually Vinho Verde is young wine. The light acidity and mineral tang makes a glass of vinho verde a particularly ideal pairing for oysters on the half shell and any number of seafood dishes. Even better, some vinho verdes have a light effervescence. Vinho Verde is not a grape, but a regional designation.
Those fond of rosé will love Vinho Verde Rosado (yes- "pink green wine") – a bright and vibrant rosé with all fresh characteristics of a Vinho Verde with the added deliciousness of notes of red fruit.
As for red wine, you can't go wrong. Even a carafe of house red at a simple neighborhood restaurant will be juicy and smooth. It's rumored there's no poor wine in Lisbon.
Pasteis de Nata – Do not miss this one!
A Pasteis de Nata (in the singular) doesn't sound like anything that special – it's an egg custard tart. But there's a reason they are everywhere in Lisbon. These simple-looking pastries are as definitive of the Lisbon experience as the Azulejos – the gorgeous tiles of Lisbon.
A thin and flaky pastry shell is filled with a custard that's scented with cinnamon and lemon and rich with egg yolks. Pasteis de Nata are baked at a high temperature, so the top is blistered and blackened while the center is still creamy soft and just barely set. They're best eaten warm, which is no problem – specialty shops bake them constantly while customers wait in line. They're also available at larger pastry shops.
You can even make your own pasteis de nata with this amazing cooking class.
Where to find the best Pasteis de Nata?
Pasteis de Nata were invented by monks, specifically the monks at the Jeronimos Monastery in Belém. In the liberal revolution of 1820, convents and monasteries were closed, and the nuns and monks had to find another source of support. The monks of the Jeronimos Monastery started making these divine little pastries. Their fame spread, and soon day visitors to Belém who came to enjoy the sights – the Monastery and the Torre de Belém – were lining up for them.
They still are: in Belém, they're called Pasteis de Belém and there is a bakery of the same name that has been turning them out since 1837, using the original recipe of the monks. Another Pasteis de Nata specialist is Mantegeira, which also has a location in the Time Out Market.
Looking for more desserts in Lisbon? Check our guide on the best desserts to try in Portugal.
Bacalhau – Salt Cod in Lisbon
Despite all that beautiful fresh seafood, the people of Lisbon have a taste for salt cod, and we've never had better. For starters, bacalhau in Lisbon actually comes in several grades, with aged salt cod – like a wine or a cheese – priced higher than fillets. Unlike many other places where salt cod is eaten, there is not just one choice.
In addition to the various grades, there are also many, many excellent salt cod preparations. Bacalhau Croquetas – golden croquettes of salt cod and potato – are a ubiquitous snack. We loved the classic Bacalhau à Brás – flakes of salt cod and crisp matchstick potatoes bound with egg. The quality of bacalhau in Lisbon is so superb that we even loved it steamed and served with boiled potatoes.
Canned Seafood – Food or Souvenir?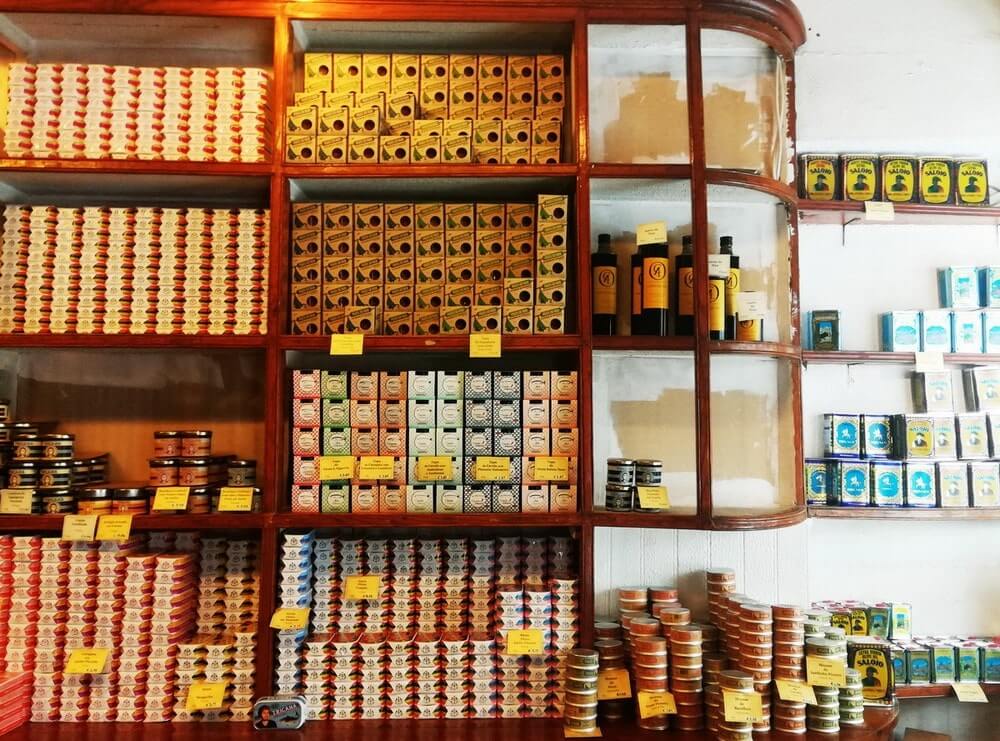 It's not just the fabulous Bacalhau that vows for your attention, but also another preserved seafood – canned. Portugal is justly famed for the excellence of their canned seafood. In addition to sardines and anchovies – each of which has a variety of preparations – there is also mackerel, octopus, eel – any number of delicacies of the sea.
There are some canned fish "boutiques" – marketing elaborately packaged tins of fish and seafood, doubtless for tourists. But locals love quality canned fish. They shop at the Conserveira de Lisboa. This is a small family shop with wooden shelves sacked with their own three brands – Tricana, Minor and Prata do Mar – with lovely labels. The canned seafood is priced for the households of Lisbon, and the shopping experience is delightful. They package the tins together in a paper bundle and tie it up with some twine. This is a perfect souvenir.
Canned fish in Lisbon is so excellent that it's even served at some restaurants. Sol e Pesce – on the famous "Pink Street" – is a former bait and tackle shop where you can enjoy tins from a large menu, served with salads, excellent bread, and effervescent white wine on tap.
Bifana – A popular snack
The name suggests beef, but actually this juicy meaty sandwich on a big soft roll is made of pork. Thin slices of pork are sauteed in a marinade of wine, garlic, bay leaves, and paprika with a squeeze of lemon. The delicate slices of pork in its sauce are served on a papo seco – a Portuguese roll.
Bifana is a popular snack to order at a Tasca – these are small and casual snack bars where you can eat standing up at the counter – bifana, croquetas, and other small bites with beer or wine.
If you are still undecided on which tour to choose, try this 3-hour delicious and secret food tour of Lisbon.
Beirão – One of Lisbon's most popular liqueurs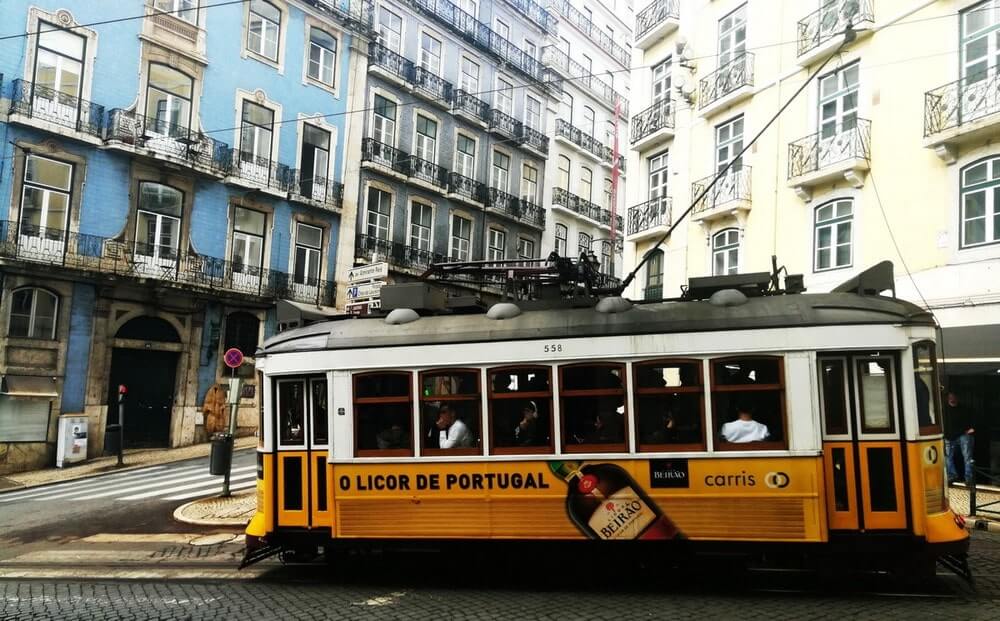 The beautiful yellow trams of Lisbon are in themselves one of the city's most popular attractions. And the ads on them are often for one of Lisbon's most popular liqueurs. Beirão – from the Beira region – is a honey-colored liqueur distilled with a variety of natural botanicals including lavender, cardamom, cinnamon, and mint.
Ginjinha – A Lisbon tradition
Sour Morello cherries – "Ginja" are the base of this delicious liqueur which is a Lisbon tradition. Ginjinha is the only thing served in specialty bars devoted solely to the liqueur. In fact, the only choice is "com" (with) or "sem" (without) – meaning with or without a couple of cherries in the glass. "Sem costs a few cents extra and is well worth it – the cherries themselves are a little bitter and delicious with the sweet liqueur.
The specialty Ginja bars – located around Rossio Square – are themselves a treat. You order at the counter and enjoy your shot standing up. A Ginjinha Espinheira, open since 1840, is still run by the same family. The glasses are filled to overflowing – literally – so the floor of this tiny shop is sticky with Ginjinha. There's a sink for customers to wash their hands after this slightly messy, delightful and authentic treat.
Other helpful posts to plan your trip to Lisbon
If you need any other information, just leave us a comment on get in touch with us and we will be happy to get back to you. Until, then happy planning for Lisbon and sweets dreams of all the good food there.
About the Author, Amber Charmei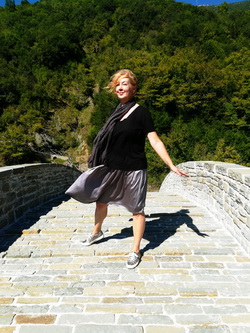 Hi, I'm Amber. I traded Manhattan for Thessaloniki, Greece 20 years ago. The sociable, sometimes chaotic Mediterranean lifestyle makes a great substitute for the urban energy I grew up with. There's also a longer backstory, by nearly two millennia. The Roman ruins, the Byzantine churches, the Ottoman hamams, and the Belle Epoque mansions make a beautiful setting for the contemporary city, famous for cuisine and nightlife equally. It's a perfect home base for exploring Europe and writing on travel, culture, and food.
Amber is a travel blogger and founder of Thessaloniki Local. You can also follow her on Facebook and Instagram.
An ultimate guide to what to eat in Lisbon. Pin it for later reference!