Last Updated on August 30, 2022 by Soumya
Are you planning to travel from Lisbon to Sintra by train? Look no further because we have you covered.
Here's the best Lisbon to Sintra train guide that gives you every small detail that you need to know. Here's what you will learn.
Which Sintra trains to take, schedules, and departing stations?
Which buses to take to commute within the city of Sintra?
How to maximize your day trip to Sintra and see the best of Sintra's castles?
A small freebie on how to plan an extended day out at Cabo da Roca – the best place to watch a sunset in Portugal.
Driving to Sintra and within the city can be tricky. Narrow roads, single lanes, and a lot of tourists everywhere make driving difficult. Therefore, many travelers opt to take the train to Sintra and walk within the city or take the bus.
We highly recommend doing the Lisbon to Sintra train ride because it is enjoyable and less stressful. The distance between Lisbon to Sintra is barely 20 miles. So, you can get here in a jiffy and enjoy the rest of the day. If you are looking for something more convenient, try this highly-rated guided tour of Sintra from Lisbon. Else, follow along.
How to get from Lisbon to Sintra by train?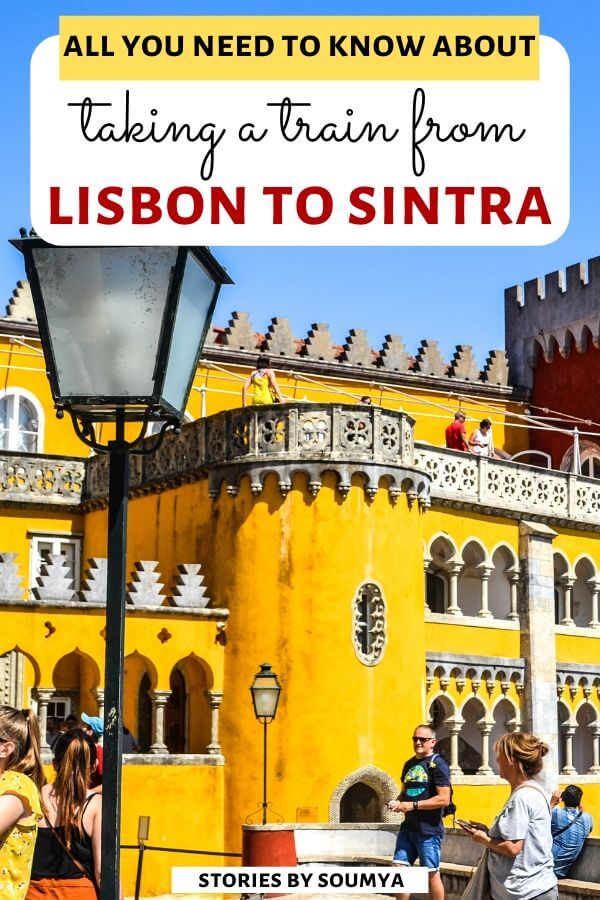 Please note: This post may contain affiliate links which means I may earn a commission if you make a purchase by clicking a link on this post. This will be at no additional cost to you. Affiliate links help me keep this website up and running. Thanks for your support!
It is not difficult to travel by train in Portugal. In fact, on our 10-day itinerary of Portugal, we included a lot of trains and buses. We found public transport in Portugal pretty convenient. A tad bit late sometimes. But easy and comfortable on the whole. That is why we decided to do our day trip from Lisbon to Sintra by train.
Our day trip to Sintra included watching the sunset at Cabo da Roca followed by dinner at Cascais. So, I will include those here too. If you wish, you can easily spend the entire day at Sintra going through all of Sintra's castles and palaces, exploring the city center, and ending it with dinner.
In this post, you will find all public transport (train and bus) options that we used to get to Sintra from Lisbon and within. And of course, some walking that we did within the city.
Also read: The best one day itinerary for Sintra.
Lisbon to Sintra distance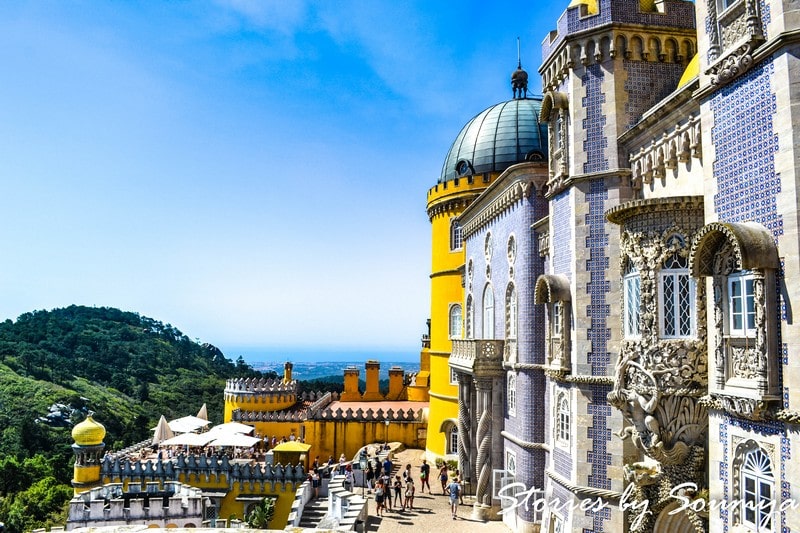 Sintra is a mere 19 miles (30km) away from Lisbon. That makes it one of the closest and easiest day trips from Lisbon.
It is believed that you can even see the Pena Palace all the way from Lisbon on a clear day. Yes, one of the many interesting facts about Lisbon that I learned during my research! Can you believe it?
Lisbon to Sintra trains with prices and journey time
There are plenty of trains from Lisbon to Sintra. And plenty of stations to get on them. The train station at Lisbon's city center, Rossio, is often the most preferred one to get to Sintra. There are trains here every 30 minutes. But it is also the most crowded. And you may have to wait in long queues to get to the ticket counter unless you have a pass that covers your travel.
There are many other train stations in Lisbon where you can board trains bound for Sintra. You can choose depending on where you stay in Lisbon.
Lisboa Oriente to Sintra – 45 minutes – €2,25 (Closer to Lisbon Airport)
Lisboa Entrecampos – 40 minutes – €2,25
Lisboa Rossio – 40 minutes – €2,25 (Trains every 30 minutes + Longer queues)
Lisboa Santa Apolónia – 1 hour – varies between €2,25 – €4,10
Lisboa Sete Rios – 35 minutes – €2,25
Benfica – 30 minutes – €2,25
You can check out the latest train times on the Official Website of Comboios de Portugal, Portugal's passenger train operator.
Related: What to do in Lisbon – Top 15 Lisbon attractions that you cannot miss
Train to Sintra from Lisbon Benfica.
Since we were staying at Ibis Alfragide, we chose to take the train from Benfica which was nearly empty at 8 am in the morning.
If you are on a budget trip like us, you can stay at the extremely neat and friendly Hotel Ibis. It is cheaper because it is a little further away from the city center. But there is a bus stop a minute away and you can get to the city in under 15 minutes. Plus, you save on travel time to both Belem and Sintra.
How to get to Sintra castles from the train station?
Once you arrive at the Sintra train station, look out for Bus #434 (also known as the Feather Circuit or Pena Circuit) that will take you to Sintra city center, Moorish Castle, and Pena Palace and back to the station. It goes in a loop. There's usually a queue for the bus even in the morning. So, make sure you get to your spot as soon as you can. Here is the bus schedule for Bus #434.
Tickets and Tips for Bus #434
You can buy tickets just before getting on the bus where there will be helpers with ticket machines.
We got day passes (Hop-on Hop-off tickets) on the bus at €6,90 (September 2019). A single ride costs €3,90. So a day pass makes sense even if you use the bus twice.
Buses run every 10 minutes. If you are not at the front of the queue, we suggest waiting for the next one to get your choice of seats.
Try and get a seat on the right side of the bus (in the direction of motion) for gorgeous views.
We suggest going all the way up to Pena Palace first and then making your way down (by walking) to the Moorish Castle. That way you can spend more time at the highlight of Sintra – Palácio da Pena.
Recommended: 7 Magical castles of Sintra that you cannot miss!
Tickets and Opening hours of Pena Palace & Moorish Castle
Once done with both Pena Palace and Moorish Castle, board Bus #434 again and get to the Historical Center of Sintra where the Sintra National Palace is located. You should also try the soft, pillowy Travesseiros of Casa Piriquita here – one of the must-have desserts of Portugal.
See Also: 10 Must-Try Desserts of Portugal
Other ways of getting to Sintra Castles from the train station
Cab or Drive
You can also hire a cab from the station which is expensive. Or drive to the palaces on your own. However, the narrow roads of Sintra are not very driver-friendly and include steep turns. This is also a reason why buses run only in one direction. You would not want to get caught in traffic here.
Hike up
If you have the willpower and stamina, you can hike up to the Pena Palace. The hike can take anywhere between 1-2 hours.
E-Bike
E-Bikes are also available for you to explore the hills and enjoy the amazing views of Sintra's hilly terrain.
Guided tour
You could also get a small group or private guided tour of the palaces. Most of these tours include pick up from Lisbon. So that would save you a lot of time and energy. If you are like me and love heritage sites, then you will love this highly-rated tour of both Pena Palace and Quinta da Regaleira.
Interested in UNESCO sites? Check out our other UNESCO posts.
How to get to Quinta da Regaleira from Sintra City Center?
We walked from the Historic City Center to get to Quinta da Regaleira. It is a 10-minute walk and a little steep. It can be tiring especially if you are traveling in Portugal with kids. Alternatively, you could take another bus Villa Express 435 (or Bus #435) from the historic center or even from the Sintra train station.
Tickets and Tips for Bus #435
Bus #435 stops at Quinta da Regaleira, Seteiais Palace, and Monserrate Palace.
A Hop-On Hop-Off on Villa Express 435 costs €5,00. For more ticket options, have a look at the Scotturb Site.
Tickets can be purchased on the bus.
Once done with Quinta da Regaleira, we headed to Cabo da Roca to catch a beautiful sunset.
How to get to Cabo da Roca and Cascais from Sintra?
If you are not staying in Sintra, then you can choose between having dinner at Sintra and going back to Lisbon the same way you came or going further west to Cabo da Roca (the westernmost point of mainland Europe) and ending the day in Cascais.
I strongly recommend you to take a sneak peek of Cabo da Roca if nothing else. Cabo da Roca, in itself, is a wonderful day trip destination from Lisbon. With its close proximity to the stunning surfing town of Ericeira, it makes for the perfect adventurous getaway.
We chose to go to Cabo da Roca and watch the sunset there. It was pretty cold here (yes, even in September) and I would seriously advise getting a jacket only for this bit of the journey. We took Bus #403 from the Sintra train station to get to Cabo da Roca. We ended the day with dinner in Cascais.
Tickets and Tips for Bus #403
The bus ride from Sintra train station to Cabo da Roca takes around 40 minutes and another 20 minutes from Cabo da Roca to Cascais.
You can purchase tickets on the bus. We paid €4,30 for the ride to Cabo da Roca from Sintra train station and €3,40 for Cascais from Cabo da Roca (September 2019).
How to get back to Lisbon from Sintra/Cascais by train?
If you are spending the entire day in Sintra, then you can easily get back to Lisbon from the Sintra train station. Trains to Lisbon are quite frequent (leaving every 30 minutes). And I believe the last train leaves a little after midnight. Check here for train schedules.
If you plan to get back from Cascais, there a number of trains running from Cascais Terminal to Lisboa Cais do Sodre. The ride usually takes 40 minutes and costs €2,25. You can check trains schedules and charges here. There are a few other stops in Lisbon like at Alges, Belem, and Santos. You can get off at the station closest to your hotel.
Hope you found our train guide from Lisbon to Sintra helpful. If you are spending a few days in Lisbon, then do not forget to check out our extensive Lisbon travel guide and these offbeat attractions in Lisbon.
More Sintra & Lisbon Resources
Liked our Lisbon to Sintra Train Guide? Pin it here!