Last Updated on August 19, 2023 by Soumya
Looking for the best Cappadocia itinerary? Wondering how many days in Cappadocia is good for you? Will you be able to see the best of Cappadocia in 2 – 3 days or is 4 days a better choice?
In this perfect Cappadocia itinerary, we will answer all your questions and some more.
Cappadocia is one the best places to visit in Turkey. There are so many wonderful things to do in Cappadocia that honestly, even a week here feels short. As you hike through mesmerizing valleys, stare at ancient Byzantine frescoes in rock-hewn churches, and explore massive underground cities, you'll want to spend an entire lifetime in Cappadocia.
If this is your first visit, 3 days in Cappadocia is a good place to start. That gives you adequate time to see the best attractions, do a couple of day tours, and reschedule your balloon flight if necessary.
If you are short on time, 2 days in Cappadocia should also be okay, provided you are ready to see a lot in 48 hours. A 2-day all inclusive trip from Istanbul is an efficient way of spending your two days in Cappadocia.
What Cappadocia itinerary is best for you?
Honestly, the best Cappadocia itinerary is the one that fits your requirements and is flexible enough to accommodate your constraints of time and budget. Isn't that correct?
In this comprehensive blog post, we are going to explore 3 different itineraries for Cappadocia – compact (2 days), ideal (3 days), and relaxed (4 days). We will look at both guided and DIY tours so that you can make the most of your time in this beautiful destination.
I am hoping that, at the end of this post, you'll be able to pick the best itinerary for yourself and answer the big question "how many days in Cappadocia is really enough?"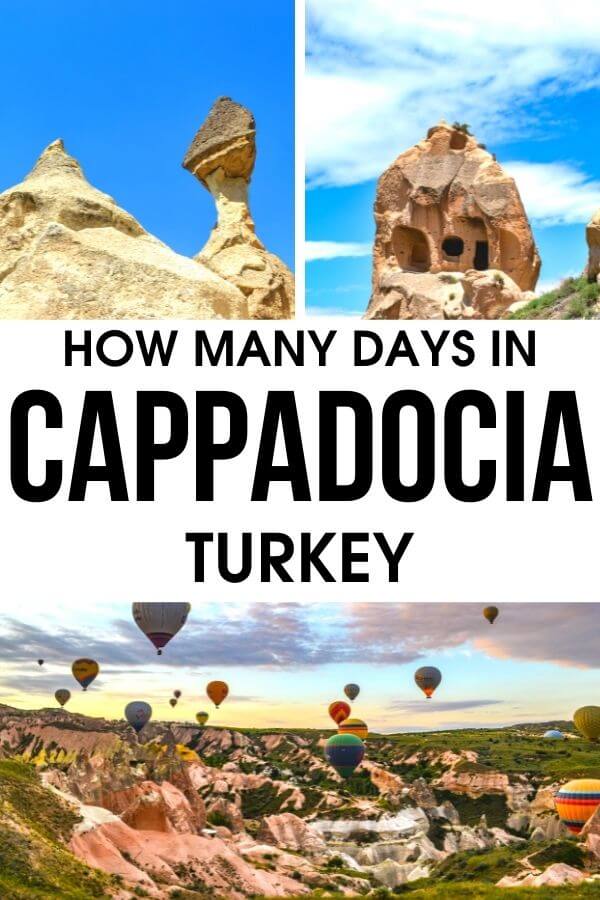 Please note: This post may contain affiliate links which means I may earn a commission if you make a purchase by clicking a link on this post. This will be at no additional cost to you. Affiliate links help me keep this website up and running. Thanks for your support!
2 days in Cappadocia itinerary – compact
If you plan it well, it is possible to cover a lot of ground in Cappadocia in two days. If you are visiting from Istanbul, a smart way to do so is by signing up for a 2-day all inclusive trip like this one which covers domestic flight tickets, airport transfers, hotel stay in Cappadocia, museum tickets, and all ground transports. This tour also includes balloon flights.
By booking a tour, you leaving the planning and organizing to the experts while you relax and enjoy your Cappadocia visit. However, if you wish to do craft your own DIY Cappadocia itinerary, then that is possible too. Keep reading to find out how.
Day 1: Balloon ride + Northern Cappadocia
Hot air balloon ride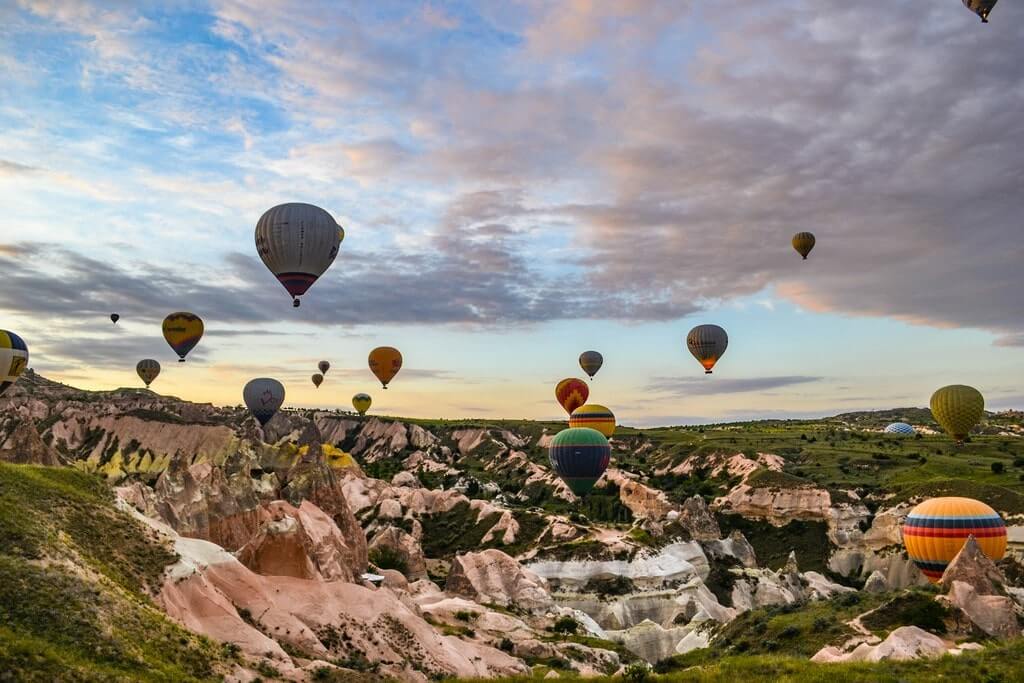 Whether you are visiting Cappadocia for 2 days or many more, reserve your first morning for a hot air balloon ride. That is because, in case your balloon flight gets cancelled on Day 1, then you can reschedule it for Day 2/3.
Balloon cancellations do happen in Cappadocia and they are more frequent that you would imagine. I realized this on my last trip to Cappadocia when our balloon flight was cancelled not once but thrice. Thank goodness, we were in Cappadocia for 3 days. We, somehow, managed to get on a balloon on the very last morning. Read all about my experience here. It also tells you how we managed to get last minute balloon tickets after like a hundred cancellations.
Now, let's get to the good part. Flying over the surreal landscape of Cappadocia in a hot air balloon in the wee hours of the morning is an absolutely amazing experience. Gliding over Cappadocia's fairy chimneys while a hundred other colorful balloons dot the sky like confetti is magical. This is an activity that should totally go into your travel bucket list unless, of course, you are scared of heights.
Be sure to book your balloon ride well before time because spaces tend to fill up really fast. You can book through your hotel or on Get Your Guide or Viator – my favorite portals for their flexible cancellation policies.
Check out this highly rated balloon tour by Royal Balloons, one of the best in the market. This one comes with a champagne celebrations and has some rave reviews too.
See northern Cappadocia
Once you are back from your balloon ride, have breakfast at your hotel and get ready for a tour of northern Cappadocia. You'll visit Devrent Valley, Pasabag, the pottery village of Avanos, Goreme Open Air Museum, and Uchisar Castle on this tour.
Highlights of northern Cappadocia
Goreme Open Museum is one of the best places to visit in Cappadocia. It has the largest collection of well-preserved cave churches adorned with vibrant Byzantine frescoes. Most of them date back to the 10th century. Some of the most notable churches in this ensemble are the Apple Church, the Snake Church, the Sandals Church, and the Dark Church.
You'll also visit two notable valleys with interesting rock formations. Pasabag or the Monks Valley has weird mushroom-shaped fairy chimneys which actually look like walking monks. Devrent Valley, on the other hand, has rocks in various animal shapes. Camels, seals, dolphins, and whatever else you can imagine!
Uchisar Castle is the highest point in Cappadocia and has some of the most stunning views in the area.
Avanos, located on the banks of Red River, has been the pottery center of Anatolia since ancient times. Even today, you can visit a pottery museum here, step into pottery shops, and join a pottery workshop here.
Cappadocia Red Tour
I highly recommend signing up for a Red Tour because that is the best way to make the most of your limited two days in Cappadocia.
The tour takes you to all noteworthy tourist spots (mentioned above) in northern Cappadocia in under 8 hours. A Red Tour is not just the most time-efficient option but also the most budget-friendly. At $60+, the tour includes hotel pick-up and drop-off, lunch, entrance to heritage sites, and of course the services of a knowledgeable tour guide.
Alternately, you can also rent a car or hire a taxi to get to these places. Click on the interactive map below to get directions to all Red Tour attractions.
Sunset ATV tour
If you still have some energy left after a long day of ballooning and sightseeing in Cappadocia, I suggest you book a sunset ATV tour.
This ATV tour by Tourmania is one of the most popular tours in Cappadocia. You'll drive through the Sword, Love, & Red Valleys, explore the abandoned Greek village of Cavusin, and witness a magical sunset at Rose Valley. The tour includes hotel pick-up and drop-off and helmets for the ride.
Guests absolutely love the thrilling ATV ride through Cappadocia's picturesque valleys. With 150+ 5-star reviews and counting, it is one of Cappadocia's highest rated tours in the market. No doubt, this tour sells like hot cakes.
Turkish night or shopping in Goreme
End the day with some shopping in Goreme or by enjoying a fun Turkish night filled with cultural performances and traditional food.
For shopping, you'll find several souvenir stalls on Muze Caddesi, which is also the most happening place in the city. There are a number of good restaurants here too. Be sure to try everyone's favorite pottery kebab at the Anatolian Kitchen.
Day 2: Balloon watching + Southern Cappadocia
Watch balloons in the morning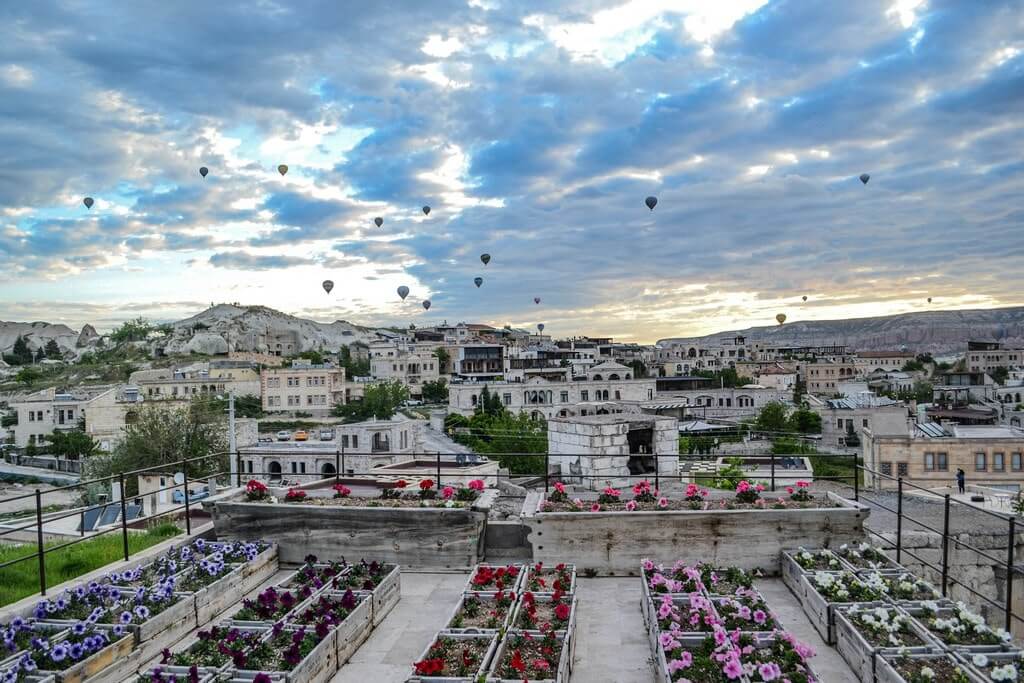 Wake up early to get some wonderful pictures of balloons flying over Cappadocia. Most hotels in Goreme have terraces/private balconies where you can watch balloons in the sky.
There are also a few balloon watching tours available in Cappadocia. Here's a good, private tour on Viator that takes you to the balloon take off point, through the valleys, and finally to a gorgeous viewpoint in Love Valley where you can get some great pictures.
If you'd rather hike to a viewpoint on your own, then Uchisar Castle, Goreme Panorama, and Sunset View Point at Lovers' Hill in Goreme are all good places to watch and photograph hot air balloons.
Head to southern Cappadocia
Have breakfast and get ready for a full-day tour of Cappadocia's southwest. You'll explore hidden underground cities, hike through a beautiful valley in the Ilhara Canyon, check out some ancient rock-cut churches, and visit the massive Selime Monastery.
Underground cities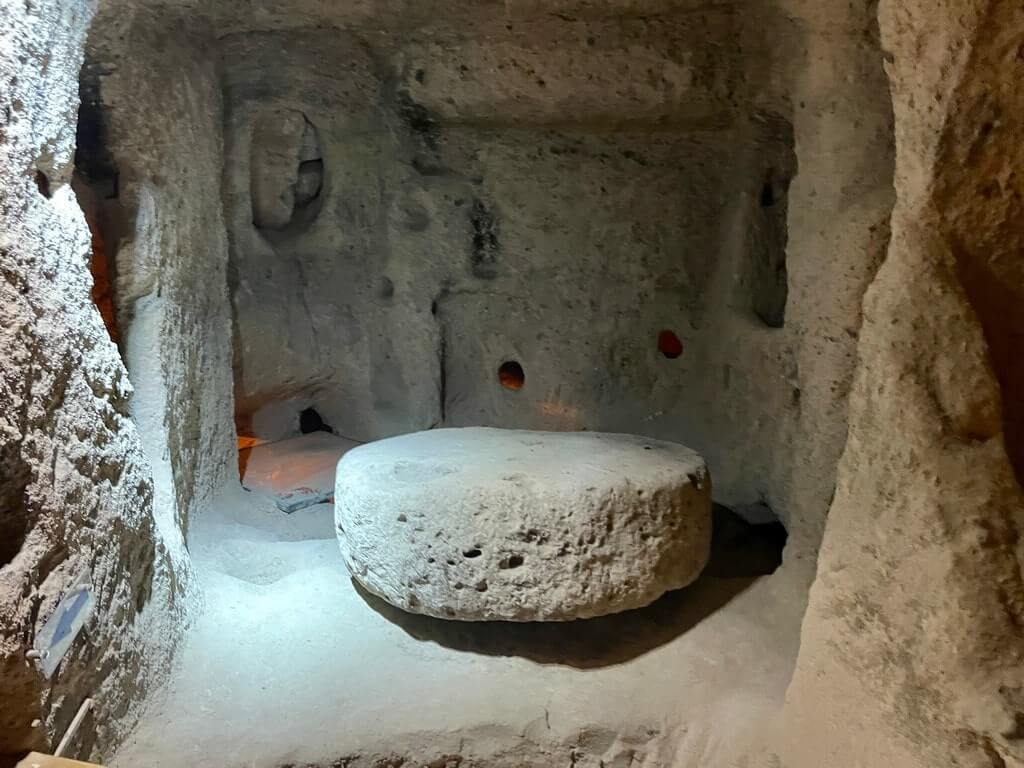 2 main underground cities – Derinkuyu and Kaymakli – are the biggest highlights of southern Cappadocia.
Some tours take you to Kaymakli while others do Derinkuyu. I feel both of them are unique. While Derinkuyu is one of the largest and the deepest subterranean settlements in the world, Kaymakli is more accessible by virtue of being wider and having multiple tunnels to go in and out.
Ancient Christians once created these cities in order to escape persecuting Romans, Arabs, and Turks. Honestly, they are nothing short of engineering marvels. You'll discover a whole new world as you explore these hypogeal spaces that were equipped with living rooms, kitchens, storage rooms, wine cellars, and even stables. There are tall shafts that bring fresh air from above. Underground channels distribute water around the settlements.
It is always a good idea to visit these underground cities with a certified tour guide because they'll be able to show you where exactly the kitchen was, where the horses were tied, how many crosses you can find on the walls, and how the ancient people sealed their doorways. I signed up for this Green Tour and loved the anecdotes presented by the tour guide.
Quick note – avoid the underground cities if you are extremely claustrophobic. In case of mild claustrophobia (which I also have), you can go down one level at Kaymakli and see if it works for you. If it doesn't, you can always come back up from there.
Ilhara Valley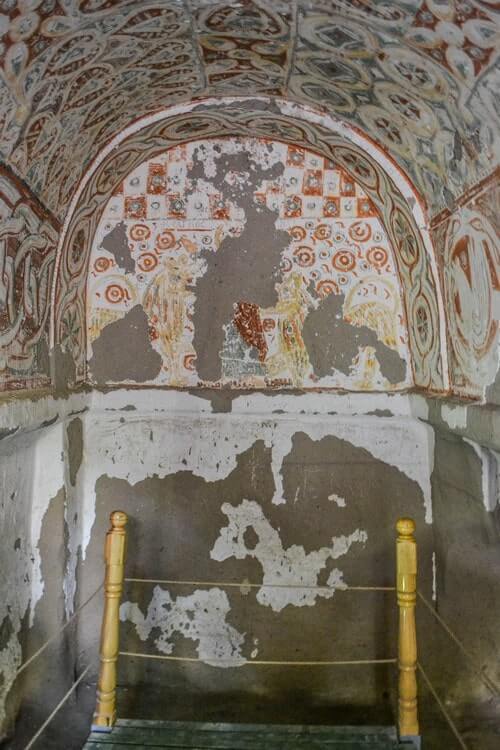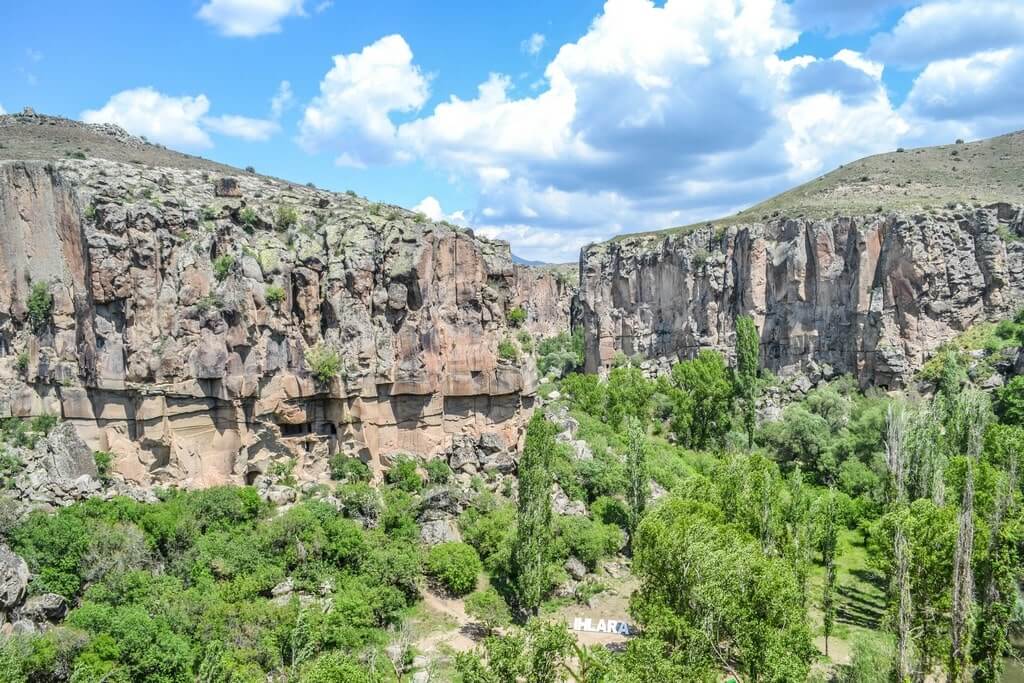 Yet another beautiful place to visit in southwest Cappadocia is Ilhara Valley. Located in the Ilhara Canyon, among the villages of Ilhara, Belisarma, and Selime, Ilhara Valley is fecund and green – quite unlike the other valleys of Cappadocia.
Did you know that Ilhara Valley was the cradle of early Christianity? The presence of more than 50 rock-cut churches in the valley is testimony to that.
As part of a Green Tour, I visited the Agacalti Church in Ilhara Valley. It features many exquisite paintings such as the Annunciation, the Nativity, and the coming of the 3 Magi (pictures above).
Pro tip: Visiting Ilhara Valley involves climbing down at least 300 steps and walking more than 2 miles (3.5km). Be sure to put on your best walking shoes.
Selime Monastery
The last most important destination in south Cappadocia is Selime Monastery, the largest religious structure in the region.
It was built in the 8th century and features a huge cathedral, a chapel, living quarters, and a kitchen. It is believed that many renowned clergymen finished their education at Selime. No doubt, this place was an important religious and political center in the ancient times. During the Seljuk Turk reign, the monastery was converted to a caravanserai.
You'll get some stunning views as you climb up the steep staircases to the monastery. Again, good shoes are absolutely necessary for this part of the trip.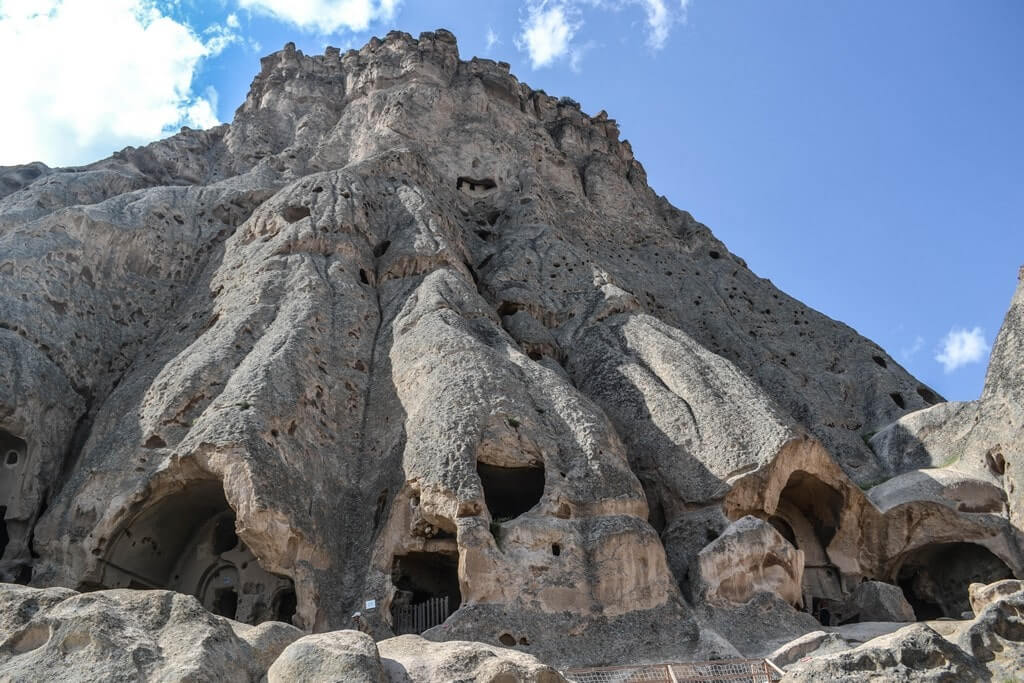 Cappadocia Green Tour
As you have seen, Southern Cappadocia is filled with interesting sites and historical places that will fascinate you. However, it is not very easy to get to by public transport.
For example, to get to Kaymakli/Derinkuyu, you'll need to change buses at Nevsehir. And Ihara and Selime are accessible only by car. In such a scenario, I find taking a full-day, green tour of southern Cappadocia is a great option. It is cheap, saves you the hassle of planning and booking your own transport, and comes with a knowledgeable tour guide.
Here's a highly recommended Green Tour that I did and totally loved. My tour included Kaymakli Underground City. If you are planning to visit Derinkuyu, here's another Green Tour that's got rave reviews.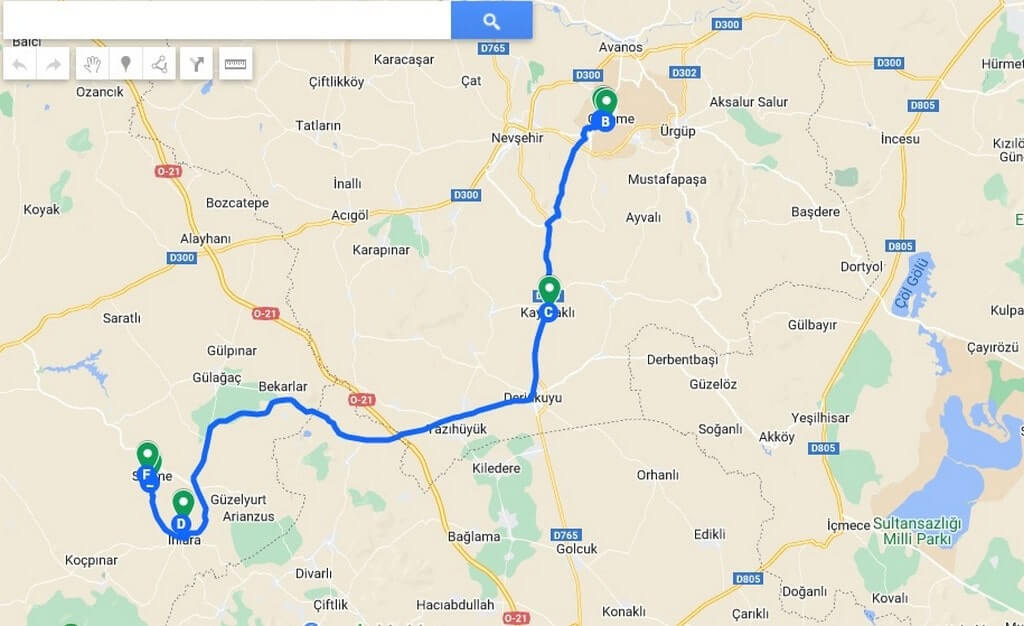 3 days in Cappadocia itinerary – ideal
Day 1: Hot air balloon ride + Goreme Open Air Museum + ATV tour
Hot air balloon ride
Like I already mentioned in my 2-day itinerary of Cappadocia, it is very important to schedule your balloon flight on Day 1 of your Cappadocia visit. That helps you reschedule in case your flights gets cancelled on Day 1. Find out all you need to know about Cappadocia balloon flights here.
Goreme Open Air Museum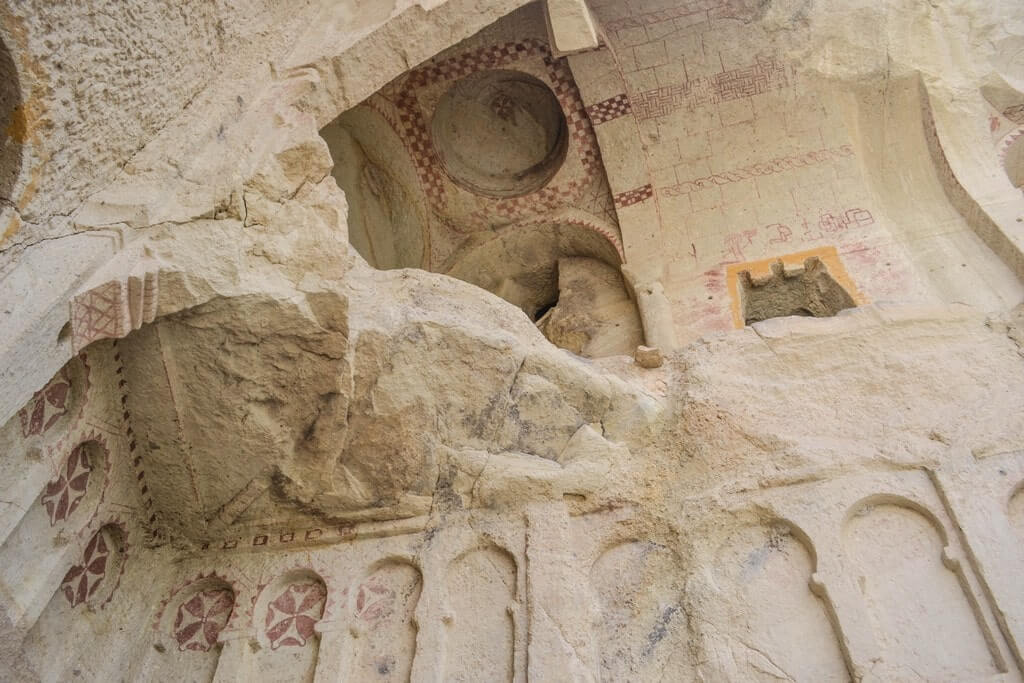 Goreme archaeological site or the Open Air Museum is one of Cappadocia's best attractions and a must-have on every Cappadocia itinerary. It forms an important part of the Cappadocia UNESCO world heritage site.
In the 2nd century, several monks and ascetics came and settled in the caves in and around Goreme valley. By the beginning of the 4th century, monks had become a powerful religious force in the Cappadocia. It was during this time that the 3 Cappadocian fathers, St. Basil of Caesarea, St. Gregory of Nyssa, and St. Gregory of Nazianzus, encouraged the development of Christian theology and made way for monastic life.
Goreme Open Air Museum was the center of all monastic activities in Cappadocia.
Even today, as you visit this archaeological site, you'll see numerous chapels and churches adorned with stunning Byzantine frescoes. They depict scenes from the Bible and are painted directly on the rock surface or by using the fresco-secco technique.
Some of the most popular churches to visit here are the Apple Church, the Snake Church, the Sandals Church. Do not miss the Dark Church (requires an additional fee) which has some of the most vibrant frescoes in the ensemble.
Plan to spend at least 2-3 hours at Goreme Open Air Museum if you want to see all the churches in detail. They are open everyday from 8:00am – 7:00pm. It gets pretty crowded between 10:00am – 4:00pm because that is when most tour groups arrive.
Entrance to the site as well as the Dark Church is included in the Cappadocia/Turkey Museum Pass.
Half-day trip to Lake Tuz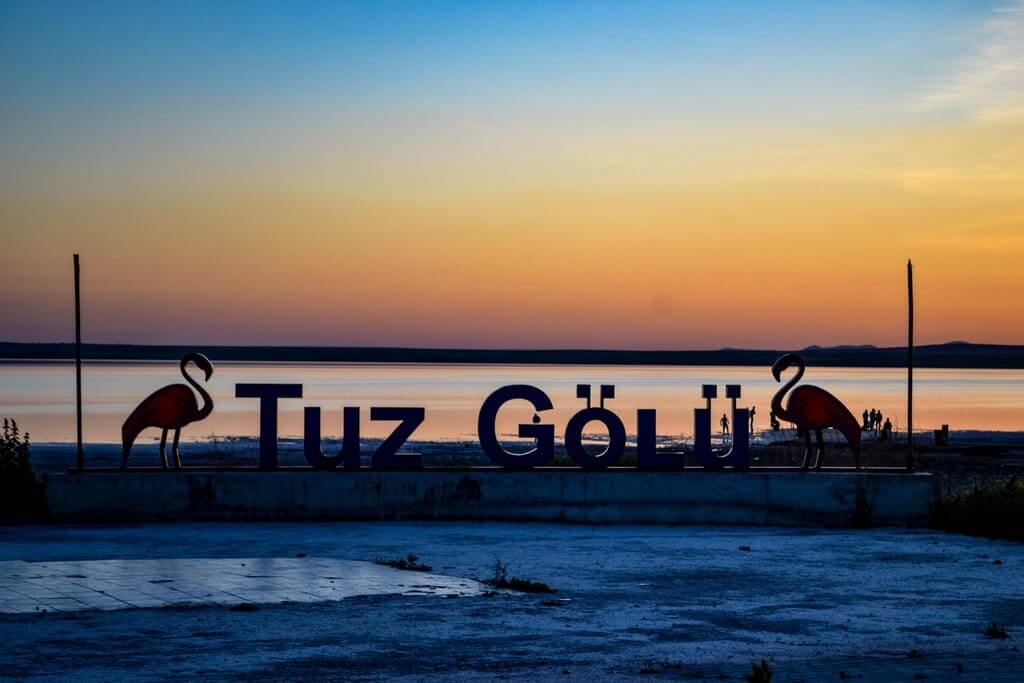 Plan a half-day trip to Lake Tuz which is about 78 miles (125 km) away from Goreme. Tuz is Turkey's second-largest lake and one of the largest saline lakes in the world.
The easiest way to get to Lake Tuz is by car. You'll need to rent a car or hire a taxi. The drive takes around 2-2.5 hours. That means you'll reach in perfect time to watch sunset over the lake. That's when the lake looks the prettiest as well as the most pink. The fringes of the lake turn rosy pink at dawn and dusk.
Be sure to carry your flip-flops so that you can walk on the salt bed. Walking barefoot can be an issue because the salt is a little spiky at places.
You can also make a stop at Agzikarahan Caravanserai which is on the same route as Lake Tuz. Built in the 13th century, the caravanserai was used as a hotel for travelers and traders on the Silk Route. Imagine the number of stories this place holds in each and every room.
Day 2: Sunrise horseback ride + Northern Cappadocia
On day 2, start the day with a horse ride through the valleys. Then, explore northern Cappadocia.
I highly recommend getting a Red Tour for northern Cappadocia when you are on a tight schedule (like a 2-day Cappadocia trip). But when you have 3 days or more, I always advise my friends and readers to explore the north on their own. And that is because of two reasons.
Tours, however good they are (and trust me Cappadocia tours are really good), usually have a packed schedule. That means you do not get enough time to explore any attraction on your own.
All Red Tour attractions are located on the minibus route from Urgup – Avanos, with a stop in between at Goreme. That means it is easy to get to these places by public transport.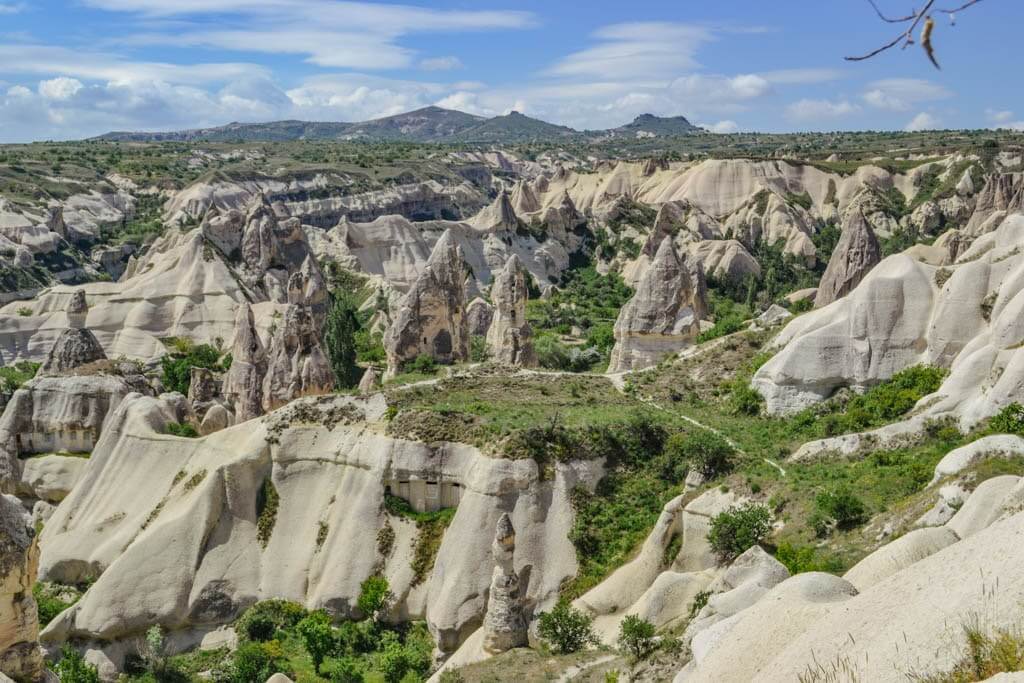 Sunrise horseback ride
If you are a morning person, I urge you to start your second day in Cappadocia with a sunrise horse riding tour through the majestic valleys of Cappadocia. This is a 2-hour horse ride through the rock valleys and fairy chimneys. You'll climb up to panoramic viewpoints at the Rose and the Red Valleys and see hot air balloons fly high over Cappadocia's stunning landscape while the sun shines a golden hue over the soft tufa rock.
If horse-riding does not interest you or you don't like waking up early, then it is a good idea to catch up on some sleep because you'll have a long day ahead of you. And that is because you will explore the gems on northern Cappadocia and that means some good amount of walking and climbing.
Pasabag & Zelve Open Air Museum
Head to Pasabag and Zelve Open Air Museum after a filling breakfast at your hotel. The two are just 10 minutes away from each other – it is an easy walk between the two. Plus, the minibus (dolmus) from Goreme stops at both the locations. Board the bus in the direction of Avanos and you'll get to Pasabag in under 10 minutes.
Pasabag is famous for its uniquely-shaped fairy chimneys with multiple bodies and caps. Often, they resemble mushrooms and/or groups of monks walking together. That's why the name Pasabag or the Valley of Monks. Pasabag is a great place for photography. It is also home to the chapel of St. Simon who lived in the 5th century and could perform miracles.
Zelve Open Air Museum was an important religious center between 9th – 13th centuries. This is where the first ever religious seminars happened in the region. Zelve consists of 3 valleys – first where you'll find wheat mills, churches, and a winery; second where you'll see the Church of the Holy Cross; and third where you'll find a village square and a mosque.
The archaeological site at Zelve is quite spread out unlike Goreme Open Air Museum which is more compact. You'll have to walk and hike around quite a bit to see all that Zelve offers.
Zelve Open Air Museum is more of a hidden gem in Cappadocia. You'll not find it on any guided tour even if it is just 10 minutes away from Pasabag. As a result, Zelve sees very few tourists during the day and is a great place to visit if you are looking for some tourist-free time.
Devrent Valley
Devrent Valley is an unmissable spot in Cappadocia. It has some of the most unique rock formations in Cappadocia, many in the shape of animals. The camel is the most famous one but you'll also see dolphins, seals, and alligators. It is also called the Valley of Imagination.
Avanos
Spend the later half of the afternoon at Avanos, Cappadocia's pottery village. Located on the banks of the Kizilirmak River which is full of red clay, Avanos has been a pottery hub since time immemorial.
In Avanos, you can sign up for a pottery class, visit the Guray Museum of Ceramic Art, or check out the very unusual Chez Galip Hair Museum. Or simply, take a stroll on the bridge over the Red River, step into pottery shops, and have a hearty meal at Kapadokya Lezzet Sofrasi. Their mezze is to die for.
Sunset ATV tour or Turkish night
Opt for a sunset ATV tour or a Turkish cultural night to end your happening day 3 in Cappadocia. Find all details here.
Day 3: Balloon watching + Southern Cappadocia
On Day 3, do an early morning balloon watching tour either at your hotel terrace, a viewpoint, or on a guided tour. Later in the day, head to southwest Cappadocia to experience the mysteries of Anatolia's underground cities and the large rock-cut monastery of Selime.
Day 3 is exactly the same as Day 2 in our 2 days in Cappadocia itinerary. Find the detailed itinerary here.
4 days in Cappadocia itinerary – relaxed
If you have 4 days in Cappadocia, you definitely have more time to see everything in detail. There's no need to rush because you'll have ample time at your disposal.
I suggest following our 3-day Cappadocia itinerary for the first 3 days that you are there. On day 4, you can do some hiking in the valleys, shop, and relax in a hammam. So, here's my suggested itinerary for Day 4 in Cappadocia.
Day 4: Hiking + Relax in Goreme
If you love hiking, then Cappadocia is the perfect place to be.
There are several wonderful hiking trails in Cappadocia including Devrent Valley and Pasabag. But the most popular ones are the Red and Rose Valley, Pigeon Valley, and Love Valley hikes. I am not a hiker but found this article on Cappadocia hikes by Turkey Travel Planner extremely helpful to plan DIY hikes.
You can also join a highly-recommended, daily hiking tour like this one where you'll be exploring valleys, caves, tunnels, and old churches with a local tour guide who will take you off the beaten path.
Be sure to carry water, hat, sunscreen, and sunglasses to protect yourself from the Cappadocia heat.
If you wish to do something relaxing after your hikes, there are several fun things to do in Cappadocia such as shopping on Muze Caddesi in Goreme, taking a cooking class, or experiencing a Turkish bath in a traditional hammam. Have a relaxing evening on the last day of your Cappadocia itinerary so that you are all energized for the next destination on your Turkey itinerary.
Where to stay in Cappadocia?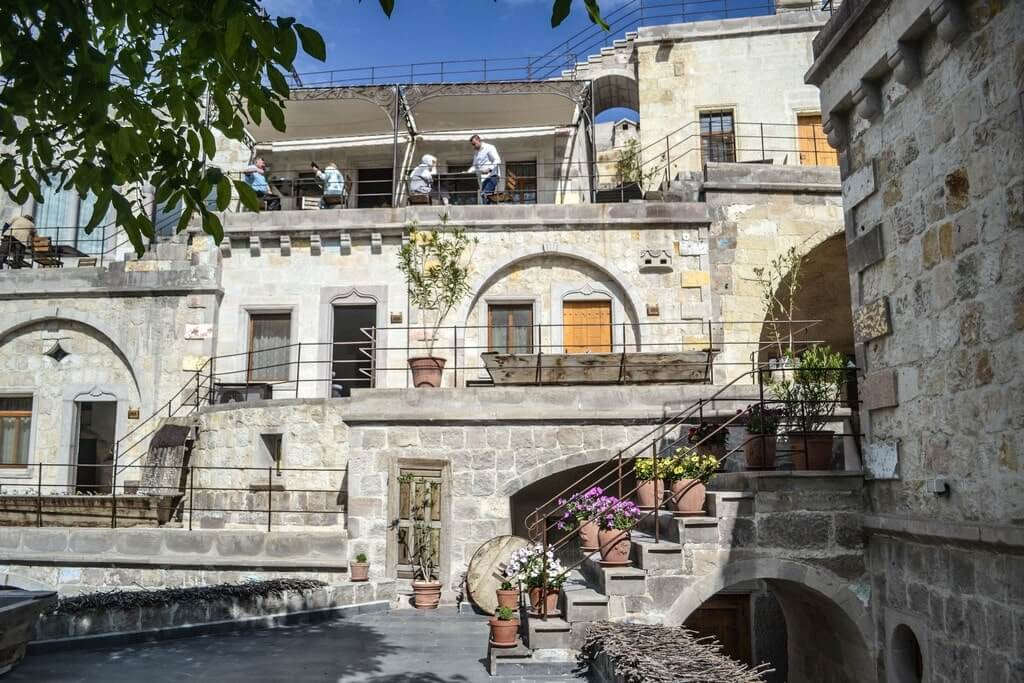 Cave dwelling was an integral part of ancient life in Cappadocia. Even today, you can stay in some amazing cave hotels in Cappadocia, albeit with lots of luxury.
It is a good idea to stay in Goreme because that is literally the center of Cappadocia. It is a transport hub and many attractions such as the Goreme Open Air Museum, Uchisar Castle, and Pigeon Valley are closeby. Plus, Goreme has more accommodation options for every budget.
Some of the best cave hotels in Goreme are Sultan Cave Suites and Mithra Cave Hotel. Cappadocia Caves Hotel is more budget friendly. Another great option is Fairyland Cave Hotel in Cavusin which has got wonderful reviews, great views, and helpful staff.
We stayed at Design Cappadocia Hotel for 3 nights. The stay was lovely – the rooms were spacious, the breakfast spread was great, and the views from the terrace were amazing. Only thing that put us off was the not-so-helpful front desk staff. We booked our balloon rides through them and they got cancelled because of bad weather. The hotel did not inform us of the cancellation, neither did they do enough to find us seats on another flight. Read about my terrible ballooning experience here.
Practical information for visiting Cappadocia
Best time to visit Cappadocia
Late spring (May & June) and early fall (September & October) are good times to visit Cappadocia. Temperatures are great and the weather is not too windy. It is a great time to visit Cappadocia's open air museums, hike in the valleys, and ride a hot air balloon.
Early spring (March & April) is a little tricky because that is the windiest time of the year. The chances of your balloon flight getting cancelled are pretty high.
Summer (July & August) is also a good time to visit. It is bright, sunny, and sometimes hot. Wind is minimum which means your balloon will mostly fly. However, summer is also the busiest time in Cappadocia and it is hard to find cheaper accommodation and good deals on tours.
Winter is a totally different ballgame. Honestly, winter is a beautiful time to visit Cappadocia. It is cold, windy, and snowy. But the views that you get from panoramic viewpoints or from hot air balloons is magical. It is like flying over a fairy wonderland dotted with snow-covered fairy chimneys and shiny white hermit caves.
Visiting Cappadocia in the winters is something I would love to do on my next trip there. However, I would not advise this to first-timers because winters aren't a great time to be outdoors or go hiking. Plus, this is the time when most balloon cancellations also happen because of bad weather.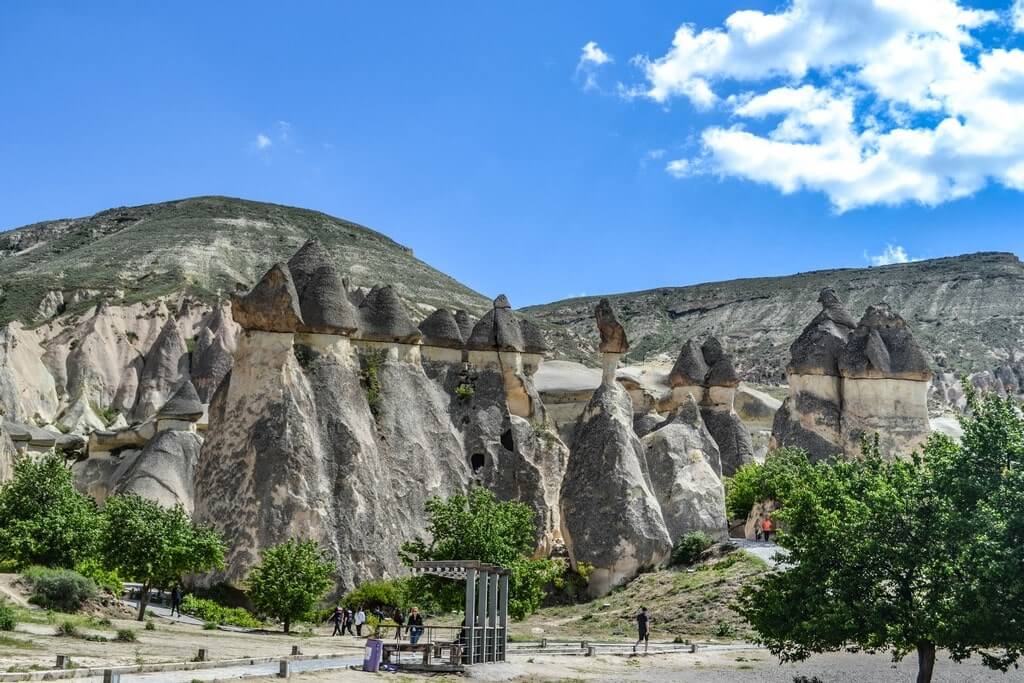 Getting to Cappadocia
You can fly to Cappadocia or take a bus. Two main airports connect Cappadocia with the rest of the world. They are Nevsehir Kapadokya Airport (45 minutes away) and Kayseri Eriklet Airport (1 hr 10 minutes away).
Once you get to the airport, you can either take a taxi from arrivals, reserve a seat for yourself on a shared van (most popular option), or book a private transfer to your hotel.
Bus is a cheaper option to travel to Cappadocia. We traveled by bus from Ankara to Goreme and the journey took around 4.5 hours. Istanbul is farther, so a bus ride takes anywhere between 12-13 hours. Buses to Nevsehir are more frequent than buses to Goreme. Once you arrive in Nevsehir, you'll need to take a minibus to Goreme.
Some of the most popular bus companies to travel with are Kamil Koc and Metro Turizm. You can easily and safely book tickets on Obilet here.
If you are visiting Cappadocia from Istanbul for a shorter duration, say 2 days, then I highly recommend getting a guided tour like the ones mentioned below because that will save you all the headache of planning and logistics. And you can focus on enjoying the trip.
Getting around Cappadocia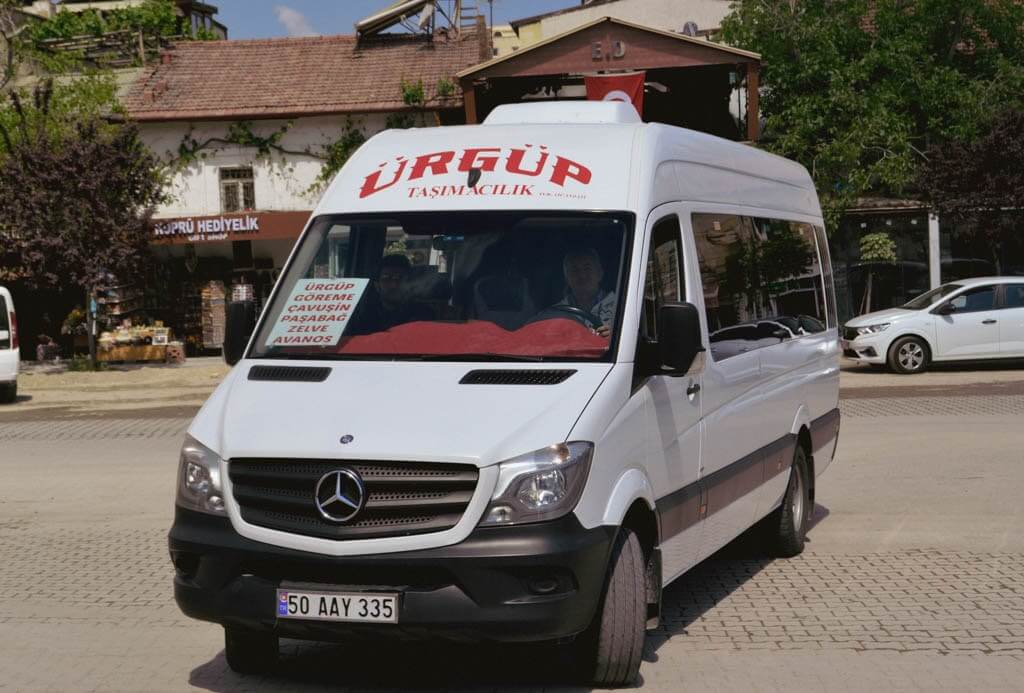 If you are staying in Goreme, you can walk to several attractions such as the Goreme Open Air Museum, Pigeon Valley, and Goreme Panorama. Many restaurants and souvenir shops on Muze Caddesi are also accessible by foot.
Public transport is not great in Cappadocia but minibuses do run to nearby towns and attractions from the Goreme bus stop. For example, it is easy to get to Cavusin, Pasabag, Zelve, and Avanos from Goreme on a minibus (shown in the picture above). These minibuses/vans are called dolmus in Turkey. These dolmuses run between Urgup and Avanos and vice versa every hour and are a cheap way to get around.
If you want to be flexible with your time, you can always rent a car or hire a taxi for the day.
Cappadocia travel tips
If you wish to ride the balloon in Cappadocia, plan to spend at least 2 – 3 days in Cappadocia. Read more about Cappadocia balloon rides here.
Get a Cappadocia Museum Pass if you are visiting for 3 days or more. That will save you some $$ when visiting heritage sites. If you are visiting for 2 days or less, admission to heritage will be covered by the Green and Red Tours. Getting a Cappadocia Museum Pass may not be that useful when visiting for a shorter duration.
Sightseeing in Cappadocia involves a lot of climbing and walking around. Be sure to pack a good pair of walking shoes.
It is a good idea to stay in Goreme when visiting. Cappadocia is huge – it is actually a region consisting of several towns and villages. Goreme is kind of like the center with several hotels, restaurants, and transport options.
One important thing to remember is that Booking.com does not work in Turkey. You can make reservations in Turkey from outside Turkey but not when you are in Turkey. That is because of some legal hassles between the company and the Turkish Government. So, be sure to make your bookings before you get into the country. You can also use Expedia/Agoda.
Cappadocia itinerary FAQ
How many days do you need in Cappadocia?
You need at least 2 days and 2 nights in Cappadocia to be able to see the best sights, ride a hot air balloon (and reschedule it in case of cancellations), immerse in cultural experiences, and enjoy the local vibe.
Is 3 days in Cappadocia enough?
Yes, 3 days in Cappadocia is good enough for your first trip. It gives you ample time to explore Cappadocia on your own, do a couple of guided tours, enjoy a hot air balloon ride and more importantly reschedule it in case of bad weather, and experience the local food and culture.
Is one day in Cappadocia enough?
One day in Cappadocia is not enough to see all that Cappadocia offers including its picturesque valleys, rock-cut cave churches, underground cities, and hot air balloon rides. You need at least two days to see a good bit of Cappadocia.
How do I spend a day in Cappadocia?
If you have only a day in Cappadocia, I highly recommend getting a comprehensive guided tour like this one that will show you the best highlights including Goreme Open Air Museum, the old Greek village of Cavusin, Pigeon Valley, Devrent Valley, Pasabag, and the underground city of Kaymakli.
Can you walk around Cappadocia?
You can walk to several attractions in Cappadocia if you are staying in Goreme. While the Goreme Open Air Museum is only a 20 minute walk from the city center, Pasabag and Zelve are an hour away. Attractions such as Kaymakli, Derinkuyu, Ilhara Valley, and Avanos are pretty far and more easily reachable by car/minibus.
Where can I stay in Cappadocia without a car?
If you do not plan to rent a car in Cappadocia, then it is a good idea to stay in Goreme because Goreme is close to several tourist spots such as the Goreme Open Air Museum and Pigeon Valley, is the transport hub, and is home to many wonderful cave hotels and restaurants.
Loved this Cappadocia itinerary? Pin it for later!