Last Updated on August 13, 2022 by Soumya
Wondering how to get from Lisbon to Belem for that exciting one day trip? We have 6 different ways listed down here with details on how to do each one and loads of additional tips.
A day trip from Lisbon to Belem should be pretty high on your list of things to do in Portugal. Home to the two most iconic monuments that define Portugal's history, Belem in Lisbon is definitely a must-have on your Portugal itinerary.
Here's our ultimate Lisbon to Belem travel guide where you will learn.
How to get to Belem from Lisbon? – 6 great options to do that.
The best things to see and do in Belem + an awesome 1-day Belem itinerary.
Tips and tricks to make your Lisbon to Belem day trip absolutely memorable.
If you ever feel overwhelmed by having to plan your travel from Lisbon to Belem all on your own, feel free to look at this highly-recommended guided bike tour of Belem that includes traveling to Belem from Lisbon.
If you are comfortable with a DIY tour, read on to plan and execute your very own, exciting day trip to Belem. This place is so historically rich that we recommend you see it even if you are in Lisbon for a short 2 days. If you can spend a night here, nothing better.
How to travel to Belem from Lisbon?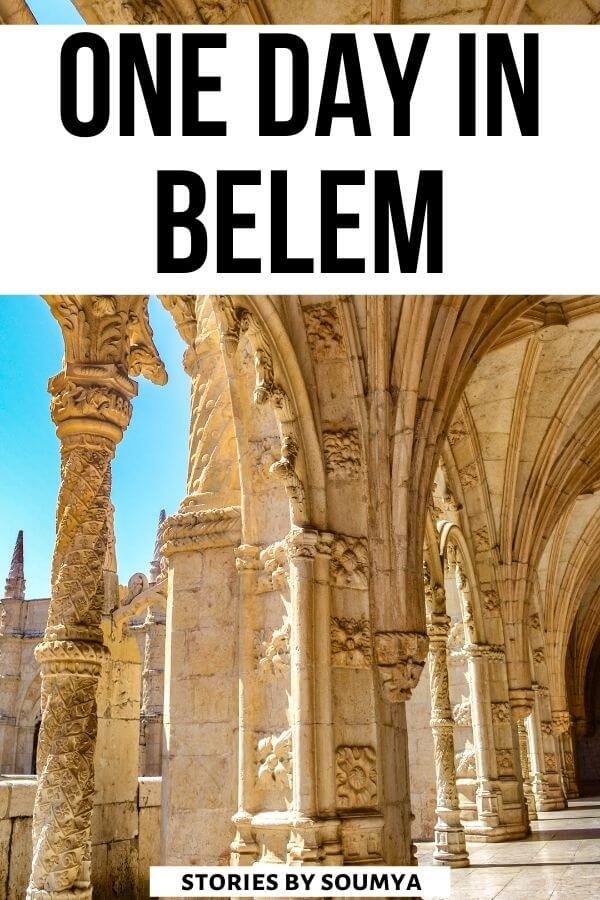 Belem is actually one of Lisbon's main districts and hence very much a part of the city.
However, it is almost 7 km away from Central Lisbon. That means if you are staying anywhere in Baixa-Chiado-Alfama, you can easily spend a day touring Belem from Lisbon. That makes it one of the fastest and easiest day trips from Lisbon.
There are so many fascinating monuments and museums in this UNESCO neighborhood of Lisbon that you can easily spend one busy day in Belem. Let's see how first to get there.
Lisbon to Belem by tram
This is by far the most popular way of traveling to Belem district from Lisbon.
Take Tram 15E (same as Tram 15) going towards Alges Jardim from Praça da Figueira right next to Rossio square. Get down at Mosteiro Jerónimos for the monastery. Or go a little ahead to Largo da Princesa that is closer to Belem Tower.
Tram #15 is sleek and new and goes by the riverside all the way to Belem. The journey takes around 30 minutes and is free with the Lisboa Card.
Get a print of the route and timetable of Tram 15E here.
Lisbon to Belem by train
If you wish to ride the train, take the Lisbon – Cascais train from the Cais do Sodre Station. Get off the train at Belem. The journey takes only 7 minutes. And trains are quite frequent (every 20-30 minutes).
Tickets from Cais do Sodre to Belem cost €1.35. Again, you can ride for free with the Lisboa Card.
Book your train tickets online or check for train schedules on the official website of Comboios de Portugal.
Lisbon to Belem by bus
You can also take a bus (or rather a couple of buses) to Belem from Central Lisbon. Check out the website of Carris to plan the best bus route/schedule for yourself.
Honestly, it is much easier to take Tram 15E. No changes and the tram provides you with multiple stops to get off in Belem.
Hop-on hop-off bus to Belem
Hop-on hop-off buses are a popular way of sightseeing Lisbon. If you are in Lisbon for a short 2 days or 3, this is a good way to see major Lisbon highlights including the main attractions of Belem.
Lisbon to Belem on bicycle
Isn't it great that now you can travel all the way from Lisbon to Belem on bicycles and explore the city pollution-free? All while enjoying the cool breeze of River Tagus.
Yes, that's right. Get to Lisbon while pedaling through Lisbon's riverside.
Bicycle tours usually last 3-4 hours and involve participation of a knowledgeable local guide. Plus, the terrain is mostly flat and descending. Here's a great Lisbon bike tour if you wish to have a look.
They also have segway tours, yet another exciting way to explore Belem.
Taxi to Belem from Lisbon
You can always get a taxi from Central Lisbon to anywhere in Belem. It is the fastest and most comfortable way of getting there. The ride takes only 15 minutes.
You can either hail a taxi on the road or reserve an Uber. Cabs are not super expensive which makes Lisbon one of the cheapest places to visit in Europe.
Here's an extensive guide on Lisbon taxis that you can refer to.
Should you buy a Lisboa Card for Belem?
Absolutely yes if you are planning to visit the popular monuments in Belem and wish to use public transport to get there. You can ride for free on the tram, train and Carris with it.
Lisboa Card comes in 1, 2, and 3-Day varieties and you can pick and choose according to your needs.
Most of Belem's sights such as Jeronimos, Belem Tower, MAAT, Coaches Museum, and National Archaeological Museum are free with the Lisboa Card. Plus, there are significant discounts on others.
Click here to purchase your Lisboa Card online.
Best things to do in Belem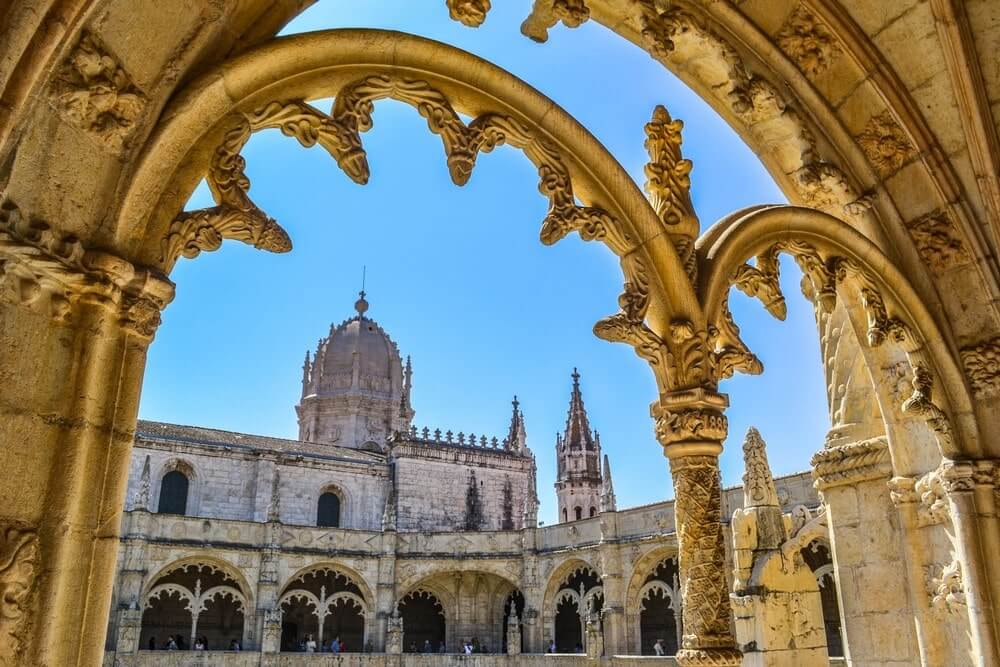 There are so many wonderful things to do in Belem that you can literally spend a couple of days here.
Here's my choice of places and monuments that you need to visit in Belem. If you are short on time, please feel free to pick and choose. Or refer to my 1 Day Belem itinerary at the end of the post.
Explore Jeronimos Monastery
If you have time to do just one thing in Belem, then it has to be a visit to the Jeronimos Monastery.
One of the important monuments of the Belem UNESCO ensemble, The Monastery of Hieronymites is one of the prettiest monasteries in the whole of Europe. I mean, look at all that gorgeous Manueline architecture – too good to miss.
This is also where the tomb of Vasco da Gama lies. After all, Jeronimos Monastery is one of the most significant reminders of Portugal's Age of Discoveries.
The church at Jeronimos is free to enter but has the longest queue. To visit the cloisters, you need to pay a fee €10. Purchase your skip-the-line tickets here. Or just use your Lisboa Card and enter for free.
Visit Belem Tower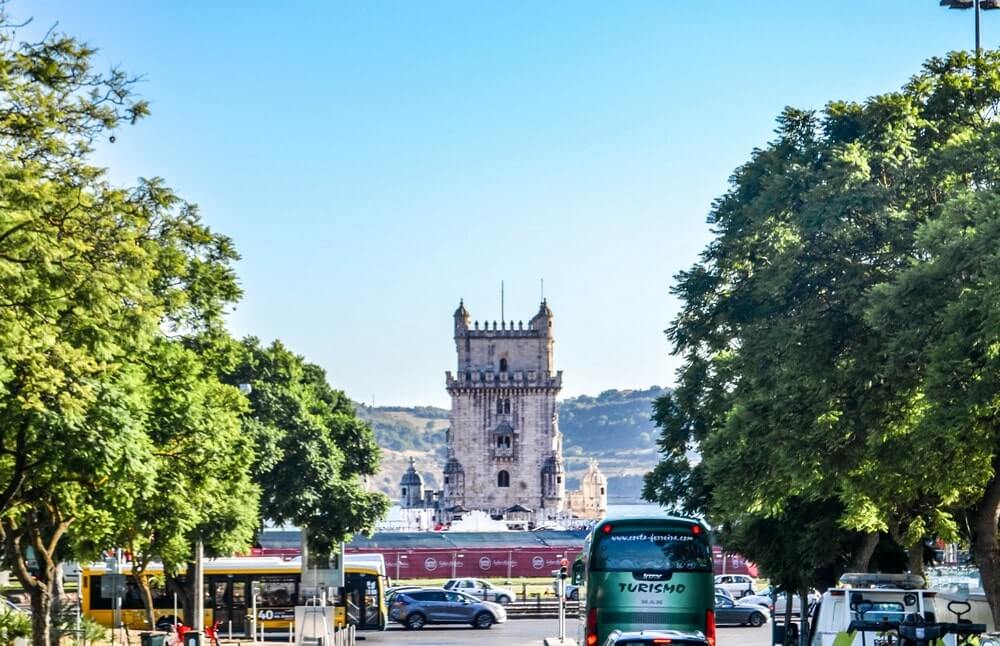 Torre de Belem is the other important monument that is part of the Belem UNESCO heritage ensemble. Along with Jeronimos Monastery, it forms an unmissable part of any Lisbon itinerary.
Belem Tower was literally where the explorers left for their journeys. It served as a lighthouse, a customs port. Sometimes even a state prison. Even though it was built as defense port for Lisbon and cannons were housed here, it played that role for a very short time. Purchase your Belem Tower skip-the-line tickets here.
Read our complete guide for Belem Tower to find more interesting facts about the monument.
Gorge on Pasteis de Belem
You cannot leave Belem without having tasted the original Pasteis de Nata. Can you?
Right by the side of Jeronimos Monastery is a small cafetaria called Pasteis de Belem that serves them hot and fresh Pasteis de Belem through out the day. Fragrant with the smell of butter and cinnamon, this place is an absolute heaven for foodies.
Appreciate Portugal's Monument of Discoveries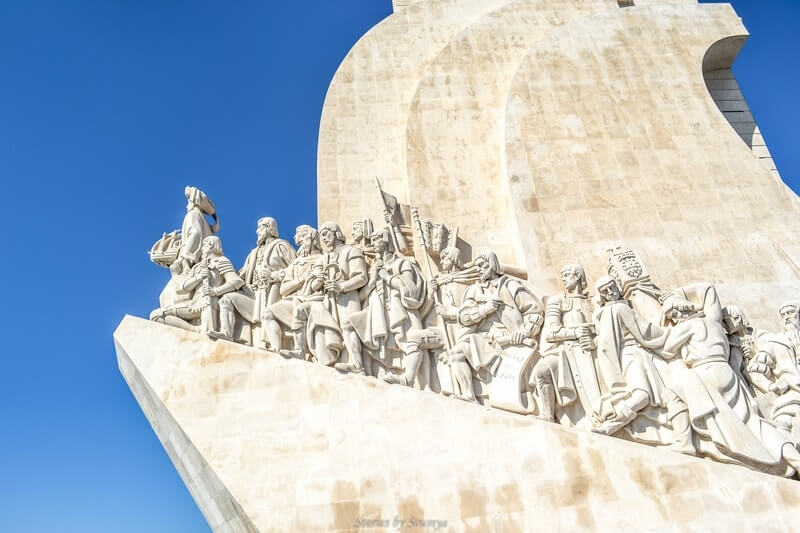 The Monument of Discoveries is a fairly recent addition to the Belem skyline.
Built in 1960 to commemorate Portugal's golden period of naval discovery, this monument is a tall, white structure that stands facing River Tagus. On top of it stand 33 great Portuguese explorers led by Prince Henry, The Navigator.
This is a nice place to take pictures. Lisbon's 25th April Bridge is also visible from here. Most people just take photos from the outside and leave.
However, if you decide to go up to the terrace, then let me tell you that you will find one of the best viewpoints in Lisbon here. Splendid views of the Belem district as well as of the marina add an extra wow to your Lisbon trip.
Visit one of Belem's finest museums
One of the most interesting facts about Lisbon is that it is filled with museums of various kinds. And the neighborhood of Belem has some of the finest ones. Art, archaeology, design, history of coaches and carriages – you name it.
Here are some good museums in Belem that you might want to look at.
National Archaeological Museum
The Archaeological Museum is located right next to the Jeronimos Monastery in the same monastery complex.
This museum has one of the most impressive collections of historical artifacts in the whole of Portugal. Their Egyptian and Islamic Sections are especially well curated.
National Coach Museum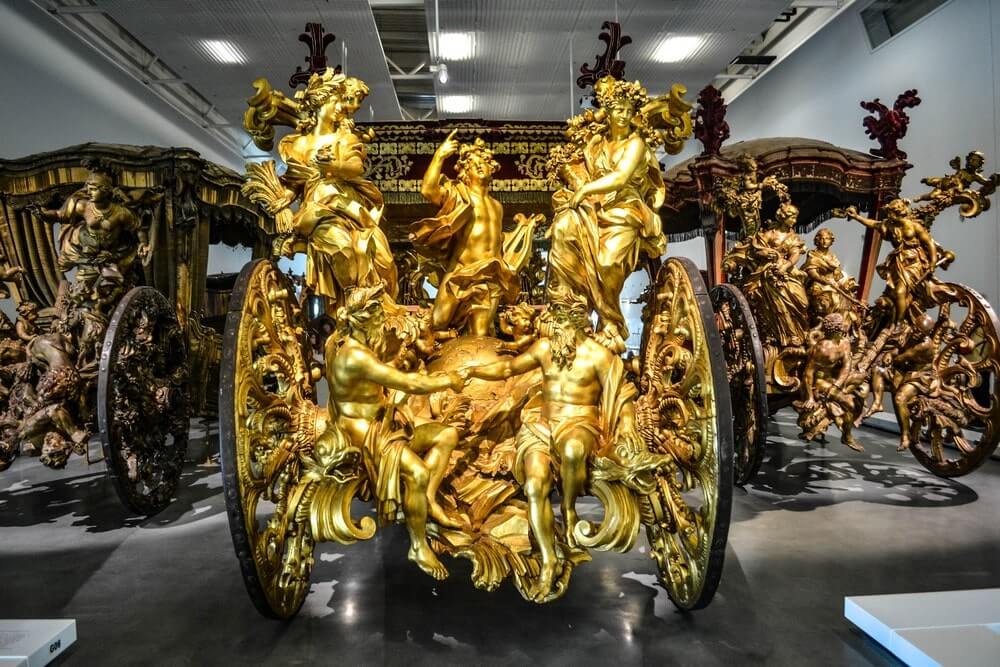 This is an interesting museum a little further away from the monastery. In fact, I termed it as one of Lisbon's hidden gems because hardly any tourist guide talks about it.
The Coaches Museum has an extensive collection of ornate carriages, most of which were used by the Portuguese nobility. Some of them were gifts to state guests. There are a couple of child coaches too.
It is pretty interesting to walk through the aisles of this unique museum in Belem and take in all the wealth and richness that the elite once lived in.
Belem Palace
Belem Palace is where Portuguese presidents live today. It has been their official residence since 1910. Portuguese kings also lived here, on and off. In fact when the earthquake struck in 1755, King Jose I was inside the Belem Palace which wasn't damaged much.
You can visit the Presidency Museum inside the palace every day except on Mondays. If you are keen to learn more about Portugal's modern political history, then this place is for you.
The palace is also open to public on Saturdays. Check out their official schedule before you plan your visit.
MAAT
Museum of Art, Architecture, and Technology, or MAAT in short, is the best place in Lisbon to experience contemporary art.
Apart from the 4 exhibition rooms that showcase various creations by modern artists, thinkers, and architects, the building in which the museum is housed is a sight in itself. Sleek and futuristic, it gives you positive vibes for the future.
Enjoy a cruise on the Tagus
Last but not the least, end your day in Belem with a sunset cruise on Tagus. Most cruises depart from the Marina at Belem and take you through a wonderful ride of the Tagus and Lisbon's waterfront.
With a welcome drink in one hand and the fleeting medieval skyline of Lisbon bathed by last rays of the sun on the other, there can no better way to end your day in the UNESCO neighborhood of Belem.
Click here to book your sunset cruise now.
Suggested 1-Day itinerary for Belem Lisbon
Begin with a tour of the Belem Tower because the morning light will allow you to take gorgeous pictures of this monument. Refer to our Belem Tower guide to plan your visit. Get your Belem Tower ticket here.
Take a walk along the Tagus to reach the Discoveries Monument. You can appreciate it from outside or drop in for a stunning view from the terrace.
Walk to Jeronimos Monastery right across the street from the Monument of Discoveries. Spend some time in the church or head directly to the cloisters if there is a long queue. Spend an hour exploring the Jeronimos cloisters. Get your Jeronimos Monastery ticket here.
If you are up for a museum, head to the National Archaeological Museum located on the left of the monastery.
Feeling hungry now? Head to Os Jeronimos or Taberna dos Ferreiros (both of them right next door) for a hearty lunch. Also, nearby is Pasteis de Belem if you are in the mood for some excellent Portuguese tarts.
Spend the afternoon in one of Belem's top museums. The Coach Museum is interesting. MAAT is a great choice if you are keen on modern architecture.
Walk the riverfront promenade or tour the many green spaces in Belem.
Enjoy a sunset cruise on the Tagus and return to Lisbon with a box full of Pasteis de Belem. I am telling you are gonna miss them the next day!
Planning to spend more time in Lisbon and Portugal? Make sure you check our other guides as well.
Loved our Lisbon to Belem travel guide? Pin it for later!