Last Updated on November 21, 2023 by Soumya
Belem Tower, or Torre de Belém on the banks of River Tagus, stands today as a sturdy reminder of Portugal's Age of Discoveries.
Built-in the early 16th century, it is a magnificent depiction of Portugal's Manueline architecture and witness to years of navigation and maritime success.
Here's my ultimate guide to Belem Tower in Lisbon. You will learn
All about visiting Torre de Belem including tickets, opening hours, and tours.
A sneak peek into Belem Tower facts and intriguing history.
Helpful tips to make your visit enjoyable.
Very often, visitors from Lisbon to Belem skip exploring this majestic monument apart from taking pictures from outside. While I agree that the exterior gives you the most unique shots, I have to admit that the interiors of Belem Tower is where the real meat is.
If you are a history lover, you just cannot miss taking a complete tour of Belem Tower. Plus, the views that you get from the top are mind-blowing.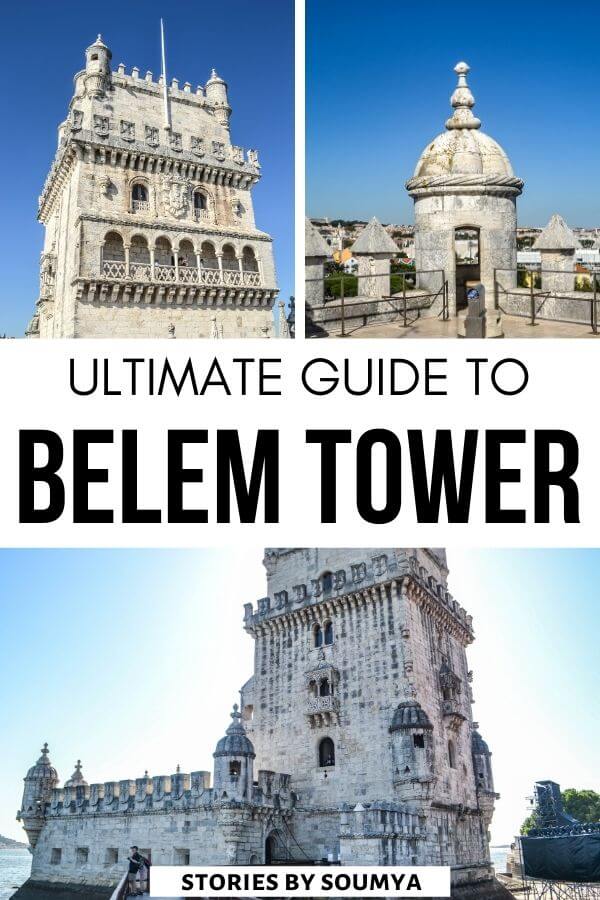 Please note: This post may contain affiliate links which means I may earn a commission if you make a purchase by clicking a link on this post. This will be at no additional cost to you. Affiliate links help me keep this website up and running. Thanks for your support!
History of Belem Tower in Portugal
The Tower of Belem was built between 1514 and 1520 as a fort to guard the mouth of River Tagus which served as an entrance to Lisbon.
It served as part of the river defense system for the city. The lower level housed cannons for the purpose.
However, the tower was used longer as a state prison than a defense port. Prisoners were often held in the dungeon at the lower level starting in 1589.
Subsequently, it was used as a customs port in 1655, a telegraph station in 1810, and a lighthouse in 1865.
Belem Tower was built by a military architect, Francisco de Arruda.
Arruda had worked on similar projects (several Portuguese fortifications) in Morocco. That is the reason you will see a lot of Moorish influence at the tower. The domed turrets and arched windows are evident examples.
The tower was inscribed as a UNESCO World Heritage Site in 1983. Today, it stands as a defining monument of Portuguese maritime prowess.
Interesting Facts about Belem Tower
Belem Tower along with the Jeronimos Monastery was inscribed as a UNESCO World Heritage Site in 1983.
The tower is also referred to as the Castle of St. Vincent. This was, in fact, the original name given to the tower in honor of the patron saint of Lisbon.
The tower is built of a special kind of limestone called as lioz.
There are several levels inside the Belem Tower – each with a unique character of its own.
Interesting animal figures including that of an Indian rhino are carved on the external turrets of the Belem Tower. In fact, the existence of an exotic creature like the rhino has a fascinating story behind it.
Even though the tower was built for defense, it fired only a few times. For a good part of its life, it was a state prison.
What to see at Belem Tower?
Outside the Tower
There are 4 levels and a hexagonal bastion that projects into the river at the Belem Tower.
The lower bastion, which was also the dungeon for prisoners, has numerous openings for cannons to fire through. It is plain and simple.
The upper bastion, on the other hand, is more flamboyant with Moorish watchtowers decorated with images of exotic animals. One of them is the famed rhinoceros that traveled all the way from India to get here.
From the lower terrace, you can also get a view of the exterior of the Belem Tower which is beautifully Manueline. Royal and naval motifs are carved into the stone.
Look out for the nautical ropes that adorn every window and arch.
A Gothic statue of the Virgin Mary and Child dominates the scene. Also referred to as "Our Lady of Safe Homecoming", she is believed to have ensured the safe return of voyagers.
Once you are done appreciating the bulwark, take a moment to stand and notice the water in front of you. It is from here that Henry the Navigator, Vasco da Gama, and scores of others sailed out on their voyages of discovery.
Right behind, is the neighborhood of Belem featuring the glorious Jeronimos Monastery and a beautiful marina.
Recommended: 17 Most beautiful heritage sites of Portugal
Inside the Tower
The tower has four floors connected by a narrow spiral staircase.
The staircase is the only way to go up and down. Even though there is a traffic light system in place, the staircase can be a little problematic for people with claustrophobia.
On the ground floor is the lower battery which houses the Belem Tower's artillery – 17 cannons. This is also where prisoners were held captive.
As you climb up the stairs, the first room that you will come to is the Governor's Chamber. 9 successive governors lived and worked here between 1517 and 1830.
Next is the King's Chamber which features a stone fireplace and a mantelpiece. The most impressive bit about this room is the balcony that gives you sweeping views of the river and the lower terrace.
After climbing some more, you will get to an audience chamber and then a chapel. There is a panel in the chapel that plays a short video on the history of the monument.
On top of the chapel is the roof or upper terrace from where you can get stunning views of River Tagus and the 25th April suspension bridge.
Grab this ultimate 10-day itinerary of Portugal and plan a memorable trip.
Tickets to Belem Tower
You can buy tickets to the tower onsite or at the Jeronimos Monastery. However, the fastest and safest way to get your ticket is to purchase it online.
You can buy Belem Tower tickets online on the official website here.
Or buy tickets for the Belem Tower through a reliable third-party vendor like Get Your Guide.
I book all my tours in Europe through Get Your Guide because their interface is super user-friendly. It also helps to have all my bookings in one place. ↳ Click here to buy your Belem Tower Entry Ticket on Get Your Guide.
If you are planning to spend a couple of days in the vicinity and explore other Lisbon attractions, I highly recommend getting a Lisbon Card.
Entrance to Belem Tower is free with the Lisboa Card. I used a Lisboa Card for 3 days in Lisbon and was very satisfied with it.
Belem Tower Entrance Fee
Tickets are priced at 8€. There are discounts for seniors, children, and youth.
Admission is free for Portuguese residents on Sundays and national holidays. I have heard it is free for everyone only on the 1st Sunday of every month though I am not sure about this.
Belem Tower Skip-the-line Tickets
You can buy skip-the-line tickets for Belem Tower online here.
However, remember that you have to wait in the same queue as everyone else even if you have a Lisbon Card or prepaid ticket before getting into the tower.
But, once you're inside the tower, the queue splits into 2 – one for onsite ticket buyers and another for the skip-the-line tickets purchased online. So, you get to save a fair bit of time here.
Beware. The queue can be really really long. So it can be a pretty long wait! I highly recommend getting an online ticket beforehand.
Belem Tower Opening Hours
Torre de Belem opens at 10:00 am and closes at 5:30 pm – last entry at 5:00 pm (Oct – April) and 6:30 pm – last entry at 6:00 pm (May-Sept).
The tower is closed every Monday and on Jan 1, May 1, Dec 25, and Easter Sunday.
Best Time to Visit Belem Tower
Get here early in the morning. The tower opens at 10 am. Come here an hour earlier to get the best photos of the exterior. Crowds are thin at that time and morning rays of the sun give you the best photo ops.
Unfortunately, I could fit Belem Tower only at the end of my Belem one-day itinerary. As you can see, I did not get great pictures because the sun was behind the tower all the time.
Sunset is a great time if you are doing a river cruise over the Tagus.
How to get to Belem Tower?
Tower of Belem is located between the Gardens of Belem and the Tagus River at Avenida da Brasília. Take Tram #15 or Bus #715 to get here. Tram #15 connects central Lisbon with the Belem district.
There is no parking available nearby. Accessibility is an issue especially because of the narrow staircase that you need to climb to get to the terrace and the upper level rooms.
Read next
Loved our guide to the iconic Belem Tower of Lisbon? Pin it for later reference!