Last Updated on September 6, 2022 by Soumya
This guest post on Braga Portugal is contributed by Alexandrina Nikolova who has lived and traveled extensively in Portugal.
Braga, or Roma Portuguesa as it was known previously, is a city with great history. It was established as a Roman settlement around the 1st century BC. Later on, Braga was exposed to the Germanic invasions from the north, which took over the city. Eventually, during the Reconquista, Braga became the main center of Christianity in Portugal and lots of religious buildings were built in the region.
Today, Braga is one of the most visited cities in Portugal. That is no surprise, because the city is culturally and historically rich. Braga is known as the religious center of Portugal due to the many churches and monasteries that abound in the area. It is also home to the oldest cathedral of Portugal, which is also the seat of the Archdiocese, Sé de Braga.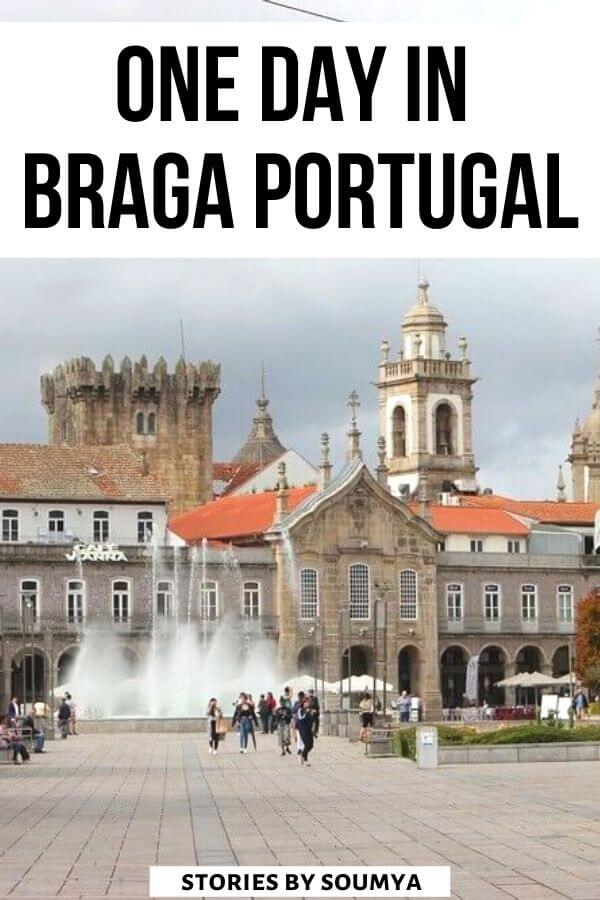 Please note: This post may contain affiliate links which means I may earn a commission if you make a purchase by clicking a link on this post. This will be at no additional cost to you. Affiliate links help me keep this website up and running. Thanks for your support!
Is Braga worth visiting?
Braga is the third largest city of Portugal, but it is not as crowded as Lisbon and Porto. The city has a quite chill vibe combined with some of Portugal's finest monuments. One of these stunning monuments is Bom Jesus do Monte with its phenomenal staircase depicting the ascent to heaven.
When in Braga, you can also steal a short trip to the Melgaço and Monção thermal spas in Minho or the miraculous waters of Caldelas. Filled with hot springs like those of Sao Miguel, these places make for the perfect relaxing getaway.
Portugal's religious center is a highly recommended day trip from Porto and is for sure worth the visit. However, to be able to see everything in a day in Braga, a good itinerary is needed. This one day itinerary of Braga Portugal below covers all the notorious landmarks in the city and its suburbs.
Take the sweat out of planning. Book this highly recommended day trip to Braga and Guimaraes from Porto.
Things to do in Braga Portugal in a day
We started the trip by going up to Bom Jesus do Monte and then visited the Sameiro Sanctuary. At noon we went back to the city center of Braga to explore the rest of the landmarks and other religious buildings that were suggested by locals. To learn more, read below.
Bom Jesus do Monte
Bom Jesus do Monte is the most visited landmark in Braga. And, that is no surprise because the monument is simply jaw dropping. This religious site was finished in the 18th century when pilgrimages were blossoming. Many pilgrims that were walking the El Camino way would stop by Bom Jesus do Monte and climb it to the top on their knees. This way they would show their faith, devotion, and gratitude to God.
The Sacred Staircase of Bom Jesus
The staircase of Bom Jesus do Monte is a truly breathtaking Baroque masterpiece. It is also known as the Sacred Way and is built in a zig-zag manner. It has 577 stairs going up to the Basilica and a beautifully arranged garden at the top.
Walking up to the top of the stairway would require a bit of an effort but the climb is absolutely worth it. While climbing up, you can observe the fascinating fountains of the religious complex. Some of them are the Fountain of the Wounds of Christ and the fountains of the all five senses. Eventually, you can see the Fountains of Virtues which represents faith, hope and charity.
How to get to Bom Jesus do Monte?
Since Bom Jesus is located in Tenões right outside the city of Braga, the easiest way to get here is by bus from the Braga train station. Look out for Bus #2 or the one that has an inscription of "Bom Jesus" on it. The ticket is 1.65 euros and can be purchased from the bus driver. It stops right at the funicular that goes up to Bom Jesus do Monte. From there you can decide if you wish to climb the 577 stairs, which is recommended, or use the funicular for 1.50 euros.
Recommended: 17 Most beautiful heritage places to visit in Portugal
Sameiro Sanctuary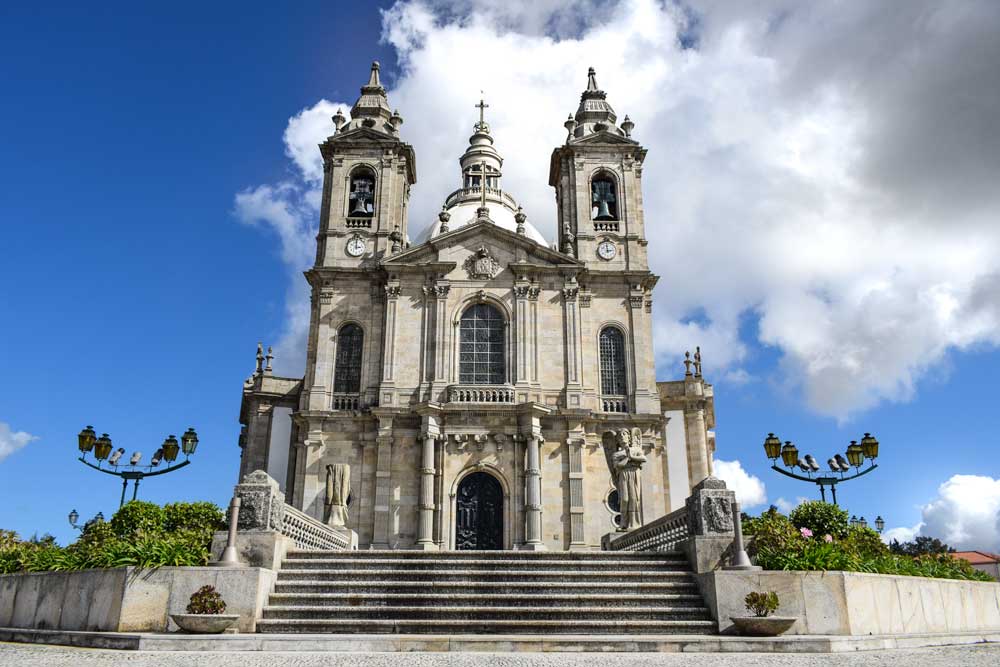 Another must-visit religious place in Braga is the Santuário de Nossa Senhora do Sameiro, which is located pretty close to Bom Jesus do Monte. It was built around the 18th century too but is not as famous or crowded as Bom Jesus.
Sameiro Sanctuary is dedicated to Virgin Mary and houses a huge altar of Virgin Mary inside. It is the largest shrine in Portugal, which makes it one of the most important religious buildings in the country. On top of that, the Sameiro Sanctuary has some of the most beautiful views over the city of Braga.
How to get to Sameiro Sanctuary and back?
The easiest way to get to Sameiro is by climbing Bom Jesus do Monte and then going up the road through a little forest. The road will end in a small village, which will lead you to the Sameiro Sanctuary. To get back to Braga, you can wait at the bus station near the sanctuary for Bus #88 which runs every 30 minutes.
Sé Catedral de Braga
Sé Catedral de Braga or the Cathedral of Braga is the oldest religious building in Portugal. It is also believed that this was the first ever building built in Braga. Today, you can visit the Sé Cathedral in the city center ensconced cozily among old residential buildings. You can enter the cathedral with an admission ticket worth 2.50 euros.
The interior of the cathedral is gold-plated and absolutely stunning. There are beautiful golden Baroque ornaments on both sides. They are accompanied by purple flags which make the entire place even prettier. If you look up at the ceiling, you can see one of the most incredible artworks in Portugal.
Recommended: Visit Se Cathedral in Lisbon, one of the city's many beautiful attractions.
Braga's City Center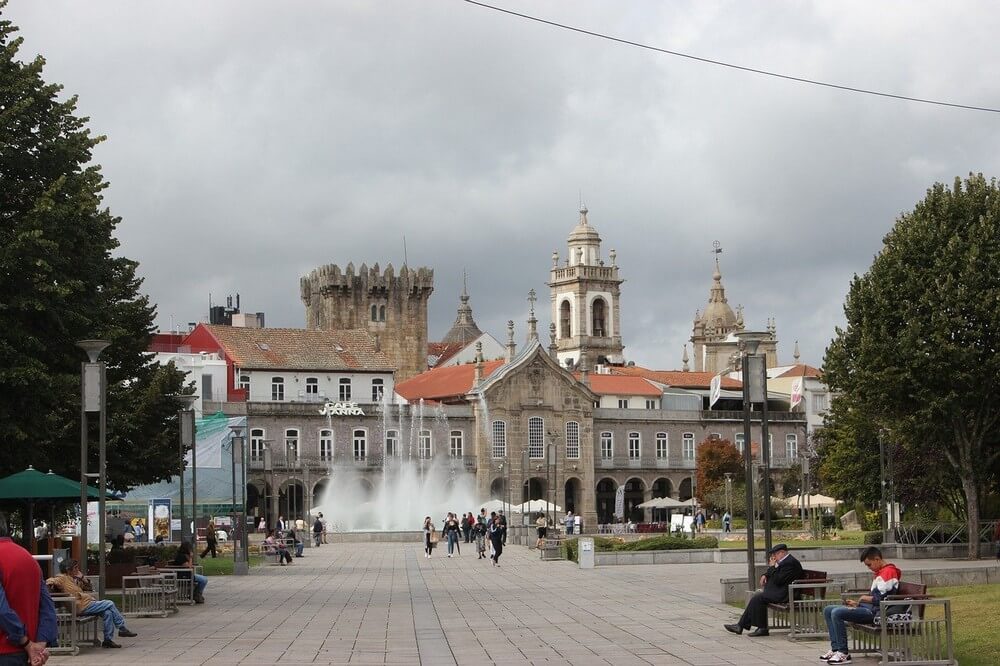 The historic city center of Braga is sprinkled with fascinating Roman ruins. One of them is Arco da Porta Nova, one of the oldest gates of the city. This gate is the best place in Braga to enjoy a romantic sunset over the city.
Another landmark in the city center of Braga is Igreja de Santa Cruz, one of the most popular churches here. That is due to an interesting legend which goes something like this. If you see two roosters on the façade of the church, you will get married that same year. Any less or more than two, better luck next time.
Other landmarks that are worth a visit are Jardim de Santa Barbara and the Braga Castle. Castle of Braga consists of only one tower which can be visited for free and it offers a beautiful view over the city.
Raio Palace
Last but not least, you can also visit Raio Palace which is quite close to the city center. It is the most notorious Baroque building in the city made famous as the residence of a wealthy Portuguese merchant family.
Today, Raio Palace is more or less the cultural center of Braga housing, within its opulent rooms, enviable collections of sculptures, paintings, and sacred books. The best part is there is no admission fee here and everybody is welcome to visit it during its working hours from Tuesday until Saturday.
Best time to visit Braga Portugal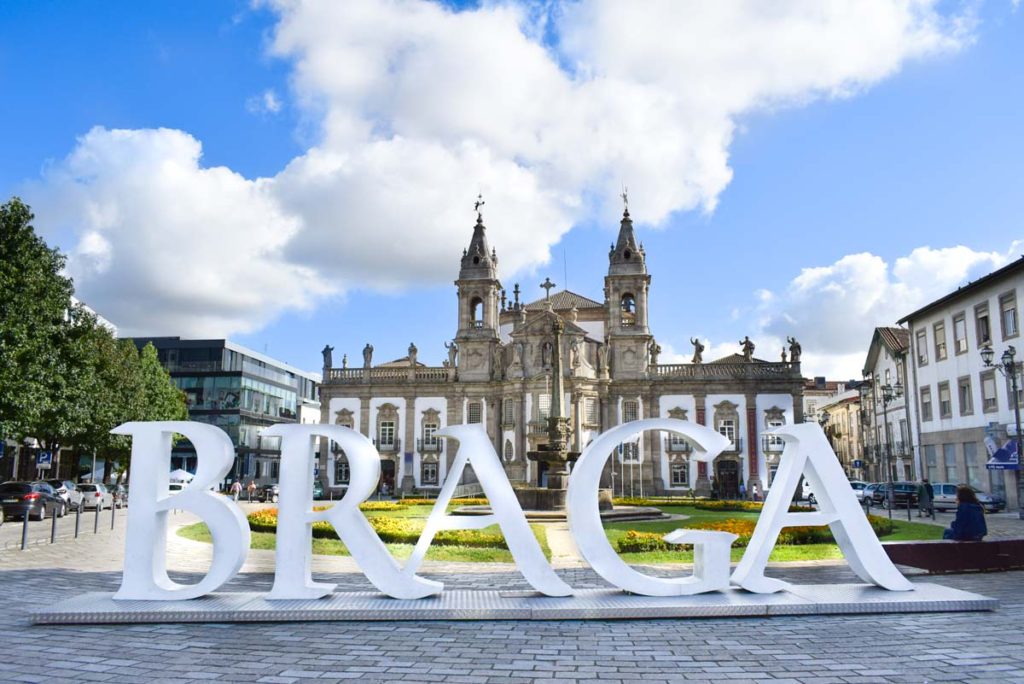 Between the months of May and October is the best time to visit Braga. The weather is warm and dry. Warmest months are July, August, and September. The busiest month for tourism in Braga is May closely followed by the summer months of July and August. November is the least busiest.
Recommended guided tours for Braga
Hotels in Braga Portugal
Travelers usually visit Braga as a day trip from Porto. But if you are planning to stay for a night or two, there are some great accommodation options in the city and nearby.
Luxury options
Vila Gale Collection Braga: Situated in a central location in Braga, Vila Gale Collection is a sprawling property that comes with an outdoor swimming pool and a bar. The hotel is actually a beautiful restored old convent in the heart of the city and is popular for its helpful staff.
Reserve your stay at Vila Gale Collection Braga now.
Pousada Mosteiro de Guimaraes: If you are looking to splurge and wish to stay in one of Portugal's famous pousadas, try Pousada Mosteiro de Guimaraes in the city of Guimaraes nearby. Guimaraes is another heritage site in Portugal and you can easily club the two cities for a culture-filled weekend. And the pousada is a 12th-century monastery built by the first queen of Portugal. It features luxurious rooms and an amazing 9-hectare garden.
Click here to reserve your stay at Pousada Mosteiro de Guimaraes rightaway.
Recommended: Stay in a beautiful pousada in the photogenic city of Obidos in Portugal.
Budget options
GuestHouse CHAI Braga (N.01): Another top accommodation in Braga, GuestHouse CHAI is rated highly by guests for their cleanliness, friendly hosts, and excellent Wifi.
Reserve your stay at GuestHouse CHAI Braga (N.01) now.
Ibis Budget Braga Centro: If you are traveling on a budget, you may want to choose Ibis which provides you with clean beds and rooms and a decent breakfast buffet. What guests love about Ibis Budget Braga Centro are its central location and friendly staff.
Click here to book your stay at Ibis Budget Braga Centro.
How to get to Braga? | Porto to Braga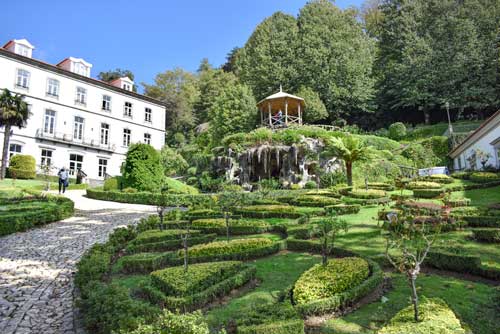 There is no airport in Braga. Thus the best way to get to Braga is to fly to Porto which is the nearest airport to Braga. From Porto, there are a couple of options to get here.
If you are at the airport of Porto, then it is best to get a bus provided by GetBus. The ticket costs 8 euros one way. The ride usually takes less than an hour and you can to Braga pretty fast.
However, if you are staying in Porto and want to visit Braga in a day, it would be best to hop on the train. It costs around 4 euros and takes around an hour to get there. Another good option is to get a Rede Expressos bus from 24 de Agosto Metro Station, which would be slightly faster.
About the Author, Alex
Alex is a blogger at EarthOSea who has extensively travelled around Europe for the past 3 years. She has lived in Portugal in 2019 where she got familiar with the Portuguese culture, traditions and language.
Alex's specialty is mainly in travelling in a sustainable and less harmful to the environment way and she focuses more on budget travel. Along with that, she loves hiking and discovering uncharted islands, but she also loves staying at the beach with a book in hand.
Loved our itinerary for Braga? Pin it for later reference!