Last Updated on July 26, 2022 by Soumya
I had been sold when I saw the first few pictures of Obidos. Narrow cobbled streets flanked by pretty white houses trimmed blue and yellow, an abundance of colorful geraniums and bougainvilleas, and medieval city walls complete with a medieval castle – Obidos in Portugal seemed like the prettiest town to add to our culture-rich Portugal itinerary.
There are tonnes of things to do in Obidos. You can walk down the main street called Rua Direita and sample delicious Portuguese desserts and pop into adorable souvenir stores. Or explore lots of beautiful churches with tiled and frescoed walls. You can climb the wall ramparts and witness some stunning vistas of the city and landscape below. As I said, there is no dearth of things to do in Obidos Portugal.
But I do not want to lure you into visiting Obidos for the umpteen number of things you can do here. I want you to visit Obidos for the sheer beauty that the town is. Straight out of a postcard. Therefore, I decided to do this photoblog for Obidos Portugal instead of a normal post. Words alone can never do justice to the beauty of this place. So, here are 25 stunning pictures from my trip to Obidos (peppered with my ramblings of course) that, I promise, will give you serious wanderlust. If you cannot travel right now, I suggest you let your mind wander through these pretty Obidos lanes and feel the beauty.
Also Read:
Please note: This post may contain affiliate links which means I may earn a commission if you make a purchase by clicking a link on this post. This will be at no additional cost to you. Affiliate links help me keep this website up and running. Thanks for your support!
So, here are 25 Stunning Pictures of Obidos Portugal
Obidos, one of Europe's prettiest medieval towns, is extremely photogenic. Each and every street and corner inside the walled town can serve as an Instagram backdrop. No doubt, Obidos attracts a lot of tourists. So, it might be difficult to get the place to yourself if you are looking for solo captures.
The good news is that a lot of the tourists are usually day-trippers from Lisbon. They start pouring in between 10 – 11 am. If you can make it to Obidos before that, then you can get some really amazing pictures. Of yourself against those pretty white walls!
Staying within the walled city may be a good idea.
It might be a good idea to stay within the walled city if you are looking for pristine photographs so that you are up and about before anyone else is.
Pousada Castelo de Obidos is a great option if you want to feel like a royal for a day. You get to stay inside the 14th-century castle which has been refurbished to accommodate modern comforts but still retains much of its medieval charm. Who would not want to wake up to medieval architecture, gardens from the past, and a collection of medieval paintings!
If you are looking for something cheaper, try Casa Picva, a charming guesthouse with a pretty garden. Located near the old city walls, Casa Picva has the cleanest rooms and friendliest hosts in the world.
Venturing off the beaten path is highly recommended.
Venture into the narrow alleys and cobbled back streets that lead away from Rua Direita. You will be surprised to see how empty they are even though Rua Direita may be packed. Here are a couple of pictures that show how empty the alleys were even though it was around 2 pm and Rua Direita was teeming with tourists.
There is never a dull moment in Obidos Portugal.
When in Obidos, I encourage you to look at both sides of the road that you are walking on. Each houses multiple treasures. There is an abundance of framed windows, doors overrun by creepers, cute souvenir stalls, and attractive shops stocked with adorable wares. Each and every home and store here is a piece of art.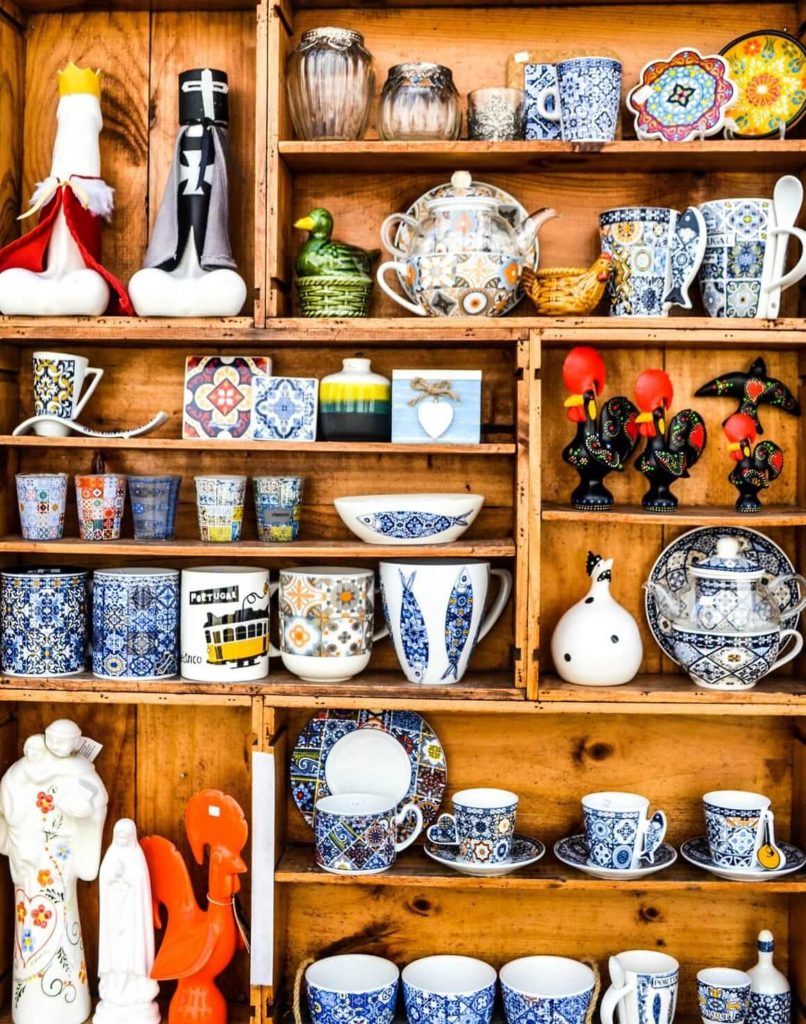 Even the churches are charming despite their plain facades.
Obidos has many churches. Some of the more notable ones are the Santa Maria Main Church, the Misericórdia Church, the Church of São Pedro. Peep into one of these seemingly plain churches and find attractive walls covered with Azulejos (the famous Portuguese Blue Tile) and roofs adorned with frescoes.
Climb up the fort walls for some gorgeous views.
Whether you are traveling in Portugal with kids or solo, it is always fun to climb up old fort walls and scale ancient castles. Even if it is just for the views! I highly recommend climbing up the fort walls in Obidos and looking down at the city on one side and green sprawling fields on the other. Could not decide which view was better!
Not advisable for people with a fear of heights. The rampart walkway is not very broad and can make you dizzy.
Some more reasons and pictures to fuel your wanderlust for Obidos Portugal.
You can visit the Obidos City Museum that is located within the walled city. It has a decent collection of sacred art (both paintings and sculptures) and also houses the works of Josefa de Óbidos, a famous Baroque painter from the 17th-century.
Obidos is also home to the famous 'Ginjinha de Obidos', a sour cherry liqueur that is savored in a small chocolate cup. You can eat the cup later! Need more reasons to visit Obidos??
Obidos is a town of festivals.
Many festivals are held in Obidos throughout the year giving the city a lively atmosphere. Some of the most popular ones are the Obidos Medieval Market, the International Chocolate Fair, the International Literary Festival, and Christmas. During the Medieval Market, you can actually travel back in time to medieval Europe. You can see noblemen, beggars, minstrels, and medieval dancers roaming the streets. You can dress up too, experience a medieval joust, and indulge in a medieval supper! Fun times to visit Obidos. But crowded too!
You can get details of the festivals on the Official Tourism Website of Obidos or the Visit Portugal Website.
Obidos is one of the most beautiful places to visit in Portugal. And an absolute must-have in your Portugal itinerary. The best time to visit Obidos is from May to October when the temperature is warm and there is no precipitation. Though afternoons can get really hot during summer. Shoulder months are ideal.
That brings me to the end of this photoblog. Did you enjoy this photo tour of Obidos, Portugal's medieval city? Let us know in the comments below. If you are planning a trip to Portugal, do check out our tome of travel guides and resources for Portugal.
Loved our post? Pin it to your Portugal Travel Board!