Last Updated on July 13, 2023 by Soumya
The scenic Douro Valley in Northern Portugal is one of the most endearing places to visit in the country. For port wine or the sceneries, you cannot just ignore this place.
The best part is you can easily visit Douro Valley on a day trip from Porto. And there are many ways you can do that. By train, car, or boat. One of the most popular options, especially among locals, is to take the Porto to Douro Valley train.
We took the train and were thrilled by the journey. It was unique and special. So, here's my ultimate guide for visiting Douro Valley from Porto by train.
You will learn
The what's, the where's, and the how's of taking a Douro Valley train
All that you can see on a day trip to Douro Valley from Porto
Why is the train trip so popular?
Pros and cons of taking the train vis-à-vis other means of transport
If you ever feel overwhelmed by the concept of planning a train trip on your own, feel free to check out this highly-rated Douro Valley Guided Tour. Otherwise, follow along to craft your very own DIY tour of the Douro Valley.
And if you are planning to stay in Porto for a while, do not forget to check out our much-loved bucket list for the best things to do in Porto.
Please note: This post may contain affiliate links which means I may earn a commission if you make a purchase by clicking a link on this post. This will be at no additional cost to you. Affiliate links help me keep this website up and running. Thanks for your support!
Is Douro Valley worth visiting?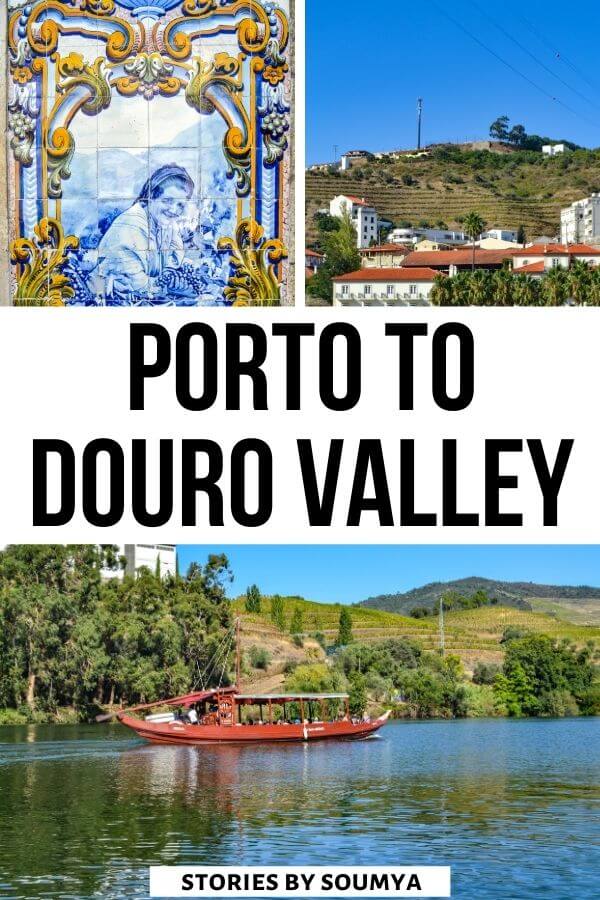 Apart being the main producer of Portugal's famous port wine, the Alto Douro Wine Region is home to an exquisite landscape created by years of traditional viticulture practices.
Undulating hills, terraced vineyards, sumptuous orange trees, once-in-a-while wine estates, and Rio Douro snaking through them all. The beauty of the valley is unparalleled.
If you have seen some amazing pictures of Portugal, you have probably seen one of Douro Valley.
Without a doubt, Douro Valley is one of the best places to visit in Portugal and definitely one of the best day trips from Porto. This culturally vibrant region is also a UNESCO World Heritage Site and attracts visitors from far and wide.
If you wish to enjoy some good port wine, experience traditional wine cultivation, and photograph gorgeous sceneries, you will love visiting Douro Valley from Porto. If you have more time than a day, staying in one of Douro Valley's charming hotels is a perfectly relaxing experience to have in Portugal.
Recommended: Portugal's best heritage sites that you cannot miss!
Why take the train from Porto to Douro Valley?
There are multiple ways to get to Douro Valley from Porto. Train, car, bus, and cruises are all viable options.
However, be sure to pick the train option if you satisfy one or all of these conditions below.
Traveling on a budget
Want to see the valley like locals do.
Be rewarded with stunning views of the hilly countryside throughout the journey. Most of the time, your train will be hugging the sparkly clean Douro river.
Wish to admire the beautiful azulejos at Pocinho train station.
If you are on a budget, you might also want to take a look at our 10-day Portugal itinerary – all on train and bus!
Practical information for taking the Porto to Douro Valley train
Which train to take?
You need to take a Linha do Douro or Douro Line train from Porto. Have a look at train numbers and stops here.
There are Urban (U), Regional (R), and Inter-Regional (IR) trains. U and R trains will take you to Regua (end of the line). IR trains will take you to Pocinho at the end of the line. And everything in between.
You need to get on the IR train to get to Pinhao – most popular Douro Valley stop. Pinhao comes between Regua and Pocinho.
The journey gets especially scenic after the Regua station. That's why, I would highly recommend taking the Douro train from Porto to Pinhao at least.
And that is because
Once you reach Regua and continue going upstream from there, the landscape becomes more scenic.
Beautiful azulejo panels adorn the walls of Pinhao railway station. I have never seen a prettier small town train station than this. So, it is a must that you visit Pinhao.
You can easily enjoy a Rabelo boat ride on Rio Douro at Pinhao, pass under the Eiffel bridge, and enjoy stunning sceneries.
A special Douro Historical Train also runs between June and October. Only on Saturdays and Sundays. This train runs between Regua and Tua and back. And includes traditional performances, food, and a journey back in time.
Where to board the train for Douro Valley?
There are two railway stations in Porto where you can board your Douro line train: Sao Bento or Porto Campanha.
Sao Bento train station is located in the historic center of Porto and easiest to get to. This station is an attraction in itself being one of the best places to spot azulejos in Porto. Get here early to spend some time in the big, beautiful hall of the station.
Or you can go to Porto Campanha railway station, a 10-minute drive from Sao Bento. All the trains from Sao Bento pass through Porto Campanha anyway.
There are more IR train options from Porto Campanha. So, if you are planning to get to Pinhao, Tua, or Pocinho, it is best to get a direct IR train from Porto Campanha. Otherwise, you will have to switch rails at Porto Campanha.
Pro tip
Get a seat on the right side of the train when traveling in the direction of Pocinho. Because that is where the you will get the best views of the valley.
The train moves tantalizingly close to Rio Douro. You can even see the fishermen from close quarters.
Mind you, these are old trains and their glasses are not that clear. But the enthusiasm inside the carriage makes up for it.
Where to get off the train?
Depending on what you want to see, you can choose to get off at one of the many charming villages of Douro.
Pinhao (2 hrs 15 minutes from Sao Bento) is the most popular stop. You can also choose to disembark at Regua (1 hr 50 minutes from Sao Bento). Scroll below to find what to see at each of these places.
Many of the locals who were on the train with us went all the way to Pocinho (the last stop) and came back to Pinhao to spend a lazy afternoon by the river. Pocinho is a small village and you can tour the entire hamlet in like 30 minutes.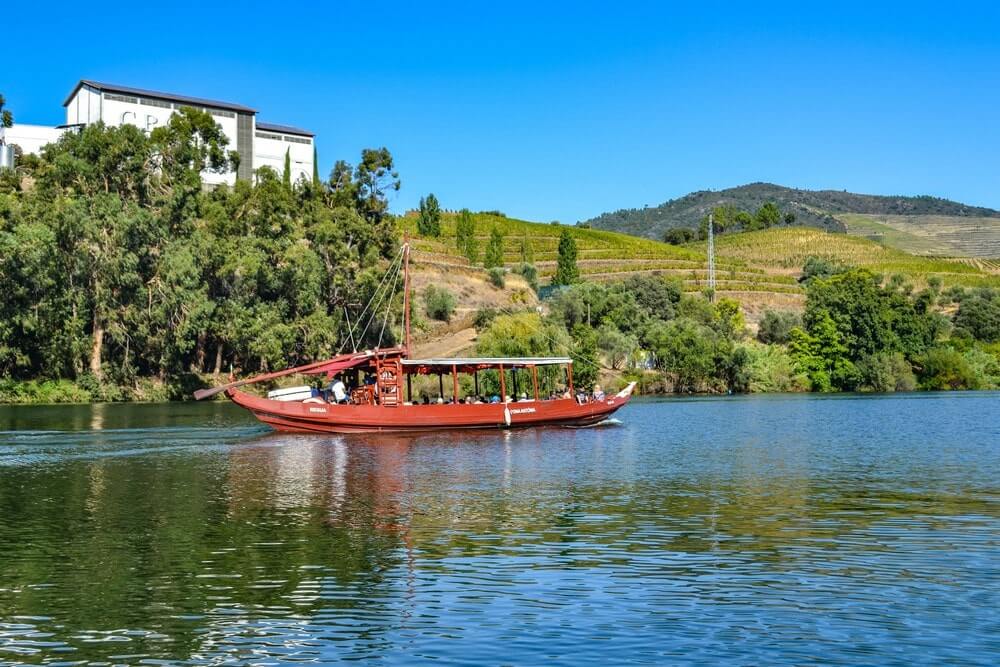 How to book your Porto to Douro Valley train ride?
Porto to Douro Valley train operates daily and tickets cost between €13-15 depending on the combination of trains you choose. You will want to buy your tickets as soon as possible especially in spring and summer when the valley is green, verdant, and very inviting.
There are two ways to buy your train tickets.
Online on the Comboios de Portugal website.
At the ticket counter at Sao Bento or Porto Campanha train stations. Plan to come a little early because the queues at the counter can be really long.
If you are planning to come back on the same day, make sure you buy a return ticket for your journey. The ticket offices at the small Douro villages may or may not be open when you need them to be.
Note that this train ride is not included in the Porto Card, the official city pass of the city.
What to do in Douro Valley?
Things to do in Pinhao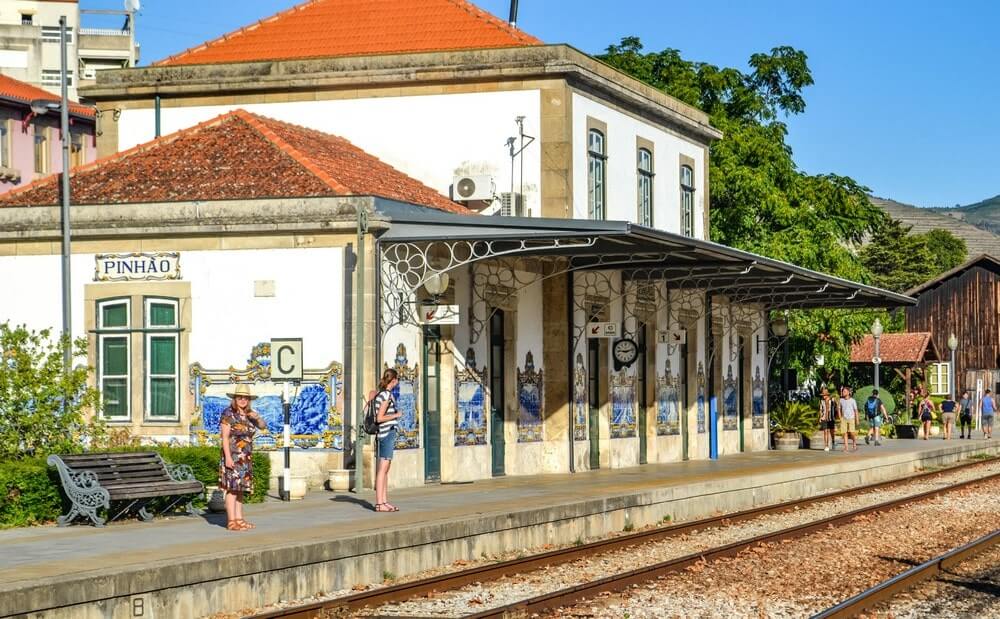 Since Pinhao is the most popular village on the Douro line, there are lots of interesting things to do here.
Right after getting off the train at the Pinhao station, you will be treated to a visual wonder. The train station is literally a museum of beautiful azulejo panels representing life and work in Douro Valley.
You can then enjoy a visit to a winery, cellar, and vineyard. There are many around but Quinta do Bonfim is only 5 minutes away from the train station. Taste some family-made port on the terrace here with splendid views of the valley.
Head next to the Rio Douro pier at Pinhao where you can take a 1-hour guided tour on a traditional Rabelo boat. Pass under the Eiffel iron bridge, listen to interesting stories, and enjoy the lush-green countryside of Portugal's unique wine region.
At the pier, you will find a number of good restaurants where they will serve you with the catch of the day and some good port again if you wish.
Things to do in Regua
Regua is home to Museo do Douro where you can learn all about the history and culture of winemaking in the Douro Valley.
There are several wineries here where you can go for some port tasting or spend your time relaxing at the Regua waterfront.
Things to do in Tua
Some boat rides can take you from Pinhao to Tua, another scenic Douro village. It is popular among hikers.
Porto to Douro Valley train vs other ways of getting there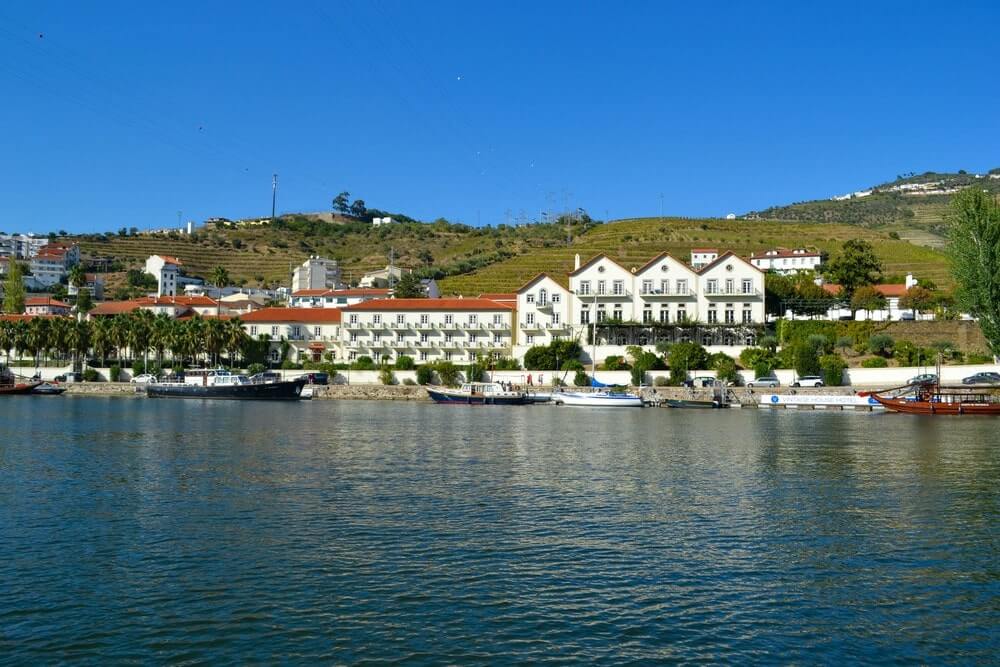 The train from Porto to Douro Valley has its own charm when compared with other means of getting here.
The train is most definitely the more local way of seeing the picturesque Douro Valley. Locals have made this journey for years and still do. On the train, you get an opportunity to meet and talk to them. Most of them are traveling for a day out in their favorite Douro Valley.
The Douro Valley train is also much cheaper than renting a car or taking a cruise.
Plus, you can get a holistic experience, see a bit of everything. Include a winery tour with stunning views, a Rabelo boat cruise, lunch at the waterfront, a tour of the Azulejo-studded railway station of Pinhao, and the Douro Museum in Regua.
And lo and behold! You have seen everything that Douro Valley is popular for.
How it compares with cars and guided tours
That said, a train journey is always less flexible that renting a car and driving on your own. You will need to plan your day in advance instead of just bolting out whenever you like.
Also, if you are keen to do more winery tours, then it makes sense to drive. That will be faster and more convenient.
Plus, if you wish to avoid the headache of planning it all and just want to relax, consider booking one of these highly-rated guided day trips from Porto to Douro Valley. These small group tours take care of everything and are totally worth it.
Suggested itinerary for Douro Valley day trip
Here's a sample itinerary for a day trip to Douro Valley from Porto by train. You can choose what to keep and what to change according to your preference.
Board IR 861 from Porto Campanha at 7:25 am and arrive at Pinhao at 9:46 am.
Spend the first half of the day in Pinhao – take a Rabelo boat ride and/or tour a winery, have lunch.
Take IR 868 from Pinhao at 2:06 pm and arrive at Regua at 2:33 pm.
Spend the rest of the day exploring Museo do Douro in Regua and at the waterfront.
Head back to Porto on IR 876 at 6:41pm or a regional train at 9:08pm.
Please note that the train times may change. Refer to the latest Douro train schedule before making plans.
Loved our post on Porto to Douro Valley train ride? Pin it for later reference!