Last Updated on July 12, 2022 by Soumya
Lisbon is the city of 7 hills. Many say 8. Well, the important word here is hills. Because of the undulating terrain, Lisbon has many beautiful viewpoints. Or miradouros as the Portuguese call them. Lisbon viewpoints are usually located on the top of a hill and provide stunning views of Lisbon and River Tagus behind it. Let's talk about some of the best viewpoints in Lisbon.
Miradouros are addictive. Most have shaded seating areas facing gorgeous views of the city. There is usually a coffee shop or two. Grab a coffee or an ice cream, plop yourself onto one of the benches, and watch the world go by.
Lisbon's viewpoints are popular with tourists and locals alike. They are public places where locals like to gather and spend time with friends and families. That is why miradouros are such great places to people-watch. Plus, they cost nothing.
Apart from the popular miradouros, several monuments in the city also provide some of the best viewpoints in Lisbon. Even though they are paid, I would highly recommend a few. So, let's get started with all the places where you can get some of the best views in Lisbon.
The 10 Best Views of Lisbon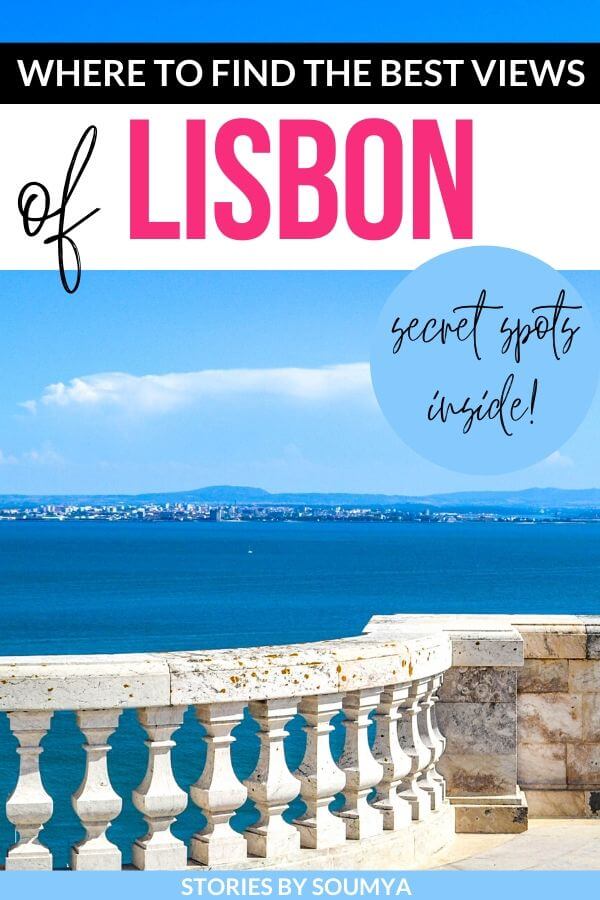 Please note: This post may contain affiliate links which means I may earn a commission if you make a purchase by clicking a link on this post. This will be at no additional cost to you. Affiliate links help me keep this website up and running. Thanks for your support!
The best viewpoints in Lisbon: Miradouros
Miradouro de São Pedro de Alcântara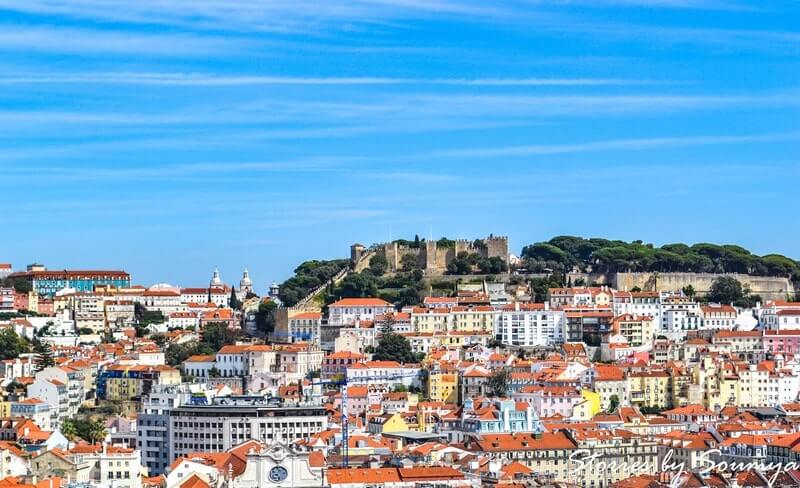 São Pedro de Alcântara viewpoint is located in the Bairro Alto district and provides a stunning view of the Baixa, the Tagus and São Jorge castle. There are two levels of kiosks here which means double the options for food and drinks. Plus, there is a landscaped garden.
Couples claim this is the most romantic spot in the city. I agree at least for the perfect vibe of this place at sunset. Just grab a drink, settle down in one of those pretty garden chairs, and take in the view in front of you.
This is one of the best viewpoints in Lisbon. Also a very popular one. I have other favorites as well, some of them lesser-known gems of Lisbon, which you will find out as you scroll down.
If you are a fan of guided tours, you will love this award-winning Lisbon Essential Tour that includes history, stories, lifestyle, and a stop at São Pedro de Alcântara viewpoint.
Miradouro de Graça
Miradouro de Graça is located by the Graça Church in the residential district of Graça. Well, that's a mouthful of Graças in there! But, never mind. The viewpoint at Graça is one of the prettiest. And you can get some really cool, pine-fringed panoramic shots here.
This splendid viewpoint offers some stunning views of the city including of St. George's Castle. You can also catch a glimpse of the 25th April bridge behind the city. Easy to get to it by Tram #28, an antique tram ride considered to be one of the must-do's in Lisbon.
Graça is located on the highest hill of the city. No doubt, it is one of the best viewpoints in Lisbon.
If you wish to check out some of these views virtually, head to the Lisbon section of our post on how to take a virtual tour of Portugal.
Miradouro Senhora do Monte
Here we have yet another viewpoint in Lisbon's Graça district, Miradouro Senhora do Monte. Named after a chapel located right infront of it, Miradouro Senhora do Monte offers some wonderful panoramic views of the city. And that is because it is located at the top of the Graça neighborhood.
Highest point on the highest hill! This is definitely the miradouro for the highest views.
The best bit is that it is often calm and peaceful here unlike at Miradouro de Graça which is always teeming with people. Blame it on its height on the existence of the more popular Miradouro de Graça closeby, Senhora de Monte is quite literally the hidden gem of Lisbon.
Miradouro de Santa Luzia
Well, this is definitely one of the most romantic viewpoints in Lisbon. And that is not just because of the sweeping views of the city that it provides but also because of its attractive colorful setting.
Pink and red bougainvilleas dot every corner of this terrace that stands by the church of Santa Luzia. The walls of the church facing the terrace have two huge azulejo panels on them – one representing the Old Commercial Square and another the attack on St. George's Castle. Sandwiched between one of the azulejo panels and a huge pink bougainvillea tree is a petite red door that forms the perfect backdrop for your Insta pictures.
There is a terrace cafe here that provides much need drinks to beat the Lisbon heat. And of course, the views are magnificent. Plus, the miradouro is an attraction in itself.
If you are keen on Portuguese azulejos, check out our post on where to see the best azulejo panels in Porto.
The best viewpoints in Lisbon: Monuments
Apart from the many miradouros that Lisbon has, there are also a number of tourist attractions in Lisbon that provide panoramic views. The only difference is that most of these are paid whereas miradouros are free to enter. Come, let's check which of Lisbon's monuments offers the best views in town.
Arco de Rua Augusta
Being the triumphal arch that stands in the middle of Praca do Comercio, Arco de Rua Augusta is one of the top places to visit in Lisbon. Apart from being an inspiring historic monument, the arch provides a unique 360 degree view of Lisbon's pombaline downtown bordered by River Tagus.
Location: Praca do Comercio
Entrance fee: A couple of dollars (don't exactly remember how much), free with the Lisboa Card.
Opening hours: 9 am – 9 pm
São Jorge Castle
Another place where you can get some really stunning views of Lisbon city including that of the 25th April bridge and the Tagus River is at São Jorge Castle. Located at the summit of São Jorge hill, the castle is a mere 5-min walk from the Alfama district.
Entrance tickets to the castle are pretty expensive (see below). I highly recommend going only if you are a history lover. It does not make much financial sense if you wish to head here only for the view. Instead, try Miradouro de Graça located a few minutes away.
Location: 5 min walk from Alfama
Entrance fee: €10 (probably one of the most expensive Lisbon attractions). No discounts on the Lisboa Card.
Opening hours: 9 am – 6 pm (Check here for schedule updates)
Santa Justa Elevator
Santa Justa Elevator – one of the most popular tourist attractions in Lisbon. Crowded but a great place for views!
The viewing platform at the elevator is not the highest in the city but rewards you with charming views of central Lisbon especially of Rossio Square.
Riding the 19th-century, Neo-Gothic elevator in Lisbon is definitely the highlight of any Portugal itinerary. But if you wish to avoid the crowds, you can also climb up a flight of stairs and access just the observation deck at a lower price. There still may be some waiting involved.
Location: Rua Santa Augusta (near Carmo Convent)
Entrance fee: €5.30 includes 2 journeys and access to the viewpoint, free with the Lisboa Card.
Opening hours: 7 am – 10 pm
Panteao Nacional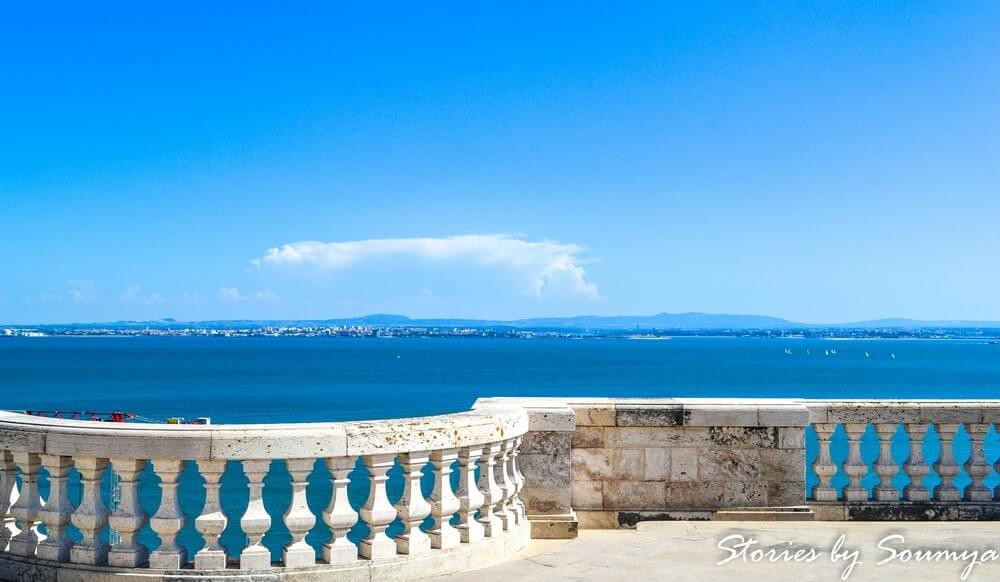 The National Pantheon of Lisbon was a favorite. Not just because of the incredible views of Lisbon it provided on the outside. But also because of the stunning views that it provided on the inside.
The Pantheon has an attractive marble floor (with beautiful geometric patterns and pastel shades) that you can view from the top of the stairs. And honestly, this view is stunning. Head to my post on the best things to do in Lisbon to understand what I am talking about.
But you should absolutely come here for the views. Climbing up the dome to an almost empty terrace for some gorgeous views of Alfama and River Tagus and beyond.
Location: Alfama
Entrance fee: €4. Free with the Lisboa Card. You can buy your Lisboa Card here.
Opening hours: 10 am – 5 pm (check here for updated schedules).
Enjoy some more gorgeous views of Alfama on this Guided Segway Tour.
Monastery of São Vicente de Fora
The last two monuments on my list of best viewpoints in Lisbon are a little obscure and fall into the offbeat category in Lisbon. And that is what makes them so special. No crowds. No jostling for space to watch a breathtaking view.
First, is São Vicente de Fora, a 17th-century Mannerist church and monastery. It features an exquisite Baroque entrance hall and some of the most beautiful azulejo panels in entire Portugal.
But, apart from that, the views from the roof are stunning. You can see the National Pantheon, the Alfama district, Tagus river, and the 24th April bridge at a distance.
Location: Largo de São Vicente, Alfama
Entrance fee: €5. No discounts with the Lisboa Card.
Opening hours: 9 am – 8 pm
Águas Livres Aqueduct
Well, this is the last one for my best views list for Lisbon and one of my favorites too. And that is because the views are so unlike what you will see in the rest of the city. The aqueduct gives you a totally different perspective.
First thing, I was so excited to walk on an aqueduct. We had never done this before and this one of the most awaited attractions on our family tour of Portugal. Located in the Alcântara valley, the aqueduct is 19 km long and is one of the few structures that survived the 1755 earthquake.
Apart from being a wonderful example of 18th-century architectural prowess, the Lisbon aqueduct provides stunning vistas of a different part of the city on both sides. You can see up to the 24th April Bridge and the Statue of Christ.
Location: Calcada da Quintinha 6
Entrance fee: €3. No discount with the Lisboa Card.
Opening hours: 10 am – 5:30 pm (Tue – Sun)
Other than these amazing viewpoints in Lisbon main city, there are a couple of good ones in Belem too. You should definitely be spending a day in Belem to explore Jeronimos Monastery and Pasteis de Nata. Definitely, add those views into your kitty.
Planning a trip to Lisbon? Do not forget to check out our ultimate travel guide to Lisbon.
Found our post helpful? Pin it for later reference!