Last Updated on August 5, 2023 by Soumya
One of the big reasons I decided to travel to Portugal was for my love of Portuguese desserts. Or specifically, the love for the one and the most famed sweet of Portugal – Pastel de Nata. We had tried Pastel de Nata in Macau and been absolutely hooked. This had led to a relentless search for the little egg tarts in the USA, Paris, and Bangkok. Until we decided that we had to try it in its country of origin.
My super-planner husband K tried to fit in as many pastelarias as possible in our 10-day itinerary of Portugal. However, while looking for the famous Pastel de Nata, we came across so many other delicious but lesser-known Portuguese desserts. I think it would be a crime if I don't write about them. I liked some of them even better than the famous Nata. Are you willing to come, try them with me?
Busy now? Pin our post on the Best Portuguese Desserts and read it later.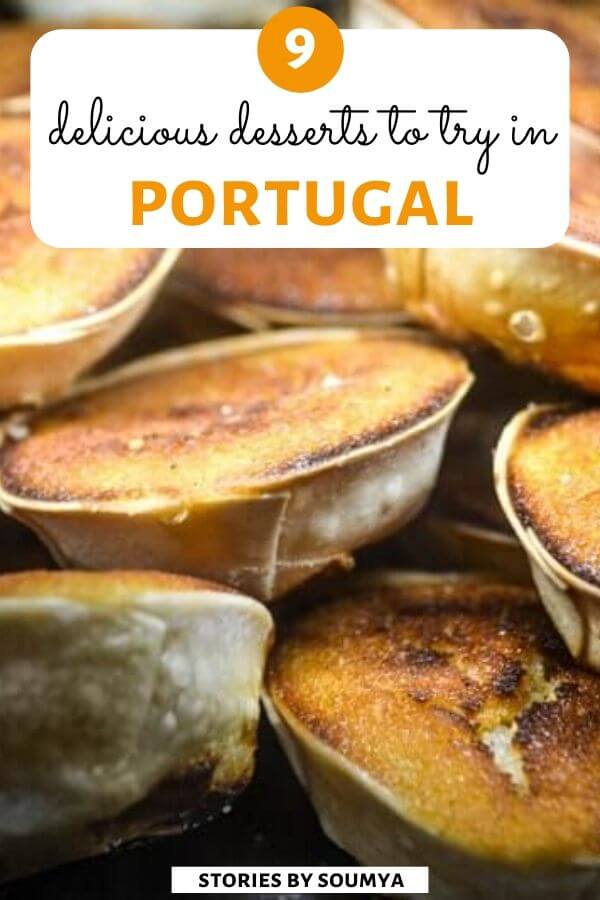 For all the Nata fans, I will be doing another post on the best places to have the tiny egg tarts. Until then, scroll down to find out if you can spot another inviting Portuguese sweet.
To curate this list of Portuguese desserts, I reached out to my traveler friends (many of them Portuguese locals) to find out what they liked. I added them to my choices and lo behold!
Please note: This post may contain affiliate links which means I may earn a commission if you make a purchase by clicking a link on this post. This will be at no additional cost to you. Affiliate links help me keep this website up and running. Thanks for your support!
I have an enviable list of the 9 most amazing Portuguese desserts you have to try on your trip.
1. Pastel de Nata – An Iconic Portuguese Dessert
Editor's Choice
Well, first things first! The Pastel de Nata or the Pasteis de Nata is the most ubiquitous Portuguese dessert you will ever find. And definitely one of the tastiest.
Pasteis de Nata is a small custard tart made with lots of egg yolk and sprinkled with a generous dose of cinnamon. They look like little bird nests and can easily fit into the center of your palm. The outer shell is flaky and the top is caramelized to perfection. As you dig into one, you will encounter the smooth custardy center that will simply melt in your mouth. It is really hard to just stop at one!
Pasteis de Nata originated at the Jerónimos Monastery in Belém right outside Lisbon. Apparently, the monks there had a lot of egg yolks left behind after starching their clothes with egg whites. Thus, was born the iconic Portuguese dessert, the Pastel de Nata. Bless the soul of the monks who created it!
Here's a great recipe of Pastel de Nata if you wish to make it at home.
Best places to try Pastel de Nata
You can find Pasteis de Nata literally everywhere in Portugal. However, one of the best places to have the pastry is at Pasteis de Belem right next to the Jerónimos Monastery in Belem. Other great places include Fabrica de Nata and Manteigaria. You can find these throughout the country.
See Also: What to do in Lisbon: Top 15 Lisbon attractions that you cannot miss!
2. Pão-de-Ló of Ovar – Light and Humid
By Claudia of Portugal Things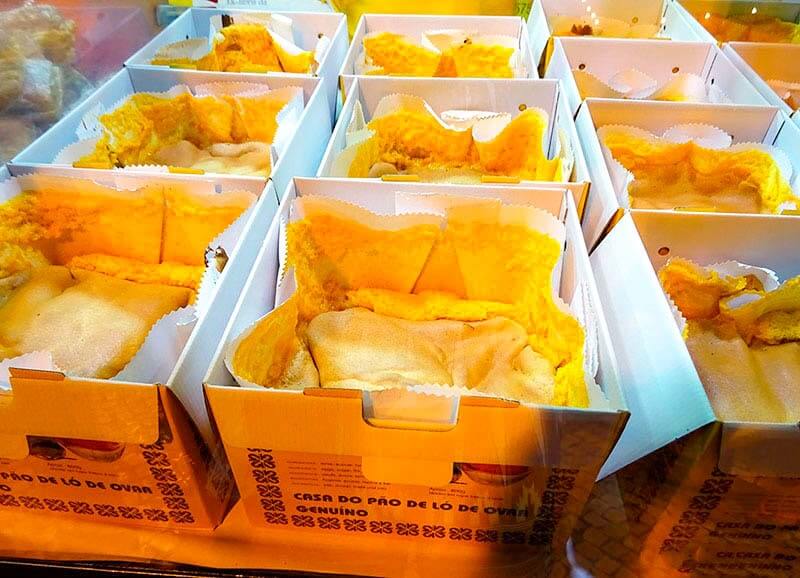 Pão-de-Ló of Ovar or Ovar Sponge cake is one of Portugal's most traditional and best deserts. As the name says the cake is from Ovar, close to Aveiro which is in the center of Portugal. It is a very light and humid cake made with tonnes of egg yolks, more specifically 18 egg yolks, and 6 whole eggs. As you may have noticed Portuguese desserts use plenty of egg yolks with sugar which we refer to as "ovos moles". The most delicious part of this cake is in the middle, which is full of liquid ovos moles.
Pão de Ló of Ovar dates back to the 18th century and it used to be made in the convents. Later on, the recipe was passed on to some families in Ovar. The traditional Pão de ló is made in a specific clay cake pan lined with foolscap paper. It is most traditional at Easter and Christmas, but you can find it year-round nowadays. Pão-de-Ló de Ovar is a certified conventual sweet recognized by the European Commission as a Protected Geographical Indication (PGI).
Best places to try Pão de Ló of Ovar
The best place to find Ovar Sponge cake is in Ovar of Aveiro. Portugal has other typical sponge cakes such as Pão-de-Ló de Alfeizerão, Pão-de-Ló de Margaride, Pão-de-Ló de Arouca, Bolinhol, but Pão-de-Ló of Ovar is clearly the most well known.
3. Travesseiros of Sintra – Pillowy Goodness
Editor's Choice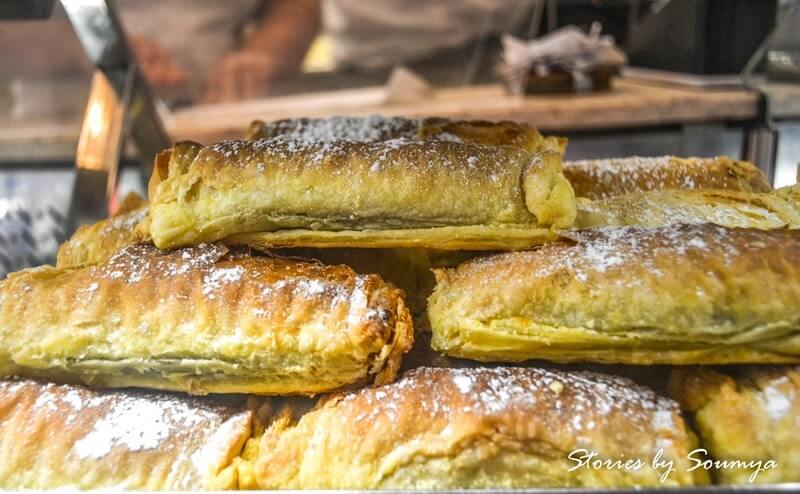 If there is another Portuguese dessert that is pretty well-known in the world outside of Portugal, it is the Travesseiro of Sintra. This is a pillow-shaped puff pastry filled in with almond cream. They are flaky on the outside and extremely soft and melt-in-the-mouth on the inside.
The Travesseiros were invented by the Piriquita House in Sintra and that is where they are still available today. Because of their origins and their pillowy shape, they are often referred to as the Piriquita Pillows.
Best places to try the Travesseiros of Sintra
The best place to try the Travesseiros is at Casa Piriquita in Sintra. Once you are done exploring the many castles of Sintra, head to Casa Piriquita in the city center and bit into some of their delicious travesseiros.
4. Queijadas de Feijao – The Nata Cousin
By Stella from Around the world in 24 hours
Most travelers to Portugal learn about the famous Pasteis de Nata tarts. But the more adventurous eaters will snack on the similar-looking, but very different tasting bean tarts. These tarts are called Queijadas de Feijao or sometimes Pasteis de Feijao in Portuguese. They are a more recent creation than some other Portuguese classics since they were invented by a woman named Joaquina Rodrigues in the city of Torres Vedras in the late 1800s.
The light and flaky tart is filled with a mixture of white bean paste, egg yolks, ground almonds, and sugar. In the finished product, you can taste the sugar and almonds, but the tarts don't taste like beans at all. The filling has a light and slightly grainy texture that is very different from the smoother, darker, and richer custard of the Pasteis de Nata. In fact, the Queijadas de Feijao are sometimes served with the Pasteis de Nata because the two tarts complement each other well. And there are vegetables hidden in every bite of the bean tart, so they feel healthier even though they're still full of sugar and egg.
Best places to try Queijadas de Feijao
You don't need to go to Torres Vedras to try these sweet treats. They are available in larger cities like Porto and Lisbon because Joaquina Rodrigues' descendants helped make the tarts popular around Portugal. In Lisbon, the Queijadas de Feijao at Pasteis da Mouraria are especially good.
5. Pastel de Tentúgal – A Lesser-known Portuguese Dessert
Editor's Choice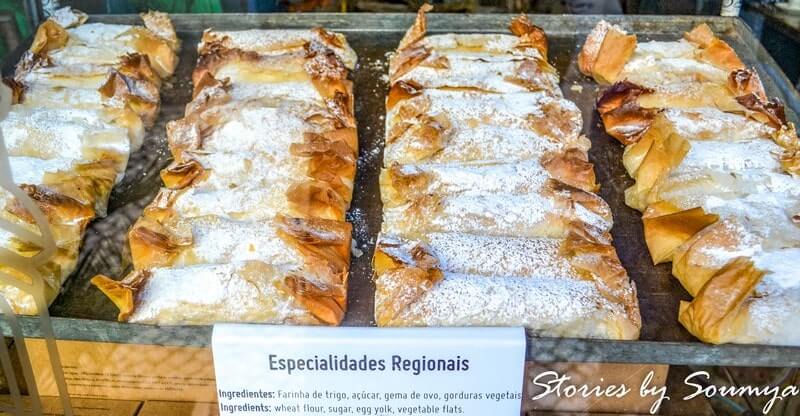 Pastel de Tentúgal or Pasteis de Tentúgal is another of my favorite desserts from Portugal. Again a traditional egg tart pastry, the pastel is made from egg custard wrapped in an extremely thin dough baked till perfection.
The pastry is believed to have originated in the 16th century in Tentúgal, a small town located pretty close to the city of Coimbra. Carmelite nuns in Tentúgal stretched the dough and made them thin enough for anyone to read the Bible through it. Then they filled them up with the sweet custard filling and baked them. Today, the pastry is served with a generous dusting of sugar powder. Locals prefer to have it along with their coffee.
Best places to try Pastel de Tentúgal
Tentúgal is a small town and there are high chances that you will not have it in your Portugal itinerary. However, you may be visiting the nearby university town of Coimbra which also serves delicious Pastel de Tentúgal.
I had my first bite of tasty Pastel de Tentúgal at a small coffee shop right outside my pension in Coimbra. Then, I learned that Pastel de Tentugal was a favorite treat to try in Central Portugal. Pasteleria Briosa on Largo da Portagem in Coimbra serves great Pastel de Tentúgal.
See Also: What to do with a day in Coimbra?
6. Cavacas de Resende – Sugary Goodness in a Convent Dessert
By Wendy from The Nomadic Vegan
Cavacas are one of the many "convent" desserts of Portugal that were originally made by nuns. There are many different types of cavacas, which vary in taste and appearance depending on the region. One of the most famous of all is the Cavaca de Resende, a small town in the north of Portugal with about 3,000 inhabitants. This version of the cavaca is a yellow sponge cake that's cut into rectangular pieces and then dipped into a sugar syrup before being topped with an equally sugary white icing. Traditionally, it was baked in a wood-fired oven.
Not too much is known for sure about the origins of the Cavaca de Resende, but according to legend, it was invented by a woman who had baked a cake for her daughter's wedding, which then had to be postponed because the plague was sweeping through the region. When the plague was over and they were finally able to have the wedding, she took out the stale cake and dipped it in sugar syrup to make it moist again. And thus the cavaca was born!
The original recipe calls for eggs, flour and sugar, and not much else. But if you're allergic to eggs or don't eat them for ethical reasons, not to worry! In Porto, there's a lovely café and restaurant called Moment'Um that makes an egg-free version of Cavacas de Resende. It's the best place to try this and other veganized Portuguese dishes in Porto.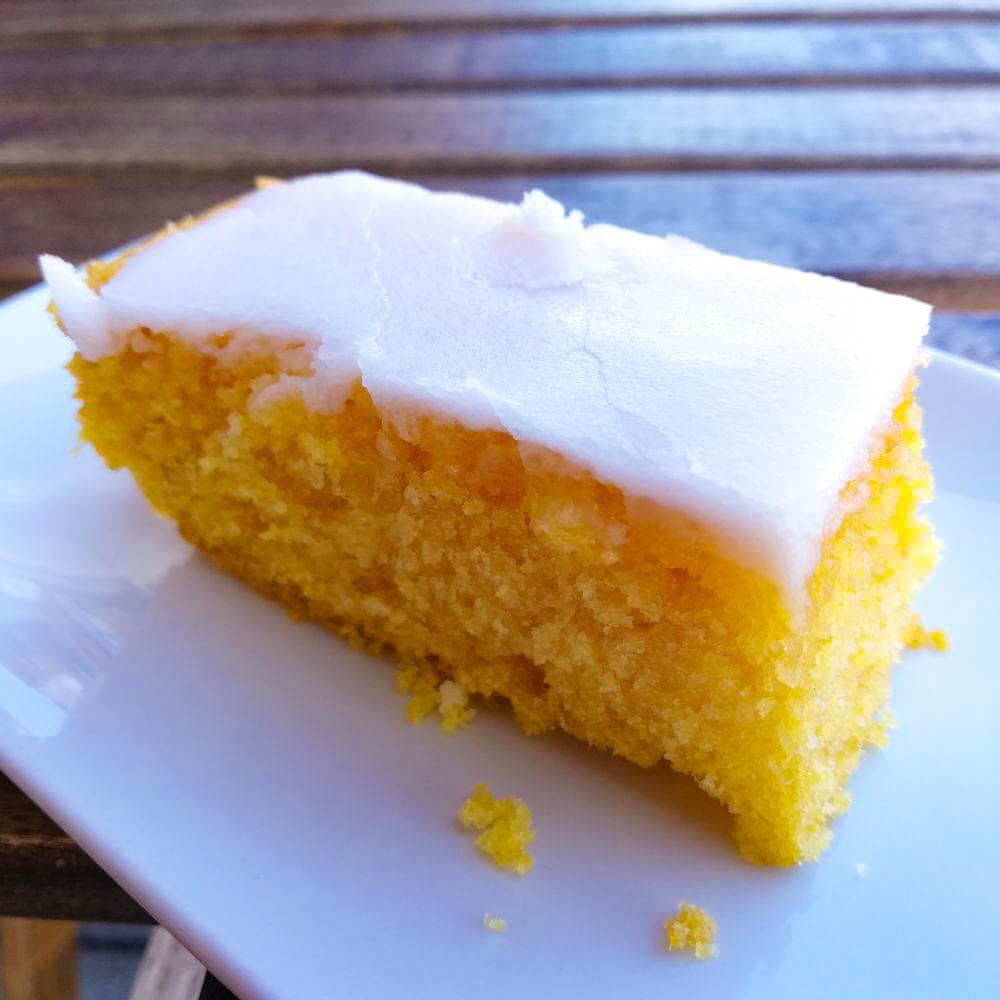 7. Bolo Rei – A Christmas-time delicacy
By Marcos from Travel Boo
The Portuguese certainly have an affinity and love for carb-heavy and deliciously sweet desserts and Christmas time is no exception. This is exactly the time of year when you'll be able to sample the traditional Portuguese Christmas cake, known as the Bolo Rei (translated to King's Cake).
Although this brioche ring cake, glazed over with crystallized fruits, originally hails from France, it was imported into Portugal around the second half of the 18th-century. And has since become synonymous with Portuguese Christmas traditions.
So popular has this cake become that newer and more modern versions have been invented in recent years. These include the Bolo Rainha (Queen's cake), perfect for those who would much rather prefer a far less sweet version, without all the crystallized sugary fruits.
Either way, when visiting Portugal over the festive season, trying out a slice of Bolo Rei (or perhaps even the entire cake), should definitely be on your list of best Portuguese desserts to try out.
If you wish to bake a Bolo Rei this festive season, try this amazing recipe from Wandercooks.
Best places to try Bolo Rei
It is believed that confectioner, Confeitaria Nacional, which is found in Lisbon, was the first to sell the cake and still does so today! Especially over the festive period, starting from around November up until mid-January, you will find all forms and varieties sold in pretty much every bakery across the country.
8. Ovos Moles de Aveiro – All About Soft Eggs
By Mayi from Secret Moona
Everyone knows the famous "pastel de nata" but have you heard about Aveiro's must-have dessert? Aveiro, known as the "Venice of Portugal" is where you can try Ovos Moles de Aveiro (soft eggs).
Just like the pastéis de nata created by monks, the ovos moles were first made by nuns in the convent of the Jesus of Aveiro monastery. They have been manufactured for centuries and are the first pastry to receive protected status from the European Union.
This unique sweet delicacy consists of a paper-thin wafer (communion wafers) filled with a creamy mixture of egg yolks, sugar, and water. The wafer is shaped into different symbols like fish, barrels or shells. All of these symbols are reminiscent of the city of Aveiro, the ocean and its maritime tradition.
Best places to try Ovos Moles de Aveiro
You can buy them everywhere in Portugal but they are only made in Aveiro. For the best ovos moles, head to Maria da Apresentação da Cruz Herdeiros-Ovos Moles de Aveiro or Confeitaria Peixinho. When in Aveiro, try not to miss out on tasting the sweet delicacy.
9. Queijadas of Sintra – Portuguese King's Favorite Dessert
Editor's Choice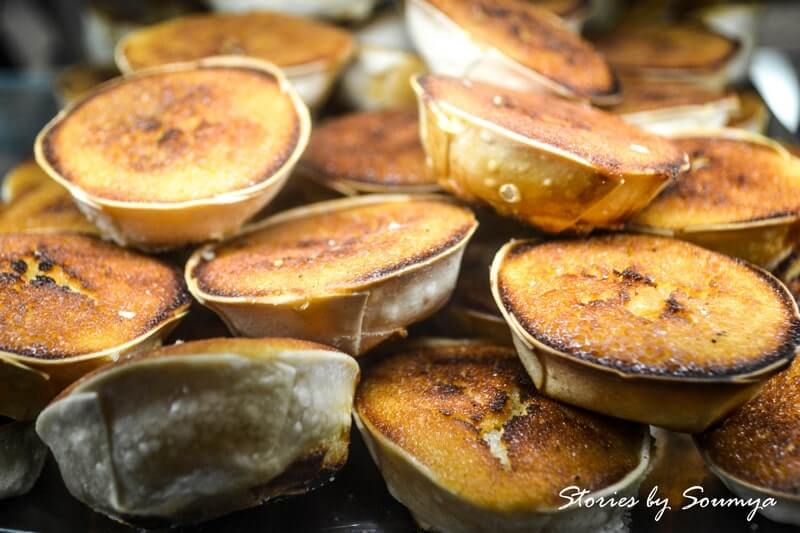 The last but not the least on my list is the Queijada of Sintra. Made from fresh cheese (queijo), eggs, milk, sugar, cinnamon, and flour, the Queijadas are Sintra's most popular cheesecakes.
Queijadas originated in Sintra. The region surrounding Sintra had lots of green pastures and hence, an abundance of fresh cheese. People started making these delicious pies and used them as barter goods in medieval times.
Allrecipes has a super cool recipe if you wish to bake them at home.
Best places to try Queijadas
Today, Queijadas are available across all pastry shops in Portugal. However, if you are on a lookout for the original, head to Sintra (easily done by a train trip from Lisbon). Fabrica de Queijadas and Casa Piriquita serve the best Queijadas in Sintra.
Wrapping up my post on delicious Portuguese desserts!
I am already getting hungry as I finish typing the last of my favorite desserts from the land of the discoverers.
So, here's our collection of the 9 best Portuguese desserts that you must absolutely try on your trip to Portugal. Do you have any more? If yes, please write to us about them in the comments below. We would love to try them on our next trip.
Loved our post on the Best Portuguese Desserts? Pin it here!