Last Updated on August 19, 2023 by Soumya
Lisbon is a beautiful city. It is filled with history, culture, food, and wonderful views. And hidden deep within these multiple layers are some really interesting facts about Lisbon.
A hidden corner, some lost history, a forgotten gem – Lisbon is filled with quirky, whacky things like these. Trust me, knowing these fun facts about Lisbon will not only enlighten you but take your trip to another level altogether.
My collection of interesting facts about Lisbon Portugal is drawn from my own travels in the city and based on extensive research. It does not regurgitate the same things that you have seen elsewhere but presents you with a unique, unseen view of Lisbon.
So, without further ado, let's get started with 25 Lisbon facts that no over ever tells you! These are things about Lisbon (interesting, queer, fun, and gross) that you will not find in any other guide book. But I can guarantee you that they will make your trip absolutely memorable.
25 Interesting facts about Lisbon Portugal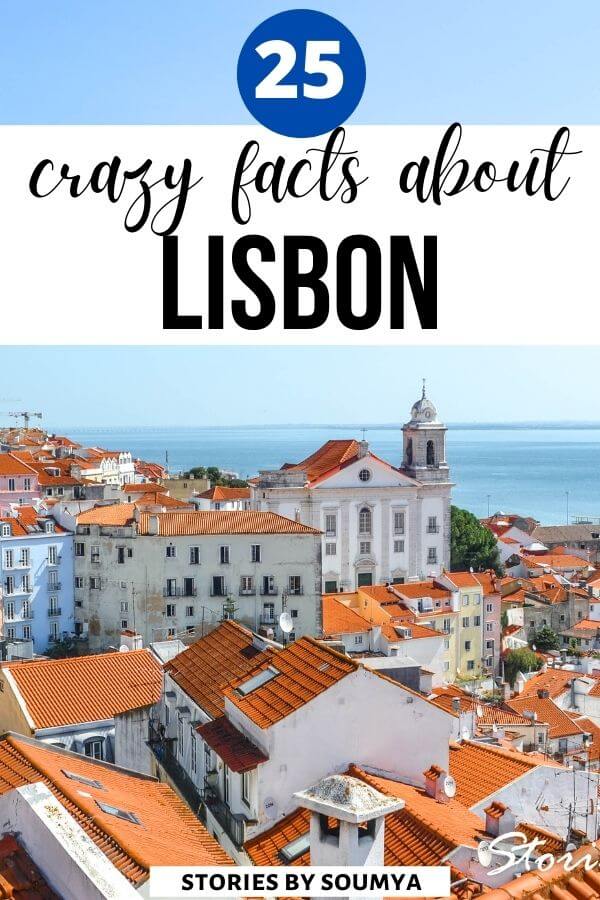 Please note: This post may contain affiliate links which means I may earn a commission if you make a purchase by clicking a link on this post. This will be at no additional cost to you. Affiliate links help me keep this website up and running. Thanks for your support!
Lisbon is one of the oldest cities of Europe.
Yes, you heard me right. Lisbon is one of the oldest cities in Europe.
Honestly, Lisbon is ancient. Archaeological evidence suggests the city has been inhabited since prehistoric ages. Historical records take back the city's history to 205 BC when it was first invaded by the Romans. One of the fun facts about Lisbon is that the Romans called it Olissipo then.
Lisbon is one of Europe's oldest capitals too, second only to Athens.
Lisbon was completely destroyed in the earthquake of 1755.
Well! Almost!
The earthquake of 1755, also known as the Great Lisbon Earthquake, wrecked havoc on the city. It was followed by a series of fires and a tsunami.
Lisbon's commercial center, Praça do Comércio, was completely destroyed. This included the Royal Ribeira Palace too and many adjoining monuments/regions.
You can still see the earthquake's devastating effects at the Carmo Convent which stands tall without a roof. A haunting reminder of what happened on that fateful day.
Lisbon's beautiful Pombaline Downtown was a result of the earthquake.
The beautiful Pombaline buildings that you see at the Commercial Square today were built after the earthquake. Yes, the entire Pombaline Downtown or Baixa Pombalina, a famed attraction in Lisbon, was reconstructed after being razed to the ground.
These were no ordinary buildings. They were among the earliest earthquake resistant constructions in Europe.
It is quite interesting how earthquake tests were done in those times. Small wooden models were built. Then, troops were asked to march around these models in order to simulate an earthquake. Quite ingenuous, I would say!
The famous Rossio Square has a gory history!
Lisbon's Rossio Square has been a meeting place for people for centuries. It has hosted and housed intellectuals and the common man for ages.
Yet, there is also a dark side to Rossio which is among the lesser-known facts about Lisbon.
The Inquisition of Lisbon was installed at Palace of Estaus on the north side of Rossio Square. Consequently, Rossio became the spot for various public executions including the first auto-da-fé!
In Lisbon, you are literally walking on a carpet of stone.
Black and white, patterned stones adorn the sidewalks and public squares all over Lisbon.
Also known as Portuguese pavements, these public pieces of art have been around since the 15th century. In fact, you can see many versions of it in erstwhile Portuguese colonies, starting from Brazil to Macau.
There is also a special paving school in Lisbon dedicated to the art. It is called Escola dos Calceteiros.
The pavements impart a charm to Lisbon like nothing else does. It is almost like constantly walking on a beautiful carpet of stones adorned with faces, flowers, patterns, and waves.
However, these pavements can be really really slippery. So, be careful especially if you are wearing high heels.
There is an entire museum dedicated to Azulejos.
Yes, that is right.
I am sure you have seen a lot of Portuguese blue tiles or azulejos at every stop on your Portugal itinerary.
In Lisbon, you get a chance to dig deeper into the history and evolution of azulejos. At the National Tile Museum.
Set up in a multistoried old convent, a little further away from the hustle and bustle of downtown Lisbon, The Museum of Azulejos can keep captivated for hours. On the top floor, is a a huge blue and white tile panel that gives you an idea how Lisbon looked like before 1755.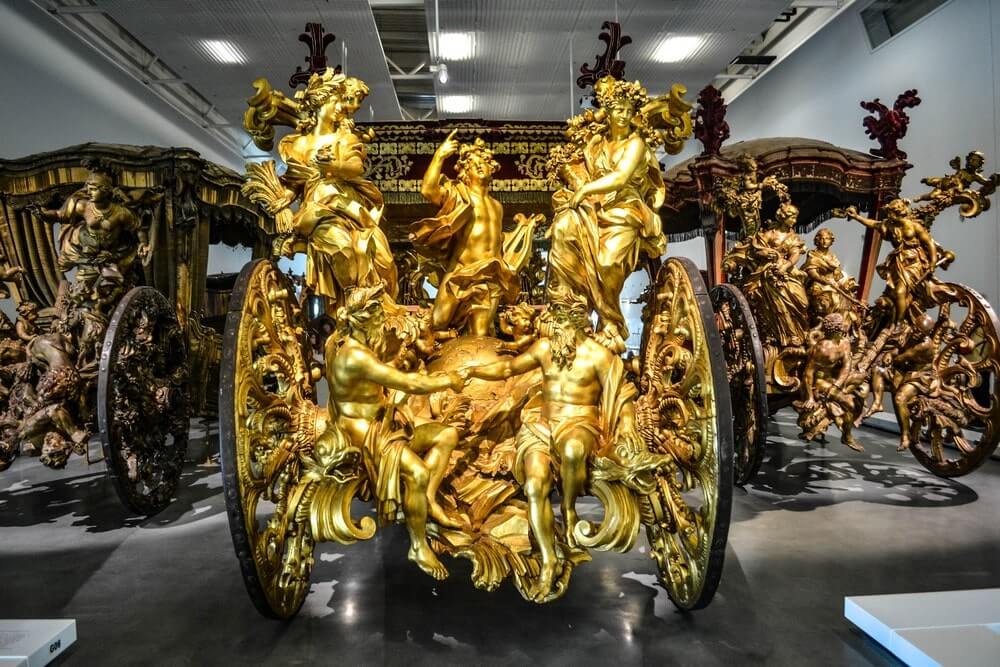 Lisbon has one of the most eclectic collection of museums.
Yes, that's right.
Lisbon is one of the few European cities that has a real eclectic collection of museums.
The collection is not just confined to art and archaeology but spans much wider. Tiles, Coaches, Fado, Design, Costumes, Ethnology, News – you name it. And I am not even talking of all the ancient and contemporary art museums, palaces, and archaeology storehouses that dot the city.
If you love museums, then you have to come to Lisbon.
Try this Portugal virtual tour to get a sneak peek into some of these amazing museums.
Lisbon has a vibrant street art scene.
Lisbon's street art is nothing short of extraordinary. A stroll through the historic neighborhoods of Lisbon immediately reveals how big an open art museum Lisbon is. Of street murals and graffiti!
The city also has a special museum dedicated to commissioning and showcasing innovative street art – The Underdogs Gallery.
The best way to experience Lisbon's vibrant street art scene is by taking a guided tour through the narrow alleys and discovering old and new pieces.
Lisbon has some really long bridges.
Vasco da Gama Bridge that opened in 1998 is 7.6 miles (12 km) long. It is the longest bridge in the European Union and the second longest in Europe.
25th April Bridge, another major Lisbon landmark, is also pretty long. In fact, this is the longest suspension bridge in Europe.
This bridge resembles the Golden Gate Bridge of San Francisco and is a great place for getting the best Lisbon pictures. The resemblance is because it was designed by the American Bridge Company, the same firm that designed Golden Gate.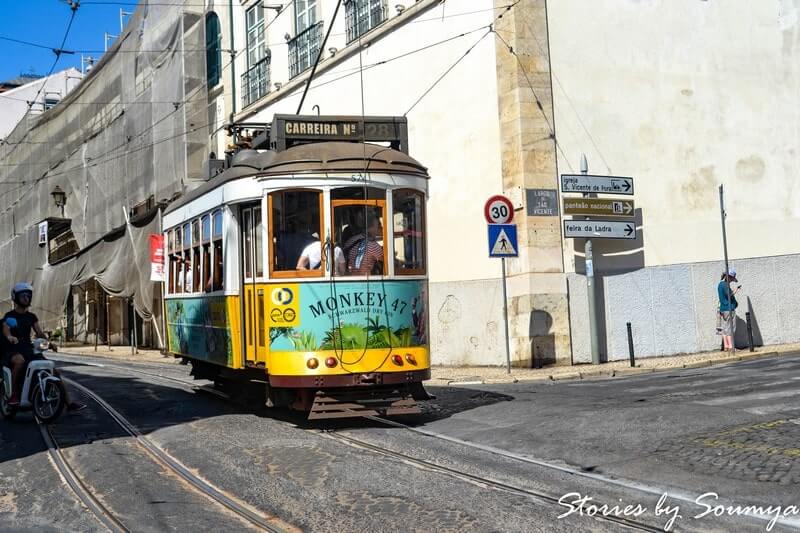 The yellow trams have a strong American connection!
Lisbon's American connection does not end with the 25th April Bridge. The picturesque yellow trams of Lisbon have also been inspired by USA's trams.
As a matter of fact, they were called Carros Americanos for a very long time.
Did you know that the first trams in Lisbon were pulled by horses?
Lisbon's symbol is a raven.
If you look at Lisbon Coat of Arms, you can see two ravens guiding a ship in the sea. They represent the ravens that accompanied the remains of patron saint, Saint Vincent of Saragossa during his journey from Sagres to Lisbon.
Another queer fact about Lisbon – there was a cult for ravens in the city for a long time. They even inhabited a section of Sao Jorge's Castle, one of most fascinating Lisbon attractions.
And I thought ravens were a thing only at the Tower of London!
You can walk on an aqueduct in Lisbon.
You can walk and explore this relatively lesser-known hidden gem in Lisbon, the Aguas Livre Aqueduct in Alcântara valley.
Far away from the prying eyes of tour groups, lies this massive 19km long aqueduct from the 18th century. It survived the 1755 earthquake and is a tentative UNESCO World Heritage Site today.
This place is not just great to dig into some Lisbonian history but also gives you some stunning views of Lisbon. Isn't that a great thing to know about Lisbon?
Looking for more wonderful views of Lisbon? Check out our post on the Best Lisbon Viewpoints.
Lisbon is home to one of the most expensive chapels in the world.
Sao Roque Church with its heavily gilded interior has been deemed the world's most expensive chapel. And it is located right here in Lisbon behind what you can call the plainest façade in the world.
Considered one of the most outstanding examples of European art, Sao Roque Church features elaborate chapels adorned with gold Baroque architecture. The paintings and ceiling are exquisite and absolutely deserve the honor of a masterpiece.
Lisbon locals are called Alfacinhas.
It is not uncommon for the people of Lisbon to be referred to as Lisboetas officially. But more commonly (informally), they are called Alfacinhas. And there is an interesting story behind that name.
Alface refers to lettuce which grew abundantly on the hills of Lisbon. Lisboetas often ate lettuce and used it for other purposes such as medicine, thus earning the name Alfacinhas for themselves.
Canned fish is Lisbon's most popular souvenir.
I know this is kind of strange. I mean who gets canned fish for souvenir! In Lisbon, it is the favorite souvenir.
You can find tins of sardines, tuna, anchovies, and mackerel. They are packed airtight in colorful boxes and make amazing gifts.
What originally started as an easy and cheap source of protein in times of adversity and scarcity has now become one of Portugal's famous food icons. You can find canned fish in restaurants too if you wish to eat some during your Lisbon trip.
Ginjinha is Lisbon's favorite drink.
Ginjinha is a sweet liqueur made from soaking Ginja berries in alcohol and sugar. It is absolutely the favorite Portuguese drink in the cities of Lisbon and Obidos.
And even though you have heard so much about the Port Wine of Porto, know that Lisbon has its own favorite! One of those interesting Lisbon facts that you should not miss.
Head to our Lisbon foodie guide to know more about Lisbon's famous foods.
There's a full-blown Roman city under the streets of Lisbon.
Now, isn't that interesting? Under the city center of Lisbon, lie numerous Roman galleries complete with upper class homes, factories, and swimming pools.
These galleries are open to tourists only a few times during the year. They usually announce it on their website or Facebook page.
Lisbon's Metro is an extraordinary museum of Portuguese tile art.
If you are a budget traveler like me and love to use the metro for commuting within the city in Lisbon, then you are in for a surprise in Lisbon.
Walls of Lisbon's metro stations are clad in vibrantly colored azulejos depicting stories and remarkable events from Portuguese history. The panel "Arrival" at Restauradores, sketches at Alto dos Moinhos, and the blue dome at the Parque station are all great examples.
Touring these underground metro stations is almost like walking through several rooms and phases of a Portuguese tile museum. One the best things to do in Lisbon on a rainy day, I would say. And definitely a must-know thing about Lisbon.
Find more amazing things to do in Lisbon here.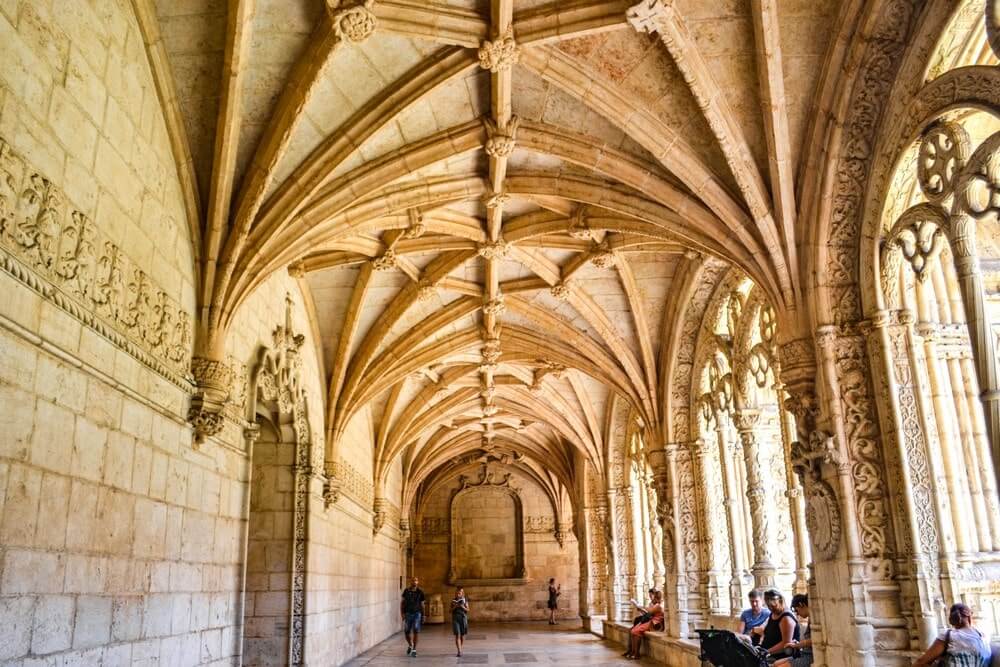 Lisbon has not always been the capital of Portugal.
Among the many interesting facts about Lisbon is that the city hasn't always been the capital of Portugal. In fact, this position was occupied by other Portuguese heritage towns at various points of time.
Guimaraes was the first capital of Portugal in the 12th century followed by Coimbra in the second half of 12th and early 13th centuries.
Lisbon was once "The City of Spies".
Spying flourished in the Portuguese capital during World War II. Portugal's neutrality and its strategic location as the main point of entry and exit into Europe facilitated espionage.
One of the most interesting facts about Lisbon is actually connected with the city's spying history.
Ian Flemming, the British Writer who created the series James Bond, was a real-life spy who was stationed in Lisbon for the British Secret Service. It was at the Estoril Casino on the Portuguese Riveira that he was inspired to write his first book, Casino Royale. Now, isn't that fascinating!
Fado originated at the crossroads of culture.
Lisbon is the birthplace of Fado, a traditional form of Portuguese singing. It is profoundly melancholic and is the apt representation of the Portuguese word "saudade" which means longing for someone.
There are many theories as to how Fado originated. But most point to the intermingling of cultures and nationalities.
Some believe that Fado originated in the music of Brazilian slaves. It was brought to Lisbon by sailors returning from their long journeys to South America. Some say it came from the songs of Moors who continued to stay near Lisbon even after the Christian take-over. That could explain the melancholy and longing in Fado songs.
Fado was inscribed on UNESCO's list of Intangible Cultural Heritage of Humanity in 2011.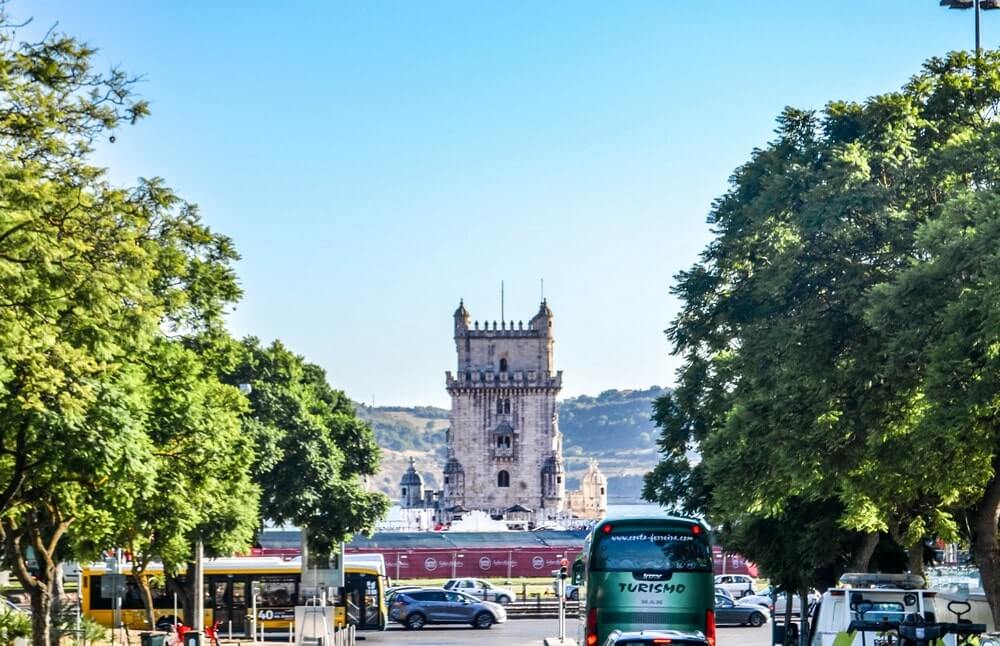 Belem Tower was a state prison for a long time.
Belem Tower was constructed in the early 16th century as part of Lisbon's river defense system complete with cannons and all for the purpose.
However, it was used as a state prison longer than as a defense bulwark. It further went on to be used as a customs port, telegraph office, and a light house!
There is a rhino at Belem Tower.
Well, not literally. But the sculpture of an Indian rhino does adorn the exterior of the Belem Tower in Lisbon.
The animal was unheard of in these parts of the world. So, it is quite strange how it came to figure on one of Portugal's famous landmarks.
The story is quite interesting. The rhino traveled to Portugal from India as a diplomatic gift. It saw many owners and finally met with a tragic end. But it went on to inspire several sculptures and paintings across Europe.
The rhino is quite inconspicuous and you will have to know about it to look for it. Something I did not do and still regret.
If you are visiting Belem from Lisbon, which I am sure you will, do not forget to spot this exotic animal.
Read our Belem Tower guide to plan your trip here efficiently.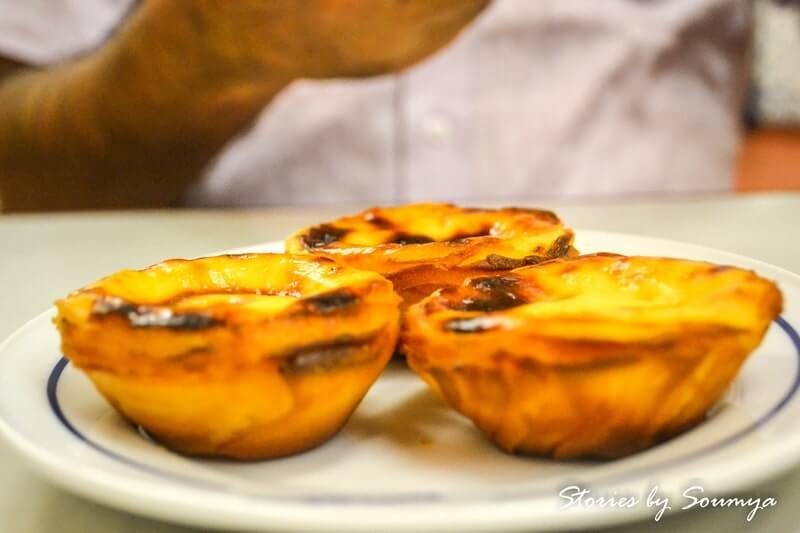 The recipe for Pasteis de Nata is Top Secret!
Well, we all love the famous Portuguese dessert, Pasteis de Nata. Don't we? It is one of my favorites, if you ask.
If you are visiting Belem when in Lisbon, then you have to taste these delicate Portuguese tarts that once originated at the Jeronimos Monastery in Belem.
Today, they are available at a cafeteria right next to monastery. This café is called Pasteis de Belem and the owners got the original recipe from the monks of Jeronimos quite early in the process. They have been holding on to it like top secret ever since.
Only the shop's owners and trusted chefs know of it. And these people never travel together lest they lose the recipe to one mishap.
So when you are biting into your next Pasteis de Nata anywhere else in Portugal, know that it is just a Pasteis de Nata and not famed Pasteis de Belem!
Lisbon has the world's largest salt water oceanarium.
Oceanario de Lisbon is the world's largest salt water aquarium. It is a must have on your itinerary if you are traveling to Portugal with kids.
The aquarium is huge featuring four marine habitats as well as temperate, tropical, and cold waters. You can see birds, fishes, amphibians, invertebrates, mammals, and various plants and algae.
Temporary exhibitions like Forests Under Water make the oceanarium even more attractive.
Click here to plan your visit to Lisbon's Oceanarium.
More Lisbon Resources
Are you planning to visit Lisbon and learn more about this wonderful city in person? Make sure you have a look at our other Lisbon resources to plan a memorable trip here.
Did you love these 25 interesting facts about Lisbon? Pin it for later!