Last Updated on August 29, 2023 by Soumya
Are you wondering what to do in Mexico City on a Monday? Well, I was in the same boat as you only a few weeks ago.
I just came back from an epic 3-week trip to Mexico City and obviously, spent many Mondays exploring Ciudad de Mexico. It goes without saying that, now, I have a ton of things for you to do in Mexico City on a Monday.
Even though many museums and historic buildings in the CDMX are closed on Mondays, there's still a lot that can be done and seen. Taking a day trip to the Teotihuacan pyramids or strolling through the historic center and marveling at the city's architecture are two of the most popular choices for travelers. But, I also have a list of lesser-known things to do in Mexico City on a Monday that will make your Mexico City vacay absolutely memorable.
I agree that planning for a Monday in Mexico City can be tough because everything almost everything in CDMX is closed on Mondays! But, not anymore! With my complete guide for what to do in Mexico City on a Monday, you can not only see the most popular attractions but also visit some hidden gems.
Please note: This post may contain affiliate links which means I may earn a commission if you make a purchase by clicking a link on this post. This will be at no additional cost to you. Affiliate links help me keep this website up and running. Thanks for your support!
Top Things to do in Downtown Mexico City on a Monday
Diego Rivera Murals at the Secretariat of Public Education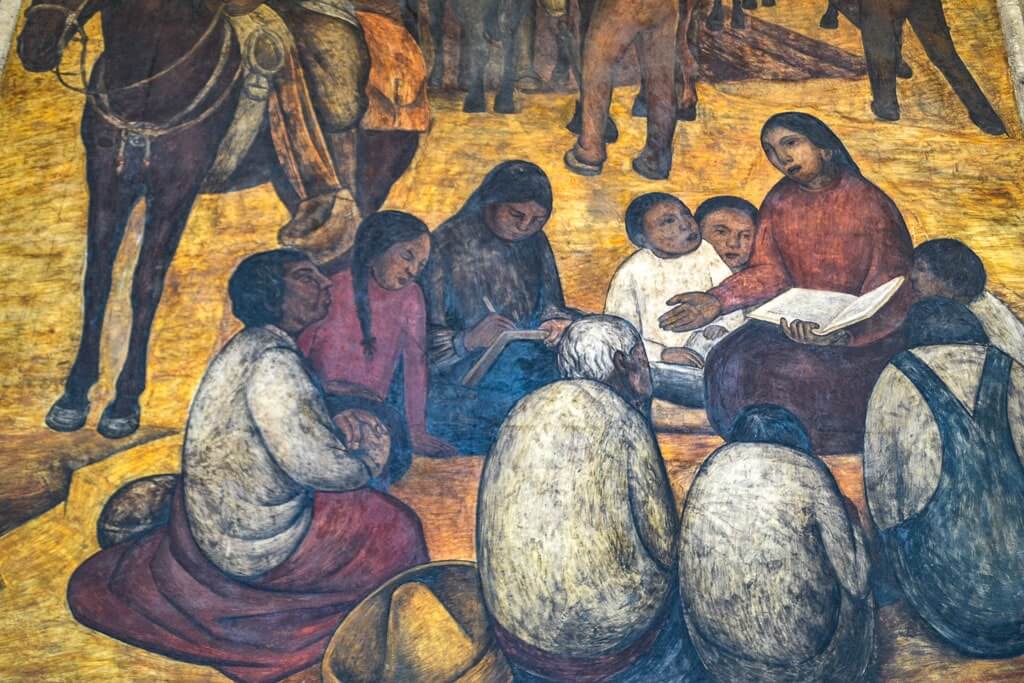 Muralism has played an important role in defining the character of Mexico as a country. And no better place to see that than in Mexico City where some of the best masters of muralism including Diego Rivera worked and painted.
Signing up for a mural tour in Mexico City is one of my favorite things to do. Whether it is joining an official-led tour at the National Palace or booking a mural art walking tour in the historic center, I have enjoyed exploring and understanding the murals of CDMX.
One of my favorite places to see Mexico City murals, that is also free, is at the headquarters building of the Secretariat of Public Education. Located in downtown CDMX, the building has 200+ panels of mural work done by none other than the master himself, Diego Rivera. The murals depict life, work, festivals, food, and everything about Mexico and are a delight to watch.
The best part is that the secretariat building is open on Mondays and is free to enter. Just walk over to the entrance and tell them that you'd like to see the murals. An official will check your ids (we had our passports with us) and hand them back to you. Then you'll be all set to explore.
Also a hidden gem!
Not many people know of this mural treasure and that is why it is also one of the best hidden gems in Mexico City. However, it is often included in this guided mural art walking tour, if you're looking for the best mural tour in the city. But remember that this tour is not available on Mondays since other mural museums are closed on that day.
✦ Pro Tip: Do you love hidden gems and really offbeat attractions? If you're not a big fan of crowds and want to explore in peace, then you'll like our post on the 20 Best Non-Touristy Things to do in Mexico City.
National Postal Palace
Yet another architectural landmark that is open on Mondays is the National Postal Palace or the Palacio Postal. Located right beside the Palacio de Bellas Artes, the Postal Palace is a magnificent piece of architecture and still functions as a regular post office.
You can swing by the post office (which is gorgeous enough to be a palace) for free and marvel at its stunning entrance lobby with the most gorgeous stairway. Golden double staircases, a glass-domed ceiling, and marble flooring give the building unparalleled grandeur. There's also a small museum that tells you the history of Mexico's postal services.
In short, the National Postal Palace is a nice place to spend a cozy half hour on a Monday morning in Mexico City.
📖 Related Read: In love with art and architecture? Check out the 15 most beautiful architectural landmarks in Mexico City.
Torre Latino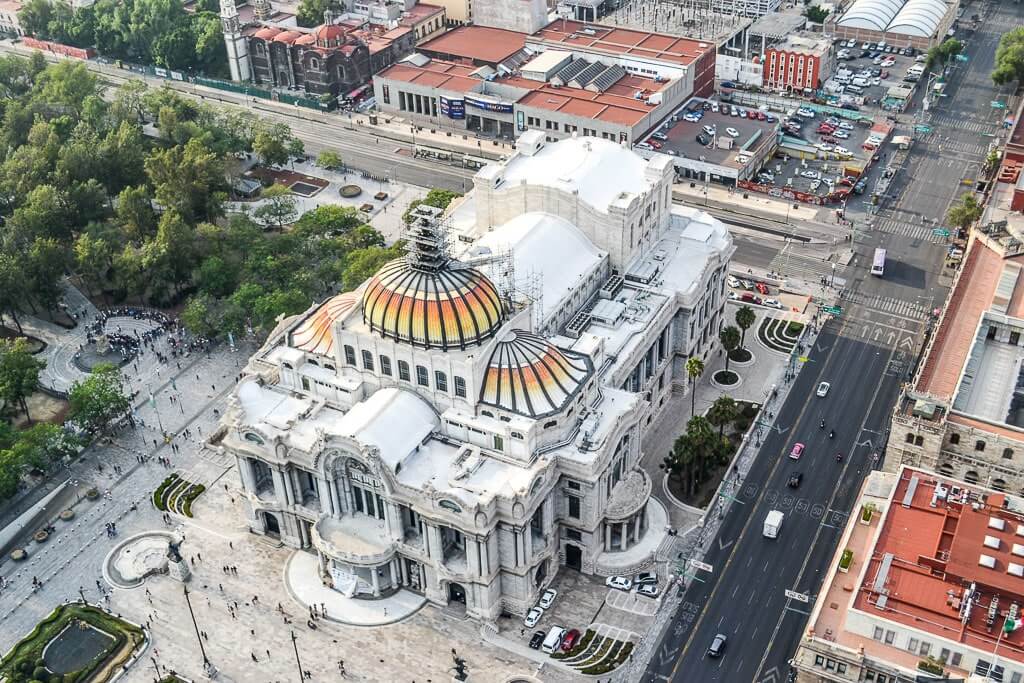 If you're in Mexico City on a Monday and looking for something interesting to do in the evening, I suggest heading up to the Mirador (observation deck) at Torre Latinoamericana.
Torre Latinoamericana is one of Mexico City's tallest buildings and was Mexico's tallest building for a very long time. The tower is an architectural wonder because it withstood the devastating earthquake that shook the city in 1985. A small museum inside the building speaks volumes about the tower's engineering prowess.
If you love skyscrapers and would love to get some stunning views of Mexico City from above, then the Mirador Observation Deck on the 44th floor of Torre Latinoamericana is the place to be.
The tower is open from 9:00am – 10:00pm, Monday – Sunday. We bought our Torre Latinoamericana tickets online here to make sure we could get in at our preferred time – which was around 6:00pm to catch the sunset from the tower.
---
Metropolitan Cathedral
All churches are open on Mondays and so is the Mexico City Metropolitan Cathedral. So, if you wouldn't mind some church hopping on your Mexico City itinerary, there's plenty to do.
The Metropolitan Cathedral is Mexico City's most impressive landmark in the historic center. It is excessively ornate and is an epitome of extravagant Mexican Churrigueresque architecture.
Spanish conquistadors built the cathedral in the later half of the 16th century over the remains of the Aztec capital, Tenochtitlan. It is the oldest and the largest cathedral in Latin America and is part of the UNESCO world heritage list.
When people ask me for reasons to visit Mexico City, I always quote the cathedral as a prime one.
---
📖 Related Read: If you're planning to spend a few days in Mexico City, be sure to check out our tried and tested 4-day Mexico City itinerary that's full of history and culture.
---
Mexico City Museums open on Monday
Soumaya Museum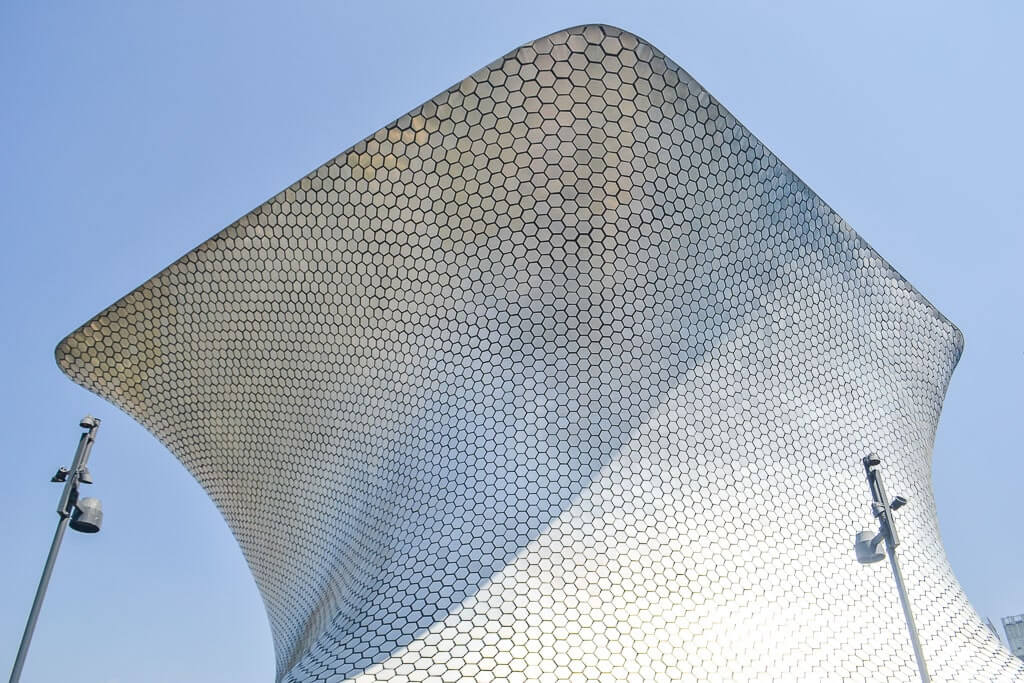 Most Mexico City museums are closed on Mondays but not the sleek and avant-garde Soumaya Museum. Since I had heard so much about the Soumaya Museum and the name resembles mine, I had to go check it out, of course on a Monday.
Soumaya Museum is a private museum that is home to more than 60,000 works of art, some dating to pre-Hispanic times. The collection, spread over 6 floors, includes some interesting pieces of Mexican art as well as masterpieces by European masters including Pablo Picasso, Vincent van Gogh, Leonardo da Vinci, and Auguste Rodin.
Apart from the marvelous art collection, Museo Soumaya is know for its sleek and modern design that incorporates some 16,000 aluminum tiles shaped in hexagons.
Museo Soumaya is free to enter and is open from 10:30am – 6:30pm every day. You'll need a couple of hours to explore all the displays.
Other Museums in Mexico City open on Monday
Some of the other interesting Mexico City museums that are open on Monday are the listed here.
MUCHO Museum of Chocolate: How about visiting a museum dedicated to chocolate on your free day in Mexico City? Sounds interesting right? Founded in 2012, the Chocolate Museum is housed in a charming building in the Juarez neighborhood and has detailed displays on the history of chocolate and cocoa. A great place to taste chocolate bars, truffles, and cakes and bring some back home as souvenirs from Mexico. Book your MUCHO Chocolate Museum tickets here.
Ripley's Museum: If you love Ripley museums around the world, then you'll probably want to drop in here. Built to resemble a medieval castle, Ripley's Museum is home to all kinds of oddities and treasures collected from the travels of Robert Ripley, the cartoonist.
Iturbide Palace – Citibanamex Palace of Culture: Iturbide Palace, in all its New Spanish Baroque grandeur, is an absolutely delightful place to visit in Mexico City. Once a royal residence, the palace is now home to a permanent exhibition on the history of Iturbide as well as several temporary exhibits. Admission is free and they are open from 10:00am – 7:00pm every day.
Best Things to do near Mexico City on Monday
Teotihuacan Pyramids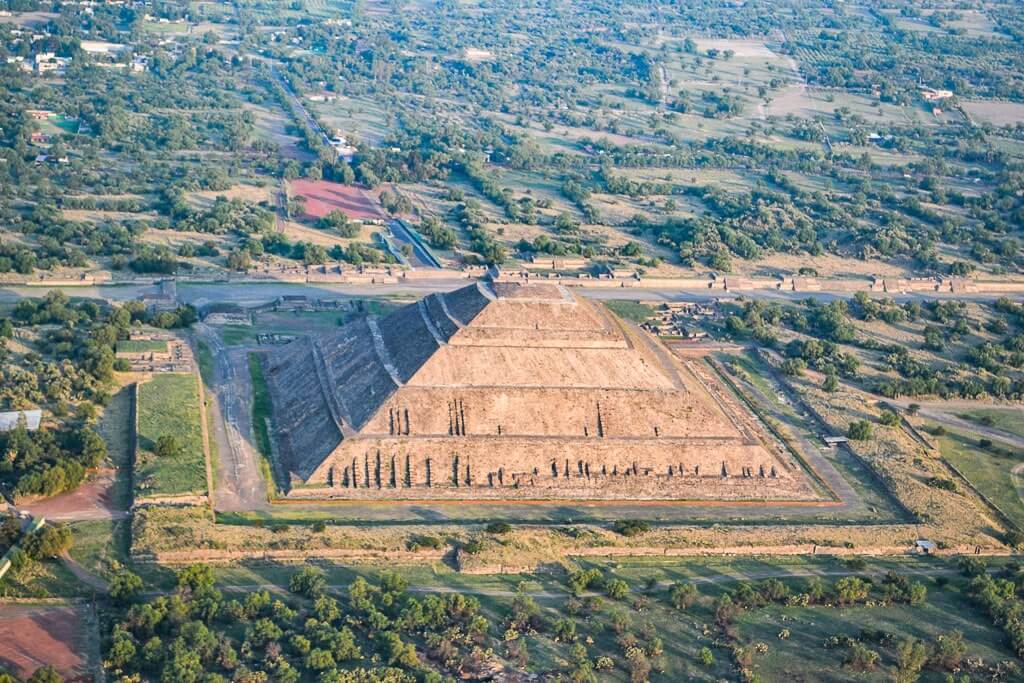 When visiting Mexico City, a day trip to the famous Teotihuacan pyramids is always on the list of all travelers, as it must be. This totally needs to be on your Mexico bucket list too.
Teotihuacan pyramids (pyramids of the Sun, Moon, and Feathered Serpent) are massive and an important UNESCO world heritage site in Mexico. Built sometime between the 1st and 3rd centuries, Teotihuacan pyramids are some of the largest in the world and full of mysteries that remain unknown till date.
Till date, no one knows why Teotihuacan collapsed and where the people who lived here went. All we can see are these massive pyramids in Mexico City with some amazing stone sculptures and stunning murals.
It goes without saying that you totally need to visit Teotihuacan when in Mexico City. What's better is that Teotihuacan is open every Monday when literally everything else in Mexico City is closed. So, Teotihuacan makes for a great Monday morning addition to your Mexico City itinerary.
✦ Pro Tip: Be sure to join a highly-rated guided tour like this one for Teotihuacan. Signage and written records on site are minimum and you'll gain so much more on guided tour.
For a more memorable experience, start the day with an early morning balloon ride over the pyramids and then explore the archeological site on your own, like we did this time. Highly recommended.
If you'd like more tour recommendations, feel free to check out our guide on the 10 best Teotihuacan tours.
Basilica of Our Lady of Guadalupe
One of the most important pilgrimage sites for Catholics around the world, the Basilica of Our Lady of Guadalupe is dedicated to Virgin Mary. It houses a cloak that has the venerated image of Virgin Mary.
Millions of devotees visit the Basilica of Our Lady of Guadalupe every year making it the most visited Catholic shrine in the world.
Trajinera Ride in Xochimilco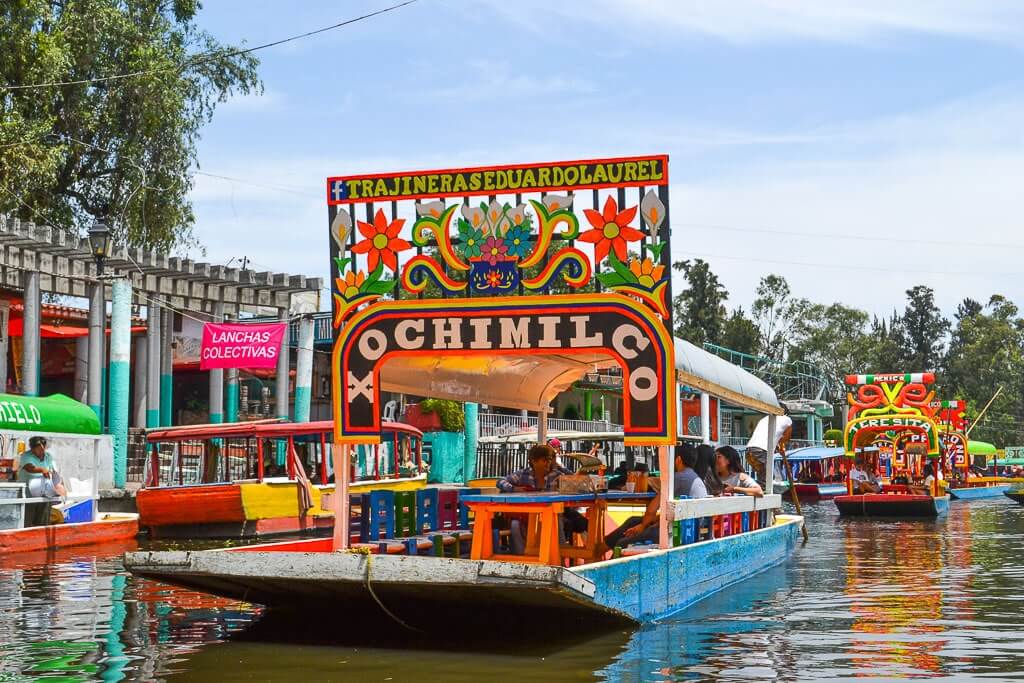 Have you heard of Mexico City's floating gardens? Located in the southern fringes of CDMX, the Floating Gardens of Xochimilco are ancient farms built on manmade soil beds called the chinampas. They date to the times of the Aztecs, even longer and are still productive.
Recently, I wrote a story for BBC Travel on how these chinampas, that were absolute treasure houses of fresh produce, were making a comeback after the Covid-19 pandemic.
One of the best things to do in Mexico City is to ride a trajinera (a flat bottomed boat) in the canals of Xochimilco, amidst the chinampas. It is a fun experience and you'll see lots of locals enjoying this ride. Mariachi bands play popular songs while vendors sell everything from food to daily knick-knacks. It is almost like an entire city is out on water and the experience is wonderful.
Chinampa rides in Xochimilco are open on Mondays. Therefore, it makes for a great Monday thing to do in Mexico City.
However, there's a small catch. Travelers often plan for Xochimilco and Coyoacan (where Frida Kahlo's Museum is) together because they are both located to the south of Mexico City. But Frida Kahlo Museum is closed on Mondays. So, if you have plans of doing the two together, then Monday is not a good idea.
📖 Must Read: Find all about Xochimilco's chinampas – what they are, their history, things to do, and how to get there – in our detailed guide on the Floating Gardens of Mexico City.
Other Day Trip Ideas from Mexico City on a Monday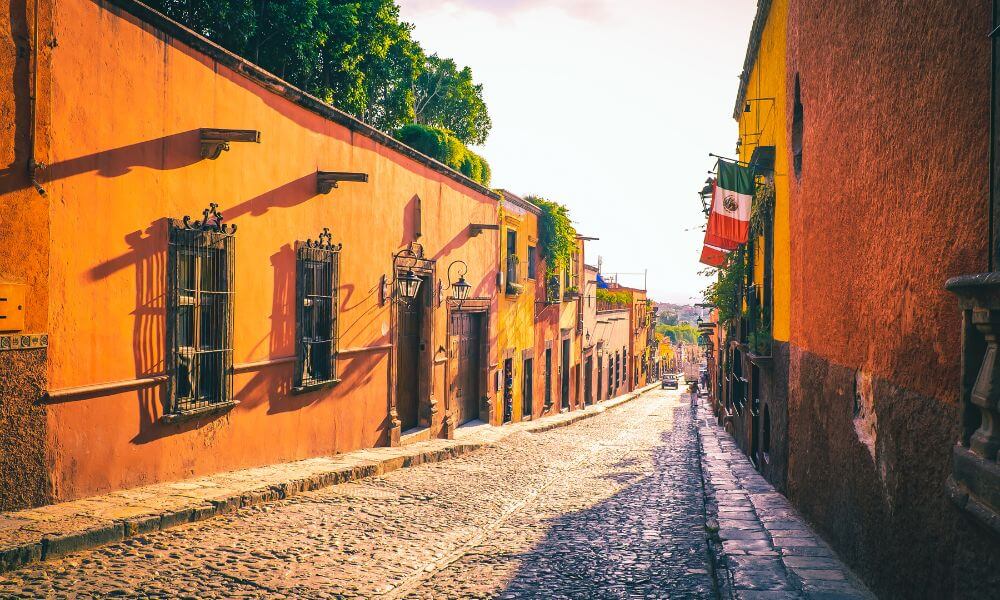 There are several other day trips that you can take from Mexico City on a Monday. Here are some amazing recommendations.
San Miguel de Allende: The colonial town of San Miguel de Allende with its stunning baroque churches, quaint cobbled alleys, and a vibrant handicrafts market makes for a beautiful one-day getaway from Mexico City. Check out this highly recommended tour on Viator for a hassle-free trip to San Miguel de Allende.
Tolantongo Caves: If you'd like a break from history and culture, the grottos of Tolantongo with their hot water springs and the pristine blue pools make for an epic Mexico City day trip. Here's a good full-day tour from Mexico City that takes care of transportation, towels, snacks, and all the small things that you're going to need during your pool dip.
---
Other Things to do in Mexico City on a Monday
Visit La Merced Market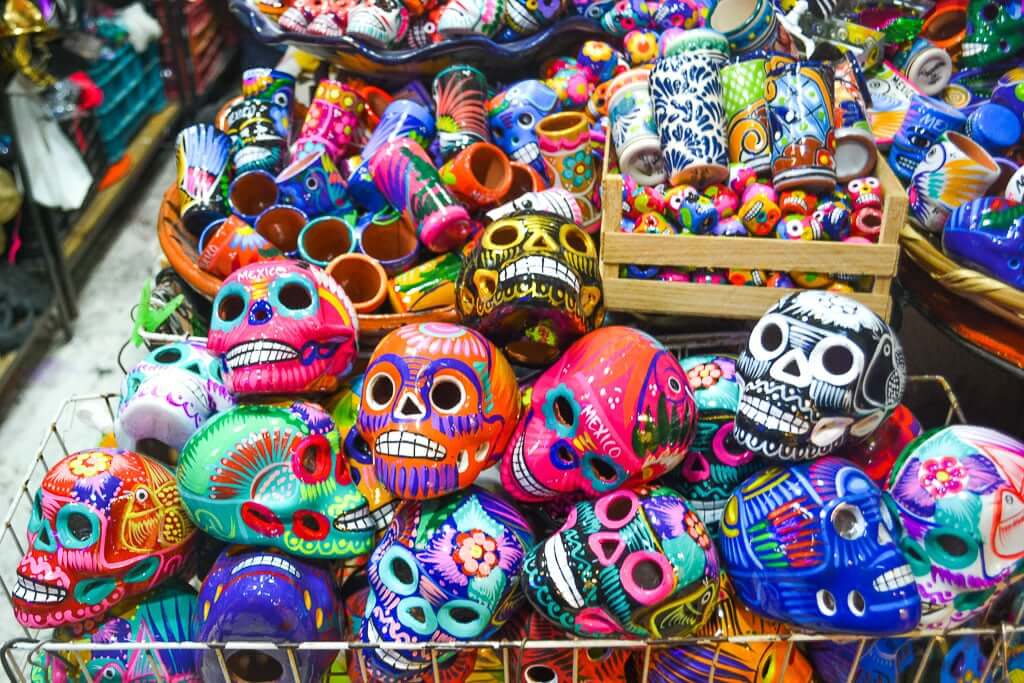 Check out a traditional Mexican market near the historic center – the La Merced Market for a truly immersive experience of Mexican culture. The market is open every day from 6:00am – 7:00pm and is free to visit.
There are hundreds of stalls at the La Merced and entering the market is really like a maze where you discover treasures at every corner. I would recommend taking a guided tour through La Merced for a memorable cultural and culinary experience through, what I would call, one of the busiest parts of Mexico City. Check out this epic La Merced tour by Eat Mexico.
---
Join a Food Tour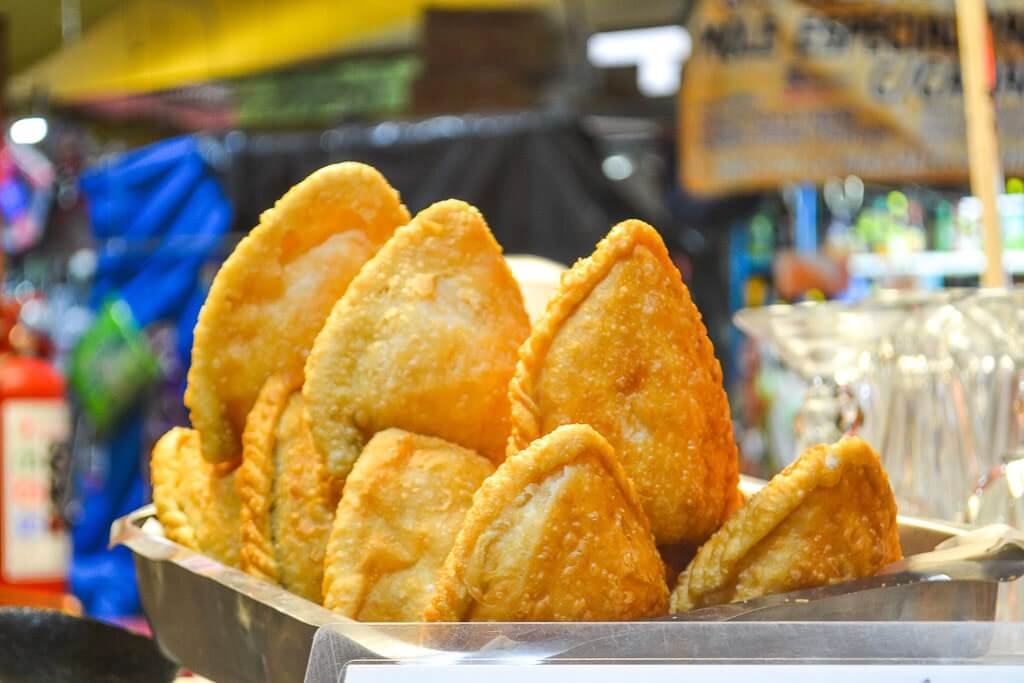 Mexico City is a destination for foodies and there are hundreds of delicacies waiting to be tried here. Whether it is trying traditional Mexican cuisine in Polanco, hunting for your favorite tacos in the historic center, or looking for the best vegan food in Roma Norte, Mexico City has something for everyone.
Here are some of the most popular Mexico City food tours that you can sign up for.
Historic Center Walking Tour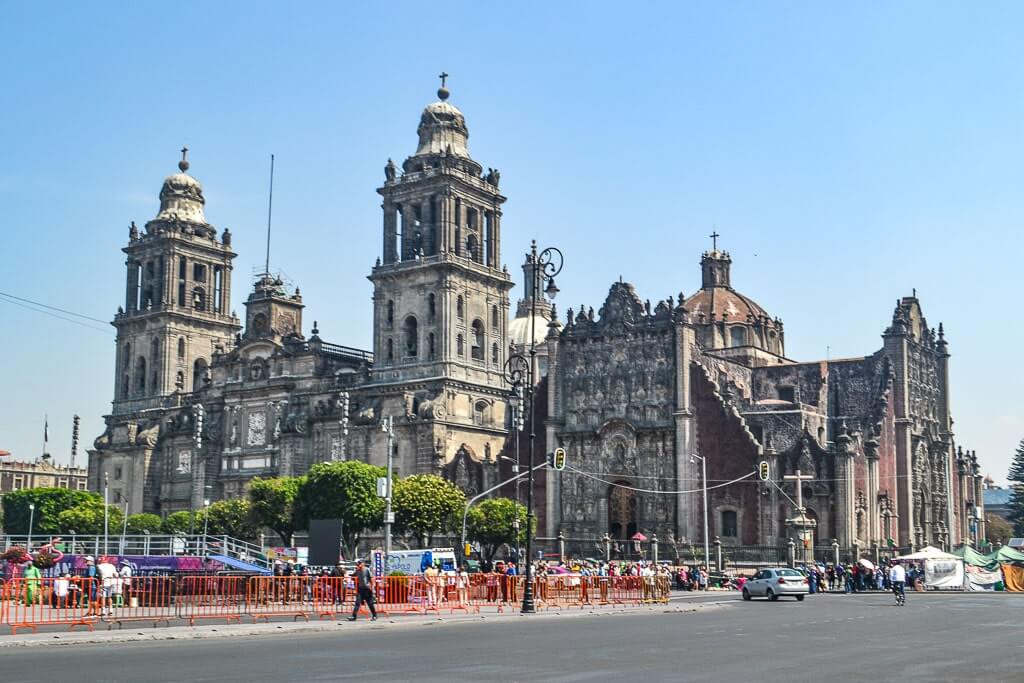 Yet another thing to do in Mexico City on a Monday is to join a walking tour of the historic center. It is great thing to do if this is your first day in Mexico City and you'd like to get a feel of the historic center.
On this highly-recommended, 3+ hours downtown walking tour, you'll see some of the most iconic landmarks such as the Metropolitan Cathedral, Palacio de Bellas Artes, the Postal Palace, and Plaza Manuel Tolsa with a local tour guide.
But remember that some of these attractions will be closed on a Monday, in case you'd like to come back later and check out their interiors. You can see all of them from outside, nonetheless.
---
Loved our guide to visiting Mexico City on a Monday? Pin it for later!