Last Updated on September 23, 2023 by Soumya
Looking for the best things to do in Coyoacan, Mexico City?
Are you traveling to Coyoacan in Mexico City and contemplating what to do?
Looking for the best places to visit in Coyoacan? Wondering if spending a day in Coyoacan is gonna be worth it?
Well, look no further. Because we have just the perfect Coyoacan travel guide for you that's full of all kinds of information – top things to do in Coyoacan, best restaurants, where to stay, and how to get there. Yes, and all of this peppered with personal experiences.
The neighborhood of Coyoacan is one of the most popular ones in Mexico City.
Why? Because it is home to the famous Frida Kahlo Museum – a blue house where Kahlo spent a good part of her life.
While Frida Kahlo Museum is the reason many people visit Coyoacan, the neighborhood also has other beautiful attractions that often go unnoticed.
In this ultimate travel bucket list, we touch upon the popular Coyoacan attractions as well as the hidden gems so that you don't miss out. So, let's get started.
Also Read: How to get Frida Kahlo Museum tickets, even when sold out?
Please note: This post may contain affiliate links which means I may earn a commission if you make a purchase by clicking a link on this post. This will be at no additional cost to you. Affiliate links help me keep this website up and running. Thanks for your support!
My Top Pick: The Best Coyoacan Tour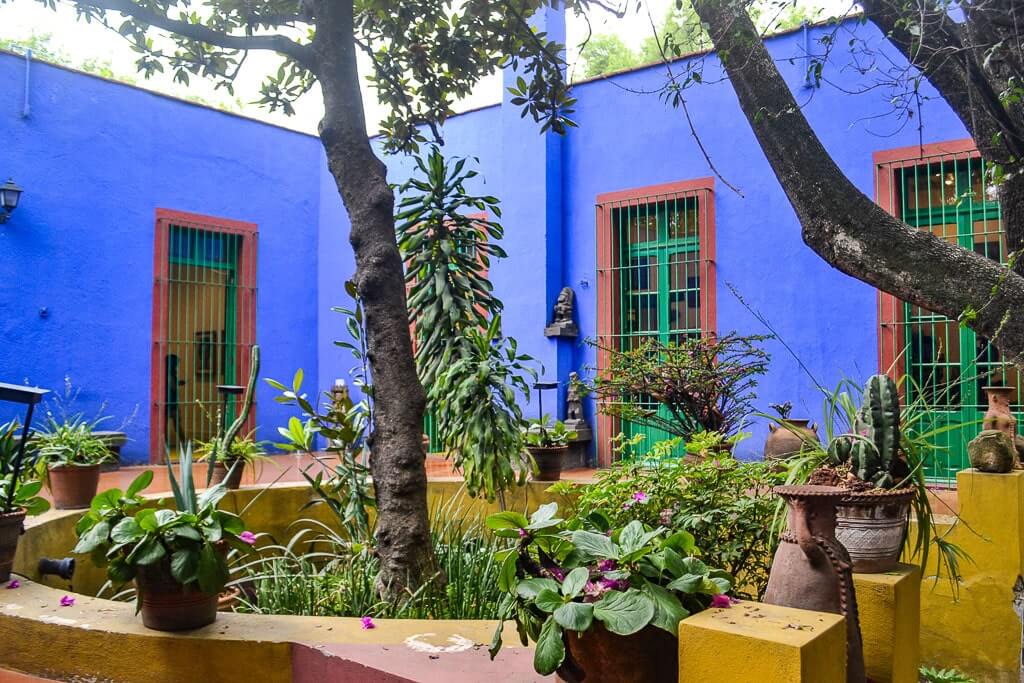 ✔️ Frida Kahlo Museum, Coyoacan, & Xochimilco
✔️ 6 – 7 hours, Pick-up Included
About Coyoacan, Mexico City
Coyoacan is one of Mexico City's most charming neighborhoods.
With unending rows of colorful houses, numerous colonial churches, an abundance verdant green spaces, and lots of art galleries and museums, Coyoacan is an interesting addition to every Mexico City itinerary.
Whether you are in Mexico City for two days or twenty, you have to visit Coyoacan.
Coyoacan is a Nauhatl word that means "the place of coyotes". It is pronounced KOY-oh-ə-KAHN.
Once upon a time, many coyotes roamed in this part of the Mexico Valley. Now, you'll see only two of them (in stone) at the Coyote Fountain in the middle of the Centennial Park in Coyoacan.
Coyoacan's most iconic landmark is Casa Azul or the Blue House that was Frida Kahlo's home for many years. It has now been turned into a museum.
Of course, Casa Azul is the most visited place in Coyoacan. But there are many other amazing attractions such as the Coyoacan Market, San Juan Bautista Church, Leon Trotsky Museum that are absolutely worth a visit.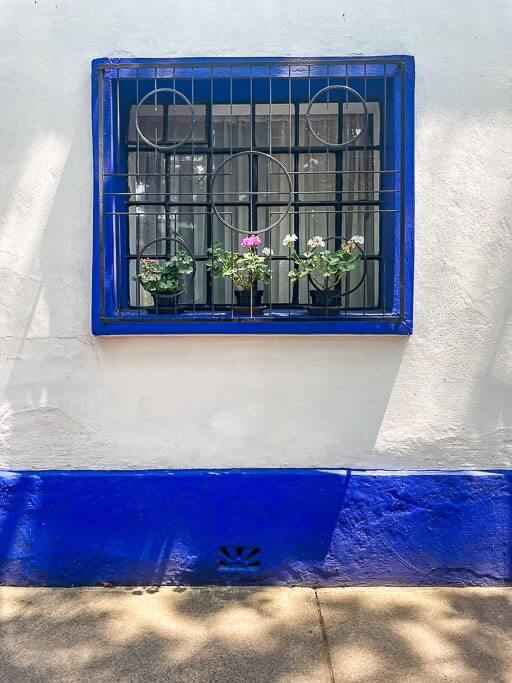 How to get to Coyoacan from Mexico City?
Getting to Coyoacan by metro
The cheapest and quickest way to get to Coyoacan from Mexico City is by metro.
There are a few metro stations that service the Coyoacan neighborhood.
General Anaya Station on Line 2 and Coyoacan & Viveros/Derechos stations on Line 3 are the easiest to get to from Mexico City Center. Here's how you can do it.
To get to General Anaya, board Metro Line 2 from Bellas Artes/Zocalo/Pino Suarez in the direction of Tasquena.
To get to Coyoacan or Viveros metro stations, board Metro Line 3 towards Universidad from Hidalgo Station in the city.
Each ride on the metro costs 5 pesos (approx. 30 cents).
It is best to buy a rechargeable metro card known as Tarjeta de Movilidad Integrada (Integrated Mobility Card) for 15 pesos and top it as you go.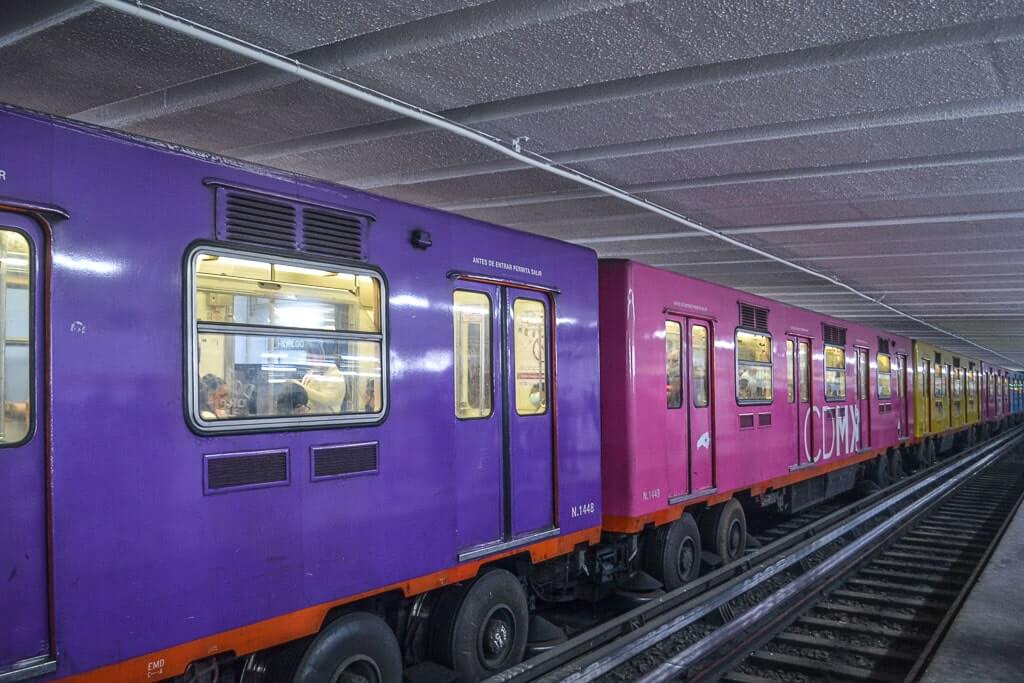 Getting to Coyoacan by car
The most convenient way to get to Coyoacan from Mexico City is by taxi or renting your own car.
You can hire a Sitio taxi or book an Uber or DiDi cab.
We use both Uber and DiDi frequently on all our trips to Mexico City and they are super safe and convenient.
Getting to Coyoacan by tour
Guided tours are a great way to see the best of Coyoacan without even having to bother how to get there.
Most guided tours include pick up from your hotel or a common meeting point in Mexico City.
Here are a couple of great Coyoacan tours that you should definitely check out.
Best Cultural Things to do in Coyoacan, Mexico City
Casa Azul or Frida Kahlo Museum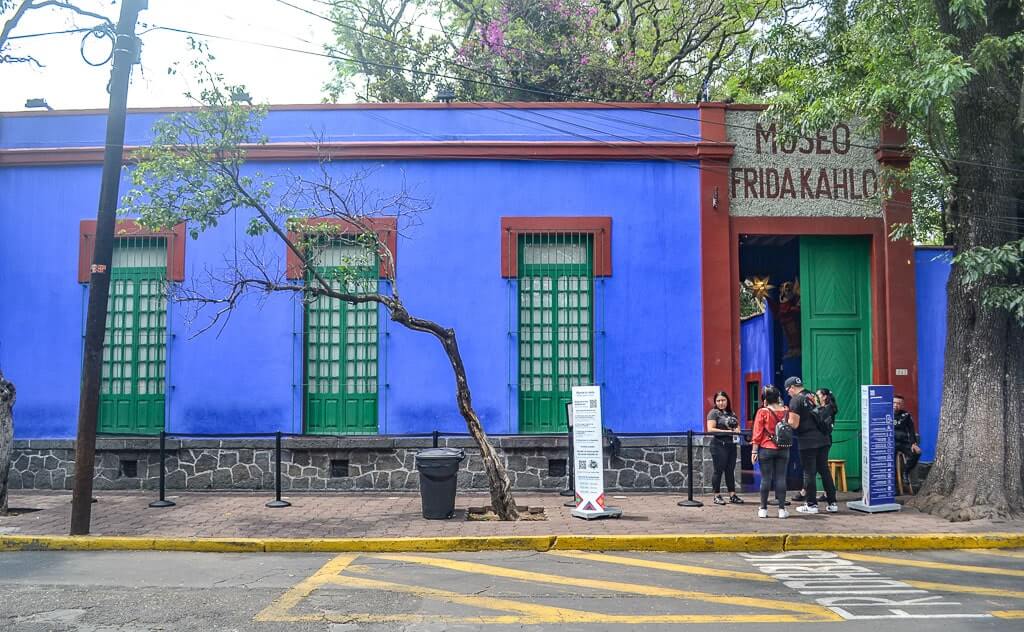 Visiting Casa Azul (the Blue House or Frida Kahlo Museum) is one of the best things to do in Coyoacan, Mexico.
In fact, Casa Azul is the reason many of us flock to Coyoacan in the first place!
Casa Azul is the famous residence of Frida Kahlo located at the corner of Ignacio Allende and Londres St. (Google Maps).
With green doors & windows and bright blue walls bordered in red, Casa Azul is an admirable building.
Frida Kahlo spent a good part of her life at Casa Azul. She was born here, grew up, lived with her husband Diego Rivera, and breathed her last in this historic house.
Today, the Blue House is a museum dedicated to Frida Kahlo – her art, her collections, and snippets of her life.
Some of the most iconic paintings on display include Viva la Vida (Long Live Life) and Kahlo's first self portrait.
There's even an exhibition on the dresses she wore and how she used them to cover the aftermath of numerous accidents and surgeries that she went through.
The garden inside the house is beautiful and a strong reminder of Frida Kahlo's personal space.
Casa Azul is truly the best place for all Frida Kahlo lovers out there. Also, a mecca for art and history enthusiasts.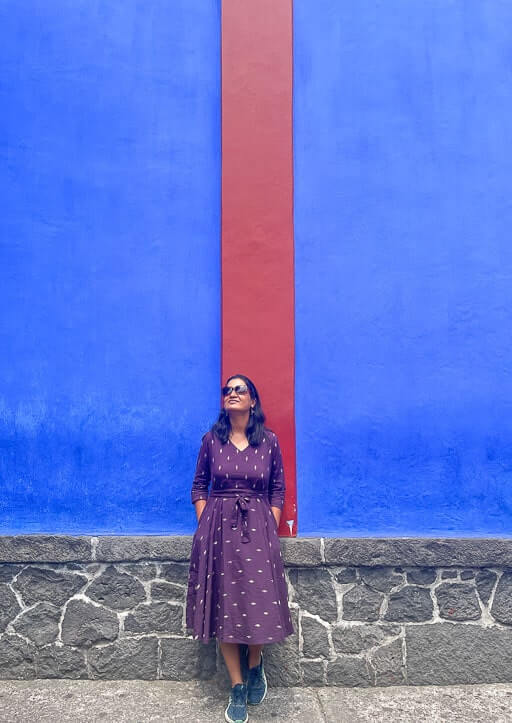 Tickets to Casa Azul
Tickets to Frida Kahlo Museum sell out pretty fast. So, remember to book yours at least a week before your planned visit.
You can book Frida Kahlo Museum tickets on the official website here.
If tickets are sold out on the museum website, don't worry.
There's a high chance that you'll get them on Tiqets, Get Your Guide, or Viator, albeit at a slightly higher price. Usually, Tiqets is the cheapest. But I strongly recommend that you check all three before booking.
We landed in a difficult situation when Casa Azul tickets were sold out on our preferred day (not once but twice!), both on the museum website and on Get Your Guide.
Thankfully, we got our tickets on Tiqets here. I enjoyed my tour of Frida Kahlo house and wouldn't have missed it for anything in the world.
Leon Trotsky Museum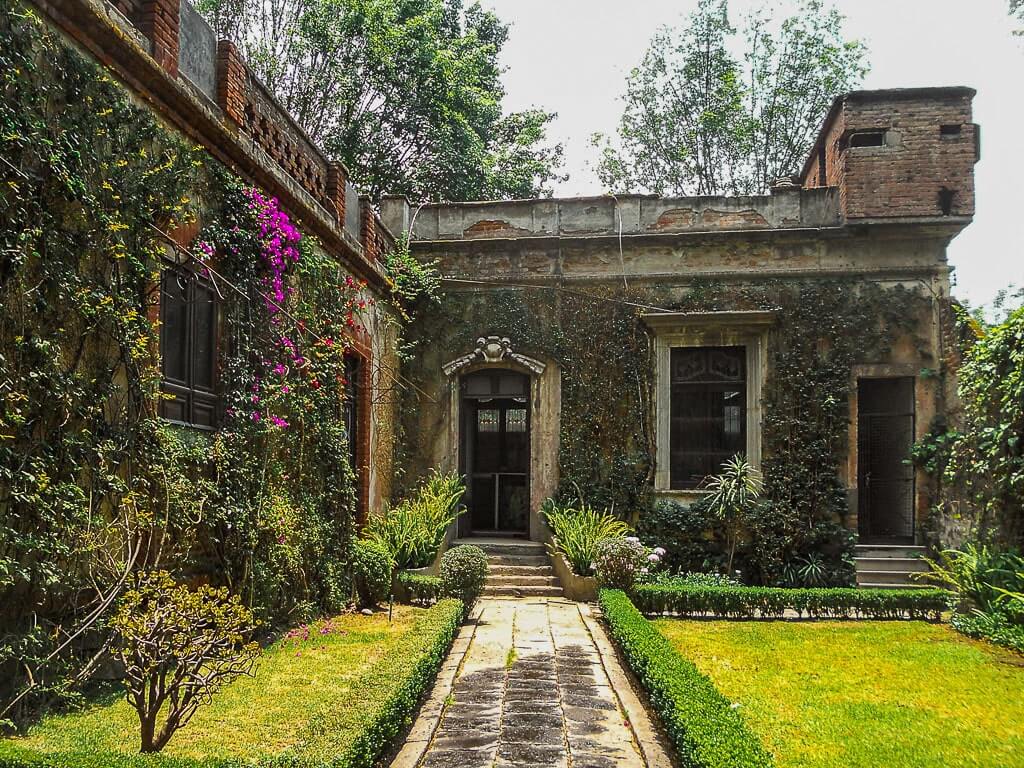 Coyoacan has always been a refuge for famous people including the leading Russian revolutionary, Leon Trotsky.
After being exiled from the Soviet Union, Trotsky spent a good deal of time in the Buyukada Princes Island of Turkey after which he was offered asylum in France and Norway. His last move was to Mexico City.
When Trotsky and his wife, Natalia, arrived in Mexico City, they became friends with Rivera and Kahlo and lived with them for a while.
However, they soon fell out and moved to the another place in Coyoacan, just a few blocks away from Casa Azul.
Leon Trotsky spent the last years of his life in the same house that is the Leon Trotsky Museum today. One of Stalin's agents murdered Trotsky in this house in 1940.
The museum depicts Trotsky's life in Mexico and his vision for the world.
There aren't too many signs in English but you can buy an English guidebook from the gift shop for a detailed history of the place and its inhabitants.
The museum is open 10:00am – 5:00pm, Tuesday – Sunday. You can buy tickets on site.
Or book this popular tour that takes you through both Frida Kahlo Museum and Leon Trotsky Museum. In the absence of adequate English signage, this tour is an absolute lifesaver.
San Juan Bautista Church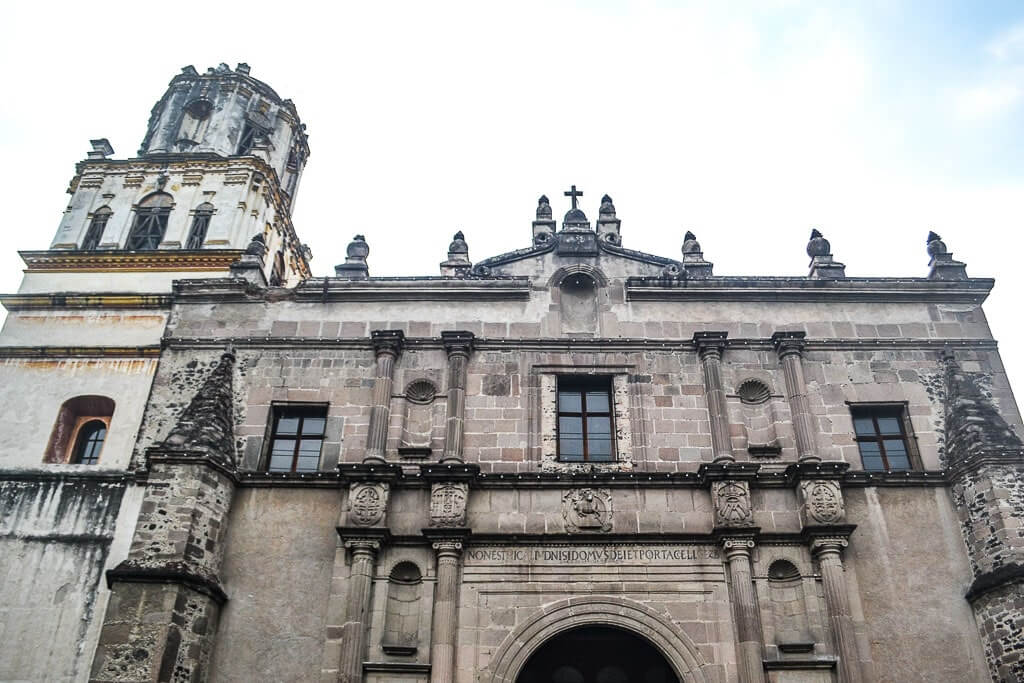 One of the oldest churches in the Americas (built in the first decade of Spanish conquest), Parroquia de San Juan Bautista is a beautiful church with a simple facade and an ornate, gilded interior.
Be sure to look up to see the beautiful frescoes that line the church's vaulted ceiling.
The church is a national historic monument since 1934 and a beautiful place to add to your Coyoacan bucket list.
The fact that it is at the southern end of Jardin Hidalgo makes it an easy addition to your Coyoacan itinerary.
More Churches in Coyoacan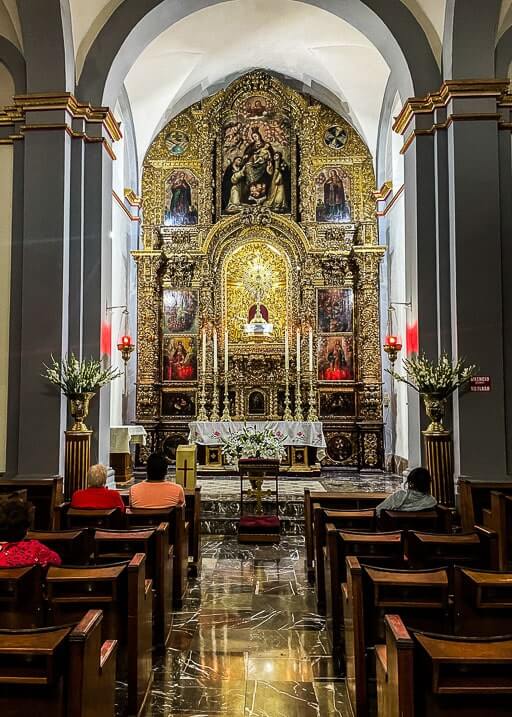 The atmospheric old town of Coyoacan is full of beautiful churches.
Parroquia de San Juan Bautista is the largest but there are many more smaller ones with beautiful facades & interiors as well as some interesting history.
This private walking tour takes you through some of these hidden Coyoacan churches and more. Click here to check what's included.
Here are some of my favorite churches in the neighborhood.
Iglesia de Santa Catarina: A bright yellow colored Baroque church dating to the 16th century. Perfect for people seeking calm and quiet.
Capilla de la Conchita: Church of the Immaculate Conception or Capilla de la Conchita is a beautiful church that Hernan Cortes built for his Nauhatl mistress, La Malinche. The rich baroque ornamentation on the facade is worth a look.
Join this private walking tour to see these beautiful churches of Coyoacan and some more. ➡️ BOOK NOW
Diego Rivera Anahuacalli Museum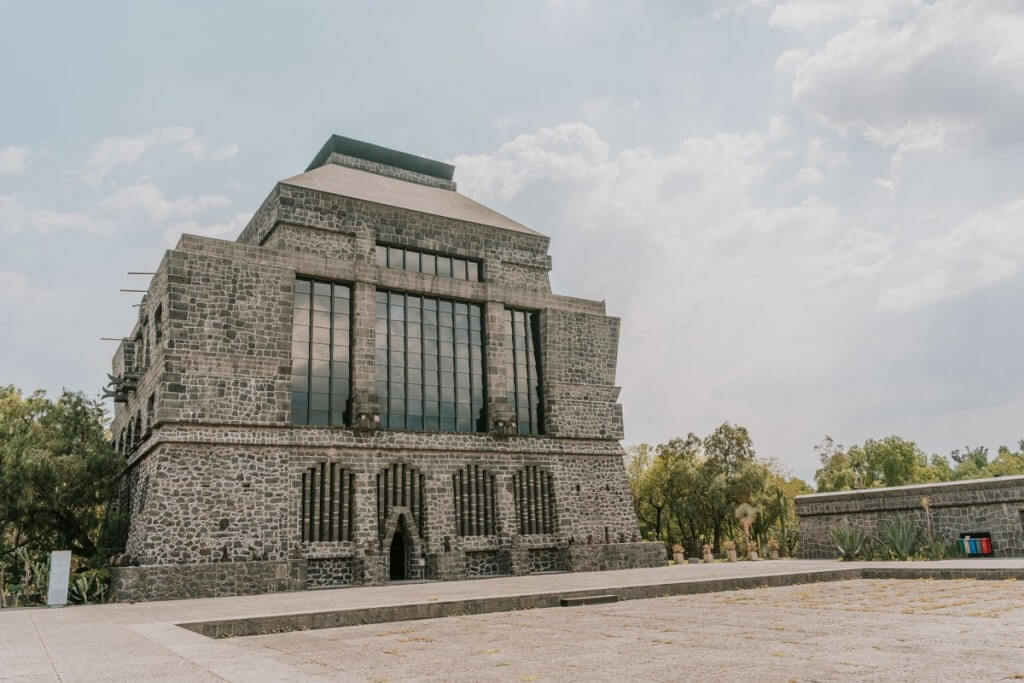 Diego Rivera was fond of collecting pre-Hispanic artifacts.
Over time, he collected so many of them that he decided to build a museum to house them. And the Anahuacalli Museum was born!
Built in 1964, the Anahuacalli Museum is now home to over 2000 pre-Columbian artifacts from the times of Teotihuacan, the Toltecs, the Olmecs, and many more.
You can also see some early mural sketches by Rivera in the museum.
Diego Rivera Anahuacalli Museum is open Tuesday – Sunday, 11:00am – 5:30pm.
Note that admission to Anahuacalli Museum is included in the Frida Kahlo Museum ticket.
If you wish, you can sign up for this Kahlo and Rivera Legacy Tour that includes Anahuacalli Museum along with Frida Kahlo Museum and Rivera & Kahlo House Studio.
Diego Rivera and Frida Kahlo Studio House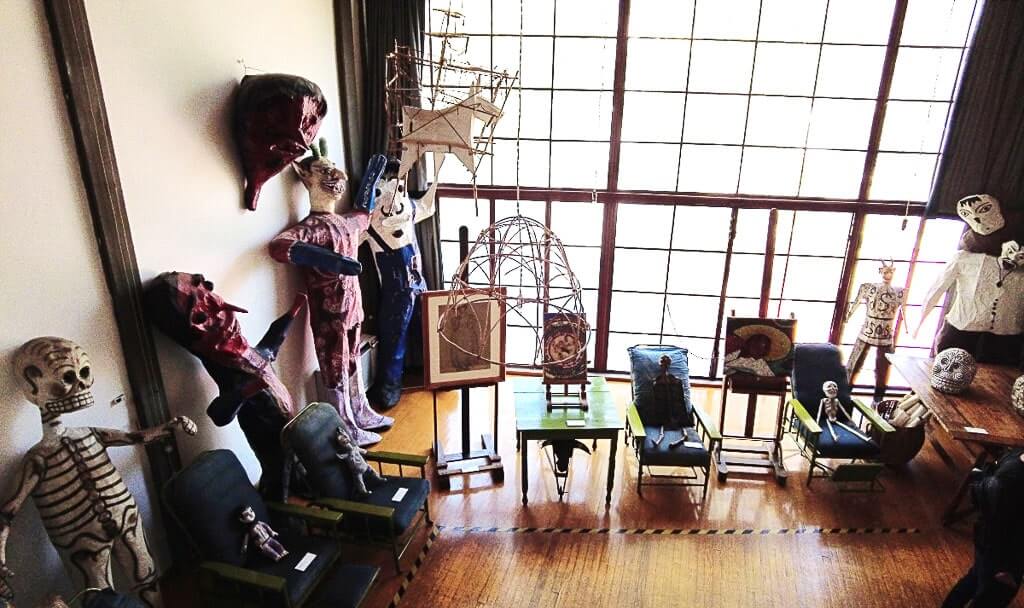 Next up on this Coyoacan bucket list is another Kahlo and Rivera Museum called the Diego Rivera and Frida Kahlo Studio House.
The House Studio is a set of two houses connected by a bridge. The left (red and white) house was Rivera's whereas the right (blue) house was Kahlo's.
The architecture is very functional – straight lines, tall windows, and minimal decor. Inside Rivera's house, you'll see his interesting collection of paper mache dolls called the "Judas" collection.
While Rivera lived at the Studio House for a long period of his life, Kahlo only stayed here in 1934 before moving back to Casa Azul again.
National Museum of Popular Culture
A vibrant, orange-colored building, the National Museum of Popular Culture is dedicated to the culturally diverse groups of Mexico.
It is a small museum but has an interesting collection of folk art and displays of ceremonies and festivals. A nice immersion into contemporary Mexican culture, I would say.
Souvenir Shopping at Coyoacan Mercado Artesanal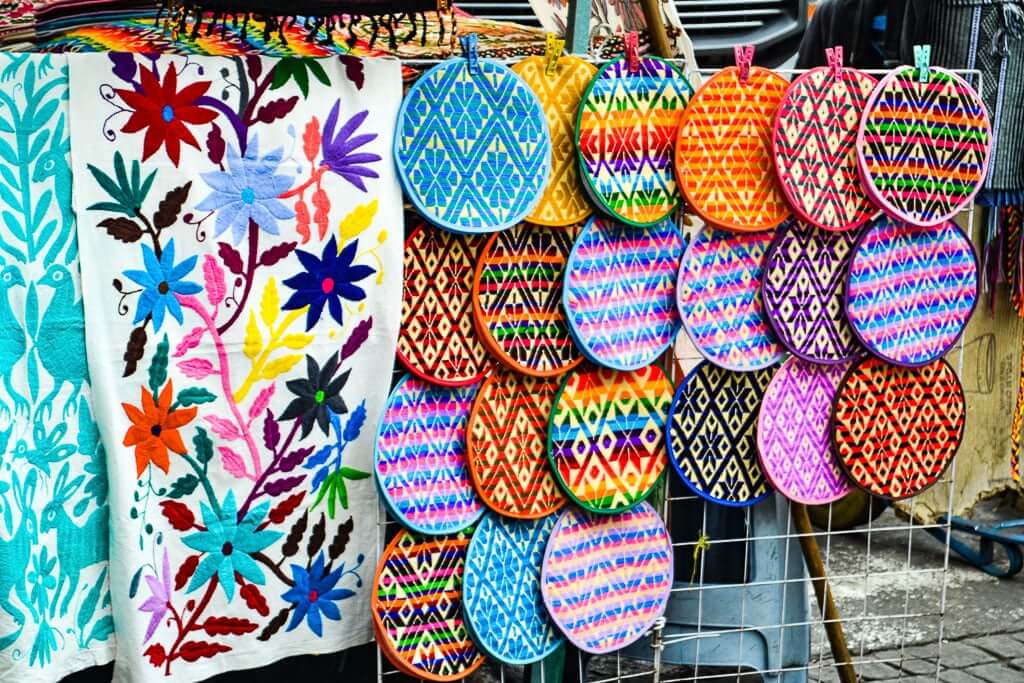 At the end of this list of cultural things to do in Coyoacan, we have the most relaxing and stress-busting thing for you to do in Mexico – shopping!
Yeah, who doesn't like shopping for cultural knick-knacks when in Mexico.
And the Handicrafts Market (or Mercado Artesanal) is full of amazing Mexican souvenirs and collectibles.
Mercado Artesanal Mexicano is a large covered market where you'll see all kinds of handicrafts from colorful shawls and traditional toys to the more fridge magnets and key rings.
At the end of your fun-filled day in Coyoacan, if you wish to take a bit of Mexico with you, then the Handicrafts Market is the best place to do that.
✦ Pro Tip: Looking to buy the best Mexico souvenirs? Check out our post on the 27 most iconic things to buy in Mexico.
Best Foodie Things to do in Coyoacan
Explore the Treasures of Coyoacan Market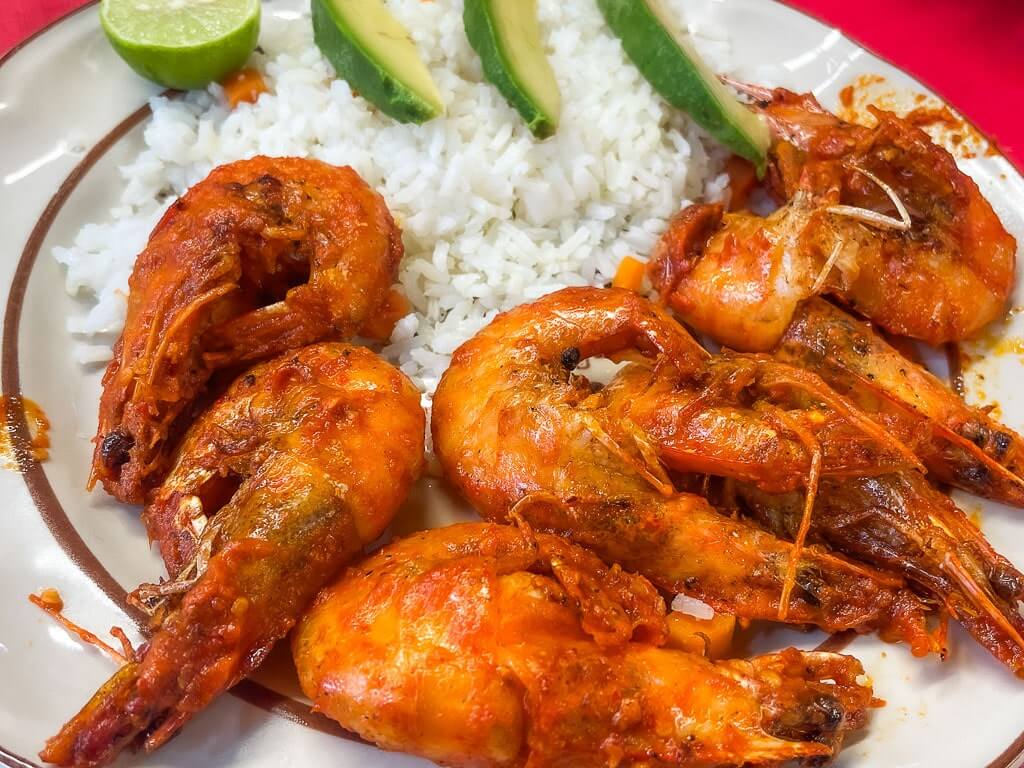 If you love Mexican street food, then Mercado Coyoacan is the best place to taste some of the most delicious street food in Mexico City.
The market has numerous counters selling everything from fresh fruits and vegetables to groceries and clothing.
But the highlight is, of course, the rows of food vendors that can dish out a perfect Mexican meal in a jiffy.
Here's a list of some of the must-try dishes at the Mercado de Coyoacan.
Gorditas: Masa bread stuffed with anything from cheese, meat, and potatoes and then shallow fried in oil.
Shrimp: Locals often toss their shrimps in fiery hot diablo sauce or deep fry them and have it alongside bread or tortillas. If you're fan of spicy, hot food, then you should totally go with shrimp diablo.
Tostadas: Crispy corn tortillas topped with various ingredients such as beans, cheese, meat, or vegetables.
Aguas frescas: Refreshing drinks made of fruit, water, and sugar. Popular flavors include horchata (made with rice, milk, and cinnamon), jamaica (made with hibiscus flowers), and tamarind.
I had the most amazing shrimp diablo of my life at Mercado Coyoacan and the old couple that managed the stall was the sweetest. Washing it down with a glass of jamaica was the best way to do it.
---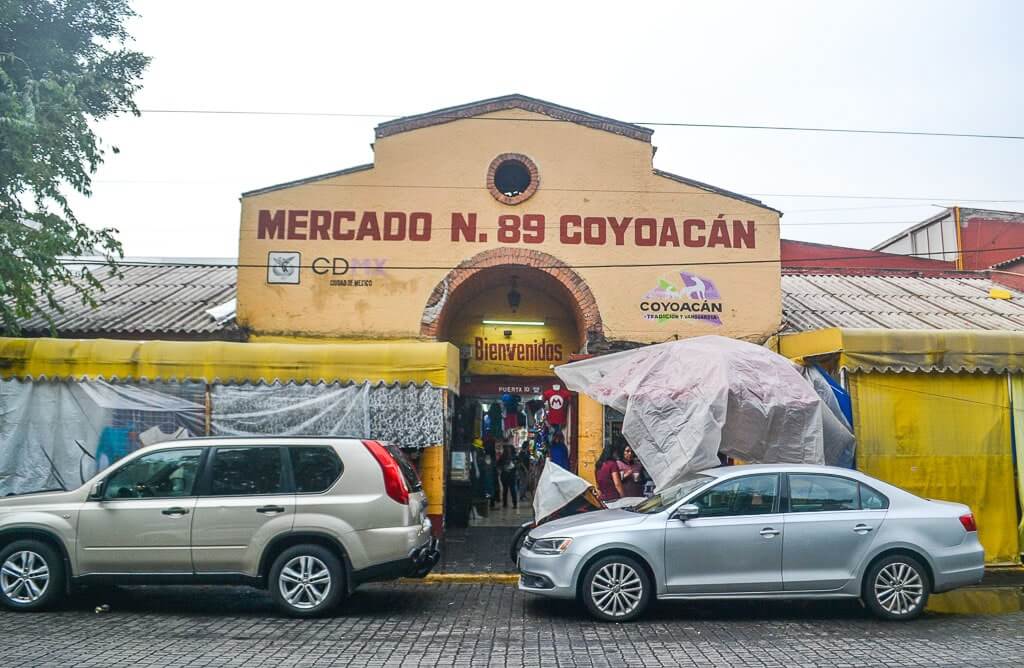 Eat Churros in Coyoacan
Sure you've eaten lots of churros in Mexico City. But you've to try the churros of Coyoacan because they are the best.
In Coyoacan, you'll find churros rellenos or churros stuffed with chocolate, nutella, or fresh fruits like mango, kiwi, and strawberry.
Churreria General de la Republica is one of my favorite places to have churros in Coyoacan. Their freshly-made churros are too good especially the cinnamon ones. So, don't miss them on your Coyoacan visit.
Churrería El Moro is another legendary churro shop that has been around since 1935. This shop is famous for its delicious churros and hot chocolate, must-tries when visiting Coyoacan. They have several outlets throughout Mexico City including one in the historic downtown.
📖 Related Read: Visiting Mexico City? Then you have to check our article on the 20 Best Things to do in the Historic Center of Mexico City.
Try new street foods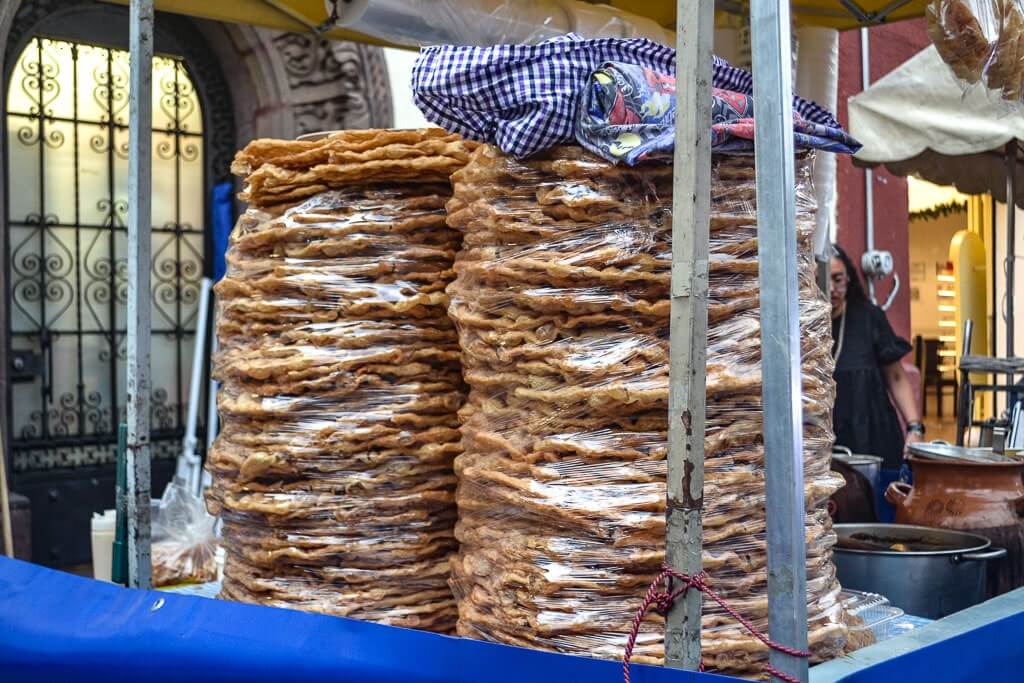 Coyoacan Mexico is also the best place to try new street foods.
In Coyoacan, I found plenty of Mexican bunuelos – crispy, fried dough disks that are often served as Christmas treats.
You can eat them as is or try the ones soaked in cinnamon syrup. Heavenly!
We also tried a version of sweet fried dough – something that looked and tasted like a chiacchiere, the Italian carnival food. And there was plenty of cream-filled pan dulce in all shapes and sizes.
The area around Plaza Hidalgo, Jardin Centennario, and Mercado Coyoacan are full of street vendors selling all kinds of delicacies.
You'll also find exotic fruits including the sweet Mexican mamey.
Cafe El Jarocho
Looking for the best coffee in Coyoacan? Head to the famous Cafe El Jarocho.
Dating to the 1950s, Cafe El Jarocho is an institution in itself. And undoubtedly, the best place to have a cuppa in Coyoacan.
They have all kinds of coffee from the traditional Cafe de Olla (Mexican spiced coffee brewed with cinnamon and sugar) to the more regular cappuccino and espresso.
Pair your coffee with a pan dulce and enjoy it on a bench outside the coffee shop while swaying to the notes of a street musician.
Cafe El Jarocho is a true Mexican experience waiting to be savored in Coyoacan.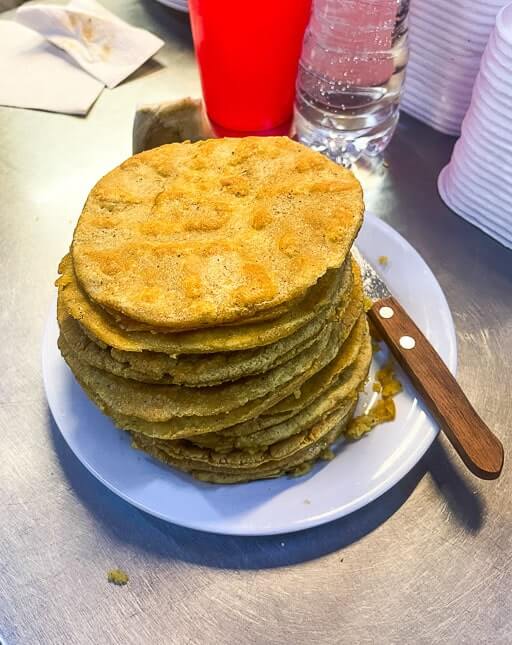 Dine at Cantina la Coyoacana
If you love traditional Mexican food with a good ambience and some nice Mariachi music, stop by Cantina La Coyoacana.
Cantina La Coyoacana is an authentic Mexican cantina with lots of good food and snacks coupled with drinks.
They have Mariachi bands playing every day, 4:00pm onward.
Best Outdoorsy Things to do in Coyoacan
Fuente de los Coyotes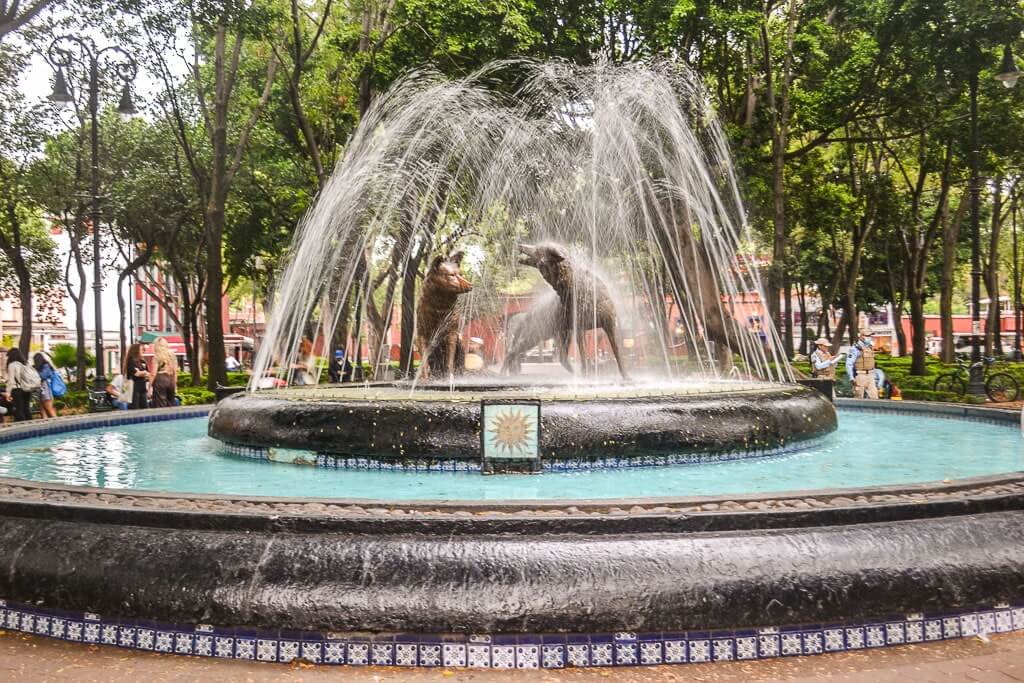 When you're visiting Coyoacan in Mexico City, you have to see the Fountain of Coyotes or "Fuente de los Coyotes".
After all, the Coyote Fountain is where Coyoacan gets its name from!
Located right in the middle of the Centennial Park (Jardin Centenario), the Fountain of Coyotes is emblematic of Coyoacan and an important Mexico City landmark. Obviously, there's a lot of history attached with it.
In the olden times, coyotes were abundant in the Valley of Mexico especially in the area around Coyoacan. That's how the region got its name.
The Aztecs worshipped coyotes in the form of deity called Huehuecoyotl. Therefore, a Mexican artist created the Fountain of Coyotes in 1967 as a symbol of Coyoacan's rich cultural heritage and historic past.
Today, the fountain is a favorite rest and photography spot in Coyoacan both among locals and tourists.
📖 Related Read: If you love exploring historical landmarks while traveling, then you'll enjoy our post on the 15 Best Mexico City Landmarks to see on your next trip to Mexico.
Plaza Jardin Hidalgo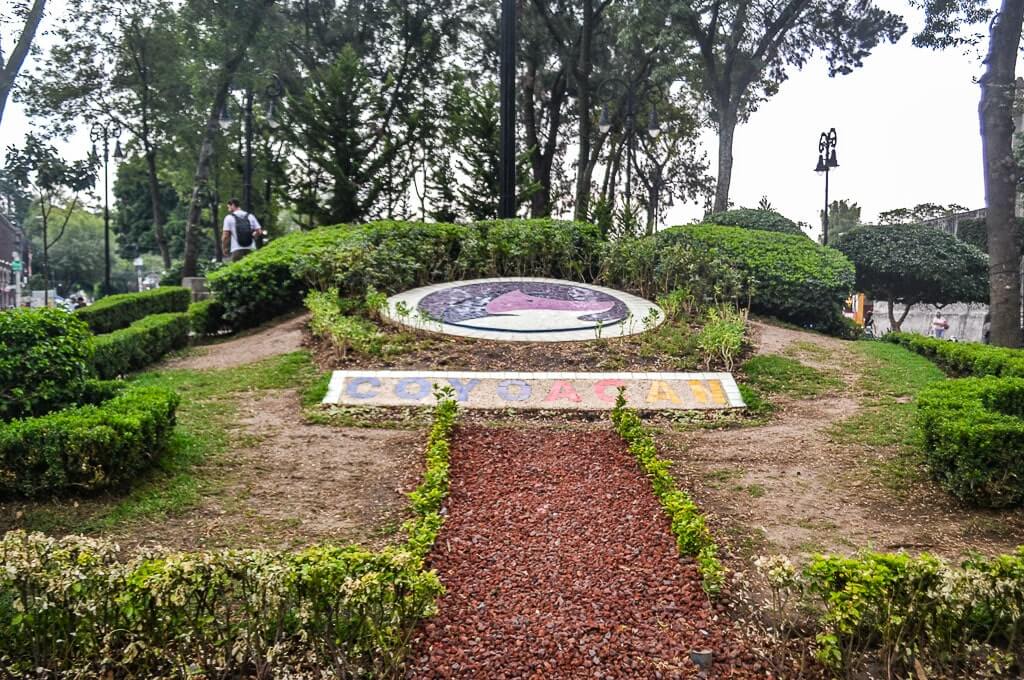 Located right next to the Church of San Juan Bautista, Jardin Hidalgo is a nice and spacious plaza with a cool vibe.
There are numerous restaurants and artisanal shops surrounding the square plus one really cool kiosk dating to the 19th century.
Plaza Jardin Hidalgo is a great place to visit with your family throughout the week.
Weekends can get pretty crowded though with locals coming in for a chat and street performers entertaining everywhere.
But they are one of the nicest times to experience the local culture and soak in the true Coyoacan vibe.
Coyoacan Colorful Letters
Like every other place in Mexico, Coyoacan also has its set of colorful letters where you can pose and click some great pictures.
You'll find the letters right in front of the kiosk at Plaza Hidalgo.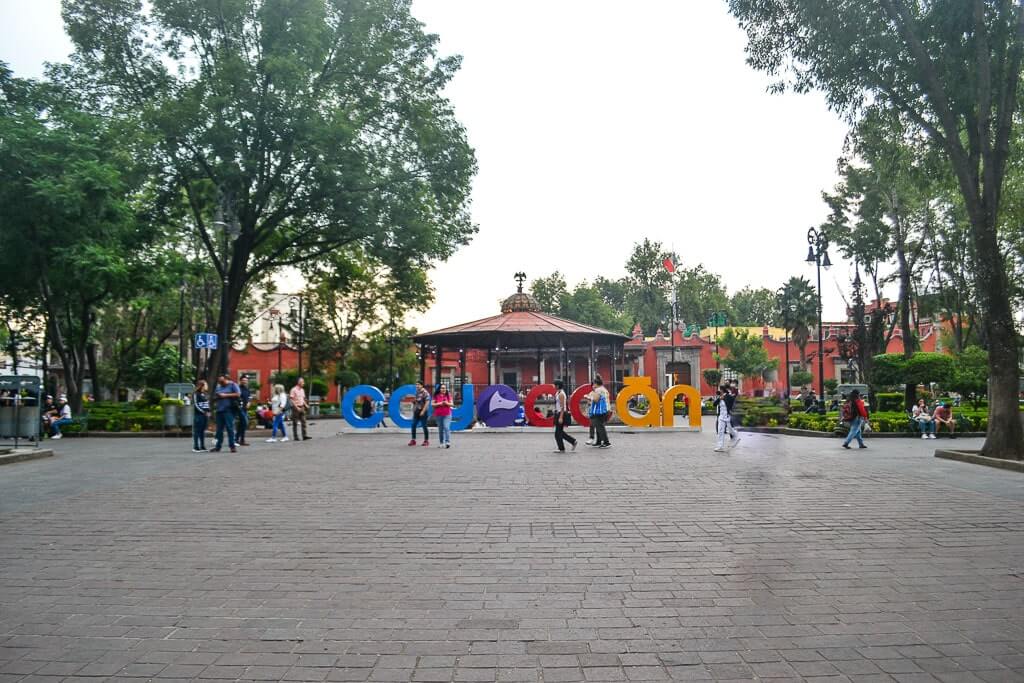 Coyoacan's Colorful Houses
Perhaps the most therapeutic thing to do in Coyoacan is to stroll its charming lanes and spot colorful houses.
The streets of Coyoacan are full of homes in hues of all kinds, pastel and otherwise.
The best thing is to take a walk and click the best pictures for your gram.
Viveros de Coyoacan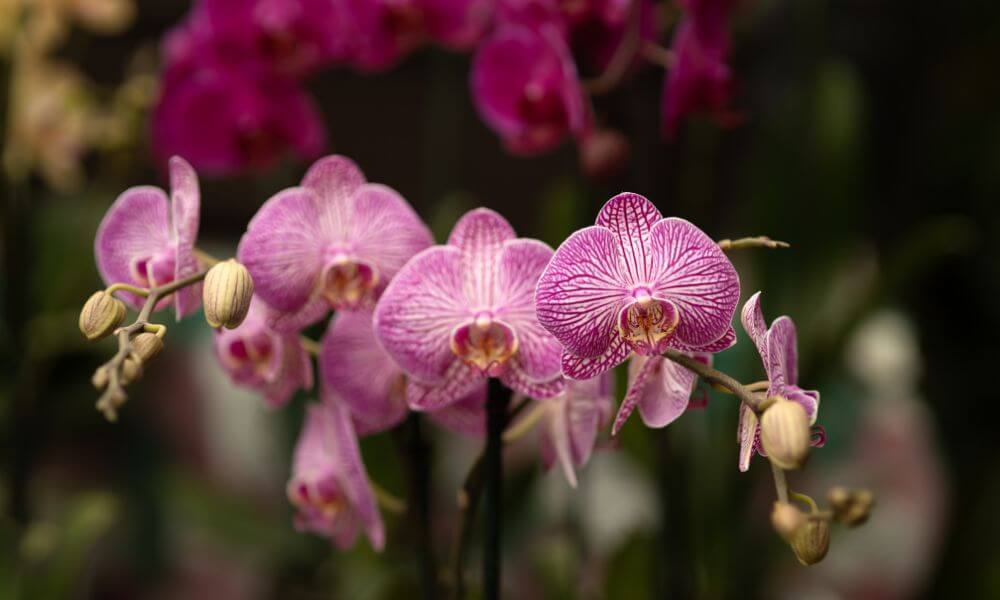 If you're looking for a peaceful, green place to relax and rewind after a long day of sightseeing in Coyoacan, head to Viveros de Coyoacan.
A sprawling urban park located in the heart of the Coyoacan neighborhood, Viveros de Coyoacan is full of trees and flowering plants of all kinds.
They also have a large nursery where they cultivate a large variety of flowering and ornamental plants. Orchids are pretty common.
Plus, there are jogging tracks, cycling paths, and playgrounds if you're looking to burn some calories.
What Bosque de Chapultepec is to CDMX, Viveros de Coyoacan is to Coyoacan. Come here for a breath of fresh air or to simply relax and watch the world go by.
Tram Tour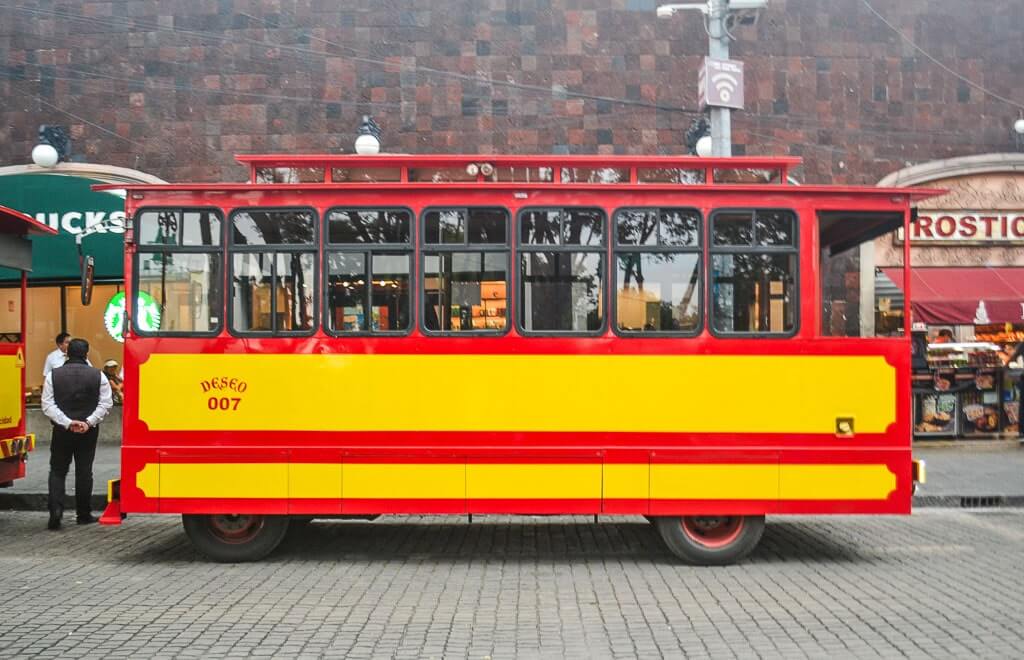 One of the cutest things to do in Coyoacan, Mexico is to ride a yellow and red tram through the historic center.
The tram is a great way to see the best attractions of Coyoacan while listening to live commentary from a professional guide.
You can include a couple of museums or drinks at a favorite restaurant in your tram tour. For details, check their official website here.
Please note: these tram tours are only offered in Spanish. My Spanish is not great. Therefore, I could not take this tour.
But if you're comfortable with Spanish tours, I highly recommend doing this fun tram ride through Coyoacan.
Best Things to do near Coyoacan, Mexico City
Xochimilco Floating Gardens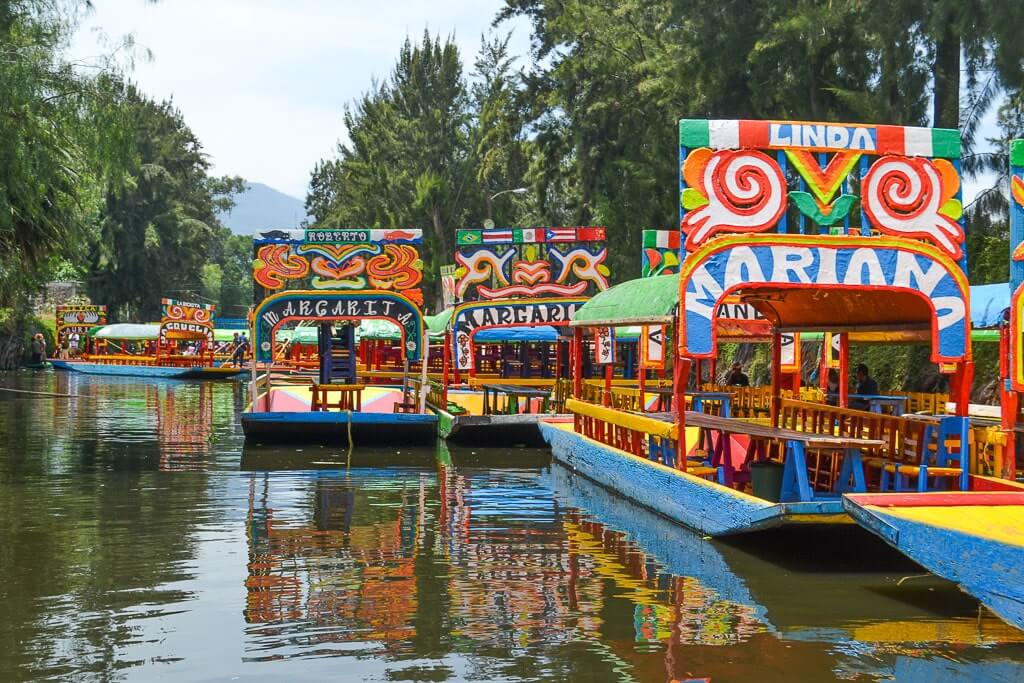 When you are in Coyoacan, you cannot miss visiting the floating gardens of Xochimilco.
A UNESCO world heritage site, the floating gardens or chinampas are one of the best places to visit in Mexico City.
Since the Valley of Mexico was full of lakes, the Aztecs created these artificial islands to feed a growing Aztec empire.
These islands, more than 800 years old, seem to float on water and are a true engineering wonder!
Tourists flock to Xochimilco to see the chinampas and take a boat ride through the canals that separate these islands.
Boat tours in Xochimilco happen on colorful trajineras (a traditional flat bottomed boat) accompanied by food, music, and dance. Therefore, Xochimilco is the highlight of every Mexico City itinerary.
Tours to Coyoacan often have Xochimilco included in their itineraries. So, booking a tour is the most efficient way to see both Coyoacan and Xochimilco together.
Here are a couple of highly-recommended tours that let you see both.
✦ Pro Tip: If you're visiting Xochimilco, then I highly recommend that you read our post on the Best Ways to Visit The Floating Gardens. Also, remember to check our Xochimilco Bucket List for other attractions in this beautiful, colonial borough.
San Angel Neighborhood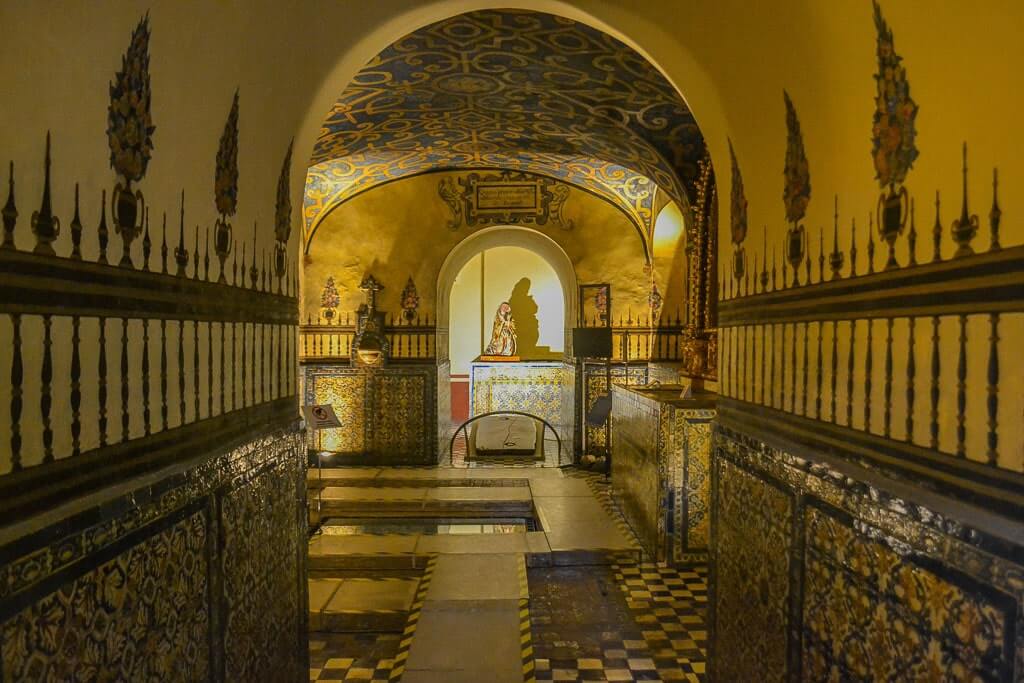 The San Angel neighborhood in Mexico City is often overlooked for the more touristy Coyoacan and Xochimilco.
But guess what? The treasures of San Angel are only a few minutes from Coyoacan, making it perfect to club it with your day trip.
San Angel is home to a true hidden gem – Museo de El Carmen.
Located in the precinct of El Carmen Monastery, Museo de El Carmen is a pretty large museum with a huge collection of paintings, mostly religious.
The museum is also home to 12 mummies dating to the 17th century.
Visiting Museo de El Carmen and checking out these 12 mummy figures is one of the spookiest things to do in Mexico City.
✦ Pro Tip: Do you like to take the road less traveled? Venture off the beaten path on your trips? Then, you'll love our guide for the 20 Best Non-Touristy Things to do in Mexico City.
Murals at UNAM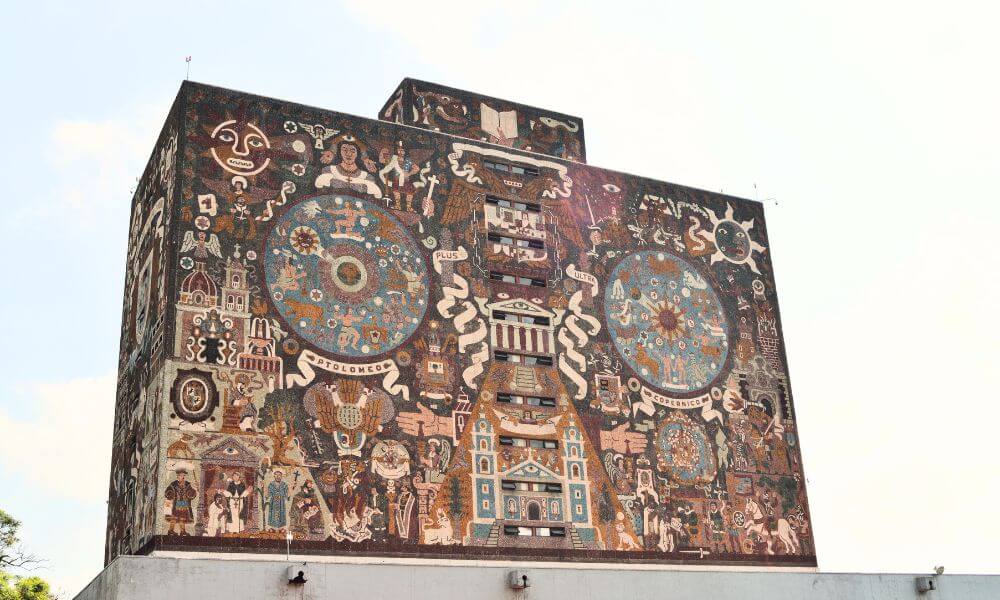 I am happy to let you know that another UNESCO heritage site, the Central Library campus of UNAM (National Autonomous University of Mexico) is super close to Coyoacan, Mexico.
Highlight are the Central Library walls covered with a massive collection of murals called the Historical Representation of Culture.
Created by Juan O'Gorman, this historic mural set depicts the different eras of Mexico – pre-Hispanic, colonial, modern, and university life.
In a way, it is somewhat similar to the History of Mexico mural at the National Palace of Mexico City. Yet, so different and unique!
The best part? UNAM is often included in Coyoacan guided tours from Mexico City. So, you can easily club the two together.
Here's a highly-recommended private tour that includes UNAM alongside Frida Kahlo Museum, Coyoacan, and Xochimilco. ▶️ Check Prices and Availability
Six Flags Mexico
Had your dose of art and culture in Coyoacan? Looking to try something different? Head to Six Flags Mexico.
Six Flags Mexico is a large amusement park located 20 mins to the southwest of Coyoacan.
It is one of Latin America's most visited amusement parks and has a ton of different rides and experiences including a super thrilling Superman rollercoaster.
Six Flags Mexico is open only on Friday, Saturday, and Sunday. Get your admission tickets here.
Interactive Map of Coyoacan Attractions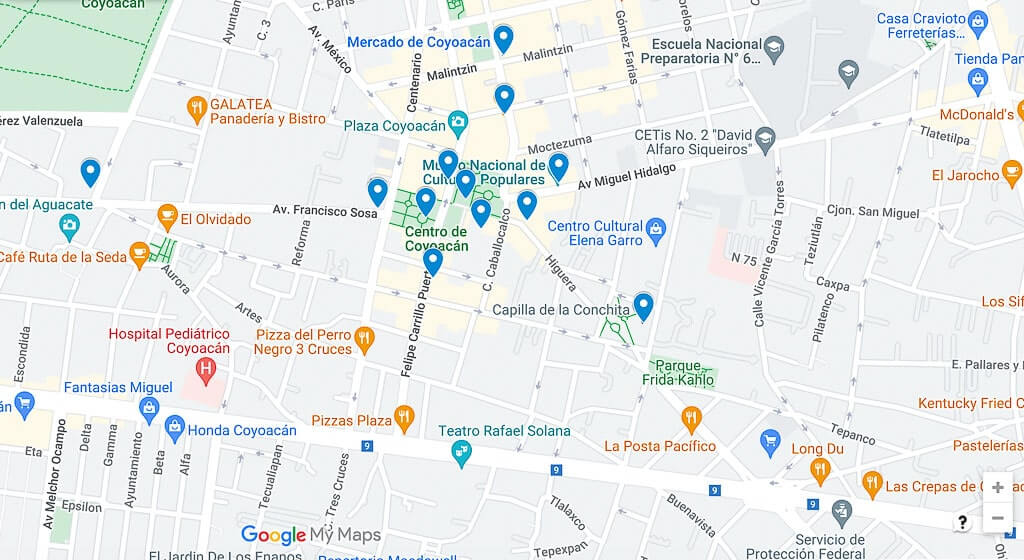 Where to stay in Coyoacan Mexico City?
Since there are so many wonderful things to do in Coyoacan, many travelers often spend a day or two here instead of just visiting as a day trip from Mexico City.
I was planning the same but could not do it due to some personal work that came up last minute.
But here are some of the best Coyoacan hotels that caught my eye.
Casa Tamayo: One of the highest rated properties in Coyoacan, Casa Tamayo is a charming blue house with a beautiful garden attached to it. The interiors are tastefully decorated and it is located minutes away from the Frida Kahlo Museum. ▶️ Check Prices and Availability here.
H21 Hospedaje Boutique: This is a beautiful hotel with lovely rooms with aesthetic interiors and nice and simple breakfast. From here, you can easily walk to the Frida Kahlo Museum. ▶️ BOOK NOW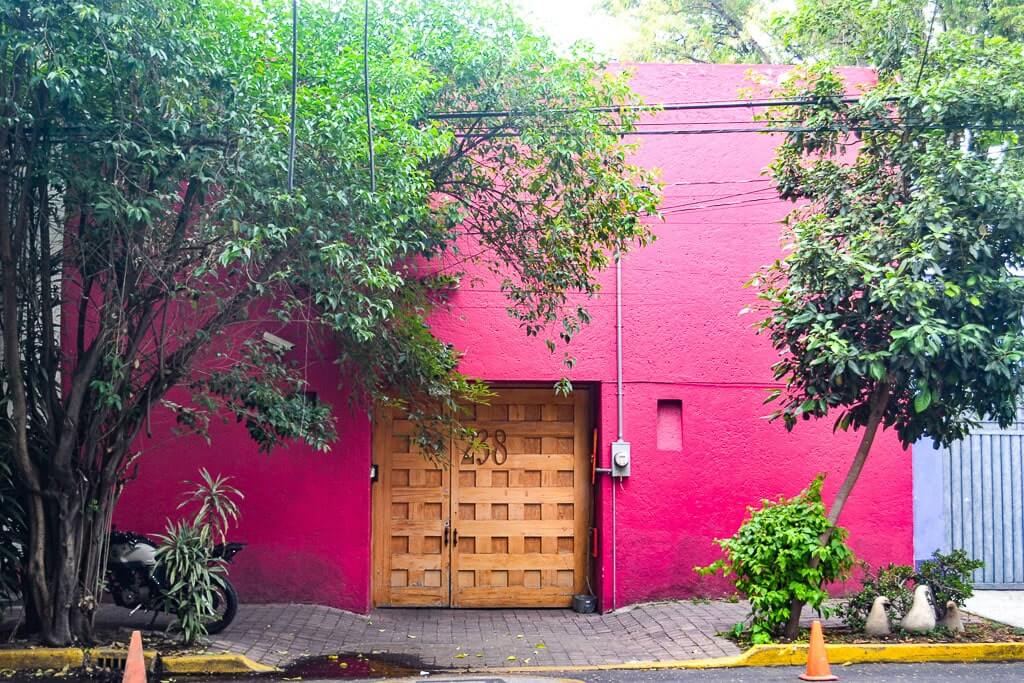 Best Time to Visit Coyoacan
Coyoacan, like Mexico City, is a year-round destination.
But spring (March – May) is ideally the best time to visit Coyoacan because temperatures are perfect and the weather is dry. Nov – Feb is dry but cold.
The wet season begins in mid-May and goes on till mid-October with July & September being the wettest months of the year. So, if you wish to avoid the rains, I recommend that you steer clear of these months.
During the week, the weekdays (Tuesday – Thursday) are quieter days to visit Coyoacan.
Museums are not very crowded and the plazas are not overflowing with people.
However, weekends (Friday – Sunday) are more fun with plenty of street food, music, and dance.
Locals from Mexico City and nearby descend on Coyoacan which makes the place really really busy. Sunday is also when museums are free for Mexicans throughout Mexico.
On Mondays, almost all museums including the Frida Kahlo House are closed. So, Monday is not a good day to be visiting Coyoacan.
If you're in Mexico City on a Monday however, remember to check our guide on how to plan a memorable Monday in Mexico City.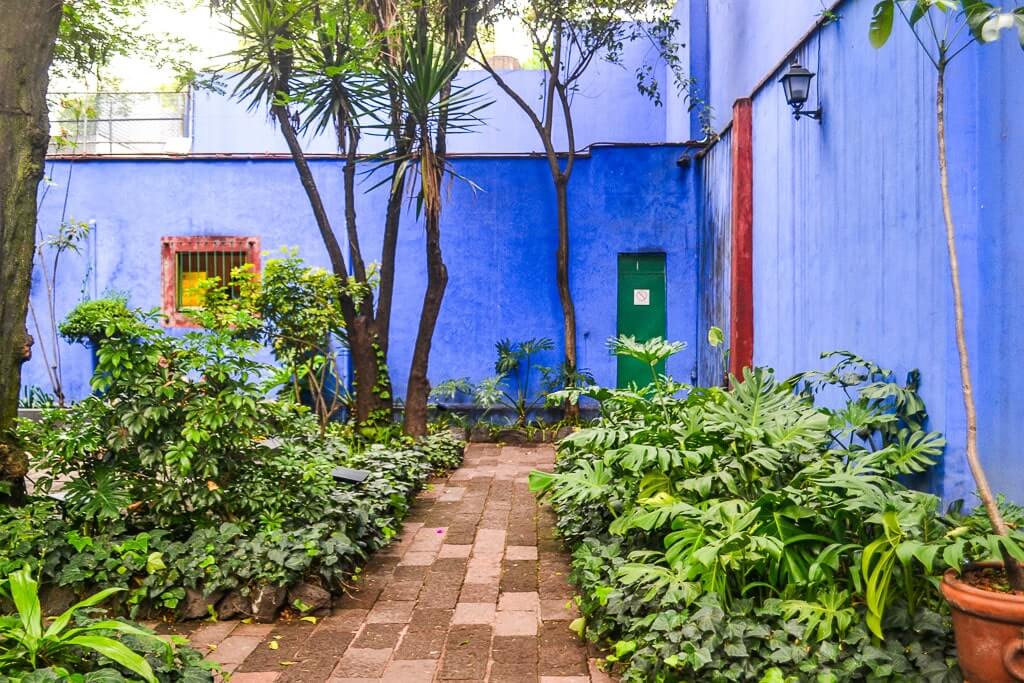 Coyoacan Mexico City Travel FAQ
Is Coyoacan worth it?
Coyoacan in Mexico City is absolutely worth it. It is not just home to one of Mexico's most iconic landmarks – Frida Kahlo's House – but is also filled with quaint colonial churches, streets lined with colorful houses, verdant green spaces and lively plazas, and lots of good food and coffee.
How long to stay in Coyoacan?
One day in Coyoacan is the best to see all the major attractions including Frida Kahlo House, Leon Trotsky Museum, San Juan Bautista Church, the Coyoacan Fountain, and Plaza Hidalgo. If you wish to see more museums or churches, then 1.5 days in Coyoacan should be good.
What is Coyoacan Mexico known for?
Coyoacan Mexico is known for being home to the famous Mexican painter, Frida Kahlo for many years of her life. The Blue House, now a museum where you can see Kahlo's creations, is where she was born, lived with her husband Diego Rivera, and died.
Is Coyoacan safe?
Yes, Coyoacan is a pretty safe neighborhood. In fact, it is considered one of the safest neighborhoods in Mexico City. However, it is always best to be careful to prevent being scammed or pickpocketed.
Loved our Coyoacan Things To Do Guide? Pin it for later!