Last Updated on December 4, 2023 by Soumya
Visiting Xochimilco, Mexico is one of the best things to do in the country.
The beautiful borough of Xochimilco is not just home to the famed floating gardens of Mexico City but is also a thriving small town filled with colorful streets, colonial churches, spooky stories, and a bustling local market. Goes without saying that there are a ton of amazing things to do in Xochimilco.
You can come to Xochimilco in Mexico to experience the floating gardens – an ancient engineering and agricultural wonder created by the Aztecs. Or stop by to appreciate the charming streets and savor some culinary marvels. Whatever your choice, Xochimilco will not disappoint you.
In this comprehensive travel guide, I argue that Xochimilco is more than just the floating gardens. I write about all the epic things to do in Xochimilco including the gardens, of course, how to get there, where to eat, and some more.
If you're only planning to visit Xochimilco's floating gardens, I suggest you check out my detailed floating gardens guide here. If you'd like to see more than that, then read on.
---
Please note: This post may contain affiliate links which means I may earn a commission if you make a purchase by clicking a link on this post. This will be at no additional cost to you. Affiliate links help me keep this website up and running. Thanks for your support!
Looking for the best Xochimilco tour?
If you are looking for the best Xochimilco tours and experiences, don't worry. We have you covered. Here are some of the best Xochimilco excursions from Mexico City.
Top Experiences and Tours in Xochimilco
---
About Xochimilco, Mexico
Xochimilco is a charming, little suburb located in the southern fringes of Mexico City. With its beautiful floating gardens, impressive colonial churches, a creepy Island of Dolls, and some good street food, Xochimilco makes for an amazing day trip from CDMX.
The biggest attraction of Xochimilco are its floating gardens or the chinampas – manmade island farms that have existed here for centuries. Like I talk about in a recent article that I wrote for BBC Travel, the Aztecs built the chinampas in the 1300s to feed a growing Aztec Empire.
A wide variety of crops, including different kinds of corn, and flowers are grown on the chinampas even today and then shipped to restaurants, markets, and retail customers all over Mexico City.
Why did the Aztecs grow crops on manmade islands? Was there no real land to farm? Well, you'll have to read my guide to the floating gardens of Xochimilco to figure that out. But the crux of the matter is that these uniquely-designed chinampas were actually engineering marvels that allowed the Aztecs to grow crops on water when they fell short of arable land.
The best part? Chinampas still work today and feed the growing population of Mexico City. And another good thing is that they are open for tourists to come and see them on colorful, flat-bottomed boats called the trajineras.
---
📖 Additional Reading: If you'd like to learn more about the history of chinampas, how and why they were built, how to visit them, and what to do there, be sure to check out our detailed guide on Xochimilco's floating gardens.
---
How to get to Xochimilco from Mexico City?
One of the most frequently asked questions about this pretty CDMX suburb is "how to get to Xochimilco from Mexico City". And there are 3 different answers to it – public transport (mix of metro and suburb train), taxi, and guided tours that include pick ups.
In this travel guide, I discuss about these 3 Xochimilco transportation options in detail so that it is easy for you to decide.
Getting to Xochimilco by train
The cheapest way to get to Xochimilco from Mexico City is by train. Get yourself to the nearest metro station and from there, get to the Tasqueña Metro Station. Tasqueña is a major station on Line 2 and the journey should cost you 5 pesos (less than 0.5$).
From Tasqueña, take the Tren Ligero (Xochimilco Light Rail) and get off at Xochimilco. Since the train starts at Tasqueña and ends in Xochimilco, getting on and off should not be an issue. This journey costs 3 pesos.
Remember to buy a Mexico City Metro Card or Tarjeta de Movilidad Integrada (costs 15 pesos) from the ticket counters or the ticketing machines at any metro station. You can top up the Metro Card and use it on your metro journeys including your trip from Tasqueña to Xochimilco. The Metro Card is valid on Tren Ligero.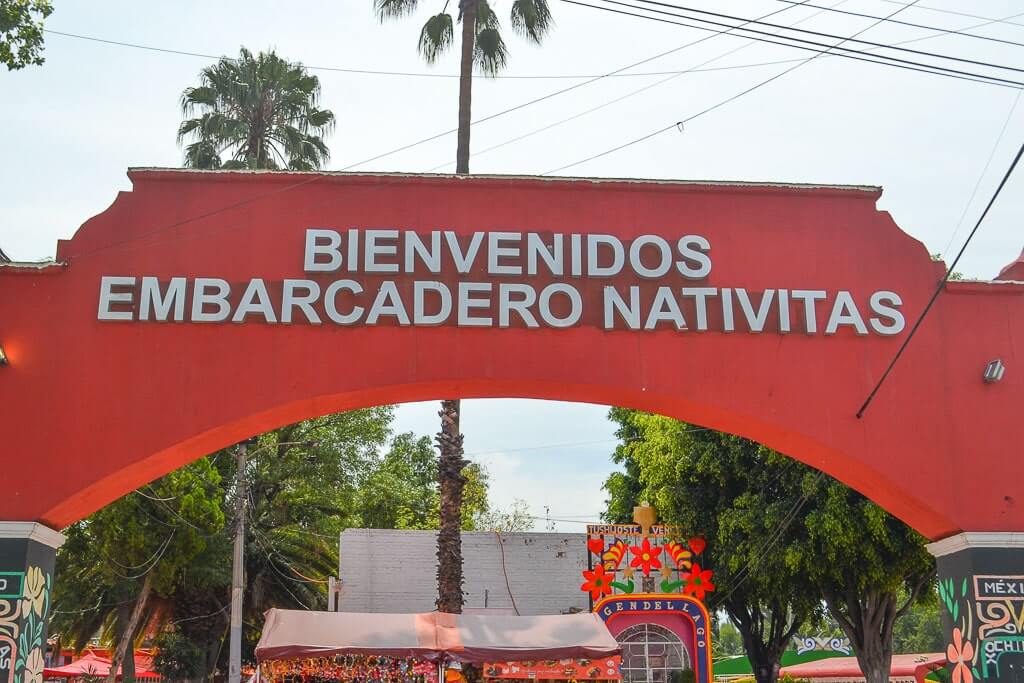 Getting to Xochimilco by taxi
If you'd like to get to Xochimilco by car, you can do so by either renting your own car on Discover Cars here or booking an Uber or Didi cab for your ride.
Both Uber and Didi taxi services are available in Mexico City and are usually cheaper than the regular taxis. They are safe (we have used them throughout Mexico on all our trips) and you can view your driver's rating and reviews on the app.
When booking a taxi for Xochimilco (or anywhere else for that matter), I highly recommend checking the fares on both Uber and Didi. Didi usually turns out cheaper than Uber but I suggest looking at both. We paid 320 pesos ($18) for our early morning Uber ride to Xochimilco. Taxi rides between Mexico City and Xochimilco usually cost between 300 – 350 pesos depending on the time of the day, unless there's a huge surge or something.
Also, it might be easier to take a taxi in the morning hours – you'll not get too much of city traffic. But if you're heading to Xochimilco from Mexico City during the day, I recommend taking the train. That way, you'll be able to beat the traffic.
Getting to Xochimilco by tour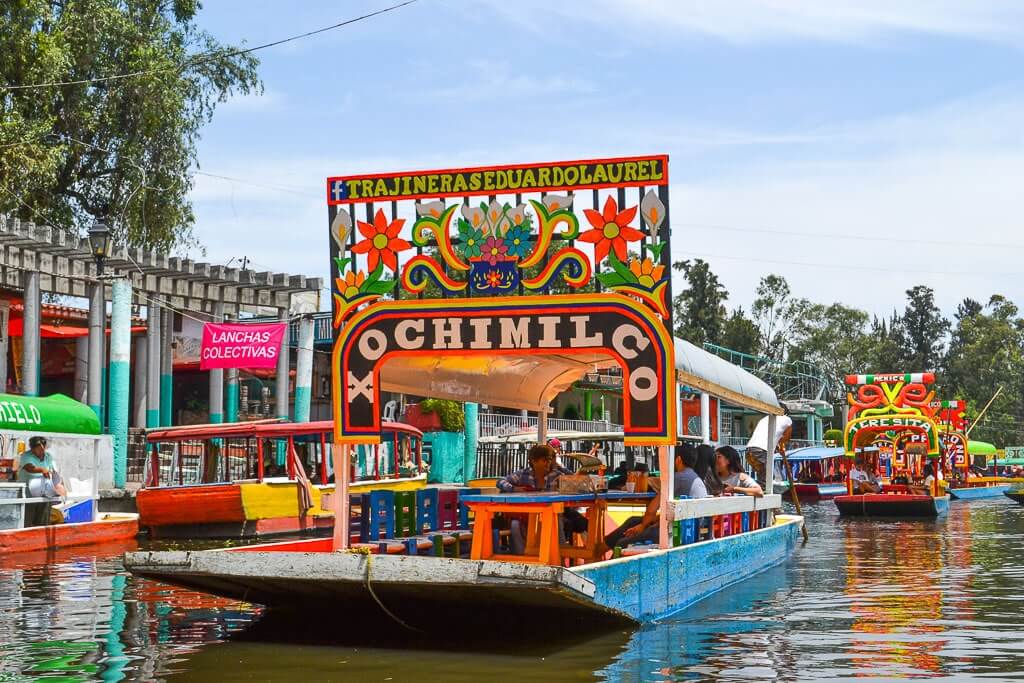 One of the most popular options of getting from Mexico City to Xochimilco is by guided tour.
Joining a guided tour ensures that you don't have to worry about the logistics of getting to the floating gardens in Xochimilco. You can sit back and relax on your trajinera while the experts do the planning and take care of logistics. Most tours include pick up and drop from your Mexico City hotel/apartment, so that's very helpful.
Remember that these tours usually include Frida Kahlo Museum and the Coyoacan neighborhood. So, if you're planning to club them together with Xochimilco, tours are a great idea. I also have a couple of options below that only do Xochimilco. So, feel free to check them all out.
Here are the best guided tours of Xochimilco from Mexico City and have excellent customer reviews.
Xochimilco + Teotihuacan – Spread over two days, this tour shows you the best of both worlds at a very reasonable price. On Day 1, you'll visit Teotihuacan + Guadalupe Shrine. On Day 2, you'll see Xochimilco + Frida Kahlo Museum + UNAM. An excellent choice if you're planning to see both attractions. ▶️ BOOK NOW
Xochimilco Boat Tour with Drinks: This one's unique because it is pure Xochimilco and the floating gardens. You get to go on a traditional trajinera tour, drink tequila, listen to Mariachi bands, and have a filling Mexican lunch at a local restaurant. Even though it does not include pick up, this tour is an experience waiting to be savored. ▶️ BOOK NOW
---
Xochimilco, Mexico: Top things to do
Ride on a rainbow-colored trajinera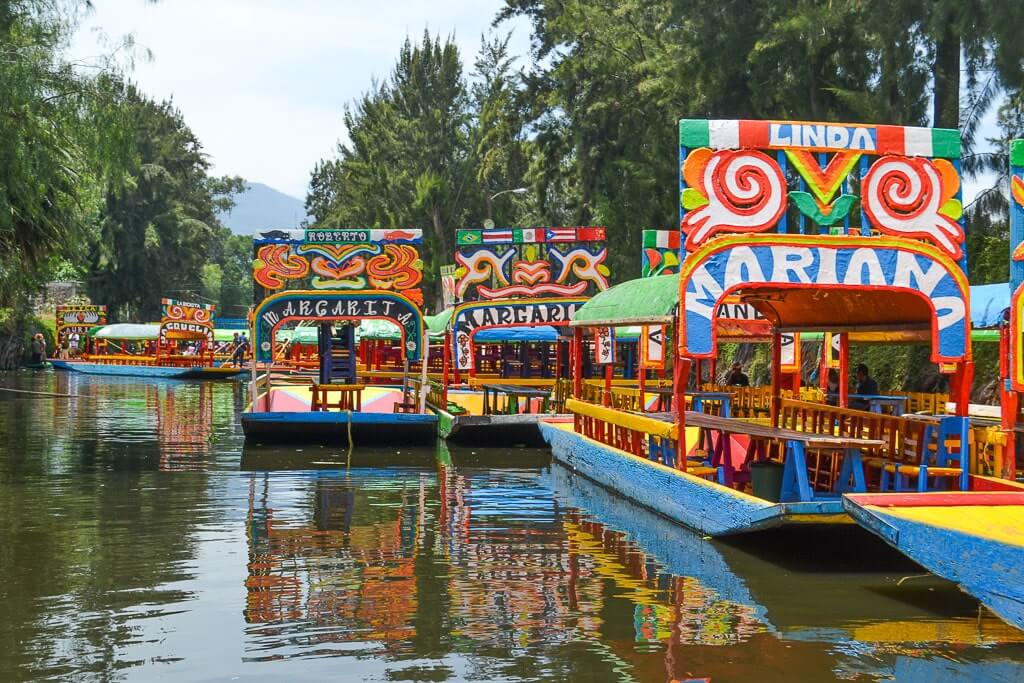 One of the best things to do in Xochimilco is to ride a vibrantly-colored trajinera (that also serves as a party boat) along the beautiful canals of Xochimilco.
No trip to Xochimilco is ever complete without a traditional trajinera ride. After all, tourists started flocking to this Mexico City suburb only to experience the natural beauty of Xochimilco's floating gardens (locally known as chinampas) and canals on colorful trajineras.
The experience of riding a trajinera is unique – it is complete immersion into the local culture. You ride on a trajinera boat that has been used by the Mexicans for centuries, eat local food (elotes and tacos abound), try local drinks, and groove to the music of Mariachi bands. Locals often come here to celebrate events and festivities. It is fun to be around them when they do that.
Here's how to ride a trajinera in Xochimilco, Mexico City
Head to an embarcadero (trajinera pier). Nuevo Nativitas (Google Maps) and Nativitas Zacapa (Google Maps) are a couple of popular piers.
Opt for a 1-hour or 2-hour trajinera ride. Hiring an entire boat for an hour costs 600 pesos ($35). For 2 hours, the cost is 1200 pesos though you can negotiate a little bit on this.
Get on the boat and watch your gondolier expertly maneuver the trajinera through hundreds of other trajineras packing the canals.
Settle down, get a cheesy, grilled elote, and have a sip of michelada while enjoying a beautiful rendition of Cielito Lindo by a local Mariachi band. Mariachis charge 220 pesos ($13) for one song.
Or, book yourself a guided boat tour like this one and relax and enjoy your day out in the floating gardens.
---
Take a sustainable ecotour of the floating gardens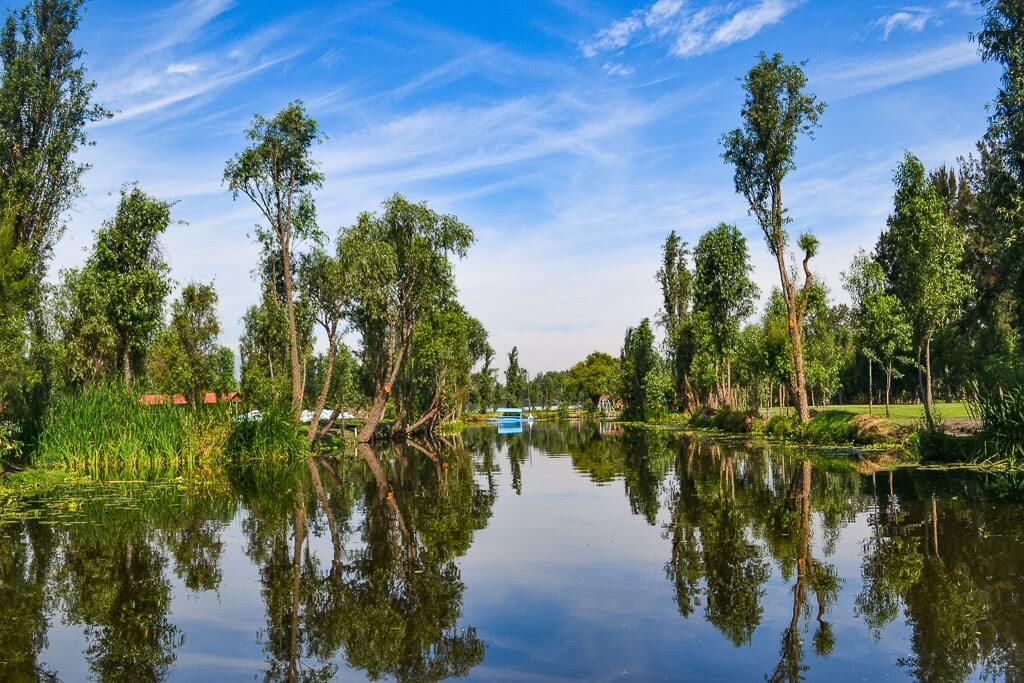 For people who do not enjoy party boats, Xochimilco offers a quieter and more sustainable way of seeing the chinampas. ECO-TOURS!
There are several companies that offer sustainable tours in the area – my favorite being Arca Tierra. Founder Lucio Usobiaga founded Arca Tierra with the intention of reclaiming the lost chinampas of Mexico City by preventing urbanization.
Arca Tierra works with local farmers (chinamperos), chefs, and artisans to craft immersive, guided tours of the chinampas. Their tours usually last 3-4 hours and include a meal, all components of which are sourced locally. You can find a list of all Arca Tierra tours here.
Some people prefer old-world party boats whereas others like to quietly glide through the ancient canals. Honestly, I like both. Therefore, I ended up doing both on my Xochimilco visit this year. And I loved them both.
If you have time, I would encourage you to do both too – start your day early with a sunrise tour of the Floating Gardens (includes breakfast), next head to Xochimilco's historic center – do church hopping, visit the markets, and eat some local food, and end the day with late party boat tour of the chinampas – complete with elotes, micheladas, and Mariachi music. Doesn't that sound heavenly? I wish I could go back, right now!!!
Visit the Island of the Dolls
If you'd love to add something spooky to your Xochimilco trip, I suggest visiting the mysterious (and scary) Island of the Dolls.
The famous Island of the Dead Dolls or La Isla de las Munecas is one eerie isle in the Xochimilco canals where hundreds of decaying dolls hang from trees and shrubs. Legend has it that a young girl drowned near the island. She left her doll here which was later hung on a tree by the owner of the island. This happened sometime in the 1950s.
Hundreds of other dolls are believed to have appeared on their own after this incident!!! Well, that sounds quite incredulous to me. But if you're a believer of the paranormal, be sure to add the Island of the Dead Dolls to your Xochimilco trip.
You can access the island from Embarcadero Cuemanco (Google Maps). The island is about an hour and a half of trajinera ride from the pier.
Go kayaking in the canals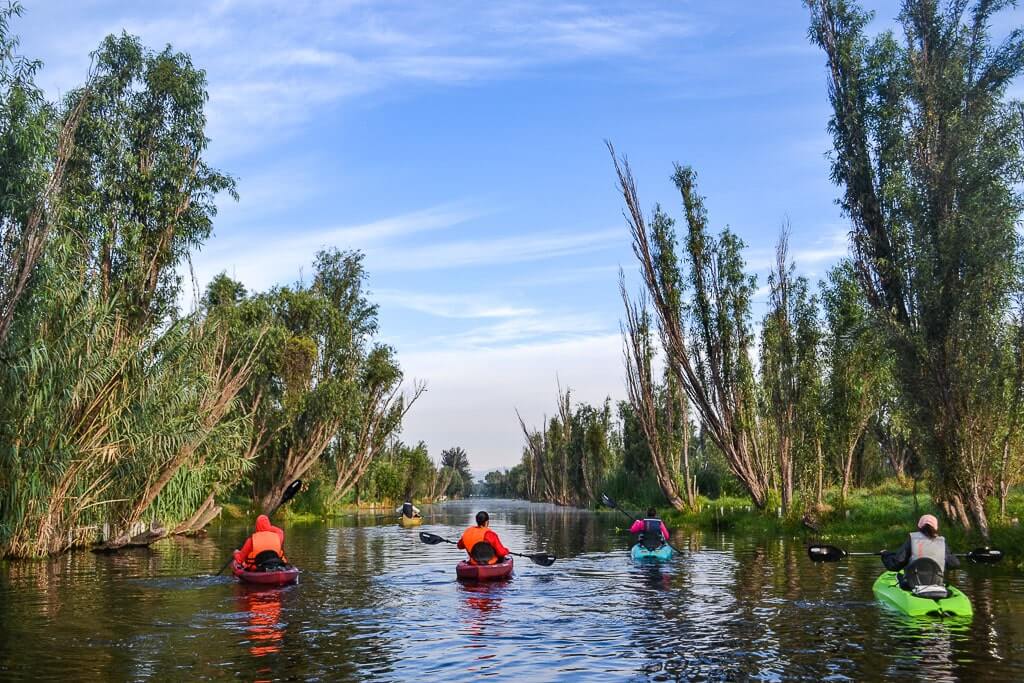 Another great way to enjoy the chinampas and canals of Xochimilco is on a kayak. Kayak tours through the floating gardens are available for both individuals and groups.
Here's a great kayaking tour that you can book online. The tour includes exploring Xochimilco's canals on individual kayaks and getting to know all about the history of the chinampas. You'll also have a filling lunch on a chinampa – the artificial or floating island. Great way to experience nature and culture closely. ▶️ BOOK YOUR KAYAK TOUR NOW
If you're not a big fan of boat rides and would love to see the chinampas on your own and exercise your muscles at the same time, then kayaking is a great idea.
Relax at Bosque de Nativitas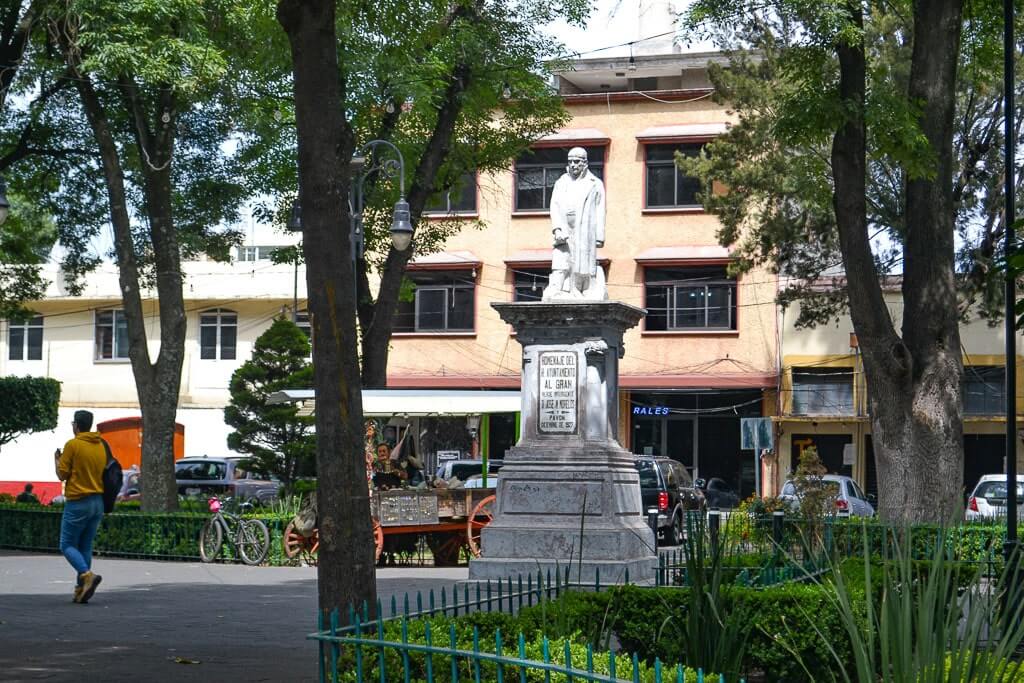 Looking for a green space to relax and unwind after your lively trajinera ride? Head to Bosque de Nativitas (Google Maps).
Located within walking distance from all the popular embarcaderos, Nuevo Nativitas, Zacapa, and Las Flores Nativitas, Bosque de Nativitas is a pristine green oasis filled with flower vendors and unique plant varieties. There are plenty of horses here if you fancy a ride through the park.
Admission is free. The park is a great place to spend time with young kids and your family.
Visit San Bernardino Temple & Convent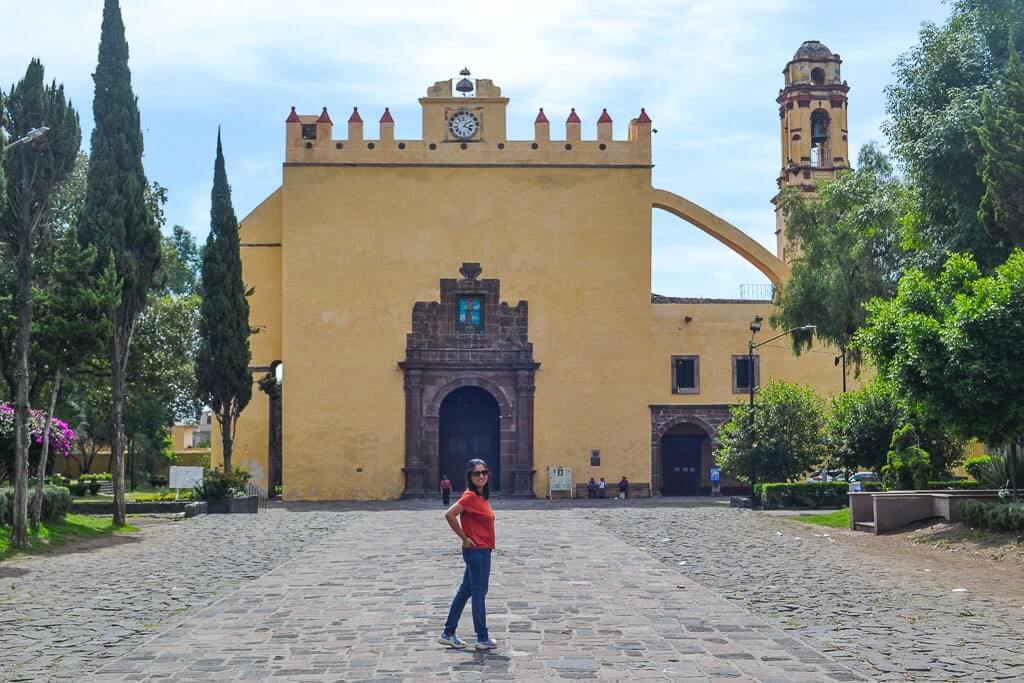 Did you know that the Xochimilco borough has a beautiful, colonial church and monastery complex dating to the 16th century? Well, I had no idea until I spent a beautiful day in the historic center taking in more than just the floating gardens.
The San Bernardino Temple & Convent (Google Maps) is a huge cathedral with a simple, yellow facade and a beautiful altar and side chapels.
The main altar is quite impressive and built in the unique platersque style (I heard of this architectural style for the first time here – apparently, it is a combination of Gothic, Mujedar, Renaissance, and Lombard). Plus, the cathedral has some amazing frescoes on the ceiling.
For more than 500 years now, San Bernardino Cathedral has been the center of all social life in Xochimilco and totally deserves a visit. Often overlooked for the more popular trajinera rides, this place is an absolute hidden gem.
San Bernadino Cathedral is open Monday – Friday (10:00am – 1:30pm, 4:00pm – 7:00pm) and Saturday (10:00am – 1:30pm).
Visit the Archaeological Museum of Xochimilco
If you wish to add more history and art to your Xochimilco itinerary, head to the Archaeological Museum of Xochimilco (Google Maps).
The Xochimilco Museum has an impressive collection of Mesoamerican artifacts including extensive displays from the Aztec era. This is definitely one of the best museums to visit in Mexico City and great place in Xochimilco if you love history. Be sure to spend a couple of hours here if you want to see it all.
A small archaeological site called the Cuahilama is located near the Archaeological Museum. Cuahilama was an ancient ceremonial center where the Aztecs worshipped their gods and goddesses. The archaeological site is free to enter but rather unkempt nowadays.
Explore Mercado de Xochimilco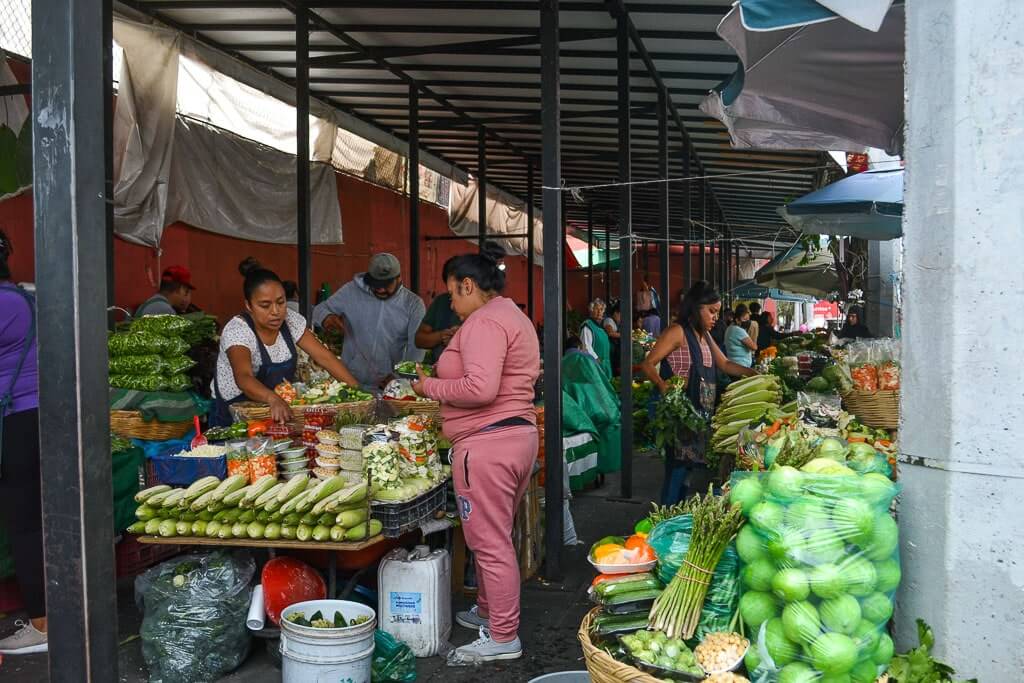 Mercado Xochimilco is a bustling local market located in the heart of the Xochimilco borough. From fresh fruits, vegetables and meat to delicious tacos and tortas, you can find everything here.
Mercado de Xochimilco is a great place to dig into some tasty Mexican food. But more importantly, the market is a great place to feel the true vibes of Xochimilco and get a taste of local life and culture. It is so colorful and full of energy that you won't regret coming here.
Taste some local delicacies
Xochimilco is a great place to try some local Mexican delicacies.
While the trajinera ride is a good time to try some elotes (cheesy grilled corn-on-the-cob) and sip some michelada (a spicy Mexican cocktail), Mercado de Xochimilco is the best spot for banana-leaf tamales and blue corn quesadillas.
Inside the market, you'll find several female vendors managing small restaurants and calling to you to taste their food. The spread is almost the same everywhere. Pick one where you see a good number of locals and have some great Mexican food in Xochimilco.
Stroll through the colorful Xochimilco neighborhood
One of the best things to do in Xochimilco, Mexico is to stroll through the colorful lanes of the borough.
Xochimilco is one of Mexico City's "Barrio Magicos" – quite similar to Mexico's Pueblo Magicos (Magical Towns). It goes without saying that Xochimilco has some of the prettiest streets in town.
Xochimilco's houses are in different shades of pastel and tiny, human-pedalled tuk-tuks scoot past you in all directions. Multicolored hand-drawn boats allow you to cross narrow streams while friendly people flash smiles all around. Ambling through the historic center of Xochimilco and nearby streets is surely an experience in itself.
Pick some colorful souvenirs
Traveling anywhere in Mexico is incomplete without picking up some gorgeous Mexican souvenirs. Same is the case with the borough of Xochimilco.
You'll find plenty of souvenir shops at every embarcadero in Xochimilco and lots of things to choose from there. A couple of my all-time favorite Mexican souvenirs are traditional Talavera pottery and beautifully-embroidered huipils though I also enjoy buying small knick knacks like fridge magnets, colorful calaveras, and beaded jewelry. I loved the collection of Frida Kahlo floral headbands at Nuevo Nativitas and got myself a really pretty one.
If you'd love to get some good deals while buying presents from Mexico, be sure to check out the souvenir stalls at the piers.
Interactive map of Xochimilco attractions
Practical information for visiting Xochimilco, Mexico
Best time to visit Xochimilco
The best time to visit Xochimilco is on a weekday when there are fewer people and the canals are emptier and quieter, if you're looking for a relaxed experience.
If you're someone who loves parties, dance, and music, then come here on the weekends and you'll be thrilled to find hundreds of trajineras in the canals with lots of people on them, drinking, dancing, singing, and being merry. Locals throng to Xochimilco from Mexico City on the weekends and party on the boats.
Early morning rides with eco-tourism companies begin as early as 5:00 am but the party boat ferry points open from 9:00 am – 6:00 pm.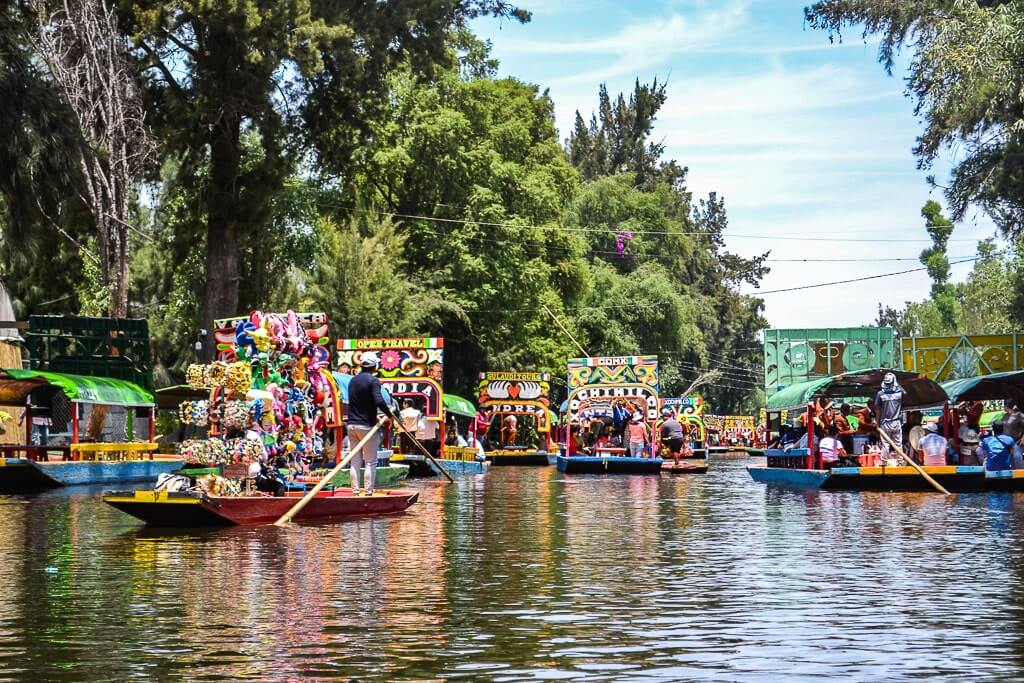 Getting around Xochimilco
The best way to get around the floating gardens of Xochimilco is by trajineras – rainbow-colored, flat-bottomed boats that can carry up to 20 people.
If you'd like to explore a bit of Xochimilco's historic center, you can easily do that on foot. Or ride a colorful, human-pedalled tuk-tuk for a small charge.
Xochimilco Travel FAQ
Is it worth it to go to Xochimilco?
Yes, a trip to Xochimilco is absolutely worth it for a trajinera ride through the floating gardens, a walk through the colonial center, and a taste of local culinary delights such as blue corn tacos. Together with Mexico City's historic center, Xochimilco is a UNESCO world heritage site that is totally worth a visit.
How much time do you spend in Xochimilco?
You need to spend at least half-a-day in Xochimilco in order to do the trajinera ride and enjoy the beauty of the chinampas and the canals. If you'd like to see the historic center too, step into a couple of churches, and wander through packed lanes of the mercado, plan to spend a day in Xochimilco.
Is it safe to go to Xochimilco?
Yes, Xochimilco in Mexico is as safe as anywhere else in the world. People of Xochimilco are friendly and we felt safe walking through the historic center and navigating the Nuevo Nativitas embarcadero on our own. If you're worried for some reason, I recommend going during the day and avoiding evening hours.
What is unique about Xochimilco?
Xochimilco is unique because it is the only place in the Mexico Valley that still has chinampas (floating farmlands) from the times of the Aztecs i.e. more than 700 years ago.
What is Xochimilco famous for?
Xochimilco is famous for its unique floating gardens or chinampas – manmade island farms – that were built by the Aztecs more than 700 years ago. These chinampas still produce food for the city and are a biodiversity hotspot.
Loved our travel guide for Xochimilco, Mexico? Pin it for later!