Last Updated on October 27, 2023 by Soumya
Why visit Mexico City? Is Mexico City worth visiting? These are some of the questions I pondered over for long before finalizing my trip to Mexico.
Guess, what did I discover? Not one, not two, but 16 amazing reasons to visit Mexico City.
Whether you are a lover of heritage and culture, a foodie, a shopping enthusiast, or a nature seeker, Mexico City has something for everyone.
At the historic center, you can walk through a thousand years of history, gorge on the most delicious tacos, enjoy a mariachi performance, and gaze dumbstruck at stunning views from Torre Latinoamericana.
Venture a little further and you'll discover the ancient pyramids of Teotihuacan steeped in mystery, an ingenuous agricultural system in Xochimilco, and the mind-boggling migration of monarch butterflies.
With art at every corner, an eclectic collection of museums, and a culture enriched by multiple civilizations, Mexico City inspires wanderlust in every traveler.
In my opinion, Mexico City is one of the most versatile places in the world. CDMX has everything a traveler's heart desires except probably beaches (I would go to Cancun for that)! That's why it is such an amazing place to add to your Mexico bucket list.
If you are still on the fence about why you should visit Mexico City, you should definitely go ahead and read these 16 major reasons that inspired me to plan my Mexico City trip.
If you have already decided about visiting, you should still read on to see if there is anything new that catches your eye. Trust me, there are a hundred amazing things to do in the Mexican capital.
16 Epic reasons to visit Mexico City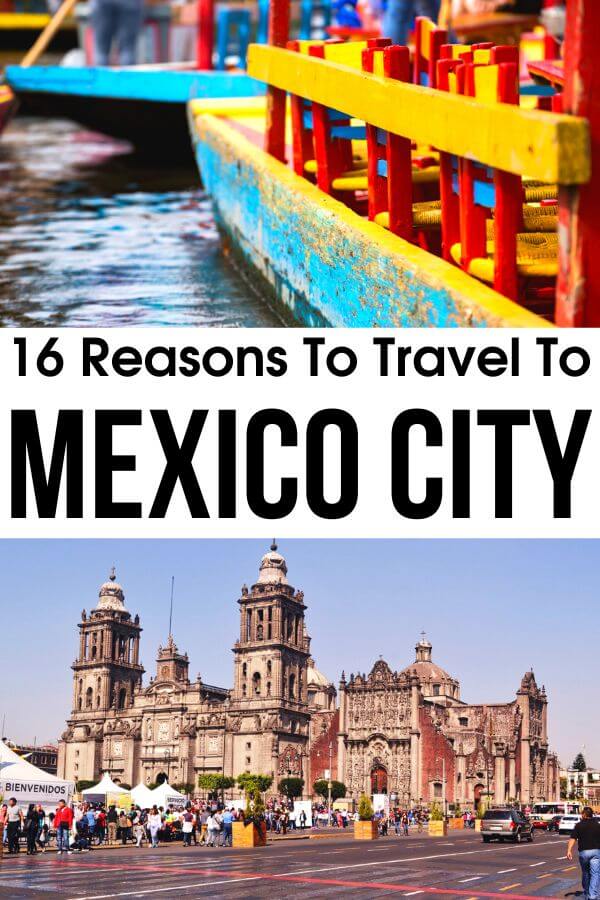 Please note: This post may contain affiliate links which means I may earn a commission if you make a purchase by clicking a link on this post. This will be at no additional cost to you. Affiliate links help me keep this website up and running. Thanks for your support!
Walk through centuries of history at Downtown Mexico City
My favorite part of Mexico City is its historic downtown, the exact place that saw the rise and fall of the Aztec Empire, the coming of Spanish conquistadors, and the formation of a free Mexico.
In short, the historic center is where you can take a walk through all of Mexico's history.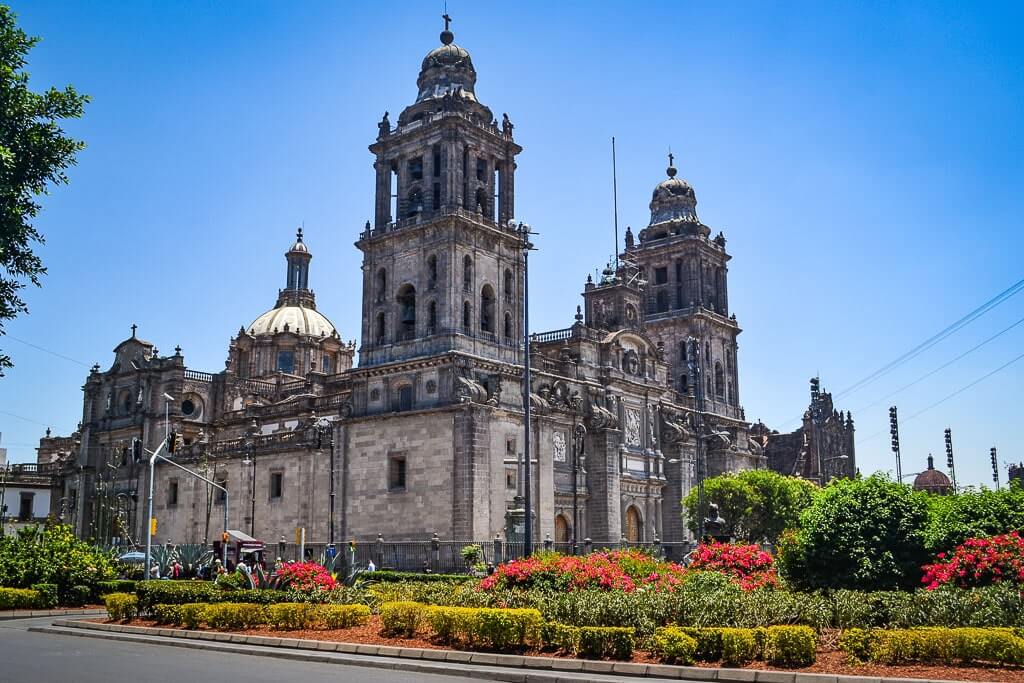 Begin your day at the Zocalo, head to the ruins of Templo Mayor – the religious epicenter of the Aztec civilization, marvel at the architecture and the Black Christ of the Metropolitan Cathedral, see the murals of the National Palace, and enjoy an artsy tour through the Palace of Fine Arts.
There's so much to do at the historic center that you can spend one whole day wandering through the streets here.
There's art, history, architecture, shopping, green parks, and great tacos – right in the heart of the city.
One of my top reasons to visit Mexico City – Explore the Historic Center.
✦ Pro Tip: Have I convinced you to visit Mexico City already? Then, check out our guide for Mexico City's Historic District and the 20 best things to do there.
Discover ancient Mesoamerican civilizations
History has always been a big part of my travels. In fact, history is what I usually travel for.
Traveling through Mexico has always been extremely rewarding especially because of the number of ancient civilizations that have left their mark on this country.
Mexico City is one of my favorite places in Mexico because it has been home to a number of pre-Columbian civilizations.
The Spaniards built Mexico City on the remains of the Aztec capital city of Tenochtitlan.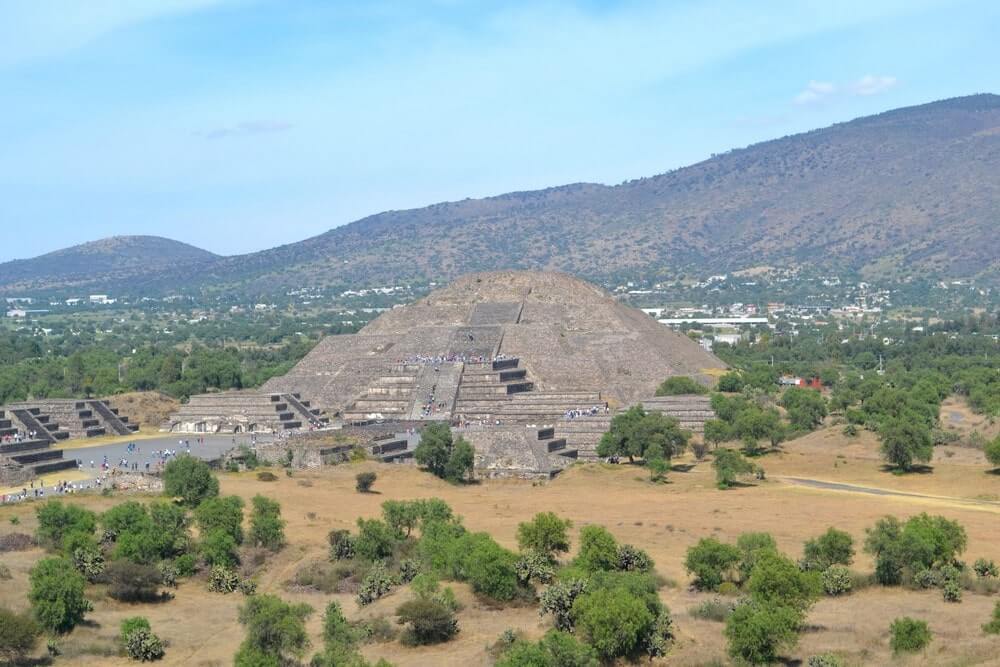 The massive pyramids of Teotihuacan, from an ancient civilization of more than 2000 years ago, are just around the corner.
The ruins of Tula (only a day trip away) provide a deep insight into the lives of Toltecs.
In short, Mexico City is where you can learn a lot about the ancient Mesoamerican civilizations.
If you are a history buff like me, you would definitely want to visit Mexico City for all the history this place has to offer.
📖 Related Read: If you love learning more about pre-Hispanic civilizations, check out our post on the best ancient pyramids in Mexico and the people who built them.
Unravel the mysteries of Teotihuacan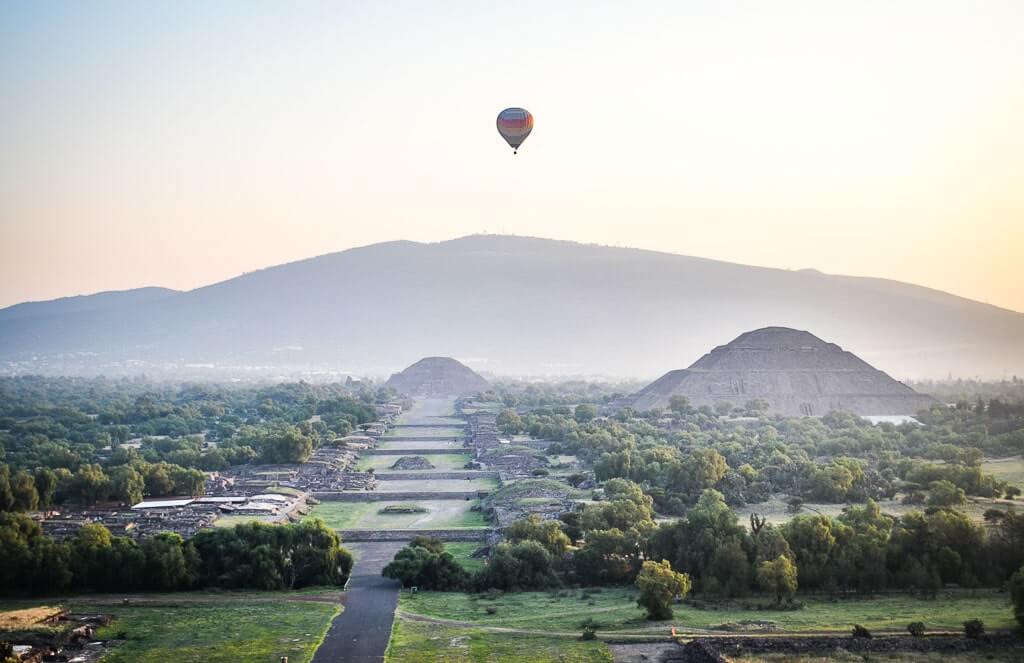 I had always imagined Teotihuacan to be of Aztec origin. But I was thoroughly surprised when I found that Teotihuacan was around long before the Aztecs came to the Valley of Mexico and built a home there.
The Aztecs built their capital at Tenochtitlan in the 1300s. The Teotihuacanos were around since 200 BCE! Wow! That was quite a revelation for me!!!
While digging through ancient history, I found that Teotihuacan was steeped in mystery.
Because of the absence of a written script, nobody knew much about the Teotihuacanos and how their city met a devastating (and mysterious) end in the 7th century.
Where did the Teotihuacanos go? Nobody knows.
What did they leave for us to see? Massive pyramids, cryptic murals, and secret chambers!
Read my post on the 10 intriguing facts about Teotihuacan to learn more about this illustrious pre-Columbian civilization that literally vanished without a trace.
I talk about Teotihuacan here because the pyramids can be easily visited on a day trip from Mexico City.
Get here early in the morning for a hot air balloon ride, walk through the Avenue of the Dead, climb the Pyramid of the Sun, do a mural tour, and wrap up at the archaeological museum.
One of my top reasons to visit Mexico City – Learn about the ancient Teotihuacanos.
✦ Pro Tip: Planning to visit the pyramids of Teotihuacan? Check out our epic guide for planning the best Teotihuacan day trip from Mexico City.
Learn all about Aztec history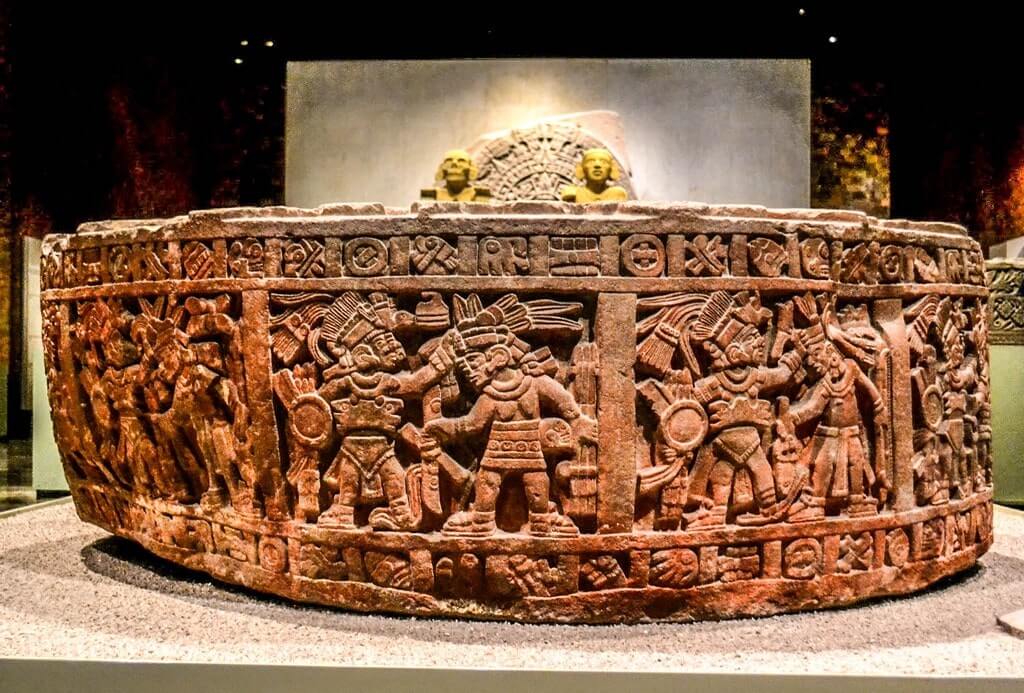 Of all the ancient Mesoamerican civilizations, Aztec is the one you can truly deep dive into in Mexico City.
There are so many Aztec ruins in and around Mexico City including the ruins of their capital city, Tenochtitlan, right in the middle of the CDMX city center.
At El Zocalo, the main square, you can still see the ruins of Templo Mayor, a double pyramidal structure that was literally the religious epicenter of the Aztec Empire.
Not very far away are the ruins of Tlateloco which are a part of the Plaza of 3 Cultures that depicts ancient Aztec, colonial Spanish, and modern Mexican architecture.
The archaeological site of Malinalco features extensive monolithic structures which are one-of-their-kind in Mexico. And Tenayuca is the place where Aztecs conceived the double pyramid that is unique to their civilization.
In short, you'll love Mexico City if you are into the Aztec people, their history, and their culture.
If you are still not sold on the Aztec bit, read my next point on the Floating Gardens of Xochimilco, a true engineering marvel created by the Aztecs.
✦ Pro Tip: Want to learn more about the Aztecs? Check out the best Aztec ruins that you can visit in Mexico City.
See the Floating Gardens of Xochimilco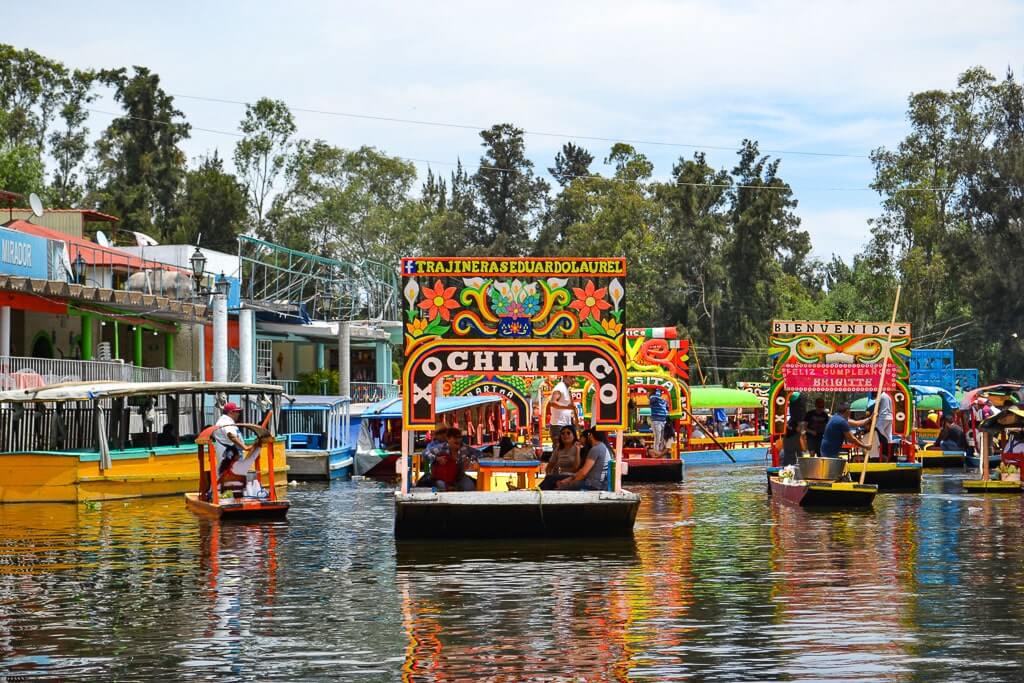 The Floating Gardens of Xochimilco in southern Mexico City are a unique UNESCO World Heritage Site.
Xochimilco's floating gardens are the last vestiges of an ancient, innovative agricultural system that the Aztecs created in early 14th century.
When the Aztecs built their capital city on Lake Texcoco, they did not have a lot of land to cultivate crops. There was just lake water everywhere around them.
To overcome this problem, Aztec farmers started reclaiming land from the lakes and cultivating crops on artificial islands called chinampas.
The chinampa system was incredibly efficient and highly productive. It fed more than 250,000 people in the Aztec Empire.
I write about the chinampas on BBC Travel and how the system continues to feed Mexicans even today.
The chinampa system has vanished now but a fraction of it still survives in Xochimilco.
Here, you can enjoy a traditional boat ride through the agricultural canals, relish local food, and dance to the tunes of loud Mariachi music. This makes Xochimilco one of the most popular day trips from Mexico City.
Imagine finding a bit of an ingenious agricultural system that is more than 700 years old and still works? An agricultural system that is truly an engineering masterpiece?
This is one of the major reasons why I would visit Mexico City. What about you?
One of my top reasons to visit Mexico City – See the Floating Gardens of Xochimilco.
✦ Pro Tip: Keen to find out more about the floating gardens? Read my post on the ancient chinampas of Xochimilco.
Step into glorious architectural spaces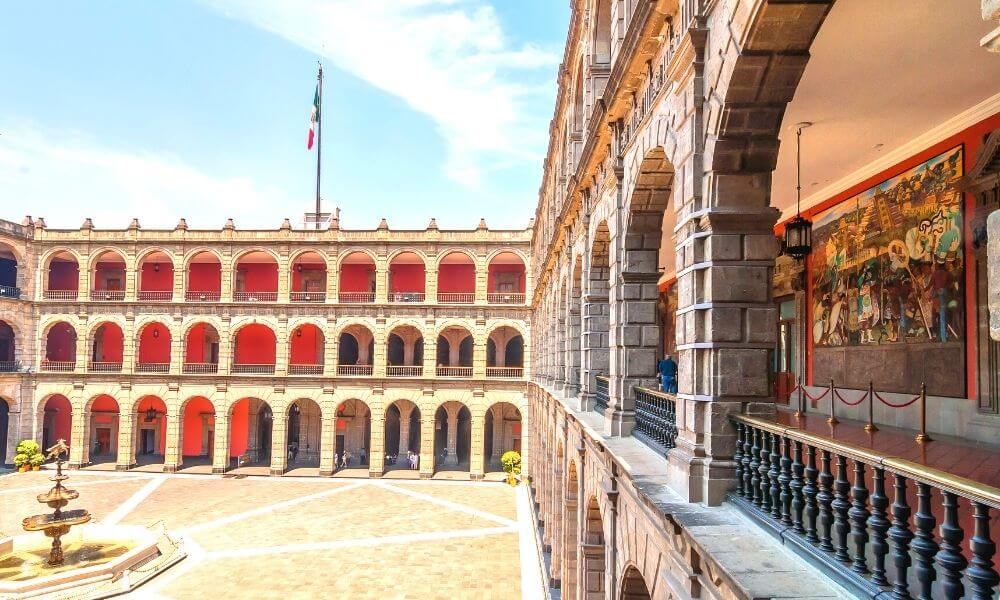 Mexico City is all about glorious architecture – ancient, colonial, and contemporary.
Apart from the Historic Center, there are other architectural masterpieces in Mexico City that you should definitely visit.
Mexico City is home to Casa Luis Barragan, a contemporary residence that is also a UNESCO world heritage site.
At the Plaza of 3 Cultures, you can see architecture from all three periods – ancient, colonial, and modern.
La Roma is a trendy neighborhood that has Neo-Colonial mansions and features distinct European styles.
The eclectic Frida Kahlo mansion with its cobalt blue walls is a sight for sore eyes.
And so are the museums of Mexico City with their unique designs. Step into the National Anthropology Museum, Museu Soumaya, and Museu Tamayo to see what I mean.
✦ Pro Tip: Fan of good architecture? Check out the 15 famous architectural landmarks in Mexico City.
Feast on art in Mexico City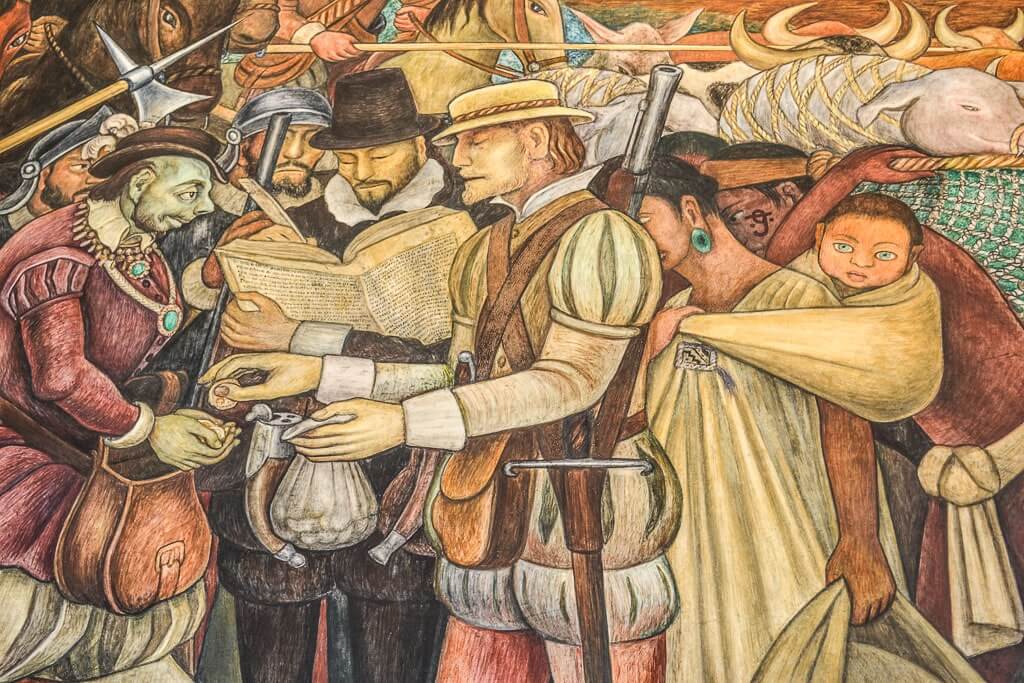 Are you an art connoisseur? Then Mexico City is the perfect place to be.
There's a lot of art to be seen in the Mexican capital including extensive murals, contemporary art galleries, and quintessential street art.
Murals are a way of life in Mexico City. You'll find murals depicting various stages of Mexican history and the country's social and political environment.
Mexico City is home to amazing paintings by Mexico's top mural artists, Diego Rivera, Jose Clemente Orozco, and David Siqueros.
Take this muralist art semi-private walking tour with a knowledgeable tour guide.
Or, explore the murals on your own at some of the most historic buildings in the city such as the National Palace, UNAM Central Library, and Diego Rivera Museum.
Step into the contemporary art gallery of Kurimanzutto. Spot the best street art in the neighborhoods of Roma and Condesa.
I am sure the art of Mexico City will keep your itinerary brimming with the most exciting things to do.
✦ Pro Tip: Check out our Mexico City National Palace Visitor's Guide to find out how you can do a guided tour of Diego Rivera's murals.
Walk in the footsteps of Frida Kahlo & Diego Rivera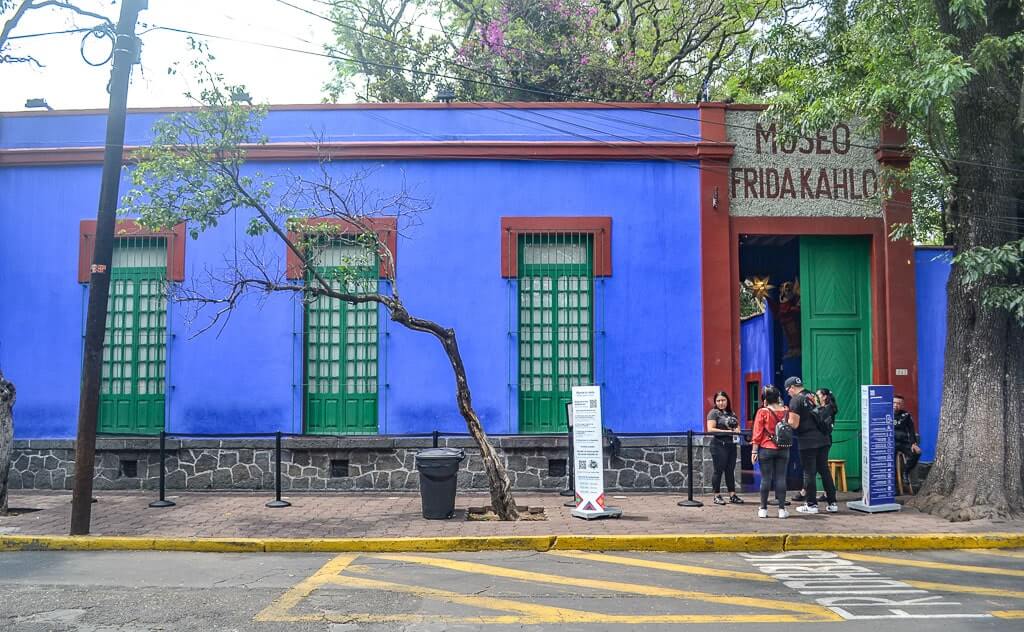 Since I am talking about art, I cannot miss talking about the two stalwarts of Mexican art – Frida Kahlo and Diego Rivera – that once called Mexico City their home.
While Diego Rivera was a well-known persona in the Mexican muralist movement, Frida Kahlo was a renowned portrait painter. She was especially famous for her self-portraits.
The two were in a tumultuous relationship with each other that lasted until Kahlo's death in 1954.
Even though their relationship was strange and often detrimentally romantic, their paintings were some of the best that the country ever produced.
You can catch glimpses of their art, visions, and personal lives at La Casa Azul – Frida Kahlo's residence which has now been converted into a museum and at Diego Rivera Museum.
✦ Pro Tip: Visiting Casa Azul? Check out how to get tickets to Frida Kahlo Museum even when sold out.
Pay your respects at the Basilica of Guadalupe
The Basilica of Our Lady of Guadalupe is a Roman Catholic church that is one of the main religious centers of Mexico.
It is believed that the apparitions of the Virgin Mary appeared to Saint Juan Diego here. The church now houses the cloak of Saint Juan Diego.
Millions of devotees visit the basilica every year with the highest number of people thronging the church on 12 December, the Feast Day.
In fact, the Basilica of Guadalupe is one of the most visited churches in the world.
Gorge on delicious Mexican food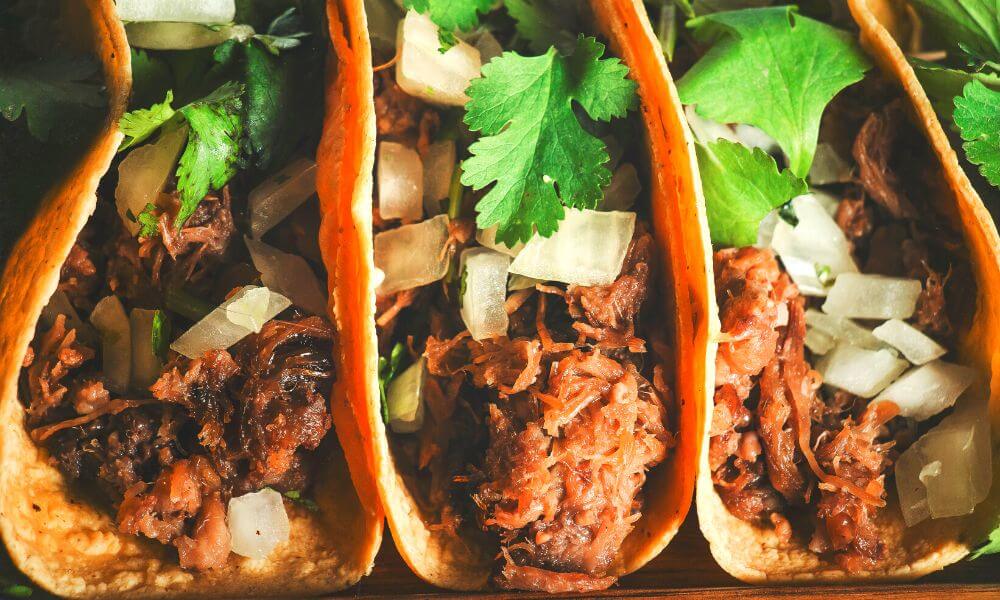 I love Mexican food. Tacos, churros, mole, and quesadillas can make me drool any time of the day, anywhere in the world!
There's just so much to eat in Mexico City.
From the famous street tacos to exotic tamales and cheese-free quesadillas – you'll find yourself drowning in Mexico City's never-ending list of foods to try.
The city is an absolute haven for foodie travelers.
No wonder, food tours like this one and cooking classes like this one are some of the most popular Mexico City tours.
I still remember my first foodie experience in Mexico City which was a plate of chicken cooked in a distinctively chocolaty sauce called "mole". Ever since I have kept going back for more.
Food is surely a delicious reason to visit Mexico City.
One of my top reasons to visit Mexico City – Gorge on tacos.
Hop through numerous museums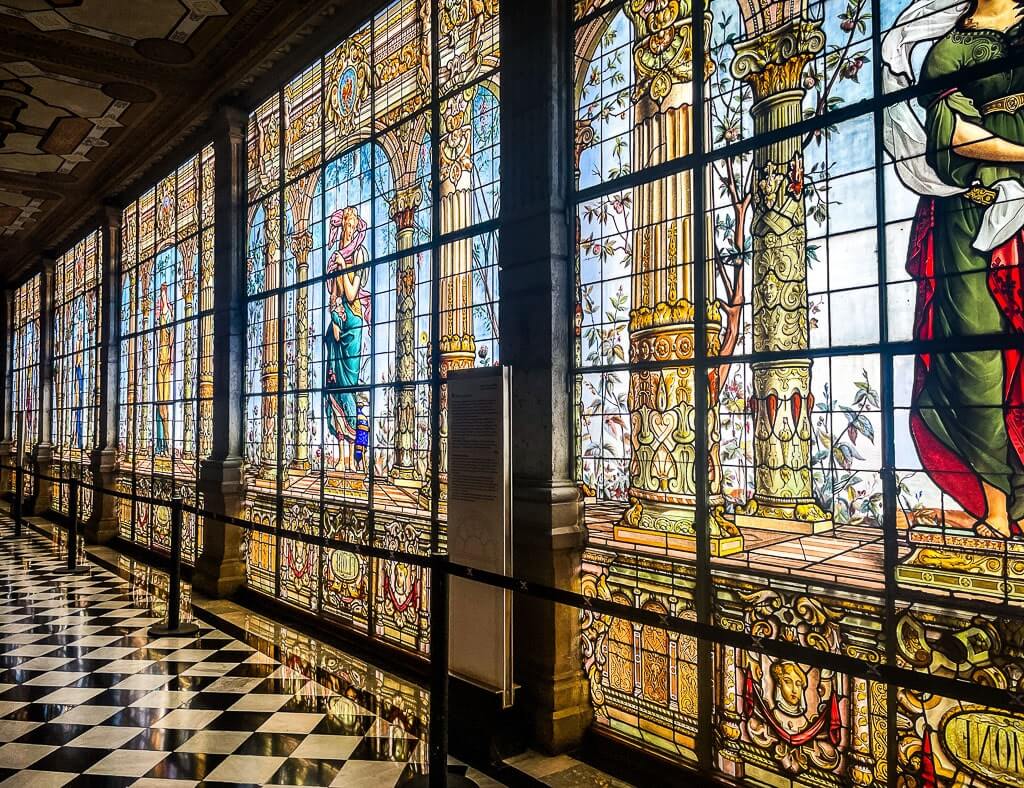 One of the most interesting facts about Mexico City is that it is home to countless (more than 180, it seems) museums including a number of free ones.
There are museums dedicated to history, art, architecture, cinema, toys, and even chocolate.
Among the most popular museums in Mexico City is the Anthropology Museum which has a huge repository of Pre-Hispanic artifacts.
There is Palacio de Bellas Artes which houses a wonderful collection of fine art. The museum and palace at Chapultepec are stunning.
And of course, La Casa Azul, once Frida Kahlo's home and now a gallery, is the most beautiful place to visit in CDMX.
Day trip to fascinating places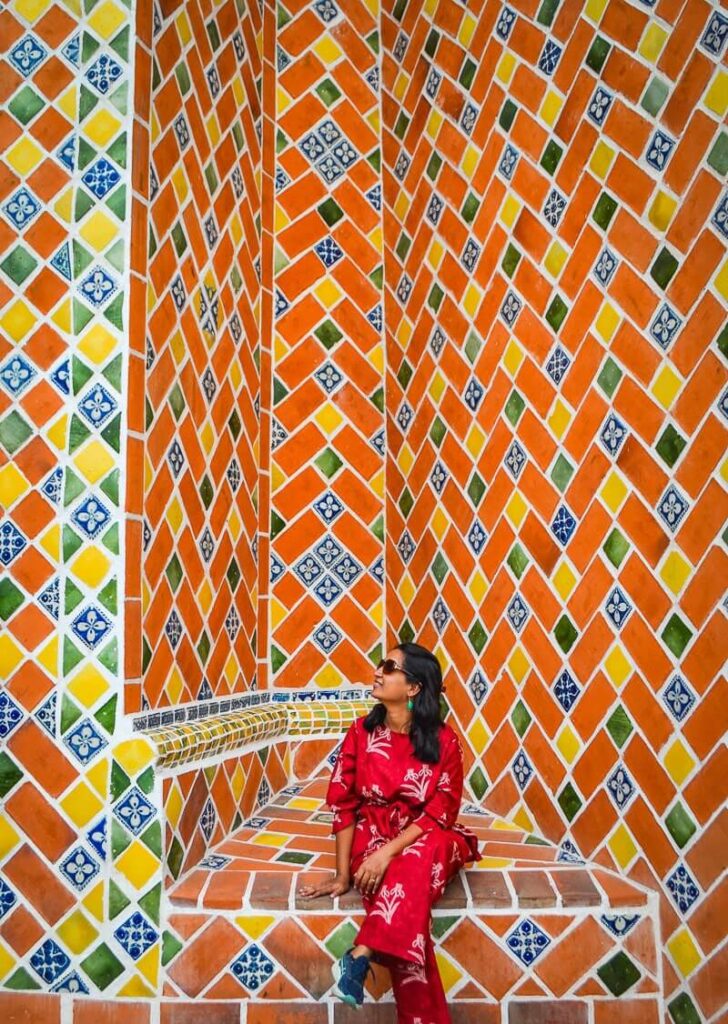 Mexico City makes for a wonderful springboard for day trips around the town.
There are so many wonderful places to visit near Mexico City that I had tons to do even after checking off everything from my CDMX itinerary.
Whether it is visiting the famous pyramids of Teotihuacan, strolling through colonial lanes in San Miguel de Allende, or trying culinary marvels of Puebla, there's something for everyone in CDMX.
The best part is that most of these places are easily accessible by public transport. If not, there are wonderful tours to take care of you.
My top picks for Mexico City day trips are Teotihuacan, Xochimilco, Historic Center of Puebla, and the Tula Pyramids.
Nature enthusiasts will love the Monarch Butterfly Reserve and the Tolantongo hot springs.
📖 Related Read: Find more interesting day trips from Mexico City here.
Listen to Mariachi music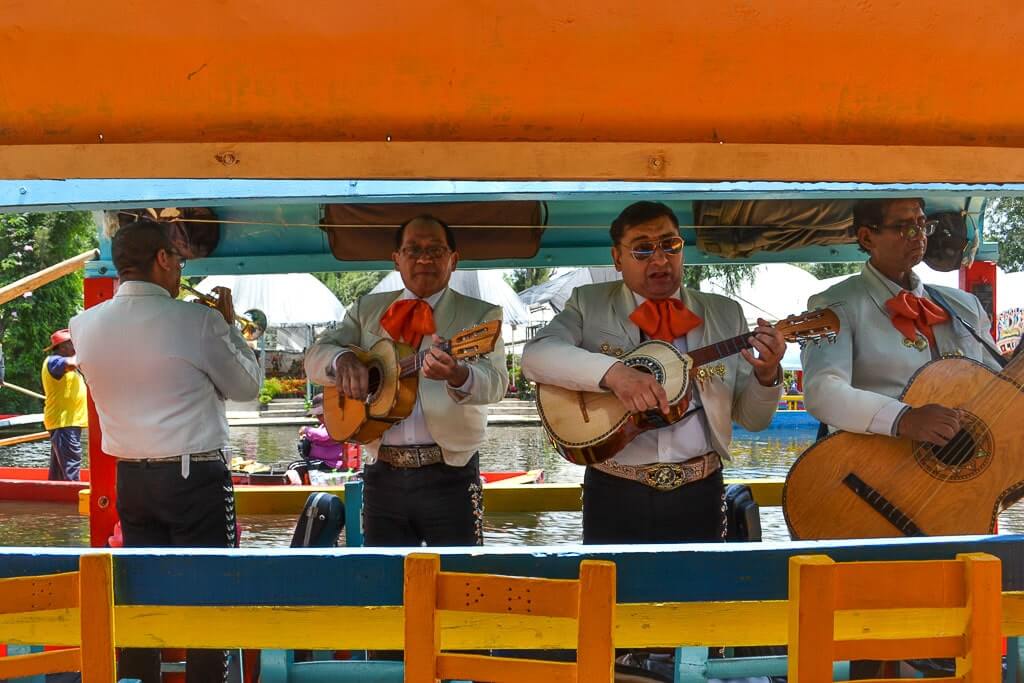 Mariachi is a traditional music form that evolved in the Mexican countryside sometime in the 18th century.
It was all about celebrating the people of Mexico: their joys, struggles, and triumphs. Typical instruments used are violins, guitarrons, and harps.
Even today, Mariachi is a big part of life and celebrations in Mexico.
And, you can experience this nowhere better than at the iconic Garibaldi Square in Mexico City.
Plaza Garibaldi is a Mecca for Mariachi lovers and you'll love seeing a Mariachi variety show here.
See the largest monarch butterfly migration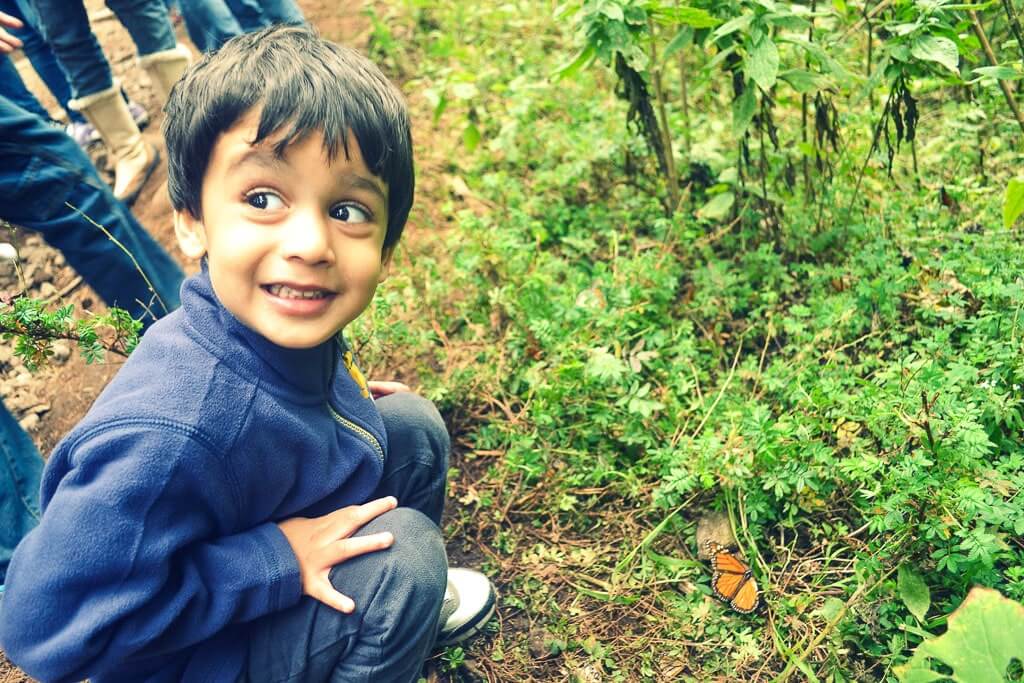 When in Mexico City, you can witness the largest monarch butterfly migration in the World Heritage Biosphere Reserve located on the border between Michoacan and the State of Mexico.
The butterfly reserve is only 60 miles away from Mexico City and makes for a wonderful day trip for nature lovers as well as families with small kids.
Every year, thousands of monarch butterflies migrate to Mexico from the USA and Canada between November – February. They make the oyamel fir trees of the butterfly reserve their home and flutter as the sun warms up the forest.
To be able to see this butterfly migration is the experience of a lifetime. When I first visited the Monarch Butterfly Reserve, it was with my 3-year-old son and he was awestruck by this beautiful spectacle of nature.
Hike through volcanoes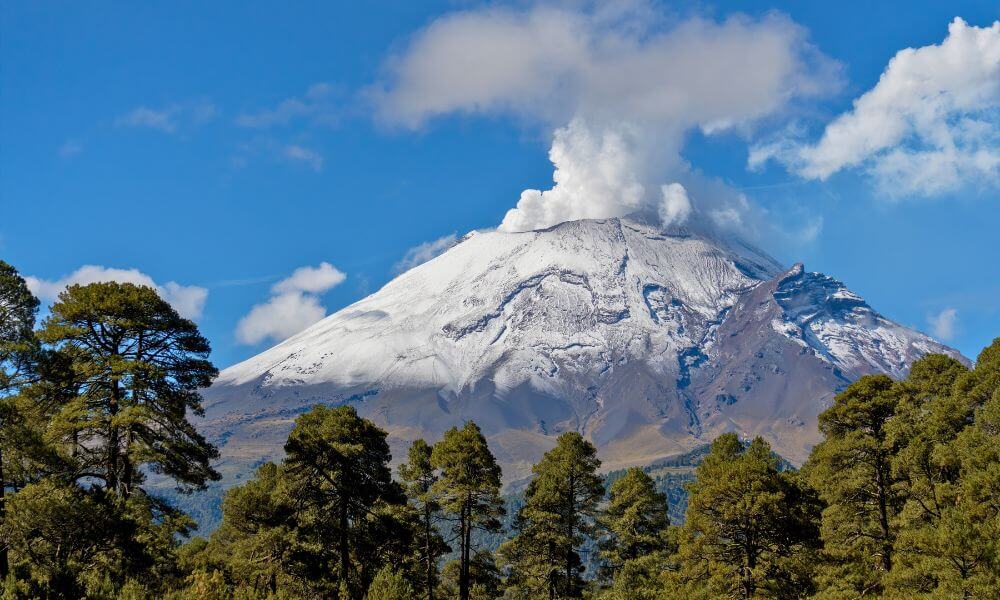 Adventure lovers will be glad to hear that there are several volcanoes to scale near Mexico City.
The Trans-Mexican Volcanic Belt or Sierra Madre is only a few hours away from the hustle and bustle of the Mexican capital. Needless to say, this place presents exciting mountaineering opportunities for hikers.
Two of the most popular volcanoes that hikers scale are the Iztaccihuatl and Nevado de Toluca.
Join a tour of any one of them and be rewarded with the most amazing hikes and views from the top.
Enjoy everything without breaking your bank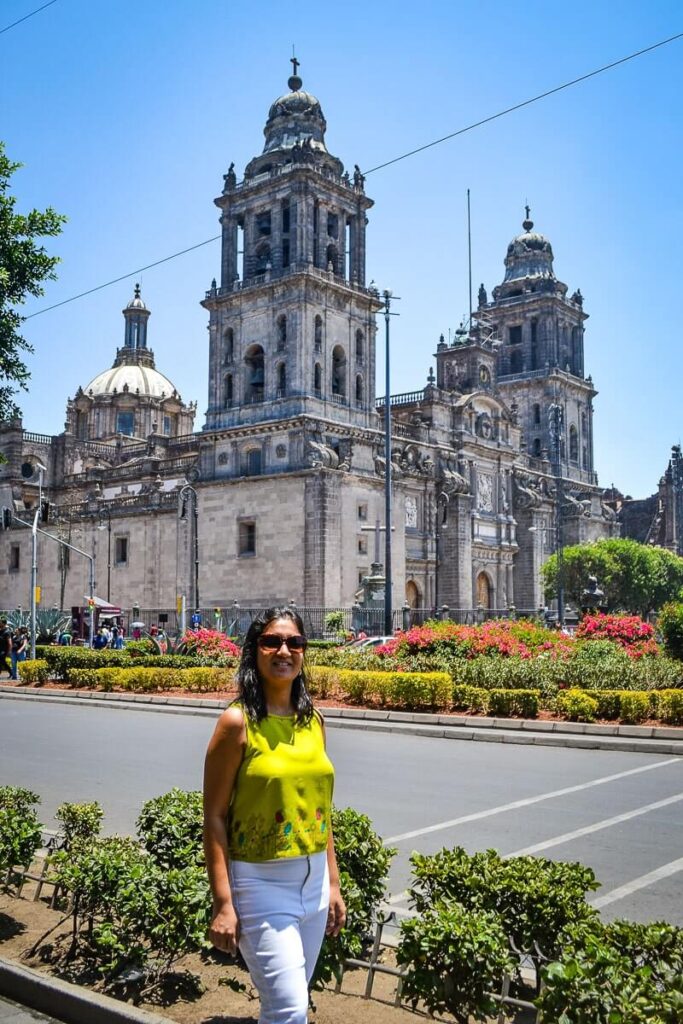 The best part about Mexico City is that it is cheap and you can easily plan for a budget trip here.
It easy to get delicious street food that's cheap, visit a lot of churches and museums for free, travel on public transport, and stay in a hostel or budget accommodation that won't burn a hole in your pocket.
You can even do a free but wonderful walking tour of the historic center.
Isn't that enough reason to visit Mexico City already?
Why visit Mexico City – Travel FAQ
Why is Mexico City worth visiting?
Mexico City is absolutely worth visiting because it is full of history (umpteen number of UNESCO sites in and around the city), is home to several wonderful museums and art galleries, is a haven for architecture lovers, and is the best place to dig into tacos and listen to some traditional Mariachi music.
Why is Mexico City so popular now?
Mexico City is a popular travel destination in Mexico now because of its numerous historical landmarks, rich culture, stunning mural art, amazing food, pleasant weather, and wonderful shopping opportunities. It attracts travelers of all kinds including history enthusiasts, art connoisseurs, foodies, and nature lovers.
What is so special about Mexico City?
Mexico City is special because it stands on the ruins of an ancient Aztec capital city that was built on a lake. Mexico City was the capital of New Spain for 300 years and is actually the oldest, continuously-inhabited city in the Americas. It has the largest number of museums as well as the highest number of taxis in the world!
Is Mexico City good for tourists?
Yes, Mexico City is very good for tourists because it is home to several amazing museums, beautiful palaces and mansions (it was once called the City of Palaces), and numerous world heritage sites that can keep travelers busy for days.
What is Mexico City like to visit?
Mexico City is the chaotic yet beautiful capital of Mexico that is an amazing place to visit. With centuries of history, delicious food, an eclectic collection of architectural masterpieces, and lots of local cultural practices, Mexico City makes for a wonderful travel destination.
Need reasons to visit Mexico City? Pin this for inspiration!