Last Updated on October 16, 2023 by Soumya
Are you looking for the best hot air balloon ride over the Teotihuacan pyramids? Searching for the safest ballooning company in Mexico City? Well, your search ends right here.
Here's the Ultimate Mexico City Hot Air Balloon Guide that'll answer all your questions and some more.
Why am I the right person to guide you? Because I just planned the most epic Teotihuacan balloon tour for myself and my family and we had a great time floating over the ancient Mexican pyramids.
So, this isn't just any balloon guide on the internet. This is coming from someone who has visited Teotihuacan from Mexico City several times – both on guided tours and DIY tours.
And let me tell you that a hot air balloon flight over Teotihuacan combined with a guided tour of the archeological site is the best way to see the pyramids.
So, here comes the best ballooning guide that'll tell you exactly how to research and book your Mexico City hot air balloon tour (safety aspects and prices included), what company to choose, what to expect on the day of your balloon tour, and how to prepare beforehand.
So, let's plan the most epic balloon tour of your life, shall we???
---
Please note: This post may contain affiliate links which means I may earn a commission if you make a purchase by clicking a link on this post. This will be at no additional cost to you. Affiliate links help me keep this website up and running. Thanks for your support!
---
My Top Pick: Best Teotihuacan Hot Air Balloon Tour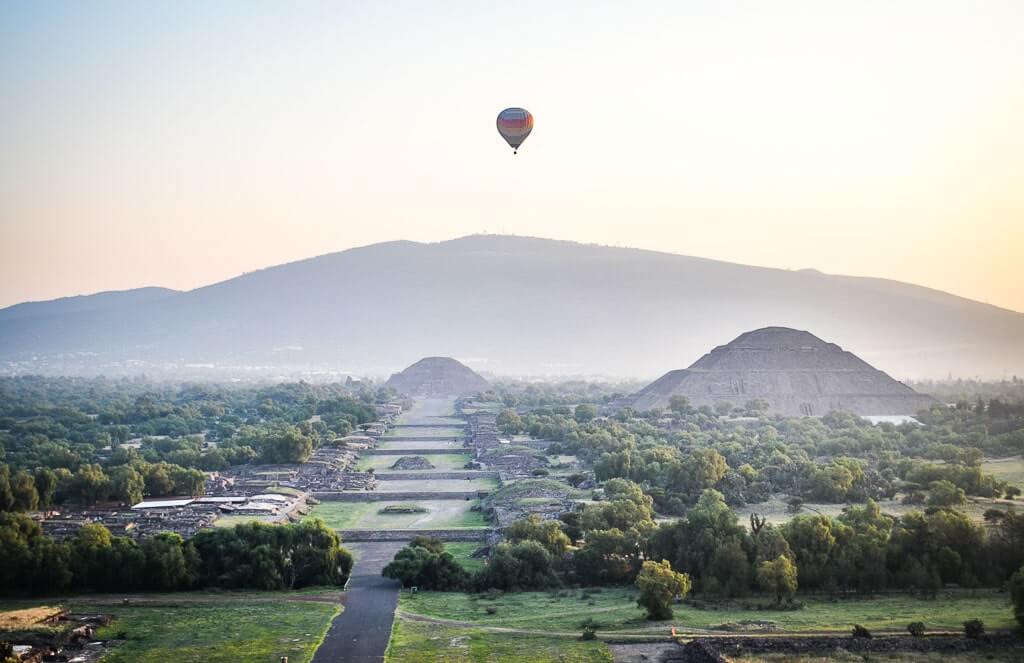 Why book a Teotihuacan Hot Air Balloon Ride?
Imagine flying over the Teotihuacan ruins at sunrise, the first rays of the sun gently illuminating three massive pyramids and a really long road that people would have walked on centuries ago. The feeling is magical!
As you float closer to the pyramids, you'll see exquisite carvings, hidden niches, and lost citadels. The experience is extraordinary and gives you a broader picture of Teotihuacan, letting your imagination run wild as to how the city would've looked in its heyday, 2000 years ago!!
Add to that the thrill of soaring 3,000 feet above the ground. That makes a Teotihuacan hot air balloon ride a bucket list-worthy experience in Mexico.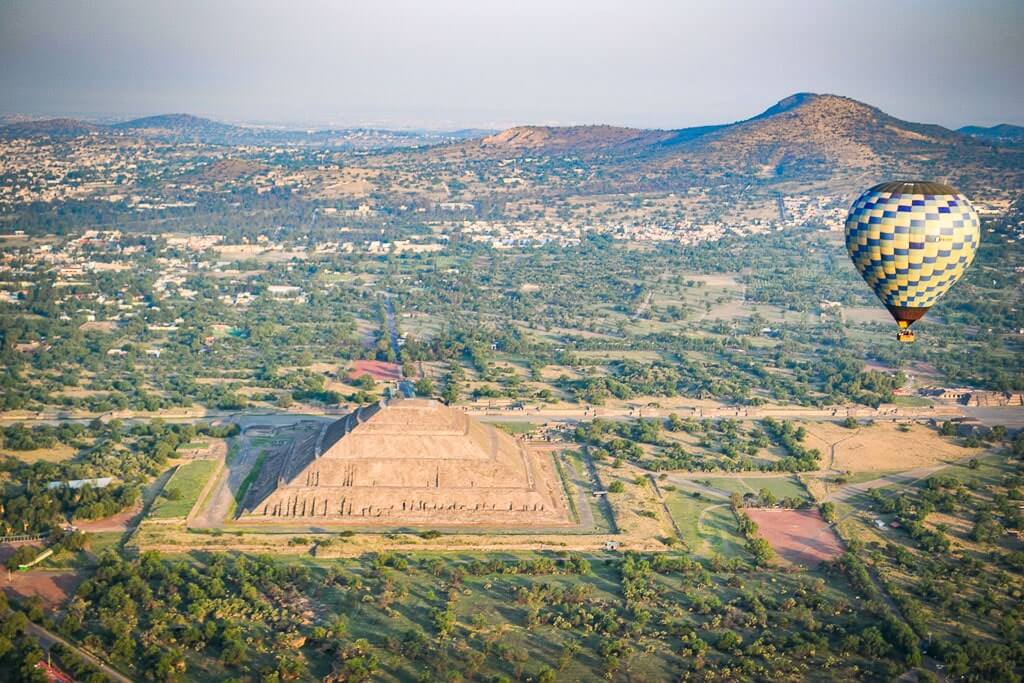 Readers and friends often ask me if the hot air balloon ride over Teotihuacan is worth the money. And more importantly, is it safe?
Short answer – Yes and Yes. I have elaborated below.
Is a balloon ride over Teotihuacan worth it?
Riding a hot air balloon over the pyramids of Teotihuacan is worth every penny. The joy of floating over the ruins of an ancient city bathed in the golden rays of the rising sun is unparalleled. The balloon experience, surely, gives you a unique perspective of the ancient city of Teotihuacan.
Further, there are two practical reasons why Teotihuacan balloon rides are so worth your money.
First, they are not as expensive as balloon rides in other places. In fact, Mexico City balloons are one of the most affordable flights in the world.
Second, balloon flights in Teotihuacan do not experience as many cancellations as in some of the other places like Cappadocia in Turkey. That is because the weather in Teotihuacan is more stable and predictable. So, if you've booked your balloon ride with a reputed company in Mexico City, chances of flying are very very high.
✦ Pro Tip: A hot air balloon tour is the best way to start your day at Teotihuacan. What's even better is to follow it up with a guided tour of the archeological site. Check out our post on the Best Guided Tours in Teotihuacan.
Is a balloon ride over Teotihuacan safe?
Yes, a balloon ride over Teotihuacan is generally safe if you're flying with a registered balloon carrier in Mexico. Thousands of people have had safe balloon flights over the pyramids and concur with the opinion that Volare balloon flights are one of the safest in the industry.
After the recent balloon accident in Teotihuacan, I wanted to be doubly sure that the hot air balloon that we were riding was safe.
That's why we decided to go with Volare because they employ pilots that have AFAC Mexico or FAA USA certifications. Their balloons are also certified by AFAC Mexico and they give you the best instructions on how to behave inside a balloon and prepare for landing.
How to book the best Teotihuacan Hot Air Balloon Ride?
The best way to book a hot air balloon flight over Teotihuacan in Mexico City is through an online marketplace like Viator or Get Your Guide (GYG).
There are 5 reasons why I always use these platforms to book my tours and you should too.
Both Viator and GYG have a variety of tour options from all reputed agencies. Therefore, these are great platforms to scroll through tours, compare them, and pick whatever you need.
They have easy cancellation policies. You can cancel almost any tour up to 24 hours in advance without any cancellation charges. It is convenient when your travel plans are still shaping up.
You can reserve and pay later. Both Viator and GYG have reserve-and-pay-later policies which means you can reserve your space on the tour now and pay up to 72 hours before the tour.
These websites are available in English which makes booking tours an easy-breezy affair. Imagine having to navigate local language websites and tour operators in every country. That would be a nightmare.
You can pay via credit and debit cards, Apple Pay, Paypal, and more. Therefore, you do not have to worry about carrying cash everywhere.
Top 4 Balloon Operators in Mexico City
There are several tour agencies that operate hot air balloons in Mexico City. Only a handful are the best.
After months of research and reading countless reviews online, we zeroed in on the following four balloon operators in Mexico City.
Sky Balloons – 4.8/5 based on 4K Google reviews
Aerodiverti – 4.9/5 based on 1.5K Google reviews
Volare – 4.6/5 based on 1.2K Google reviews
Teotihuacan en Bici – 4.7/5 based on 229 Google reviews
These four operators had the best reviews on Google and their tours were the highest rated on every platform.
Top 4 Hot Air Balloon Tours in Mexico City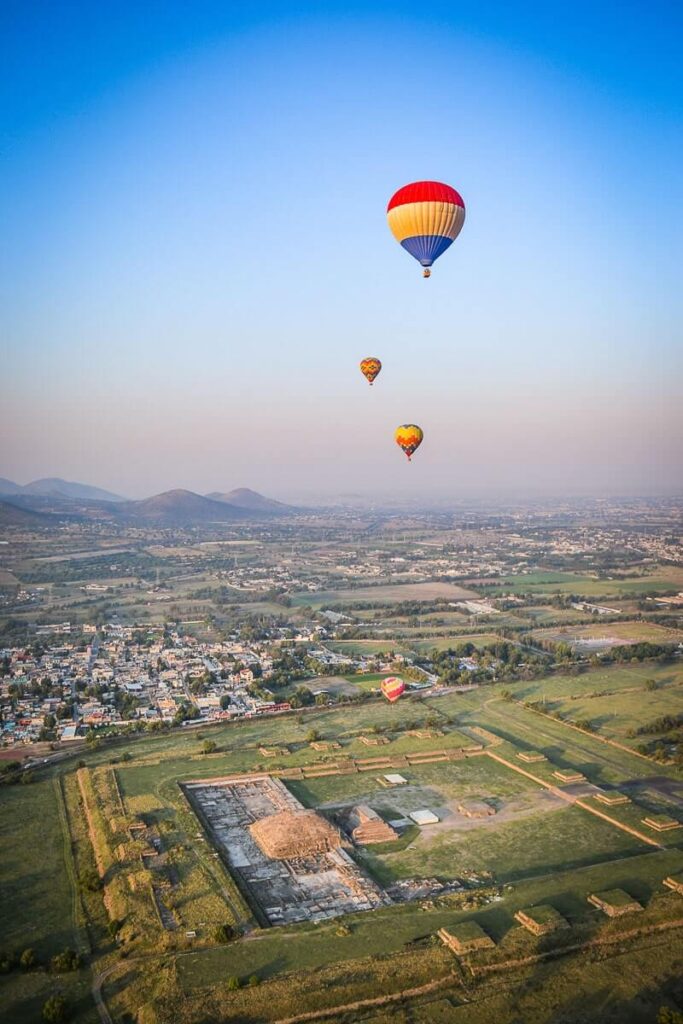 ⭐️ RATING: 4.8/5 Stars | 🕛 DURATION: 4-9 Hours | ⏩ BOOK IT!
Operated by Volare, this Hot Air Balloon Flight over Teotihuacan, from Mexico City Tour is the highest-rated balloon tour in the market.
They have over 1000 5⭐️ star reviews on Viator and over 500 5⭐️ reviews on GYG!!!!
Includes: 40 – 60 mins of hot air balloon flight, breakfast accompanied by live Mariachi music, drinks (we had fresh juice and tequila), honor toast, and diploma. Round-trip transfers from Mexico City (if option is selected).
They have 3 kinds of tours that you can choose from – without transportation, with round-trip transfers from CDMX, and with round-trip transfers and extra time at the pyramids.
We went with the last option i.e. round-trip transfers + extra time at the pyramids and it was a fab trip.
Amazing experience start to finish! They took care of everything from transportation to coffee in the am to a breakfast with mariachi to a successful hot air balloon landing.

Nicole. More reviews here.
The best part is that this tour is available on both Viator and GYG. So, you can book on whichever platform you're comfortable with or whichever has the lowest price.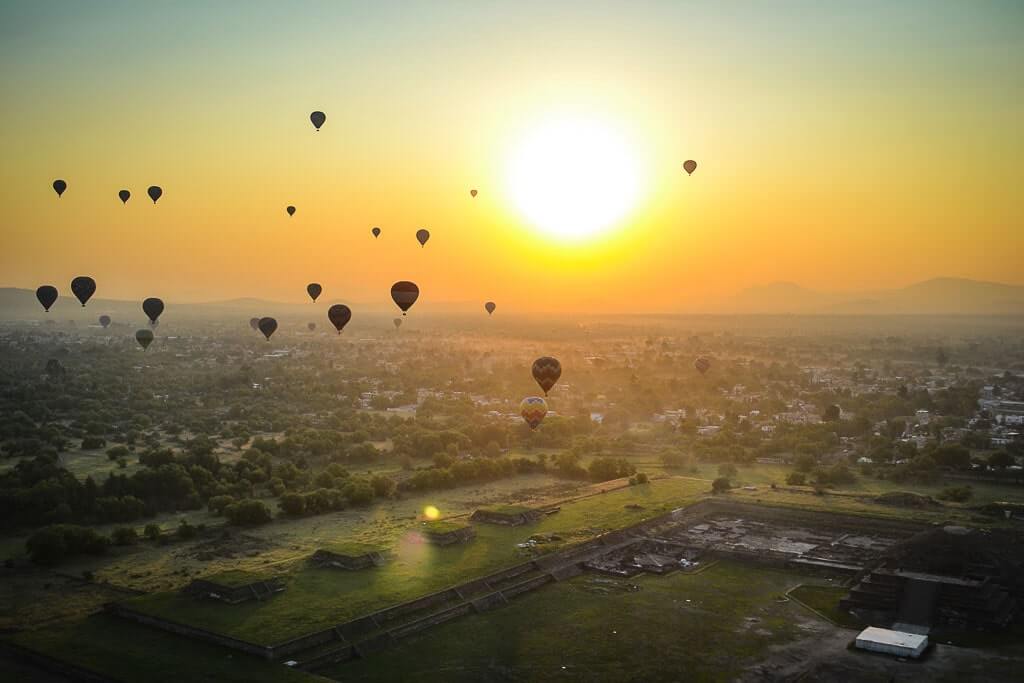 ⭐️ RATING: 4.6/5 Stars | 🕛 DURATION: 8 Hours | ⏩ BOOK IT!
Operated by Sky Balloons, the Hot Air Balloon Adventure in Teotihuacan Tour has more than 200 5⭐️ reviews and is one of the most popular tours on GYG.
Includes: Hotel pick-up and drop, balloon flight, sparkling wine, flight certificate, breakfast, and admission to Teotihuacan Archeological Zone.
On this hot air balloon tour, you'll marvel at the Teotihuacan Pyramids from above and take amazing photos.
The tour also includes a glass of sparkling wine that has been a Sky Balloons tradition since they started flying. At the end of the tour, you'll enjoy a sumptuous breakfast at El Cielo Panoramic Restaurant.
Ah-mazing experience from the starting to end! Ticked off my bucketlist things to do. The van came to pick us up from the hotel location on time, we had a quick breakfast, did a balloon ride and came back for lunch again. So impressed with the variety of vegan/vegetarian food options available. Then we were taken for a local sight seeing with a guide explaining us local artisans and plants before heading to the Beautiful archaeological site of the pyramids. Staffs were very polite and organized. I highly recommend the services to anyone! Must-see experience while in CDMX!

Sudeshna. More reviews here.
One of the highest-rated tours in the market, this Hot Air Balloon Adventure in Teotihuacan is a real deal.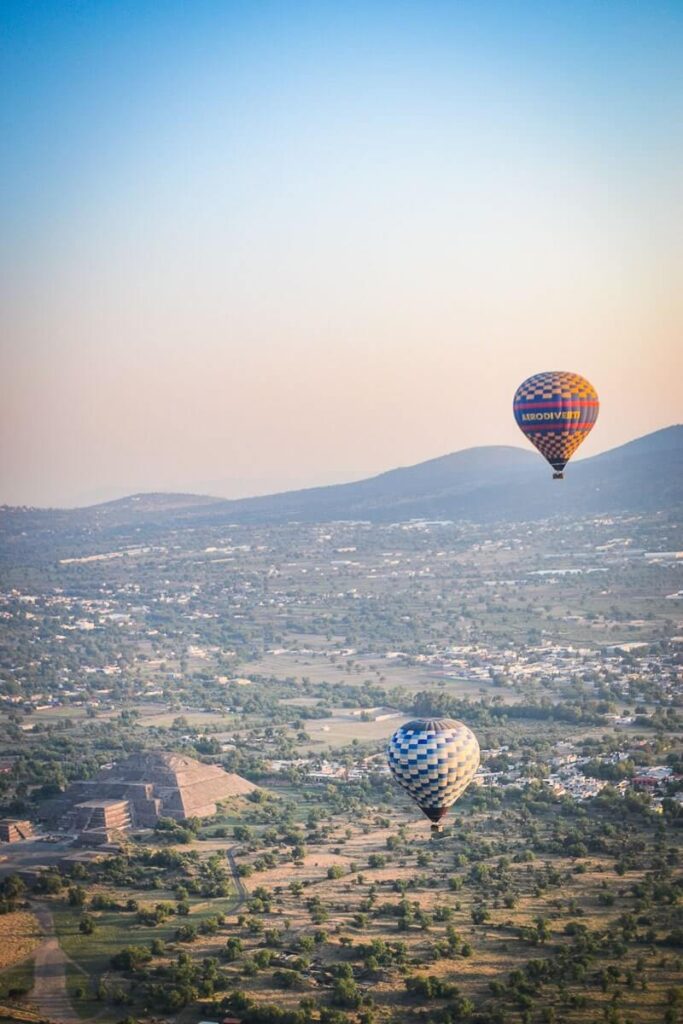 ⭐️ RATING: 5/5 Stars | 🕛 DURATION: 11 Hours | ⏩ BOOK IT!
This Hot Air Balloon Ride with Bike/Walking Tour operated by Teotihuacan en Bici is an amazing way to see the best of Teotihuacan from two different angles – the sky and up close on land.
Includes: Roundtrip transfer from Mexico City, 30 – 50 min balloon flight, local driver/guide, breakfast, lunch, admission to Teotihuacan archeological site, use of bicycle (if option is selected).
On this full-day tour from Mexico City, you'll ride a hot air balloon over the archeological site for 30 – 50 mins.
Then, you'll have breakfast and head to the Teotihuacan Archeological Site where a knowledgeable local guide will take you on a walking tour. You'll see monumental pyramids, and beautiful murals, and learn all about the mysteries of Teotihuacan.
After that, you'll visit an old neighborhood that still preserves Teotihuacan murals. Then, you'll explore a cave that was apparently a pre-Hispanic observatory. This part is done by bikes (if you choose the bike option) or by van.
First class experience all the way from the pick-up on time, ballon ride, exploring the Teotihuacan ruins and cave exploring with bike ride was truly amazing experience…I can say enough good things about the whole experience guide was exceptional and the food was great with a mariachi band at late breakfast also.

Mark. More reviews here.
Teotihuacan en Bici is a sustainable tourism company that's run by locals of Teotihuacan. Therefore, this tour, which really offers something unique and very local, is one of my favorites.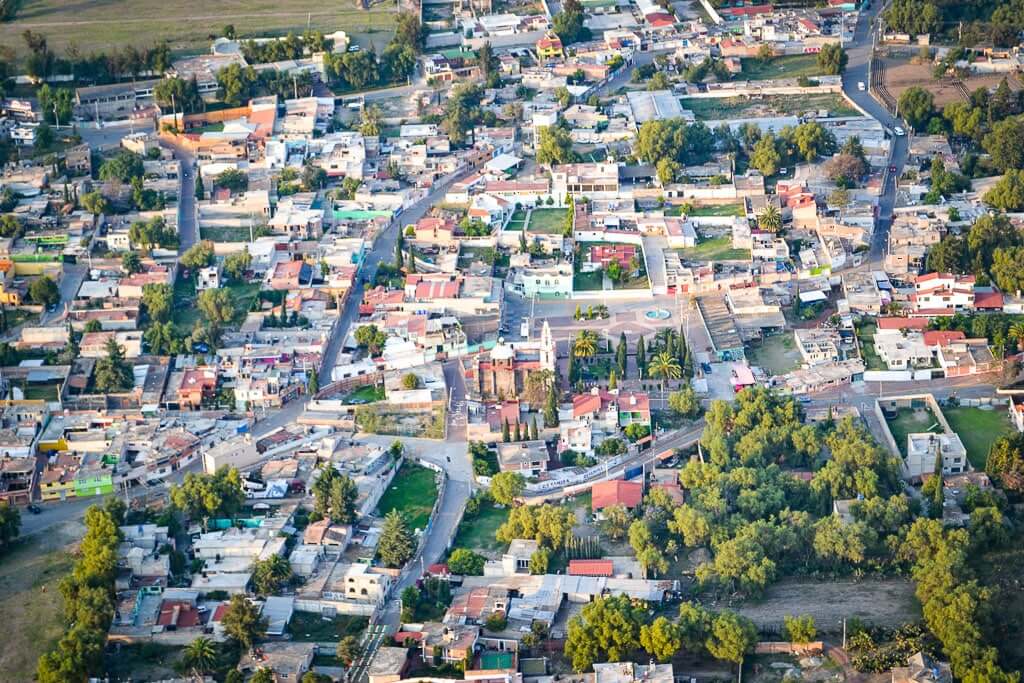 ⭐️ RATING: 4.1/5 Stars | 🕛 DURATION: 8 Hours | ⏩ BOOK IT!
The Teotihuacan Hot Air Balloon Ride by Aerodiverti is another highly-rated balloon tour in Mexico City and an incredible way to see the pyramids from above.
Includes: Transport by minibus, 30 – 60 mins balloon flight, certificate and toast with sparkling wine, buffet breakfast, artisanal workshop, and liquor tasting.
The tour begins with a pick-up from the Angel of Independence landmark in Mexico City. Next, you'll have a coffee/small snack and enjoy a 30 – 60 minute ride over the pyramids.
Upon landing, you'll enjoy a toast of sparkling wine and relish a buffet breakfast. Then the tour allows you 2 hours to explore the archeological site of Teotihuacan on your own.
Amazing experience! A very good hot air balloon pilot and a very fun day!

Anne-loes. More reviews here.
At the end of the tour, Aerodiverti takes you to an artisan workshop where you'll learn all about obsidian. Then, you'll enjoy a tasting of pulque, tequila, and mezcal.
Why I chose Volare for my Hot Air Balloon Ride over the Pyramids of Teotihuacan?
Pre-Booking Research
After days of in-depth research, we chose Volare for our hot-air balloon ride over the Teotihuacan Pyramids. Below, I have listed all my reasons, which I am sure are crucial for you to plan that epic balloon ride in Mexico City.
Top Reviews: Reviews were very very important to us. The Teotihuacan Hot Air Balloon Ride by Volare had the maximum number of 5-star reviews on both Viator (over 1000 reviews!) and Get Your Guide (over 500 reviews!). Check all Viator reviews here and GYG reviews here.
Safety Certifications: Volare's balloons are certified by the Federal Civil Aviation Agency (AFAC) in Mexico. They only hire professional pilots with AFAC Mexico or FAA USA certifications.
Relevant Experience: Volare is one of the most experienced hot air balloon companies in Mexico. They have been doing this since 2005.
Price: They are one of the most budget-friendly hot air balloon tours in Mexico City both on Viator and GYG. We booked our ride through GYG here because GYG was a little cheaper than Viator. The balloon ride cost us about $180 per person during the peak spring months.
Transportation: Volare is one of the few companies that offer extra hours at the Teotihuacan Archeological Site after the balloon flight. Most others drop their guests back in Mexico City right after the flight is done. But we really wanted to see the pyramids again. So, we opted for extra time at the pyramids and explored the archeological site on our own for 3 hours.
✦ Related Read: Curious to find out what are the best things to see and do in Teotihuacan? Check out our Ultimate Guide for Visiting Teotihuacan from Mexico City.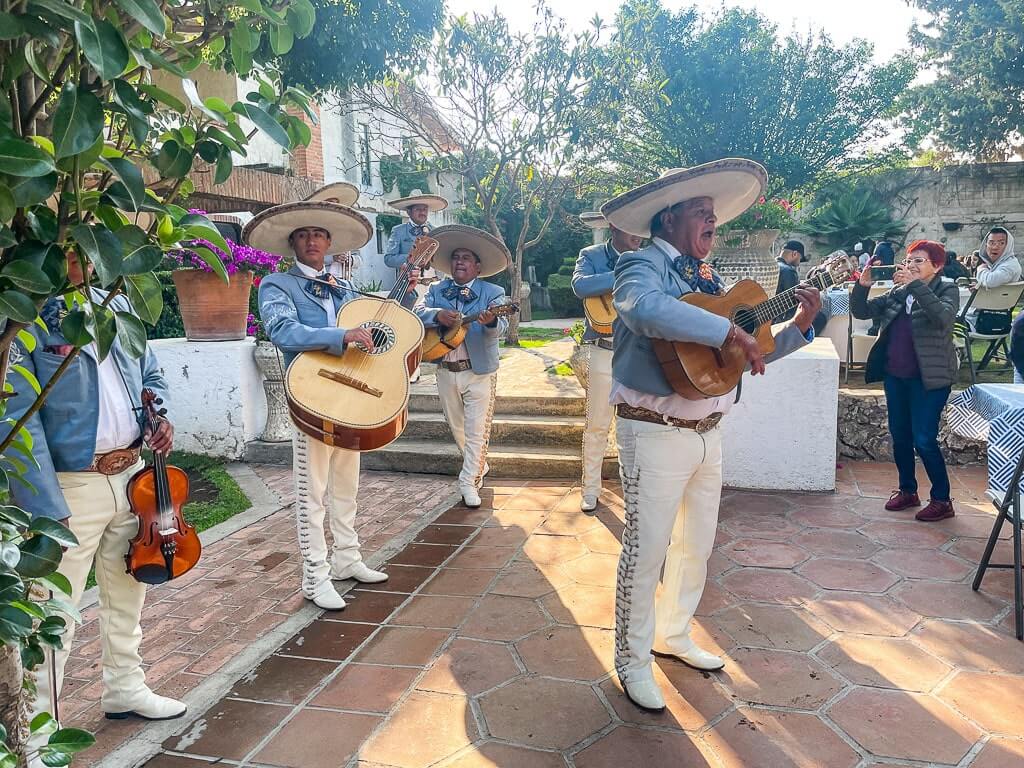 Post-Trip Customer Delight
Of course, I did all the research before booking the perfect hot air balloon ride over the pyramids of Teotihuacan. But how did my tour actually turn out?
Do I recommend a Teotihuacan balloon flight to my readers after doing it myself? Yes, I do!
The entire trip was impeccably organized, right from pick-up from the hotel to drop-off in Mexico City. Everything happened like clockwork – pick-up from Mexico City, balloon flight, breakfast and Mariachi performance, drop at Teotihuacan pyramids, pick-up from the pyramids, and drop-off in Mexico City.
The staff was cordial and spoke flawless English. As soon as we arrived at the Volare flight point, we were immediately checked in and given instructions about the flight, the use of bathrooms, refreshments, and breakfast. This was quite a surprise after our not-so-great experience at the hot air balloons in Cappadocia, Turkey which was pretty disorganized.
Balloon embarkations were organized effectively. They called out our names and assigned us to different balloons, depending on the package chosen. Ours was a small balloon with only 7 passengers. We had a great pilot as well as an amazing lady co-pilot and the balloon ride over Teotihuacan was one of the most amazing experiences in Mexico City.
Teotihuacan Hot Air Balloon Ride: Things to know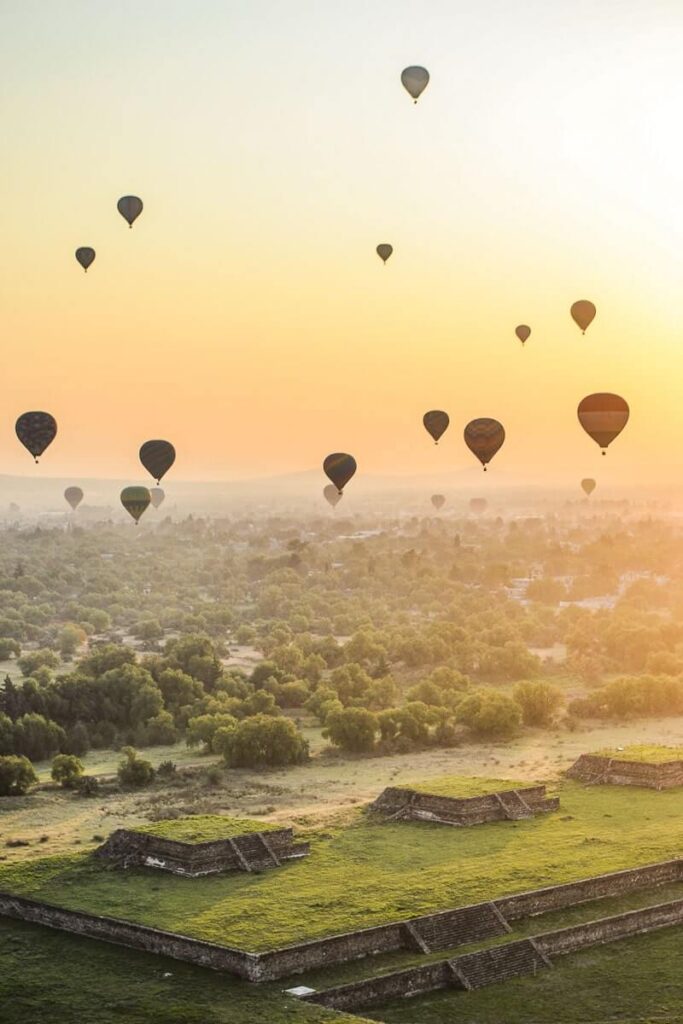 If this is your first hot air balloon ride, then here are a few things that you need to keep in mind.
Balloon rides are typically scheduled for early morning when wind conditions are most stable, so be prepared for an early start to your day. Early can mean waking up at 3:30 a.m. in the morning depending upon how far you live from the take-off area!
Dress comfortably and in layers. Since this is an early morning activity, temperatures can be pretty low when you start off. But it will get hotter during the day. Layering is the best way to deal with it.
Also, contrary to what everyone tells you, it does not get super chilly as you go up in the air. Rather, the fire propelling the balloon keeps everyone warm and toasty.
Don't forget your camera. The views from above are truly awe-inspiring, and you'll want to capture every moment. However, make sure your camera and phone are secured to prevent them from falling off.
Carry a power bank on you because this is going to be a long day if you're doing a balloon ride and following it up with a tour of the archeological site.
If you're planning to visit the Teotihuacan archeological site after the balloon ride, be sure to get a skip-the-line ticket here. Sometimes, balloon tours include entrance tickets to the site. But if they don't, then you'll have to buy your own ticket. You can also buy the tickets onsite. There shouldn't be a long queue if you arrive early.
What to expect on a Hot Air Balloon Ride Day in Mexico City?
What to expect on a hot air balloon ride day in Mexico City? This is a very common question that I get almost every day. And here goes my answer.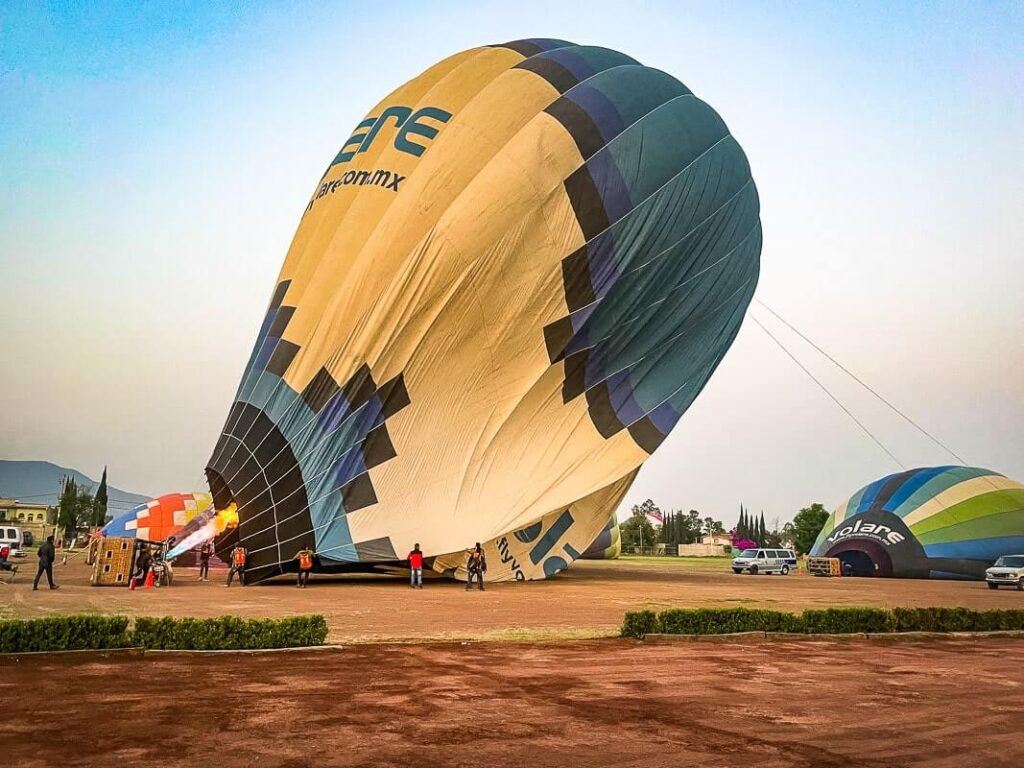 Take off and flight
Be prepared to start your day early like 4:00 a.m. We were staying in Roma Norte in Mexico City and we got picked up from the Hotel at 4:30 a.m. Our Volare tour driver was perfectly on time, so no waiting was involved.
Then, we picked up a couple of other balloon enthusiasts from the same area and headed to the balloon take-off point in Teotihuacan. The drive took about an hour.
As soon as we arrived at the Volare launch pad, a staff directed us to the check-in counter and we were given colored wristbands to indicate what tours we had chosen. There were toilets, snacks, and coffee in this area. Also, a balloon prop to click some awesome pictures.
Next, we went out to see the balloons being inflated. That was a sight in itself.
Once our balloon was inflated, a staff called out our team's name and we headed to board our flight. Once everyone settled in (there were 7 of us in the balloon + 2 pilots), our pilot took off.
The next 45 minutes were the most amazing time of my life. Seeing the pyramids from above as the sun shone its golden rays over them was an incredible sight. We clicked a lot of pictures.
After landing
After that, it was time to head back to the landing area (same as the take-off area). Once on the ground, we were directed to the breakfast area where a buffet was served. There were drinks also including tequila and a Mariachi band was playing the best songs.
When we were done with breakfast, we were directed to a van that was waiting to take us to the archeological site. The driver dropped us at Gate 3, right behind the Moon Pyramid giving us about 3 hours to explore. You can hire a guide at the gate or choose to do a DIY tour. We chose to go on our own since this was a repeat visit for us.
After a mind-blowing tour of the site, we headed back to Gate 3 where we were picked up by a Volare van taking guests to Roma Norte. The driver dropped us at the hotel at around 1:30 p.m.
The entire tour, as you can see, lasted about 9 hours.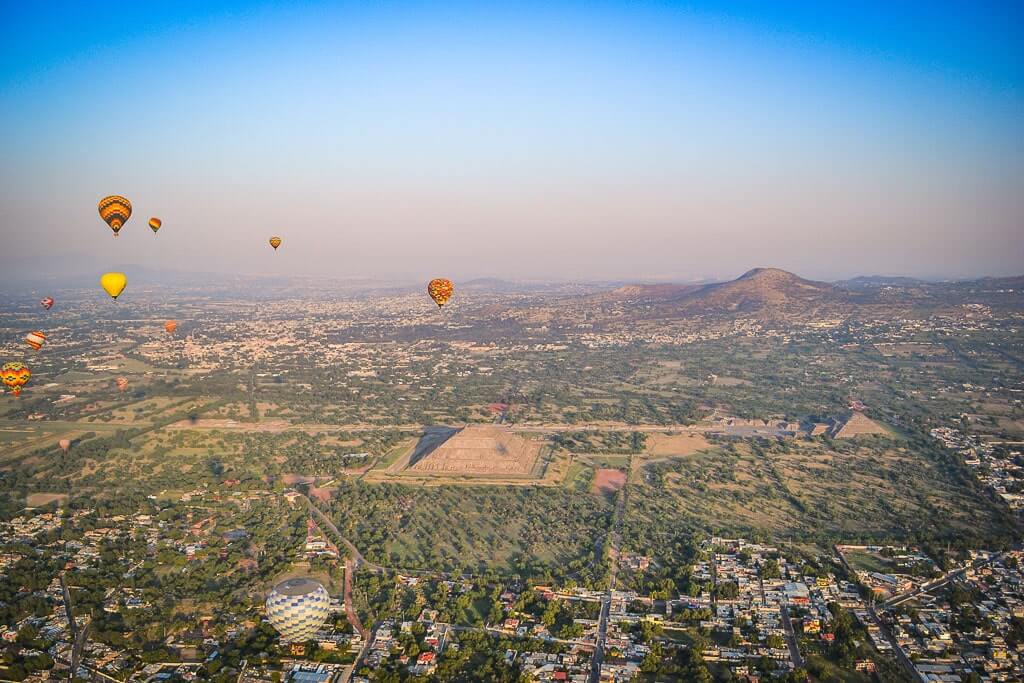 Teotihuacan Hot Air Balloon FAQ
Is a hot air balloon ride at Teotihuacan worth it?
Yes, a hot air balloon ride at Teotihuacan is absolutely worth it because floating over the ancient pyramids is a magical experience and presents a whole new perspective of the lost city of Teotihuacan.
How much does it cost to go to Teotihuacan hot air balloon?
A Teotihuacan hot air balloon ride can cost anywhere between $160 – $250 per person depending on what you choose to include in your tour. The cheapest option – only balloon ride, no roundtrip transfers, and no guided tour of the archeological site – costs about $160.
How long is the hot air balloon ride in Teotihuacan?
The hot air balloon ride in Teotihuacan lasts between 30 – 60 minutes depending on the wind speed. If there's too much wind, you may have a shorter flight.
Is a Teotihuacan hot air balloon ride safe?
Yes, a Teotihuacan hot air balloon is generally safe if you ride with one of the leading ballooning companies in Mexico City. Their balloons are safety-checked and their pilots are trained by AFAC Mexico or FAA USA.
What do you wear to a hot air balloon in Mexico City?
Wear something comfortable to a hot air balloon in Mexico City and layer it up. I always opt for comfy trousers and a shirt on my balloon tours and pair them with a jacket to save myself from the early morning chill.
Loved our Teotihuacan Hot Air Balloon Planning Guide? Pin it for later!