Last Updated on July 20, 2023 by Soumya
Keen to dig into some interesting facts about Mexico City? Eager to learn more about the historic city of CDMX that is also one of the most populated cities in the world? Wondering if there are some secret things about Mexico City that nobody knows?
Well, your search is over now. Here is a collection of the most incredible, amazing, and fun Mexico City facts that you will find nowhere else.
You know how obsessed I am with history. No doubt when I last visited Mexico City for 4 days, I scoured every single resource (online and offline) that I could get my hands on. I made sure I dug into every small thing about Mexico City, interesting or otherwise.
There were incredible historical details, unbelievable scientific findings, and outright fun facts that I had never heard of.
For example, did you know that Mexico City and superlatives go hand-in-hand? Largest, biggest, oldest – these are some of the common words that the world uses to describe CDMX. Or the fact that Mexico City is sinking every single day? Unbelievable, right?
In this ultimate Mexico City facts roundup, you will discover many such amazing things and more.
As always, my article is heavily researched and draws from reliable sources like the WIRED, Science, and Statista. So, go ahead and give it a read. And if you know of more interesting Mexico City facts, be sure to leave me a comment below.
Interesting facts about Mexico City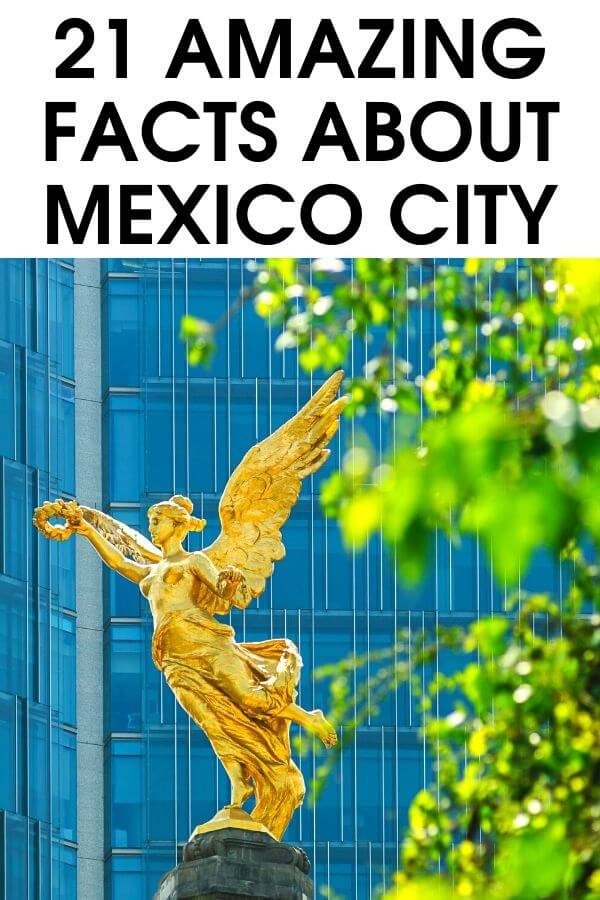 Mexico City is sinking every year
One of the most shocking and interesting facts about Mexico City is that it is sinking every year. It may sound surprising but Mexico City is sinking at the rate of 40 cm every year. This is due to a phenomenon called subsidence.
As we discuss later in this post, Mexico City was built over a lake in the early 14th century. Over time, the city expanded. Bigger and heavier buildings were built. A lot of groundwater was tapped for household and industrial purposes.
This caused the lake bed to dry and clay sheets underneath to crack. As a result, Mexico City is sinking at an alarming rate! And scientists say these changes are largely irreversible!
Mexico City has the largest number of museums in the world
This, for me, was clearly one of the most astonishing facts of Mexico City. I had no clue Mexico City had more than 180 museums.
Of course, I had visited quite a few. But was blissfully unaware of the overall numbers. It was only when I got back home and researched for my article that I discovered there were plenty of museums and galleries in the capital city of Mexico.
In fact, this report by Statista puts the number at a whopping 1086 museum or museum-like establishments in 2018! Some of these make into the list of Mexico City's most important landmarks.
Palacio de Bellas Artes is one of the prettiest art galleries I have ever seen. National Museum of Anthropology has the best repository of Mexico's Pre-Hispanic history. And how can I forget the Blue House or La Casa Azul which is Frida Kahlo's House and Museum.
Mexico City was once called "The City of Palaces"
Alexander von Humboldt, a German explorer and polymath, coined this name for Mexico City in the 18th century. And I would not challenge him given the umpteen number of palaces and mansions that are present in Mexico City even today.
Some of the most notable ones are National Palace, Palace of Fine Arts, Postal Palace, and the House of Azulejos.
Mexico City's palaces were built by the Spaniards who became the new nobles of New Spain. They accumulated tons of wealth in Central America and built extravagant homes and massive churches in the late 18th and early 19th centuries. Many of these still stand tall today justifying the city's nickname of "The Palace City".
Mexico City is home to architecture of 3 kinds
If you head to the Historic Center of Mexico City, you will notice architectural masterpieces of 3 different kinds representing 3 different stages of Mexico City's history.
There is ancient Aztec architecture in the form of Templo Mayor ruins. You will notice colonial buildings such as the National Palace and the Metropolitan Cathedral from the time of Spanish rule. You will also see contemporary high rise structures such as Torre Latinoamericana that form the crux of modern Mexico.
In my article on the best Aztec ruins in Mexico City, I also talk about Tlatelolco and the Plaza of 3 Cultures. This place is called the Square of 3 Cultures because, here, you will find architecture from all 3 eras of Mexican history.
If you are the architecture nerd who loves to explore a place's history through its buildings and architecture, then Mexico City is the place to be.
Also read: Stunning architectural landmarks of Mexico City
You will see a Black Christ at the Metropolitan Cathedral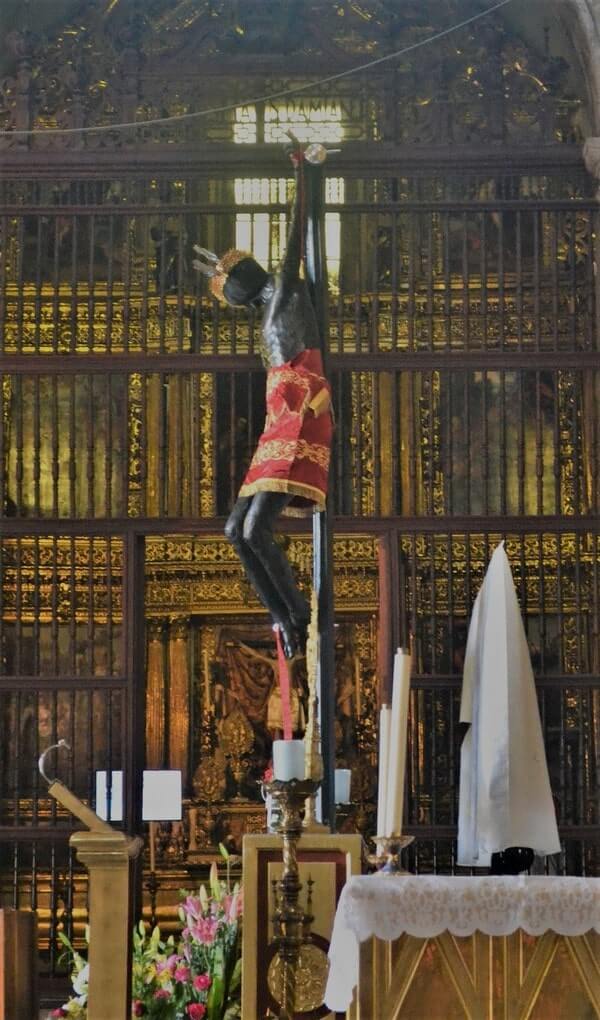 Now this was something that intrigued me a lot. For the first time in my life, I saw Jesus Christ in black color at the Metropolitan Cathedral. I would later find that this was pretty common across Latin America including the famous Black Christ of Esquipulas in Guatemala.
El Cristo Negro, or the Black Christ, is believed to have miraculous healing powers. No doubt, the cathedral is thronging with people all the time.
Mexico City was built on an artificial island in the middle of a lake
In the olden times, cities used to spring up on river banks. However, it was a little different for Mexico City. It came to built on an island located right in the middle of Lake Texcoco. There's an interesting legend behind that and you can read it here.
The most interesting fact is that the Aztecs built Mexico City (or Tenochtitlan) over Lake Texcoco by dumping soil into the lagoon and building an artificial island over it.
In the olden times, Valley of Mexico had 5 lakes. Lake Texcoco was the largest and that is where the Aztecs decided to build their capital, Tenochtitlan. Then, they connected the city with several other islands and lakes through canals and causeways.
Xochimilco is the only place where you can still see the Aztec canal system
None of the canals and causeways that we spoke above exist in Mexico City anymore. The lake over which the city was built was drained over time (one of the prime reasons why Mexico City is sinking).
However, a fragment of the canal system still survives at the Floating Gardens of Xochimilco. These gardens are called the "chinampas". Read my article for BBC where I speak, in-depth, about how Xochimilco's chinampas a true engineering marvel.
Located only 30 minutes away from Mexico City, Xochimilco makes for an amazing day trip. You can take a ride through the historic canals on a traditional Trajinera boat here and enjoy local food and music.
Historical facts about Mexico City
Mexico City stands on the ruins of an ancient Aztec City
When the Spanish arrived in 1521 CE, they razed the ancient Aztec city of Tenochtitlan to ground and built a brand new Mexico City over the ruins.
Where you see the Zocalo and the historic center today was actually the ceremonial center of the Aztecs. They called it Tenochtitlan.
There were 45 buildings in the ceremonial center including important temples and shrines. Nothing remains today except some ruins of Templo Mayor right next to the cathedral.
You will be surprised to know that stones and rubble from Tenochtitlan's old buildings were used to construct brand new colonial monuments. For example, Metropolitan Cathedral and the National Palace that you see today used stones from ancient Aztec structures.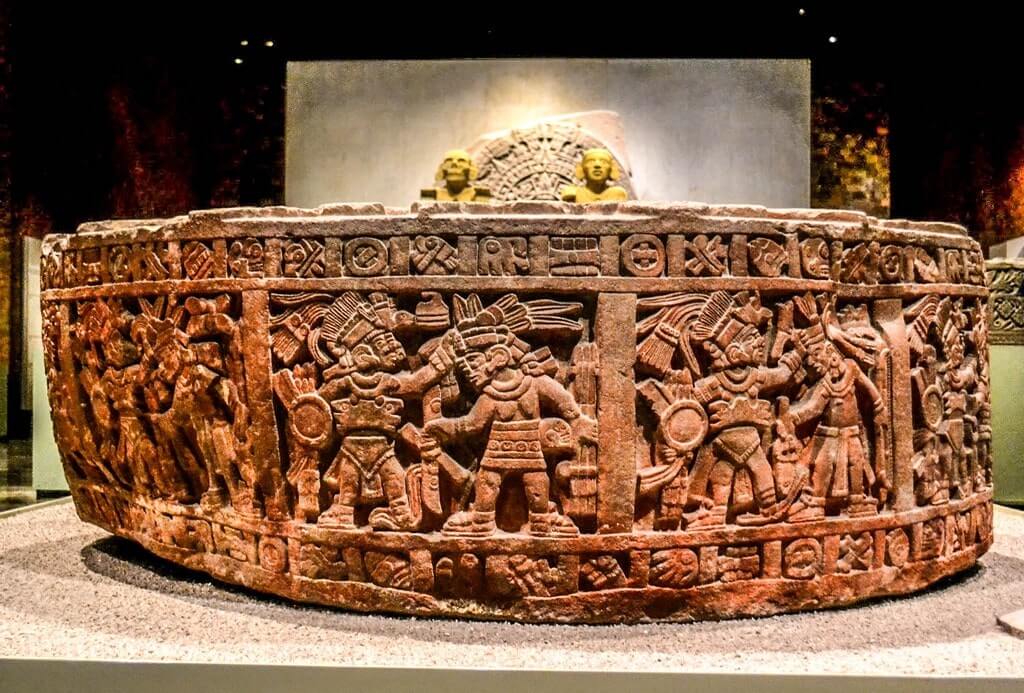 Mexico City functioned as the capital of New Spain for 300 long years!
After Henan Cortes conquered the Aztec Empire in 1521, New Spain took birth. It was an extensive territory ruled by the Spanish Empire and comprised of Mexico, Southwestern USA, Central American, Philippines, and Guam.
Henan Cortes built a new capital city over the rubble of Tenochtitlan and called it Mexico City. The city would function as the capital of New Spain for 300 years (1521 – 1821) until Mexico gained independence in 1821.
Mexico City got its name from an Aztec tribe
Mexico City got its name from the Mexica tribe who originally came from the mystical region of Aztlan. These Mexicas, who were also known as the Aztecs, had founded the city of Tenochtitlan.
There is an interesting legend behind the founding of Tenochtitlan
It is believed that the Aztecs left their mythical homeland, Aztlan, in the early 1300s and came to the Valley of Mexico in search of a blessed land.
Their God, Huitzilopochtli, had prophesied that they would build their new capital at the spot where they saw an eagle sitting on a cactus tree, eating a snake.
Surprisingly, the Aztecs saw this exact scene at Lake Texcoco and decided to build Tenochtitlan there.
You can now see this eagle with the snake in its mouth displayed on the Mexico flag.
Not everything was very gung ho about Tenochtitlan
We know that Templo Mayor in the center of Tenochtitlan was this massive, awe-inspiring temple dedicated to two important Aztec deities. However, there is an unsavory fact that many of us do not know.
Templo Mayor was the center for human sacrifice. When the Tenochtitlan Pyramid was consecrated in 1487, more than 4000 people were killed here and their still-beating hearts were offered to the gods.
Human sacrifice and bloodletting rituals formed an important part of the culture of many ancient civilizations. The Aztecs were no different.
Pyramids of Teotihuacan are not Aztec in origin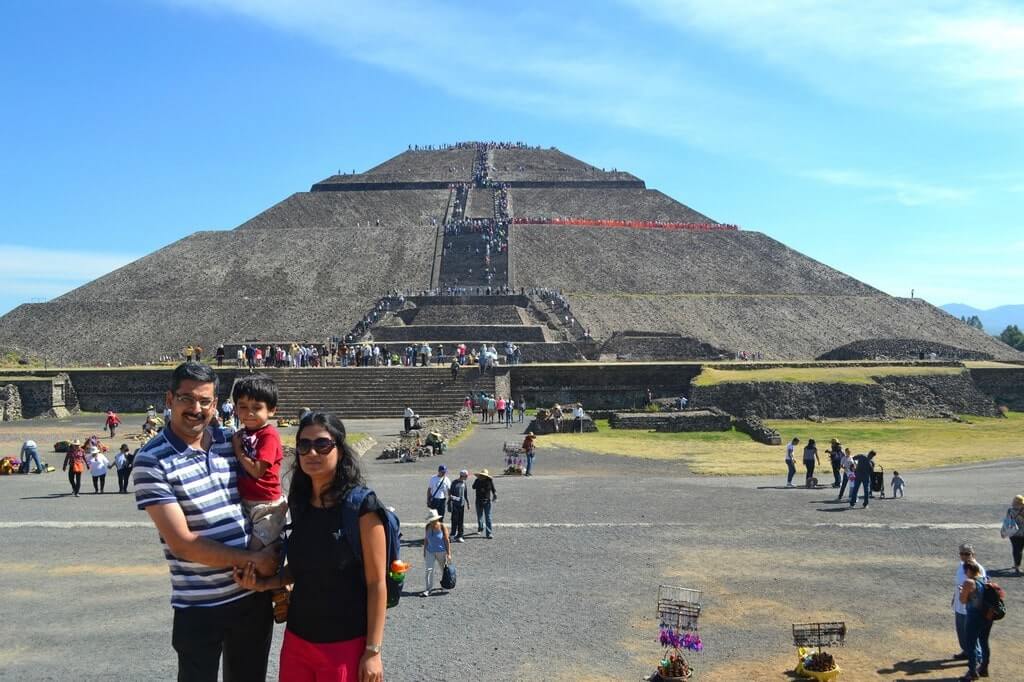 Visiting Teotihuacan as a day trip is a must-do thing when in Mexico City. But very often, we go in with the idea that the Aztecs built Teotihuacan.
For a long time, I believed the same. However, when I was researching for my article on Teotihuacan facts, I found that that was far from the truth.
Aztecs never built Teotihuacan. They only discovered it. In the 14th century.
Teotihuacan was built long before the Aztecs arrived. The city reached a peak between 100 BCE and 650 CE. It was burned and destroyed in the 700s.
Everything about Teotihuacan is a mystery. There is no definite evidence on who built the great pyramids of Teotihuacan. Researchers suggest that Teotihuacan was probably a city of immigrants and each group simply vanished into their own fold when the city collapsed.
Read more: Intriguing facts about the ancient city of Teotihuacan.
Mexico City fun facts
Mexico City is not that old!
Old Mexico City or Tenochtitlan was built in 1325 CE by the Mexica, an indigenous group that lived in the Valley of Mexico.
If you compare it with other ancient cities such as the Teotihuacan which was built around 100 CE or the Chichen Itza which was established in 600 CE, you will realize that Tenochtitlan is not that old! Rather, it was one of those cities that got settled in late but continued to be lived in for a long time.
But Mexico City is the oldest, continuously-inhabited city in the Americas
It was founded in 1325 CE as Tenochtitlan. For nearly two centuries, Tenochtitlan functioned as the capital of the Aztec Empire. In 1519, it came under the control of the Spanish who called it Mexico City.
No other city in the Americas is as old as Mexico City where people have continuously lived for centuries.
Mexico City is the largest city in North America in many aspects
Ciudad de Mexico or Mexico City is the most populated city in North America. It is also one of the largest in terms of area. Over 9 million people live in here spread over an area of 573 square miles. That makes it one of the most densely populated cities in the world too.
Did you know that one-fifth of Mexico's total population actually lives in Mexico City? No doubt, Mexico City has one of the largest capital-to-national population ratios.
El Zocalo is one of the largest public squares in the world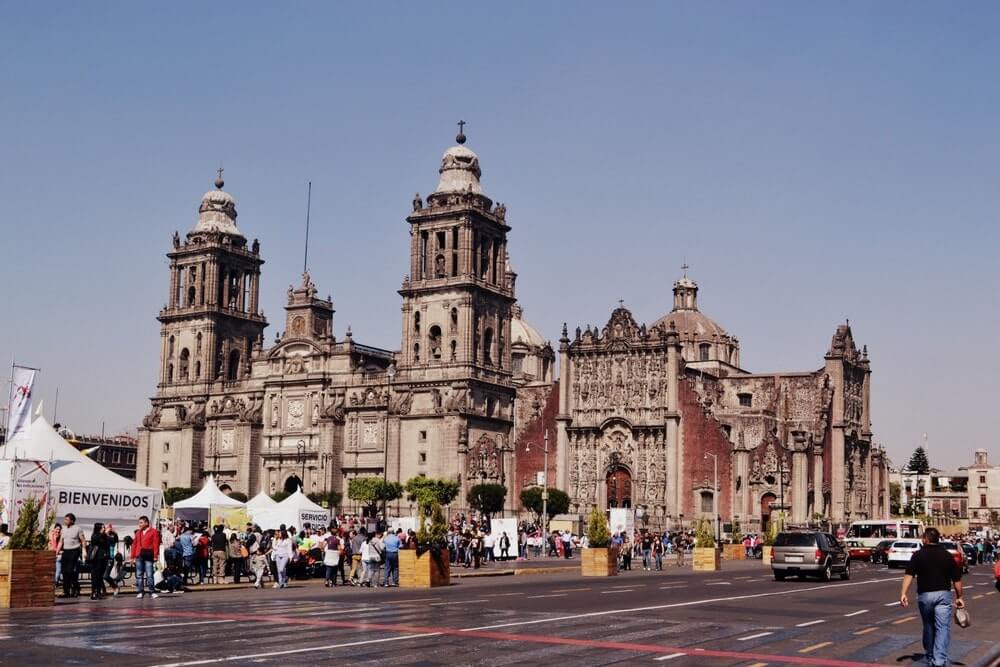 Mexico's main public square is called El Zocalo or Plaza de la Constitución. It is one of the largest squares of Mexico, Central America, and the world.
The Zocalo has been in use since the time of the Aztecs and even today, it is the venue of all events and happenings. It forms a big part of Mexico City's historic center and is literally the heart of the city.
Also see: Top things to do and see in the Historic Center of Mexico City
An active volcano is located right next to Mexico City
Popocatépetl, fondly referred to as El Popo by locals, is one of Mexico's most active volcanoes. In fact, the last time it erupted was as recent as January 9, 2020.
And do you know where Popocatépetl is located? It is just a hop away from Mexico City – 43 miles (70km) to the city's southeast. Therefore, the mountain makes for an easy day trip from Mexico City, albeit with necessary precautions. It is still an active volcano, after all.
Mexico City has one of the largest number of taxis in the world
There are more than 140,000 taxis in Mexico City. And that makes it one of the largest taxi fleets in the world today. It is also quite cheap to get around Mexico City in taxis or "sitios" as they are locally called.
When visiting Mexico, keep your eyes peeled for the white and pink sitios that I am sure you will spot in abundance.
Chapultepec Park is one of the largest in the world
Bosque de Chapultepec, Chapultepec Park or the Chapultepec Forest is one of the largest city parks in Latin America and the Western Hemisphere. At a size of 1695 acres, it is almost twice the size of New York's Central Park and home to several interesting attractions.
Here, you will find the Chapultepec Castle, Chapultepec Zoo, many amazing museums including the National Anthropology Museum, and of course lots and lots of street food. If you are looking for a green space that's full of activities, Chapultepec Park fits the bill perfectly.
Mexico City's Angel of Independence is made of gold
Technically, yes. The Angel of Independence, one of Mexico City's most recognizable landmarks, is made of bronze that is covered all over with 24k gold.
Loved this collection of interesting Mexico City facts? Pin it for later!