Last Updated on September 15, 2023 by Soumya
Are you looking for weird and non-touristy things to do in Mexico City? Wondering what are the best hidden gems in Mexico City? Willing to venture off the beaten path in CDMX? Ready to explore Mexico City like a local?
Don't worry. I am here to help you with the most exclusive and unique Mexico City experiences.
After having visited Mexico City several times, I know that this beautiful city can sometimes feel like a lot of people. Interesting trivia – Mexico City is home to 21 million people. That makes it one of the most populated cities in the world. Add thousands of tourists to that number and we do have a crowd! In such a case, it is natural to look around for hidden gems.
In this detailed but offbeat guide for CDMX, I talk about all the unusual things to do in Mexico City and when & how to do them. I am sure you'll find these non-touristy spots quite empty with literally no one or maybe a few likeminded travelers sharing the space with you. If you know of more hidden places , feel free to share them in the comments below.
Please note: This post may contain affiliate links which means I may earn a commission if you make a purchase by clicking a link on this post. This will be at no additional cost to you. Affiliate links help me keep this website up and running. Thanks for your support!
Best Non-Touristy Things to do in Mexico City
Diego Rivera Murals at Secretariat of Education
Seeing Diego Rivera murals in Mexico City was a dream come true for me. And, I must say that I was totally floored by the collection at the Secretariat of Public Education.
The main headquarters of the Public Education Secretariat in downtown Mexico City is home to 200+ panels of murals created by Diego Rivera in the 1920s. These murals depict Mexican life, culture, food, and festivities and do not have political angles like you'll see at many other places.
What's great is that the Secretariat is absolutely free to visit and also open on Mondays. They are open from 9:00am – 6:00pm, Monday – Friday.
You need to carry your ID which the authorities will check at the entrance. Then, you can enter the building and take a self-guided tour through its multiple floors and courtyards marveling at Rivera's beautiful creations.
National Palace Tour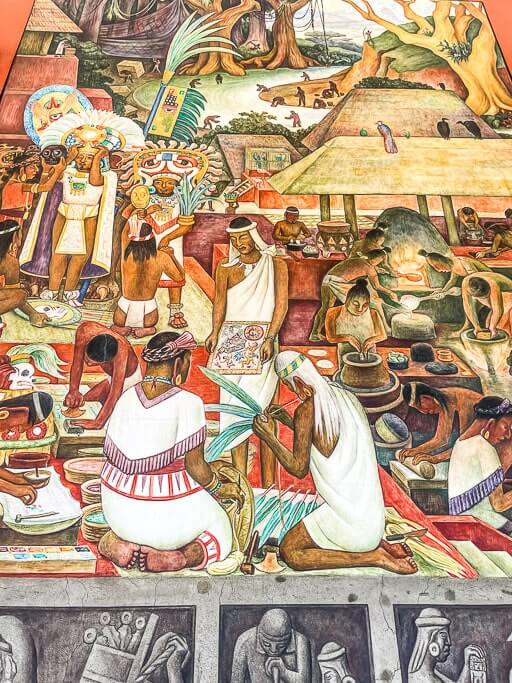 Even though the National Palace of Mexico (Palacio National) is not really a hidden gem (it's this massive, historic building standing right in the middle of the Zocalo), the palace tours that happen here every day are definitely one of the best non-touristy things to do in Mexico City. There's not much information about them on the internet – so, people eventually end up not doing them!
Palacio National is a super impressive colonial building that was built by Hernan Cortes over the debris of the Palace of Aztec Emperor Moctezuma. Inside the palace, you can still see some of these ruins below glass floors.
The highlight, however, is the large collection of wall murals by Diego Rivera. It includes the very famous "History of Mexico" mural which is a must see. Try and spot Frida Kahlo and Diego Rivera himself on the panels.
The National Palace is open Tuesday – Sunday, 9:00am – 5:00pm.
How to visit the National Palace?
Visiting the National Palace is a little tricky because you cannot do that on your own. You'll need to join a guided tour to get in. The process of getting on that tour is a little complicated – so be sure to check out my Palacio National visitor's guide to find out how.
Moorish Kiosk
If you'd really like to venture off the beaten path in Mexico City, I recommend heading to this beautiful and hidden attraction in Mexico City's Santa Maria la Ribera neighborhood – The Moorish Kiosk.
Locally known as the Kiosco Morisco, the Moorish Kiosk dates to the 19th century and is built in the Mudejar (Iberian Islamic architecture) style.
With colorful geometric patterns and floral motifs dotting the dome, the pillars, the arches, and every other inch of the kiosk, the kiosk is one of the prettiest places to visit in Mexico City.
And guess what? Even though the Moorish Kiosk is a stunning icon of the Santa Maria neighborhood, it wasn't even built here. Once upon a time, an engineer named Jose Ramon Ibarrola built the kiosk to represent Mexico at a New Orlean's exhibition. Don't know why he did that!!! But after that, it was moved to several other places before finding a permanent home in Santa Maria.
Biblioteca Vasconcelos
Biblioteca Vasconcelos is a unique place to visit in Mexico City because its sleek and modern architecture is unlike any other Mexico City landmark. A recent addition to the city's landscape, this distinctive library was designed by Mexican architect Alberto Kalach. Today, it is spread over an area of over 400k square feet and has a collection of over 580,000 books.
Known for its contemporary architectural style, Biblioteca Vasconcelos features a transparent structure with large windows. This lets natural light to flood in and as you can guess, creates a bright space inside. Additionally, multiple floors of cantilevered bookshelves give the library a very industrial look – something that makes it uniquely appealing. A large botanical garden also surrounds the library and houses over 60,000 plants.
Apart from its unique design, Biblioteca Vasconcelos is also known for its extensive collection of books, which includes both print and digital formats. This gigantic venue also plays host to cultural events such as book fairs, art exhibitions, and film screenings. On the day that we visited, we spotted several groups going about their dance practices, obviously prepping for some event.
✦ Pro Tip: Do you love spotting architectural masterpieces in every city you visit? Then, you'll love our guide to the 15 Best Architectural Landmarks in Mexico City.
Sunrise Tour of the Xochimilco Floating Gardens
You know all about the fancy, colorful trajineras – boats that can take you around Xochimilco's floating gardens – with live Mariachi music, dance, food, and drinks.
But do you know that you can also enjoy the beauty of the floating gardens at sunrise without a soul in sight, with only chirping birds to keep you company? Yes, you can do an early morning tour of Xochimilco's chinampas and witness the most amazing sunrise of your life!
You heard me right. Party boats are not the only way to experience Xochimilco. If you're not up for all the music and merrymaking, I highly recommend signing up for a sunrise tour.
Island of the Dead Dolls
If you'd like to see some more Mexico City hidden gems in the Xochimilco neighborhood, I would suggest heading to the Island of the Dead Dolls from Embarcadero Cuemanco (Google Maps).
The island has a tragic history and is one of the creepiest places to visit in Mexico City.
Apparently, a small girl drowned on the banks of this island. The island owner, Don Julian, tried to save her but failed. After the incident, he started hallucinating, seeing things that did not exist, and hearing cries. Other island dwellers also claimed the same! And the tiny island became a hub of paranormal activity.
The young, now dead, girl had left a doll which Julian hung on a tree. Then, he started collecting all sorts of discarded dolls and started hanging them on trees, believing that they would protect his isle from ghosts.
Don Julian is no longer alive but his stories still reign supreme and attract tourists from all over the world. So, if you'd like something creepy and paranormal on your Mexico City itinerary, be sure to visit the Island of the Dead Dolls in Xochimilco.
Legends & History Tour of Mexico City
Now, that we talking about dead people and the past, why not do a legends and history tour of Mexico City? I am sure you'll enjoy that.
If the inner historian in you would like to discover some lesser-known facts, interesting legends, and hidden gems of Mexico City, then I highly recommend signing up for this legends tour led by a local expert. On this private walking tour, you'll focus on the less obvious details and dig deep into history through timeless legends and intriguing anecdotes.
Museum of Chocolate
One of the best non-touristy things to do in Mexico City is to visit the MUCHO Museum of Chocolate. Dedicated to chocolate, this small museum features some interesting displays on the history of chocolate, varieties, and several sculptures made of chocolate.
The museum has a store attached to it – so this is a great place to pick some chocolatey Mexican souvenirs once you're done with the tour.
Mural Tour of Teotihuacan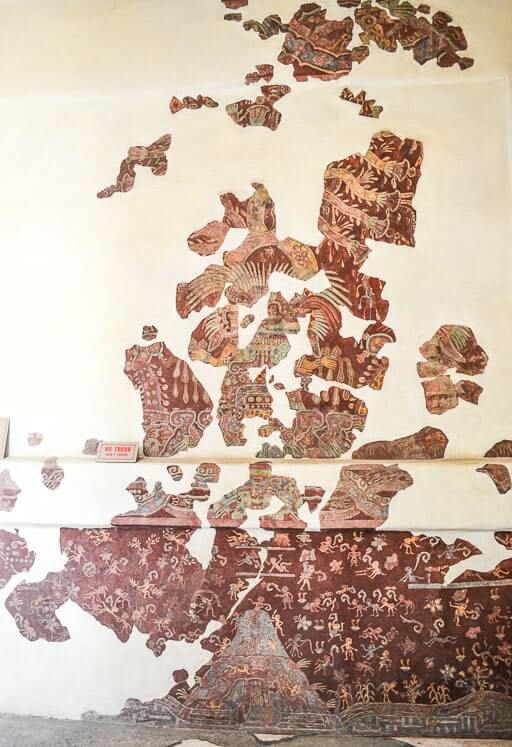 The archaeological site of Teotihuacan, also one of Mexico's most visited UNESCO sites, is home to 3 massive pyramids more than 1500 years old.
Tourists flock to this historic site to marvel at the pyramids and learn about some lesser-known facts about the ancient Teotihuacan civilization. Yet, what no one really does here is explore the murals of Teotihuacan.
Long ago, even before the mural grandmaster, Diego Rivera, walked the lanes of Mexico City, the people of Teotihuacan were busy creating their own murals.
Colorful frescoes, usually of gods and goddesses, adorn the walls of several buildings. The Palace of Butterflies and the Tepantitla residential complex have a majority of them. Teotihuacan also has a Mural Museum that can be accessed from Gate 3. I am sure your guide pointed out the jaguar mural to you. That's probably the only popular mural on site.
Doing a mural tour in Teotihuacan can be an exciting and very non-touristy thing to do in Mexico City. Spotting colors & paintings on the walls and figuring out patterns & ancient routines does sound exciting!
Read my post on visiting the Teotihuacan pyramids to find out how to do your own mural tour. Or have a look at this highly-rated tour led by an archaeologist where you'll see and learn about many important murals.
Mummies at Museo de El Carmen
Wait! What!! Mummies in Mexico City!! I thought mummies only existed in Egypt and at the British Museum in London.
Well, well. Mexico City definitely has some mummies. At Museo de El Carmen in the San Angel neighborhood.
Museo de El Carmen is housed in one of Mexico City's oldest buildings, dating to the 17th century. Located in the same complex as the El Carmen Monastery, the museum has a huge collection of religious art.
However, the biggest attraction is the museum's eerie (and cold!) crypt with its collection of 12 mummified bodies from the 1600s. The bodies haven't been identified yet but they are believed to be of patrons of the Carmelite order. Lying in different positions, the mummies surely spooked me out. It was one of the most unusual things I did in Mexico City on my recent visit.
House of Tiles
Fancy finding a house of blue tiles in Mexico City? Well, after loving all those azulejo hot spots in Porto, Portugal, I was thrilled to find something similar in Mexico.
Casa de los Azulejos (House of Tiles) is a 16th-century baroque building covered all over with beautiful Talavera tiles in blue and white. Now located in the historic center of Mexico City, Casa de los Azulejos was once the official residence of the family of the Count of the Valley of Orizaba.
Today, it is home to a fine Sanborn's restaurant with a covered patio where you can enjoy a good meal. Be sure to spot a beautiful mural by Mexican muralist, Jose Clemente Orozco at the staircase.
Salsa Lovers Dance Experience
Get off the beaten path in Mexico City and join a salsa class. Whether you're an amateur or a pro, whether you're solo or with a partner, this salsa class has something for everyone. Learn new dance moves and make friends along the way. Go ahead, book your Mexico City salsa class here.
Luis Barragan House & Studio
Imagine a UNESCO heritage site that's also a hidden gem. Mexico City has one!
The Luis Barragan House & Studio, which was declared a UNESCO site in 2004, is an outstanding example of modern architecture. The architect Luis Barragan, a famous Mexican architect and the owner of the house, was adept at blending vernacular designs with contemporary architecture. His other creations, Casa Ortega and Casa Gilardi also speak a similar story.
Today, the Luis Barragan House is a museum that is sort of a mecca for architecture lovers. Inside the house, you'll see a beautiful interplay of light (both natural and artificial) and geometrical planes which makes it an extraordinary example of modern architectural design.
The Luis Barragan House is one of the very few individual homes to be included on the UNESCO list and the only one in Latin America.
Iturbide Palace Museum
Mexico City is the city of museums. Some say that there are over 1000 museums in this sprawling megacity – some popular and some really hidden. One such hidden gem is the Iturbide Palace Museum.
Dating to the 18th century, Iturbide Palace is a not-so-large royal residence in the historic center. The facade and columns speak of its once baroque splendor. Nowadays, the palace plays host to several temporary exhibitions throughout the year.
When I went recently, there's was an exhibit on the transformation of CDMX over centuries on the ground floor. The upper floor had a really nice display of terracotta pottery and figures specially the Chupicaro clay figurines which was a new thing to learn about. If you love local culture and folk art, you're sure to find something to your liking here.
They are open from 10:00am – 7:00pm and free to enter.
✦ Pro Tip: The Iturbide Museum is one of the few Mexico City museums that's open on a Monday. Most other museums and historic monuments remain closed. If you're visiting the city at the beginning of the week, you really must check our guide on the Best Things to do in Mexico City on a Monday.
Church of San Francisco
One of the most non-touristy things to do in Mexico City is to explore a hidden church or convent.
The streets of downtown Mexico City are lined with churches dating back 400 years. Replete with colonial architecture and beautiful altarpieces, these churches are some of the best places to visit.
One such place is the Church of San Francisco (Google Maps). The Franciscans built this quaint, little church in the 1700s. In the early days, the church was an influential place. And lots of important events like high-profile funerals and war victories were celebrated here.
Today, the church is one of the least known places in Mexico City despite featuring a beautiful, gilded altar. The main facade is also impressive.
Church of Santo Domingo
The Church of Santo Domingo is another beautiful church that remains hidden in Mexico City. It is among the oldest Dominican monasteries of New Spain. And displays beautiful Baroque architecture along with a Neoclassical altar.
Right in front of the church, there is a huge plaza by the same name. The Santo Domingo plaza has a cool vibe to it with rows of vendors selling all kinds of knick-knacks and people going about their lives. If you're looking to spend some quiet and relaxing time on a hot day in Mexico City, then this should be the place.
Bonus: 4 Non-Touristy Things to do near Mexico City
Next, I have 4 bonus attractions that are not located in Mexico City but very close to it. Takes a couple of hours to get to these locations but you're going to find these unusual attractions near Mexico City all to yourself.
Visit the Tula warriors
We have spoken a lot about the Aztecs. But did you know that the Toltecs were another powerful civilization in the Mexico Valley? They predated the Aztecs and are believed to have profoundly influenced them.
The historic city of Tula, the ancient capital of the Toltec Empire, is one of the most unique places to visit near Mexico City. The highlight of the Tula archaeological site is the massive Pyramid of Quetzalcoatl with a group of Toltec warrior sculptures on top. The warrior columns – which show Toltec warriors ready for war – are over 800 years old and quite mysterious!
If you love digging into ancient history, then visiting Tula is one of the best things to do in Mexico City. You can get here by bus (journey takes around 2.5-3 hours). Getting a taxi to and from the bus stop might be a bit challenging. Or book a private tour like this one to take care of all the logistics.
---
---
Take a day trip to Tepotzotlan
Tepotzotlan is a charming pueblo magico (Mexican magical town) located in the state of Mexico, just a short drive away (about 45 mins) from Mexico City. It is known for its storied history, colonial architecture, and rich cultural heritage.
Perhaps, the most iconic attraction of Tepotzotlan is the San Francisco Javier Church (a former college), a stunning example of Churrigueresque architecture – an excessively ornate version of Spanish Baroque. The church boasts some of the most stunning Churrigueresque altarpieces in the world and is therefore, listed as a UNESCO site. I had to literally pinch myself to believe the amount of gold that had been used to build these altarpieces.
The adjoining Museo Nacional del Virreinato houses an impressive collection of religious art and artifacts from the colonial era.
Once done with the opulent church and museum, take a stroll through the town's charming streets, which are lined with colorful colonial buildings. Be sure to stop at some local markets for tacos and a sip of delicious horchata.
In addition to its cultural attractions, Tepotzotlan is also a great place for nature lovers. The town is surrounded by lush green hills and forests. Plus, there are several hiking trails that offer stunning views of the surroundings.
---
---
Wine tour from Mexico City
Fancy a wine tour from Mexico City? Sure!
This highly-rated wine tour is one of the most unique things to do in Mexico City. You'll head to the wine region of Queretaro that is famous for its sparkling wines. Cavas Freixenet is a popular winery that offers tastings and tours of its underground cellars & production facilities.
What's best is that this tour also includes a visit to the Tepotzotlan magical town. Therefore, you'll get a chance to see the beautiful churrigueresque architecture of the San Francis Javier Church along with some good, bubbly wine. Perfect day trip right?
---
---
Spend a relaxing weekend at a hacienda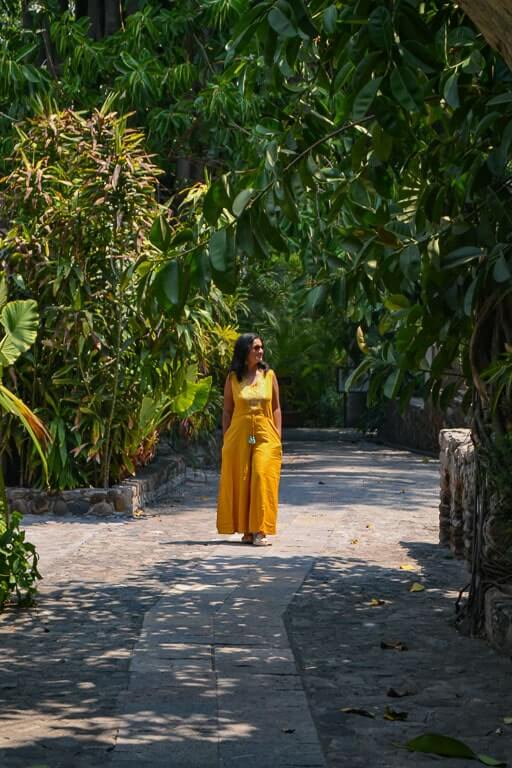 If you'd like to escape the hustle and bustle of city life, head to a hacienda near Mexico City for a quiet getaway. Not many people know of haciendas near Mexico City. Hence, these are some of the most unusual places to visit and stay!!
We chose Hacienda San Gabriel de Las Palmas and I couldn't be happier. The hacienda was the perfectly luxurious getaway that I wanted in the middle of my Mexico City visit.
Dating to the 16th century and built by Hernan Cortes, San Gabriel de Las Palmas once functioned as a sugar mill and plantation. The historic mansion also played a key role in Mexican independence wars. Staying in one of those historic suites was like a dream come true for me!
Loved our Non-Touristy Mexico City Bucket List? Pin it for later!