Last Updated on September 15, 2023 by Soumya
Looking for the best things to do in Cuernavaca Mexico? Wondering what are the best Cuernavaca attractions? Don't worry. We have you covered.
I just got back from the most epic Cuernavaca trip and cannot stop gushing about how beautiful it is.
Chock full of colonial buildings and gorgeous haciendas, Cuernavaca is one of the prettiest cities to visit in Central Mexico.
Cuernavaca is home to the 16th-century Cathedral of the Assumption of Mary, a UNESCO heritage site as well as the Palace of Hernan Cortes featuring the most beautiful Diego Rivera murals. Taxco, the City of Silver, is only a stone's throw away. And so is the world heritage site of Xochicalco.
No doubt, the list of best things to do in Cuernavaca is endless. But I have tried and squeezed my favorite places into this epic Cuernavaca bucket list.
If you're visiting Cuernavaca for the first time or the fifteenth, this ultimate Cuernavaca travel guide will be your best friend helping you navigate the city and find the top things to do, the best places to stay, and the best day trips to take.
---
Please note: This post may contain affiliate links which means I may earn a commission if you make a purchase by clicking a link on this post. This will be at no additional cost to you. Affiliate links help me keep this website up and running. Thanks for your support!
Planning your Cuernavaca trip last minute?
If you are booking your trip to Cuernavaca Mexico last minute, don't worry. We have you covered. Here are some of the best tours and hotels in the city.
Top Experiences and Tours in Cuernavaca Mexico
Top Hotels in Cuernavaca Mexico
---
How to get to Cuernavaca?
Getting to Cuernavaca is easy due to its proximity to Mexico City. It is located only 50 miles to the south of the Mexican Capital and there are several ways to get there.
By Bus: Multiple bus companies operate regular services from Mexico City to Cuernavaca. The journey takes around 1.5 hours, depending on the traffic. Buses depart from Taxquena or the South Bus Terminal (Terminal Central de Autobuses del Sur) in Mexico City. Both Pullman de Morelos and Futura buses run on this route. You can book Futura bus tickets on Busbud website here.
By Car: If you're driving, you can take the 95D highway which connects Mexico City and Cuernavaca. The drive is typically around 1.5 hours, depending on traffic. Check for directions on Google Maps here. Rent a car in Mexico City here.
By Tour: Guided tours are a preferred way of visiting Cuernavaca from Mexico City because they often include other notable destinations like the Silver Town of Taxco and take care of all logistics. If you're concerned about the safety of exploring nearby Taxco which lies in the State of Guerrero, I highly recommend taking a guided tour.
Here are a couple of highly recommended Cuernavaca guided tours from Mexico City.
About Cuernavaca Mexico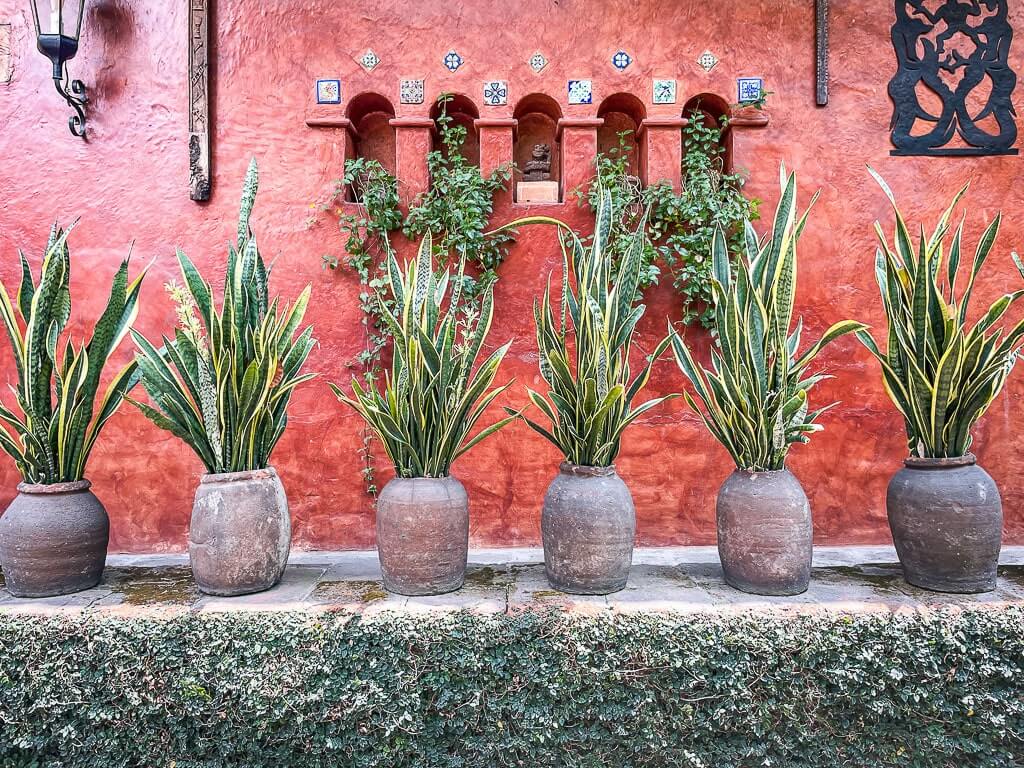 Cuernavaca, pronounced "Kwair-nah-vah-kah", is the capital of Morelos State in Mexico. It is often dubbed "The City of Eternal Spring" because of its year-round mild climate.
Cuernavaca is home to Palacio de Cortes, the oldest conserved colonial-era civil structure in the continental Americas. Built by Hernan Cortes, this fortress-like palace is a unique piece of colonial architecture.
The haciendas and quintas of Cuernavaca have always been a favorite getaway of the Mexican elite who come here for the fresh mountain air and great weather.
Since Cuernavaca is located just 50 miles to the south of Mexico City, it is often visited on a day trip from the Mexican capital. It is easy to combine Cuernavaca with the silver mining town of Taxco on a group tour like this one and see the best of both.
Best Things to Do in Cuernavaca Mexico
Palace of Cortes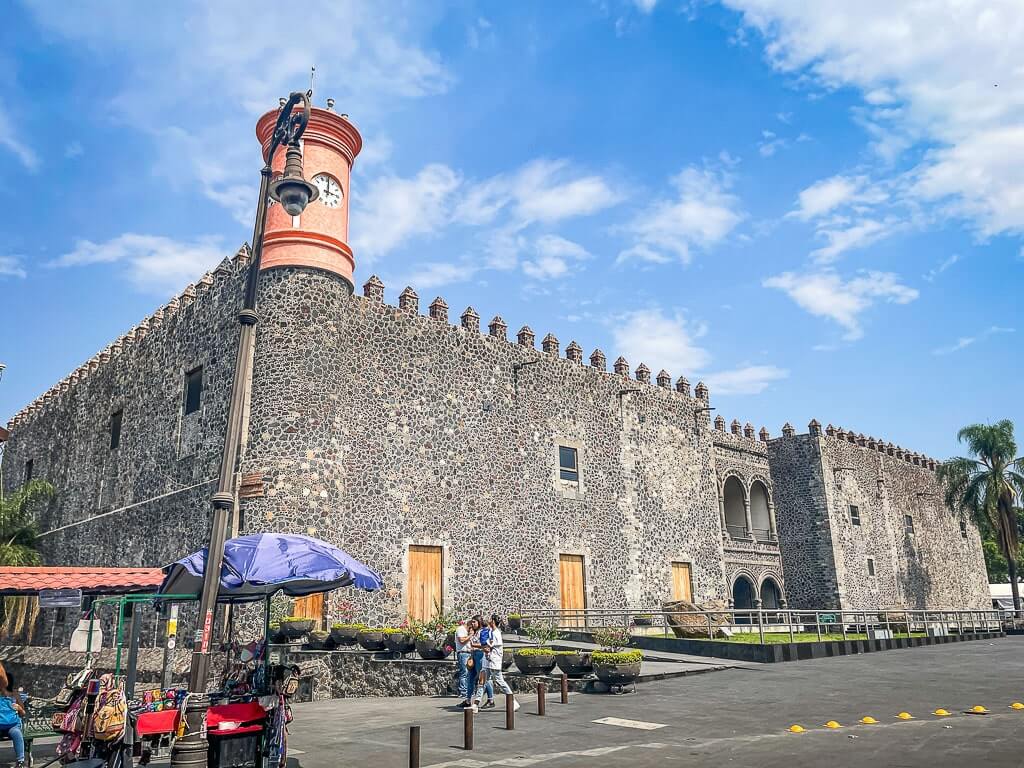 The Palace of Cortes, a must-visit Cuernavaca attraction, carries immense historical significance.
Constructed in the early 16th century, this fort-like palace served as the residence of Hernan Cortes, the famous Spanish conquistador. Its unique architecture is a testament to the fusion of Spanish and Mesoamerican cultures, giving visitors a glimpse into Mexico's rich past.
Today, the palace houses an impressive museum called the Museo Cuauhnahuac. It is also known as the Regional Museum of the People of Morelos.
At the museum, you can see several artifacts displaying the cultural and natural diversity of the Morelos State including historical displays about the Olmec civilization.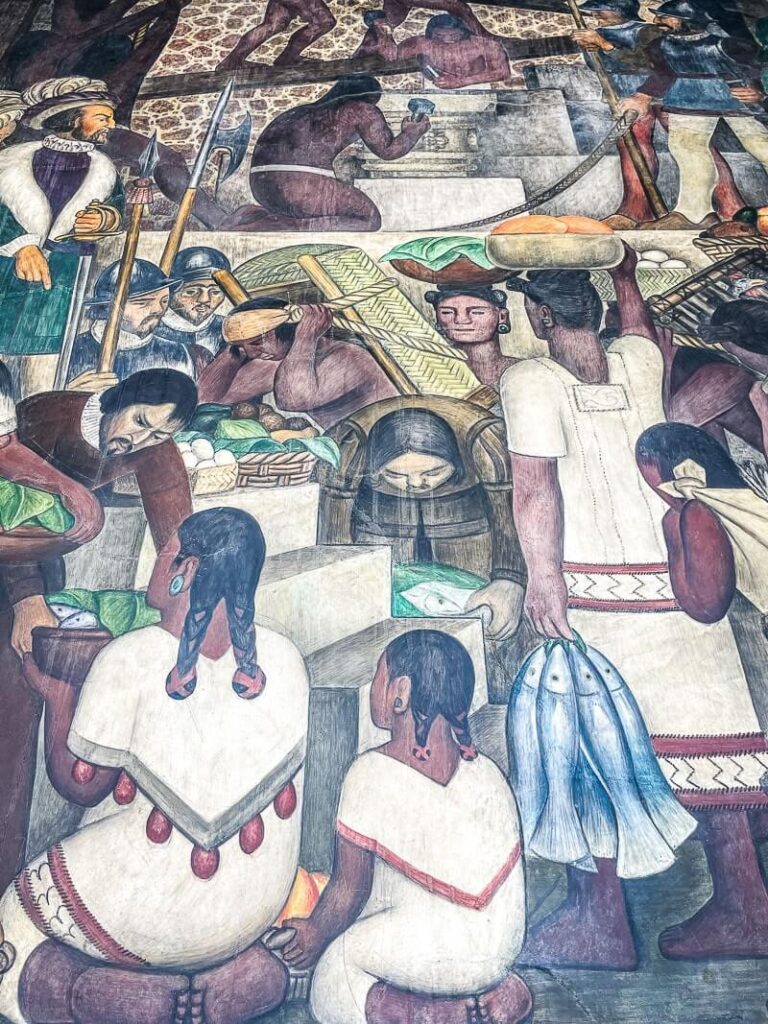 Be sure to go up to the terrace and admire an array of murals by Diego Rivera. These murals depict Mexico's history from pre-Hispanic times to the Spanish conquest, offering a visual narrative that enriches understanding.
The museum is open 9:00 am – 6:00 pm, Tuesday through Sunday. For the latest information on admission and opening hours, check their official website here.
Robert Brady Museum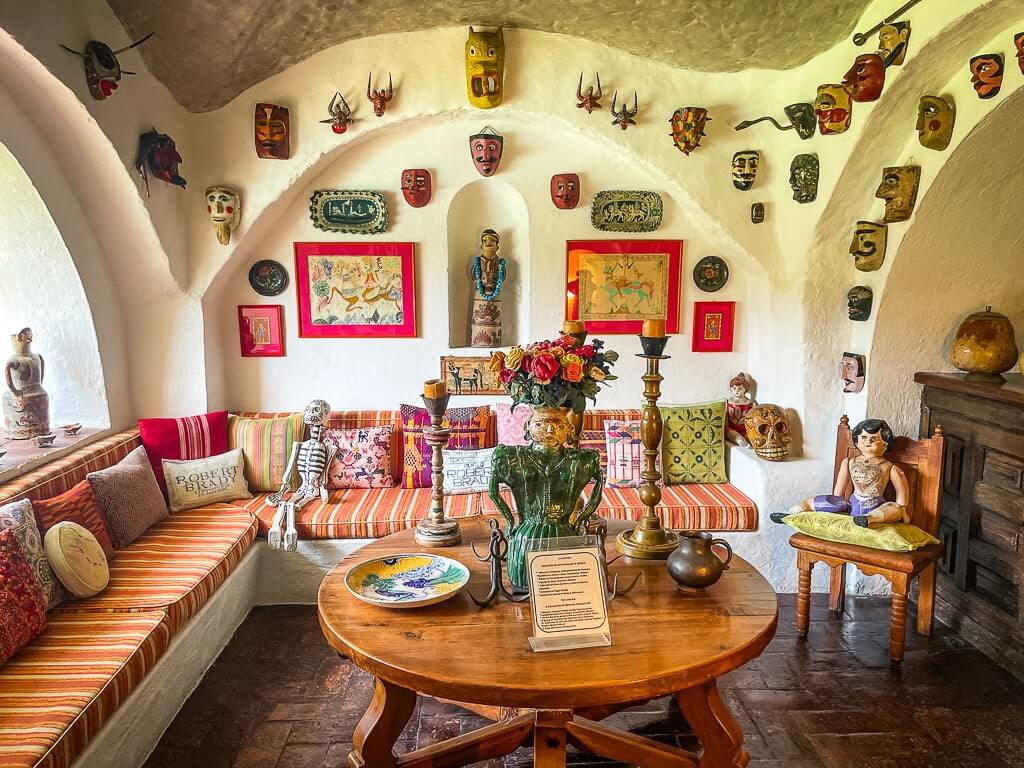 Nestled within the heart of Cuernavaca is the Robert Brady Museum, a distinct gem among Cuernavaca's attractions.
This museum is set in the former home of Robert Brady, an American artist and avid art collector. It is a unique testament to Brady's love for art and his eclectic taste.
Brady bought a dilapidated monastery in 1962 and transformed it into a lavish home and later a museum. The colorful exterior of the building is as striking as the array of artwork it houses within.
With a collection exceeding 1,300 pieces of art from all over the world, the museum is a vibrant and colorful reflection of Brady's travels and his passion for collecting.
The collection includes pieces from every corner of the globe. They range from pre-Hispanic ceramics and African masks to more recent works by renowned artists like Frida Kahlo and Rufino Tamayo.
Don't miss the Yellow Room which has the most amazing collection of all.
The Robert Brady Museum is not just a museum but a window into the artist's life. Each room is meticulously preserved to appear as Brady left it.
The 16th-century architecture of Casa de la Torre, where the museum is housed, further adds to the charm.
Cuernavaca Cathedral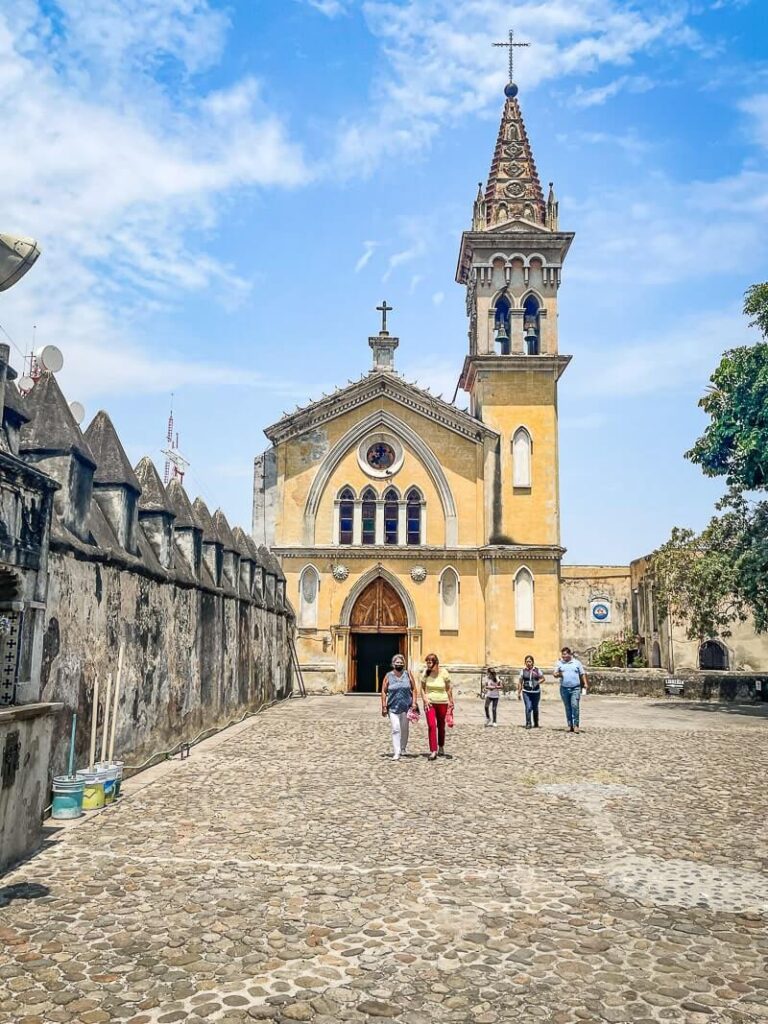 Visiting the Cuernavaca Cathedral is undoubtedly one of the best things to do in Cuernavaca.
The magnificent cathedral, officially known as the Cathedral of the Assumption of Mary, stands as a testament to the city's rich history.
Built back in the 16th century, the cathedral is one of the oldest in Mexico and an exceptional example of early colonial architecture. Therefore, the Cuernavaca Cathedral & Monastery is part of the UNESCO-listed Earliest 16th-Century Monasteries located on the Slopes of Popocatepetl.
Inside, you'll find a beautiful main altar adorned with an impressive image of the Virgin Mary and a series of murals that depict biblical scenes.
The highlight is a massive 17th-century mural depicting the life of Philip of Jesus and his martyrdom in Japan.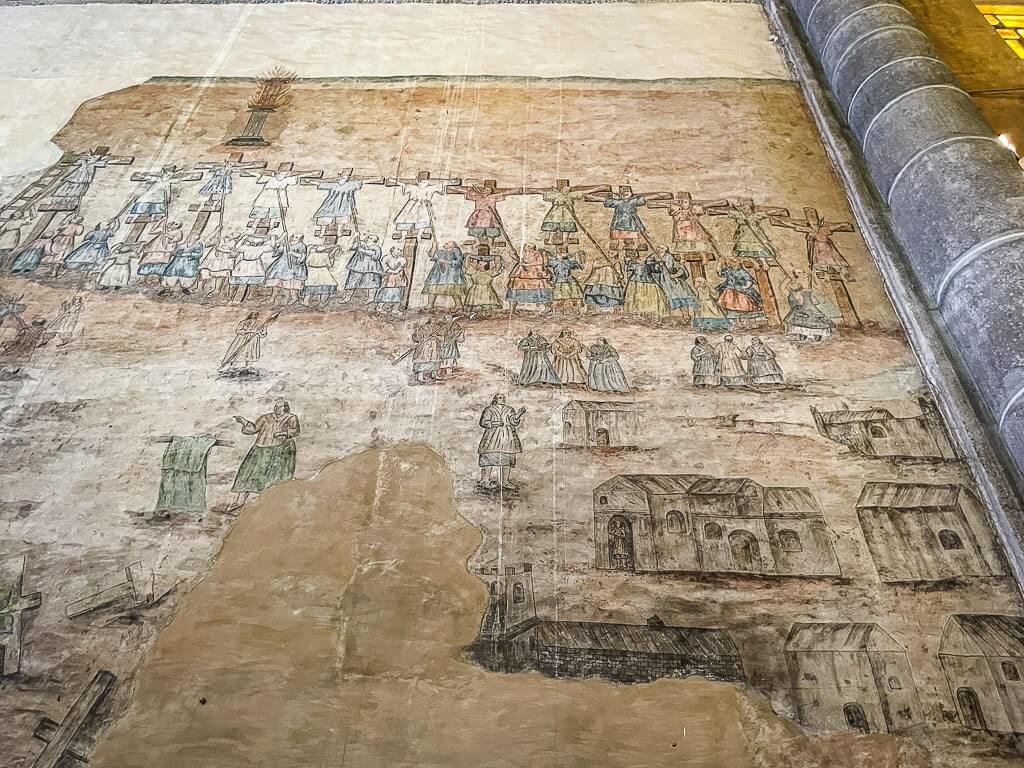 Another unique thing about the Cuernavaca Cathedral apart is the open chapel, known as the Capilla Abierta. This unique architectural feature is one of the few surviving open chapels in Mexico. It was probably designed for mass conversion of large groups of indigenous people during the early years of Spanish rule.
MMAPO Morelense Folk Art Museum
The MMAPO Morelense Folk Art Museum is a treasure trove of Mexican culture and heritage, making it a must-visit place in Cuernavaca.
This is a small but interesting museum that showcases the richness of Morelos' traditional arts and crafts.
The collection spans from paper mache toys, ceramics, masks, wooden crafts, and local textiles. They often have a exhibition of Day of the Dead artifacts which is very interesting.
The museum is open 10:00 am – 5:00 pm, Tuesday – Sunday. It is free to enter and has some great Mexican souvenirs that you can buy.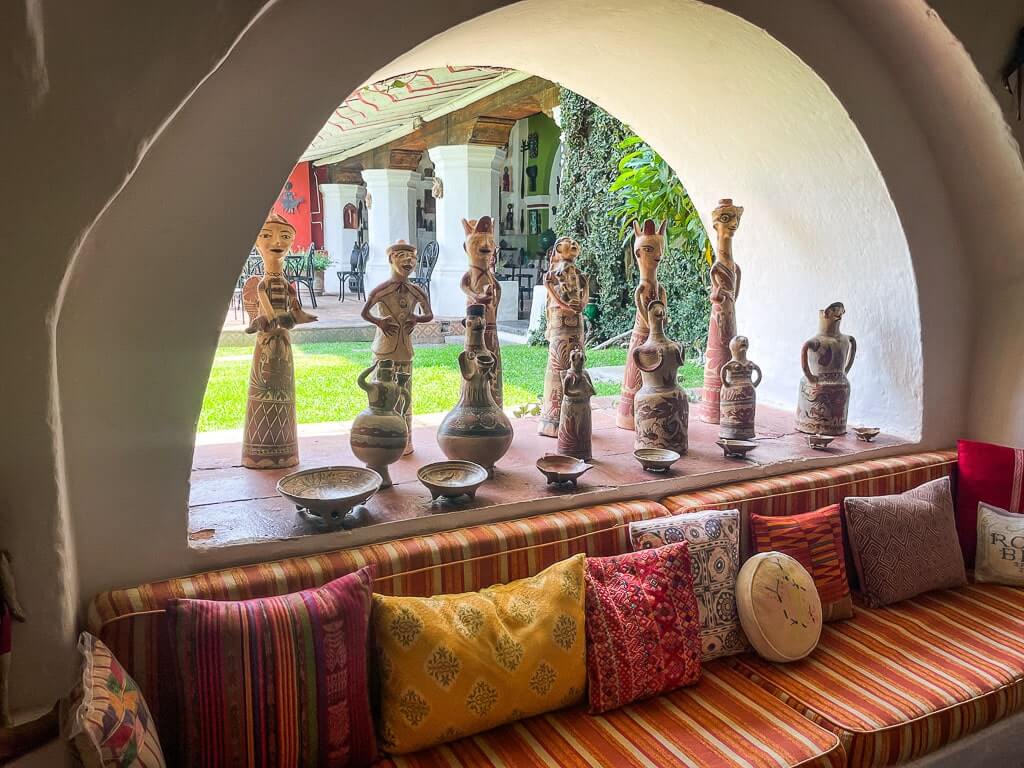 Zocalo
The Zocalo of Cuernavaca, also known as the Main Square, is the vibrant heart of the city. It's a bustling, lively spot where locals and tourists come to enjoy the vibe.
Apart from being the city center, the Zocalo holds historical significance, surrounded by iconic buildings such as the Palacio de Cortés.
It's also a hub for local vendors selling everything from delicious street food to handmade crafts, making it an excellent place for souvenir shopping.
Throughout the year, the square is often the site of various festivals and events, offering a glimpse into the rich cultural traditions of Cuernavaca.
With its beautiful gardens, dynamic atmosphere, and charming cafes perfect for people-watching, the Zocalo at Cuernavaca is a must-see attraction on your visit.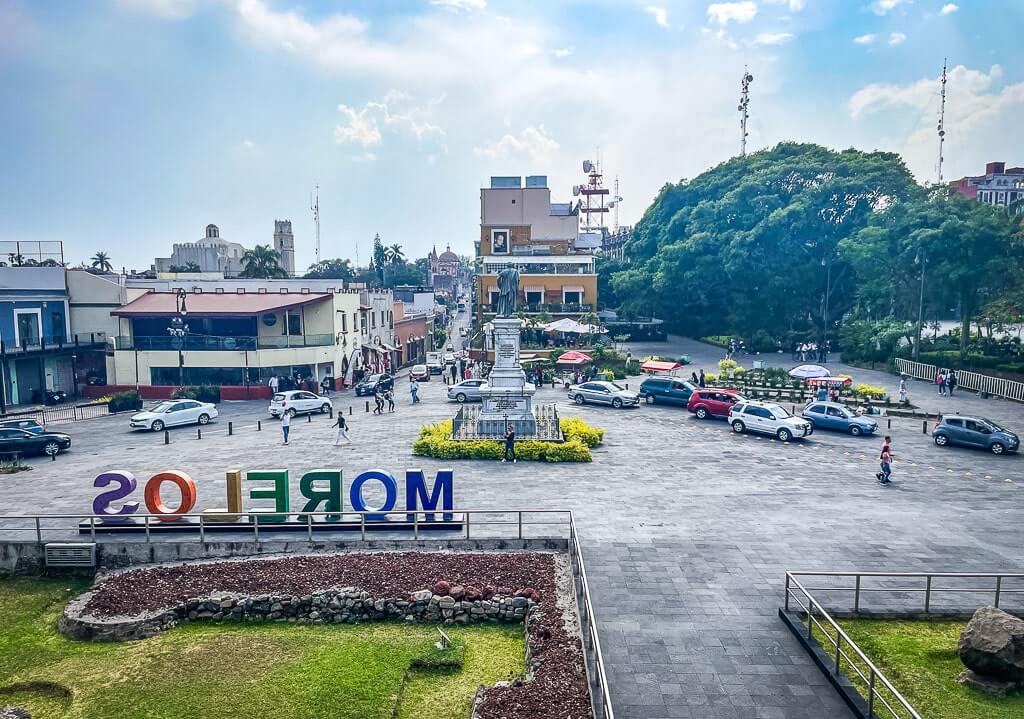 Plaza Moctezuma
Plaza Moctezuma is another remarkable place to visit in Cuernavaca.
Named after the legendary Aztec ruler, Plaza Moctezuma is a historic building dating to 1903. It was once a luxurious hotel and went on to serve as the headquarters of Mexican revolutionary, Emiliano Zapata Salazar.
An iconic photo of Zapata Salazar taken at the Moctezuma Hotel, now Plaza Moctezuma, is one of the most famous pictures of a Mexican citizen. The picture has been reproduced in textbooks, tshirts, paintings, sculptures, memorabilia, and even some of Diego Rivera murals.
The red brick building with high arches and impressive columns is a shopping plaza today with stores selling everything from desserts and sweets to typical Morelos souvenirs.
Borda Garden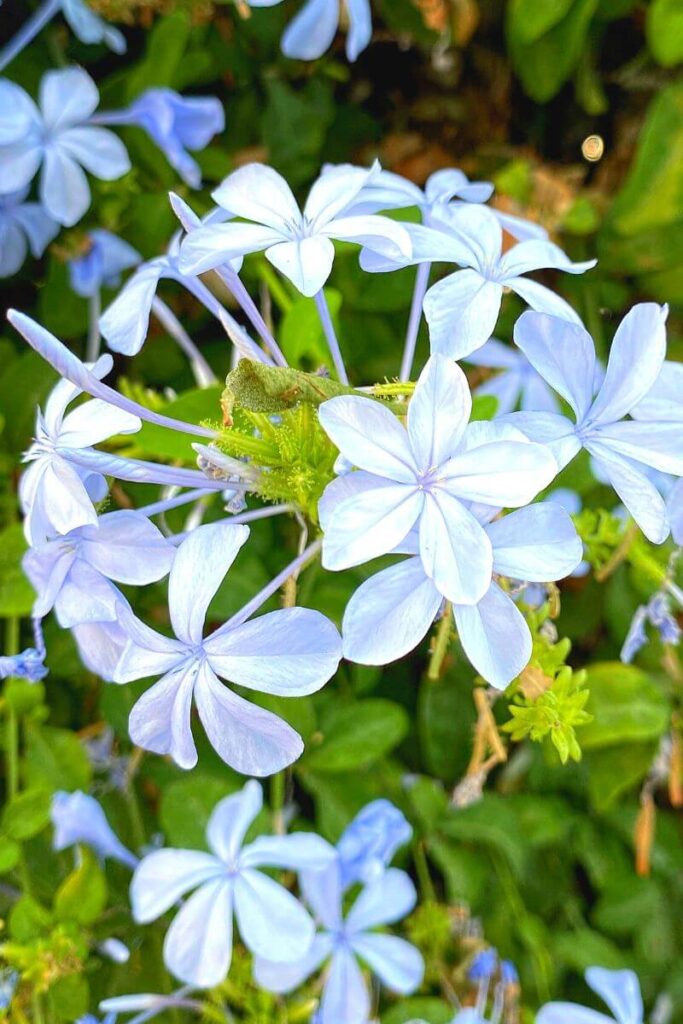 Visiting Borda Garden is undeniably among the top things to do in Cuernavaca, especially for nature lovers.
Established in the 18th century by a wealthy silver miner from Taxco, José de la Borda, this lush, tranquil garden is a true oasis in the heart of the bustling city.
The garden features a wide range of exotic plants and beautifully manicured landscapes. That provides a picturesque setting for leisurely walks. If you're visiting Cuernavaca with your loved one, then be sure to spend some time here.
It also houses a museum that showcases a collection of paintings and relics associated with Maximillian and Carlota, who used the site as their summer residence. A painting depicting Maximilian with La India Bonita (the beautiful Indian who later became his lover) in the garden is the highlight.
Located a short walk away from the Cuernavaca Cathedral, Borda Garden is a slice of paradise that offers a serene retreat from the city's noise and hustle.
The garden is open 10:00 am – 5:30 pm, Tuesday through Sunday. Admission is free on Sundays.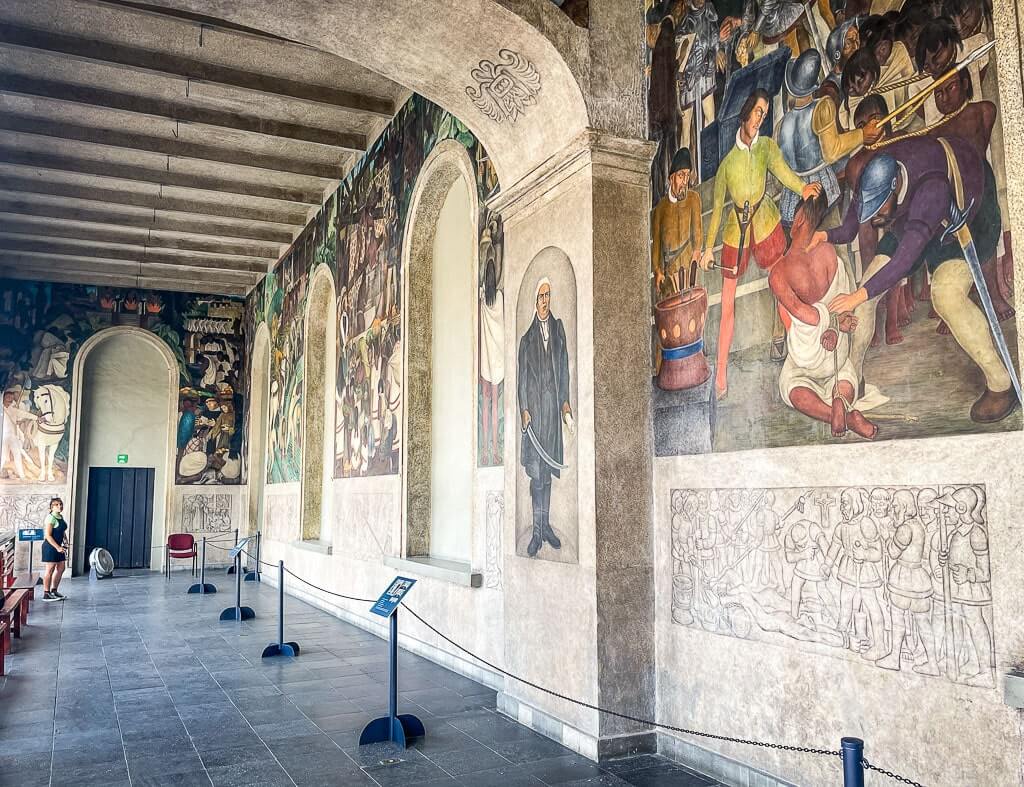 La Tallera Art Museum
La Tallera Art Museum in Cuernavaca is special because it's not just a museum; it's the former workshop of one of Mexico's most renowned muralists – David Alfaro Siqueiros.
This modern art space provides a unique glimpse into Siqueiros' life and work. When Siqueiros moved to Cuernavaca in the 1960s, he transformed his home into this workshop, or "La Tallera," where he crafted many of his masterpieces.
Preserved and converted into a museum after his death, La Tallera showcases Siqueiros's murals like few other places can. Not only does it display his works, but it also celebrates his working methods and the creative processes behind his famous murals.
Visiting La Tallera is almost like stepping inside the mind of a creative genius, making it a must-visit for art aficionados, history buffs, and anyone interested in the cultural scene in Cuernavaca.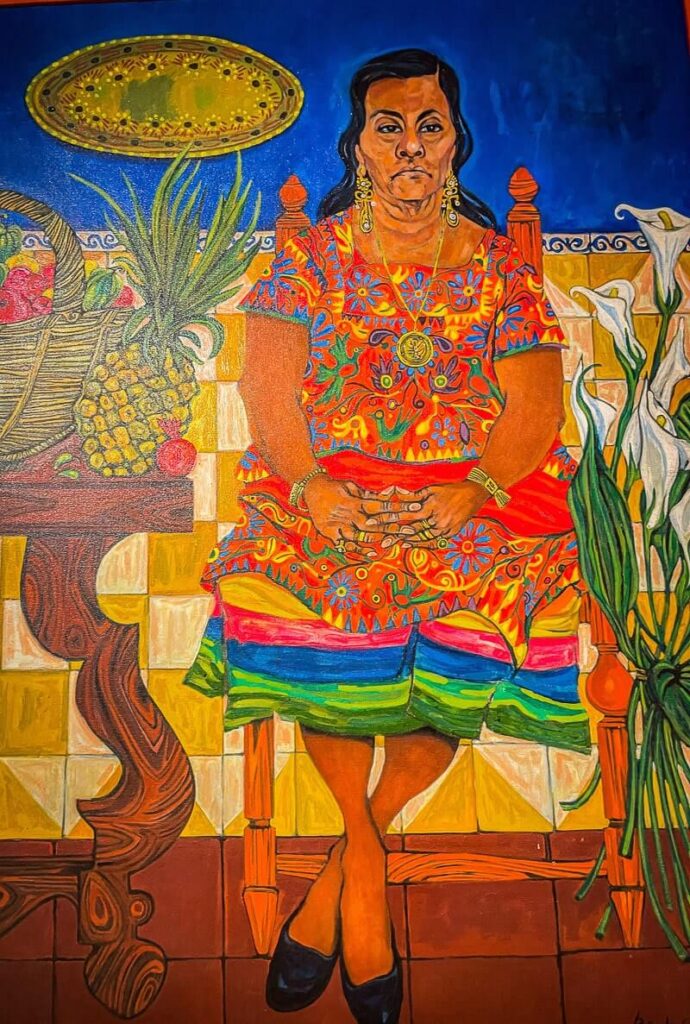 Papalote Children's Museum in Cuernavaca
Papalote Cuernavaca is an interactive children's museum that is an absolute must-visit if you're traveling to Cuernavaca with the little ones. It is part of the Papalote Museo del Nino, a Mexico City-based network of museums aimed at helping children learn through play.
The museum features hands-on exhibits covering a wide array of subjects, from science and technology to art and environmental awareness. They have over 40 permanent exhibitions and many more temporary ones for the kids to interact with and play around.
Check their official website for opening hours and admission charges before visiting. They are closed on Mondays.
Papalote Cuernavaca provides a fun and educational day out for the entire family. Its innovative approach to learning by touching and playing, a wide range of exhibits, and focus on child-friendly interactions make it one of the top Cuernavaca attractions for families.
Mercado de Artesanias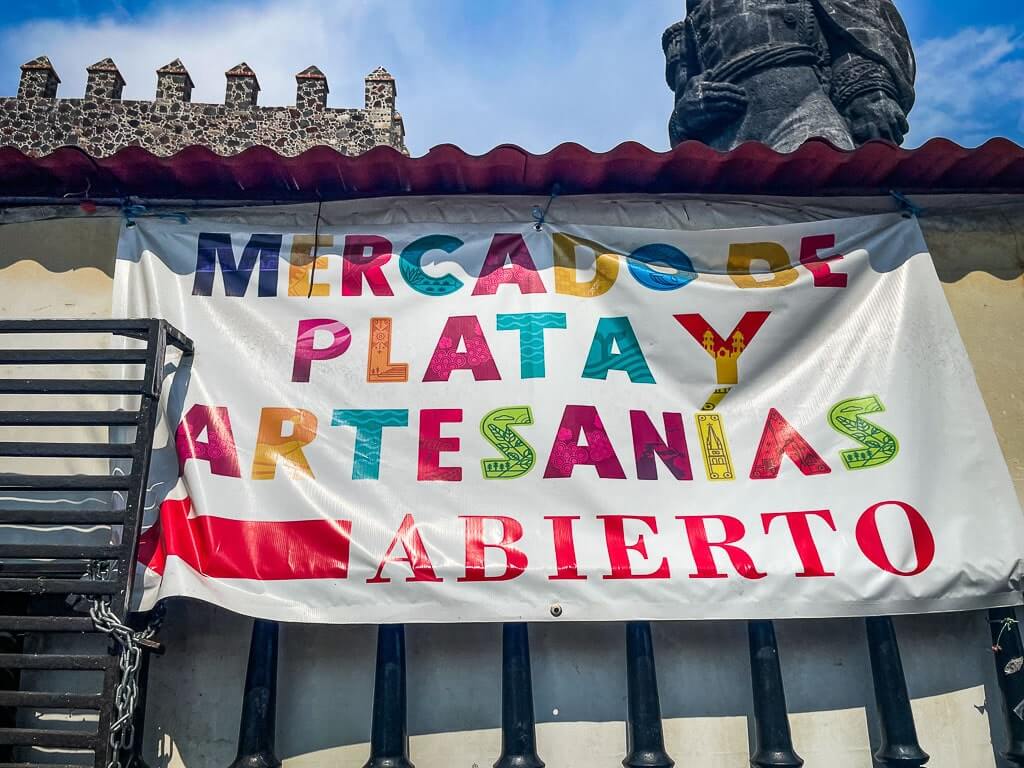 Mercado de Artesanias in Cuernavaca is your shopping haven if you're looking for authentic and unique things to take back home from Mexico.
This bustling market is teeming with artisanal stalls where local craftsmen exhibit their handcrafted goods, providing a fantastic opportunity to purchase a piece of Mexican culture.
You'll find an impressive array of items here, from intricately woven textiles and hand-painted ceramics to beautiful jewelry, leather goods, and traditional Mexican toys.
What sets Mercado de Artesanias apart is not just the quality and variety of the goods, but also the vibrant atmosphere. As you navigate the narrow aisles, you're surrounded by the friendly chatter of the vendors, the smell of freshly prepared street food, and the lively hum of locals and tourists alike.
It's not just about shopping. It's about immersing yourself in the local culture and lifestyle, making the market one of the top places to visit in Cuernavaca.
This experience provides a personal touch to your shopping and contributes to the local economy. Doesn't that make your trip to Cuernavaca more meaningful and memorable?
✦ Pro Tip: Shopping anywhere in Mexico is a wonderful experience. Check out all the amazing things to buy as gifts from Mexico.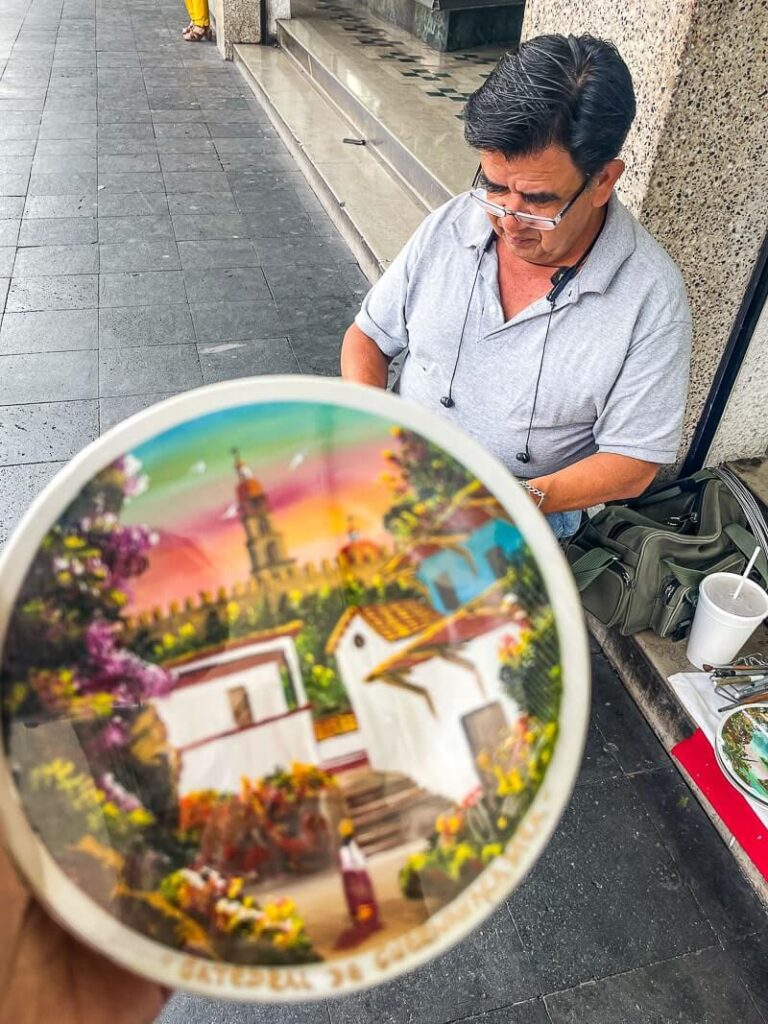 Pre-Hispanic Site of Tepanzolco
The Pre-Hispanic Site of Tepanzolco was built by the Tlahuica tribe, the original inhabitants of Morelos. It was later annexed by the Aztec Empire and is one of the most fascinating Aztec ruins to visit near Mexico City.
The highlights of Tepanzolco include the Great Platform or Pyramid that housed the twin temples of Tlaloc, the Aztec God of Rain and Huitzilopochtli, the Aztec God of War.
Distinguished by their unique dual-staircase design, twin temples are featured in a few rare pyramids in Mexico City. These temples were dedicated to the Aztec gods of rain and war respectively.
The archeological site was badly damaged in the Mexico earthquake of 2017. Climbing the pyramid has been banned since then.
However, if you wish to delve into Mexico's pre-Hispanic history or want to know how Cuernavaca looked a thousand years ago, then Tepanzolco is a great place to visit.
✦ Pro Tip: If you love ancient pyramids, then you'll love this epic bucket list of the 20 Most Fascinating Pyramids in Mexico.
Colorful streets of Cuernavaca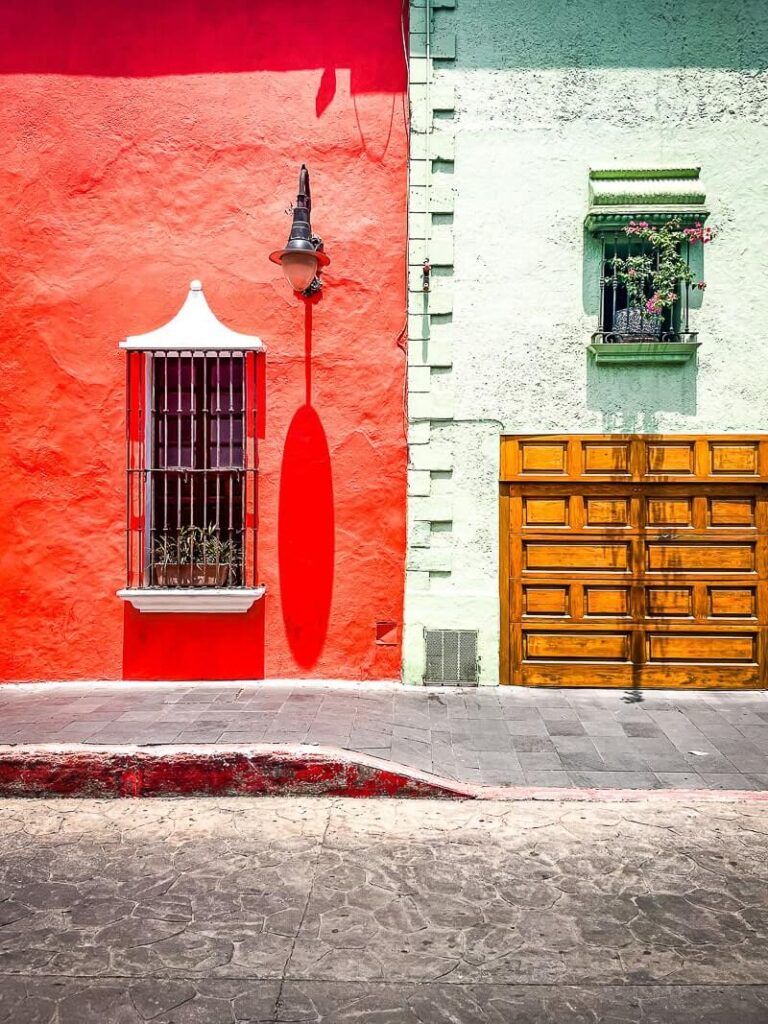 Strolling down the vibrant streets of Cuernavaca, Mexico is a sensory feast that simply must not be missed.
As you wander amidst the city's colorful streets, you'll find numerous stories depicting the city's rich history. Street vendors offer tempting local delicacies, and the sound of mariachi music lingers in the air.
Perhaps, the most authentic thing to do in Cuernavaca is to wander through these streets and observe the neighborhood markets bustling with locals.
I picked up my most precious Mexican souvenir, a hand-painted Cuernavaca plate, from a local on one of these streets. So, don't miss ambling through them and discovering some hidden gems in Cuernavaca.
Best Things to Do near Cuernavaca Mexico
Taxco – The Beautiful Silver Town of Mexico
Just a short drive from Cuernavaca lies the enchanting silver town of Taxco, a must-have on your Mexican itinerary.
Nestled on a hillside with winding cobblestone streets, whitewashed houses with red-tile roofs, and a classic Spanish colonial layout, Taxco exudes an irresistible old-world charm.
Once a major silver mining hub in the colonial period, Taxco is now famed for its silver craftsmanship.
The city is one of the best places in Mexico to buy silver jewelry and artifacts, with numerous shops and markets showcasing intricate designs.
Exploring Taxco involves more than just silver shopping, though.
The town's piece de resistance is the Santa Prisca Church, a baroque masterpiece that towers over the central plaza. Its staggering detailed facade and ornate interiors are a testament to the town's prosperous mining era.
Take a leisurely walk up to the Cristo Monumental, a gigantic statue of Christ overlooking the city, for panoramic views of the stunning landscape.
Here's an exciting Taxco + Cuernavaca full-day tour that you'd want to look at if you're planning to visit from Mexico City.
Archeological Zone of Xochicalco – A UNESCO Heritage Site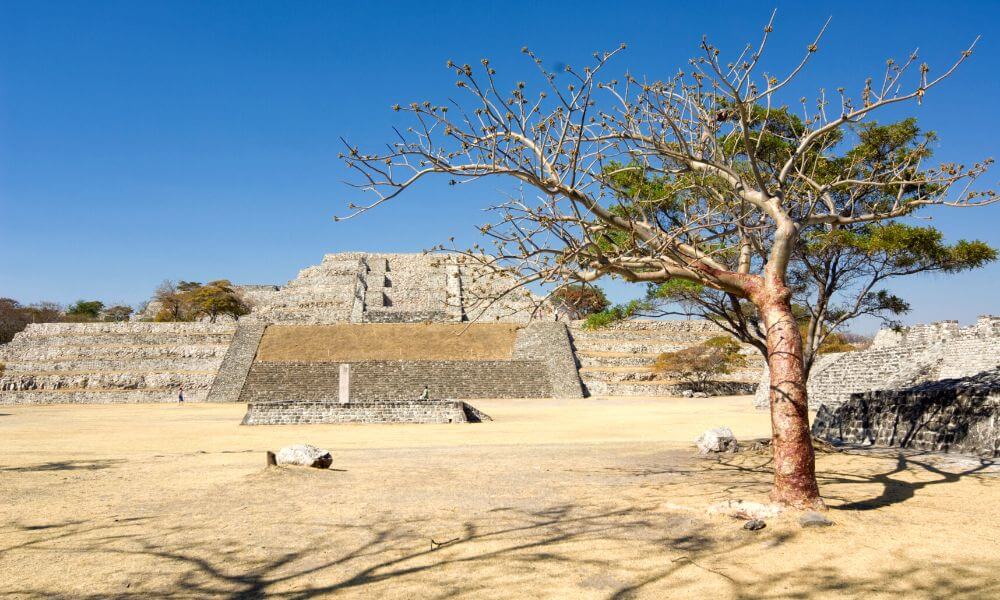 The Archeological Zone of Xochicalco is an amazing day trip from Cuernavaca. Located just a short drive from the city, this UNESCO World Heritage Site is a remarkable testament to the rich cultural and historical heritage of Mexico.
The name "Xochicalco" means "In the House of Flowers" in the indigenous language.
Once a thriving city of the Olmeca-Xicalanca people, a Mayan trading community, Xochicalco is a rare example of a fortified city-state that rose after the fall of Teotihuacan.
Xochicalco's most notable attraction is its magnificent Mexican pyramid, the Pyramid of the Feathered Serpent.
This multi-tiered structure is intricately adorned with detailed carvings depicting the Feathered Serpent deity, a symbolic representation seen in other Mesoamerican cultures like the Aztecs and Mayans.
Other highlights of the archeological complex include plazas, altars, and a ball court that offer a fascinating insight into the ceremonial and social life of its former inhabitants.
Here's an amazing Xochicalco + Cuernavaca full-day tour if you're considering visiting from Mexico City.
Hacienda San Gabriel de las Palmas
Located just 30 miles to the south of Cuernavaca, Hacienda San Gabriel de las Palmas is a former 16th-century sugar cane plantation-now-luxurious hotel. Staying here for a couple of days allows you to soak in the rich history of Cuernavaca's colonial past/
The hacienda is steeped in heritage. Every room here echoes a bygone era of colonial elegance, having been meticulously restored to its original splendor.
Originally built in 1529 under the orders of Hernan Cortes himself, this grand estate was once a Franciscan Monastery and then a sugar mill. Later, it became an important site during the Mexican Revolution.
The hacienda's ornate architecture, featuring vaulted ceilings, arched doorways, and its lush tropical gardens provide a serene and beautiful setting that promises to transport you back in time.
Spend your days lounging by the pool set amidst the gardens, pamper yourself at the on-site spa, or dine at the gourmet restaurant that serves exquisite Mexican and international cuisine cultivated from the hacienda's own organic garden.
For adventure seekers, the hacienda offers horseback riding, hiking trails, and the opportunity to explore the surrounding landscapes of Cuernavaca.
Tepoztlan
A mere half-hour drive from Cuernavaca will take you to Tepoztlan, a pueblo magico that is a combination of Mexico's rich heritage and natural beauty. It's a wonderful day trip destination and a must-do on any Cuernavaca itinerary.
The town center is charming, boasting cobblestone streets and vibrantly painted buildings.
You can explore the Former Convent of the Nativity, now a UNESCO heritage site and a museum showcasing pre-Hispanic artifacts and local history.
Another iconic landmark, the Tepozteco pyramid, perched atop a hill, beckons the adventurous for a thrilling hike. Despite the steep climb, the panoramic views of the town and surrounding valleys are certainly worth the effort.
A vibrant food scene complements the rich history of Tepoztlan. The local market is a gastronomical delight, offering unique regional specialties like 'itacates' (stuffed tortillas) and 'tepache' (a fermented pineapple drink).
Weird and exotic meats of armadillos, tarantulas, and warthogs are also on offer. Adventurous enough?
Tepoztlan's unique blend of history, culture, and natural beauty, combined with its proximity to Cuernavaca, makes it a fantastic day trip.
Jardines de Mexico: A Botanical Paradise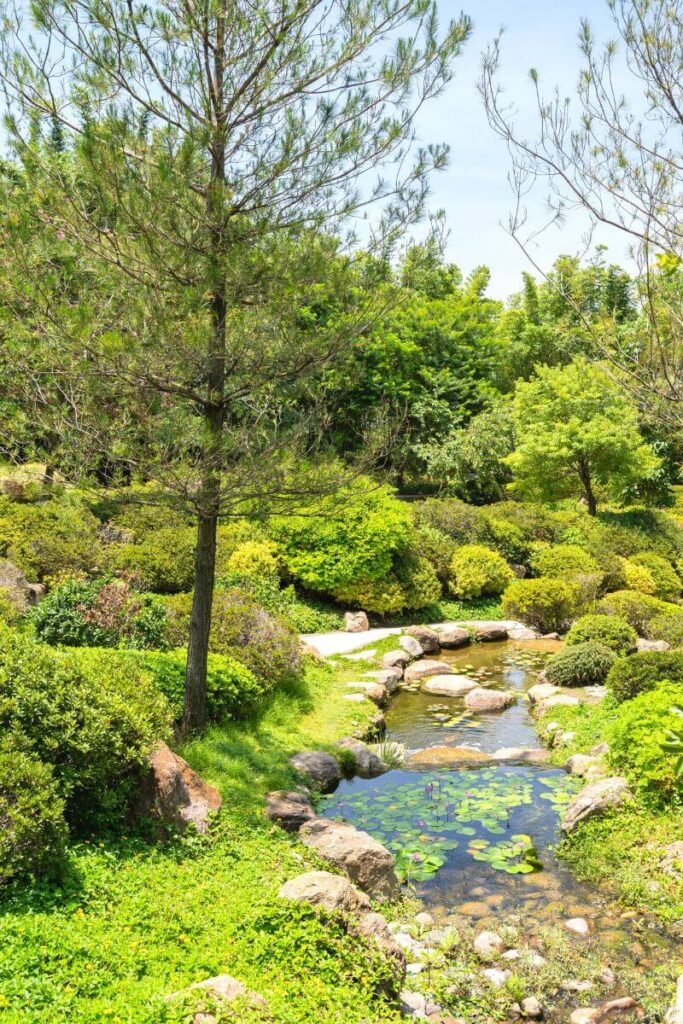 Considered one of the most captivating attractions in Cuernavaca, Jardines de Mexico is a spectacle of vibrant color and natural beauty.
As one of the largest flower gardens in the world, Jardines de Mexico covers an impressive 51 hectares and offers a captivating blend of nature, art, and relaxation.
The gardens consist of eight different thematic sections, each meticulously designed and cared for, offering a unique exploration of various plant species.
From the enchanting Italian and Japanese gardens to the captivating tropical and cactus gardens, each section is a world of its own, brimming with mesmerizing flora.
Visiting Jardines de Mexico is more than just a visual treat, it's an immersive experience. Here, you can enjoy a tranquil stroll, learn about various plant species, or simply relax amidst nature's grandeur.
With its lush greenery, stunning floral displays, and peaceful ambiance, it offers a refreshing escape from the hustle and bustle of urban life, making it a must-visit when in Cuernavaca.
Where to stay in Cuernavaca Mexico?
If you're visiting Cuernavaca for the first time, I highly recommend that you stay in the city center. Also known as Centro, Cuernavaca's city center is an excellent choice because it's home to several historic sites, vibrant squares, and lively markets.
Here are some of the best Cuernavaca hotels in the city center.
Las Mañanitas is a highly-rated 4-star hotel in Cuernavaca Centro. Known for its charming colonial architecture and beautifully landscaped gardens, Las Mañanitas provides the perfect space for relaxing and rejuvenating on a long Mexican holiday. ✅ BOOK YOUR STAY AT LAS MANANITAS HERE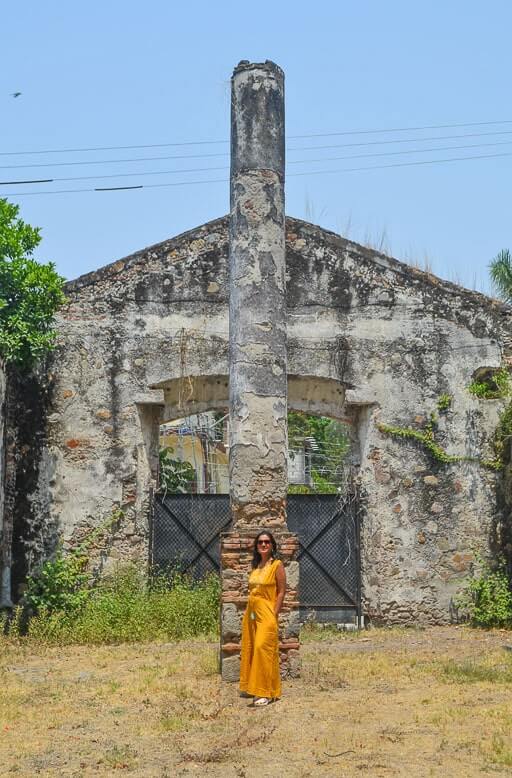 If you're looking for a pretty hacienda, check out Hotel & Spa Hacienda de Cortes. This former 16th-century sugar cane plantation founded by Cortes himself is steeped in history. It is now converted into a hotel and features an outdoor swimming pool, a highly-rated spa, and beautifully landscaped grounds. ✅ BOOK NOW!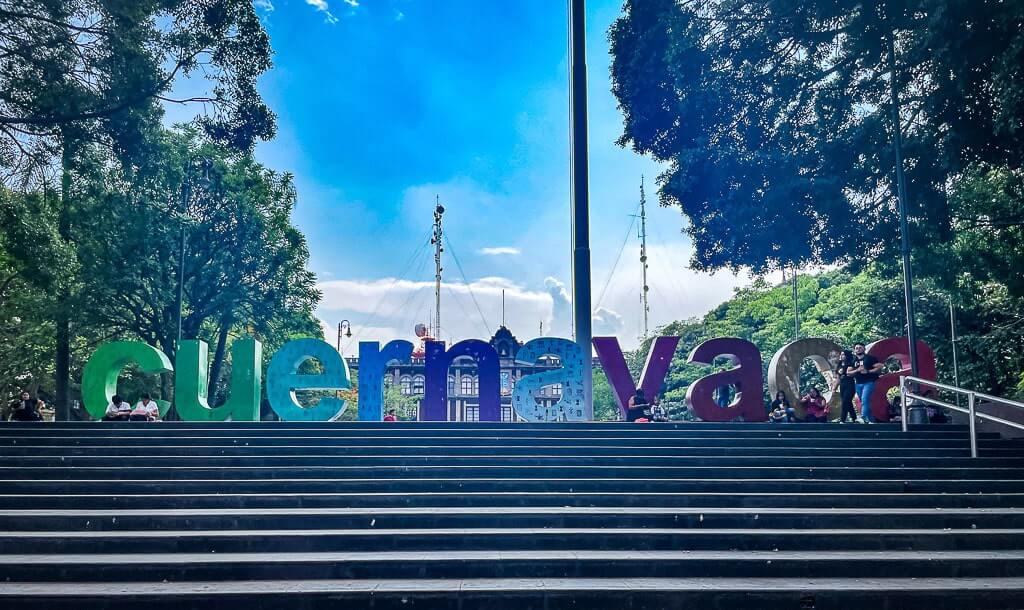 Best Time to Visit Cuernavaca Mexico
Cuernavaca, renowned as the "City of Eternal Spring," enjoys pleasant weather all year round.
Temperatures vary little throughout the year (averaging at the mid-seventies) except for April, May, and June which are the hottest months.
The best time to visit is during winter from November to Feb, when temperatures are lower and days are dry – ideal for outdoor activities and sightseeing.
January is also a great time to visit if you wish to catch Carnival Jiutepec, the largest celebration in the state of Morelos. Carnival Jiutepec is a vibrant display of color and culture, featuring lively parades, traditional music, and dance performances.
How to get around Cuernavaca Mexico?
The best way to get around Cuernavaca is by walking.
The city is quite walkable, particularly the downtown area where many of the key Cuernavaca attractions are located. Meandering through the city streets on foot allows you to soak in the city's vibrant atmosphere and discover hidden gems.
Taxis are a reliable option and are typically inexpensive. However, ensure to confirm the fare before your journey to avoid any misunderstandings.
I also noticed a Cuernavaca City Tour Bus (picture below). You can board one of these and check out the sights too.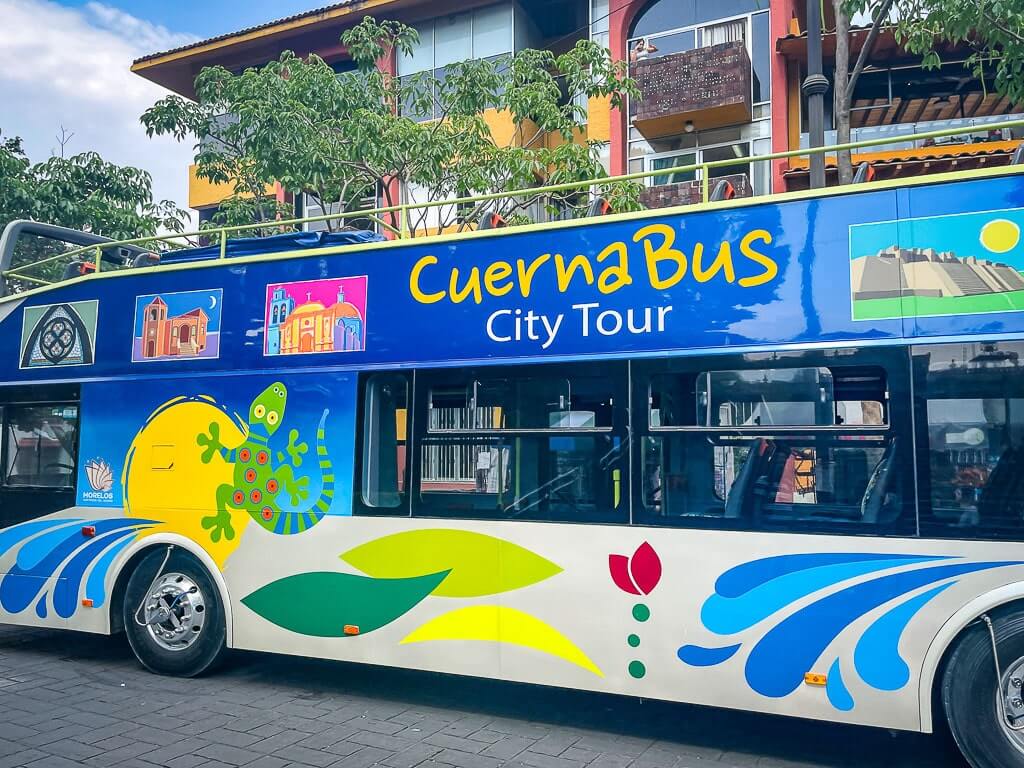 Cuernavaca Mexico Travel FAQ
Is Cuernavaca worth visiting?
Yes, Cuernavaca in Mexico is absolutely worth visiting because of its rich combination of ancient and colonial history as well as beautiful natural landscapes. Whether it is the awe-inspiring architecture of the Palacio de Cortes, the tranquility of Jardin Borda, the ancient pyramid of Xochicalco, or the silver mining history of nearby Taxco, Cuernavaca will surely leave you enchanted.
What is Cuernavaca famous for?
Cuernavaca is famous for its rich cultural heritage and historical landmarks such as the Cathedral of the Assumption of Mary, a UNESCO world heritage site known for its brilliant 16th-century colonial architecture. Other important landmarks include Palacio de Cortes, an impressive fortress-like-palace, and the archeological site of Xochicalco, a UNESCO World Heritage site, offering a deep dive into the ancient civilizations of Mexico.
Why visit Cuernavaca?
Visit Cuernavaca to enjoy a beautiful blend of pre-Hispanic and colonial Mexican history and architecture and a treasure trove of exquisite gardens and beautiful natural landscapes. The city is full of amazing attractions such as the Cuernavaca Cathedral (a UNESCO site), the Palace of Hernan Cortes, the Borda Garden, and an eclectic Robert Brady Museum. Beautiful haciendas, ancient archeological sites, and once-prosperous silver mining towns are just a stone's throw away from Cuernavaca.
Is Cuernavaca safe?
Yes, the tourist areas in Cuernavaca Mexico are generally safe. However, like any other place in this world, you need to maintain standard safety precautions. Avoid isolated areas, particularly at night, don't wear flashy jewelry, carry minimum cash, and always safeguard your belongings.
Loved this Travel Guide for Cuernavaca Mexico? Pin it for later!