Last Updated on September 24, 2023 by Soumya
The Floating Gardens of Xochimilco? What exactly are they?
Where can you find these floating gardens in Mexico? Do these gardens really float?
What grows in these gardens? Who built these unique floating farms in Mexico City?
I know. I know. So many questions in that curious mind of yours and I am here to answer all of them.
Why do I think I am the right person to answer your questions?
Well, I have visited Xochimilco's floating gardens, locally known as chinampas, several times and done numerous guided tours in the area.
I have spoken with local stakeholders, farmers, and academics about these extraordinary gardens.
More recently, I worked on a feature article for BBC Travel highlighting how Xochimilco's chinampas were ancient but unique engineering marvels that continue to provide food to Mexico City even today.
So, you see, I am quite the expert 😉 in this domain.
In my comprehensive article here, I talk all about the floating gardens of Xochimilco, how to visit them, the history, things to do, and some frequently asked questions.
If there's something else you'd like to know about Xochimilco Gardens, feel free to drop a comment below and I will get back.
Please note: This post may contain affiliate links which means I may earn a commission if you make a purchase by clicking a link on this post. This will be at no additional cost to you. Affiliate links help me keep this website up and running. Thanks for your support!
About Xochimilco Floating Gardens – A UNESCO Heritage Site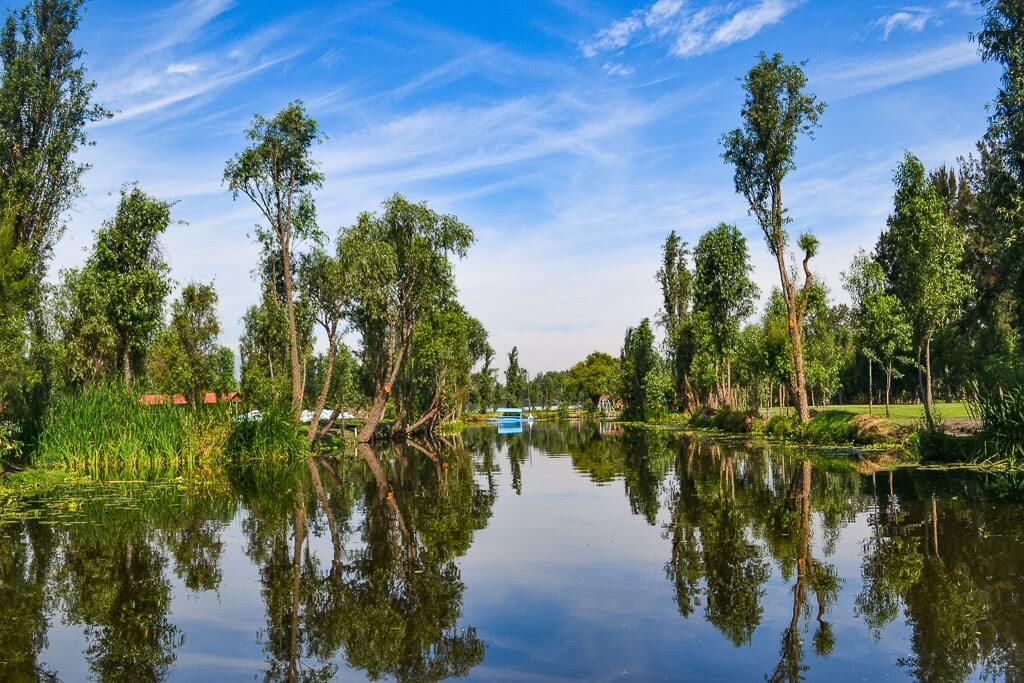 The history of Mexico's Floating Gardens at Xochimilco near Mexico City is very interesting.
These gardens, locally known as chinampas, are no new marvels but ancient agricultural farms that have been producing food for the people of Mexico City for centuries.
When the Aztecs arrived in the Mexico valley in the 1300s, there was no land to expand their capital city of Tenochtitlan. The valley was a boggy, marshy area filled with lakes. Xochimilco was one of the 5 lakes that made up Mexico Valley.
In order to overcome their land problem, the Aztecs started building artificial islands over the lakes and used them as farms to grow crops and rear animals. They called them chinampas.
Today, these chinampas or the "floating" gardens of Mexico City are a fascinating tourist attraction. In reality, they are not really floating but attached to the lake basin.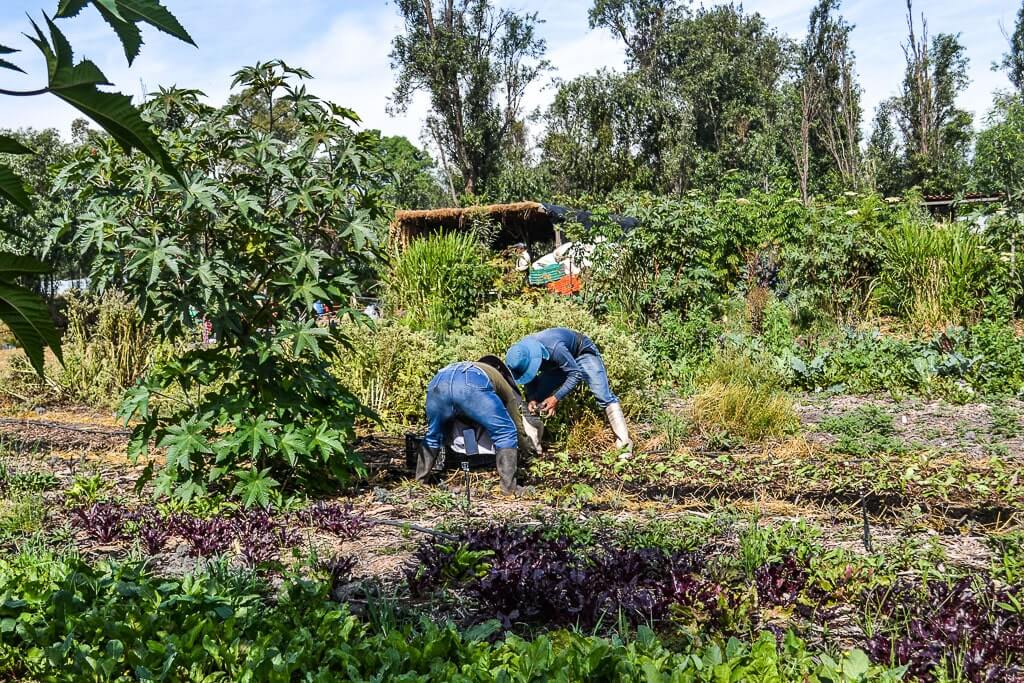 Every weekend, locals flock to Xochimilco and ride through the canals that surround the chinampas on trajineras (colorful, flat-bottomed boats), eating, dancing, and chilling out. If you'd like an immersive experience of local culture, then Xochimilco's canals are the place to be.
I, recently, wrote an article for BBC Travel where I talk all about the history of chinampas and the engineering acumen that goes behind building them. If you'd like to dig deeper into the history, I highly recommend reading my BBC story on the Chinampa – An Ancient Engineering Marvel here.
Are the Xochimilco Chinampas worth visiting?
Visiting the floating gardens of Xochimilco is one of the best things to do in Mexico City because it gives you deep insights into the ancient agricultural practices of Mexico and offers you a chance to see a living relic from the Aztec times.
Once you have explored the historic downtown and seen the majestic pyramids of Teotihuacan, you can head to these extraordinary floating farms in the south of Mexico City and spend a day ambling through the gorgeous canals of Xochimilco.
How to see the Floating Gardens of Xochimilco?
Here are 3 amazing and unique ways to visit the Xochimilco floating gardens in Mexico City. Pick what appeals to you and you won't be disappointed.
Ride a colorful, party trajinera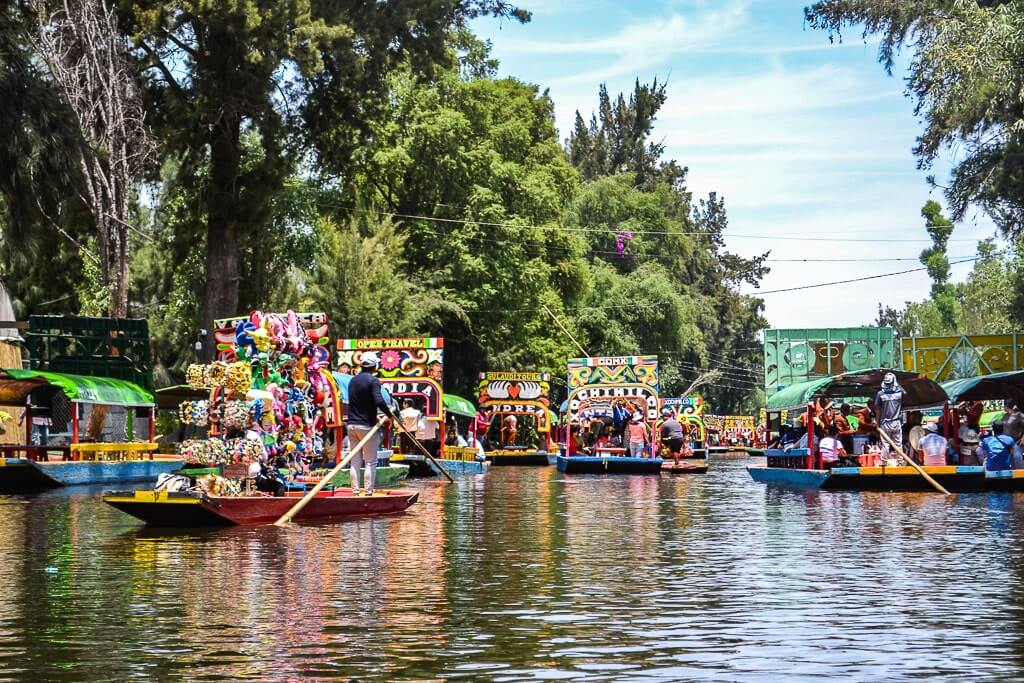 The MOST POPULAR way of visiting Mexico's Xochimilco gardens is on a vibrantly-colored trajinera (a flat-bottomed watercraft) maneuvered by a gondolier.
Enjoy a good, 1-2 hours ride through the canals of Xochimilco while listening to some great Mariachi music, enjoying a michelada (a classic Mexican cocktail) alongside some cheesy elotes (corn-on-the-cob).
Points to keep in mind when planning for a trajinera ride in Xochimilco
Board a trajinera at one of the many embarcaderos (piers) dotting the canals of Xochimilco. Some of the most popular embarcaderos are Nuevo Nativitas (Google Maps), Nativitas Zacapa (Google Maps), and Las Flores Nativitas (Google Maps) and are the most frequented by locals. Toilets, parking spaces, are souvenir stores are abundant at these piers. But you'll find them really packed on weekends.
A few embarcaderos are located in more secluded areas and allow you to see some of the quieter canals of Xochimilco. They are Cuemanco (Google Maps) and Puente de Urrutia (Google Maps).
Trajineras are often baptized with female names. Therefore, you'll notice lots of Lupitas, Carmelitas, Juanitas, and Margaritas during the tour. Occasionally, you may see a Xochimilco too!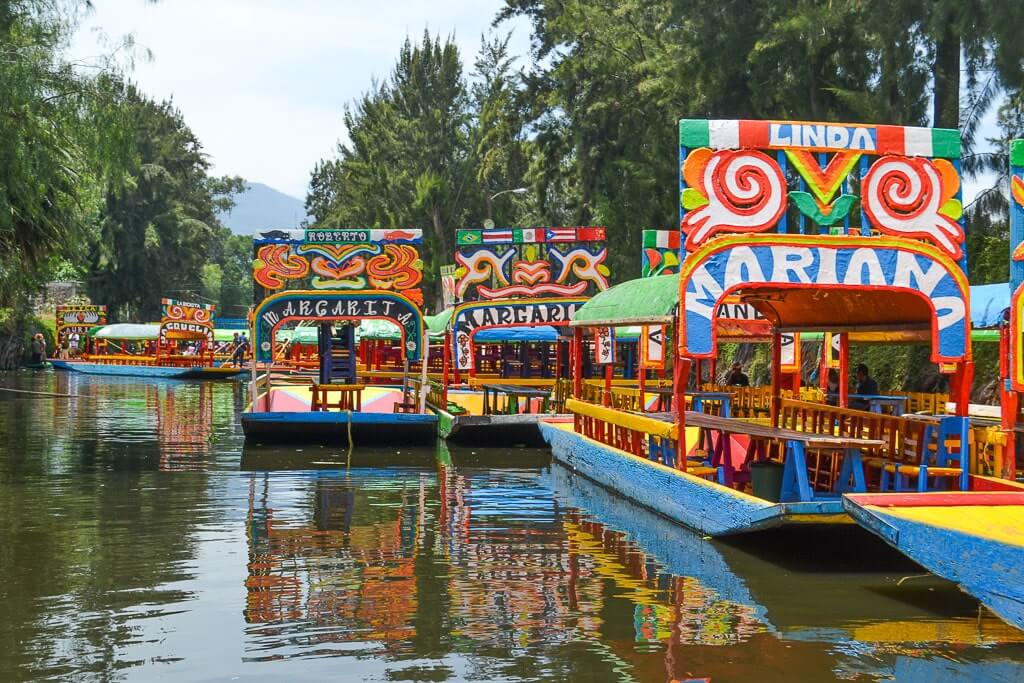 Trajinera tours are available in 1 and 2 hour versions. 1 hour tours cost 600 pesos ($35) – these are the charges for renting an entire boat. 2 hour tours costs 1200 pesos ($70) – gondoliers are usually willing to negotiate on 2-hour rides.
You can book your trajinera tour directly at the pier. Many trajineras are available at each of these embarcaderos and therefore, pre-booking is usually not needed, especially during weekdays. You can just show up and enjoy a ride.
However, if you're planning a weekend trip to Xochimilco, I highly recommend booking ahead because spaces fill up fast.
Signing up for this boat tour that includes lunch, drinks, and a Mariachi performance is a great idea.
---
Take an immersive, eco-tour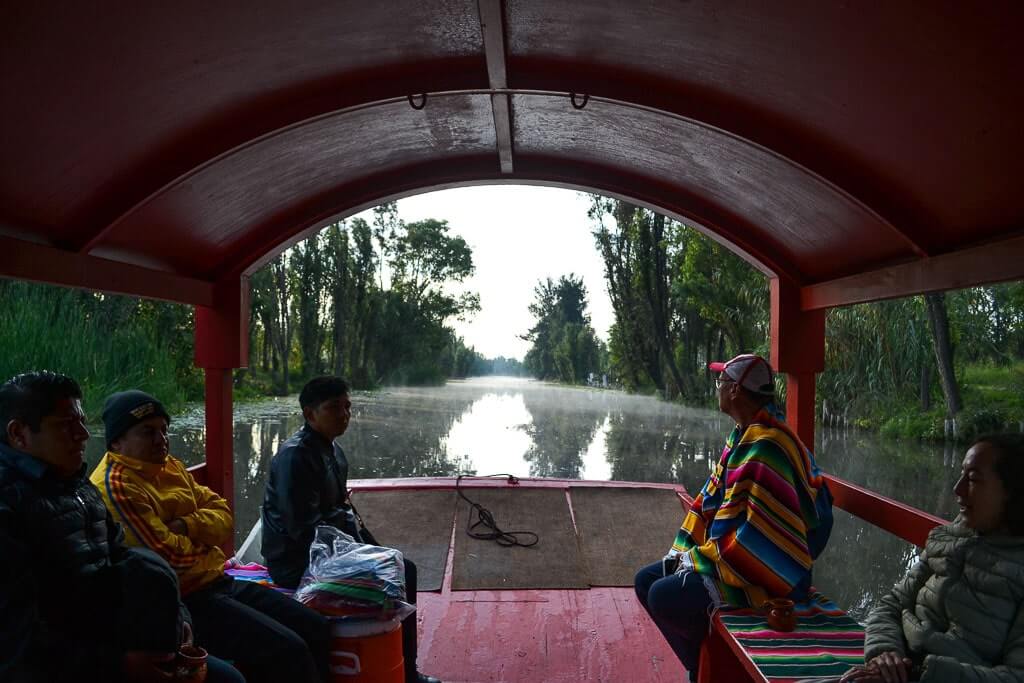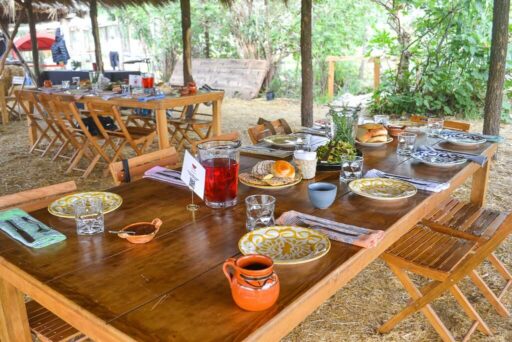 If you are not a very party-boat kind of person, then I highly recommend taking a guided tour with an eco-tourism company like the Arca Tierra.
Arca Tierra is a local organization that helps preserves the chinampas and promotes sustainable tourism in the region.
They have a unique set of tours to choose from – my favorite being a sunrise tour on the chinampas.
Our tour included an early-morning trajinera excursion through the Xochimilco floating gardens (we got to watch the sunrise from a special place in the canals) followed by an immersive tour of the farms and knowing all about the crops grown there, and ended with local breakfast on the chinampa.
The food that you get to eat on the tour is completely organic and grown on these island farms.
You can check out more tours by Arca Tierra here. Or book a Xochimilco sunrise tour here.
📖 Related Reading: If you're planning a trip to the floating gardens, you'll also love our article on the 11 best things to do in Xochimilco.
Kayak through Xochimilco's canals
On my early morning chinampa tour, I spotted lots of kayakers enjoying a sunrise over the floating gardens. You can do that too.
Instead of riding a trajinera boat, you can opt for a kayak tour with a local company.
It is probably the next best way (second only to trajineras) of seeing the floating gardens of Mexico and experiencing their beauty and biodiversity up close.
This kayak tour on Viator that comes highly recommended. The tour gives you an opportunity to learn all about the history of chinampas, the biodiversity of the region, and the associated culture while kayaking your way through the picturesque canals of Xochimilco.
You also get to eat a delicious lunch prepared from local ingredients on one of these floating islands. The best way to spend your day in Xochimilco, don't you think so?
If you'd rather check out local kayaking agencies, then Kayak 33 and Kayak en Xochimilco are two popular companies in the area that offer kayak tours in Xochimilco.
Most companies, offer pick-up services, can accommodate big groups, and lead you if you want them to.
---
---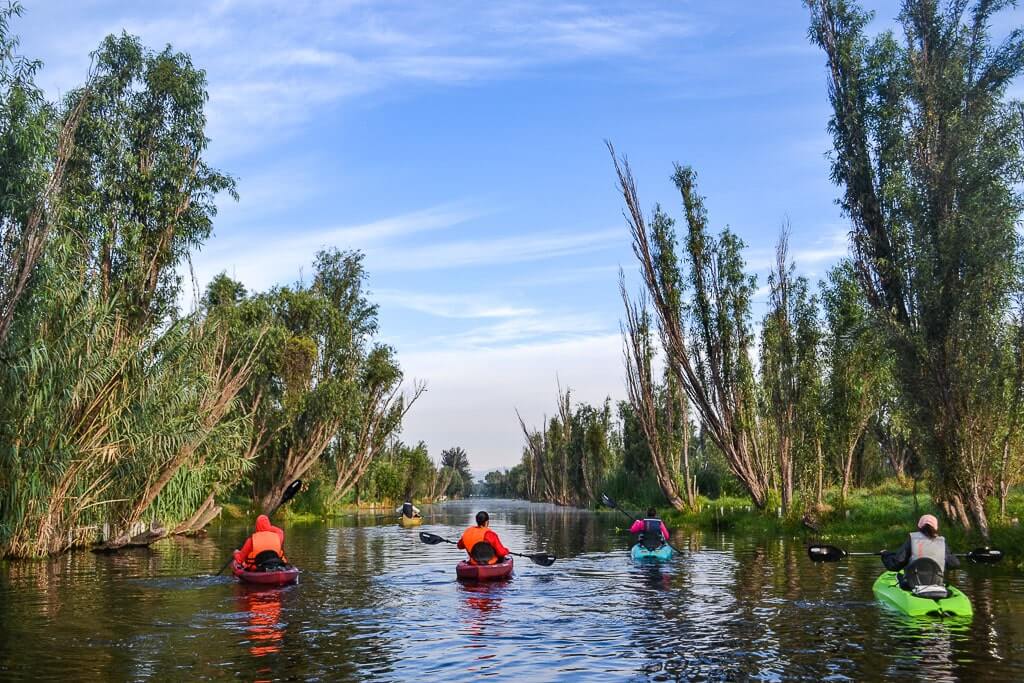 How to get to Xochimilco Floating Gardens from Mexico City?
Getting to the Floating Gardens from Mexico City is easy.
You can opt for public transport, take an Uber/Didi cab, or drive to the pier on your own.
Mexico City to Xochimilco by Public Transport
How to get to the Xochimilco floating gardens from Mexico City by public transport?
The answer is simple – by metro.
Mexico City has an extensive metro network that's easy and cheap to use. Every journey costs 5 pesos that is less than half a dollar.
The metro does get crowded during office hours – so, try and schedule your trips beyond office hours and you should be fine.
To get to Xochimilco from Mexico City, first spot your nearest metro station and from there, get to Tasqueña Metro Station.
It is a big station on Metro Line 2. Getting to Tasqueña from any other metro station in Mexico City will cost 5 pesos.
From Tasqueña, take Tren Ligero (or the Xochimilco Light Rail) in the direction of Xochimilco.
The train actually starts in Tasqueña and finishes in Xochimilco – so getting on that should be fairly easy. This journey will cost you 3 pesos.
You'll need a rechargable card that you can top up to use on Tren Ligero (the same one that you use for all your commute within Mexico City). You can buy one at any big metro station including Tasqueña.
The same card can be used for multiple people in a group.
Mexico City to Xochimilco by Taxi
You can also hire an Uber or Didi taxi to get to Xochimilco.
We did that and the ride cost us around 320 pesos ($18) early in the morning.
Be sure to check the prices on both Didi and Uber – Didi often turns out to be cheaper. Or rent your car in Mexico City here.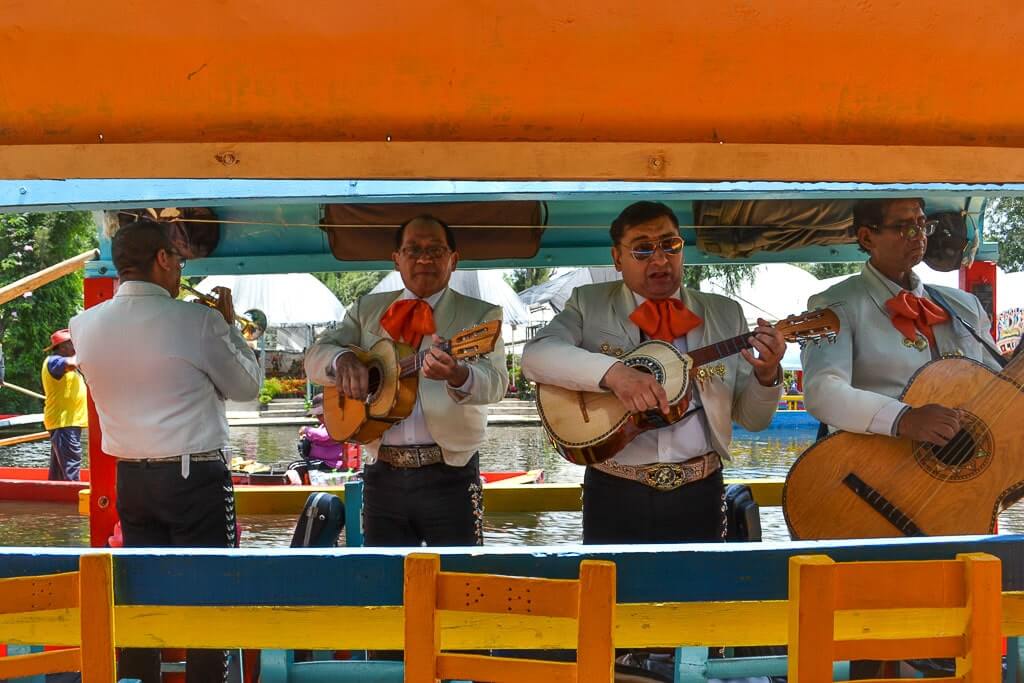 Xochimilco Floating Gardens FAQ
What is special about the gardens of Xochimilco?
The gardens of Xochimilco are special because they are manmade, almost-floating agricultural farms that date back to the times of the Azecs i.e. are more than 800 years ago but still produce fresh crops that feed the population of Mexico City.
What feature is found in the floating gardens of Xochimilco?
The floating gardens of Xochimilco are artificial islands that are built of soil and reeds over shallow lake beds. They make excellent agricultural farms – that can produce up to 5 crops a year – and are home to a wide variety of fauna including the famed axolotl – an amphibian that can magically regenerate every part of its body.
Where in the world are the floating gardens of Xochimilco?
The floating gardens of Xochimilco are located in a suburb by the same name almost 15 miles (25kms) to the south of Mexico City.
Who created the gardens of Xochimilco?
The Aztecs who ruled in the Valley of Mexico from 1300s – 1500s created the gardens of Xochimilco to feed a growing Aztec Empire. Land was in shortage – therefore, they built artificial islands on shallow lakes which they used for growing crops and rearing animals.
What is Xochimilco famous for?
Xochimilco is famous for its network of manmade islands (also known as floating gardens) that are rich coffers of fresh fruits and vegetables. The canals that run through these islands ply colorful boats filled with tourists and locals who enjoy the beauty of these islands.
Loved our Xochimilco Floating Gardens Guide? Pin it for later!