Last Updated on August 25, 2023 by Soumya
Planning to spend 4 days in Mexico City? Wondering what to do in Mexico City when you get there? Confused what to see and what to skip?
Well, we have you covered with just the perfect Mexico City 4 day itinerary.
You will visit the stunning pyramids of Teotihuacan, walk through Centro Historico's colonial lanes, see Frida Kahlo's museum, float on ancient canals in Xochimilco, stuff yourself with tacos, and dig into centuries of history at the best museums of Mexico City. Four days, if done right, is the ideal time to see the best that this historic city has to offer.
One thing to keep in mind is that Mexico City is huge and traffic is bad. Hence, planning is key. What I have done is that I have split this itinerary by neighborhoods so that you don't spend a lot of time commuting between places. I want you to savor every Mexico City attraction deeply instead of having just a touch-and-go experience.
Through this Mexico City itinerary of 4 days, you will learn all about
The best historical and archaeological landmarks to see. Right from the time of the Aztecs to the rule of Spanish conquistadors, Mexico City is a treasure trove of history.
The best museums to check out in Mexico City. After all, Ciudad de Mexico has one of the largest collection of museums in the world.
Cultural and foodie experiences starting from tacos, mariachi bands, and so much more.
Essential links for planning your Mexico City trip
This 4 day Mexico City itinerary is full of history and culture. If you are a history buff and wondering what to do in Mexico City in 4 days, then this guide is for you.
We will be using our legs and the metro quite a bit. So, be sure to get a good pair of walking shoes and download this free Mexico City Metro Map.
Highly recommended Mexico City tours to book
Where to stay in Mexico City?
Staying in the historic center of Mexico City is always a good idea because it is safe, beautiful, and convenient. On Day 1, you don't even need to travel much to get to your destination. Plus, the center is well-connected with every other part of Mexico City through metro.
Here are some of my favorite and highly recommended places to stay in Mexico City for 3-4 days.
Gran Hotel Ciudad de Mexico: This 5-star hotel is located right at the Zocalo, within walking distance from Metropolitan Cathedral and National Palace. It is housed in a huge Art Nouveau building complete with a Tiffany stained-glass ceiling for the lobby. Just the perfect place to stay if you are a culture-geek and have some money to splurge. Check out some incredible pictures here.
Kali Centro Mexico City: Modern décor, great breakfast, impeccable service, and stellar reviews are what Kali Centro is known for. It is located super close to the Palace of Fine Arts and Alameda Central. If you are looking for a budget option, then this is the perfect choice. Read more reviews here.
Historico Central: Located in the heart of the city, Historico Central offers stunning views of Torre Latinoamericana. Some of the rooms have balconies too. Plus, they have a coffee shop service available for free to all their guests. Book your stay at Historico Central here.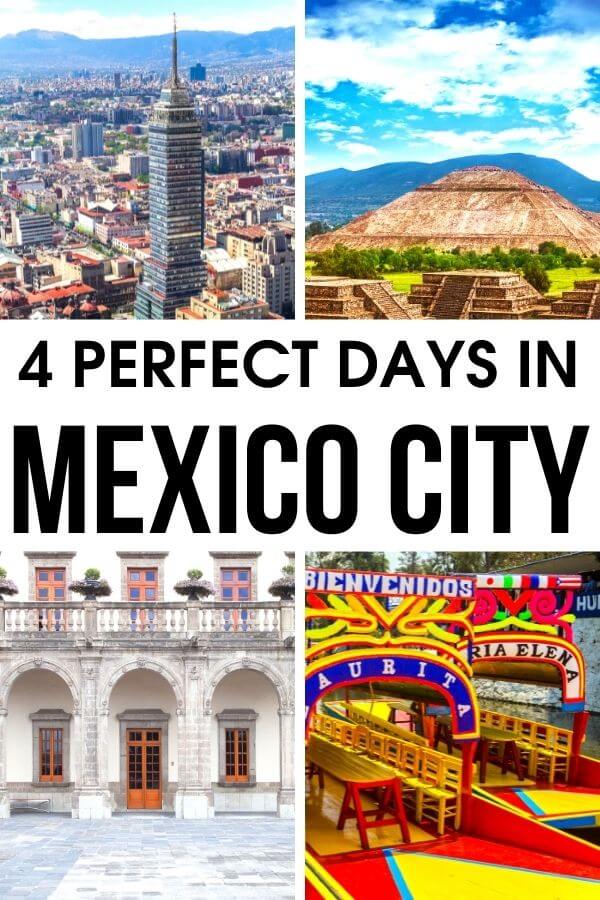 Please note: This post may contain affiliate links which means I may earn a commission if you make a purchase by clicking a link on this post. This will be at no additional cost to you. Affiliate links help me keep this website up and running. Thanks for your support!
Ultimate history-packed for Mexico City 4 day itinerary
Day 1: Historic Center, Food, Museums
Start your four days in Mexico City with a tour of Centro Historico, a UNESCO World Heritage Site and the very heart of Mexico's capital. Travel guides often tell you to spend just half-a-day here but I think this place absolutely deserves more than that. You'll see what I am talking about as you read through.
Spend the morning at Zocalo
Begin your first day at the famous public square called El Zocalo, also one of the largest in the world. Officially called "Plaza de la Constitucion", the Zocalo has been the venue for all kinds of festivities and ceremonies ever since the time of the Aztecs. Doing a guided walking tour is often the best way to see this area.
Several important buildings and monuments are located around the Zocalo. Here are the 3 most important ones that you cannot miss.
Metropolitan Cathedral: This is the most impressive building at the Zocalo. Built in a combination of Baroque and Renaissance architecture, the cathedral has exquisitely-carved exteriors and gilded interiors. An interesting fact is that you will see a Black Christ here who is believed to possess miraculous healing abilities.
Ruins of Templo Mayor: If you are looking for Aztec ruins in Mexico City, then you can find one right here in the historic center. The ruins of Templo Mayor were once the heart of Aztec life and culture in ancient Tenochtitlan. The main pyramid was about 90 feet high consisting of not one but two temples dedicated to Tlaloc (God of Rain & Fertility) and Huitzilopochtli (God of War). And there were 77 other buildings in this sacred precinct. Unfortunately, the entire complex was razed to the ground by the Spanish in the 16th century. Recent excavations have opened up some ruins for public viewing. And there is the Templo Mayor Museum nearby where you see several Aztec artefacts on display.
National Palace: The majestic palace is the office of the Mexican President and home to some of the most beautiful Diego Rivera murals including the famous "History of Mexico". Remember to carry your government ID if you wish to enter the premises.
Best places for lunch in Centro Historico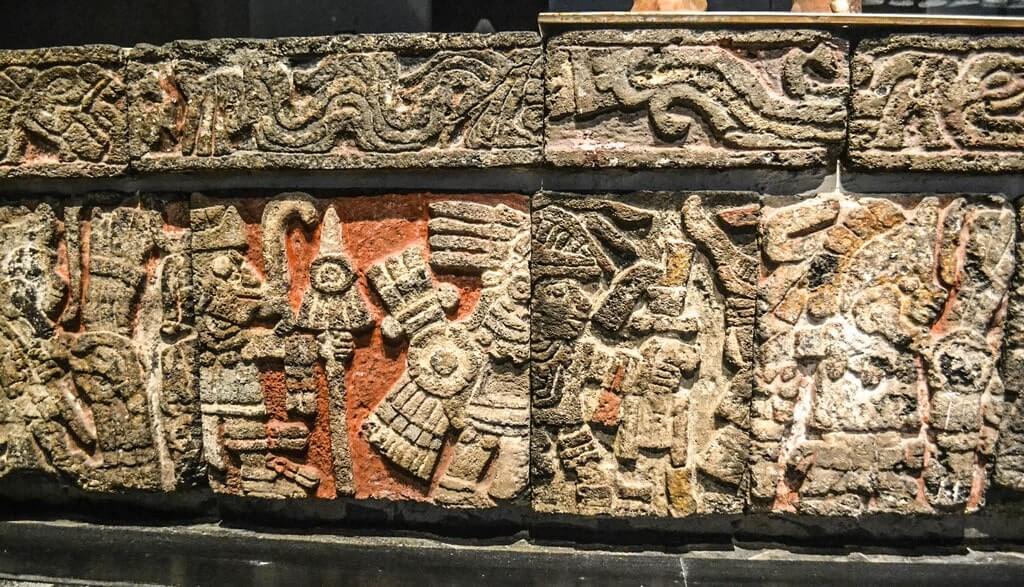 If you are looking for tacos, try them at one of Mexico City's famous taco joints – Los Cocuyos or El Huequito. These taco joints are open round the clock if you need a quick refill. Plus, both are extremely popular among tourists and locals. So, expect a long line.
Another great place to have lunch in the historic center is Café de Tacuba, which has remained unchanged ever since it opened its doors in 1912. The restaurant is housed in a former convent and serves recipes that have not changed over generations. Décor comprises of Talavera pottery, brass chandeliers, and colonial art work. Eating a meal at Café de Tacuba is almost like stepping back 100 years in history.
More art and culture in Centro Historico West
After a filling lunch, head to the western edge of Centro Historico where you will find several colonial-era buildings, art museums, and palaces. On this private tour of Mexico City, you will visit several of these colonial palaces and learn about life in colonial times.
Here are some of the unmissable sights in this area.
Palacio de Bellas Artes: The Fine Arts Palace is one of the prettiest buildings in the historic center and home to a permanent collection of Mexican murals including many by Diego Rivera. This is the place to get rich insights into Mexican fine arts including dance, music, and literature. Be sure to check admission and hours on their official website before planning your trip.
Palacio Postal: Another stunning palace that is usually not part of Mexico City itineraries is the Postal Palace, located right across the street from Palacio de Bellas Artes. The marble and bronze stairway in the middle of the building is totally unmissable.
Casa de los Azulejos: Ever since I fell in love with the azulejos of Porto, Portugal, I keep my eyes peeled for blue-tiled houses around the world. Covered in white, blue, and yellow tiles, the House of Azulejos in Mexico City center was once the abode of a noble. Today, it is home to a full-service restaurant called the Sanborns as well as an interesting mural by José Clemente Orozco, a glass ceiling atrium, and several stone pillars.
National Museum of Art: Yet another beautiful palatial structure is the National Museum of Art, also known as MUNAL. Come here for Mexican art produced between the 16th and 20th centuries as well as some stunning staircases.
Alameda Central: Tired at the end of all the sightseeing? Looking for an open, green space to relax? Head to Alameda Central, a sprawling public park right in the middle of Mexico City.
Also read: 15 Amazing things to see and do in the Historic Center of Mexico City
Evening in the Historic Center
You can spend your evening on Plaza Garibaldi enjoying live music and listening to mariachi bands on this wonderful Garibaldi night tour. Or do a private night taco tour where you dig into several varieties of tacos and taste some mezcal too.
If you would rather have a quiet evening, head to Torre Latinoamericana, Mexico City's tallest skyscraper, for a drink at the Level 40 Sky Bar and some stunning views of the city. Pro tip: Entry to the bar is free (you pay for the drink, of course) whereas admission to the observation deck (3 floors above the bar) costs about 170 MXN.
Day 2: Teotihuacan pyramids
One of the best things to do in Mexico City is to visit the incredible pyramids of Teotihuacan. Located only a hop away from Mexico City, these ancient pyramids are every history lover's dream.
The ancient city of Teotihuacan was built around 200 BCE, rose to supreme power in 400 CE, and was abandoned between the 6th and 7th century CE. Among the many interesting facts about Teotihuacan, perhaps the most incredible one is that the Aztecs never built Teotihuacan. They just discovered it.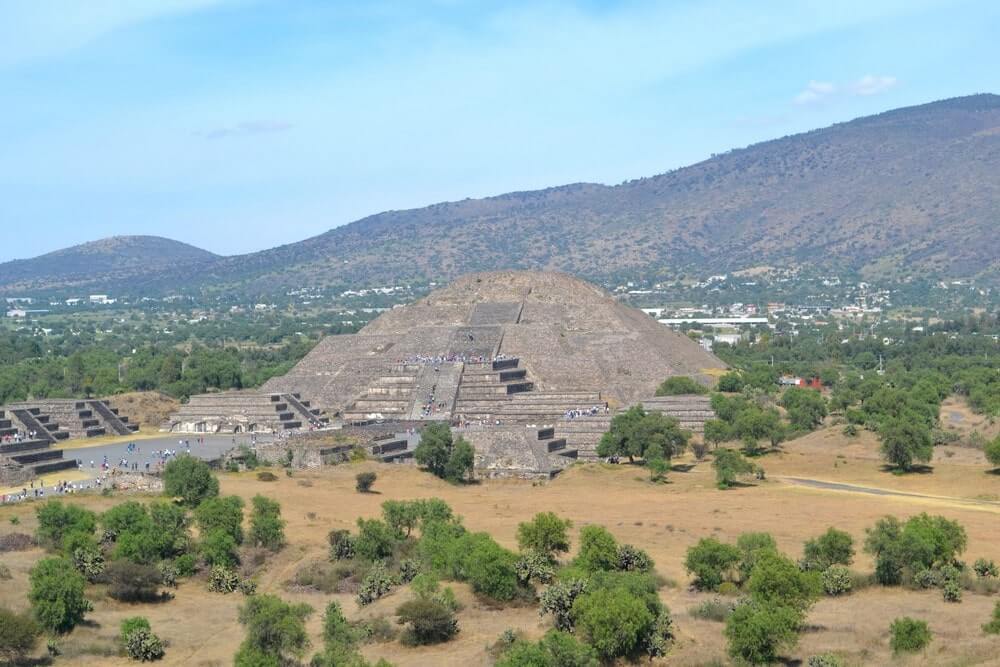 Today, Teotihuacan is one of Mexico's most visited UNESCO World Heritage Sites. The Pyramids of Sun and Moon are totally the highlights as is the Temple of the Feathered Serpent and the Palace of Itzpapalotl.
Pro tip: Arrive here early in the morning to beat the crowds and the heat. The site is open from 9am – 3pm, Monday – Sunday. Note that unlike many other archaeological sites in Mexico, Teotihuacan is not closed on Mondays.
✦ Pro Tip: If you'd like to see more ideas for things to do on Mondays, check out our Monday guide for Mexico City.
Best things to do in Teotihuacan
Here's a brief overview of the best things to see in Teotihuacan. I highly recommend reading through my Teotihuacan travel guide for all the details.
Monumental route: Walk down the Avenue of Dead and visit the Temple of Feathered Serpent and the Citadel, see the monumental Sun Pyramid (the Sun Pyramid is no longer open to climbing), explore the ruins of Itzapapalotl Palace, and discover the secrets of the Moon Pyramid. Also stop by the Teotihuacan Culture Museum. This is the most common itinerary for Teotihuacan.
Mural route: Includes the Jaguar mural, Palace of Itzapapalotl, Tepantitla architectural complex, and the Beatriz de la Fuente Mural Museum (located a little further away from the main complex).
The mural route complements the Monumental route very well. Very often, people just stop at the monuments but there's so much to be discovered at the murals including snippets of Teotihuacan life and culture.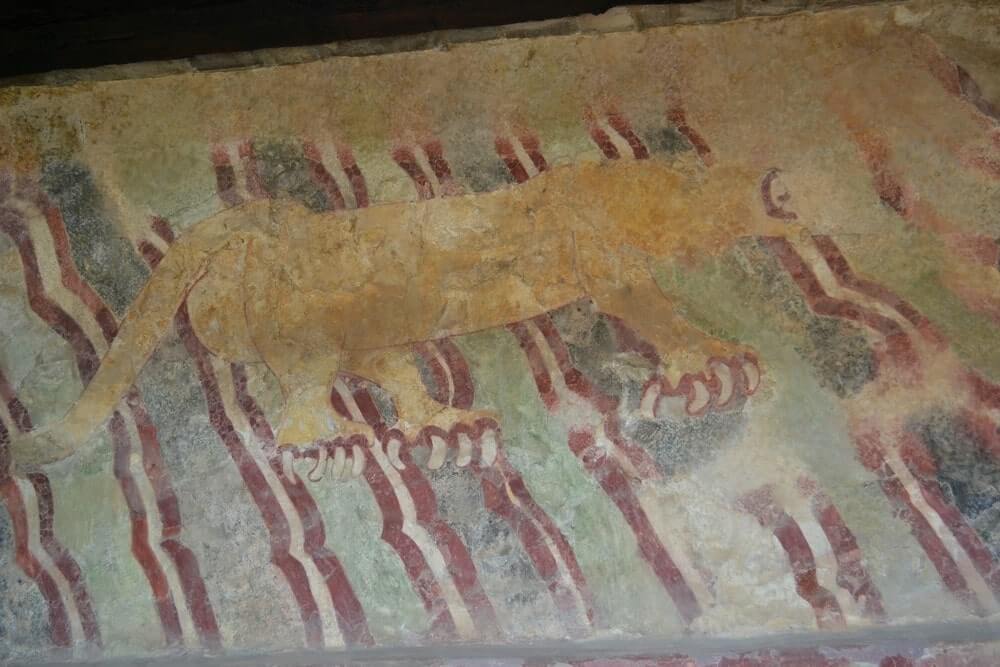 Best Teotihuacan tours
Whether it is about getting early access, seeing the pyramids from a hot air balloon, or learning all about this ancient pre-Hispanic site from a private archaeologist, Teotihuacan guided tours definitely have their advantages. Here are some of my favorite ones from the lot.
On this highly-rated Viator tour, you will enjoy early access to Teotihuacan ruins peppered with tales and legends from an archaeologist guide who will take you around the plazas and the murals. At the end of the tour, you will stop at an obsidian workshop (obsidian played an important role in Teotihuacan's rise to power) and taste tequila, mezcal, and liqueurs made from cactus. You can book the same tour on Get Your Guide here.
This full-day excursion from Mexico City will take you to Teotihuacan as well as The Plaza of 3 Cultures in Tlatelolco. You will also stop at The Basilica of Our Lady of Guadalupe, Mexico's largest religious sanctuary. The best part about this tour is the fact that you see three heritage sites in a day at a very affordable price.
Who doesn't love a hot air balloon ride, that too over the majestic pyramids of Teotihuacan! This hot air balloon ride includes 45 minutes of flying over the archaeological site and the magical town of San Juan Teotihuacan, breakfast, honor toast, and diploma.
Also see: 10 Best guided tours of Teotihuacan from Mexico City
Where to eat in Teotihuacan?
You won't find eateries inside the Teotihuacan archaeological site, only a few snack shops at the gates. I would recommend carrying a small snack and water with you if you plan to spend the entire day at the complex.
There are quite a few good (and unique) restaurants right outside the gates if you decide to step out.
La Gruta: Housed in a cave, La Gruta is one of the most unique restaurants I have ever seen. They have been around for more than 100 years now with a cuisine inspired by Pre-Hispanic cultures. You'd be literally eating traditional Mexican food in a candle-lit cave. Very popular among tourists, be prepared to find this place crowded.
Mayahuel Teotihuacan: Another great place to eat with stunning views of the Sun Pyramid from the terrace dining area. They serve delicious Mexican food and have lots of options to choose from.
How to get to Teotihuacan from Mexico City?
You can get to Teotihuacan from Mexico City in under an hour. If you are taking one of the guided tours recommended above, you can do a DIY trip as well. Getting a bus from Terminal del Norte is the easiest way to do it. You can spend as much time at the ruins as you want and get back by the same line of buses – Autobuses Teotihuacan.
Read our complete Mexico City to Teotihuacan guide for all the travel details.
Day 3: Coyoacán & Xochimilco
On the third day of your 4 day Mexico City trip, head to the historical neighborhoods of Xochimilco and Coyocan. Both are located to the southeast of Mexico City and not very far from each other.
Xochimilco
The borough of Xochimilco is often called the "Venice of Mexico". If you have read my post on incredible Mexico City facts, you will know that ancient Teotihuacan was built on a lake. The locals used an extensive canal system to get around the place. Now, only a bit of it is left in Xochimilco.
The Floating Gardens (chinampas) of Xochimilco, a UNESCO World Heritage Site, make for a fun day trip from Mexico City. And in my opinion, a great addition to your 4 day itinerary of Mexico City.
Ride on a trajinera, a colorful gondola that can accommodate up to 20 people. Eat, drink, and be merry while listening to mariachi bands playing in the background and the humdrum of local Mexican families who often come to party here.
Visiting Xochimilco is definitely one of the most touristy things to do in Mexico City. But hey, if you like people-watching and enjoy local culture, then why not! Don't let others stop you with their stories because this unique Mexican experience is worthy of being devoured.
Coyoacán
Coyoacán literally translates to the "Land of Coyotes". Historians suggest that this area was full of coyotes in the Aztec times and that is how the name stuck. You can still see a water fountain with the bronze statues of a pair of coyotes at Parque Centenario in the Coyoacán borough.
There are several interesting things to do in Coyoacán especially with its lovely collection of museums, churches, markets, and gardens.
Coyoacán is home to a famous Mexico City landmark – Frida Kahlo's Museum or The Blue House. The borough is where Frida Kahlo spent a good bit of her life. The museum that you are going to see is actually where Frida Kahlo lived. You will find many creations by Kahlo and Rivera, their personal items, and photographs at the museum. Find all about tickets and hours on the official website here.
The church of San Juan Bautista is yet another unmissable Coyoacán attraction, albeit with a cruel history. Like many other colonial buildings in Mexico, the church was built over the ruins of a school for Aztec children. You can still see some of the school ruins within the impressive Baroque church.
If you haven't shopped already and looking for a traditional Mexican market, head to Mercado de Coyoacán. From local handicrafts to food and grocery, this is the perfect place to shop for souvenirs to take back home.
Pro tip: Weekends are pretty crowded in Coyoacán since locals visit in large numbers. I would do a weekday trip here if possible.
Murals of UNAM
Another great addition to the third day of your Mexico City travel itinerary is the mural-covered wall of UNAM Central Library. I know art lovers are going to love this. So, I could not help recommending it here.
The National Autonomous University of Mexico (UNAM) is located just minutes away from Coyoacán. And the façade of the Central Library features one of the greatest murals in the world. It is called the Historical Representation of Culture. Painted by Mexican artist, Juan O'Gorman, the mural shows various epochs of Mexican history.
If you are looking for a tour that covers Xochimilco, Coyoacán, and UNAM, try this one. With knowledgeable tour guides and rave reviews, this private tour is absolutely worth it.
Best Xochimilco and Coyoacán tours
If you wish to avoid the hassles of public transport and taxis, book one of these popular guided tours and you will be all set for the day.
This full-day tour takes you on a trip down Xochimilco's canals, a tour of Coyoacan's colonial neighborhood, and a visit to University City where you can admire the splendid murals. You can opt for visiting Frida Kahlo's museum too. Travelers love this tour for their knowledgeable guides and authentic experience.
On this highly-rated tour, you will explore the Blue House or Frida Kahlo's House Museum with an expert art guide and learn all about the painter's life and her many portraits.
How to get to Xochimilco and Coyoacan from Mexico City?
It is super easy to get to Xochimilco from Mexico City. Get to the Tasqueña Terminal on Metro Line 2 (blue color). From there you can take the Xochimilco Light Rail (el Treno Ligero) to get to Xochimilco Terminal. The ride takes about 35 minutes and costs 3 MXN. Find the updated time table and cost of the Xochimilco Light Rail here.
For Coyoacán, you need to get off at the General Anaya station on Line 2. A single ticket on Mexico City metro costs 5 MXN.
Alternately, you can also use Uber which is pretty convenient and stress free in Mexico City. But traffic within the city may be an issue, particularly on weekdays.
Day 4: Chapultepec Park & Castle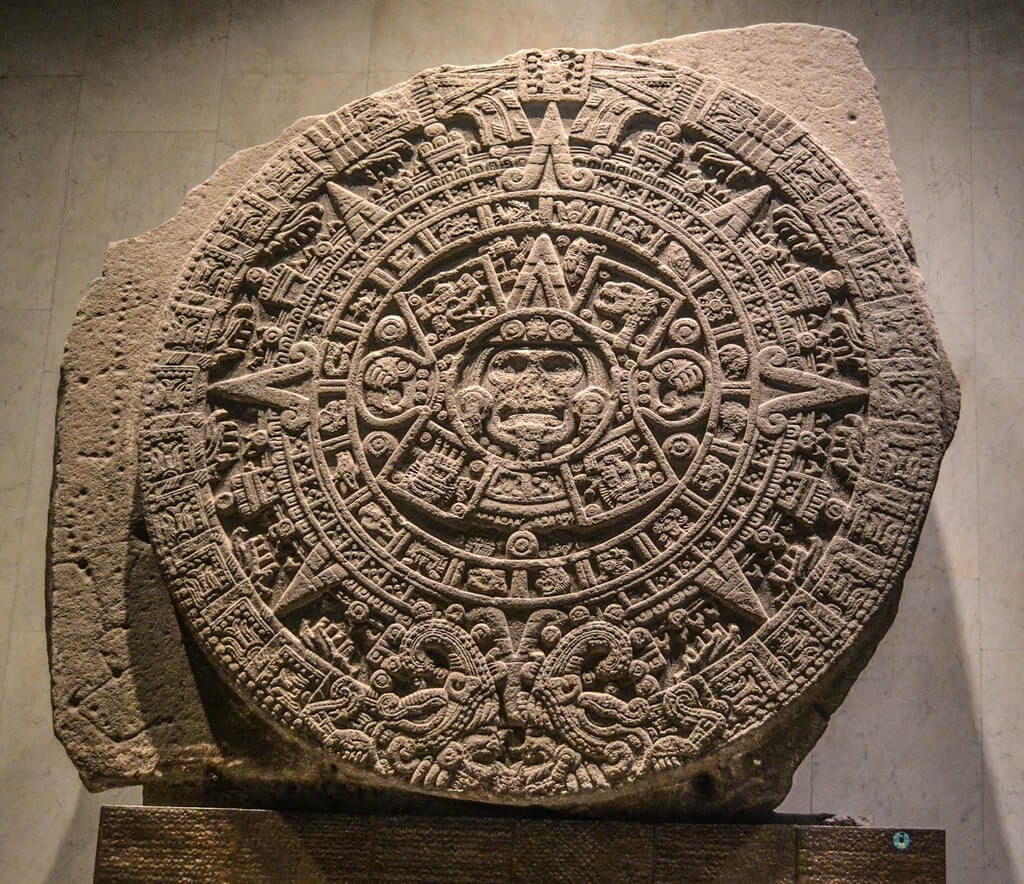 I have tried to keep the last day of this history-filled 4 days in Mexico City itinerary a little relaxed so that you do not tire yourself out before your travels the next day. What better way to do so than by heading to Bosque de Chapultepec, a huge green park that literally functions as the lung of Mexico City.
The best part about Chapultepec Park is that it is home to so many other interesting attractions. One of my favorite museums – the National Anthropology Museum (which let me tell you is a must-visit in Mexico City) – is located right here.
Since the park is huge, it is divided into 3 sections. Section 1 has a big zoo, National Anthropology Museum, Modern Art Museum, Chapultepec Castle, and a lake with boating facilities. Section 2 has the amusement park, a children's museum, and the Natural History Museum. The last Section 3 is all about wooded trails and wildlife.
Admission to Chapultepec Park is free but you need to pay if you wish to enter any of the attractions.
Sections 2 and 3 are open 7 days a week. Section 1 is open 5am – 7pm, Tuesday – Sunday but closed on Mondays. You will want to keep this in mind when planning your Mexico City itinerary. If Day 4 falls on a Monday, I suggest you shuffle things around.
Chapultepec Castle
One interesting place to visit with the Chapultepec Park is the Chapultepec Castle which also houses the National History Museum.
There aren't many cities in the Americas that can boast of castles. After all, the Americas never had kings and kingdoms.
But Mexico City is one special place in North America that has a legit castle that once housed European and Mexican sovereigns – the Chapultepec Castle.
Built in the early 18th century, the Chapultepec Castle once housed the Viceroy of New Spain as well as Emperor Maximiliano. It was abandoned during the Mexican War of Independence and then used as a military base during the war with America in 1847. It was here that six young men (Niños Héroes) died defending the castle during the American War.
Now, the castle is home to the National Museum of History with some exquisite artefacts from the time of Emperor Maximiliano and some incredible murals. The architecture and gardens are equally enthralling – definitely worth a walk up the small hill that it is located on.
The museum is open from 9am – 5pm, Tuesday – Saturday. They are closed on Monday and Sunday. Admission is 85 MXN. Check here for updated admission costs and hours.
Best Chapultepec park tours
On this tour of Chapultepec Castle and Anthropology Museum, you will learn all about the life and time of Emperor Maximiliano and discover stunning European ornamentations. Then, you will visit the National Anthropology Museum where you explore the life and culture of Pre-hispanic people – the Mayas, the Aztecs, and the Toltecs.
If you are looking for a private tour, here's a good one that includes both Anthropology Museum and Chapultepec Castle and a knowledgeable tour guide.
How to get to Chapultepec Park?
Chapultepec Park is located about 5 miles (8km) southwest of Mexico City Historic Center. A drive takes around 20 minutes. But with Mexico City's crazy traffic, you never know.
A faster, more reliable, option is the metro. At Zocalo, hop on the Blue Line going towards Tasquena. Get off at Pino Suarez and board the Pink Line going towards Observatorio. Get off at Chapultepec or Juanacatlan and then, walk.
Interactive map for 4 days in Mexico City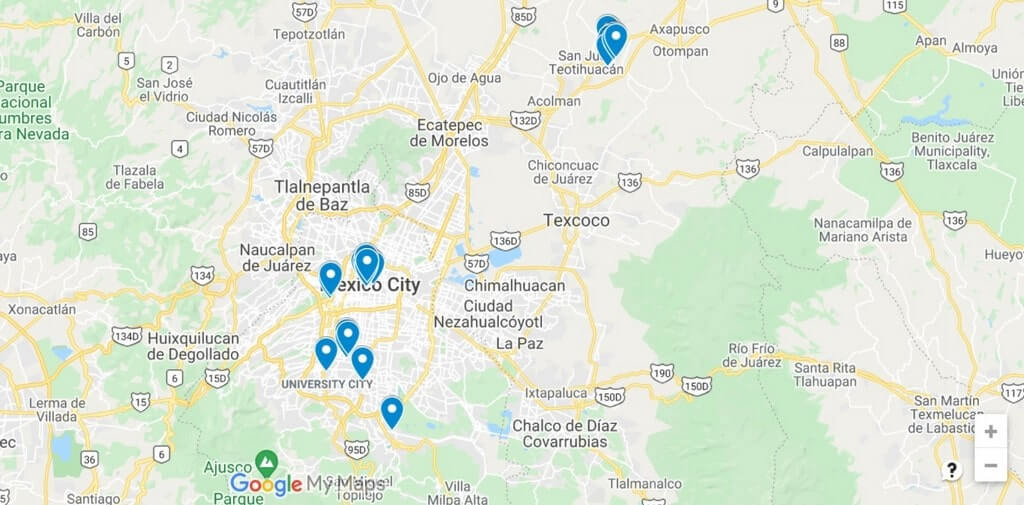 More than 4 days in Mexico City?
Having more than 4 days in Mexico City is actually a great idea because there are so many amazing things to do here + tons of wonderful Mexico City day trips to take. If you are staying longer, this is what you could do.
Spend a day in the high-end neighborhoods of Polanco and Roma. Polanco is replete with art galleries, museums, theaters, and some of the most renowned restaurants in Mexico City. Roma has got a more hipster vibe with colorful street art, art deco buildings, charming boutiques, and cute cafes.
Practical information for visiting Mexico City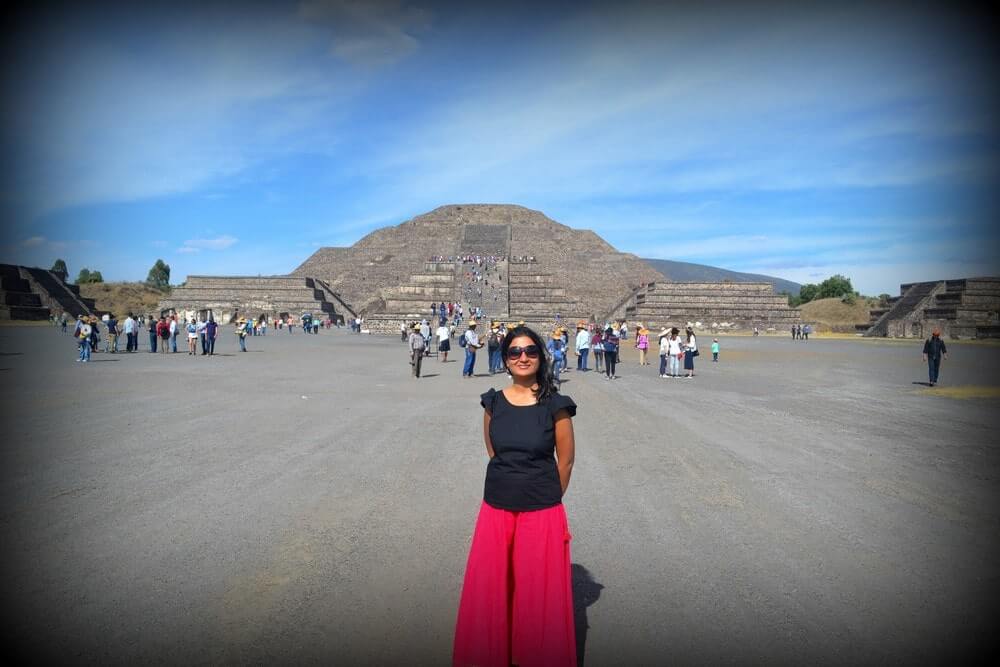 Best time to visit Mexico City
The best time to visit Mexico City is during spring (March – May) and fall (September – November). The weather is great and it is a good time to do walking tours in Mexico City and climb pyramids. However, this is also the most crowded time of the year. Be sure to get your bookings done well ahead of time.
Winters can be chilly and summers rainy in Mexico City. However, if you don't mind the summer heat and afternoon rains, June – August is a decent, more affordable time to visit Mexico City.
Getting to Mexico City
The best way is to fly into Mexico City International Airport and then take a taxi/metro/Metrobus from there. Here's a reliable private transfer option that you can use.
Getting around Mexico City
It is easy to get around Mexico City by metro. Mexico City Metro consists of 12 lines and operates between 5am – 12pm. Each ride costs 5 MXN ($0.25). Check for updated hours and get yourself a free map of the metro here.
Uber is affordable and convenient. We ended up using Uber quite a bit on our trip there. But beware, traffic in Mexico City is nasty especially during office hours. Be sure not to get into a taxi during peak office hours.
Loved our 4 days Mexico City itinerary? Pin it for later!