Last Updated on October 8, 2023 by Soumya
Looking for the best Mexico City landmarks to add to your travel itinerary? Wondering what are the most famous monuments to visit in Mexico City? Well, we have just the perfect list for you.
With a storied history and an interesting landscape (the whole city was built by reclaiming a lake!), Mexico City has lots to offer to every traveler. Here, you will see colonial buildings, wide open green spaces, and famous landmarks. Mexico City has enough to keep you around for a couple of days if not more.
In this guide you will learn all about these extraordinary monuments and attractions in Mexico City that you need to visit, what to see there, and why they are so famous.
It is evident that Mexico City is chock full of famous historical and natural landmarks. But the best news is that many of them lie in and around the Historic Center of Mexico City. That means you don't even need to venture out far to see them all.
So, let's get started with this ultimate guide to the best landmarks in Mexico City!
Historic landmarks in Mexico City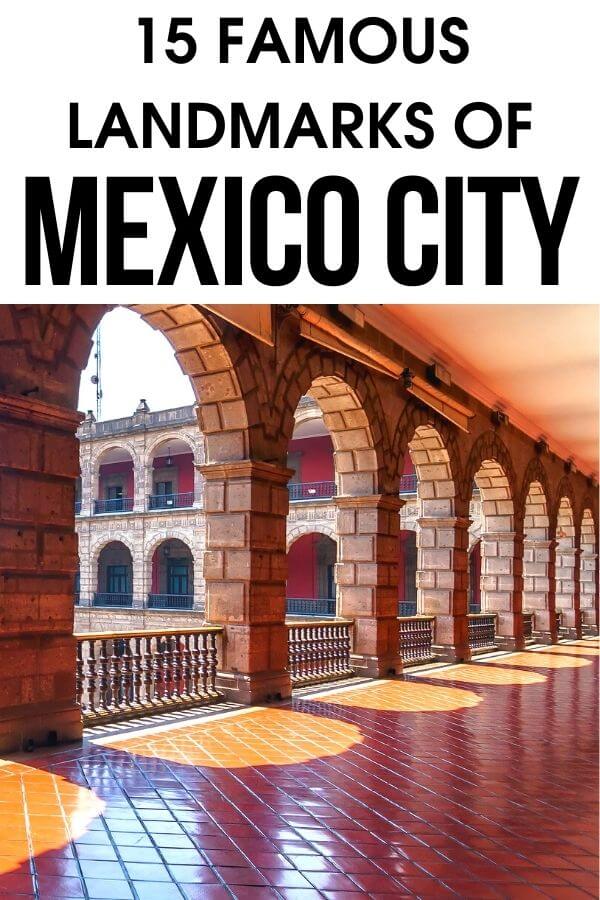 Please note: This post may contain affiliate links which means I may earn a commission if you make a purchase by clicking a link on this post. This will be at no additional cost to you. Affiliate links help me keep this website up and running. Thanks for your support!
El Zocalo
El Zocalo is Mexico City's central square. Also known as Plaza de la Constitucion, the Zocalo is one of the most famous landmarks in Mexico City and an absolutely unmissable one.
The plaza has been around since medieval times. Aztecs used it as a gathering spot for all ceremonies and events. Spanish did the same too. The power and importance that Zocalo yielded is quite evident by the number of political and religious buildings that surround it. Metropolitan Cathedral, Templo Mayor, and National Palace are all next door.
Even today, Zocalo is the most important public square in Mexico City. It is the venue for military parades, religious festivals, concerts, and public protests. You will find the best street food here along with numerous shopping and people-watching opportunities.
If I were to think of just one phrase for the Zocalo, it would be the "Heart of Mexico City".
The Angel of Independence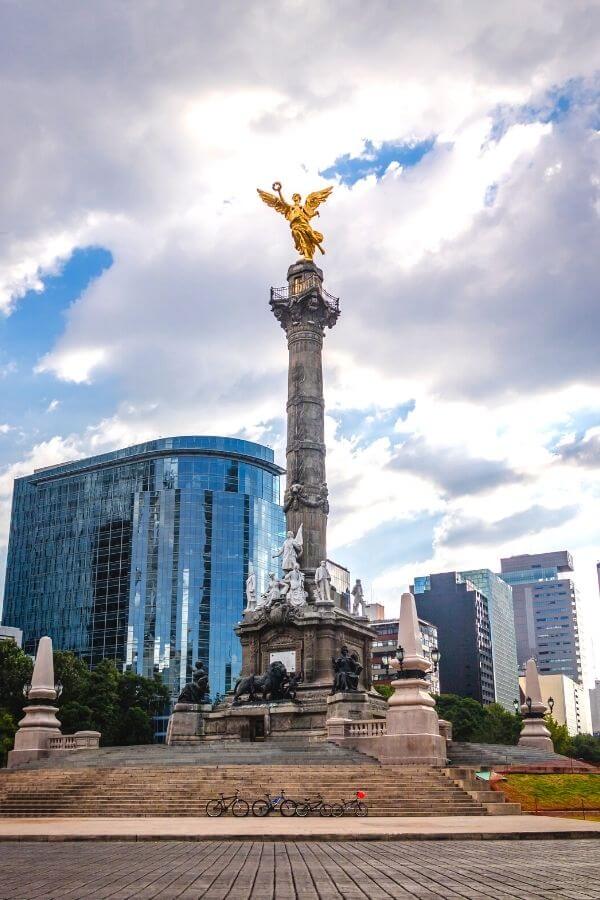 One of the most famous monuments in Mexico City is El Angel or The Angel of Independence. Located on Av. Paseo de la Reforma in the Juarez neighborhood, the monument commemorates Mexico's victory over Spain in its War of Independence.
It is ironic that the Angel was built in 1910, almost 100 years after the Independence War but around the same time as dissent was brewing against Porifio Diaz, Mexico's infamous dictator president. It was Diaz who actually oversaw the completion of the monument but was overthrown soon after in May 1911. As you can see, history of the Angel is a little complicated.
Today, El Angel is one of Mexico's iconic attractions and an unforgettable symbol of Mexico City. Not only is this the favorite place for selfies but also a common venue for political meetings and protests.
Ruins of Templo Mayor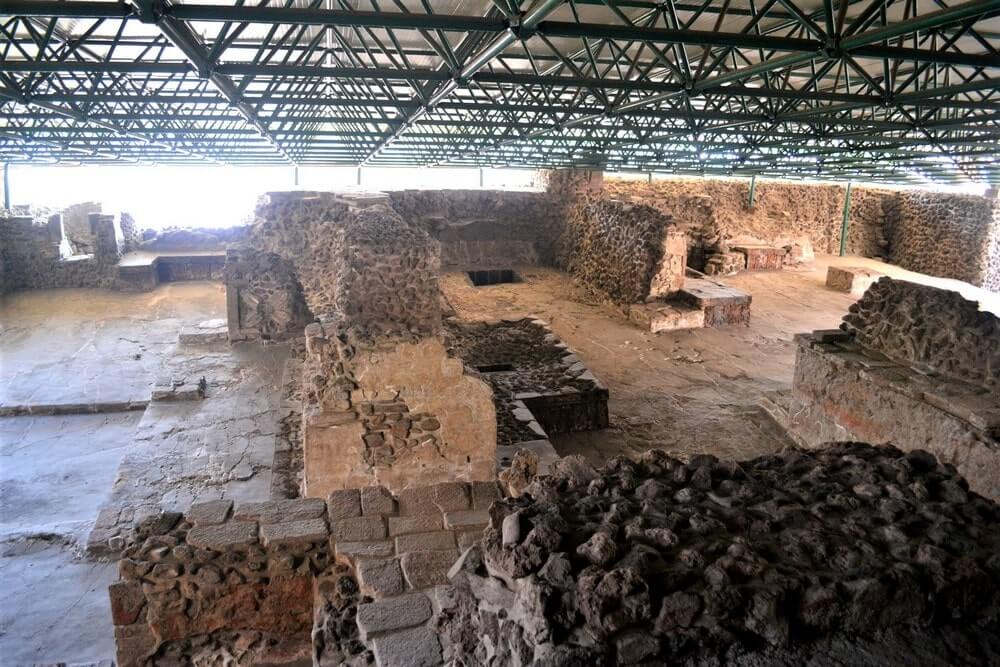 Looking for the ancient Aztec city of Tenochtitlan? It is no longer there because it was razed to the ground by Spanish conquistadors. But you can still visit the museum and ruins of Templo Mayor at the Zocalo.
Templo Mayor was the primary religious center of Aztecs. There was a massive pyramid temple here that had not one but two shrines on top. They were dedicated to the Aztec God of Rain (Tlaloc) and the God of War (Huitzilopochtli).
Today, you can visit the ruins of Templo Mayor and see remnants of old walls, serpent heads, ancient staircases, and the area where the main temple once stood. Be sure to drop by the museum which is a treasure house of Aztec historical facts. There are separate rooms for Aztec deities, rituals, trade and commerce, plants, and animals.
Also read: 8 Amazing Aztec ruins to visit in Mexico City
Metropolitan Cathedral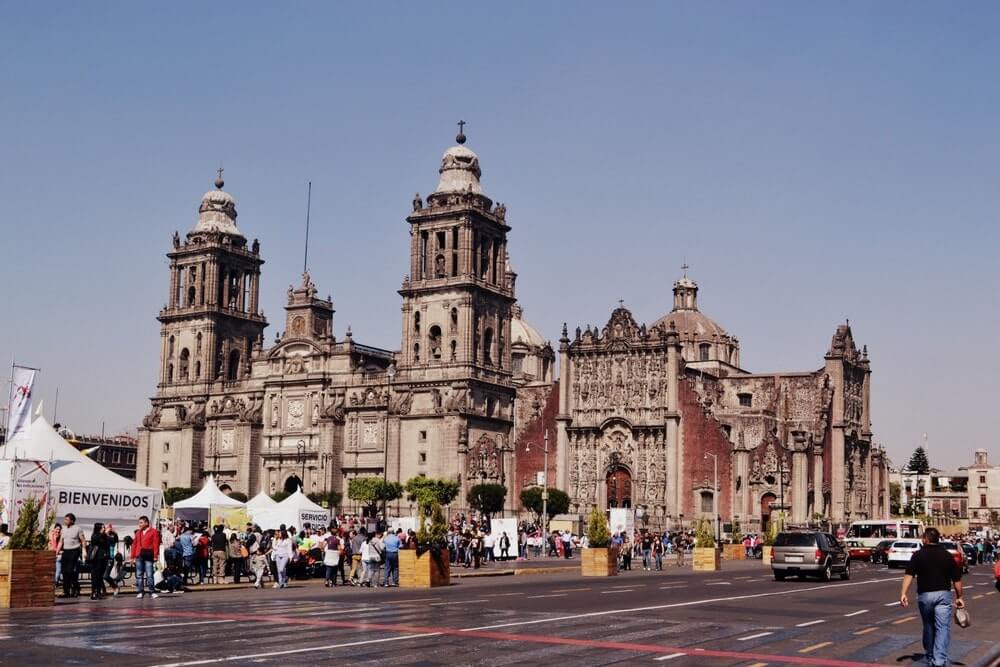 The Metropolitan Cathedral is yet another stunning landmark that you need to have in your Mexico City itinerary. Located on El Zocalo, Cathedral Metropolitana is one of the largest cathedrals in Latin America. And definitely one of the most impressive!
The cathedral has both an interesting past and present.
It was built on the ruins of Templo Mayor after Spanish conquistadors defeated the natives and razed the city of Tenochtitlan to ground. Apparently, bricks and stones from the old Aztec temple were used to construct the cathedral.
What is interesting about the present (and probably the future) of Metropolitan Cathedral is that every year, the cathedral along with every other building in Mexico City Center sinks a few inches into the ground. The phenomenon is called subsidence and eventually, Mexico City could sink up to 65 feet!!
Palacio de Bellas Artes
Built between 1904 – 1934, Palacio de Bellas Artes or the Palace of Fine Arts is one of the latest additions to Mexico City's center. But it is definitely one of the prettiest.
Like the name suggests, the building was built to encourage and promote fine arts in the country. Therefore, you will find a large theater, concert hall, museums, and several art galleries (including those of the masters Frida Kahlo and Diego Rivera) here. In fact, you can watch a Mexican Folklore Ballet at the Fine Arts Palace if you plan your trip right. Colorful costumes and vibrant narratives will surely add some extra zing to your Mexico trip.
The palace itself is an architectural masterpiece.
The façade is a complex mix of Art Nouveau and Renaissance styles, richly crafted interiors, and domes painted in orange and yellow make Palacio de Bellas Artes an absolute beauty.
Palacio National
Palacio National or the National Palace is a massive colonial building located to the east of the Zocalo. It is an active government facility and is home to the Treasury and offices of the Mexican President.
It is interesting to note that the National Palace was built on the ruins of the palace of the Aztec Emperor, Moctezuma II. Today, it is a huge building with several grand rooms, a chapel, numerous courtyards filled with fountains, and a big library.
However, what is totally unmissable about the palace is its unique collection of Diego Rivera's murals. Do not forget to catch a glimpse of Rivera's most famous creation, "The History of Mexico", that is housed in the palace's stairwell.
Chapultepec Castle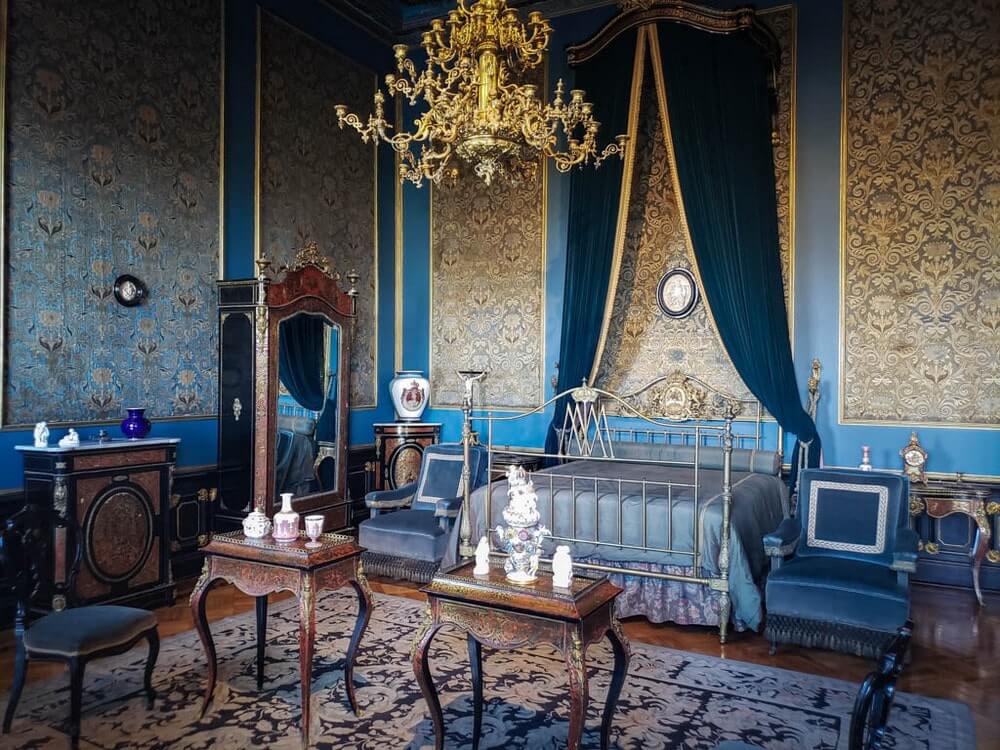 Even though it is hard to find castles in North America, there is one right here in Mexico City. The beautiful Chapultepec Castle with stunning interiors is the only place to have housed royals in North America.
As with every other castle in the world including Neuschwanstein in Germany and Pena Palace in Portugal, Chapultepec has a long and notorious history.
It was built in the late 18th century, abandoned during the Mexican War of Independence, and became the site of the deaths of 6 young men during the Mexican war with America. Later, it became the home of Maxmilian I of Second Mexican Empire which fell from power in 1867.
Today, Chapultepec Castle is one of the best places to visit in Mexico City. The palace's stained glass windows are especially remarkable. Some of the most iconic rooms here are Maximilian's bedroom, the dining room, and the Malachite Room. Be sure to visit the statue dedicated to the Young Heroes or the Ninos Heroes who gave their lives defending the castle during the Mexican-American War.
The castle is located on top of Chapultepec Hill in the middle of green and verdant Chapultepec Woods. The entire ensemble is now on UNESCO's Tentative List and we are hoping it gets into the heritage list soon.
Teotihuacan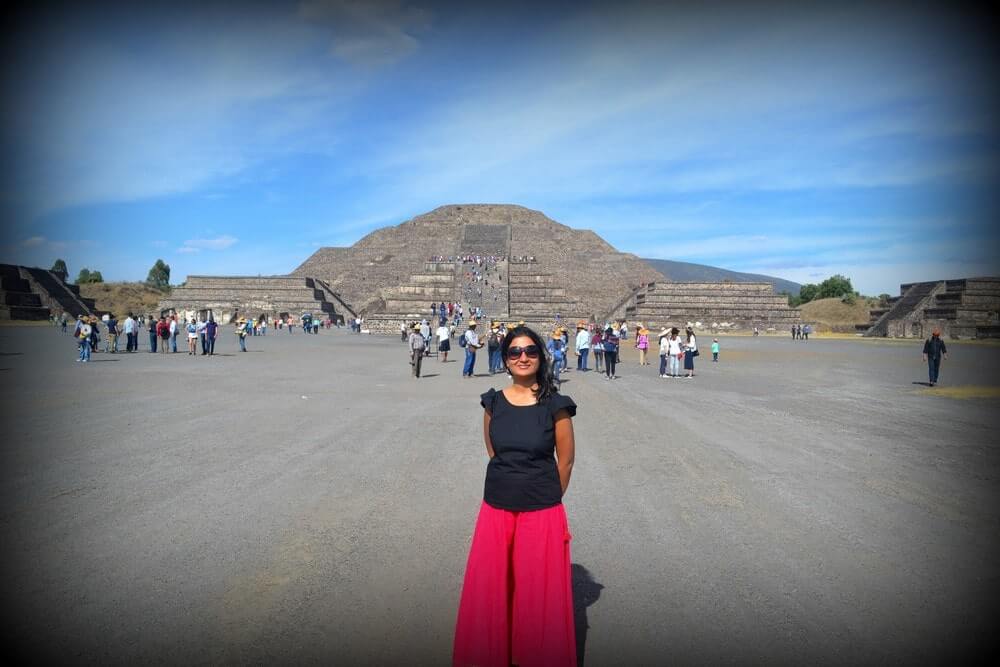 The last but not the least historic landmark of Mexico City in the ancient city of Teotihuacan.
Visiting Teotihuacan is one of the most interesting things to do in Mexico. Located only 30 miles to the northeast of CDMX, Teotihuacan makes for a wonderful day trip from Mexico City.
There are many wonderful things to see in Teotihuacan including the enormous Pyramid of the Sun, the mystical Pyramid of the Moon (animal and human sacrifices were a ritual here), and the run-down Pyramid of the Feathered Serpent which features the popular Mesoamerican deity, Quetzalcoatl.
If you are an art enthusiast, you will love checking out Teotihuacan's extensive mural collection. They are colorful and depict life and beliefs from 2000 years ago.
Unlike other Mesoamerican cities of which we know some things, Teotihuacan is full of unsolved mysteries. There are so many things about Teotihuacan that still baffle researchers. For instance, who built this massive city, what kind of people lived here, what language did they speak, and where did they disappear at the end of 8th century. Teotihuacan is one big enigma waiting to be unraveled to the world.
If you would love to find out more, check out our article on the 10 puzzling facts about Teotihuacan.
Natural landmarks in Mexico City
Floating Gardens of Xochimilco
Often touted as the Venice of Mexico, Xochimilco is a popular day trip destination from Mexico City.
Xochimilco is filled with canals and floating gardens known as chinampas. The chinampas are sort of artificial islands that locals built a long time ago with soil, branches, and reeds. Even today, these islands form an important gardening and agricultural hub. And of course, they are one of the most popular natural attractions in Mexico City.
Hundreds of tourists and locals visit Xochimilco every day. They cruise through the canals in colorful trajinera boats while enjoying live Mariachi music and savoring fresh Mexican food.
Xochimilco's canal and chinampa system, also a UNESCO World Heritage Site in Mexico, is always a hub of activity. It is not the place to go to if you are looking for peace and calm. But it is the best place to people watch and soak up on local Mexican culture.
Bosque de Chapultepec
Chapultepec Forest or Boqsque de Chapultepec is a huge city park located to the southwest of Mexico City Center. Spread over nearly 700 hectares, it is one of the largest parks in the Americas and one of Mexico City's much-needed green spaces.
Come here if you are looking for some peaceful time with yourself. Or come here for the scores of leisure and cultural attractions that the park offers. Here, you will find the rich and beautiful Chapultepec Castle, Museum of Anthropology, Chapultepec Zoo, El Papalote Children's Museum, Museum of Modern Art, and so much more.
Bring along a picnic or choose some snacks from vendors who sell anything from fresh fruits to fried empanadas because you are definitely going to need more than a few hours here.
Alameda Central Park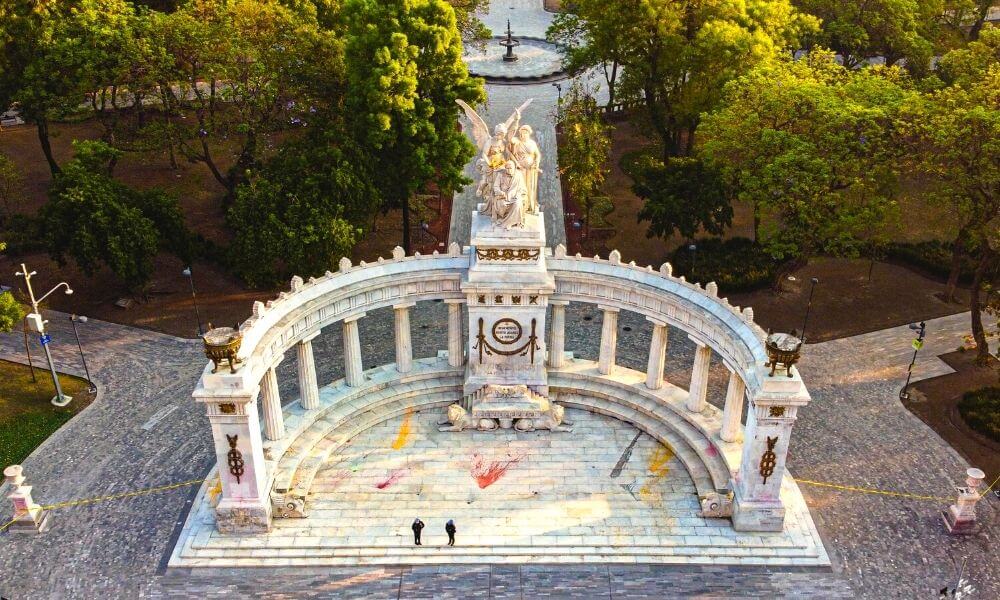 Alameda Central is yet another green lung of Mexico City that has been in existence since the time of the Aztecs. In fact, this used to be a large, central marketplace for the Aztecs. When the Spanish came in the 1500s, they converted it to a public park.
The Central Park of Alameda is full of gardens and pretty walkways lined with statues and water fountains. There are so many statues and sculptures here that you will feel like walking through an art and history museum. Some of the most iconic ones are the Benito Juarez Hemicycle (pictured above), the Beethoven Monument, and the fountains of Venus, Neptune, Las Danaides, and La Primavera.
Other famous landmarks of Mexico City
Basilica of Our Lady of Guadalupe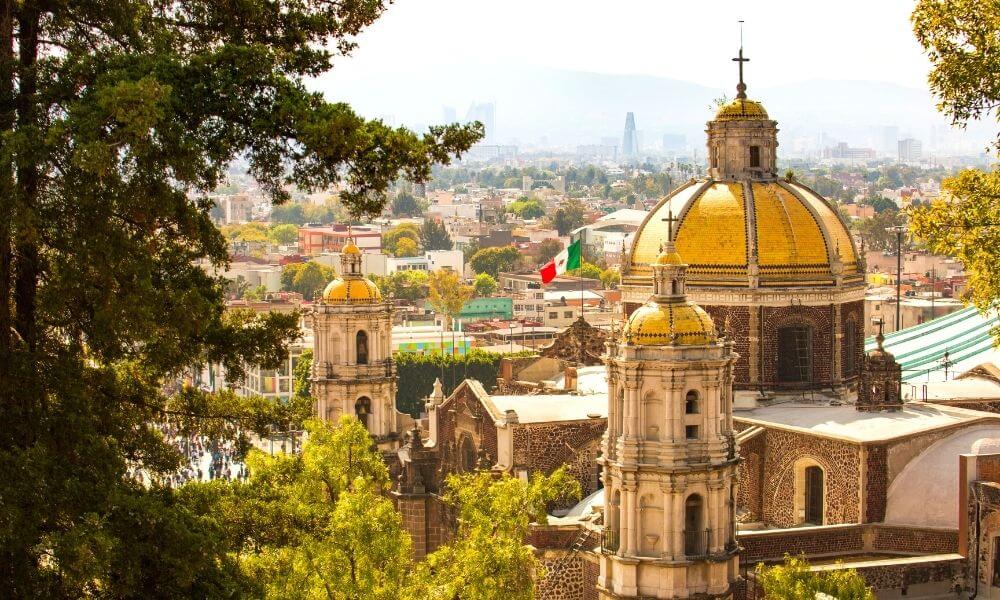 If you have researched about Mexico City, I am sure you have heard of the Basilica of Our Lady of Guadalupe. One of Mexico City's most important religious landmarks, the basilica is home to a cloak containing the image of Virgin of Guadalupe.
Before the Spanish invaded Mexico, there was a temple dedicated to an important Aztec Goddess at the site of the basilica. In the 1530s, a small shrine was constructed here. Several modifications/reconstructions happened between the 16th – 18th centuries. In 1904, the shrine was designated as a basilica.
Today, the Basilica of Our Lady of Guadalupe is one of the most visited Catholic churches in the world. Millions of devotees throng the shrine every year. It is especially crowded on the 12th of December, the Feast Day of Our Lady of Guadalupe.
The best way to visit the basilica is to club it with a trip to Teotihuacan ruins from Mexico City. This popular guided tour from Mexico City shows you exactly how to do that.
Frida Kahlo Museum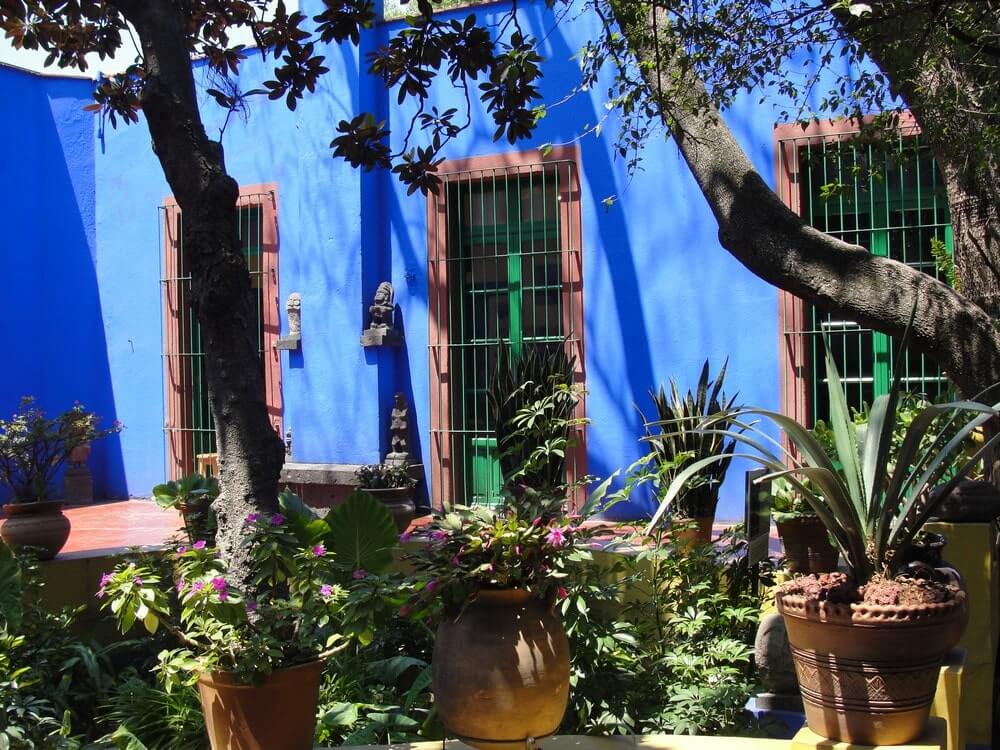 When you are in Mexico City, don't leave without visiting the Blue House or Frida Kahlo's Museum. It is located in the Coyoacan neighborhood of Mexico City and was the place where Frida took birth, grew up, lived, and died.
La Casa Azul or the Blue House is a historic home and art museum where you can see snippets of Frida Kahlo's personal life, her art, and an interesting collection of Mexican folk art that was owned by Frida and Diego River, her husband. You can have a virtual look at the collection here on Google Arts & Culture.
The Blue House is one of the most popular museums in Mexico City. With a history so artsy and colorful, it is not difficult to guess why!
Check their official website for guided tours and opening hours when planning your trip.
National Anthropology Museum
The National Museum of Anthropology in Mexico City is one of the best museums that I have visited anywhere in the world. It is vast and entirely dedicated to the Pre-Hispanic era of Mexico's history. If you wish to know anything about the archaeology, art, and ethnicity of Mexico's indigenous civilizations, then you have to come here.
The museum is located within the Chapultepec Forest in Mexico City and has 23 permanent exhibit halls. You will see rooms dedicated to several illustrious civilizations such as the Teotihuacans, Mayans, Oaxacas, and the Aztecs. Some of the highlights include the Sun Stone or the Aztec Calendar, replica of Pacal's tomb from Palenque, and Olmec giant stone heads.
If you are planning to visit Teotihuacan, be sure to check out the Teotihuacan murals that give you interesting insights. And if you are planning a trip to any of the Mayan pyramids in Yucatan (including the mighty Chichen Itza), do not forget to see the Mayan displays.
Torre Latinoamericana
Torre Latinoamericana is easily one of the most recognizable landmarks of Mexico City. Built in 1956, it is 44-story tall and provides sweeping views of downtown Mexico City. Just the perfect place to spend your evenings with a drink in your hand! Book your ticket to the observation deck here.
There is an interesting fact about Torre Latinoamericana. It is an architectural wonder because it is one of the rarest skyscrapers to be ever built in an earthquake-prone zone. Did you know that the tower kept standing even after being hit by an 8.0 magnitude earthquake in 1985? Several structures collapsed but not the sturdy Torre Latinoamericana.
Loved this guide to famous Mexico City landmarks? Pin it for later!