Last Updated on July 15, 2023 by Soumya
UNESCO World Heritage Sites in Mexico are unique, diverse, and numerous.
From the mysterious pyramids of Teotihuacan to the sprawling ancient city of Chichen Itza in Yucatan and the strategic medieval town of Paquime in the far west, Mexico has 35 world heritage sites to boast of. They are split into 3 categories – cultural (27), natural (6), and mixed (2) – and are an enviable addition to any Mexico bucket list.
Did you know that Mexico has the 7th longest list of UNESCO sites in the entire world and the longest in the Americas?
Packed with many such interesting and intriguing facts about Mexico's world heritage sites, we bring to you this list of unmissable historic landmarks in Mexico.
Here, we talk about 16 best cultural and mixed UNESCO world heritage sites in Mexico that every history lover will swoon over. If you love ancient cities, lost civilizations, people and culture, then you are going to enjoy reading through this.
16 Best UNESCO World Heritage Sites in Mexico
Pre-Hispanic City of Teotihuacan
Editor's choice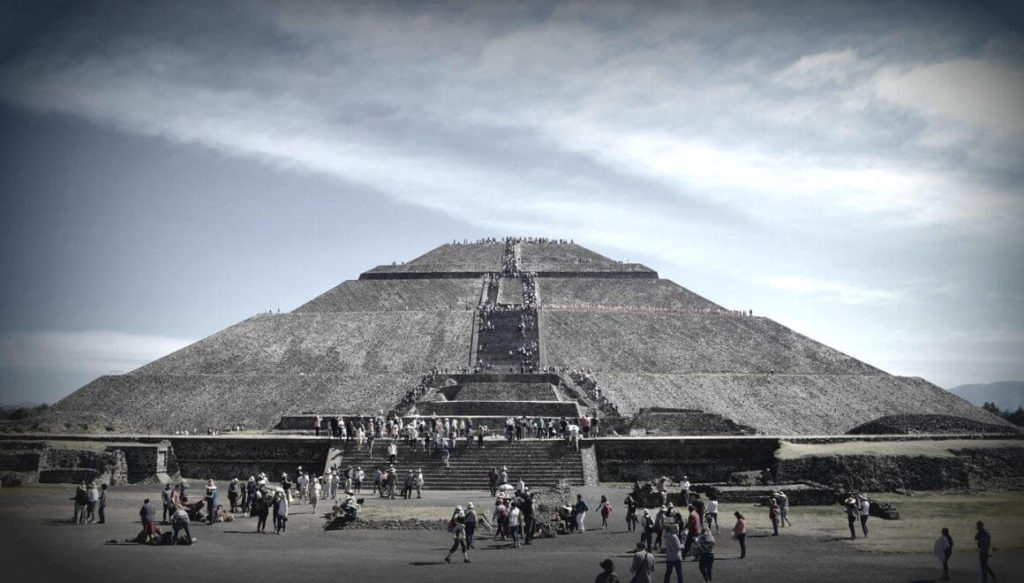 One of the most stunning (and mysterious!) UNESCO world heritage sites in Mexico is the Pre-Hispanic City of Teotihuacan.
Teotihuacan is home to 3 impressive pyramids – Pyramid of the Sun (one of the tallest in the world), Pyramid of the Moon, and Pyramid of the Feathered Serpent. The site also has an interesting collection of murals and a couple of attractive museums.
It is easy to visit Teotihuacan as a day trip from Mexico City. The two are just 30miles (50km) apart.
What makes this ancient city fascinating is not just its splendid collection of ruins but also the fact that most of it is shrouded in mystery. In the absence of a written script and hardly any oral tales, we barely know anything about the people that lived here. So many things about Teotihuacan such as its origin, people, culture, and collapse are still secrets waiting to be revealed.
Also read: 10 Intriguing facts about Teotihuacan that no one tells you!
Please note: This post may contain affiliate links which means I may earn a commission if you make a purchase by clicking a link on this post. This will be at no additional cost to you. Affiliate links help me keep this website up and running. Thanks for your support!
Pre-Hispanic City of Chichen Itza
Editor's choice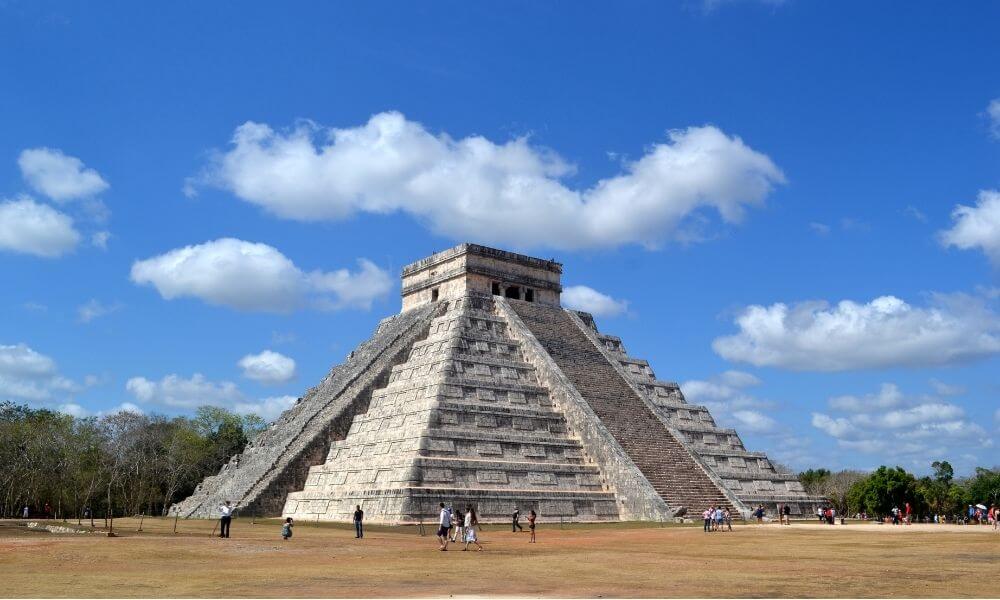 The Pre-Hispanic City of Chichen Itza is a sacred Mayan site that was once a sprawling capital city and a prosperous urban center.
Here, you will find some of the greatest architectural marvels created by Mayans and Toltecs from 1500 years ago. These include the world wonder Pyramid of Kukulkan – one of Yucatan peninsula's must visit Mayan pyramids.
Other iconic landmarks include the Temple of Warriors, Plaza of a Thousand Columns, Temple of Skulls, an observatory, and a huge ball court. Be sure to check out the cenote nearby which hides many hidden secrets of Chichen Itza.
Monuments at Chichen Itza, like many other Mesoamerican cities, are astronomically aligned. Gruesome death practices were common here. A skull rack stands testimony to the fact.
However, what is most fascinating is the legend of Kukulkan, Mayan Serpent God, who descends on the pyramid twice every year. You can literally see the body of a snake moving down the steps of the pyramid during the spring and autumn equinoxes. This holds great religious significance for locals.
Also read: 11 Engrossing facts about Chichen Itza that no one tells you!
San Miguel de Allende
Recommended by Shelley of Travel Mexico Solo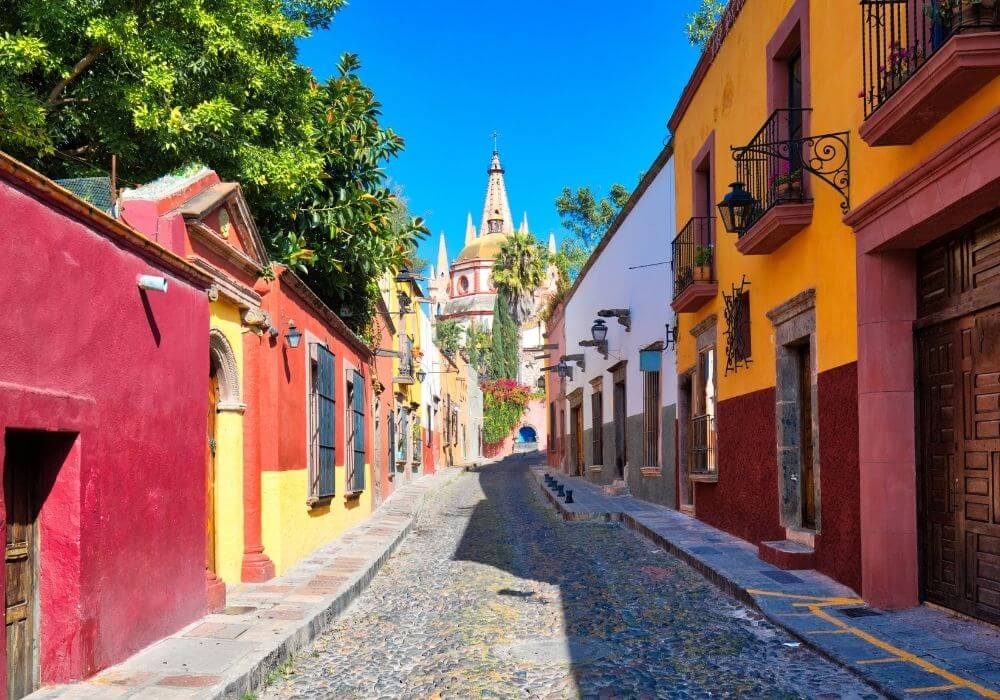 One of the safest cities in Mexico, and also among its most beautiful, San Miguel de Allende is a must-visit. This UNESCO World Heritage Site earned the designation largely because of the Baroque architecture you can see throughout town.
The centerpiece of San Miguel de Allende is the towering Parroquia de San Miguel Arcángel C athedral. You will find it at Jardín Allende (Allende Garden Park), the central square in downtown. No visit to San Miguel is complete without marveling at its large Baroque church from this charming and lively park.
From here, you can wander the cobblestone streets of downtown without an agenda. Each street is more picturesque than the next, but make sure you head to Calle Hermanos Aldama for a photo of the colorful architecture on this street and the Parroquia in the distance.
Don't miss the other top places to visit in San Miguel such as Biblioteca Publica (Public Library) and Instituto Allende (Allende Institute). San Miguel de Allende Mercado de Artesanías (Artisan Market) is a great place to buy unique souvenirs and Mexican folk art from local craftspeople.
To visit, you can go by bus or drive from Mexico City, which takes about three hours. There is no airport in San Miguel, but the closest one is Bajío International Airport in Guanajuato, located about 1.5 hours away.
You can visit on a day trip from Mexico City or Guanajuato, but ideally, you'll want to spend at least 2-3 days in San Miguel de Allende.
Pre-Hispanic Town of Uxmal
Recommended by Daria from The Discovery Nut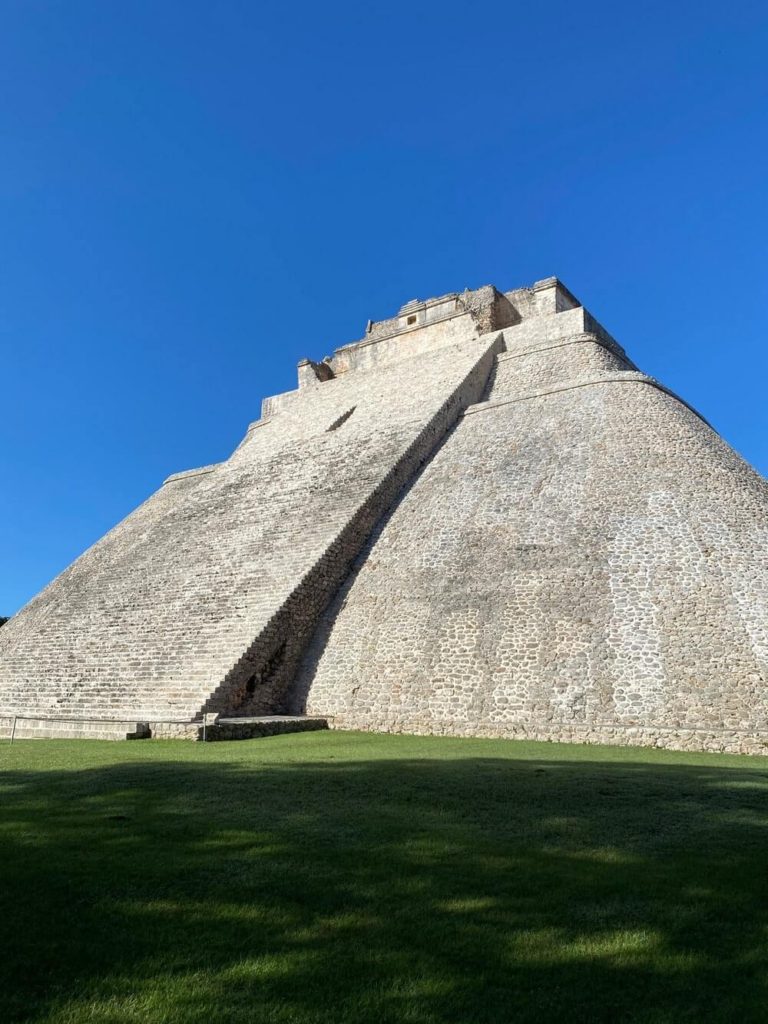 One of the best hidden gems in Mexico's Yucatán Pensinsula, Uxmal is a well-preserved archaeological site about one hour away from Merida.
Unlike some of the most popular ruins in the region that see thousands of visitors per day, Uxmal has been flying under the radar for years. It sees a fraction of visitors compared to Chichén Itzá and Tulum ruins.
This city once was the most powerful center in the Mayan civilization, and you can still see the remains of its old glory when you visit this site. One of the best features of Uxmal is the Pyramid of the Magician, a 35-meter tall structure with round corners.
Each construction has clear signs that talk about history and significance of this place. However, if you are visiting Yucatán Peninsula for the first time, you can also join a guided tour of Uxmal with a knowledgeable guide.
Other constructions in Uxmal include the House of Turtles, the Ball Court where Mayans played the famous Pok-Ta-Tok game and the Governor's House. If you arrive at Uxmal early morning, you will be one of the few visitors at the site.
To visit Uxmal, you will need to take an hour drive from Merida. You can either catch a collectivo from Merida which is very inexpensive, rent a car or take a taxi, which would be the most expensive option.
Merida is located on the Eastern side of the Yucatán Peninsula about 3,5 hours from Cancun and can be reached by ADO bus.
Historic Town of Guanajuato
Recommended by Džangir from Dr Jam Travels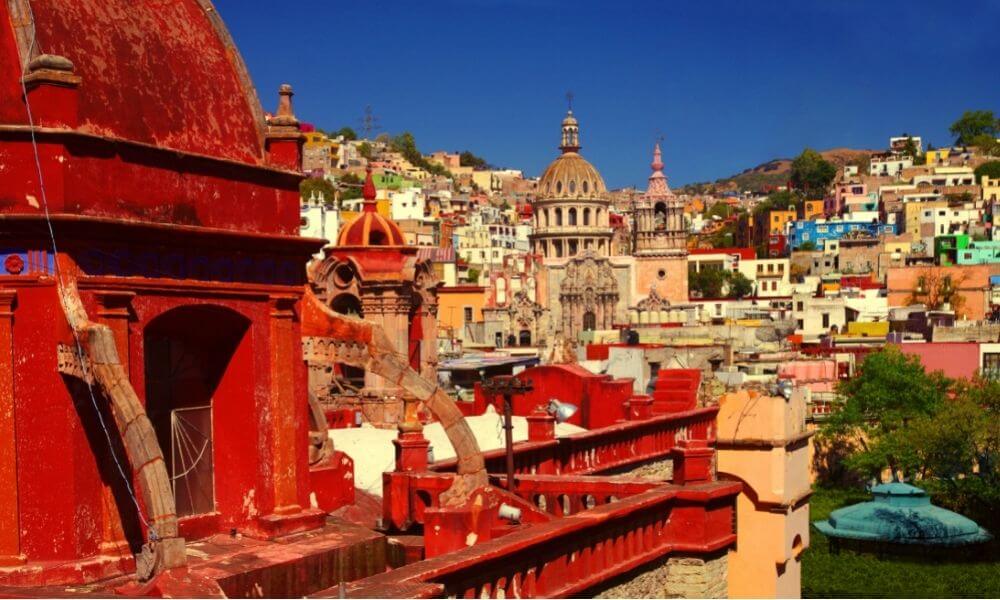 Guanajuato is the capital city of the region with the same name in central Mexico and one of the lesser-known world heritage sites in Mexico. It is located 350 km north-west of Mexico City, reachable in under 5 hours.
The history of this city is strongly connected with the large deposit of precious metals in the area. Even in the pre-Hispanic era, Aztecs would mine these metals here.
In the 16th century Spanish conquerors built a city here that grew quickly because of mining. Today, you can see some of the most beautiful examples of Baroque architecture from that era. Churches La Compañía and La Valenciana are especially stunning.
Later, the 19th-century Independence war started in Guanajuato. On a hill overlooking the city, there is a statue of El Papilla with a torch. He burned the main entrance and helped the siege to be won.
In the city of Guanajato, you can admire colorful colonial houses on hills, the central Zocalo square, a theater, university, a museum with mummies, flood tunnels that are roads now, or nearby mines that have been closed for the last 100 years.
Historic Fortified Town of Campeche
Recommended by Claudia from My Adventures Across The World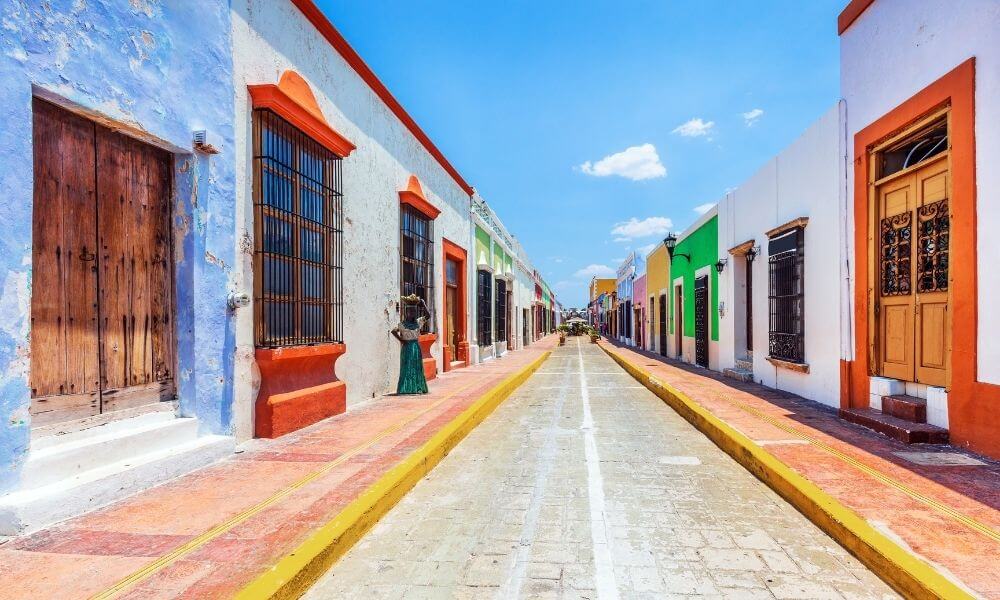 Campeche is one of the prettiest cities in Mexico's Yucatan Peninsula – yet one of the lesser visited ones. Therefore, it is such a great place to explore if you want to get away from the crowds in Mexico.
Known as the Rainbow City, Campeche became a UNESCO World Heritage site in 1999 thanks to the well kept colonial buildings, forts and walls.
The main attraction in town are the old bastions – baluarte, in Spanish. These seven strongholds (there were originally eight) were built in 1704 and connected to the ramparts for protective purposes, since the city was regularly invaded by pirates.
Another must-see in Campeche is the Cathedral, a beautiful Baroque church built between 1540 and 1760 with two well kept towers.
One of the best things to do in Campeche is taking a sunset walk along the Malecon, the city's waterfront. It's where locals jog or walk at the end of the day and it's a fantastic sunset spot. Finally, make sure to go for a walk along Calle 59 – allegedly the most colorful street in town!
Historic Center of Morelia
Recommended by Shelley from Travel to Merida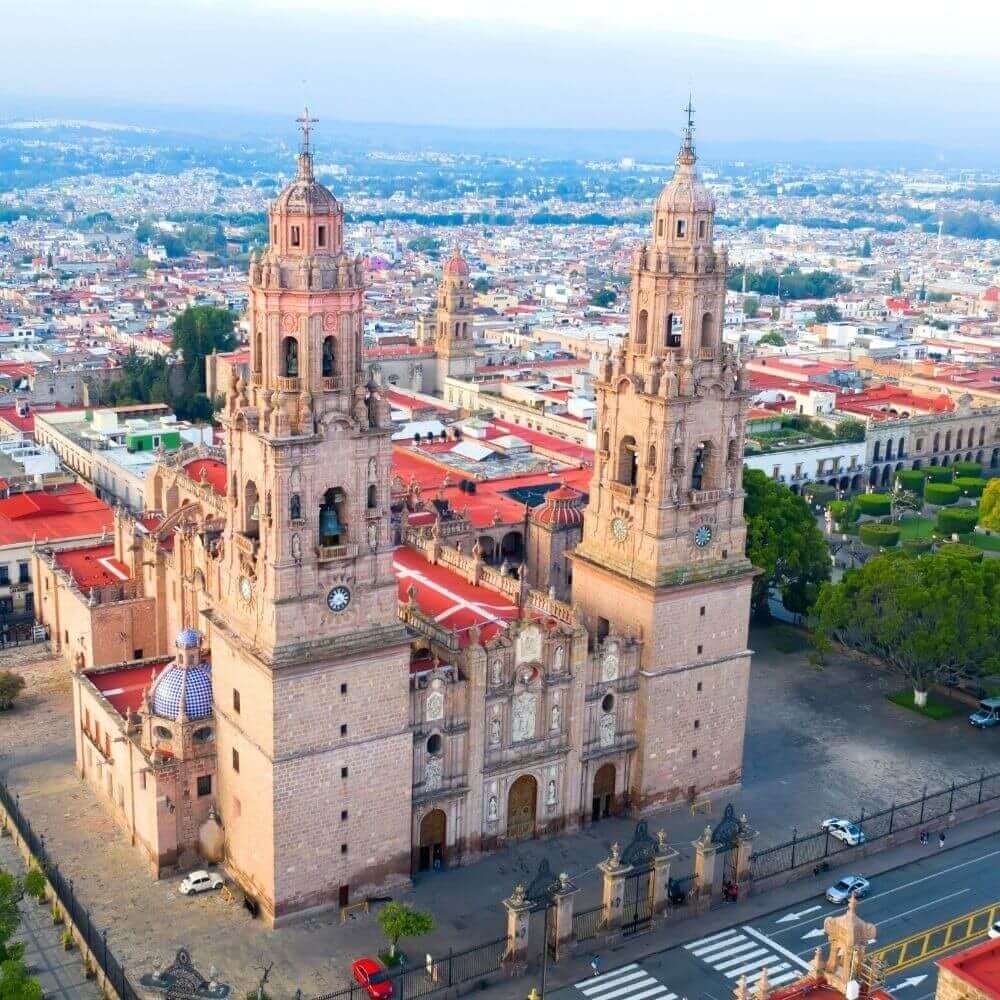 Morelia is located in Michoacan state, about 190-miles (308km) west of Mexico City. The Historic Centre of Morelia makes the Mexico UNESCO World Heritage Site list in large part for its architecture.
Throughout downtown, you'll see hundreds of beautiful Spanish Renaissance buildings, as well as stone fountains and statues. Morelia is known as one of the most European-looking cities in the country, along with Merida, Mexico in the Yucatan Peninsula.
Among the city's iconic buildings, the Cathedral of Morelia is a must-see. It is located downtown in the Plaza de Armas, a nice park to relax in for a while during your visit to the bustling city of Morelia.
There's also the mile-long (1.5km) Aqueduct of Morelia. It was built in the 1700s, and is among the town's oldest structures. It is beautiful during the day, but also at night when its 250 arches are all lit up.
To visit, many will travel to Morelia by bus or car from Mexico City. It is about 4.5 hours away. There is Morelia International Airport, though you'll likely have to connect through Mexico City International Airport.
You can visit on a long day trip from Mexico City — but only if you go by bus, as it's not considered safe to drive a car in Mexico at night. Ideally, however, you'll want to spend 1-2 nights in Morelia.
Historic Center of Oaxaca and Archaeological Site of Monte Alban
Recommended by Jane and Duncan from To Travel Too
Oaxaca, the vibrant, colorful city in the state of Oaxaca is located 463 km from Mexico City.
The city is famous for being the capital of Mezcal, an alcoholic beverage made from the agave plant, similar to Tequila.
Oaxaca is also popular for its Mole sauce which can be purchased in the markets in the city and found on the menu of many of the local restaurants. Mole sauce dates back to pre-Hispanic times and it usually made from chili peppers, spices and nuts.
One of the most popular things to do in Oaxaca is to visit the Zapotec site of Monte Alban which is located 10 km south west of Oaxaca City. The site was founded in 500 BC and was inhabited till 750 AD. During your visit you will see impressive structures of the Ball Court, the Palace, the Plaza and the Southern Platform.
You can visit the UNESCO World Heritage Site by a local tour with a guide, which is highly recommended. Local taxis are available as well as local bus services but to get the most out of your visit is to use the services of a guide.
A 'must-do' is to head to one of the many rooftop bars and restaurants for a sunset drink and dinner. The views over the Templo de Santo Domingo and city are stunning at sunset.
Agave Landscape of Tequila
Recommended by Vicky from Buddy The Traveling Monkey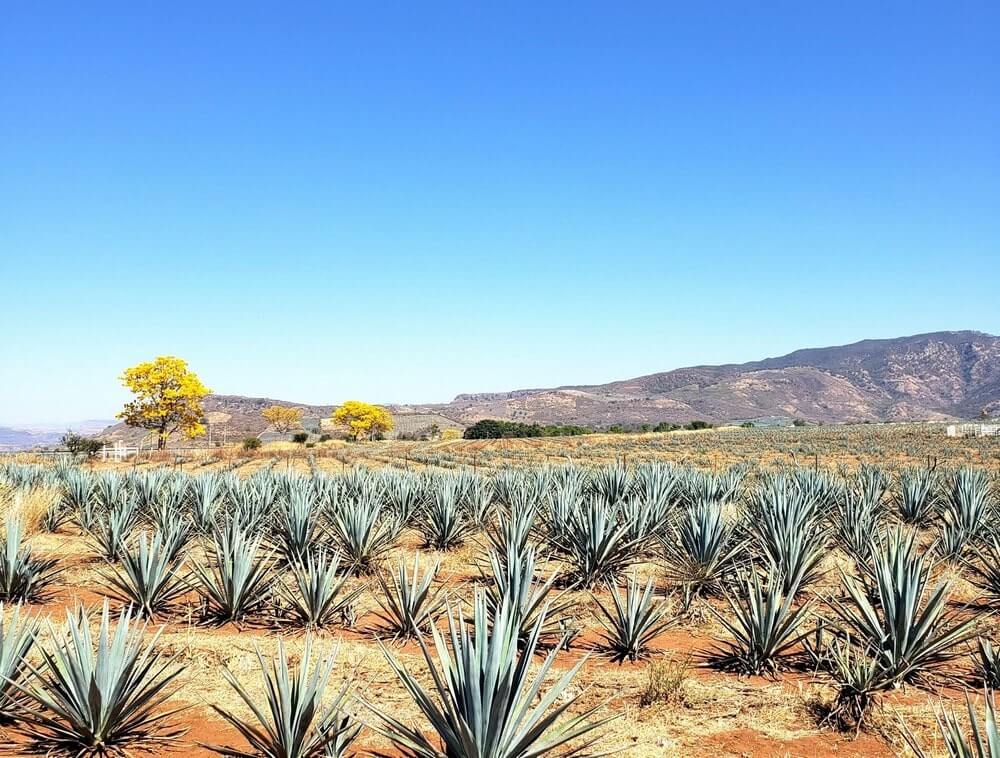 One of the best UNESCO World Heritage Sites in Mexico is the town of Tequila. You can easily take a day trip to Tequila from Puerto Vallarta or Guadalajara on your own or join a tour group. Tequila is about a 4-hour drive from Puerto Vallarta and 1-hour from Guadalajara.
The town of Tequila was designated a UNESCO World Heritage Site in 2006. It is also one of Mexico's "Pueblos Mágicos" (Magical Towns). Blue agave plants can be seen surrounding the town and the agave is what is used to make tequila. Tequila has been made since the 16th century but local natives have been making fermented drinks with agave for over 2,000 years.
In town, there are multiple museums and distilleries where you can learn more about the history of agave and its influence on the local culture and region. There are also plenty of liquor stores selling tequila.
The town also has a nice main square, Plaza Principal. On the square there are many opportunities to take photos. A sculpture with "Tequila" spelled out in bright colorful letters is quite inviting. Be sure to drop by the town's main church, Parroquia Santiago Apóstol, from the 18th century, located right next to the main square.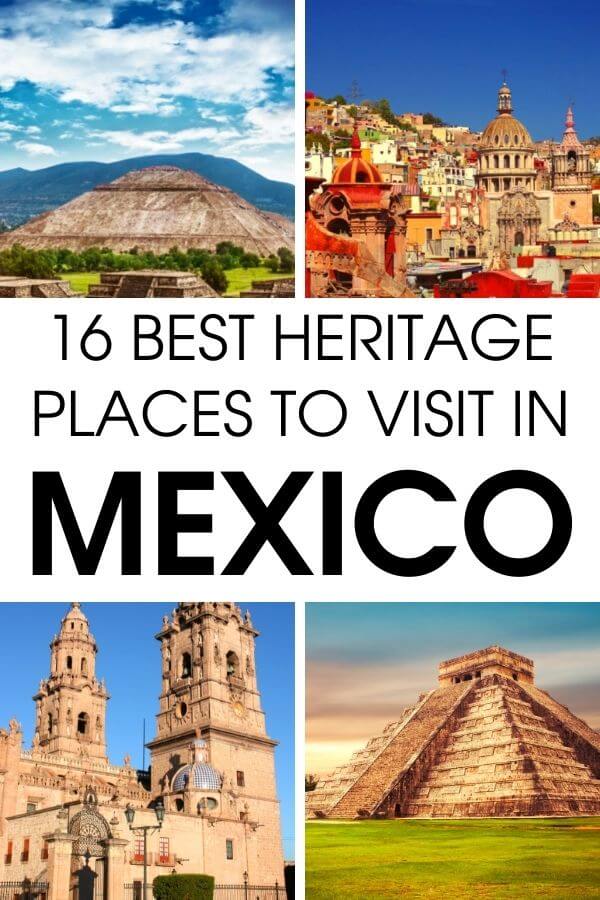 Franciscan Missions of Queretaro
Recommended by Isabella from Let's Travel To Mexico
If you want to explore some of the best-off-the-beaten path places in Mexico, and you are interested both in the Mexican past and its natural beauty, you must get to the spectacular Franciscan Missions in the Sierra Gorda Mountain Range of Queretaro.
There are more than five Franciscan missions in the area but the below mentioned are the ones that have been proclaimed UNESCO World Heritage Sites for their historical importance and incredible architecture.
In Jalpan, also pueblo Magico, you will find Santiago de Jalpan (the earliest, built 1751-58) and Nuestra Señora de la Luz de Tancoyol. Santa Maria del Agua de Landa and San Francisco del Valle de Tilaco are in the municipality of Landa de Matamoros. And the mission of San Miguel Concá is in the municipality of Arroyo Seco.
They are all relatively close by but far from the main cities. In order to visit, you have three options. You can rent a car in Queretaro and drive on your own.
Or, get by bus to Pinal de Amole o Jalpan and take local tours from there. Or you can join a full-day tour from Santiago de Queretaro.
Opt for one of the first two options because there is a lot more to see in the Sierra Gorda and you will need around 4 days if you want to make the most of your trip. But if you have limited time, you can check with the tourist information center scattered around Queretaro and you will be able to book a full-day tour.
Tehuacán-Cuicatlán Valley
Recommended by Ruma from The Holiday Story
Tehuacán-Cuicatlán Valley is a semi-arid valley in southeastern Mexico and one of the most unusual Mexico world heritage sites. It lies between the peaks of the Sierra Madre del Sur mountains within the state of Puebla and Oaxaca.
The entire valley was declared as a World Heritage Site in 2018 for its vast diversity of xerophytes and an extraordinary water management system complete with canals, dams, and aqueducts.
There are 15 exclusive varieties of cacti and other desert plants in this region. The valley has the largest concentration of columnar cacti in the Tehuacán-Cuicatlán Biosphere Reserve.
Tehuacán-Cuicatlán Valley is also well known as the origin of Mesoamerican civilization. Archaeological activities showed humans settled in this area more than 10,000 years ago. Due to dry desert conditions, they made‌ ‌‌two exceptional technologies – acclimatization of plants and water management systems.
The early dwellers dig up wells, canals, dams, etc to conserve water for their survival. It marked the earliest irrigation system of the continent. These water management processes became the key to the eventual evolution of this region.
Mesoamerican civilization is considered America's root today. These waterworks here still exist as a part of history.
Historic Center of Puebla
Recommended by Victoria from Guide Your Travel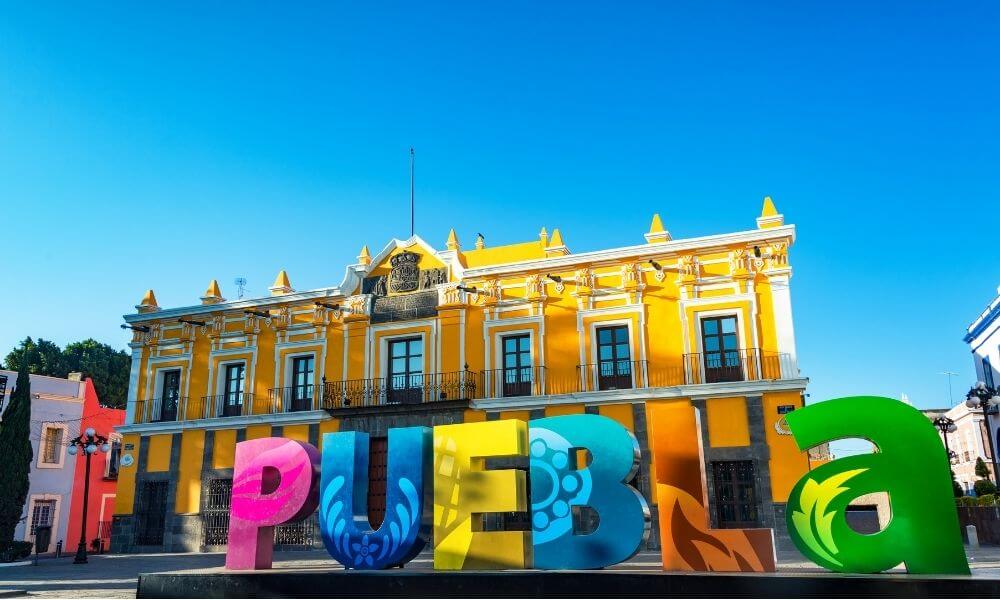 The city of Puebla is located east of Mexico City and attracts thousands of tourists every year with its one of a kind historic center. The best part is it can be easily added to your itinerary of Mexico City as a day trip.
Here, you will find old colonial villas, the cathedral of Puebla as well as Biblioteca Palafoxiana from the 16th century. Many of Puebla's historic buildings are very well preserved including several tile-covered houses that make for attractive photo-ops. These tiles are called the Talavera tiles, something quite similar to the Azulejos that we saw in Porto.
Shoppers will love the El Parian Market which is stocked with amazing souvenirs (especially Talavera) for your family and friends back home. It is also one of the best places to try incredible Mexican specialties. For the evening it is recommended to go from bar to bar to find out who has the cheapest and best cocktails.
To get best views of the city, be sure to ride the Ferris Wheel which costs just 40 pesos (2$). Once you've seen the city from above, join a free walking tour through the city which begins every day at 11:00 am.
Pre-Hispanic City of Palenque
Recommended by Megan from Packing Up The Pieces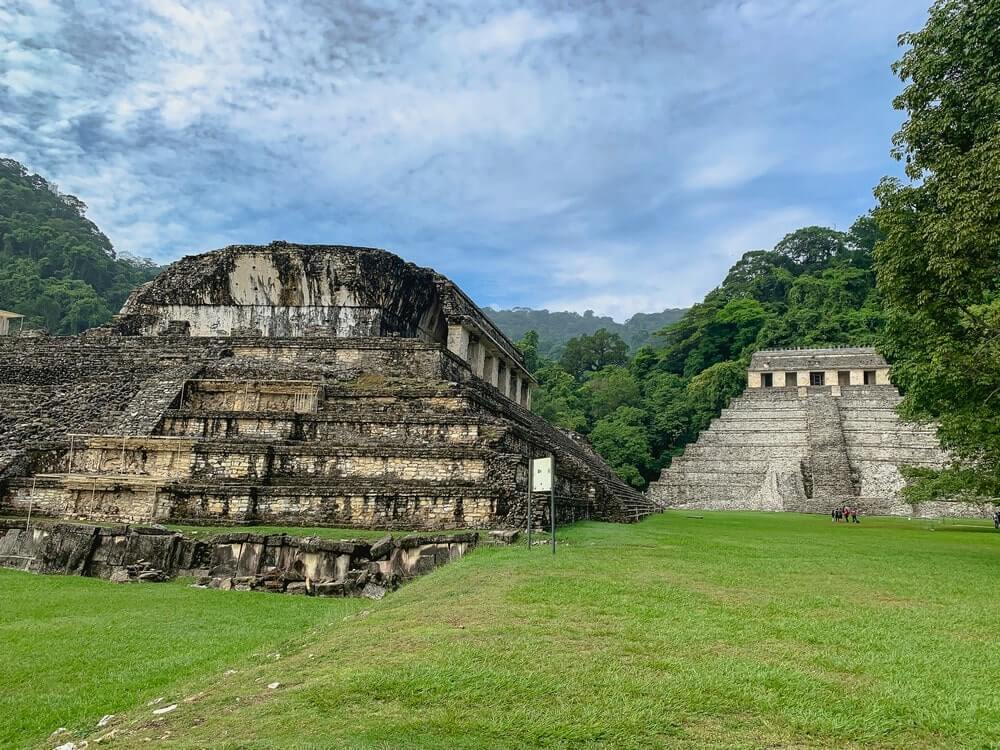 Deep in the jungle of Chiapas, lies one of the most significant Mayan ruins: Palenque. Although it is smaller and lesser known than some of the more popular Mayan archaeological sites in Mexico, Palenque has fascinating temples, important historical buildings, and a unique central palace.
Some of the hieroglyphics and historical objects show that Palenque had been inhabited since before 220 B.C. In one of the most profound structures still standing, the Temple of the Inscriptions, writings were found that showcased historical events that took place over one million years ago. What's even more interesting was a portion of these writings predicted the future up to the year 4722!
Palenque is nestled picturesquely in the jungle and the labyrinth of lush plant life has reclaimed many of the towering ruins. It is believed that only 5% of Palenque has been unearthed, leaving behind many unanswered questions about the magnitude and importance of this Mayan sacred site.
Besides the actual archaeological ruin zone, there are opportunities to walk and explore the jungle fauna or browse the small, yet informative museum.
The easiest way to reach Palenque is as a long day trip from San Cristobal de las Casas. There are multiple tours that depart early around 4am. Intrepid explorers can reach Palenque via collectivo vans or independently explore the diversity and untouched beauty of Chiapas as part of an unforgettable road trip.
Ancient Maya City of Calakmul
Recommended by Lara from The Best Travel Gifts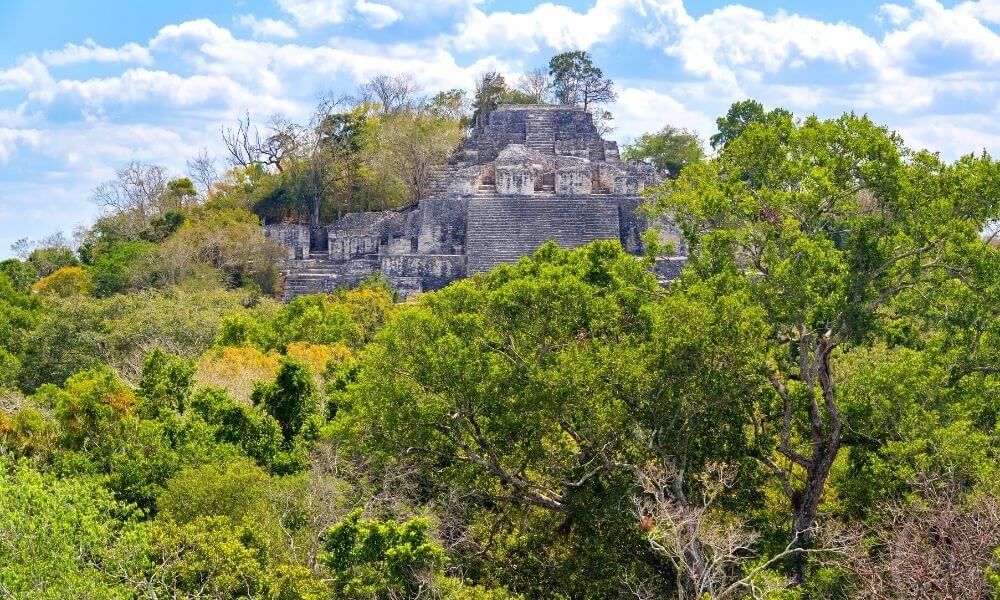 The ruins of Calakmul are a true hidden gem in Mexico. Calakmul is located in the middle of Campeche state and tucked away in the enormous Calakmul Biosphere reserve. Due to this harder-to-reach location, Calakmul is a rather unknown world heritage site in Mexico.
However, the archaeological site is as large (if not larger) than Chichen Itza and the ruins are equally impressive and beautiful. Calakmul once rivaled the ancient city of Tikal in Guatemala for centuries until they lost around 700 AD and Calakmul was left abandoned. This is when the jungle started taking over. Now, Calakmul is surrounded by an impressive bio reserve. Both the ruins and the jungle are listed on UNESCO's World Heritage List.
To get to Calakmul by car from Tulum or Campeche takes about four hours. So it's recommended that you stay over at the nearest town, Xpujil. From there it's another hour to the archaeological site. You will need about half a day to explore the ruins. The site is massive and unlike Chichen Itza, you are still allowed to climb the structures.
You may want to add another half day to organize a hike in the jungle or visit the Bat Cave close by. The latter is a cave where around sunset, millions of bats fly out like a whirlwind.
Historic Center of Mexico City and Xochimilco
Editor's choice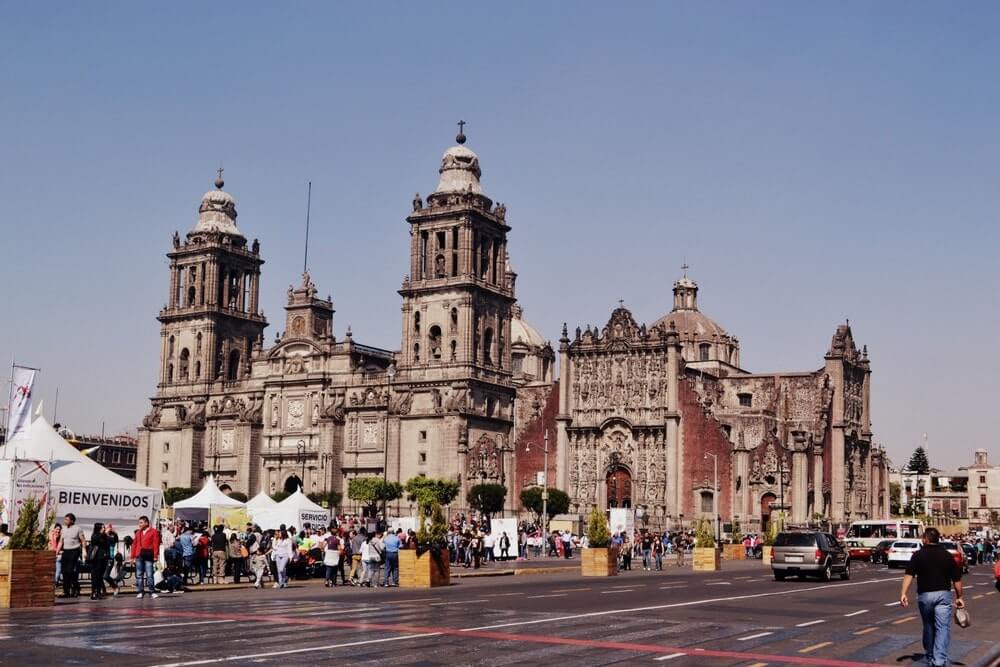 One of the most eclectic world heritage sites in Mexico is the Historic Center of Mexico City + the canal town of Xochimilco.
Mexico City's historic downtown is filled with beautiful buildings from the Spanish colonial era that surround a happening public square called the Zocalo. A couple of the most iconic buildings are the Metropolitan Cathedral and the National Palace. The Palace of Fine Arts and the Postal Palace are other impressive public buildings from the 19th and 20th centuries.
Beyond these stunning buildings, the city center hides an Aztec past that is mostly in ruins. When the Spanish came in 1519, they razed the entire Aztec capital city of Tenochtitlan to ground. Today, you can see some remains at the ruins of Templo Mayor right beside the Metropolitan Cathedral. Be sure to stop by the museum which has some interesting displays of Aztec era.
Xochimilco, which is part of this combined world heritage site, is located just 15miles (25km) from Mexico City. Here, you will find picturesque canals and floating gardens called chinampas that attract thousands of tourists every year. Board one of the flat-bottomed boats called trajinera and enjoy a day out in the canals with live Mariachi music and great food.
Also read: 15 Best things to do in the Historic Center of Mexico City
Queretaro Historic Center
Recommended by Isabella from Boundless Roads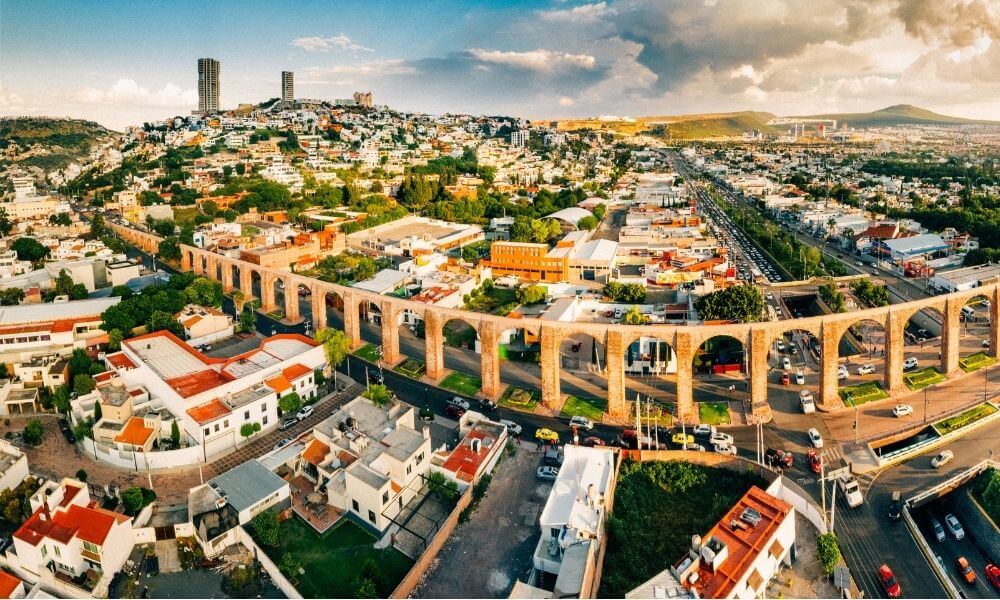 Santiago de Queretaro is the pretty capital city of Queretaro, one of the smallest states in Mexico. Yet, it is one of the richest in history and was therefore proclaimed World Heritage Site.
In fact, it was in Queretaro where the war of independence against the Spanish started, and it remained the headquarters of the Mexican independence movement until the independence treaty was signed right there, in 1821.
In 1824, Queretaro was proclaimed state without even being a province first because of its strategic importance in Mexican economy and political matters.
Also, you may not know that Queretaro was the capital of Mexico for a short time, while the American troops invaded Mexico City. It was right in Queretaro where part of Mexico's northern territories were ceded to the US.
So do not be surprised if strolling through the pretty historical center of Queretaro is like walking in an open-air museum. You will appreciate incredible majestic buildings, examples of baroque architecture, some of them turned into spectacular luxury hotels. You will admire a great number of opulent churches and, of course, a variety of museums dedicated to Mexican history and art.
But this is not all. Queretaro is also a culinary delight, with an eclectic choice of local and international restaurants and cafes. Make sure you don't miss the old aqueduct from the lookout ("mirador"). Also, drop by Templo de Santa Rosa de Viterbo, Museo de Arte de Queretaro, Mucal, Templo de Santa Clara. But, most of all, take a tour of the city on the tram bus where for just 10 USD a knowledgeable guide will tell you all about the interesting history and anecdotes of the city.
Loved this list of best world heritage sites in Mexico? Pin it for later!