Last Updated on September 15, 2023 by Soumya
Are you looking for the best day trips from Mexico City? Preparing your Mexico City itinerary and looking for the best things to do outside CDMX? Wondering if there are some perfect side trips from Mexico City that will lure the heritage buff in you?
Well, let me assure you that there are hundreds of wonderful places to visit near Mexico City. Be it the majestic pyramids of Teotihuacan with their countless mysteries, the well preserved colonial architecture of San Miguel de Allende, or the numerous Aztec ruins in the region – day trip options from Mexico City are endless.
I have listed down 22 of my favorite Mexico City day trips here. Some of them have plenty to do and make good weekend destinations. Others are historic ruins that can be seen in a day. However, each of them is a perfect fit for every heritage lover's Mexico bucket list.
So, if you are ever wondering what to do around Mexico City, check out this exhaustive list of the best day trips from the Mexican capital. I am sure these will keep you busy for a month if not more.
Quick links to the best Mexico City day tours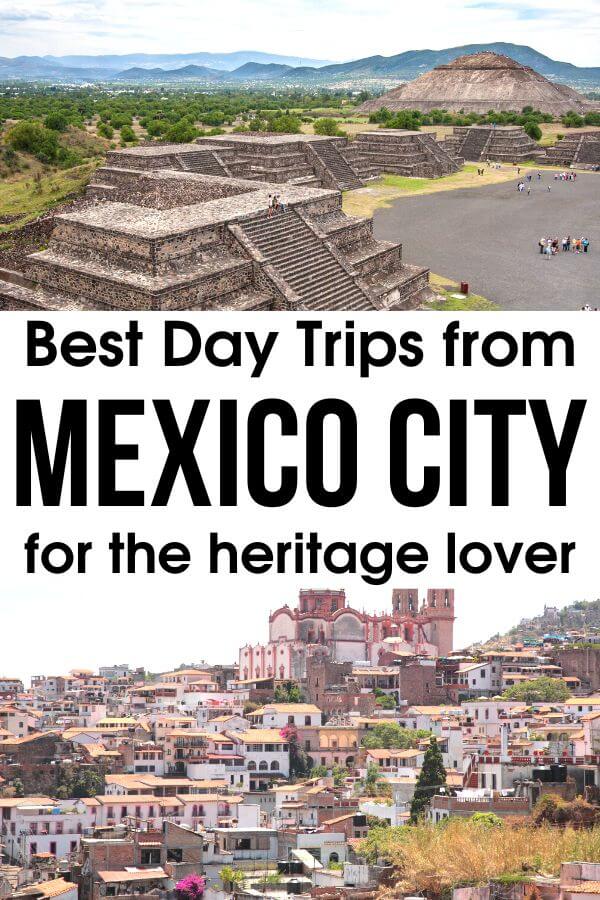 Please note: This post may contain affiliate links which means I may earn a commission if you make a purchase by clicking a link on this post. This will be at no additional cost to you. Affiliate links help me keep this website up and running. Thanks for your support!
Even though I highly recommend that you read through this exhaustive list of Mexico City day trips before deciding, here's a sneak peek into a couple full day tours that are absolute favorites with travelers. You cannot go wrong if you pick any of them. So check them out.
Day tours to Teotihuacan are extremely popular among travelers. If I were to choose one, then I would definitely pick this amazing tour that includes the Teotihuacan pyramids, Basilica of Guadalupe, and the ruins of Tlateloco – all of this starting at just $30+.
This full-day group/private tour with Amigo Tours LATAM takes you to the 2 most amazing UNESCO World Heritage Sites near Mexico City as well as the colonial district of Coyoacan. You'll float through the Aztec-era canals in Xochimilco, admire the murals of UNAM, and explore the colonial district of Coyoacan – starting at just $40. Check out splendid reviews of this day tour here.
Best Mexico City day trips to UNESCO sites nearby
Pyramids of Teotihuacan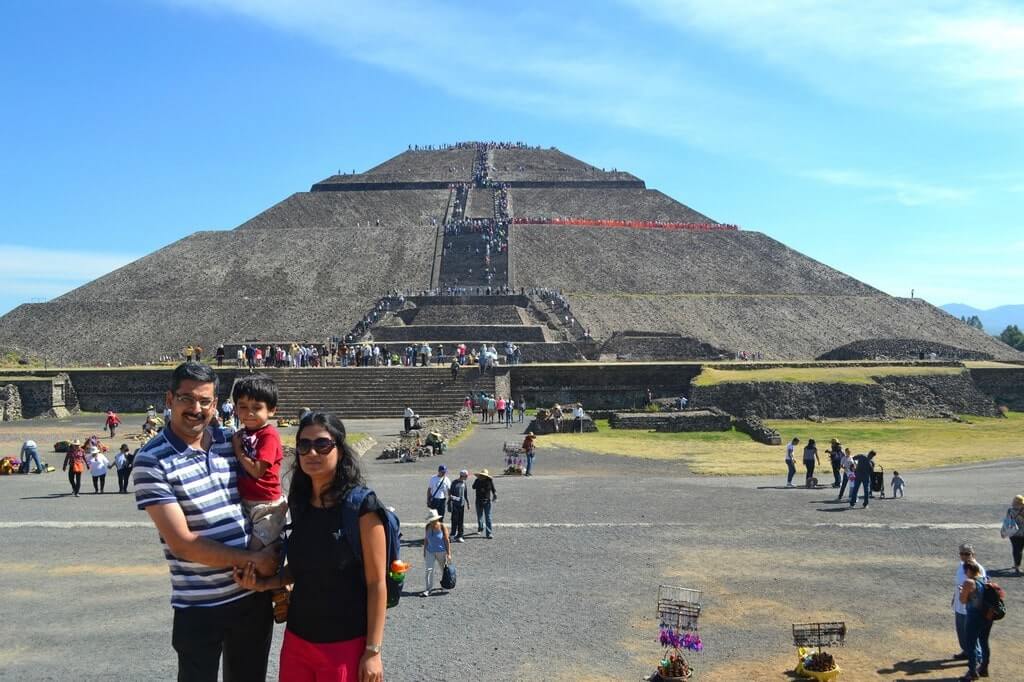 One of the best things to do in Mexico is to visit the pyramids of Teotihuacan from Mexico City. Whether you are visiting Teotihuacan on a guided tour or exploring it on your own, you'll come back more knowledgeable on Mexican history.
The interesting fact about Teotihuacan is that nothing much is known about the ancient civilization that built it. Who were these people, where did they go when Teotihuacan collapsed – everything is still a big mystery. Strangely enough, Teotihuacan is not an Aztec site that we all have believed at some point in time. All this makes Teotihuacan one of the most intriguing UNESCO world heritage sites in Mexico.
The archaeological site of Teotihuacan is home to 3 massive Mexican pyramids of the Sun, the Moon, and the Feathered Serpent that date back to more than 2000 years ago. You'll also find many stunning murals at the Palace of Butterflies, the Mural Museum, and inside numerous niches and coves on the Avenue of the Dead.
Highlights of a trip to Teotihuacan learning all about the Sun and the Moon pyramids and catching a glimpse of the famous Jaguar Mural.
It is easy to get to Teotihuacan from Mexico City by public transport. Board a bus from Terminal del Norte and you'll be there in like 1.5 hours. Refer to my visiting Teotihuacan guide for further details.
Guided tours and hot-air balloon rides are extremely popular too. This hot air balloon ride over the pyramids is one of the best in the market. And this early access tour with tequila tasting has got rave reviews.
Best Teotihuacan tours
Floating Gardens of Xochimilco
I have always been fascinated by Xochimilco not because it is a UNESCO site but because it is a very unique one. The Floating Gardens of Xochimilco are the last vestiges of what was probably the largest land reclamation project of the 14th century. If you ever wonder why visit Mexico City, I would recommend go for Xochimilco.
When the Aztecs built their capital city at Tenochtitlan in Mexico Valley, they realized that there was not enough land for cultivation. They started reclaiming land from the lakes by building artificial islands called the "chinampas". Even though chinampas have vanished from everywhere else, we can still see them at the Xochimilco Nature Reserve.
Xochimilco is a popular day trip from Mexico City for locals and tourists alike. The canals around Xochimilco's chinampas play host to hundreds of colorful gondolas called trajineras. Ride a trajinera in Xochimilco, taste local delicacies, and listen to some wonderful Mariachi music for a fun day in Mexico.
Getting to Xochimilco from Mexico City is easy. First, take the subway to Tasquena. From Tasquena, take the train "Tren Ligero" which goes all the way to Xochimilco.
If you do not wish to explore Xochimilco on your own, then don't worry. There are several guided tours in Mexico City that usually include a trajinera ride and a couple of other attractions. For example, this full day tour from Mexico City includes Xochimilco, Coyoacan, Frida Kahlo Museum, and UNAM.
UNAM
Universidad Nacional Autonoma de Mexico or UNAM is a recent addition to Mexico's list of UNESCO sites. It represents a unique fusion of 20th-century architecture, engineering, and arts rising from a deep connection with Mexico's pre-Hispanic past.
The murals of UNAM are fascinating. Some of the most famous Mexican artists including Diego Rivera painted these murals. The highlight is, of course, the central library wall that is covered by one of the largest mosaics in the whole world. Each wall of the library depicts a different stage in Mexico's history – pre-Hispanic, colonial, contemporary, and university life.
The university is located very close to the neighborhood of Coyoacan in southern Mexico City. That's why a trip to UNAM is often clubbed with a day tour of Coyoacan and Xochimilco.
Xochicalco
Well, I had heard of Xochimilco but Xochicalco was clearly a revelation to me when I was researching for my Mexico City day trips.
Xochicalco is a fortified ancient city that dates back to the period between 700 – 900 CE. This was the time (known as the Epiclassic Period in Mexican history) when Teotihuacan had collapsed and there were large scale migrations between different regions. Kingdoms felt the necessity of building defensible cities. Therefore, fortified towns, complete with ramparts, bastions, and moats, became the norm. Xochicalco is a brilliant example.
It is hard to pinpoint the ethnicity of the people of Xochicalco. It seems like the city was founded by an Olmeca tribe but had a mixture of all ethnicities, much like the city of Teotihuacan. However, the architecture at Xochicalco was clearly influenced by both Teotihuacan and Mayan art. The Temple of the Feathered Serpent is the most iconic monument which displays these influences.
Plus, you can clearly see three levels of buildings at Xochicalco – a pattern that is common with fortified towns. The lowest level is the residential area for working class. The middle level contains the market and a ball court. The highest and the topmost level consisted of temples and a palace for the ruling class.
Getting to Xochicalco from Mexico City by public transport is complicated and time-consuming. You can simply drive there or take a guided tour. It is ideal to club Xochicalco with Cuernavaca because they are just 30 minutes apart. This guided tour shows you the best of both Cuernavaca and Xochicalco UNESCO site.
16th-century monasteries on Popocatepetl
This isn't really one world heritage site but a combination of 14 different monasteries that are spread across three different states – Morelos, Puebla, and Tlaxcala. Some of the towns that are home to these heritage monasteries are magical towns themselves. We talk about a few in our section on Mexico City day tours to colonial towns such as Cuernavaca and Tepoztlan.
The Popocatepetl monasteries were built by the first missionaries who arrived in Mexico in the 16th century. The Franciscans, the Dominicans, and the Augustinians converted the indigenous people into Christianity and built these massive monasteries in a unique architectural style that was heavily influenced by Renaissance & Mudejar styles and local expressions. Wide open atria and corner chapels were key features.
Since these monasteries are spread over a 14 different cities, visiting them is definitely not a one day trip. If you are planning to stick around for a while in Mexico City, checking out the Popocatepetl monasteries is a good idea.
Historic Center of Puebla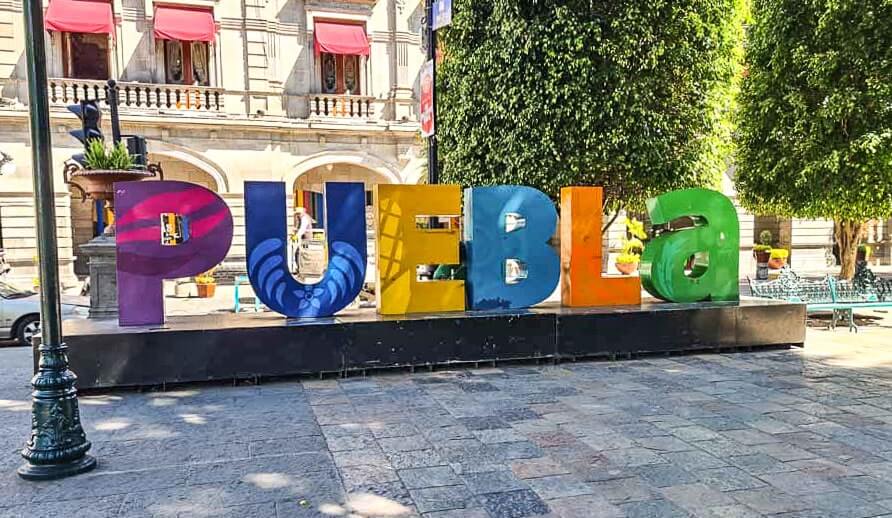 Located at the foot of the Popocatepetl volcano, Puebla is a stunning example of the fusion of European and American architectural styles.
The Historic Center of Puebla is a world heritage site filled with Baroque buildings and colorful houses laid out in a grid pattern. Puebla's pastel-colored homes could not help but remind me of Valladolid, a charming colonial town in Mexico's Yucatan Peninsula.
Puebla is full of wonderful things to do. First on your list should be eating some mole, the famous Mexican sauce made of chocolate, because this is exactly where Mole was born. Stroll the vibrant streets of Puebla, marvel at colonial architecture, and step into Puebla Cathedral which is a wonderful mix of Renaissance, Baroque, and neoclassical architecture. If you are looking to shop, Puebla is the best place to get some beautiful Talavera pottery.
Best Puebla tours
From Puebla, you can also take a day tour to Cholula, yet another magical town in Mexico. Cholula is home to the Great Pyramid of Cholula built by indigenous people. It is made of adobe bricks and is one of the largest pyramids in the whole world.
Because there is so much to do in and around Puebla, the city makes for a good weekend trip from Mexico City. If you are short on time, I would do this highly recommended, small group tour of Cholula Pyramid and Puebla from Mexico City. It shows you the highlights and is pretty neatly organized. Also includes a tour of Talavera ceramic factory.
Queretaro Historic Monuments
Santiago de Queretaro is a special world heritage site in Mexico because of its unique layout. Here, a grid street plan of the Spanish exists in complete harmony with the winding lanes of indigenous Mexicans. Magnificent Baroque buildings from the 17th and 18th centuries dot each and every corner of the city.
Highlight of Queretaro is a 23-meter high aqueduct that is literally the symbol of the city. It was built in the 18th century, has 74 arches, and is 4,200 ft long.
The Historic Center of Queretaro is located 135 miles to the northwest of Mexico City. A car drive from Mexico City to Queretaro will take you around 2.5-3 hours. If you wish to go by public transport, you'll need to take a bus from Mexico City Norte bus station to Tepotzotlan and then take another bus from Tepotzotlan to Queretaro.
In my opinion, Queretaro makes for a perfect weekend getaway from Mexico City instead of just a day trip because there's just so much to do. When you are in Queretaro, you can discover the historic city in a Classic Ford T Vehicle or join others on a hacienda and winery tour.
San Miguel de Allende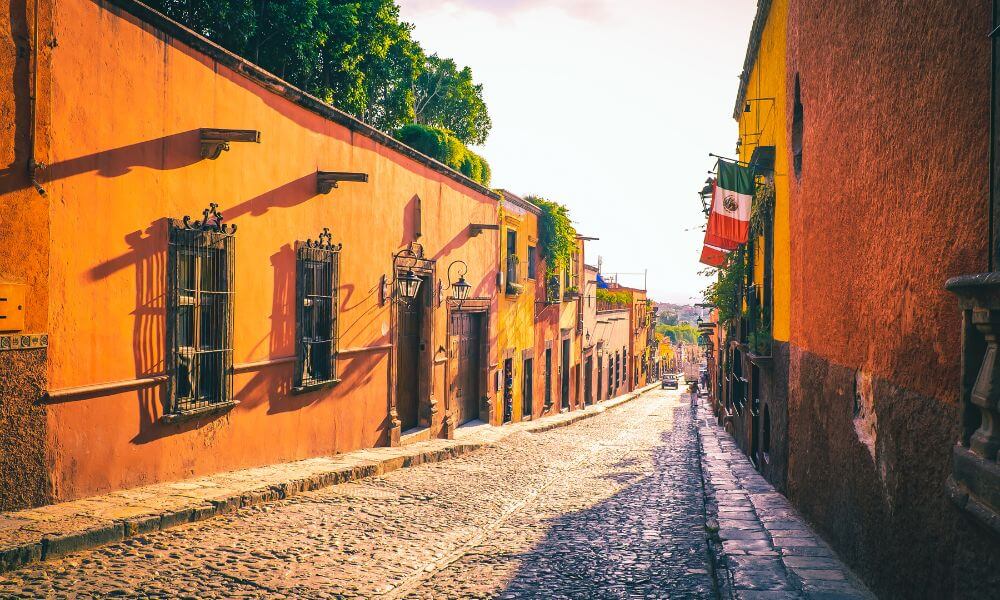 Travelers have repeatedly voted San Miguel de Allende as one of their favorite day trips from Mexico City. And not without good reason.
Declared a UNESCO heritage site in 2008, San Miguel de Allende boasts of a rich history and well preserved colonial architecture. It is home to several religious buildings that were built in the unique style of New Spanish or Mexican Baroque. However, the main cathedral, La Parroquia, – a majestic pink structure – has an unusually beautiful Gothic facade.
The city is filled with art galleries, handicraft stores, and modern boutiques. Simply walking through the narrow but colorful streets of San Miguel de Allende is an amazing experience.
Driving to San Miguel de Allende takes about 3 hours. A bus journey from Terminal Norte to San Miguel de Allende can take between 4-5 hours. If you are short on time and wish to see this charming place on day trip, check out this highly-recommended full day tour from Mexico City.
Father Tembleque Aqueduct
A Franciscan friar, Father Tembleque, commissioned and built the aqueduct in 16th century with the help of local Mexican people.
A unique fact about this aqueduct is that it combines European water conduction technology with indigenous building techniques such as the use of adobe, a mixture made of earth and straw. It is also one of the highest aqueducts ever built, thus making it an architectural masterpiece.
Father Tembleque Aqueduct is located to the northwest of Mexico City. It takes 1hr 10mins to get here by car. To get here by public transport, get to Teotihuacan by bus from Mexico City North Terminal bus station and then take a taxi.
Best Mexico City day trips to colonial towns
Taxco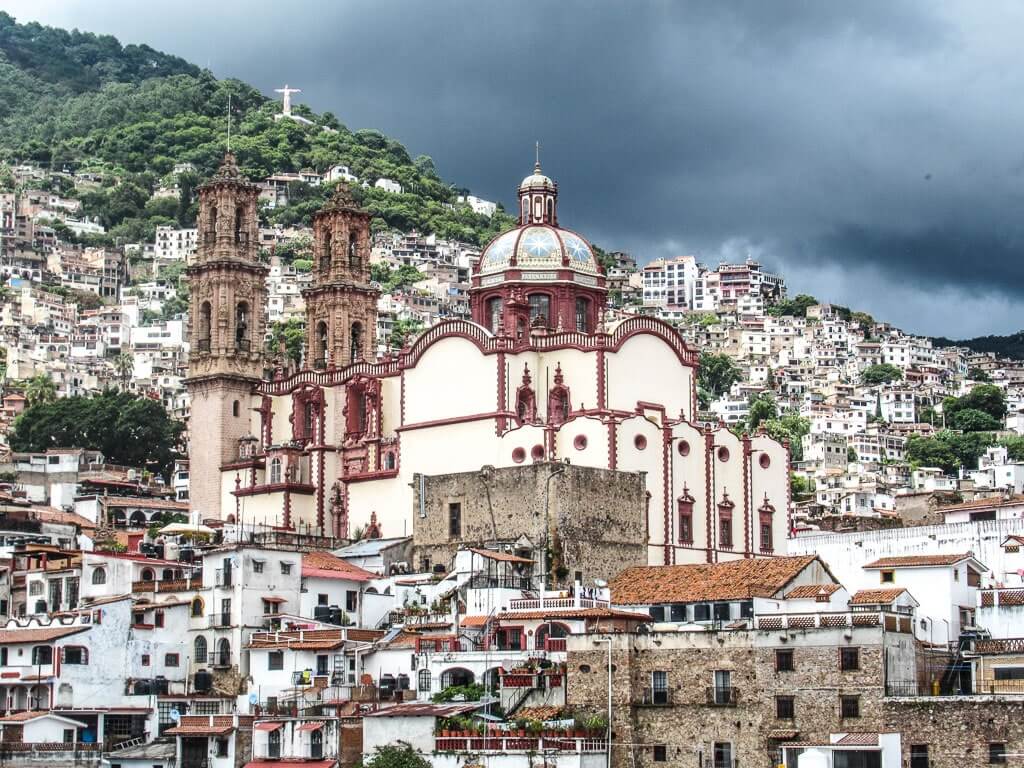 Taxco, also known as Taxco de Alarcon, is a magical town located in the state of Guerrero in Mexico. The town has always been known for its silver mining industry but gained the pueblo magico status for its beautiful colonial architecture and pretty houses draped in bougainvillea.
Nestled deep within the mountains, Taxco has steep cobbled streets lined with white houses with red roofs – a scene that'll transport you back to the colonial era. Visit the Zocalo, a petite square surrounded by cafes and shops. Head to the famous Cathedral of Santa Prisca, a Baroque beauty that is more than 250 years old. And remember to buy some authentic silverware in the city of its making or visit the Silver Museum for a deeper insight into the art.
Taxco is one of the most amazing side trips from Mexico City. Getting here by public transport is a little complicated and can take 3-4 hours. Renting your own car or joining a highly-recommended guided tour that includes Taxco, the town of Cuernavaca, as well as a pre-Hispanic mine tour. With 150+ 5-star reviews, this day trip from Mexico City is absolutely one of the best in the town.
Cuernavaca
If you are looking for an easy weekend trip around Mexico City, head to Cuernavaca, the "City of Eternal Spring". Apparently, this place was once a favored day trip destination of Mexican celebrities. Now, it appeals to all kinds of heritage lovers.
Perhaps the most interesting thing to do in Cuernavaca is to visit the Palace of Henan Cortes. He built the palace on top of an Aztec pyramid that he destroyed in the 1500s. Today, the palace houses the Regional Museum of Cuernavaca, an amazing repository of Mexican history and culture. You should also visit the majestic Cuernavaca Cathedral that has some great frescoes.
The archaeological site of Tepanzolco is just 10 minutes away from Cuernavaca center. If you wish to see some more ruins when you are here, the UNESCO World Heritage Site of Xochicalco is only 40 minutes away.
Cuernavaca is less than 2 hours trip from Mexico City. You can get here by taking a Pullman bus from Mexico City Tasquena to Cuernavaca Centro or join a more convenient guided tour like this one. A private tour further adds to the experience by enabling you to customize your day.
📖 Related Read: Visiting Cuernavaca? Be sure to check out our epic list of the best things to do in Cuernavaca Mexico.
Tepoztlan
Tepoztlan is a pueblo magico in the state of Morelos and the perfect day trip from Mexico City. This charming, little town is surrounded by rugged mountain cliffs and has a mystical aura about it. And with good reason.
It is believed that Tepoztlan was the birthplace of Quetzalcoatl, the feathered serpent God of Aztec mythology. This makes Tepoztlan a spiritual destination for people seeking calm and tranquility.
If you are here for some unique cultural stuff, there is plenty to do too. Step into the Church of Our Lady of Nativity, the interior of which contains several stunning murals. Visit the crafts market that is set up every Wednesday and Sunday and pick your favorite Mexican souvenirs. Explore the ruins of Tepozteco and climb the pyramid for stunning views of the city and valley.
Getting to Tepoztlan from Mexico City by public transport can take you close to 2 hours. Board a Pullman bus from Mexico City Tasquena and get off at Tepoztlan Caseta. Driving a car or getting a taxi could get you there in a hour. Or you could sign up for an authentic guided tour of Tepoztlan and Tepozteco.
Magical towns of Hidalgo
The state of Hidalgo has 7 magic towns – each with its unique character. 3 of the most popular pueblo magicos in Hidalgo are Real del Monte, Huasca de Ocampo, and Mineral del Chico.
Real del Monte, located in the middle of the mountains, is well known for its English mining past, delicious stuffed dough patties also called "pastes", and old British architecture.
Huasca de Ocampo has a rich mining heritage too and is filled with beautiful basaltic prisms that were formed millions of years ago. Basaltic columns like these are unusual geological formations that are seen in rare places on the earth including Giant's Causeway in Northern Ireland, St. Mary's Island in India, and Devil's Postpile in California. It is also home to one of Mexico's first haciendas, the Hacienda of San Miguel Regla.
The colorful walls and tiled homes of Mineral del Chico remind us of a medieval town that was created just for the miners.
The good part is that these magical towns of Hidalgo are just an hour and a half away from the Mexican capital, hence making for the perfect day trip or weekend trip destination from Mexico City. This highly-rated full-day tour by Amigo Tours LATAM gives you a feel of Hidalgo's rich mining heritage and a taste of their local cuisine. Or you can take a bus from Mexico City's Terminal Norte to Pachuca and then take a taxi from there.
Tepotzotlan
It is easy to confuse Tepotzotlan with Tepoztlan (Mexico is one of those countries where I am always confused with names!). But let me tell you that Tepotzotlan is in the state of Mexico (north of Mexico City) whereas Tepoztlan lies in the state of Morelos (south of Mexico City). Both are magical towns, though. So, that's something more to add to your confusion.
The highlight of Tepotzotlan is the National Museum of the Viceroyalty of New Spain or the Museo Nacional del Virreinato which is well known for its Spanish Baroque architecture. It was once home to Jesuit monks and has some of the most unique hallways and display rooms now. Do not miss the Domestic Chapel dedicated to Virgin of Loreto that is adorned with stunning murals and gold leaf.
Another impressive Baroque building in Tepotzotlan is the Church of San Francisco Javier. Not very far away is the Arcos del Sitio Ecological Park that is home to a massive aqueduct from the colonial era.
Tepotzotlan is midway between Mexico City and the archaeological site of Tula. That means, you can easily combine both in a single Mexico City day trip like this one. Or visit Tepotzotlan on your own by taking the Suburban Train Line 1 to Cuautitlan and then take a taxi from Cuautitlan to Tepotzotlan.
Valle de Bravo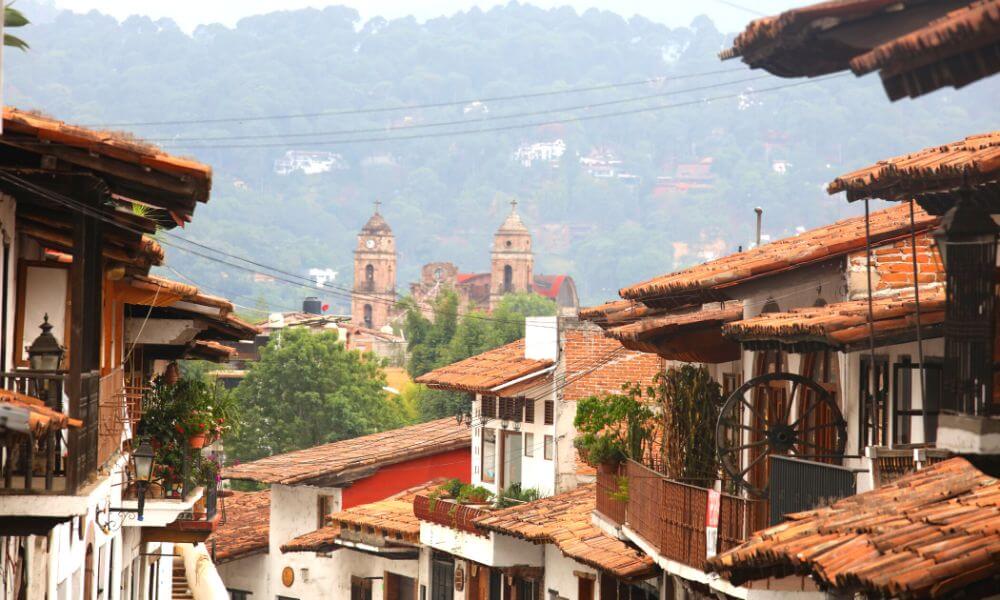 Valle de Bravo is a pueblo magico in the state of Mexico that makes for a wonderful place to visit near Mexico City.
The colonial town of Valle de Bravo has tons of interesting things to do and see. Be sure to roam the cobbled streets and step into Templo de Santa Maria Ahuacatlan which is famous for its Black Christ (remember we spoke about Black Christ at Mexico City's Metropolitan Cathedral?).
Take a stroll on Calle 5 de Mayo which is literally the heart of the colonial town. And if you are looking for something spiritual, you can visit Maranatha House of Prayer built for Carmelite monks. You can also travel to the Sanctuary of Mariposa Monarca (a natural heritage site) where you can see thousands of Monarch butterflies in the most beautiful spectacle of nature.
Valle de Bravo is located 2 hours to the west of Mexico City. Getting here by car, taxi, or a guided tour is the most convenient. If you wish to use public transport, getting a Zina bus from Mexico Poniente Terminal is the easiest.
Toluca & Metepec
The capital city of Mexico state, Toluca, is one of Mexico's largest cities with a colonial heart.
The old town is picturesque, filled with charming streets, mind-blowing art galleries, and happening city squares. Toluca's highlight is a building with the Arches of Toluca or Los Portales of Toluca. Los Portales has one of the longest collection of arches in Mexico and is home several handicraft and souvenir stores. There are many small restaurants where you can enjoy some good old chorizo. Do not miss the Cosmovitral Botanical Garden housed in an Art Nouveau building.
You can club your visit to Toluca with a trip to Metepec, a magic town known for its pottery. Their traditional "tree of life" sculptures are especially popular.
On this full-day Toluca tour from Mexico City, you'll enjoy a trip to Toluca as well as to Metepec and San Mateo Atenco, a footwear shopping hub.
Coyoacan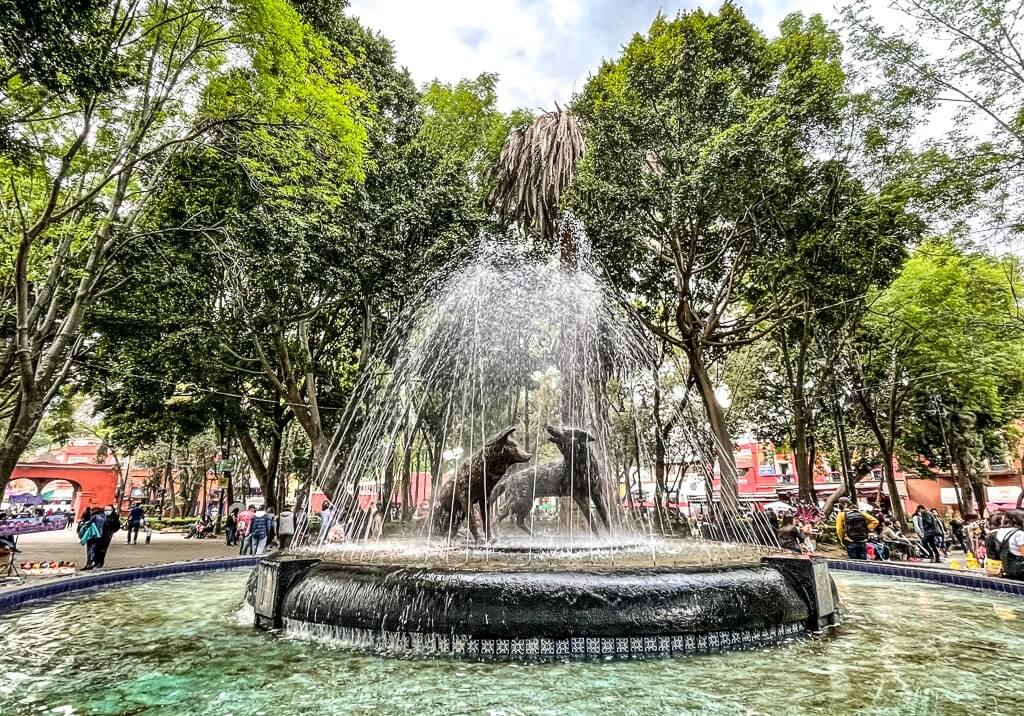 Coyoacan is a beautiful neigborhood within Mexico City that is filled with cobbled streets, historic buildings, and art markets. If you are looking for quick and peaceful getaway from the hubbub of downtown Mexico City, then Coyoacan is the place to be.
Apart from being home to Frida Kahlo's house (Casa Azul) which is a museum now, Coyoacan has a lot interesting things to do and see. Step into San Juan Bautista Church, a beautiful Baroque building in the Coyoacan central square, visit Anahuacalli Museum to explore murals by Diego Rivera, check out the drinking coyotes (Coyoacan gets its name from them) at Centenario Garden, and shop at the artisan market.
If you wish to do more, you can also head to UNAM (University City) where you'll see the wall of the Central Library covered with majestic murals. This mural collection was recently added to UNESCO World Heritage Sites in Mexico.
Getting to Coyoacan from Mexico City is easy by public transport. Take Metro Line 2 to General Anaya station. From there, you can simply walk to the Coyoacan historic center. Taking a guided tour is a good idea if you wish see more in one day trip from Mexico City. For example, have a look at this tour that takes you to 2 interesting UNESCO sites in Mexico City plus Coyoacan. Or a private tour like this one that takes you to Casa Azul, Coyoacan, and the Floating Gardens of Xochimilco.
Best Coyoacan tours
Best Mexico City day trips to Aztec & Toltec ruins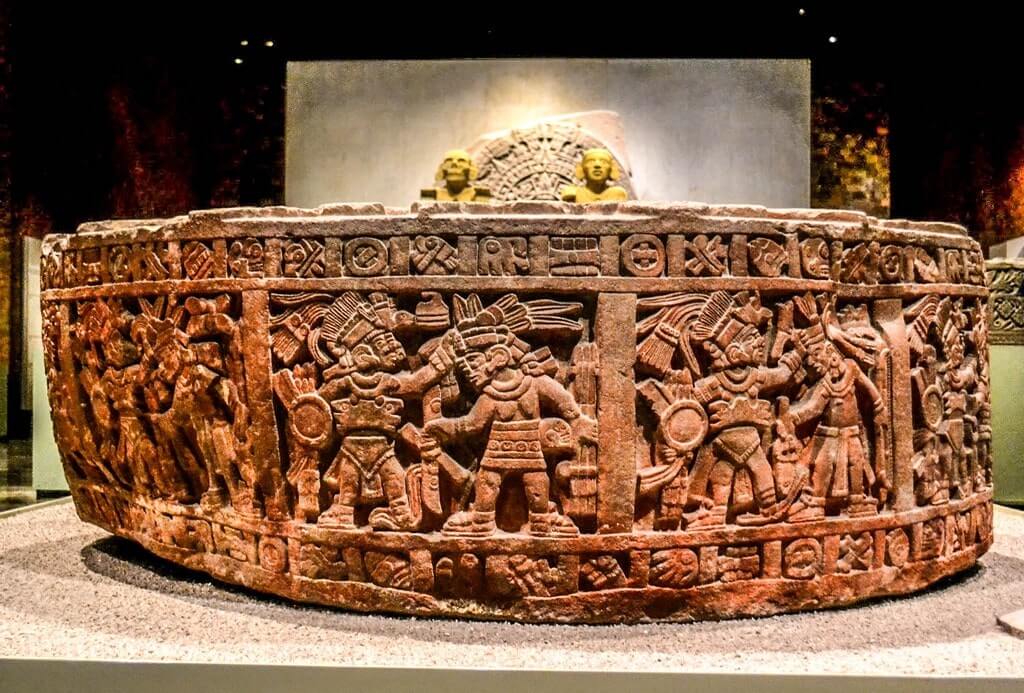 Apart from the usual UNESCO world heritage sites, there are several smaller Toltec and Aztec ruins near Mexico City that will appeal to the history buff in you. Here are some of my favorite ones.
Tlateloco
There are a couple of Aztec ruins within the boundaries of CDMX. One of them is Tenochtitlan (located right in the historic center) and the other is Tlateloco (located at the 3 Culture Plaza in the Cuauhtemoc bourough).
At the Plaza of 3 cultures, you'll see Aztec ruins of Tlateloco, colonial buildings from the Spanish era, and modern Mexican architecture. That's why, Tlateloco forms an important stop in every heritage lover's Mexico City itinerary. You can easily club Tlateloco with a day tour of Teotihuacan. Or even better, see Tlateloco, Teotihuacan, and Guadalupe Shrine – all in a day in this full-day tour from Mexico City.
Tepozteco
Located in the state of Morelos, El Tepozteco is an ancient Aztec ruin dating back to more than 600 years ago. Here, you'll find a small shrine that pays homage to Tepoztecatl, the Aztec God of pulque (an alcoholic beverage), fertility, and harvest. Once upon a time, it was a very important religious site and drew pilgrims from as far as Guatemala.
It requires a bit of climbing (approximately 1 hour) to get to the archaeological zone and the pyramid. From there, you can experience the breathtaking views of the mountains and the city of Tepoztlan below.
You can get to Tepozteco by car or taxi from Mexico City. The drive takes around 1.5 hours. If you wish to use public transport, take a bus to Tepoztlan from Mexico Taxquena. Hike up to Tepozteco from there. This guided tour shows you the highlights if you are looking for something similar.
Malinalco
The archaeological site of Malinalco, also known as Cuauhtinchan, is unique because it is the only Aztec ruin to feature monolithic structures carved from a hill. The highlight is the Cauachalli Temple (House of Eagles – pictured above) which is probably the only monolithic temple the Aztecs ever built.
Malinalco was an important religious and military center for the Aztecs. Apparently, the indigenous people of Malinalco once used this place to initiate and train their Eagle and Jaguar – Ocelot warriors. Look out for eagles and jaguars sculptures carved into the hillside.
Located 70 miles from Mexico City, Malinalco is easy to get to by car or taxi. The drive takes around 2 hours. Getting there by public transport is a long process and involves a couple of changes. You can do a private guided tour that is more convenient and shows you an old monastery in Desierto de los Leones as well as the archaeological site of Malinalco.
Tenayuca
Tenayuca was originally a Chichimec city and was later conquered by the Aztecs in the 14th century. The Aztecs constructed an elaborate pyramid complex in Tenayuca in the 14th century.
Tenayuca was special because the Aztecs built their first double pyramid here. They also built a series of serpent walls that were inspired by the Toltec city of Tula, another interesting thing to do outside Mexico City. In fact, there were so many serpent walls here that the Spanish named Tenayuca, "The City of Serpents" when they arrived here.
You can get to Tenayuca by car from Mexico City. The drive takes about 30 minutes. Or you can take a Metrobus to Tenayuca from the La Raza bus stop.
Tula pyramids
I know that we usually talk about the Mayans and the Aztecs when we talk about Mexico. Yet, there is another illustrious empire that we barely know of – the Toltecs. The Toltecs were a Nauhatl-speaking people that ruled from their capital in Tollan (now known as Tula) in the Mexican state of Hidalgo. They came before the Aztecs but have a lot in common with the Mayans including the curious fact that some of the of monuments at Chichen Itza were strongly influenced by the Toltecs.
The ancient city of Tula prospered between the 10th – 12th centuries and became the site where majestic palaces and stunning monuments were constructed. Surviving monuments include two tall pyramids, a large palace building, and a couple of ball courts. The highlight of Tula are the 15-foot tall warrior figures that stand atop the Pyramid of Queztalcoatl. In the olden times, these figures would have held up a roof structure.
Tula is located about 1.5 hours north of Mexico City. It is open every day from 10:00am – 5:00pm and costs 85 MXN to enter. Check for the latest admission prices on the official website here.
To get to Tula, head to Mexico City's Terminal Norte bus station and board an Ovnibus to Tula de Allende that runs every hour or so. And then you can take a taxi to the ruins. You can also join a highly-recommended guided tour like this one that includes a visit to the Magical Town of Tepotzotlan.
Interactive map for day trips from Mexico City
Loved our collection of culture day trips from Mexico City? Pin it for later!