Last Updated on October 27, 2023 by Soumya
Visiting the National Palace in Mexico City? Confused about National Palace tickets, tours, entrances, and OMG what not??
How to get the tickets? Where to enter the building? What to do at the National Palace? Are these questions bothering you every single day?
Don't worry. I was in the same boat a couple weeks ago until I decided to jump in and do this mysterious National Palace tour myself. And, guess what? I have got all the answers now.
The National Palace is one of the most beautiful places to visit in Mexico City. Apart from its gorgeous colonial architecture and a storied history, this resplendent palace is home to some of the best mural creations of Diego Rivera.
In this complete Mexico City National Palace Visitor's Guide, you'll find all the details that you need to plan your visit. How to visit the National Palace, where to book your tickets and tours, and what to expect on your Palacio National tour – everything's in here. 👇🏽
Please note: This post may contain affiliate links which means I may earn a commission if you make a purchase by clicking a link on this post. This will be at no additional cost to you. Affiliate links help me keep this website up and running. Thanks for your support!
About Mexico City National Palace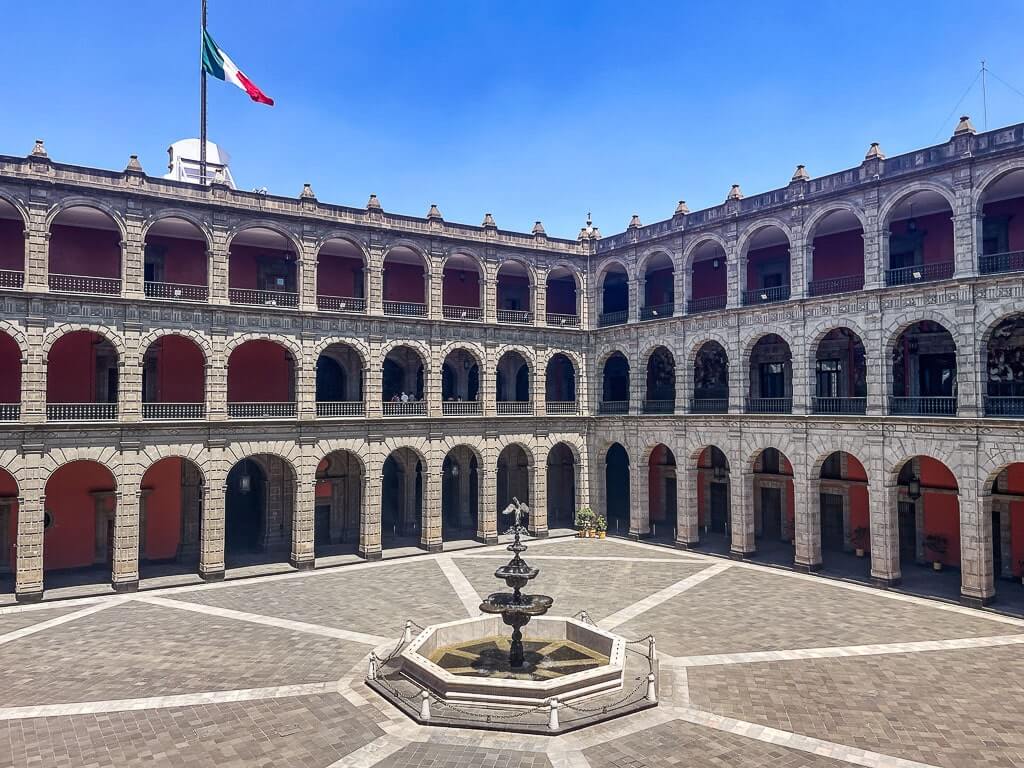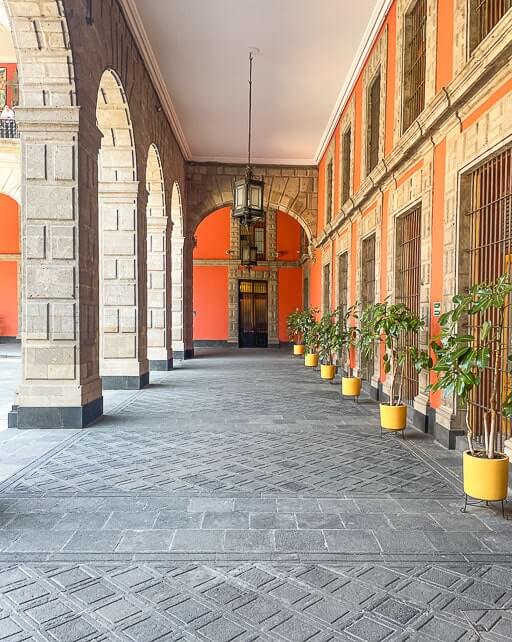 The National Palace of Mexico City or Palacio National is a historic building located in the heart of Mexico City's Zocalo, the main public square. Spanish conquistador, Hernan Cortes, ordered the construction of the National Palace in the early 16th century as his official residence. This sprawling complex later became the presidential palace of the Mexican government.
The palace consists of numerous buildings and courtyards. The palace itself is a stunning example of Spanish Renaissance architecture, with an elaborate façade and marble flooring all through.
However, the main highlight of the palace are the murals painted on every wall of the second level. It is home to some of Mexico City's most important murals by renowned artist Diego Rivera. They depict the country's rich history and culture.
Even today, the Mexican President lives and works out of the National Palace. Therefore, as you can guess, security is tight and you can only visit via a guided tour.
But it wasn't like this before Sept, 2022. Before that, you could just get in on your own and take in the sights and attractions. Now you need to reserve a place on a guided tour (see how to do that here).
📖 Related Reading: If you're visiting the National Palace, then you should definitely check out our blog on the Best Things to do in Mexico City's Historic Center so that once you're done with the National Palace tour, you can check out all these amazing landmarks nearby.
Diego Rivera Murals at National Palace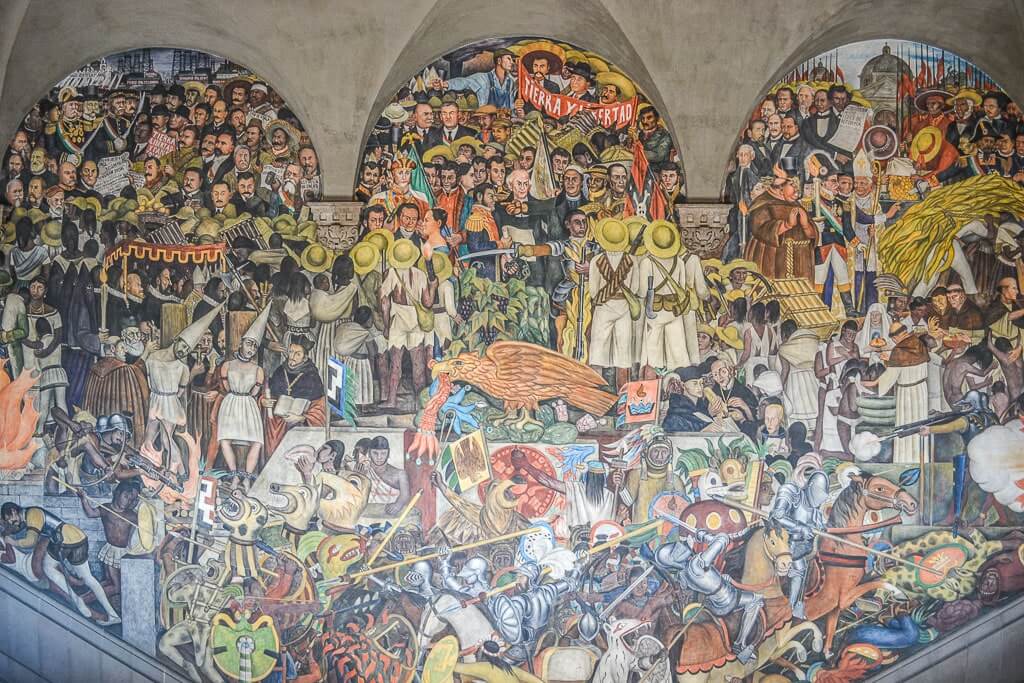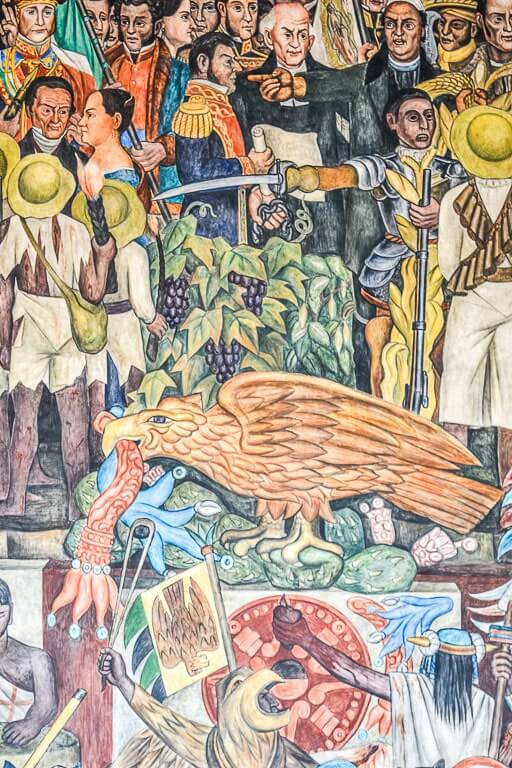 The main attraction of Palacio National is its stunning collection of Diego Rivera murals. The murals are all located on the second floor and depict the history and culture of Mexican people. The guide will take you through all of them, one by one. If you have questions, feel free to ask.
The highlight is, of course, the History of Mexico Mural that Rivera painted across 3 large walls at the palace's grand staircase. True to its name, the mural represents different stages in Mexico's history – the Aztec times, the Spanish Conquest, the War with America, the Revolution, and Rivera's version of Mexico's future. Khan Academy has a really good explanation of the panels here if you'd like to brush up your knowledge a little bit before the tour.
How to visit National Palace in Mexico City?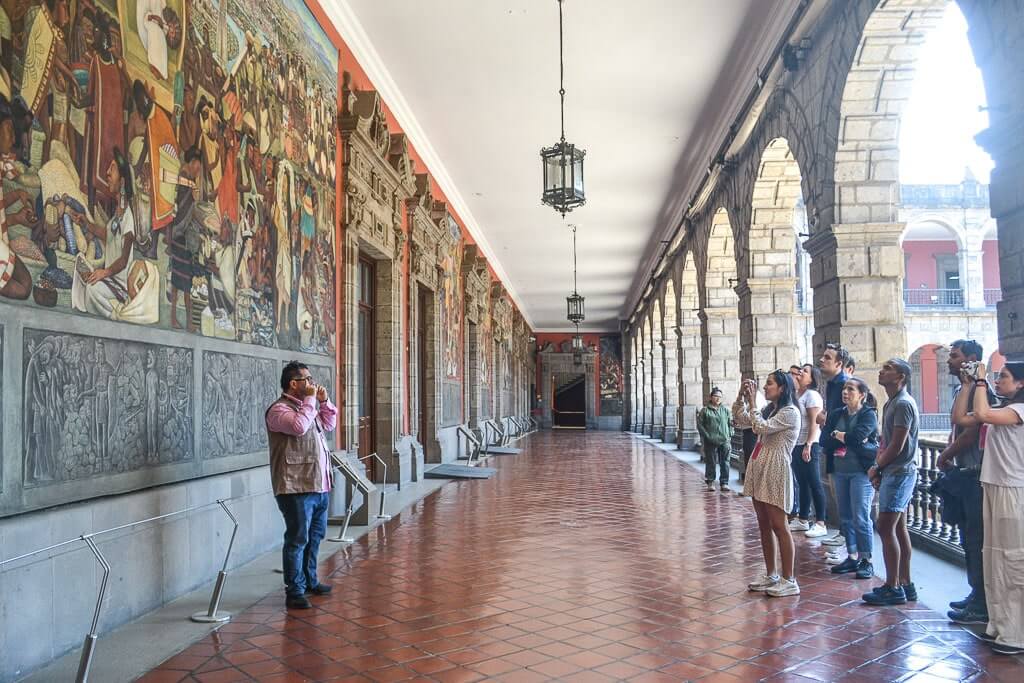 You have to join a guided tour to visit the Mexico City National Palace. Earlier, you could enter without a tour but that's not the case any more.
Spanish & English tours happen throughout the day. We joined an English tour at 10:30am. The tour is free but you need to reserve your spot ahead of time. Here's how to do that.
How to reserve your National Palace tour in Mexico City?
In order to reserve your spot for the guided tour, I suggest heading to the ticket office at Museum of Art of the Ministry of Finance & Public Credit (Google Maps) and checking on availability with them on your preferred days. If something works for you, then go ahead and reserve.
They also have a bunch of walk-in spaces on every tour (because they do get cancellations). So, don't worry if you haven't reserved ahead. Feel free to queue up at the ticket office at least 30 mins (or even earlier to be on the safer side) before the tour begins. You should be able to get in.
When we arrived at 10:15am for our 10:30am tour (we had reserved earlier), the queue was already 30 people long. Only 15 could get in!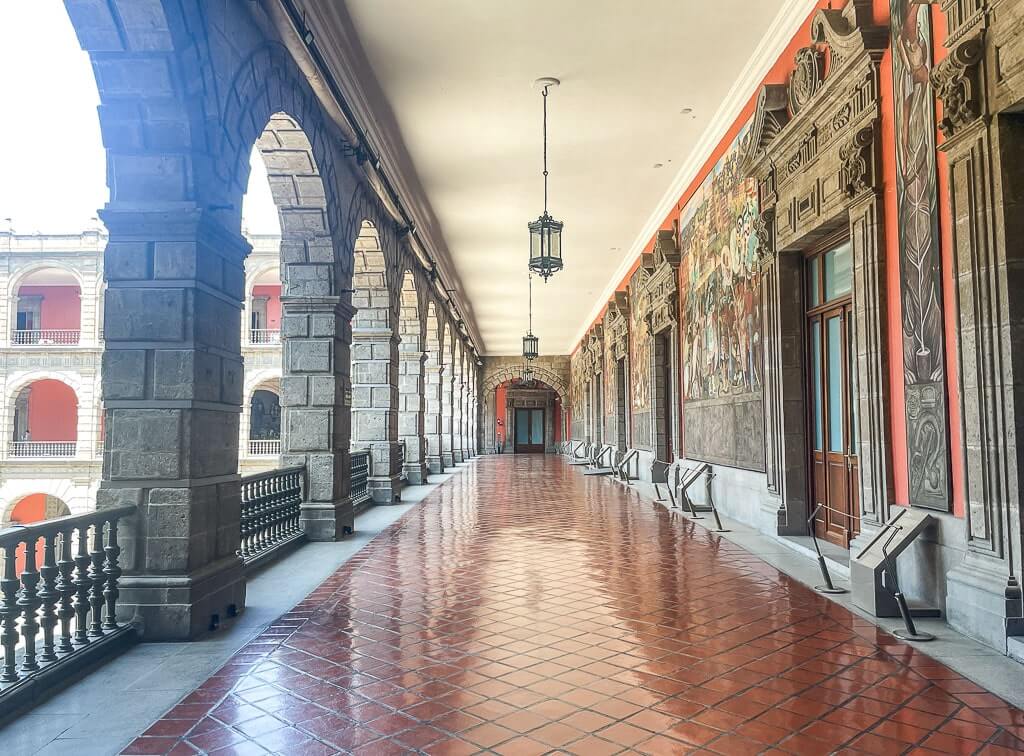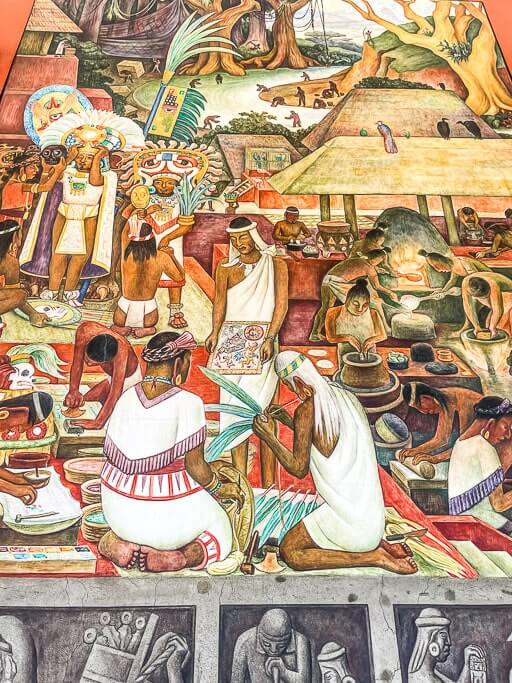 Can you reserve your National Palace tour tickets online?
There's no online portal to reserve your National Palace tour tickets but you can email them at visitas_guiadas[at]hacienda.gob.mx and ask them to reserve your spot. In your email, be sure to mention the number of people in your group, their names and ages, and your preferred dates.
The tricky part is that they do not always respond to emails. But sometimes, they do.
We put in requests for English tours through 3 different emails before they got back to us on one. So, keep trying until you get lucky. If they do get back with a confirmation, you can skip the line and head straight to the ticket counter by showing your ID.
Some other Mexico City center tours that you'll love.
What to expect on your National Palace tour?
Guided tours for Palacio National in Mexico City usually last an hour and take you through the entire Diego Rivera mural collection. Therefore, if you're an art lover or a Rivera fan, this tour is for you. If you're interested in Mexican history and culture, this tour is for you too.
The highlight of the tour is the massive "History of Mexico" mural at the top of the stairs and the guide does a great job of explaining the details on each and every panel. He pointed us things that we wouldn't have noticed otherwise like the cleverly-concealed faces of Frida Kahlo and Diego Rivera on the panels.
You'll also see wide open courtyards and colonnaded arches of the National Palace on the tour. There's a lot of greenery inside the National Palace including a small cactus garden, a library, and a small chapel – both of which you cannot enter. The murals are located on the second floor.
The massive grand courtyard is absolutely worth a see. Here, you'll find the pegasus fountain which is impressive. Don't forget to click some gorgeous pictures here.
At the end of the tour, you'll see a beautiful and ornate parliamentary chamber that was once the seat of the government. We weren't allowed to enter the room but could get a glimpse of it from outside the door.
✦ Pro Tip: Do you love guided tours as much as I do? They give such an immersive view of the people and their culture, right? I am sure you'll love our guide on the 13 best guided tours in Mexico City (also includes a free one!).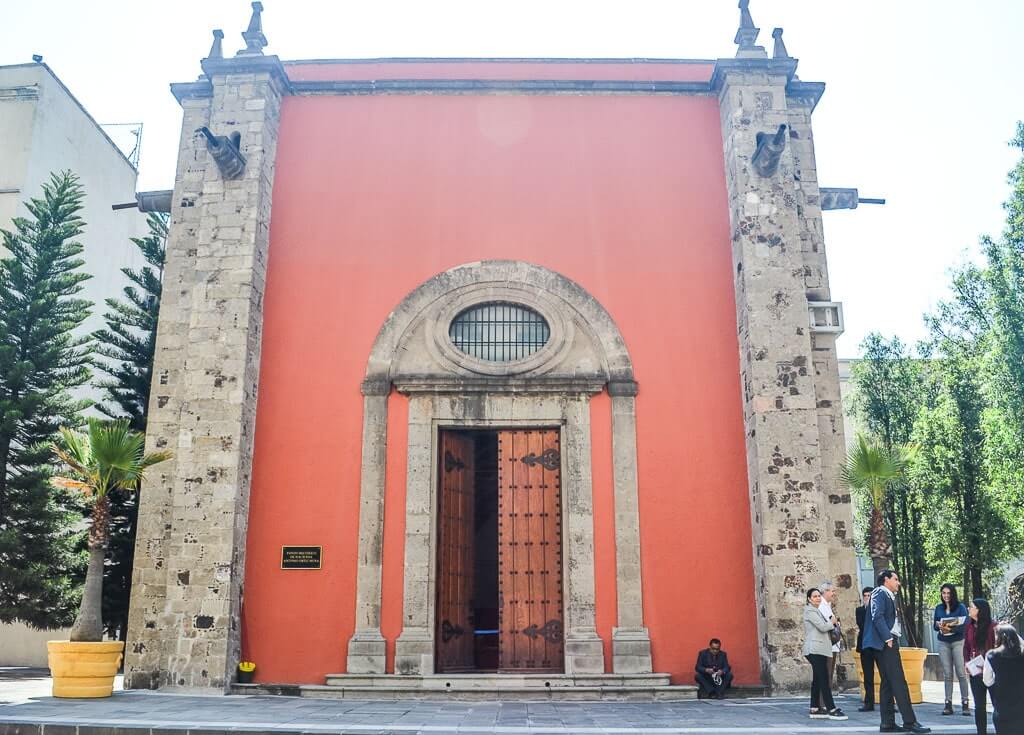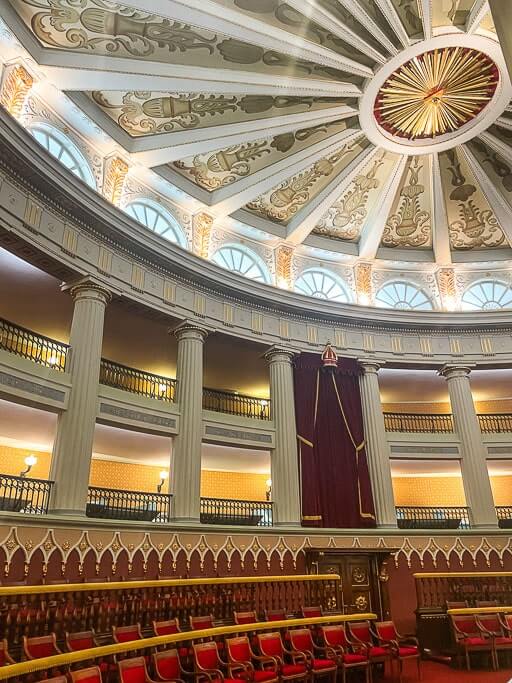 Few things to keep in mind before the palace tour
Be sure to arrive at the entrance at the 20 mins before your tour begins. Longer if you do not have a reserved space.
Bring your IDs that you'll need to surrender at the ticket counter before the tour begins. You can collect them after the tour is done.
They will give you visitor badges that you'll need to wear around your neck throughout the tour.
Every tour has around 20-25 participants.
Security is tight and you are expected to stay close to the guide and the group. Don't wander away. Throughout the tour, we had a few security officers following our group. It did not feel great but it is their security policy (the Mexican President lives and works here), so cannot complain.
You can take thousands of pictures of the murals and the courtyards. No restrictions on that. Videography is not allowed.
Food, drinks, and backpacks are not allowed on the tour – you can keep them at the baggage counter behind the ticketing section.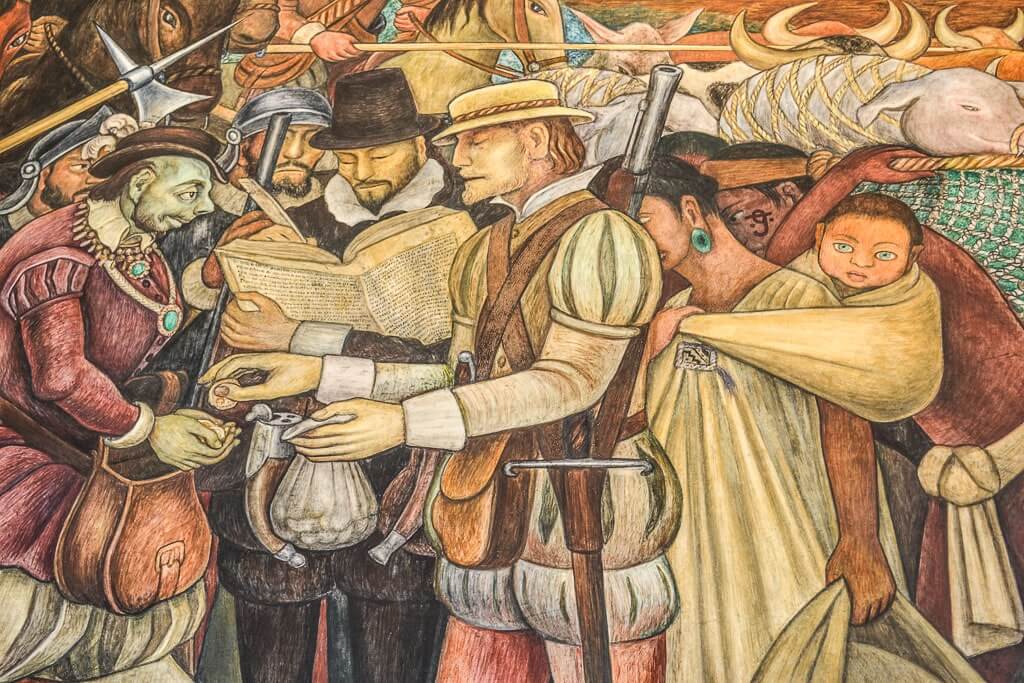 National Palace Opening Hours
The National Palace in Mexico City is open from 9:00am – 5:00pm, Tuesday – Sunday. However, tours begin only at 10:30am. The ticket office at the Museum of Art (Google Maps) opens at 10:00am.
✦ Pro Tip: The National Palace is one of the many places that remains closed on Mondays. If you're planning to be in Mexico City on a Monday, be sure to check our CDMX Monday Things To Do Guide.
National Palace Travel FAQ
Can you go into the National Palace in Mexico City?
Yes, you can go into the National Palace in Mexico City by joining a guided tour of the complex. Tours happen in English and Spanish, Tuesday – Sunday. Click here to find how to reserve your National Palace tour here.
What can you do at the National Palace in Mexico City?
You can see some of the most beautiful murals by Diego Rivera, including the famous History of Mexico mural, and appreciate Spanish Renaissance architecture at the National Palace in Mexico City.
How to get tickets to National Palace Mexico City?
You need to reserve your spot on a guided tour in order to get into the National Palace in Mexico City. You do not need tickets and tours are free. To reserve your spot on a tour, go to the ticketing counter at the Museum of Art and book your slot, or queue up on the day of the tour at least 30 mins in advance, or email them.
Where is the entrance to National Palace Mexico City?
The entrance to National Palace is located on Moneda Street in the Historic Center right here. However, you'll need to report and wait at the Museum of Art by Ministry of Finance & Public Credit here because that's where the ticket counters are located and that's where the guided tours begin.
Why is the National Palace famous?
The National Palace is famous because it houses some of the best known murals of famous Mexican muralist, Diego Rivera including the celebrated History of Mexico mural. It is also the official residence and workplace of the President of Mexico.
Loved our National Palace Visitors Guide? Pin it for later!