Last Updated on April 22, 2023 by Soumya
Istanbul food is love! The sheer variety of food flavors, textures, and aromas is mindboggling here. Eating out in Istanbul is not only a delicious thing to do but also an experience of a lifetime.
Istanbul has always been on the crossroads of civilizations and cuisines. Because of its unique location straddling both Europe and Asia, Istanbul has a food culture that is special. Food in Istanbul has seen the influence of different cultures and generations.
Trying the quintessential simit on Istanbul's bustling streets, having a grilled fish sandwich by the Bosphorus, enjoying a quiet dinner at a sea-view restaurant, and walking through the fragrant alleys of Spice Bazaar are some of the best foodie experiences to have in Istanbul, Turkey.
Whether you're in the city for a short visit or a longer time, there's lots of good things to eat in Istanbul.
In this exhaustive post on what to eat in Istanbul, we have a list of all the best foods to try, unforgettable foodie experiences, and the best food places in Istanbul.
This post is going to be a long one, so feel free to skip to relevant parts using the TOC.
Please note: This post may contain affiliate links which means I may earn a commission if you make a purchase by clicking a link on this post. This will be at no additional cost to you. Affiliate links help me keep this website up and running. Thanks for your support!
---
Top food tours in Istanbul
---
Best foods in Istanbul: 28 must try Turkish dishes
Eating in Istanbul is a wonderful experience. There's just so much to eat, drink, and be merry. The city abounds with street food vendors as well as several fine dining restaurants (many Michelin star places included). No doubt, Istanbul is an absolute heaven for foodies like you and me.
Here are some of my favorite Turkish dishes to eat in Istanbul.
Simit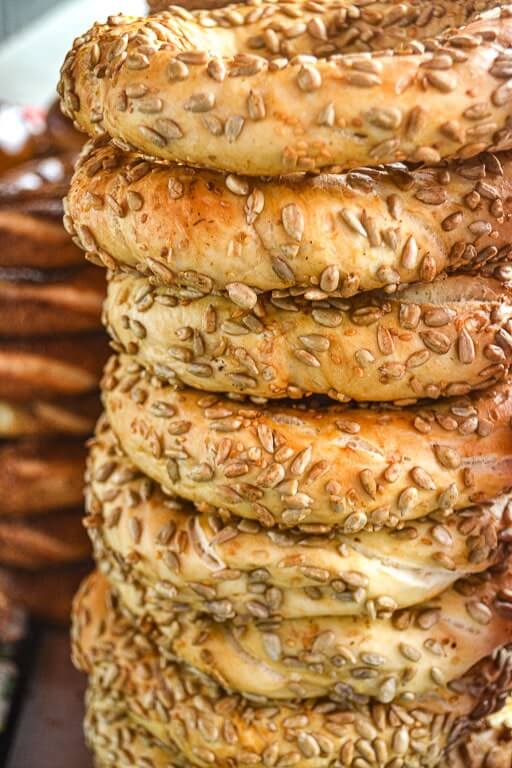 If there's just one food that is found everywhere in Istanbul, that is the simit.
Shaped in a circle with a hole – much like a stretched-out donut – and coated in sesame seeds, the simit is Turkey's go-to snack anytime during the day. It is crispy on the outside and soft and chewy on the inside. You can have a simit on its own or enjoy it with some menemen and cheese.
The best part about simit is that you'll find it everywhere in Istanbul. Street food vendors have heaps of them stacked in glass boxes. Some of the freshest ones are found in the Sultanahmet area (between the mosques of Sultanahmet and Hagia Sophia) and near the ferry terminals.
Nowadays, they have cheesy and chocolatey versions of the simit. But I like mine plain, as always.
Roasted chestnuts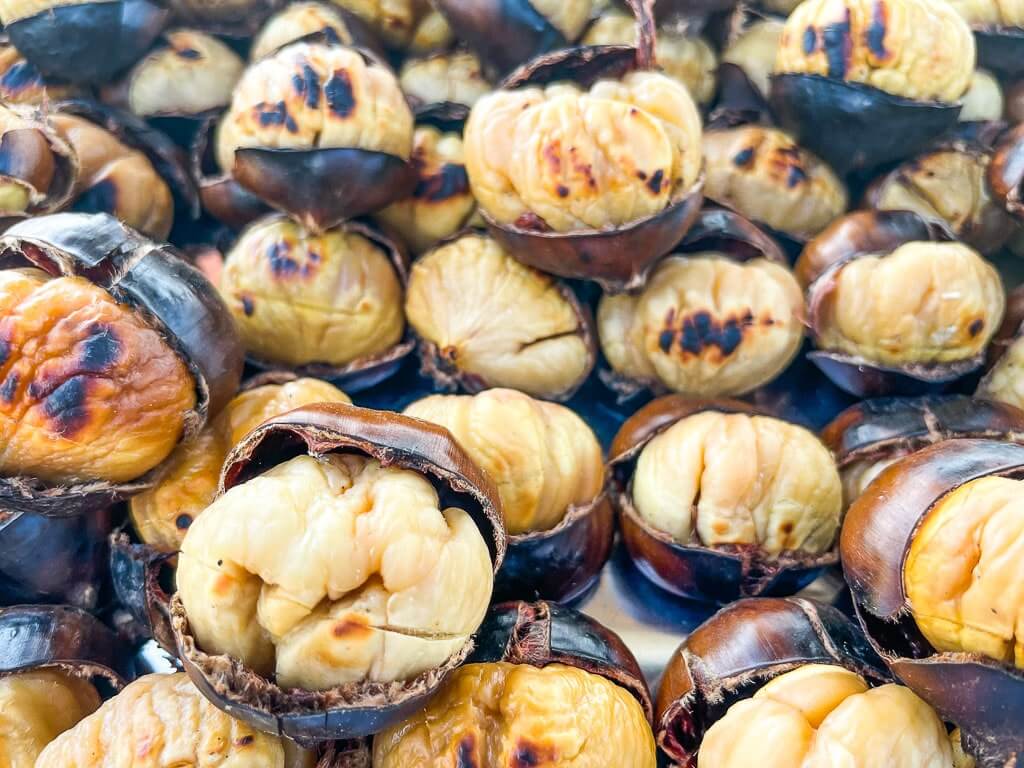 Another popular street snack of Istanbul is the roasted chestnut or kestane. Chestnuts, roasted over a fire, have a sweet, nutty flavor and are packed with energy.
These cute, little nuts are sold by weight. You'll find street vendors all over Istanbul selling roasted chestnuts, though they are fewer than the simit vendors. Our favorite chestnuts were from the vendors near Gulhane Park, if you're looking for a recommendation.
Borek or Boregi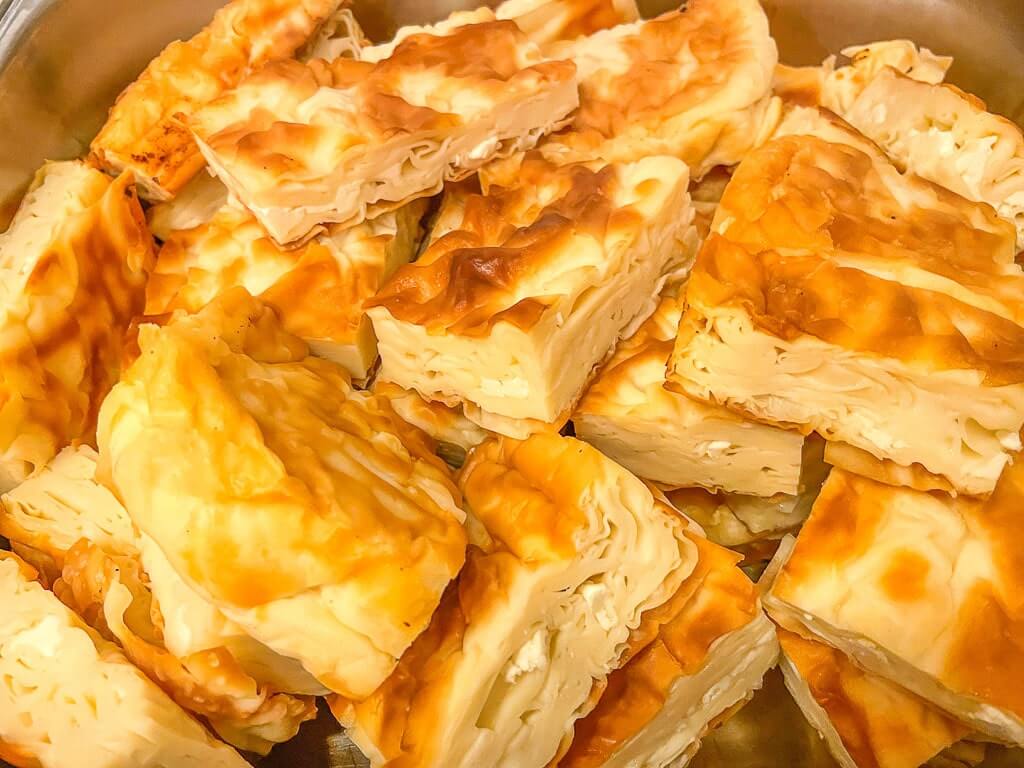 The borek is a traditional Turkish pastry that forms an essential part of local cuisine. Made by layering multiple sheets of phyllo and stuffing them with feta cheese/potatoes/minced meat, a borek is delicious and filling.
There are different kinds of borek. Su Boregi, where the dough is first boiled before being baked, is the most commonly available variety. Some of the other popular ones are Kol Boregi and Gul Boregi. My favorite is the Sigara Boregi that is a small, cylindrical fried pastry stuffed with feta cheese.
If your hotel serves a buffet breakfast, you'll most likely encounter your first borek there. Most hotels and local canteens will have them on their menu. Some of the best places to have borek in Istanbul are Rumeli Tatli ve Borek Evi, Cengelkoy Borekcisi, and Sariyer Borekcisi.
Lahmacun
Lahmacun is Turkish pizza – a thin, flat bread topped with lots of tasty things like spiced minced meat and veggies, herbs, peppers, onions, and tomatoes. Traditionally, lahmacun does not use any cheese and its crust is much thinner than a regular pizza.
The best places in Istanbul to enjoy a lahmacun are Oz Kilis Kebap Salonu in the Fatih area and Halil Lahmacun in Kadikoy.
Doner
No Istanbul food guide is ever complete without a mention of the doner kebab. The doner is, after all, the dish that is representative of Turkish cuisine to the rest of the world.
Similar to the shawarma from the Arab world and gyros from Greece, the doner kebab is meat cooked on a rotating spit and cut into thin slices. You can eat it with lavash, sandwich bread, or rice. Pair it with a tumbler of Ayran (Turkish yoghurt drink) and that'll be a memorable meal in Istanbul.
Finding a doner kebab sandwich in Istanbul is probably the easiest thing to do. You just have to look out for that huge rotating spit. Most doner in Turkey is made from a mix of ground lamb and beef. If you'd like some chicken doner, that'll be hard to find.
Some of the places in Istanbul that serve great doner kebab are Donerci Sahin Usta at the Grand Bazaar, Sehzade Cag Kebap in Sirkeci, and Yildiz Bufe in Eminonu.
Kumpir
Have you tried special stuffed baked potatoes called kumpirs? Well, you must when in Istanbul.
A kumpir is a Turkish-style baked potato stuffed with anything ranging from veggies, meat, corn, cheese, jalapenos, and cream. You can pick your own stuffing from the counter. It is liking ordering your own sub, only the subway bread is a good, old baked potato!
✦ Pro Tip: To taste the best kumpir, head to the street behind the beautiful Ortakoy Mosque in Besiktas. The street is full of vendors selling kumpirs of all kinds and varieties. Go to the one with the longest queue of locals. The Ortakoy Mosque may be a hidden gem in Istanbul but the kumpir street behind it is definitely famous among the locals.
Balik Ekmek
Fancy a fish sandwich by the river? Head to the famous Galata Bridge in Istanbul and have your fill of Balik Ekmek.
Balik Ekmek is one of Istanbul's most popular street foods and a must-have when visiting the city. It is a simple sandwich with grilled fish, some onions, and parsley stuffed between breads. The fish is usually grilled with herbs and pepper and sprinkled with a generous dose of lime. I am sure you are salivating by now because I am!
A Balik Ekmek is my go-to food in Istanbul because it is not just part of the Turkish cuisine but also an important component of local culture. Having a Balik Ekmek at one of the many sprawling restaurants under the Galata Bridge and watching colorful boats pass by is like experiencing a bit of Turkish culture for yourself.
📖 Related Read: Having Balik Ekmek under the Galata Bridge is an absolute must-do when visiting Istanbul. Find out how to add it to your trip in my ultimate Istanbul itinerary for 3 days.
Mercimek Corbasi
Mercimek Corbasi is a good, old bowl of lentil soup that is abundantly available in Turkey. Made from red lentils and vegetables like carrots, potatoes, and onions, this creamy soup is absolutely delicious and filling.
A Turkish staple, mercimek corbasi may remind you of daal from South Asia but the flavors are quite different. A bowl of mercimek corbasi is the best way to satisfy your hunger during meal times. It usually comes with a side of bread. Sometimes, you'll find a non-veg version of mercimek corbasi but most often, it is vegetarian/vegan.
Turkish pilaf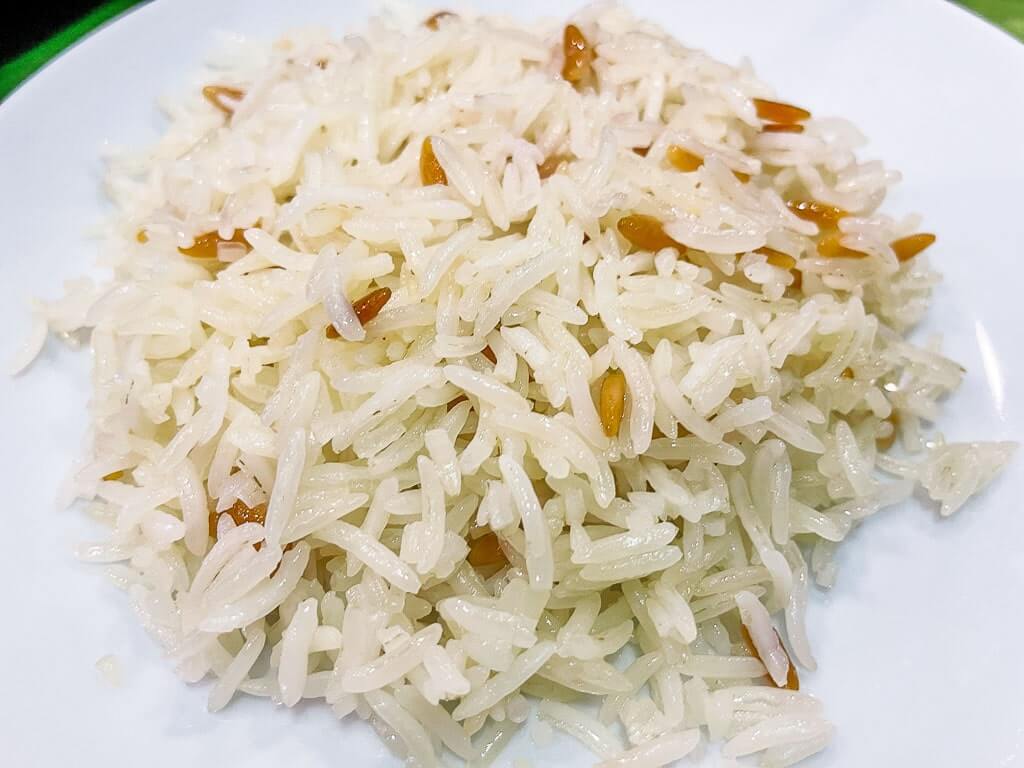 You'll find different pilaf variations in the Turkish cuisine. Pilaf in Turkey is made from rice (pirinc), bulgur, couscous, or orzo. We found rice and bulgur pilafs were the most common.
Pilaf forms an important part of everyday cooking and daily meals in Istanbul and all of Turkey. The simplest pilaf that you'll encounter is made with boiled rice mixed with a helping of chickpeas, pine nuts, and caramelized onions.
You'll find pilaf on all restaurant menus as well as on the buffet displays of traditional Istanbul canteens (lokantas). It is a much-sought-after lunch dish and goes really well with meat and vegetable stews.
Kuru Fasulye
Something that goes really well with Turkish pilaf is bean stew or kuru fasulye. The best part is that you can find it on the menus of all restaurants and traditional Turkish canteens in Istanbul.
Kuru fasulye and plain pilaf is a great combination for people seeking vegetarian/vegan food. A couple of great places to try kuru fasulye in Istanbul are Mimar Sinan Tarihi Süleymaniye Kuru Fasulyecisi in Fatih district and Comlek Kuru Fasulye in Uskudar.
Gozleme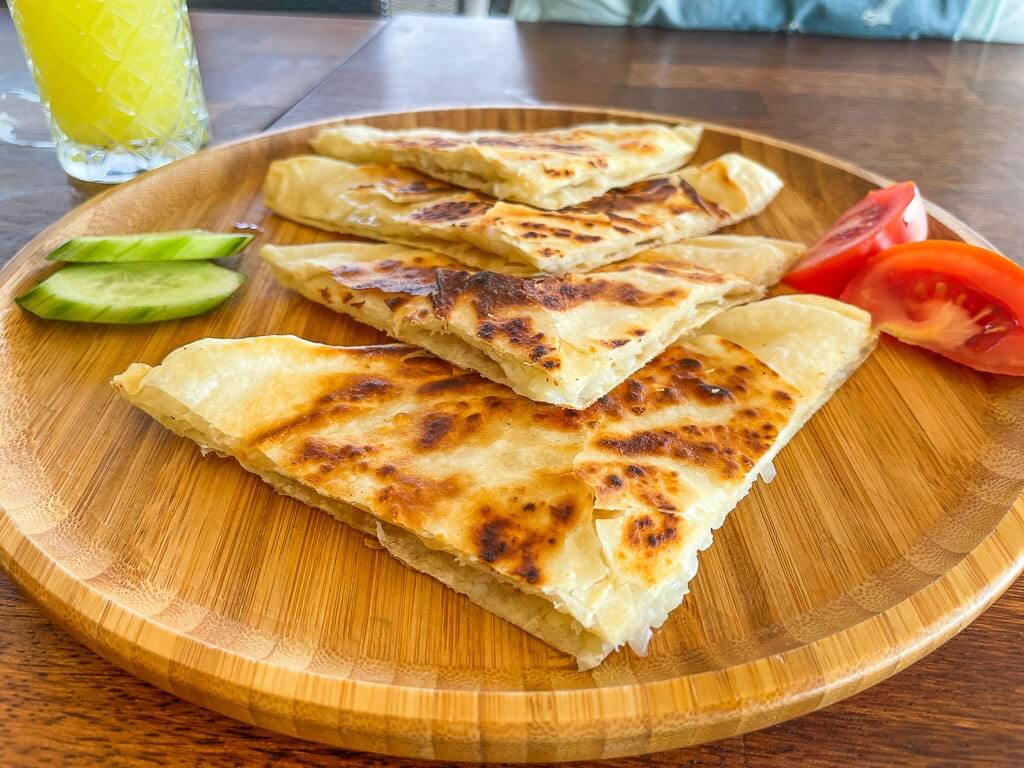 Gozleme was one of my favorite foods in Istanbul and all of Turkey, in fact. It is a traditional Turkish dish that consists of a thin bread usually stuffed with spiced potatoes. Variations with cheese, spinach, and ground meat are also available.
Gozleme can be eaten anytime during the day although it is a preferred breakfast dish for the locals.
Some of the Istanbul restaurants that serve excellent gozleme include Yigit Sofram Gozleme ve Kahvalti (also a great place for Kahvalti – Turkish breakfast) and Turkmen Cafe.
✦ Pro Tip: I had an opportunity to see how gozleme was made by local women in the villages of Cappadocia, Turkey. To find out how to do that, check out my Green Tour Guide for Cappadocia.
Menemen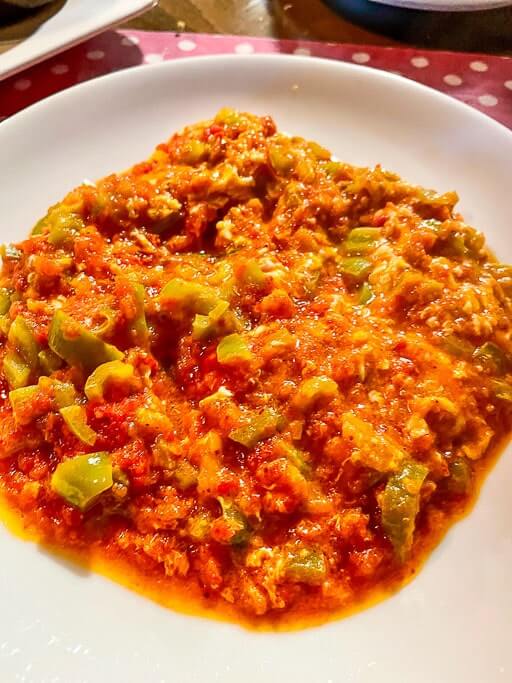 Yet another Istanbul breakfast favorite is the menemen, a really yummy dish made of scrambled eggs and lots of onions, tomatoes, and green pepper. A seasoning of salt and black pepper adds an irresistible flavor.
Go into any breakfast place in Istanbul and you are sure to find some menemen on their menu. A couple of great places are Lades Menemen in Beyoglu and Naga Putrika in Kadikoy.
Kokorec
If you are looking to try some exotic foods in Istanbul, try kokorec.
Kokorec is lamb intestines grilled over charcoal fire on a horizontal skewer. It is a dish of the Balkans and a highly popular one among Istanbul locals who tell me that the best kokorec is found on the streets and not behind the glass doors of restaurants.
I stayed for a month in Istanbul and every day as I walked home after a day of sightseeing in Istanbul, I would spot scores of kokorec eateries, each packed with their regular customers. I just could not get myself to try it since offal isn't really my thing. But if it is for you, go ahead and give this exotic delicacy a try in Istanbul.
Mussels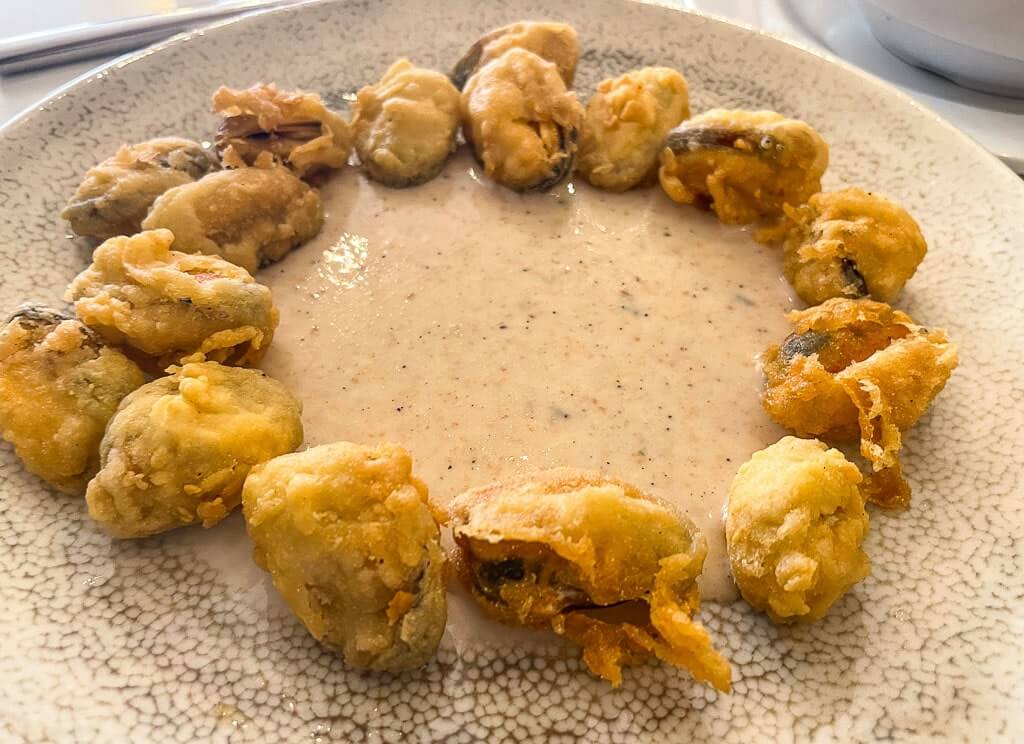 I have never been a fan of mussels but mussels are big in Istanbul. Locally known as midye dolma, stuffed mussels are a favorite street snack for the residents of Istanbul.
Rice and mussels with the shell are sprinkled with spices and steamed together. You can enjoy it with a dash of lemon juice.
I wasn't brave enough to try stuffed mussels. So, I opted for a version that looked more appealing to me – fried mussels or midye tava on my day trip to the Princes Islands from Istanbul. And, it was decent. But my mussel-loving friends vouch for the freshness and elevated taste of Istanbul's mussels. If you're a fan, do give it a try.
You'll find the best midye dolma in Besiktas at Midyeci Ahmet, the most famous mussel joint in town. They even organize mussel eating competitions every year!!!
✦ Pro Tip: Princes Islands are a group of stunning isles in the Sea of Marmara. If you'd like to try your first mussels on the Princes Islands like I did, then check out my guide on how to get to the Princes Islands from Istanbul.
Enginar or artichokes
One of the most unusual foods that I ate in Istanbul was stuffed artichoke bottoms. Locally known as zeytinyagli enginar, stuffed artichoke bottoms are an absolute delicacy in Turkey.
What makes artichokes so special is that they are available only in spring – the months of April and May. Since zeytinyagli enginar is a spring dish, it is extremely colorful with a sumptuous filling of carrots, onions, and peas and a generous helping of dill on the top. Check out my picture above.
✦ Trivia: Turkey holds an International Artichoke Festival every year in Izmir and that includes artichoke tastings, cooking classes, artichoke preserves, and so much more.
Pide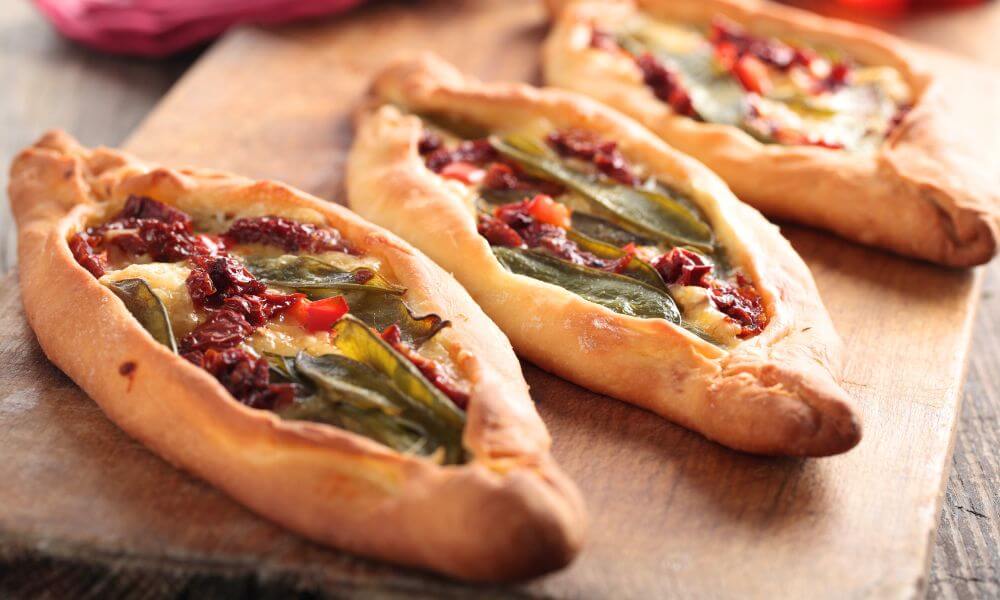 Pide is a famous Istanbul food that can be found in every nook and corner of the city.
If you're a newb, then let me tell you that pide is an oval shaped bread stuffed with a wide variety of stuffings like cheese, minced meat, eggplant, tomatoes, and onions. Much like the lahmacun, pide is also often referred to as the Turkish pizza.
Some of the best pide joints in Istanbul are Hocapasa Pidecisi, Nizam Pide, and Pide Ban.
Cig Kofte
Original cig kofte are raw meatballs that are made by combining ground meat with bulgur, tomato and pepper paste, and spices. There's no cooking involved – only lots of kneading of the ingredients to get the components mixed with each other.
Wrap the cig kofte in lettuce and add a dash of lemon to it before eating. For the best cig kofte in Istanbul with meat, refer to this list of best restaurants by Yummy Istanbul.
However, the problem with raw meat is that not everybody can eat it. Plus, there's always the danger of food poisoning if the meat is not kneaded in a completely disinfected environment. So, we decided to stick vegetarian/vegan cig kofte which is found in plenty in Istanbul. The best place to try vegan cig kofte is at one of the Cigkoftem restaurants in Istanbul.
Manti
Manti is a Turkish dumpling made of a thin dough stuffed with minced meat served in a bowl of garlicky yogurt sauce. It is also called the Turkish ravioli and has a smooth texture and rich taste.
If you've visited other countries in the Balkans, West Asia, and Central Asia, you probably know what a manti is. Turkish manti is quite similar.
My go-to places for a plate of manti in Istanbul are Aksana Manti Ulus in Besiktas, Sinopia Manti Evi in Kadikoy, and Sinop Manti in Besiktas.
Ayran
Now that we have had enough of Turkish food in Istanbul, let's talk about some traditional Turkish drinks. One of Istanbul's favorite and absolutely unmissable drinks is ayran.
Ayran is a cold, frothy, and salty yoghurt drink that goes well with all kinds of Turkish food. It is believed to soothe the tummy and makes it easy to digest spicy food. And it totally refreshes you in the summer heat.
The Turkish ayran is almost similar to the Indian buttermilk (locally known as chaas). You'll easily find ayran at all kinds of restaurants. Plus, you can pick your favorite brand from the supermarkets/convenience stores.
Turkish coffee
Do you know that Turkish coffee culture is part of UNESCO's list of intangible cultural heritage?
Turkish coffee brewing technique is special because ground beans, sugar, and cold water are slowly brewed on a stove. Then, the coffee is served unfiltered, with coffee grounds at the bottom of the cup that are often used to predict the drinker's future. So, if you have coffee in Istanbul, you're basically immersing yourself in centuries old Turkish culture.
Tasting Turkish coffee on a good, old coffee experience tour in Istanbul is one of the best things to do in Istanbul. You'll learn all about how delicious coffee is prepared and get to taste the heritage drink at some of the best coffee shops in Istanbul. You'll also get to visit some hidden gems such as historic bazaars, quaint lanes, and Ottoman-era coffee storage points on this highly-rated coffee route tour.
Turkish tea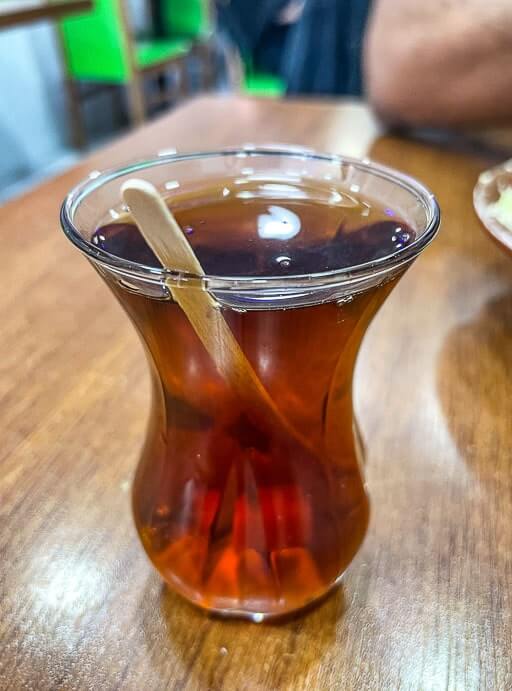 If you're not a coffee fan, don't worry. Istanbul has plenty of tea on offer. Some of Istanbul's popular tea houses are Dem Moda and Beta Yeni Han.
A cup of tea or "cay" is the local's favorite way of socializing. Turkish tea is brewed with the help of two pots, one above the other. The lower one contains only water while the upper pot has tea leaves and some water.
Tea in Turkey is served in tiny, tulip-shaped glasses which are a great Turkish souvenir to bring back home.
Raki
Raki, an alcoholic drink, is the national drink of Turkey. Also known as Lion's Milk, raki is made of twice-distilled grapes and flavored with anise.
I am no raki expert. So, I will leave you with this guide on Turkish raki culture that gives you all the rules of the table.
Turkish meyhane or taverns/pubs, which form an important part of Turkish food culture, have been around since the middle ages. Learn more about Turkish meyhanes in this quirky Istanbul food tour.
Fresh juices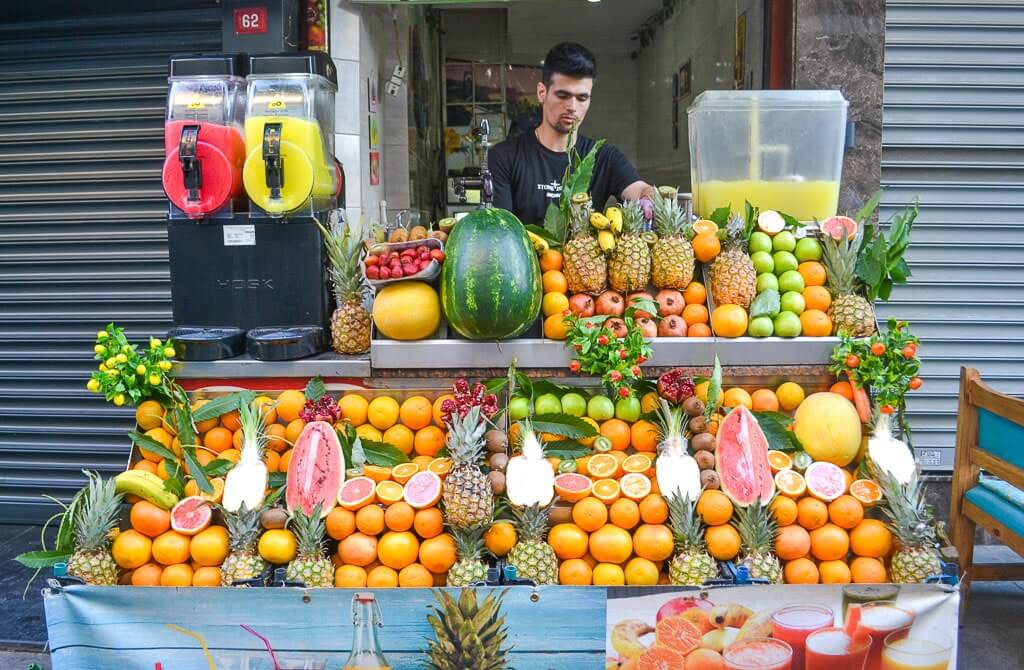 The streets of Istanbul are lined with fruit vendors selling freshly-squeezed juices – the best things to have when you are tired and exhausted by all the walking around. A glass of fruit juice is sure to revitalize you! Orange, grapes, pomegranate, apricot, and watermelon are some of Istanbul's popular juices.
Turkish delight or lokum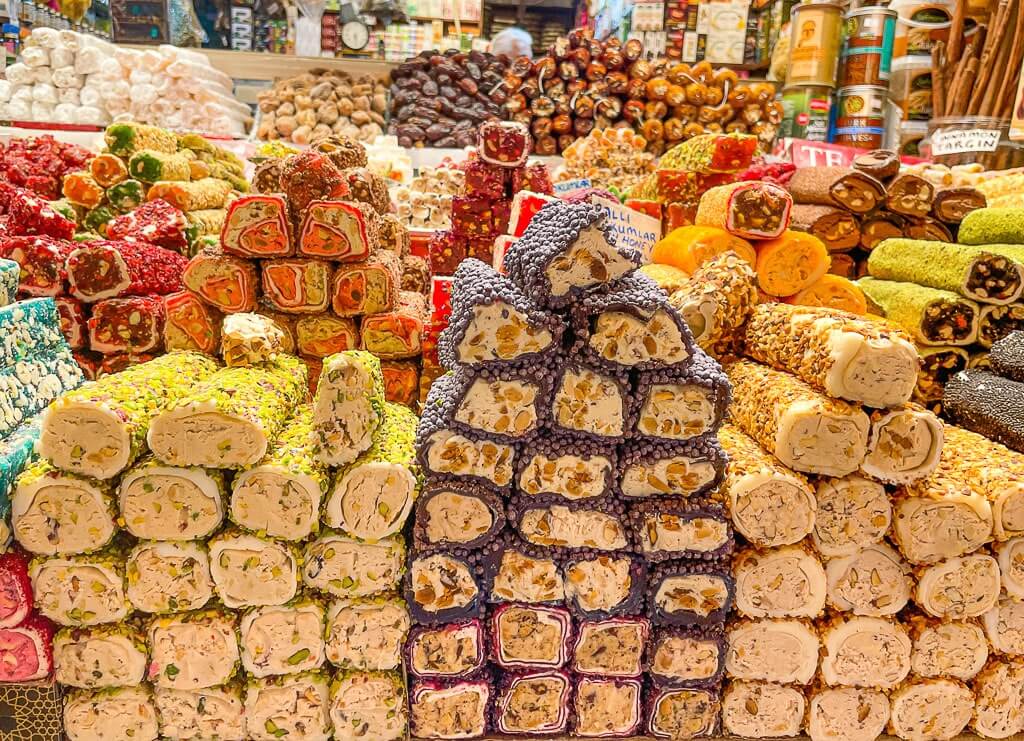 Dessert lovers, are you listening? Turkish cuisine has a host of amazing sweets that are perfect to eat after a meal, snack on in the middle of the day, or carry home as souvenirs. Turkish delights are one of Turkey's most popular desserts.
Also known as lokum, Turkish delights are small candies made of starch and sugar. Pistachios, oranges, lemons, and rosewater are often used for flavoring. They are chewy and sweet (too sweet for my taste buds!). They are easy to carry and can be eaten as a snack on the go.
There are many places in Istanbul to taste Turkish delight and get your stash from. The Spice Bazaar is a favorite haunt among tourists. And so is the centuries-old store of Hafiz Mustafa. Hafiz Mustafa 1864 is my favorite pasty and confectionery store in Istanbul and my frequent place to get some good Turkish coffee and delectable desserts. They store an amazing variety of Turkish delights and can pack you some in attractive boxes to take home.
Kunefe
I am not a big fan of Turkish delights but I absolutely love the Turkish kunefe. Kunefe is a sweet cheese pastry made from shredded phyllo dough called kataifi. It is garnished with powdered pistachios and often eaten with clotted cream. Trust me, the taste is heavenly. Kunefe is one of my favorite Middle Eastern desserts in the world!
Kunefe is not just Turkish, it is found everywhere in the Arabian peninsula. There are theories that kunefe originated in ancient Egypt but the jury is still out on that. The best part is that you'll find delicious kunefe in Turkey, Egypt, and all Arabic nations. Isn't that good news for all kunefe lovers out there?
My favorite kunefe joints in Istanbul are any branch of Hafiz Mustafa 1864 (especially the Sirkeci branch – try the tres leches cake there too), Sefikogullari Kunefe in Fatih, and Keyfeder Kunefe Katmer in Beyoglu.
Baklava
Baklava is Turkey's most popular dessert and a must-have when visiting Istanbul. For the uninitiated, baklava is a layered pastry made from phyllo dough, honey/sugar syrup, and nuts. It is a popular Mediterranean dessert that is an absolute favorite among locals and tourists alike.
The top Istanbul places to eat baklava are my favorite confectionery shop – Hafiz Mustafa 1864, Koskeroglu Baklava 1946, and Baklavaci Gaziburma.
Lokma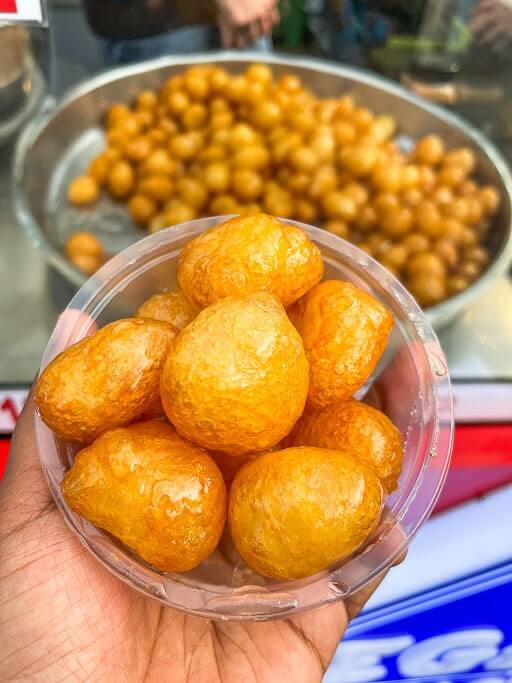 Lesser known than its more famous counterparts – the baklava and the Turkish delight, lokma is a deep fried, mini dough ball soaked in sugar syrup. Lokmas are crispy on the outside and soft on the inside. They can be eaten as is or garnished with chocolate, cinnamon, or biscuit crumble to give them an extra texture.
I tasted my first lokma in the foodie street behind Ortokoy Mosque. I ate from the street vendors there but Ege Lokmacisi is a great place to try your first lokma if you're around Ortakoy Mosque.
Dondurma
Dondurma is Turkish ice cream. It is stretchier than the usual ice cream and made of interesting ingredients such as goat milk, sugar, and salep which is the powder of wild orchid bulbs.
You'll find dondurma shops and street carts all over Istanbul. Selling dondurma is an art and the vendors (or the artists), with their antics and tricks with the ice cream, will make sure you have an enjoyable time while buying a scoop.
Sometimes, dondurma vendors can be quite persistent in getting you to try their flavors. Feel free to say no if you are not interested. But, having a dondurma at least once in Istanbul is a must-have experience.
The best places to try dondurma in Istanbul are Dondurmaci Ali Usta in Kadikoy, Mini Dondurma in Bebek, and Damla Dondurma in Sisli.
How to find the best food in Istanbul?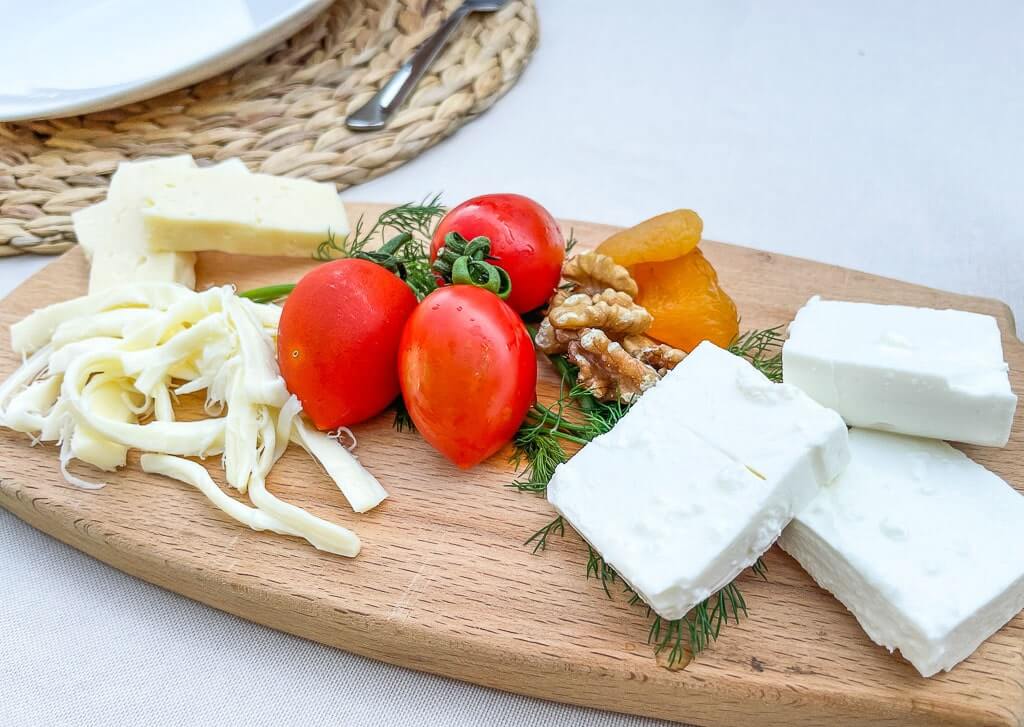 There are several ways to explore Istanbul's foodie scene – by taking food tours, befriending locals, exploring the city's famous food items and lesser-known delicacies on your own, or simply following this exhaustive Istanbul food guide that I have curated for all you lovely people.
If you're visiting Istanbul for a day or two, it makes sense to sign up for a nice food tour in Istanbul so that you can get a taste of everything in a short time.
The Taste of Two Continents Food Tour in Istanbul is one of the most popular ones in the market and also my favorite. It includes tastings in both European and Asian side of Istanbul and includes some unforgettable foodie experiences such has enjoying a spread of kahvalti, sipping on Turkish coffee, and tasting some popular (and unique!) Istanbul street food. Guests absolutely love this food tour for the abundance of food and the guide's in-depth knowledge. ▶️ MORE REVIEWS
If you do not wish to take a tour, then all you need to do is to read through this foodie guide and try all of Istanbul's must try foods on your own. Of course, you need a few days to do that (since there's lots to eat in Istanbul!). If you're in Istanbul for at least 3 days or more, then this food guide works best.
Top foodie experiences in Istanbul
Try some Kahvalti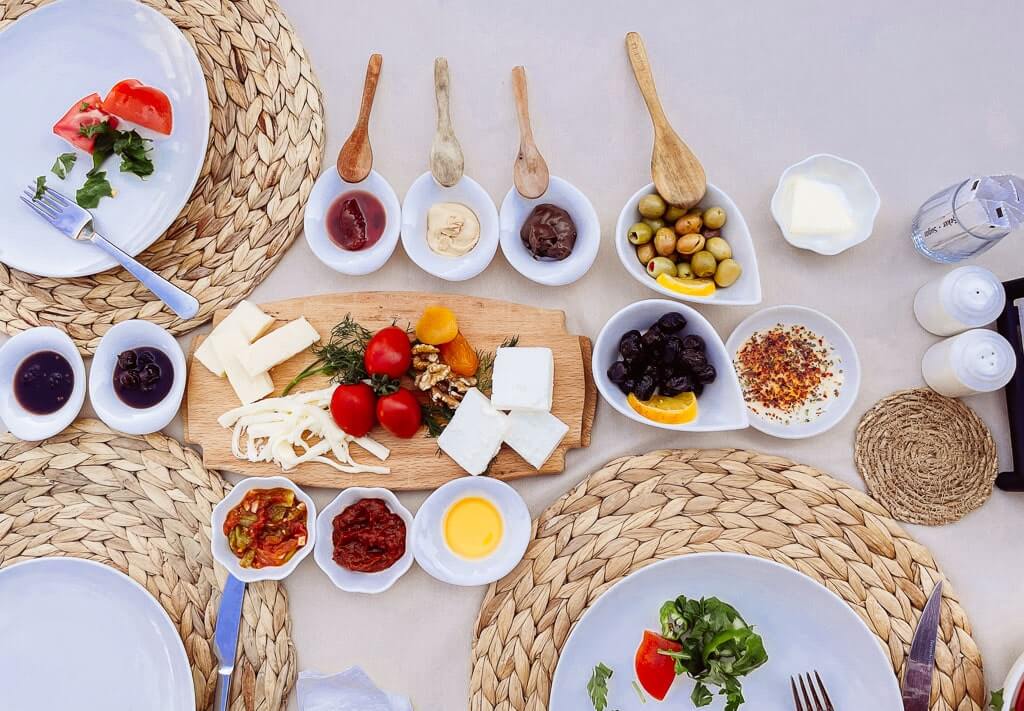 A traditional Turkish breakfast is called kahvalti. The kahvalti consists of a huge spread of bread, cheese, jams & spreads, cold cuts, eggs (ask for the menemen because that's delicious), and fresh fruits & vegetables. Kahvalti is usually enjoyed with friends and family and is a pretty regular affair in Turkish homes.
For travelers to enjoy this slice of Turkish culture, there are several restaurants in Istanbul which are known for their kahvalti spread. Van Kahvalti Evi in Beyoglu is one of the best places in Istanbul to sit down for a morning breakfast. Some of the other great choices are Hadika Kahvalti Evi in Sisli and Yigit Sofram Gozleme ve Kahvalti in Beyoglu.
Indulge in the Turkish coffee ritual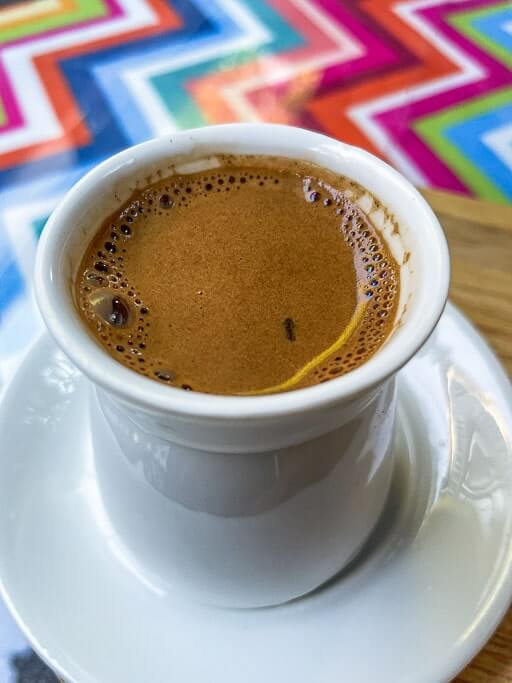 Like I have already described in the coffee section above, Turkish coffee is brewed slowly in a pot containing ground roasted beans, sugar, and cold water. It is served in small cups with the grounds along with a glass of water. Having a cup of coffee while sharing life happenings with friends and family is a very local thing to do.
Turkey has an age-old coffee ritual that's listed on the UNESCO list of Intangible Cultural Heritage.
Coffee lovers will love this immersive coffee experience that involves learning all about coffee making in Turkey, how they are stored, and tasting some amazing coffee at lesser-known local cafes.
Head to a rooftop restaurant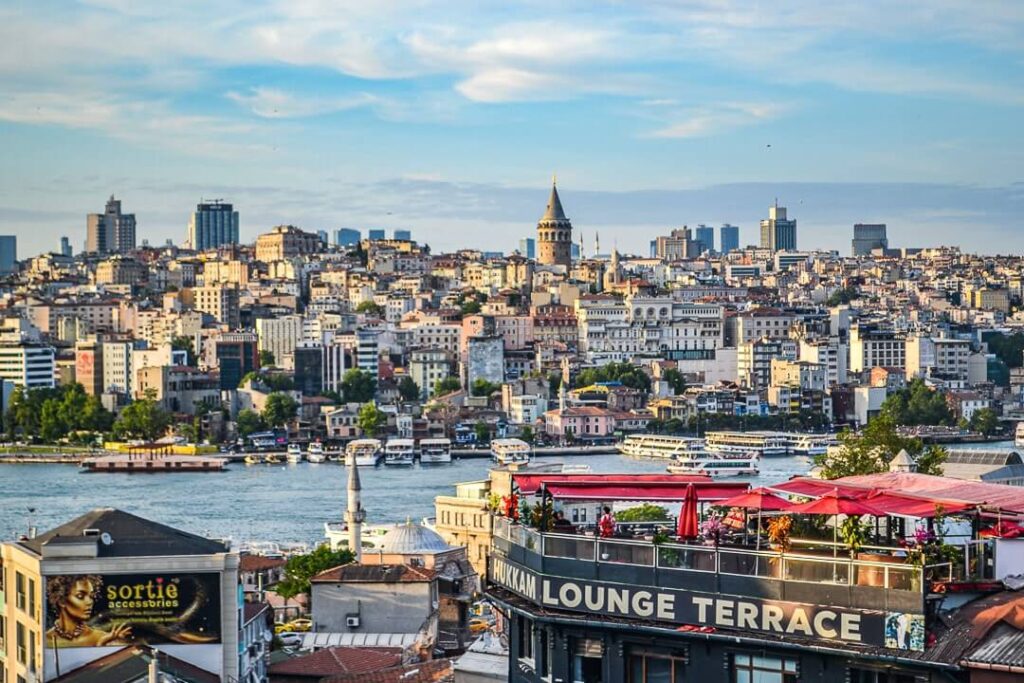 Rooftop restaurants are the craze in Istanbul and rightfully so. The views that you get over the Bosphorus and the Golden Horn while enjoying your meal are absolutely gorgeous. No doubt, they figure in this list of the most beautiful places to visit in Istanbul.
Heading to a rooftop restaurant with a panoramic view is a different way of enjoying food in Istanbul and a must-have experience.
360 Panorama Restaurant in the old city and Spago at St. Regis are two popular rooftop restaurants in Istanbul. A hidden gem that I truly loved was the Moroccan restaurant Al-Khayma which served some delicious tagine and Moroccan tea.
Enjoy a meal at the historic Pandeli Restaurant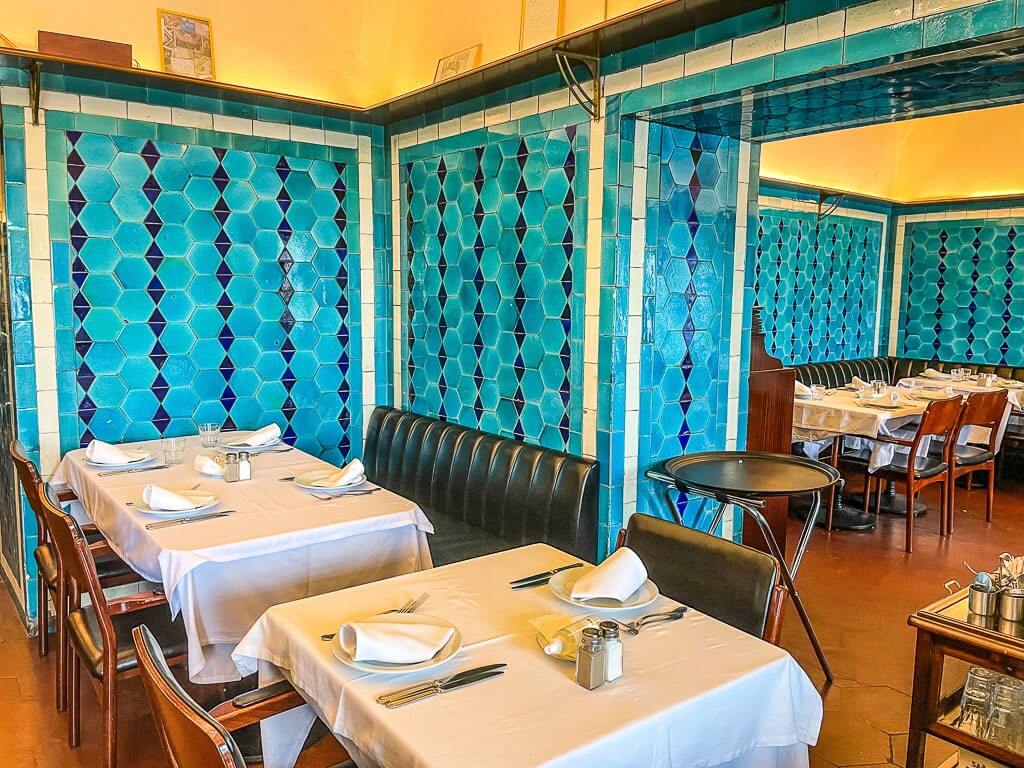 It was only by chance that I discovered the Pandeli Restaurant while leafing through a local brochure at my Istanbul Airbnb. And I am so glad that I did.
Pandeli is a Michelin star restaurant located in a small niche inside the Egyptian Bazaar/Spice Bazaar. It was opened by a Greek man called Pandeli who came to Istanbul more than a 100 years ago and sold meatballs on the street. Ever since, the restaurant has been doing brisk business and has attracted some famous people in history. Queen Elizabeth II, Audrey Hepburn, and Sean Connery are a few of them!!
Pandeli serves some unique Turkish and Anatolian Greek dishes that you'll have a hard time finding anywhere else. Be sure to order their lamb stew, eggplant salad, and caramelized chicken breast pudding.
Eat in a traditional Istanbul lokanta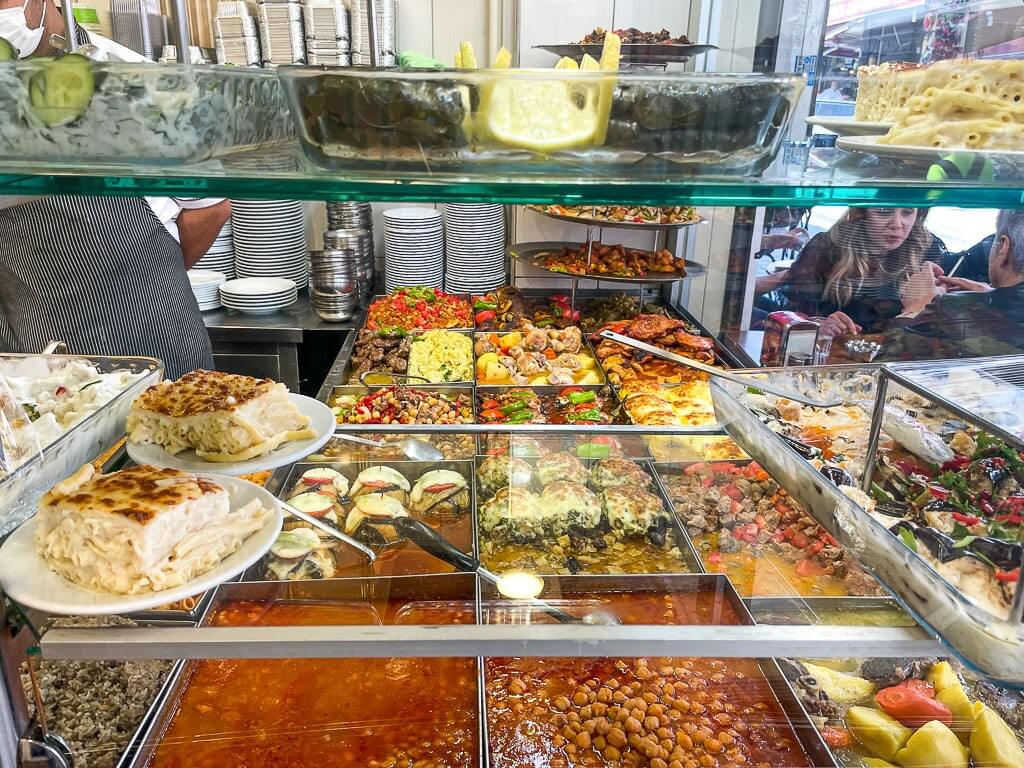 Lokantas are traditional Turkish restaurants or canteens that serve fresh, home-style food. There are starters, soups, mains, and deserts on the buffet menu.
The process of eating at a Turkish lokanta is extremely simple. Enter a lokanta, choose the dishes that you want on your plate, ask the man behind the counter to plate them for you, collect your plate, pay at the cash counter, and eat at any table that's available.
Food at a lokanta is cheap, fast, and full of flavors – which makes lokantas a favorite among locals. It is a great place to experience the tastes of Istanbul if you traveling on a budget.
When exploring Istanbul, you're bound to come across several lokantas on your walks. Some of the most popular ones are located near ferry terminals. One of our favorite lokantas in Istanbul was Balkan Lokantasi (which has many branches throughout the city). Lale Lokantasi in Beyoglu was another go-to place for us during our month-long stay in Istanbul.
Try Istanbul street food
Street food is big in Istanbul.
Many of the dishes that I have spoken about above, including simit, kumpir, doner, kokorec, and mussels, are abundantly available on the streets of Istanbul. Stuffed mussels or midye dolma are a favorite among locals while balik ekmek or fish sandwich is all about experiencing Istanbul's maritime history.
Eating street food in Istanbul is completely safe as long as you stick to hot, cooked food. Having dondurmas and fruit juices is also okay because they are prepared and sold in a completely hygienic manner.
You can explore Istanbul's street food scene on your own or sign up for a guided tour and taste the best that Istanbul has to offer. This guided street food tour also includes tours of local markets and a mix of both sweet and savory dishes. Check out more reviews here.
Wander through the fragrant alleys of Spice Bazaar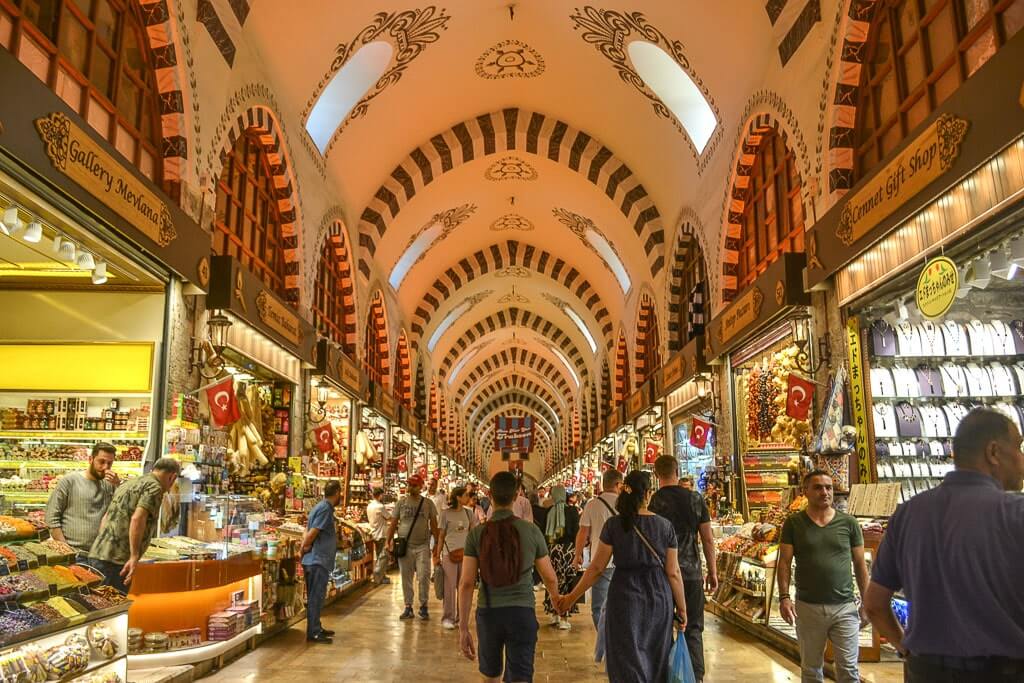 Wandering through the medieval bazaars of Istanbul is an amazing experience. The likes of Grand Bazaar and Spice Bazaar are not just shopping havens but also a welcome introduction into Turkish culture.
I especially love the Spice Bazaar because it is smaller and more compact than the Grand Bazaar and easy to maneuver. Plus, it is filled with food and spices. There are so many shops here selling good quality spices and freshly-made desserts such as Turkish delights, baklavas, and cezerye are available in tons.
Even if you have no plans to buy, walking through the fragrant alleys of the Spice Bazaar is an enjoyable experience. This Istanbul food lovers tour is one of the few tours in the market that includes a visit to the Spice Bazaar before you head off to taste some delicious local food.
📖 Related Read: Spice Bazaar is a great place to shop for souvenirs in Istanbul as are Grand Bazaar and Arasta Bazaar. For more information on souvenir shopping, refer to my detailed guide on Turkish souvenirs.
Join an Istanbul cooking class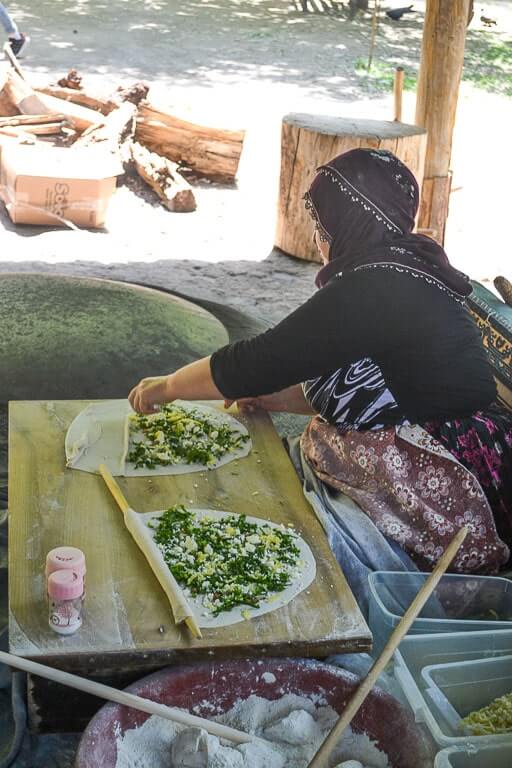 Signing up for a cooking class is a fun way to learn about the food culture of any country. I love taking cooking classes whenever I can find them.
The good news is that Istanbul has a really popular cooking class where you can get hands-on experience of making 3 popular Turkish dishes such as stuffed vine leaves, cheese pastries, and delicious kebabs. All this from a professional chef who knows the ins and outs of Ottoman cuisine. Find out more about the Turkish cooking class here.
Try some ethnic cuisines in Istanbul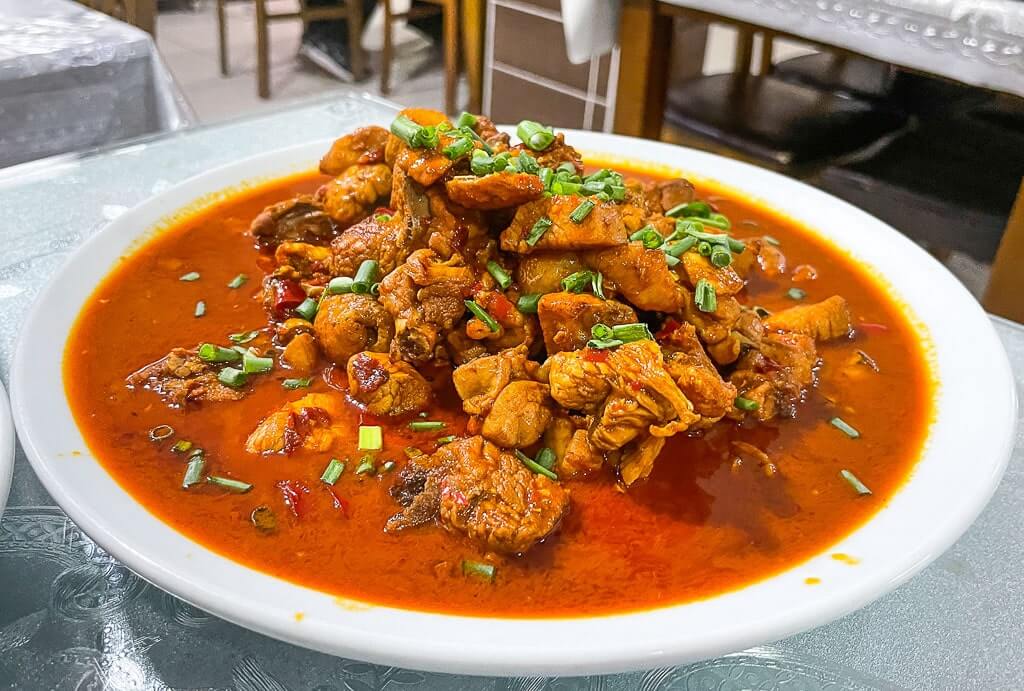 If you have had your fill of Turkish food in Istanbul and want to take a break, don't worry. We have the perfect alternative food plan for you – Ethnic Cuisines from Around the World!
As a foodie myself, I am always on the lookout for ethnic cuisines around the globe. World cities such as New York City, London, Paris, Berlin, and Istanbul usually have a large immigrant population. Therefore, they are amazing destinations for people who wish to try food from around the world.
In fact, NYC was where I first tried Ethiopian food and Paris was where I dug into some interesting Senegalese dishes. And Istanbul was the place where I tasted the fiery hot Uighur cuisine. There are plenty of ethnic restaurants in Istanbul, a lot of them located in the Aksaray district.
Based on a month-long culinary adventure in Istanbul, here are my recommendations for the best ethnic places to eat in Istanbul.
Join an amazing food tour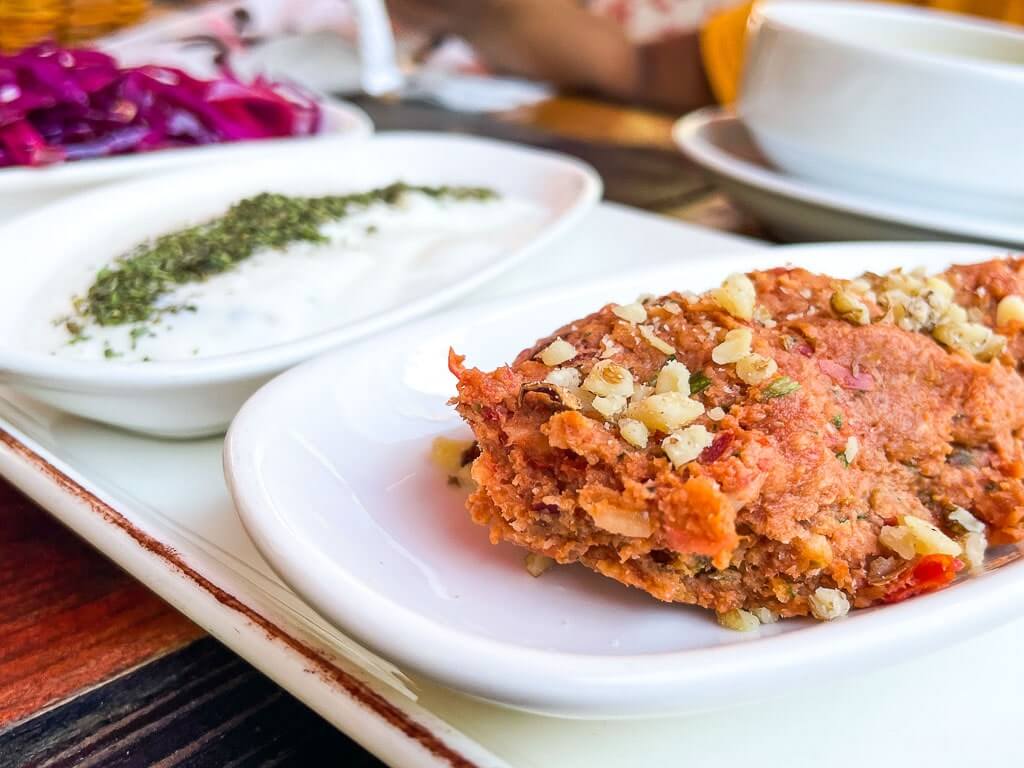 Food tours with locals are a great way to get to know the culture and cuisine of a place. The same is true for Istanbul. Food and drinks always have a special place in the heart of the people of Istanbul and that's why, it makes sense to see it through a local's eyes.
One of my favorite Istanbul food tours is the Taste of Two Continents Food Tour which has rave reviews in the market. On this full-day tour, you'll taste the delicacies of both European and Asian sides of Istanbul.
Explore a local market and enjoy a traditional kahvalti in the historic center and then head to Kadikoy to relish some of the best street food that Istanbul offers. The tour includes ferry tickets. Check out more 5-star reviews of the Two Continents Food Tour here.
Best places to eat in Istanbul
After talking all about my favorite foods and memorable foodie experiences, here's a list of the best places to eat in Istanbul. This isn't a restaurant list (I have listed the best restaurants under each food item above). It is more a list of best neighborhoods and traditional Turkish food chains that I totally adore.
Under the Galata Bridge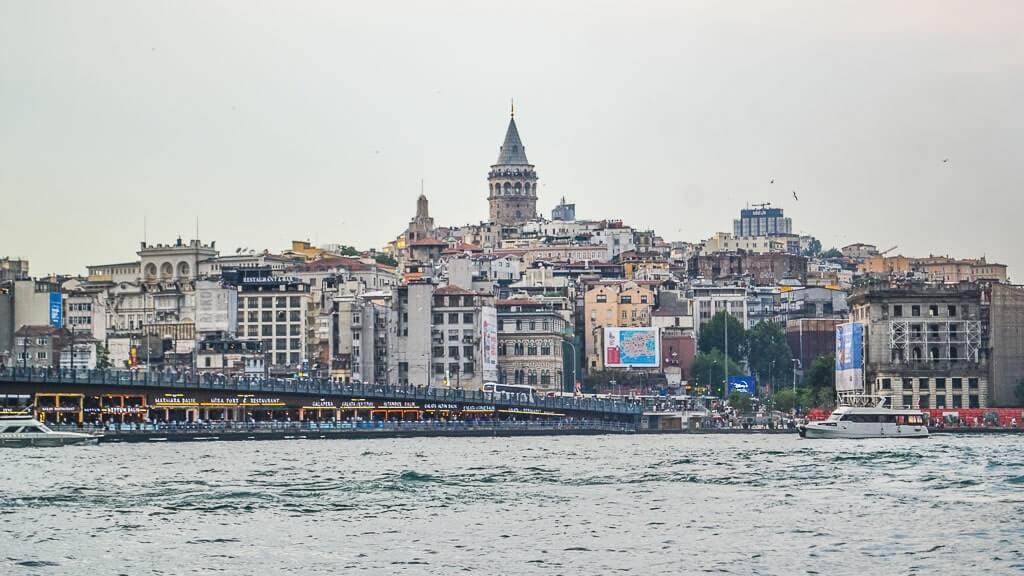 The Galata Bridge is one of the most happening places in Istanbul. This is a double-decker bridge that is the favorite hang out spot of locals.
On the top, you'll see hundreds of locals patiently waiting to catch fish and on the lower level, you'll find hundreds of restaurants selling the famous fish sandwich, balik ekmek. The food here is pretty cheap. It is also one of the best places to catch a gorgeous sunset over Istanbul's waterways.
Balkan Lokantasi
Lokantas are traditional Turkish restaurants that have been around for a long time in the cities of the Ottoman Empire. They are canteens which have a set menu and everything is displayed on the buffet. You simply have to choose what you want to eat, pay for it, and eat to your heart's content.
The best part about a lokanta is that food is delicious and homely, cheap, and fresh. If you do not like going to fancy restaurants and are not very sure of eating street food, then the lokantas should be your go-to place. They were ours whenever we fancied some good, comfort food in Istanbul.
Balkan Lokantasi is a famous lokanta chain that dishes some good Turkish food in Istanbul. Be sure to try them when you are here. Click here to see the locations of all Balkan Lokantasis in Istanbul and you can select whichever is closest for you.
Street food stalls near Ortakoy Mosque
This was one of our secret finds in Istanbul and we totally loved the foodie street behind the Ortakoy Mosque. Apart from tasting kumpir here (which is the highlight), we found many other Turkish delicacies such as lokma and dondurma here.
And guess what? There was hardly a tourist in sight. Only locals! A local musician was playing a nice tune and a couple started dancing to it. Totally loved the vibe of this place.
📖 Related Read: Apart from the main tourist attractions, Istanbul is full of hidden gems like the Ortakoy Mosque. To learn how to visit them, check out our guide on the 23 Best Secret Things to do in Istanbul.
Hafiz Mustafa 1864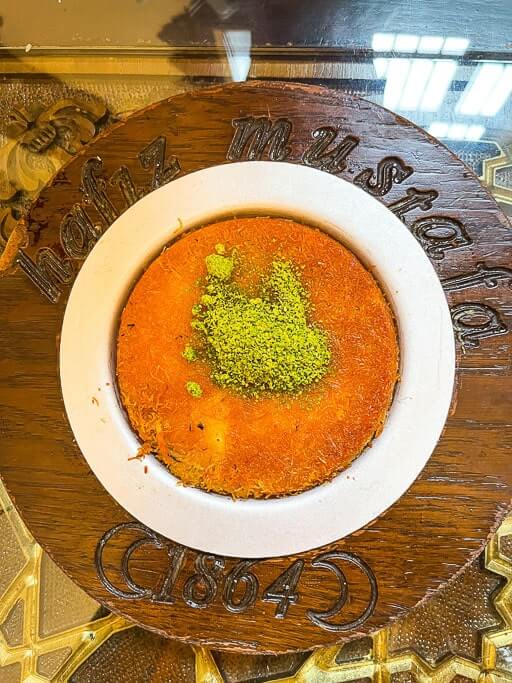 Hafiz Mustafa 1864 is not just a restaurant, it is a tradition in Istanbul. Headquartered in Istanbul, Hafiz Mustafa was founded by Ismail Hakki Bey in 1864 and has continued to sell desserts and sweetmeats ever since. That makes it one of the oldest confectionery stores in the world!
Even today, Hafiz Mustafa 1864 is every local's favorite for a box of Turkish delights and baklava, a plate of cheesy kunefe, or simply some coffee. The huge, swanky stores feature umpteen varieties of Turkish desserts that can take a month to sample.
Today, Hafiz Mustafa has several stores in Istanbul (the Sirkeci one being my favorite), Turkey, and even one in Dubai. Adding Hafiz Mustafa to your Dubai itinerary should be fun, right?
Chic neighborhood of Kadikoy
Many good food tours of Istanbul include the chic neighborhood of Kadikoy, on the Asian side of Istanbul.
Kadikoy is the most hip neighborhood of Istanbul and is full of incredible restaurants, cafes, and bars. This place is known for its good food and bustling markets, hence a must-have on every foodie's Istanbul itinerary. Some of the best restaurants to check out in the Kadikoy area are Ciya Sofrasi, Kem Kum Egyptian Vegan Food, and Pide Sun.
If you'd like to visit Kadikoy on a guided tour, check out this amazing Taste of Two Continents tour that covers the Kadikoy area in Istanbul.
The melting pot area of Aksaray
Aksaray is the immigrant neighborhood of Istanbul and therefore, filled with eateries from everywhere around the world. We discovered some of the least-known world cuisines here.
Uighur cuisine and Yemeni cuisine were the ones that totally wowed us! If you'd like to get restaurant recommendations, check out our section on ethnic cuisines here.
Often, immigrant areas are tagged as unsafe. However, we had several meals in the Aksaray area and felt completely safe during our visits. But in case you're worried about your safety, feel free to check out Aksaray restaurants during the day and avoid the night hours.
Loved our Istanbul food guide? Pin it for later!