Last Updated on September 21, 2023 by Soumya
Are you looking for the best things to do in Puebla Mexico? Wondering what to add to your Puebla sightseeing trip? Visiting Puebla for the first time and clueless about what to see?
I get it. I was in the same boat a few weeks ago until I decided to spend a month in Mexico City and go, see Puebla City for myself.
Located just 2.5 hours from Mexico City, Puebla is a wonderful day trip destination but I highly recommend that you spend at least a couple of days here to experience all (well most!) Puebla attractions.
I spent a few days in Puebla simply wandering through its quaint streets and clicking pictures of colorful, tile-laden buildings. Of course, there are more amazing things to do in Puebla than just wandering around.
Visiting the impressive Puebla Cathedral, checking out the unique Palafoxiana Library, taking a day trip to the Great Pyramid of Cholula, and stuffing yourself with mole poblano and dulce tipicos are just a few of them!
So, are you excited to know all about the best things to do and places to visit in Puebla, Mexico? Then let's get started!
---
Please note: This post may contain affiliate links which means I may earn a commission if you make a purchase by clicking a link on this post. This will be at no additional cost to you. Affiliate links help me keep this website up and running. Thanks for your support!
---
About Puebla, Mexico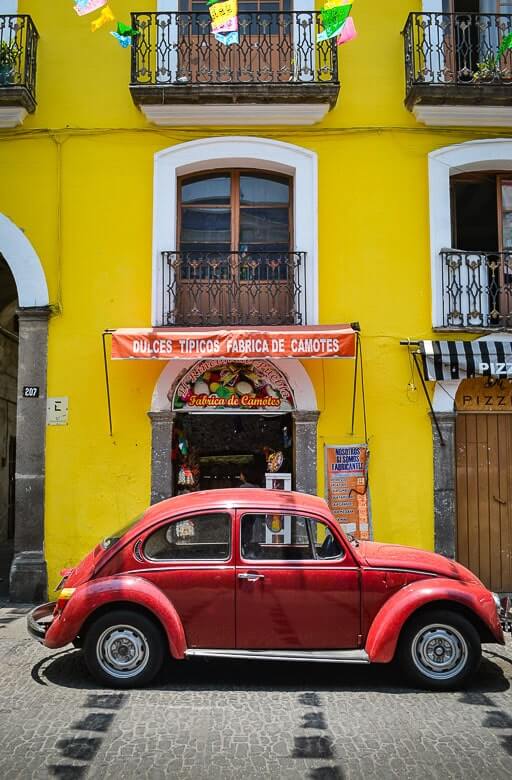 Puebla is a state located in east-central Mexico. The capital city of this state is known by several names – Puebla de los Angeles, Puebla de Zaragoza, Puebla City, and more commonly just Puebla. In this travel guide, we're going to talk about Puebla City and will refer to it as just Puebla.
In 1531, the Spanish formed the city of Puebla over an existing native town called Cuetlaxcoapan. Puebla was strategically important to the Spanish because it lay right in the middle of the trading route between Port of Veracuz and Mexico City.
Over time, Puebla City prospered and became home to many ornate baroque churches and plush residences that were almost inevitably covered in Talavera tiles, giving them a classic Puebla look.
Puebla gained national importance when it became the site of the Battle of Puebla on 5th May, 1862. Mexicans defeated the French in this battle and the day came to be celebrated as Cinco de Mayo. Today, Cinco de Mayo is mostly celebrated in Puebla and in the USA as a recognition of Mexican heritage.
Puebla City and the state are rich in cultural heritage. It is the hometown of mole poblano, chiles en nogada, cemita sandwiches, china poblana dresses, Talavera tiles, and so much more that we're going to talk about in this ultimate Puebla bucket list.
How to get to Puebla from Mexico City?
Getting to Puebla from Mexico City by bus, car, or by a guided tour is easy.
Taking an ADO or AU bus from TAPO bus station / Mexico City Airport / Terminal Santa Maria Acatitla is the cheapest way to get to Puebla. Buses leave several times every hour, every 10-15 mins if I remember correctly. You can check schedules & availability and book your bus tickets on the busbud website here.
If you'd prefer to drive to Puebla on your own, go on and rent your car here.
Top things to do in Puebla Mexico
Marvel at the Basilica Cathedral of Puebla
The most unmissable thing to do in Puebla is to visit the Basilica Cathedral of Puebla or the Cathedral of Our Lady of the Immaculate Conception or just Puebla Cathedral. Located right in the heart of the city, this massive cathedral is the most famous landmark in Puebla and a most visited attraction.
Puebla Cathedral is a stunning example of Mexican Baroque architecture built between the 16th – 17th centuries. It is huge and has numerous chapels adorned with sculptures and paintings that tell stories of faith and religion.
The cathedral is located on the southern edge of the Zocalo and pretty much fills it up. It is beautiful during the day but try and come here at night when the cathedral lights up revealing its many colors. That's a pretty sight to see.
Soak in the vibe of the central plaza
Spend some time soaking in the vibes of the Zocalo, Puebla's central plaza.
Puebla's Zocalo is a happening place with both locals and tourists frequenting it throughout the day. Several monuments and sculptures also dot the central square including the majestic San Miguel Arcangel Fountain, a contemporary kiosk, and the Monument of Siege.
Located right next to the Puebla Cathedral, the Zocalo is always abuzz with activity by visitors, street food vendors and musicians. When I last visited in May this year, Cinco de Mayo celebrations were in full swing and I quite enjoyed the festive vibe.
You'll also see numerous restaurants and cafes surrounding Puebla's Zocalo making it the perfect place to sit and watch the world go by.
Head to Museo Amparo
One of the best historic things to do in Puebla City is to visit the famous Museo Amparo.
Founded in 1991, the Amparo Museum is an absolute treasure house of Mexican art from all eras – the pre-Hispanic civilizations, the Viceregal (19th and 20th centuries) times, and the contemporary. The Viceregal display is especially fascinating because it depicts a 19th-century Puebla mansion with its exquisite collection of silverware, furniture, porcelain, and art.
Apart from all these exciting art displays, the Amparo Museum also has a terrace cafe which gives you the most stunning view of the city of Puebla and beyond. If you want, you can only pop in the restaurant for a drink and the view.
Museo Amparo is open from 10:00am – 6:00pm, Wednesday – Monday.
✦ Pro Tip: Schedule an English guided tour with them on their official website here because most signs and labels are in Spanish.
---
Marvel at Biblioteca Palafoxiana
Visiting Biblioteca Palafoxiana or the Palafoxiana Library is one of the best things to do in Puebla.
Dating to 1646, Palafoxiana Library is America's oldest public library and has a treasure house of more than 45,000 books from the 15th – 20th centuries.
The library's Mexican Baroque architecture coupled with the fact that this was the only religious-order library that was continuosly conserved since its inception make Biblioteca Palafoxiana an unmissable place to visit and worthy of being listed as a UNESCO Memory of the World.
Biblioteca Palafoxiana is located in the historic center in the Casa de Cultura building. They are open 10:00am – 5:00pm, Tuesday – Sunday.
You can visit Palafoxiana Library on your own – tickets cost around 45 pesos. If you'd like to take a guided tour instead, this private city tour shows you the best that the library holds.
✦📖 Related Read: Mexico City also has a unique library called Biblioteca Vasconcelos. If you love visiting libraries and checking out interesting architecture, you can learn all about Biblioteca Vasconcelos in my post on 20 Non-Touristy Things to do in CDMX.
Learn at the Museum of Mexican Revolution
A small but interesting museum that delves into the history of Mexican Revolution.
The House of the Serdan Brothers or the Regional Museum of Mexican Revolution in Puebla is a 19th-century house that was the site of the first revolutionary battle that happened on the 18th of November, 1910.
Step in to see exclusive war memorabilia such as documents, weapons, and photographs as well as interesting recreations of the rooms that were once home to the Serdan family. Perhaps the most moving display is the room that has a broken mirror and walls pockmarked by bullet holes, heralding the beginning of the revolution.
Visit Capilla del Rosario
Of all the things that I did in Puebla City, a visit to Capilla del Rosario, the chapel attached to the Santo Domingo Church was a highlight. I had never seen anything so beautiful in my life.
The chapel is a stunning example of Mexican Baroque architecture with a breathtaking interior. Each and every corner of the chapel is covered in golden leaf and the detailing in the sculptures is mind-blowing. Unfortunately, taking pictures inside the chapel is not allowed but you can look at some pictures on the official website here.
The front facade of the church (baroque wall in gray) is quite plain when compared with the inside. But the red and white side walls add a zing of color to the church, thus making it the perfect photo op.
The church is closed on Mondays and open 9ish to 6ish every other day with a break in between. Hours are available on the above link.
Visit the ex-convent of San Francisco
Located at a walking distance from the historic center, the Convent of San Francisco is an architectural masterpiece that's often skipped. Therefore, you'll find this church virtually empty or filled with a few locals.
With a red facade covered in tiles and bright yellow side walls, the Convent of San Francisco is one of Puebla's most beautiful buildings. It is dedicated to Franciscan Apostles and is believed to be one of the first baroque churches of Puebla. The colors of the church, its architecture, and a rich collection of frescoes inside are definitely worth a look.
Check out some more beautiful Puebla churches
Puebla is the city of churches. Legend has it that Puebla was built by angels, after all. A study tells us that there are nearly 300 churches in Puebla. Wow!
If you love old baroque churches, then Puebla is the perfect place to go church hopping. We stepped into several churches while wandering the colorful streets of Puebla. Two churches that really caught my eye (because of their stunning architecture) were Templo San Felipe Neri La Concordia (Google Maps) and Templo de la Compania (Google Maps).
Explore the Regional Museum of Puebla
The Regional Museum of Puebla, often skipped for the more popular Museo Amparo, is the largest ethnographic museum in the city, dedicated to the preservation of Mexican culture and history.
Run by INAH, Puebla's Regional Museum has four large galleries that hold thousands of artifacts and artworks related to Pre-Columbian cultures, the Viceroyalty period, and the Mexican War of Independence. They have a nice virtual tour here that you can refer to before visiting.
Walk through the colorful Los Sapos
Enjoy a walk through the charming Los Sapos street dotted with quaint houses featuring colored facades, wrought-iron balconies, and impressive doors. Come weekend, the entire street turns into an antique market filled with old coins, vinyl records, and decorative handicrafts.
The name "Los Sapos" literally translates to the Alley of Frogs. Don't know why it is named that way but everything that you see here is perfect and beautiful. Possibly, the frog changed into a handsome prince!
If you're looking for a relaxing activity in Puebla, take a stroll through the charming Los Sapos.
Click a picture or two at the Puebla letters
A fun thing to do in Puebla is to click amazing pictures at the Puebla letters. There are several versions around the city including one very colorful letter set at the Zocalo, right in front of the Cathedral. If you're looking for that perfect picture for your gram, then Puebla colorful letters might just be the best spot to get that.
Try local candies at Calle le los Dulce
Puebla is known for its traditional sweets called dulces tipicos (translation – typical sweets). It would be a crime to leave Puebla without picking up some dulces tipicos for your stash of foodie souvenirs. And there's just the perfect place to do that – Calle de los Dulce or the Sweet Street of Puebla.
Some of the must-try dulces tipicos in Puebla are camotes (sweet potato candies – the most popular Puebla sweet), Santa Clara cookies (made from flour, water, sugar, and butter), cocada al horno (shredded coconut sweet), and palanqueta (candied peanut brittle).
History tells us that the art of Pueblan confectionery making originated in convents where nuns often tried their hands at making different kinds of sweets. Isn't that so similar to the history of Portuguese desserts which also originated in convents and monasteries? Food for thought!
Dig into some mole poblano
The best food to try in Puebla, Mexico is to try mole poblano, of course.
Don't forget to taste Chiles en Nogada
A traditional Mexican dish invented in Puebla, Mexico in the 19th century, Chiles en Nogada is made from green poblano pepper or chile stuffed with a mixture of spicy ground meat, fruits and spices, topped with a creamy walnut sauce (called "nogada") and garnished with pomegranate seeds.
If you notice, Chiles en Nogada has exactly the same colors as the Mexican National Flag – green, white, and red. Therefore, it is often called the "most patriotic dish of Mexico" and you'll find it being sold in all popular restaurants in Puebla around the time of the Mexican Independence Day in September.
The best places to try chiles en nogada in Puebla are El Mural de los Poblanos and El Sombrero Restaurante.
📖 Related Read: Are you a foodie and looking for exciting foodie experiences? Then, check out our exclusive Puebla Food Guide with the 17 best things to eat in Puebla.
---
Try local Puebla flavors at Mercado de Sabores
Want to visit a local market in Puebla? Try Mercado de Sabores or the Market of Flavors.
Visiting Mercado de Sabores is absolutely one of the best things to do in Puebla because this place is an absolute haven for foodies like you and me.
Set up by the government for the promotion of Pueblan gastronomy, the Flavors Market features several counters offering all kinds of local food – tamales, cemitas, molotes, and the more common mole and chiles en nogada. You'll find all kinds of drinks here too – juices, horchata, pulque – you name it.
Just order what you like, pick your food, seat yourself at a table, and enjoy your food.
Sign up for a food tour
All this food talk has made me hungry and now I am itching to go on a Puebla food tour with a local. Aren't you too?
Watch a play at Teatro Principal
The main theater at Puebla or Teatro Principal is an impressive yellow building that's been hosting plays since ages. In fact, it is the oldest theater in the Americas that's still active now!
Dating to late 18th century, Puebla's Teatro Principal was first known as Corral de Comedias. Fires, destructions, and multiple names later, Teotro Principal is a lively place today and the most happening spot in Puebla. Plays, operas, musical concerts, dances, and local festivals – you can experience all of that here. Check the latest play schedule on their twitter page here.
Shop at the Parian Artisan Market
With its long history of talavera tiles, textiles, and delicious sweets, Puebla offers every traveler countless opportunities to shop. And the Parian Artisan Market is the best place to pick some cool Puebla souvenirs. Spread over two streets, this is one of Puebla's oldest artisan markets and a must-have on your Puebla bucket list.
At the El Parian, you'll find all kinds of Mexican crafts including the traditional Puebla dresses called the China Poblana and silver jewelry. You'll also find many shops selling Talavera pottery though I highly recommend that you purchase those from authentic shops (the ones that give you certificates).
Eat at a museum restaurant
I had a pleasant dining experience at a museum restaurant in Puebla called Museo Casa del Mendrugo (Google Maps). They serve some good food and the small museum attached to it tells a great story.
An ancient burial site, over 3,500 years old, was found underneath the building that houses the restaurant and museum. Thanks to the discovery, you can see the skeletal remains of Chuchita, Puebla's oldest resident here. The museum's collection of intricately-carved Zapotecan skulls is eerie but interesting.
They are open 10:00am – 6:00pm, Monday – Sunday. If you're dining here, you can visit the museum for free. Otherwise, there's a small charge of 50 pesos which is waived off on Wednesdays!
Stay in a historic mansion
One of the best attractions of Puebla that was also an important reason for me to visit the city was the opportunity to stay in a heritage mansion in the city center.
The Historic Center of Puebla is chockfull of historic buildings that are architectural masterpieces. These buildings have facades covered with Talavera tiles and sport a unique fusion of European and American architectural styles. Many residential buildings have now been converted into boutique hotels that provide their guests with an exclusive experience of colonial Puebla.
It was my dream-come-true to stay in one such Puebla mansion called Casa de la Palma. With elegant wooden furnishings, winding staircases, and a balcony that opened up to a bustling Puebla street, Casa de la Palma (Expedia | Booking) took me right back to Europe!
Visit the National Museum of Mexican Railroads
Mexico has a long history of railways but not everyone knows about it.
Ferrocarriles Nacionales was Mexico's state-owned railway company that closed its doors in 1997. The only long distance train that runs in Mexico now is the Copper Canyon Train or El Chepe that rides through some of the most scenic landscapes in the country. All other passenger train services have shut down.
If you'd like to find out more about the railway industry in Mexico, its rise and demise, there's no better place to visit than the National Museum of Mexican Railroads.
Located in Puebla City, the Mexican Railroad Museum is an open air museum with a variety of trains on display. From passenger coaches of different classes to steam locomotives and freight cars, you'll find all kinds of trains here. This place is a true haven for all locomotive enthusiasts.
Ride the Puebla Ferris Wheel
Did you know that Puebla has a ferris wheel? Yes, a really big one too. With a height of over 250 feet, Estrella de Puebla is the world's tallest ferris wheel that is surprisingly portable too.
From the Ferris Wheel, you can get some amazing views of Puebla city including those of Popocatepetl and Iztaccihuatl twin volcanoes. The ride last approximately 20 mins and gives you the right amount of time to explore the stunning views from above.
If you come here at night, you can catch the twinkling lights of the city from above and enjoy the nightlife in the restaurants and clubs surrounding the wheel. There's also a set of colorful Puebla letters here for you to snap some great pictures.
Update: Unfortunately, the Puebla Ferris Wheel has been closed to public since the pandemic. There's no news when it will open up. My sources tell me that it is permanently closed now!
Best things to do near Puebla
Visit the Great Pyramid of Cholula
One of the best things to do in Puebla is to visit the Great Pyramid of Cholula or Tlachihualtepetl located less than 10 miles away.
You'll be surprised to know that Great Pyramid of Cholula is actually the largest pyramid in the world by volume with a base many times larger than that of the Pyramid of Giza. Built around 300 BCE, this massive pre-Columbian pyramid was a shrine dedicated to Quetzalcoatl, Aztec God of Wind.
Hike up to the Church of Our Lady of Remedies
The beautiful yellow church on the top of the Great Pyramid of Cholula is the Church of Our Lady of Remedies or Iglesia de Nuestra Senora de los Remedios.
This neoclassical church was built by the Spanish in 1570s and is adorned with real gold panels and leaves. It is dedicated to Our Lady of Remedies and attracts devotees from all over the world. If you get lucky like we did, you'll catch a local procession on the way.
It takes a 15-min hike to get to the church from the Cholula Archaeological Site but is well worth it. The views of Puebla City and its pretty churches from the top are stunning and the church is an absolute masterpiece.
Take a Talavera factory tour
You cannot leave Puebla without buying some Talavera pottery. Or even better, without doing a Talavera factory tour.
I did a tour with the team at Talavera Santa Catarina. The owner, Simona Capasso was kind enough to show me around the factory and explained all about the art of Talavera pottery making.
The tour is free and you can book a slot with Simona here. It is a nice gesture to buy something from their showroom after the tour ends. They have a wonderful collection of authentic Talavera pottery (I picked up a really pretty fruit bowl for my home).
Experience the magic of a hacienda
Haciendas are huge estates that were prime production centers in Spanish America. Plantations, mines, factories, animal farms – there were haciendas for everything. Sometimes, haciendas encompassed entire towns, including churches, schools, workshops and other amenities for the peasants living in them.
Over 8,000 haciendas flourished in Mexico during colonial rule but their influence declined after independence. Haciendas often included a sprawling mansion with other buildings such as kitchens, servants quarters, and barns. Many even had their own churches!
Today, many of these haciendas have been renovated and opened as luxury hotels and wedding venues. Staying in a hacienda is one of the most luxurious things to do in Mexico.
Take a day trip to see more churches
A visit to Puebla City is incomplete without visiting some extraordinary churches. I am not talking about the Puebla Cathedral or the Temple of Santo Domingo here, rather some exquisite Talavera-clad churches that lie outside the perimeter of the city.
The three most amazing churches that I visited from Puebla were the Temple of Santa Maria Tonantzintla (a beautiful Baroque church with an indigenous twist), San Francisco Acatepec (known for its red brick facade covered all over with Talavera tiles), and Parroquia San Bernardino (an exquisitely ornamented church in red).
Keep an eye out for my article on Puebla churches coming up real soon.
Discover the Cantona ruins
If you'd like to see more historic things in Puebla, I recommend that you head to the Archeological Site of Cantona.
Located about 62 miles northeast of Puebla, Cantona is pre-Hispanic archeological site that was once a sprawling city with tens of thousands of residents.
Hike a volcano
If you're looking for the best adventurous things to do near Puebla, I would suggest go hike a volcano. Why? Because the Popocatepetl active volcano is located right next to Puebla City.
Hiking in the Popocatepetl and Iztaccihuatl National Park is an exciting thing to do. On this highly-recommended hiking tour from Puebla, you'll hike to more than 10,000 feet on the twin volcanoes, explore the unending wilderness of Mexican mountains, and also get a chance to go zip-lining or immersing yourself in eco-tourism activities. ↳ Check tour reviews here before booking.
I always recommend checking Tripadvisor's Puebla Travel Forum for latest volcanic activity in the area before planning your trip.
Enjoy an African safari experience
Looking for an African safari experience in the heart of Mexico? Head to the Africam Wildlife Park.
One of Mexico's best wildlife parks, the Africam Safari is home to over 350 species of animals including elephants, zebras, giraffes, and rhinos. They have different kinds of experiences available such as picnicking in the wild, open jeep safaris, and intimate experiences with elephants, giraffes, rhinos, and more.
A percentage of all purchases at the safari park goes towards conserving wild animals in Africa. The team at Africam Safari aims to give its visitors an immersive wildlife experience in an environment that's safe for both the animals and the visitors.
Book your Africam Safari admission ticket and transportation from Puebla here.
Head to the magical town of Cuetzalan
A pueblo magico in the Sierra Norte mountains, Cuetzalan is a small hilly town featuring a quaint historic center, cobbled streets, and hundreds of traditional Mexican houses. The archeological zone of Yohualichan, a pre-Hispanic site built by the Totonac people, and Cascada las Brisas waterfalls add to the touristic appeal of Cuetzalan.
Explore the charming town of Zacatlan
One of the prettiest magical towns to visit near Puebla is Zacatlan de las Manzanas.
Nestled cozily in the Sierra Norte Mountains, Zacatlan de las Manzanas is famous for apple production and is often called the birthplace of cider.
Zacatlan also has a long tradition of watchmaking. It is home to Relojes Centenario, Latin America's first clock factory. There's a huge and impressive floral clock in the historic center which is a must-see. The last floral clock that I saw was at the Harry Leu Gardens in Orlando, Florida. Have you seen any? Let me know in the comments.
Other Zacatlan attractions include an old Franciscan Convent, unending rows of murals, and several waterfalls and zip-lining activities in the forests surrounding the town. Zacatlan also works as a good springboard for day trips to other pueblo magicos such as Chignahuapan, Tlaxco, and Huauchinango.
Discover Atlixco and Atlimeyaya on a private tour
Want to get out of Puebla City and do something different? Sign up for this private tour to Atlixco and Atlimeyaya that includes a trout farm and nursery visit as well as some incredible tastings of mezcal and local ice cream.
Interactive Map of Puebla Attractions
Best time to visit Puebla, Mexico
Puebla has a temperate climate with temperatures ranging between 55-70 throughout the year. Dec – Feb are the coldest months of the year whereas Jun – Sep are the wettest.
The best time to visit Puebla is from Mar – May or mid Sep – Oct when temperatures are ideal and days are dry. If you don't mind the cold, then Nov – Feb also works.
How to get around Puebla, Mexico?
The best way to get around Puebla is by walking. The historic center is laid out in a grid and most attractions are located within walking distance of the Zocalo, making Puebla a perfectly walkable city.
You can also do the Hop-on Hop-off City Bus Tour that runs from 9:00am – 9:00pm, Monday – Sunday.
If you'd like to visit places like the Great Pyramid of Cholula, Zacatlan, Atlixco, and Cuetzalan, you can either hire a car or sign up for a guided tour. Local buses also run in these routes but I wouldn't really recommend those because there are no fixed schedules.
Puebla Mexico Travel FAQ
Loved our Puebla things to do guide? Pin it for later!