Last Updated on April 28, 2021 by Soumya
Udupi, the culture capital of Coastal Karnataka, has a ton of interesting things to do. One of them is making a trip to the unique St. Mary's Island off the coast of Malpe beach. Now what is so unique about this Malpe island, you will ask me? Let's read on to find out.
For one, St. Mary's Island is blessed with stunning natural beauty. Think golden sands under your feet, tall palm trees grooving to the music of the wind, and white foamy waves crashing against the rocks. Second, this island is special because it has these unique hexagonal, basalt rocks that were formed million of years ago when Madagascar broke away from the Indian subcontinent. Yes, we are literally talking about a relic from prehistoric times.
In my travel guide to St. Mary's Island in Malpe, we are going to learn all about
All the amazing things that you can see and do at St. Mary's Island on a half-day trip from Malpe.
How to plan your trip here including ferry details, costs, and other logistics?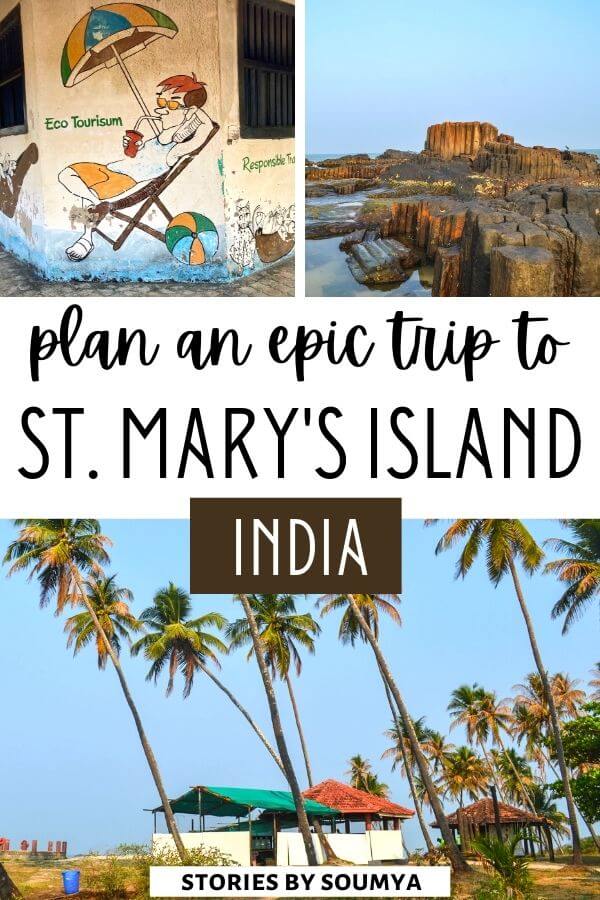 St. Mary's Island Malpe: Brief Introduction
St. Mary's Island is actually a collection of 4 small islands in the Arabian Sea, just off the coast of Malpe beach. The 4 islands are called Coconut Island, Darya Bahadurgarh Island, North and South Islands. Collectively, they are also known as Coconut Island or Thonsepar. When you visit, you will be doing a tour of the Coconut Island that is open to public.
Rare geological formations in form of hexagonal basalt rocks make the island group a unique place to visit in coastal Karnataka. Also, the reason why St. Mary's Island was classified as National Geological Monument in 2001. Come let's dig deeper into what made these islands so special.
Where is St. Mary's Island?
St. Mary's Island is located in the Arabian Sea right off the coast of Malpe beach in Karnataka. Very often, it is also referred to as the Malpe island of Udupi. A short ferry ride (15 minutes | INR 400) can get you from Malpe to the island. [More on that in the FAQ section]
Looking for more things to do at Malpe beach? Check out our 9 best recommendations!
History of St. Mary's Island
St. Mary's Island in Malpe has an interesting history. It is believed that Vasco da Gama first landed here in 1498 before sailing unto Kozhikode in Kerala. He planted a cross on the island as a dedication to Mother Mary and that's how this group of islands got its current name.
However, the history of this island group goes back even further. Roughly 88 million years ago when Madagascar was attached to India! When the two land masses separated, it gave rise to hexagonal and polygonal basalt rock columns which are to be found nowhere else in India. Only other places in the world where you can find such unique rock formations are at the Giant's Causeway in Northern Ireland and several spots in Iceland.
Best things to do on St. Mary's Island
Even though St. Mary's Island is not a huge place (the ferry takes us only to the Coconut Island), there are so many exciting things you can do there. You can easily plan this as a half-day trip from Malpe. Here are my 5 favorite things to do on this Malpe island.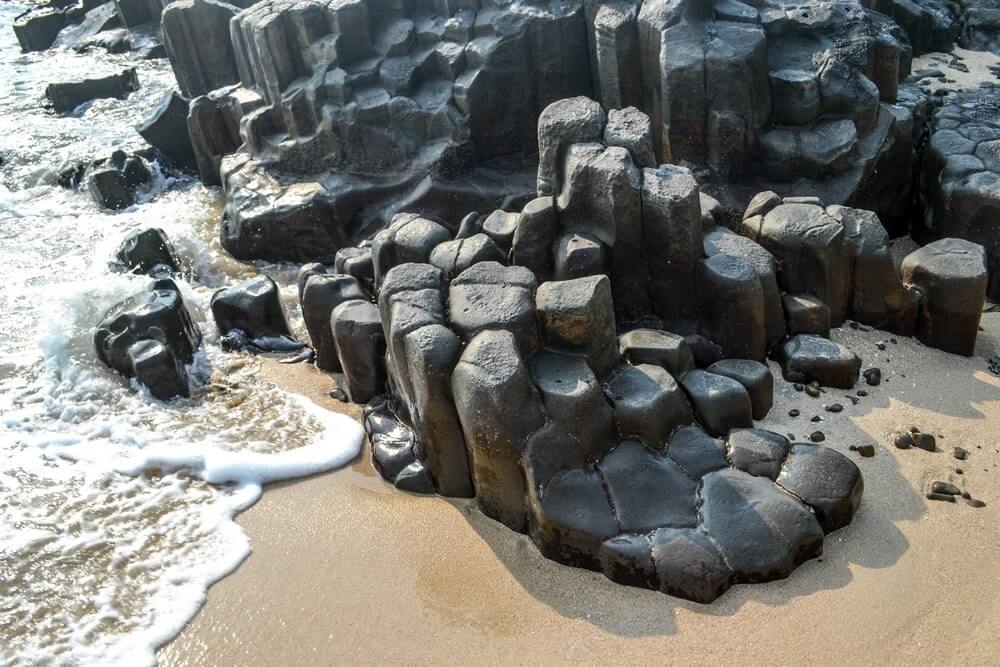 Learn all about the giant basalt rocks
Like we have already spoken, this island is full of hexagonal basalt rocks that were formed when Madagascar rifted away from India. It is fascinating to realize that these rocks have been there for millions of years now and have seen so much. A bit of pre-reading can fill you with wonder when you get to see these rocks.
Explore a beach filled with shells
What is interesting is that the island has two beaches – each of them different. The one where you alight from the ferry is filled with soft white sand like any typical Karnataka beach. But the other one right at the end of the island is filled with sea shells. Yes, there are so many of them you cannot even see the sand. A special shell beach!
Millions and millions of pretty sea shells of all colors and sizes adorn this part of Malpe Island. Even though it is forbidden to bring any sea shell with you, it is always fun to watch them closely and play with them. A fun activity for families traveling to Karnataka!
Click the picturesque palm trees
Whether you are an amateur photographer or a professional one, you cannot really go wrong with your clicks at St. Mary's Island in Karnataka. Swaying palm trees against tiny red and blue huts make for an amazing picture frame. Couple that with the backdrop of black rocks and a foamy sea and you are all set for your next Instagram photo shoot.
Spend some time watching marine life
Not many people realize this but it is actually a good idea to spend some quality time watching sea animals and birds here. You can catch up with tiny crabs, snails, sea gulls, and sometimes dolphins too!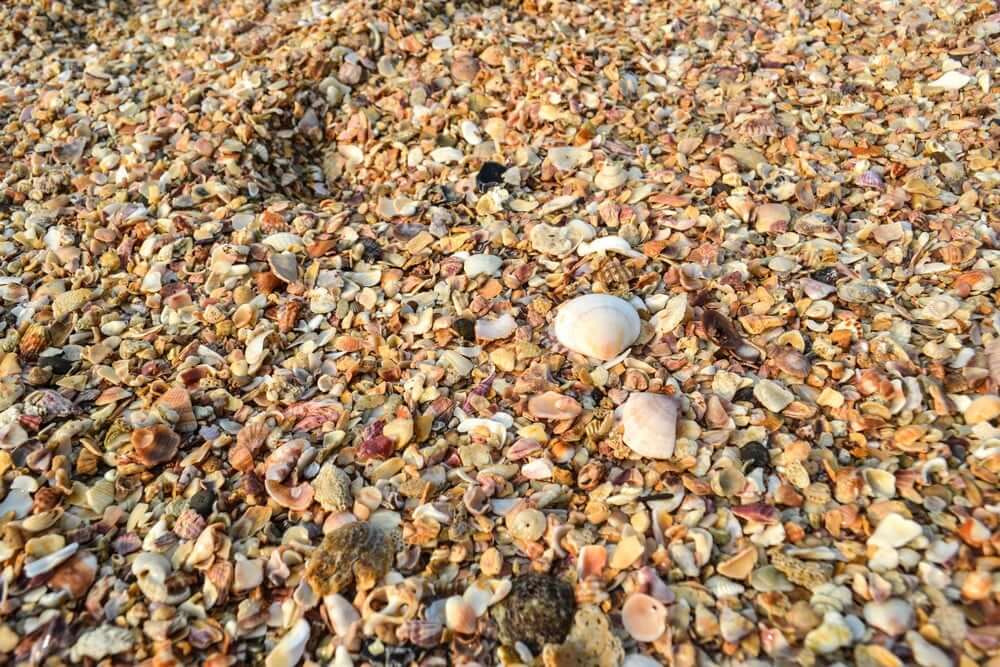 Enjoy a picnic
If you wish to eat, buy some snacks from the local shop at the island and enjoy a picnic under the lap of nature. The snack shop is open between 10 am to 6 pm every day. Remember that you cannot carry your own food and drinks into the island.
Helpful tips for visiting St. Mary's Island
Food items and single use plastic items are not allowed on the island.
Toilets are available on the island. Just make sure there is water inside before you go in. Or you can ask a guard for assistance.
Wear shorts or clothes that would dry easily because you would need to wade through the water a bit while getting into and off the boat/ferry.
Swimming is not allowed on the island because the sea is rough.
You cannot carry back shells from the island. So, keep that in mind.
I suggest going early in the morning (preferably in the first ferry) in order to avoid the crowds. Or go later in the evening to catch a glimpse of the sunset.
St. Mary's Island FAQ | What you need to know
Is St. Mary's Island open?
Yes, St. Mary's Island is open to visitors in summer and winter months. It is closed during monsoons every year between May 15 – September 30.
How do you get to St. Mary's Island?
You can get to St. Mary's Island by a ferry from Malpe beach. The ferry service operates between 9 am – 5 pm every day except during monsoons when the island is closed. The cost of the ferry is INR 400 for a return journey.
What are the ferry timings for St. Mary's Island?
The ferry for St. Mary's Island operates between 9 am – 5 pm every day except during monsoons when the service is closed. The last boat leaves St. Mary's Island between 5:45-6pm.
Why is St. Mary's Island closed?
St. Mary's Island is only closed during the monsoon season (between May 15 – September 30) because the seas become rough and it gets harder to get to the island and spend quality time there.
What is the contact number for St. Mary's Island?
The contact number of St. Mary's Island is +91 97425 07270. To plan a trip to St. Mary's Island, you can also connect with the Malpe boating team.
St. Mary's Island Travel Essentials
Udupi is the best place to stay when planning a trip to St. Mary's Island. Find the best hotels in Udupi.
Check out Tripadvisor Reviews here for Udupi.
If you are looking for specially curated tours for Malpe beach and St. Mary's, please feel free to connect with Poonam Shetty from Dream Holidays, Manipal [+91 96865 74959] and/or Roshan Pinto from R.R.Tours & Travels [+91 98453 31926]. I highly recommend both of them for their local insights and ability to provide the best travel experiences.
Before planning your trip, check out our ultimate list of the best places to visit in Coastal Karnataka and find out what to eat in Coastal Karnataka.
Udupi and Malpe beach are sunny and hot throughout the year. Do not forget to pack your sunscreen and hat.
Be sure to carry your swimming costumes for some wonderful time at the beache.
Loved our guide to St. Mary's Island Malpe? Pin it for later!