Last Updated on November 1, 2023 by Soumya
As a history enthusiast, my favorite day trips from San Miguel de Allende include short drives to the mural-adorned Sanctuary of Atotonilco and the Otomi archeological site of Canada de Virgen.
But there are several other towns and historic sites near San Miguel that have lots to say about Mexican people and culture.
Plus, there's nature, thermal spas, and turqoise pools.
Whether it is soaking in the torquoise pools of Tolantongo, ambling through the colored streets of Guanajuato, or discovering the magic of Patzcuaro, the list of beautiful places to visit near San Miguel de Allende is endless.
Long story short. There's lots to do and see on side trips from San Miguel de Allende.
So, here's an epic list of 7 best San Miguel de Allende day trips that includes my favorite spots as well as recommendations from other Mexico travel experts.
7 Best Day Trips from San Miguel de Allende
Sanctuary of Atotonilco – An Artsy Day Trip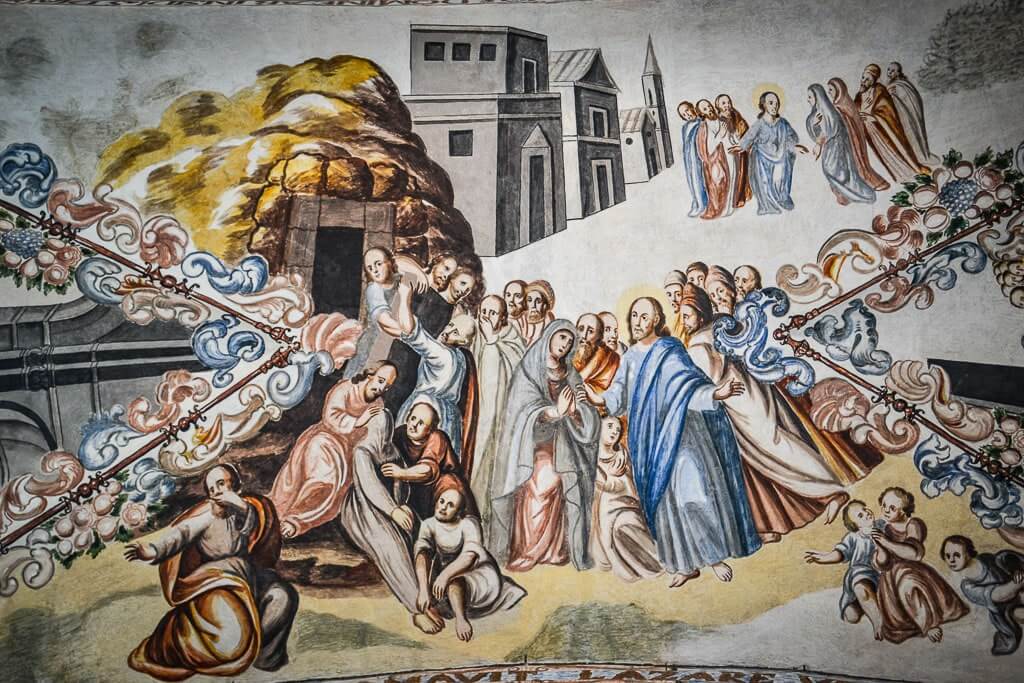 If you're looking for a day filled with art and architecture, then head to Jesus Nazareno Sanctuary of Atotonilco, a UNESCO world heritage site in Mexico.
The pristine, white exterior of the Atotonilco Sanctuary conceals the real treasure that lies inside – the murals.
Often referred to as Mexico's Sistine Chapel, the Sanctuary of Atotonilco is filled with colorful murals depicting scenes from the Bible.
These frescoes were painted by a local artist called Pocasangre in 30 years. They cover every inch of the church's interiors. There are representations of Jesus' Baptism, His Resurrection, scenes from the Last Supper, and many more.
The best part about Atotonilco is that it is just 15 mins by car from the Historic Center of San Miguel de Allende. So, you can easily see it on a half-day tour like this one or drive to it on your own.
Getting to Atotonilco by public transport from San Miguel is a little tricky because there are very few buses between the two towns. Even these don't run on schedule.
I had a bad experience trying to do this day trip by bus! You can read all about my experience of not getting a bus here.
Therefore, I highly recommend taking a guided day tour from San Miguel de Allende to Atotonilco. If you have a car, you can just drive to the sanctuary.
✦ Pro Tip: If you're planning to visit Atotonilco, I highly recommend that you check out our detailed guide on how to visit the Sanctuary of Atotonilco.
Dolores Hidalgo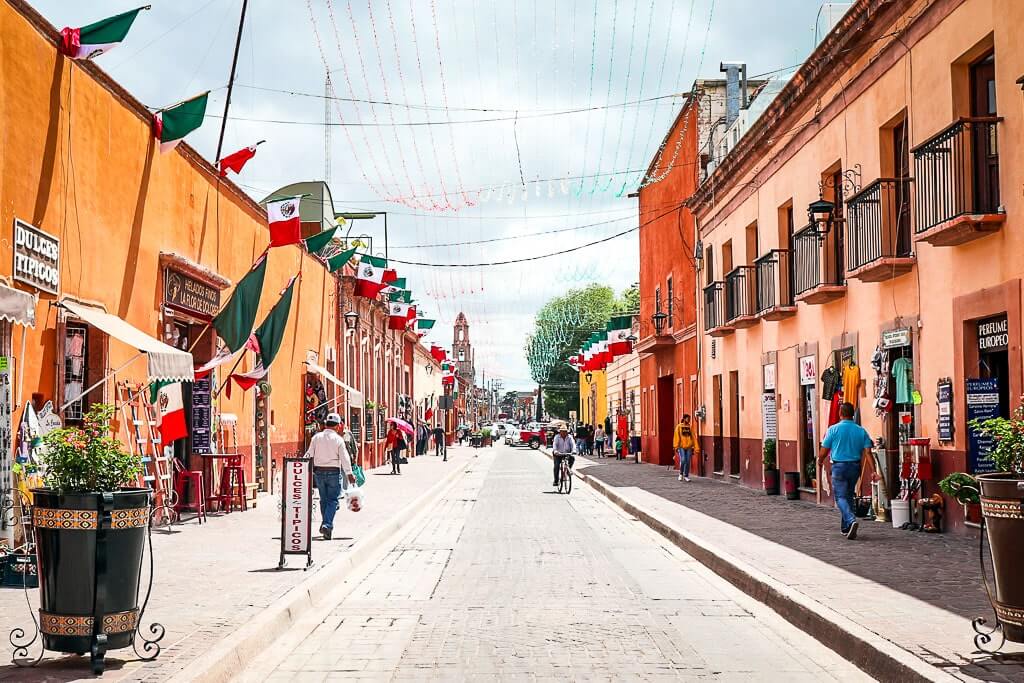 Robyn of Two Empty Passports recommends the small colonial town of Dolores Hidalgo for an excellent day trip from San Miguel de Allende.
Less than an hour away, is it packed with historical significance, simple charm, and traditional Talavera pottery.
Known as the birthplace of Mexican Independence, Dolores Hidalgo has several historical landmarks, including the Parish of Our Lady of Sorrows. Dominating the town's square, this church has a beautifully intricate façade that demands attention.
The town is also renowned for its handmade Talavera pottery. Numerous workshops line the main street selling a variety of colorful Mexican ceramics. Mingling with the artisans and admiring their work is a true highlight of a visit to this charming town.
The best way to get to Dolores Hidalgo is by car. If you are comfortable driving in Mexico, it is a short, straightforward journey. Just hop on the MX-51 North from San Miguel de Allende and turn off at the 110 exit.
A few bus companies operate between San Miguel de Allende and Dolores Hidalgo. However, their service is seasonal. You will want to check at the local bus station to inquire about schedules.
The best time to visit Dolores Hidalgo is during the dry season of spring from March to June. The crowds are smaller, and the weather is warm and pleasant with temperatures ranging from 50-75°F (10-24°C ).
If you prefer to visit with a guide, you can join this 5-hour tour from San Miguel de Allende. You will explore the highlights of Dolores Hidalgo and visit the Sanctuary of Atotonilco.
Las Grutas Tolantongo
Though the famous Tolantongo Grutas Mexico Hot Springs are located a bit far from San Miguel de Allende, many still make this popular side trip. That's because Las Grutas Tolantongo ranks as one of the prettiest places in Mexico.
From San Miguel de Allende, the drive to Las Grutas Tolantongo takes 4-4.5 hours each way.
Shelley of Travel Mexico Solo tells us that Tolantongo is popular with everyone from Instagram influencers, Mexican families, tourists, TikTokers, and YouTubers alike.
The magical look of Las Grutas Tolantongo has captivated many thanks to its waterfalls, infinity pools, turquoise-colored river, and natural vibes.
The easiest way to visit Las Grutas Tolantongo from San Miguel de Allende is to rent a car and drive.
There are no direct public transportation buses. And in total, the roundabout public transport route would take you seven hours one-way. So public transport isn't a great option.
Currently, there aren't any tours you can book ahead online — the closest one is this tour that leaves Queretaro. Queretaro is about 1.5 hours from San Miguel de Allende by car or bus.
You can also ask around for local tour companies who do this trip once you arrive in San Miguel.
A year-round destination, you can visit any month of the year and still enjoy Las Grutas Tolantongo.
Of course, winters are much cooler than summers, but the water temperature remains about 75-80°F (23-25°C) throughout the year.
For the best experience, visit during the week. Las Grutas Tolantongo gets very busy on weekends. To avoid the crowds, opt for a Monday to Thursday visit.
Canada de la Virgen Ruins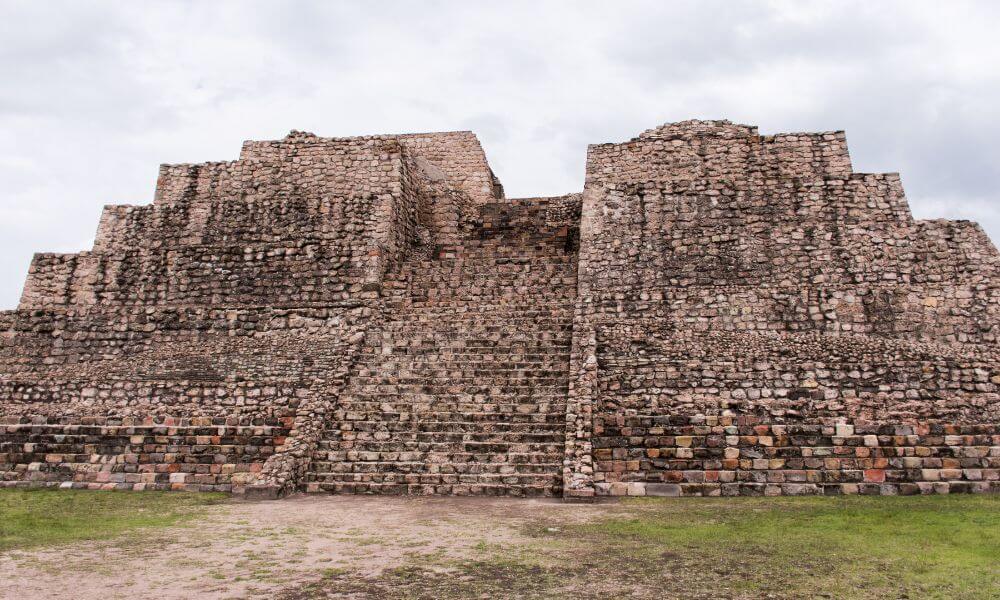 History enthusiasts will enjoy a trip to the archeological site of Canada de la Virgen just 20 miles from San Miguel de Allende.
Canada de la Virgen is a pre-Hispanic city dating to the 300s. It was occupied by the Otomi people of Central Mexico who built several large pyramids, patios, ball courts, and residential complexes.
Highlights include the House of the Thirteen Heavens (the highest pyramid on site), the House of the Wind, and the House of the Longest Night.
One of the most interesting facts about the archeological site at Canada de la Virgen is that it is located on a private hacienda. Therefore, you need a guided tour like this one to be able to visit the ruins.
Here are some more guided tours if you need more options.
If you love the Mayan pyramids of Cancun or the Aztec ruins of Mexico City, then you're going to enjoy a day trip to Canada de la Virgen, one of the least visited pyramids in Mexico.
Guanajuato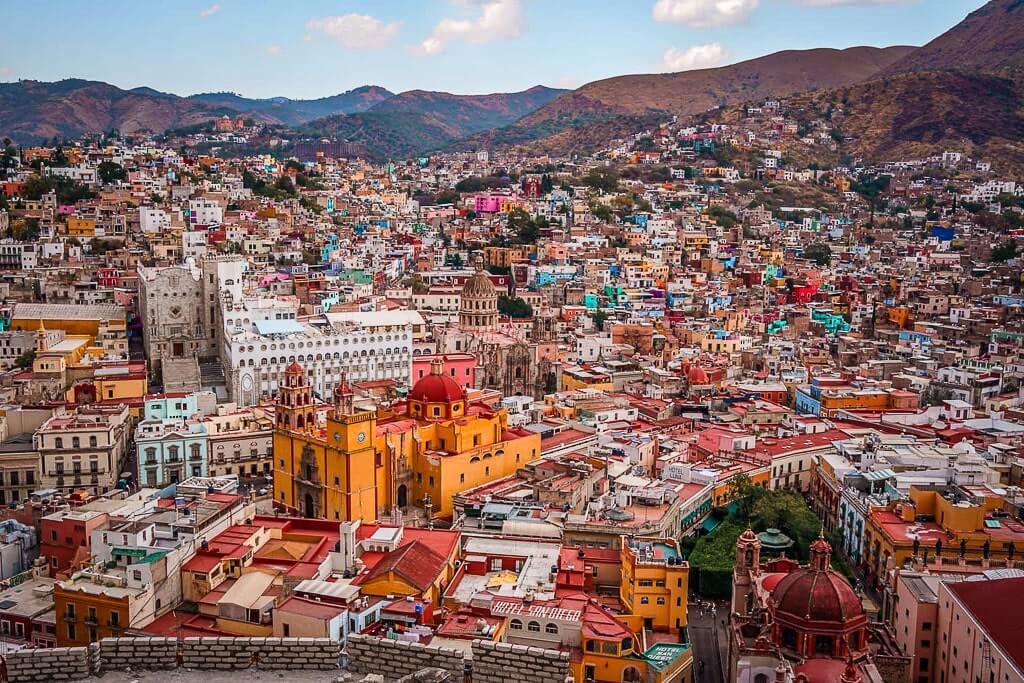 Mal of Raw Mal Roams recommends Guanajuato as one of the most unique cities to visit on your Mexico trip for its architecture and location.
The city is set in a beautiful valley encircled by rugged hills. Most city buildings are painted in an array of bright colors, including the grand cathedral – Basilica Colegiata de Nuestra Senora de Guanajuato.
To truly appreciate the sweeping view of the city, head to Pipila Monument, located on a hill above Guanajuato. It's particularly striking during sunset when the city is bathed in a golden hue.
Also, don't miss the intriguing Mummies Museum, where naturally preserved figures offer a unique glimpse into the past.
If you're visiting with your other half, take a selfie at Callejon del Beso, or "Kissing Alley". Legend has it that couples who kiss on the third step are blessed with seven years of happiness.
For the best weather, avoid visiting between June – August when Guanajuato experiences the rainy season. ​​Aim for a weekday, as it tends to be less crowded than weekends.
Getting to Guanajuato from San Miguel is super easy. Local buses operate between the two cities regularly throughout the day. The trip takes around 90 minutes each way. Please note that the central bus station of Guanajuato is located outside of the historic center, and you will need to hail a taxi to get there.
If you rather have all the logistics arranged for you, you can take a full-day tour to Guanajuato.
📖 Related Read: For more beautiful places, check out our article on the 10 best cities in Central Mexico.
Patzcuaro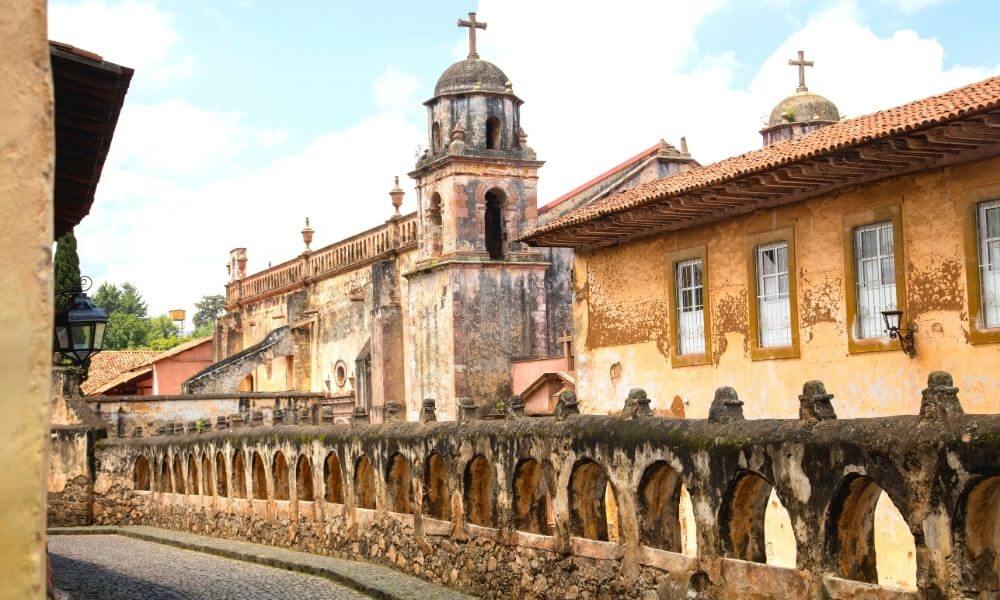 If you're looking for a unique day trip from San Miguel de Allende, Michele of A Taste for Travel recommends the town of Patzcuaro.
Located a 3-hour drive by car (or via bus connecting in Morelia) south in the state of Michoacan, Patzcuaro is one of Mexico's Pueblo Magicos (Magical Towns).
Founded in 1320, Patzcuaro is rich in colonial architecture and historical landmarks such as the neo-classical Basilica of Our Lady of Health.
The picturesque cobblestone streets within its historic center are lined by well-restored, 2-story buildings topped with red tile roofs. Many of the historic buildings have been converted into boutique hotels such as Hotel Meson de San Antonio.
Once the hub of the Tarascan or Purepecha Empire, Patzcuaro is well known for its fine artisanal crafts, dance, music, food, and other traditions of the indigenous Purepecha people.
An unforgettable time to visit is during the Day of the Dead in Patzcuaro. The city hosts special Dia de Muertos processions. Highlights include artisans' markets, flower markets, public altars, and candlelit ceremonies at local cemeteries.
The town is also located near Lake Patzcuaro, one of Mexico's highest lakes. This makes it ideal for visiting picturesque islands such as Isla de Janitzio, and the local fishermen who fish with giant butterfly nets.
Leon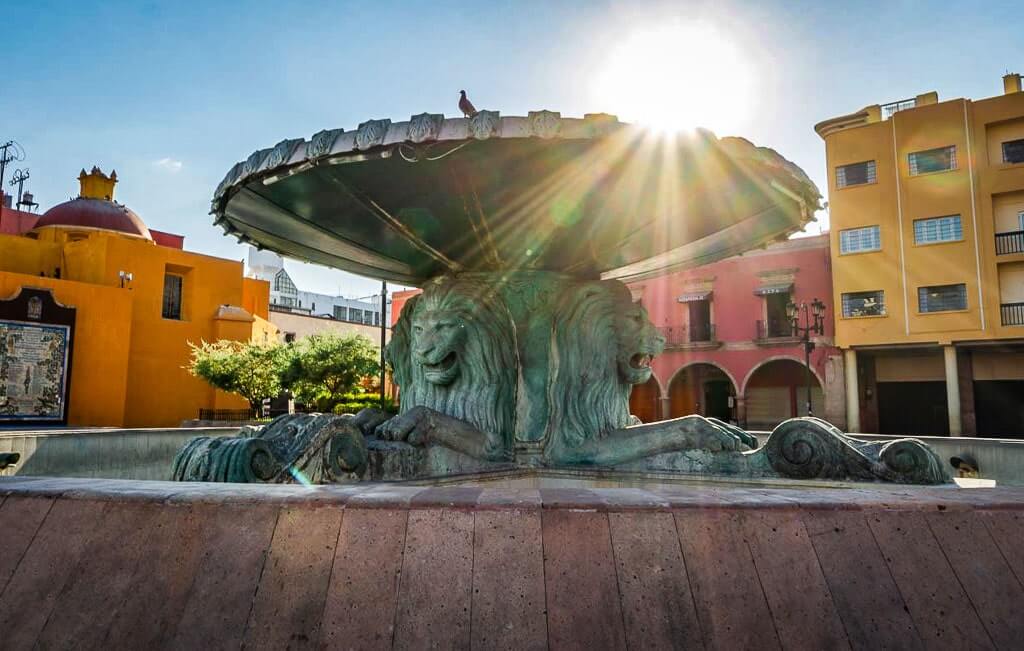 Noel of Travel Photo Discovery tells us that Leon, the beautiful capital city of Guanajuato, is one of the easiest day trips from San Miguel de Allende.
Traditionally, people just go to the Leon Airport or transit through the bus lines to reach other destinations like Guanajuato or San Miguel de Allende.
But, Leon is absolutely worth a visit for its historic district, churches, and gorgeous plazas. Leon's outdoor markets and walking promenades make it fun to explore the city.
If you love to shop, then visit the leather market of Leon which is one of the largest in Mexico and specializes in many varieties of leather shoes and accessories. It is deemed the footwear capital of the world with many streets filled with hundreds of vendors selling all things leather in this outdoor market venue.
After all that fun shopping, find something delicious to eat. There's a lot of street food everywhere. Consider trying out local specialties like ranch-style chicken soup, enchiladas wraps, and Guacamaya sandwiches and wash it down with Cebadina, Leon de los Aldama, a delicious non-alcoholic drink.
Whether you're exploring for a day or planning a weekend retreat, Leon makes a colorful side trip from San Miguel de Allende.
Loved this excellent San Miguel de Allende day trips roundup? Pin it for later!