Last Updated on October 17, 2023 by Soumya
Planning to visit the Jesus Nazareno Sanctuary of Atotonilco near San Miguel de Allende in Mexico?
We have got the perfect Atotonilco travel guide for you.
Also known as the Sistine Chapel of Mexico and the Americas, the Atotonilco Sanctuary is famous for its exquisite mural paintings that adorn every wall and ceiling of the church.
The Jesuit Sanctuary of Atotonilco is listed as a UNESCO World Heritage site along with the historic town of San Miguel.
UNESCO lists the sanctuary as one of the "finest examples of baroque art" and "an outstanding mix of European and Latin American cultures". This makes the church an absolute must-have on your San Miguel bucket list although it still remains one of Mexico's hidden gems.
When I visited the Sanctuary of Atotonilco on my recent trip to Mexico, I realized that getting there was not very easy. Additionally, there wasn't much information on what made the church so unique.
In this helpful travel guide, I share all my learnings about the Sanctuary of Atotonilco including details on how to visit it.
If you'd like to know something more, feel free to drop a comment below.
---
Please note: This post may contain affiliate links which means I may earn a commission if you make a purchase by clicking a link on this post. This will be at no additional cost to you. Affiliate links help me keep this website up and running. Thanks for your support!
---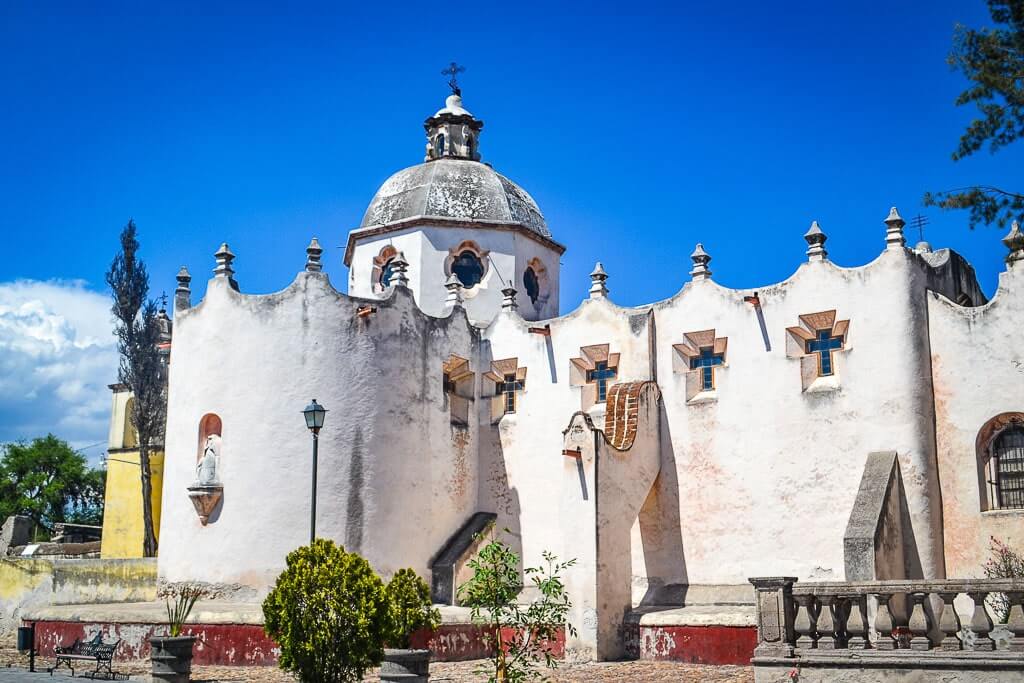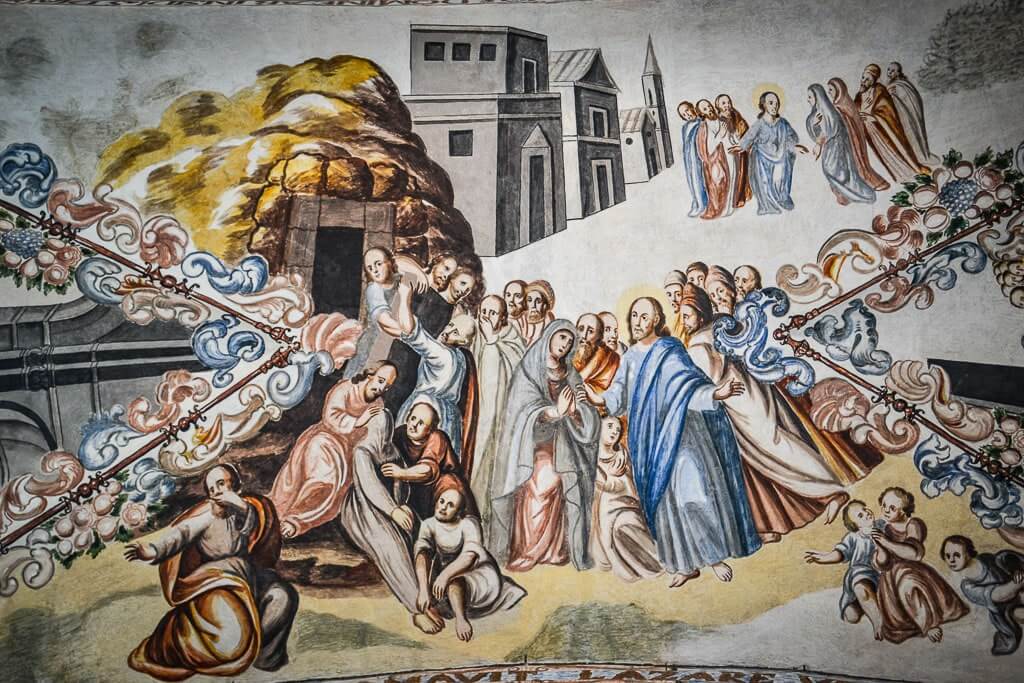 How to get to Atotonilco from San Miguel de Allende?
The Sanctuary of Atotonilco is located just 8 miles (13 km) from the colonial town of San Miguel de Allende. Therefore, getting to Atotonilco from San Miguel de Allende takes about 15-20 mins.
Getting to Atotonilco Sanctuary by Car or Taxi
The most convenient way to get to Atotonilco from San Miguel de Allende is by car/taxi.
You can rent a car in San Miguel or use the one that you have rented in Mexico City. Or hire a taxi in the city center.
Having your own car definitely gives you extra flexibility and freedom.
However, in my opinion, taxis are a better option for day trips from San Miguel de Allende.
It is not always convenient to park a car on the narrow, hilly streets of San Miguel. But you can always take a taxi from the city center.
Taxi fares usually range from 150 to 200 pesos for a trip between San Miguel de Allende and Atotonilco, one way. I strongly recommend agreeing on the price before the trip.
Be sure to keep the taxi for your return trip as well because it is hard to find taxis in Atotonilco. We made the mistake of not keeping the taxi for our return trip and had to wait nearly an hour until another taxi turned up.
Our mobile network wasn't working great in Atotonilco and there was no way we could call our hotel. Sadly, there were no buses plying back from Atotonilco to San Miguel de Allende at 5:00 p.m. So, we were literally stranded there for a long time!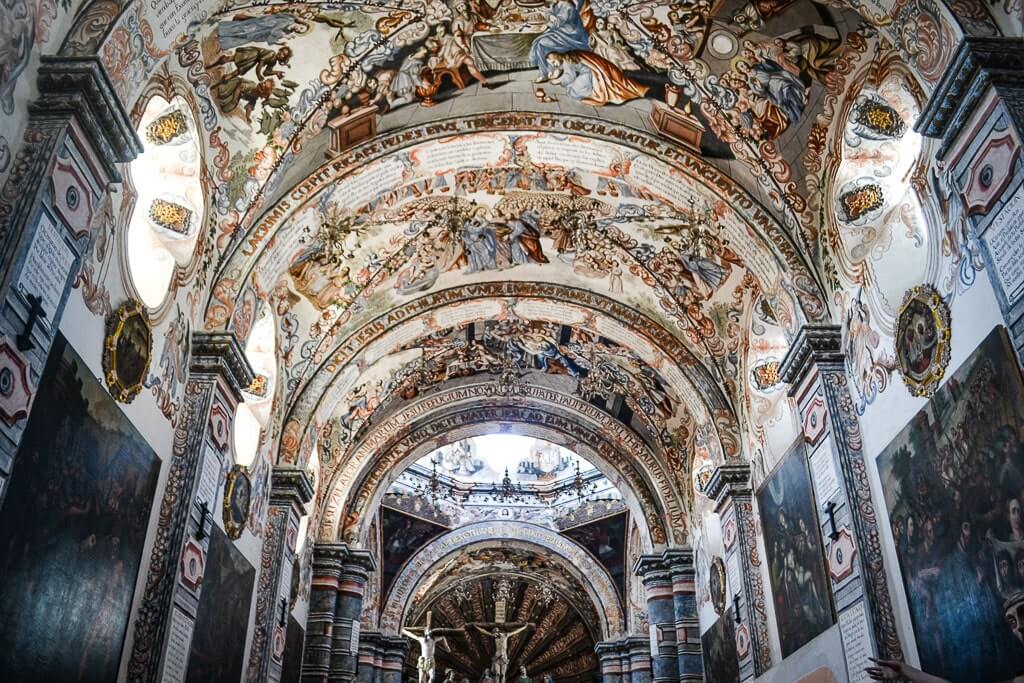 Getting to Atotonilco Sanctuary by Bus
If you prefer public transport, buses from San Miguel de Allende to Atotonilco are an option too but not a very reliable one.
We thought we would take Bus #7 from Calzada de la Luz in the Historic Zone of San Miguel. But the bus never arrived.
We waited a couple of hours before deciding to hire a taxi. The problem was that none of the locals we asked knew when the bus would arrive!
It was even more confusing on our way back from Atotonilco to San Miguel de Allende. Since there was no bus in sight even after waiting an hour, we chatted with some locals.
They told us that the bus from Atotonilco to San Miguel de Allende leaves only once a day, around 11ish in the morning!!! Now, that wouldn't be very helpful if you were planning a day trip from San Miguel. Will it?
This wasn't helpful at all because we were waiting for a bus around 5:00pm. We decided to take a taxi which was hard to get too because there were no available taxis at the sanctuary.
Finally, around 6:00 pm, a taxi dropped a local and agreed to drive us to San Miguel for 180 pesos! And, we were so thankful!
Getting to Atotonilco Sanctuary by Guided Tour
I highly recommend taking a guided tour to Atotonilco from San Miguel de Allende.
One, because it is super convenient – they'll pick you up and you don't have to worry about logistics at all. I so regret not taking a guided tour and planning to get there on my own by public transport. The buses never showed up and we ended up feeling stranded. And LOST!
Two, guided tours provide a plethora of information about the Sanctuary of Atotonilco. If you'd like to understand the murals in-depth, a guided tour is the best bet.
The church does not have great signage. So, it really helps to have someone to show you around.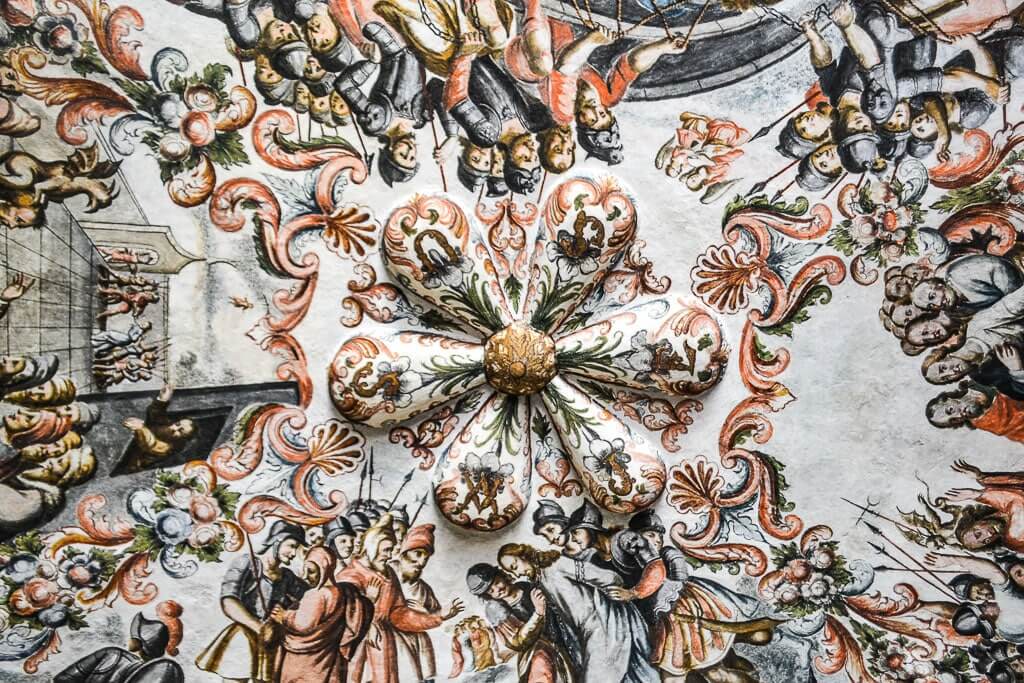 Here are a couple of highly recommended Atotonilco tours from San Miguel. These tours usually cover a couple of other nice places like Dolores Hidalgo. Win-Win!
On this private tour, you'll see two historic places together – Atotonilco Sanctuary and the town of Dolores Hidalgo. It is a half-day tour that includes pick-up and drop from your hotel.
Interesting Facts about the Sanctuary of Atotonilco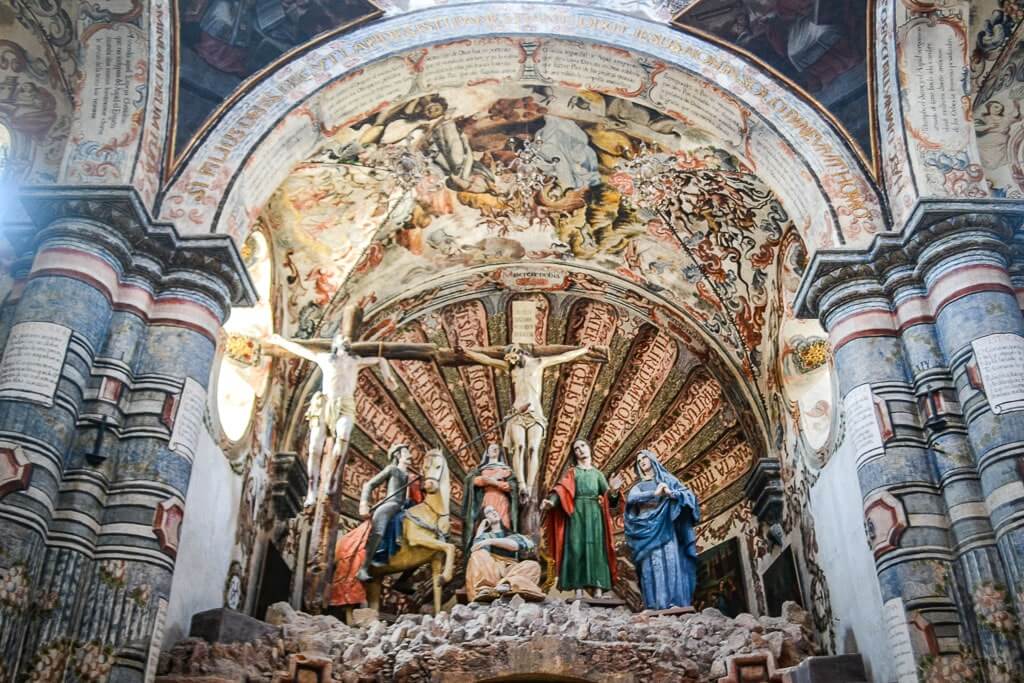 The Sanctuary of Jesus Nazareno Atotonilco is often referred to as the "Sistine Chapel of Mexico". This tag comes from the complex and beautiful murals that cover the ceilings and walls of the sanctuary.
Local artist Miguel Antonio Martinez de Pocasangre painted the stunning murals of the Atotonilco Church. They represent the Gospel including scenes from the Passion and the Last Judgement.
Apparently, Pocasangre was the only artist who drew all the murals in the church. It took him 30 years to finish them all! Whoa!!
The paintings represent a harmonious mix of Catholic religious imagery with indigenous influences resulting in a unique style called Mexican Baroque. If you have already visited the magnificent churches of Cholula, you'll know what I mean.
The Sanctuary of Atotonilco is a UNESCO World Heritage Site, testament to its unique combination of Baroque and native art styles.
Even though the church's murals are a major tourist draw, the Sanctuary of Atotonilco has been an important religious center in Latin America for more than 200 years.
The Church of Atotonilco is also a place of significant political importance. It played a crucial role in the Mexican War of Independence in the 19th century. It was here that the first banner to inspire the native army was raised.
The Nauhatl name "Atotonilco" means "a place of hot water springs". True to its name, the place was a hacienda with many thermal springs that bear medicinal properties according to Chicimeca tribes, its original inhabitants.
What to see at the Atotonilco Church?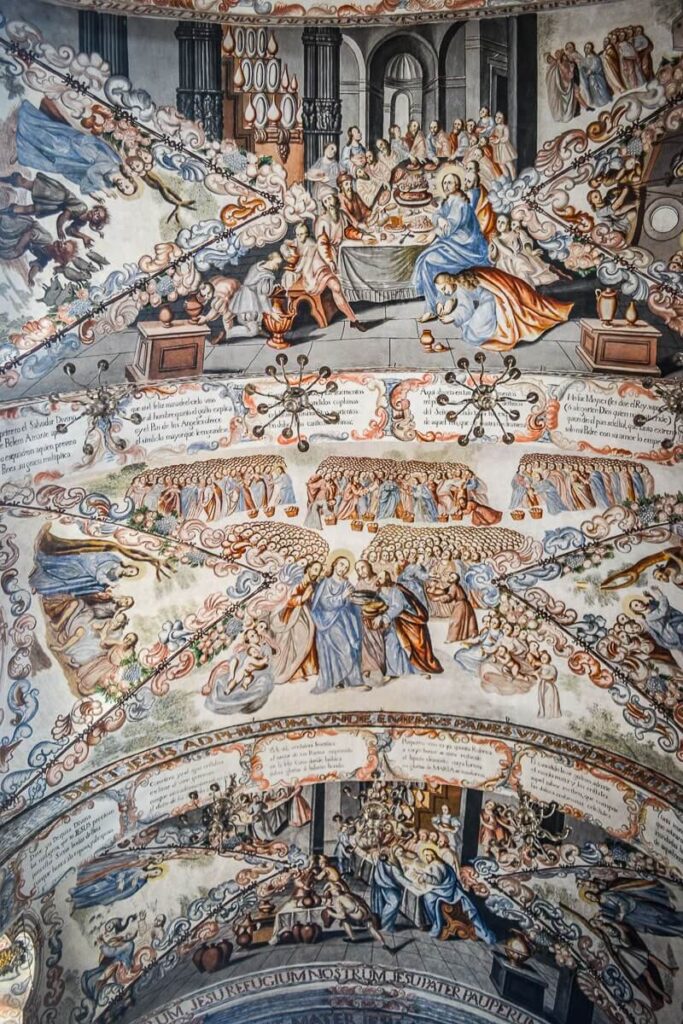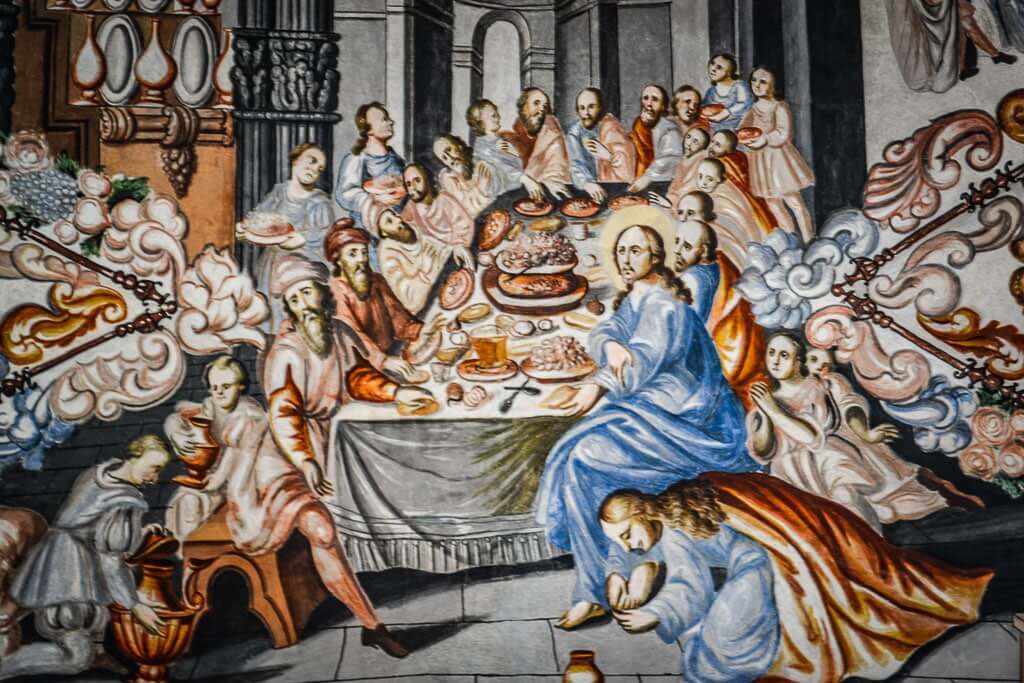 The murals are the real reason to visit the Sanctuary of Atotonilco.
Do not be disappointed by its simple white exterior because as soon as you enter the church, you'll be delighted by the exquisite murals that adorn the walls and ceilings.
These paintings tell biblical stories, including many from the Passion of Christ.
The main nave is adorned with ornate chandeliers and houses the statue of "El Señor de la Columna" or the "Lord of the Column". It is the statue of a bleeding Christ leaning on a column. This statue is a highly-venerated figure in Mexican Catholicism.
Further inside, the six adjoining chapels, each dedicated to a different saint or holy theme, offer more splendid artwork to admire.
Do not miss the Chapel of the Calvary and the Chapel of the Holy Sepulchre that feature the most emotive depictions. Experts tell us that these paintings by Pocasangre beautifully combine European elements with native influences, thus giving birth to a new style called the Mexican popular baroque.
The frescoes of Atotonilco Sanctuary are not as brightly colored as the ones in the Sistine Chapel in Vatican City. The colors, I would say, are more subtle with an abundance of rust, ochre, and dusty blue.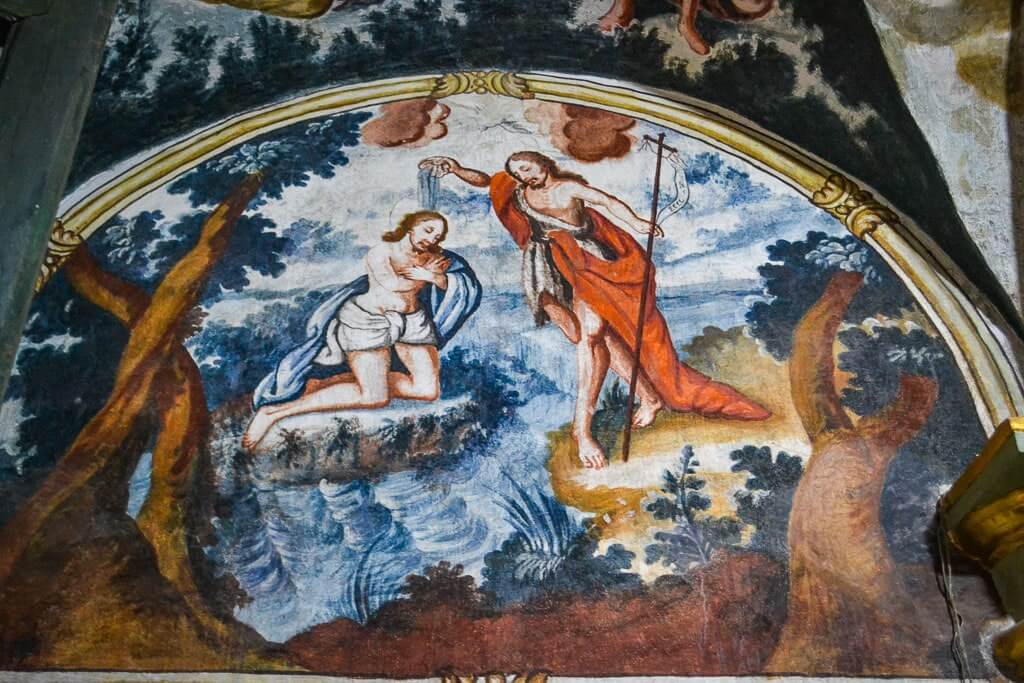 Practical Information for Visiting Atotonilco Sanctuary
Atotonilco Sanctuary Opening Hours
The Sanctuary at Atotonilco in Mexico is open from 10:00 am to 6:00 pm every day.
Sanctuary of Atotonilco Admission
Admission to the Sanctuary of Atotonilco is free.
However, a small donation is appreciated when admiring the beautiful frescoes of the chapels. There's a donation box right inside the church entrance, on the left.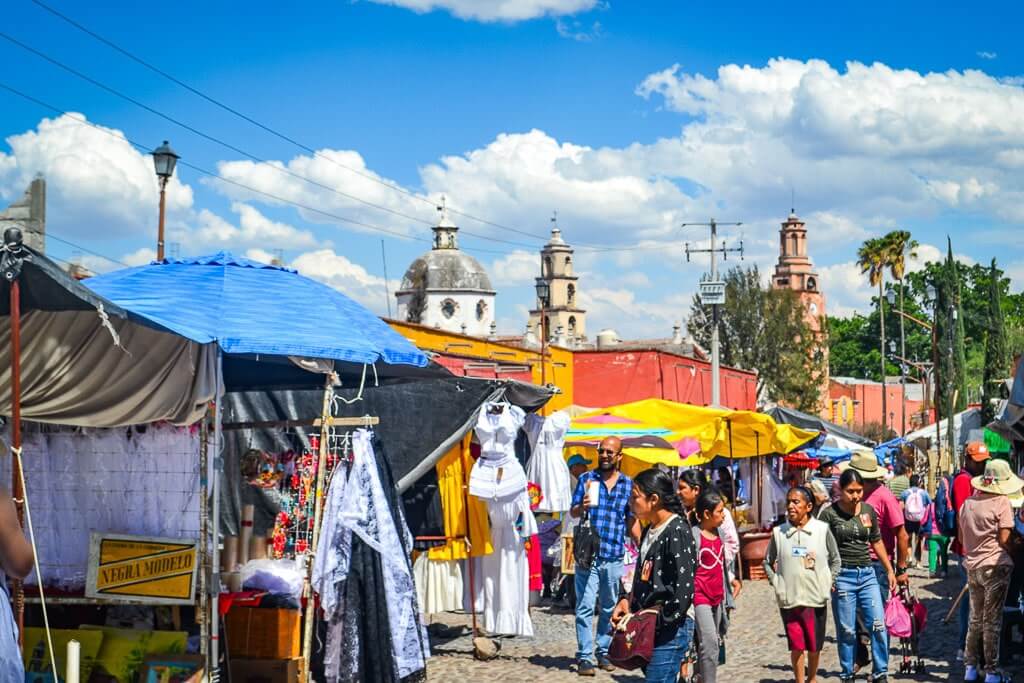 Atotonilco Mexico Travel FAQ
What is Atotonilco known for?
Atotonilco in Mexico is known for its Jesus Nazareno Sanctuary whose walls are covered with stunning murals depicting scenes from the Bible, so beautiful that the sanctuary is often called the Sistine Chapel of Mexico.
Where is the Sistine Chapel of Mexico located?
The Sistine Chapel of Mexico is located in the small town of Atotonilco, only 8 miles outside the historic town of San Miguel de Allende in the Mexican state of Guanajuato.
What does Atotonilco mean in English?
The name "Atotonilco" literally translates to a "place with hot water springs". The small town of Atotonilco got this name because it was once a sprawling hacienda dotted with a number of thermal springs.
What is the history of Atotonilco San Miguel de Allende?
The history of Atotonilco near San Miguel de Allende is that this small town played an important role in the Mexican War of Independence because Atotonilco was the first place where a priest raised a banner and inspired his local army to fight against the Spanish.
What time does the Sanctuary of Atotonilco open?
The Sanctuary of Atotonilco is open from 10:00 am – 6:00 p.m. every day. However, hours are prone to changing. I highly recommend checking with the Visit San Miguel team here before visiting.
Loved our travel guide for Atotonilco Sanctuary? Pin it for later!