Last Updated on August 8, 2023 by Soumya
Are you traveling to Puebla and wondering what to eat? Which traditional Mexican dishes in Puebla are worth trying? What is the best Puebla food that you need to get your hands on?
Then, this Puebla foodie guide is just for you!
Known for its rich culinary history and mouth-watering dishes, Puebla in Mexico offers amazing food experiences that you won't easily forget.
As a culture-enthusiast and complete foodie, I can't help but gush over the incredible cuisine of Puebla, Mexico. This charming city won my heart not only through its vibrant architecture and rich history but also through its delicious traditional dishes and drinks.
From the iconic mole poblano to the lesser-known pipian verde and pipian rojo, from the ancient pulque to the creamy rompope, Puebla has a host of Mexican food and drinks to satisfy every palate.
So, hop on board and join me on this culinary journey as I share with you the best foods, sweets, and drinks that you simply must try when you visit Puebla.
Read Next: 35 Best Things to do in Puebla
---
Please note: This post may contain affiliate links which means I may earn a commission if you make a purchase by clicking a link on this post. This will be at no additional cost to you. Affiliate links help me keep this website up and running. Thanks for your support!
My Top Pick: Best Puebla Food Tour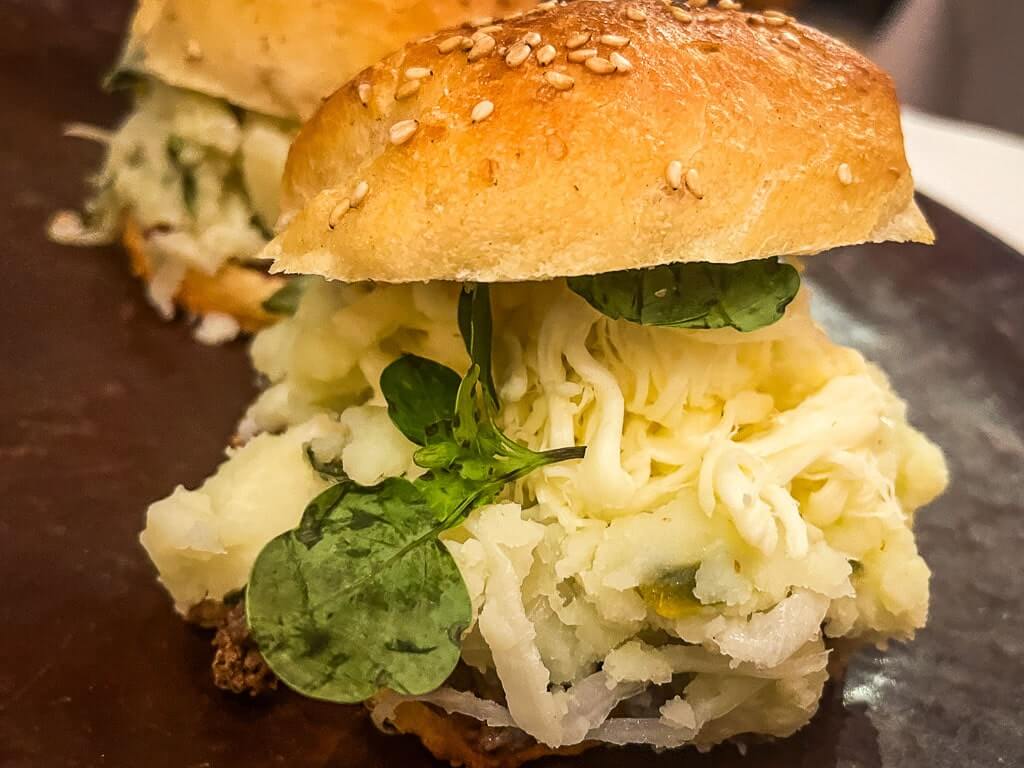 ✔️ Scrumptious Tastings & Fantastic Tour Guide
✔️ 3-4 hours
Traditional Food in Puebla: The Must-Try Dishes
Mole Poblano
Often described as the "national dish of Mexico," Mole Poblano tops my list as a must-try Puebla food. In fact, this is one of the most popular Mexican dishes that you'll find everywhere in Mexico. I had no clue that mole poblano had originated in Puebla until, well, I visited Puebla. Once I had it in Puebla, it quickly became one of my all-time favorites!
The rich and complex mole poblano sauce is made from a variety of ingredients like chocolate, chilies, sesame seeds, and spices. It is typically served over chicken or turkey and accompanied by rice.
We can trace the origins of this dish to the 16th century when nuns from a Puebla convent concocted the mole poblano in hurry for a visiting archbishop. They used whatever little they had of everything – chillis, nuts, spices, and even some chocolate.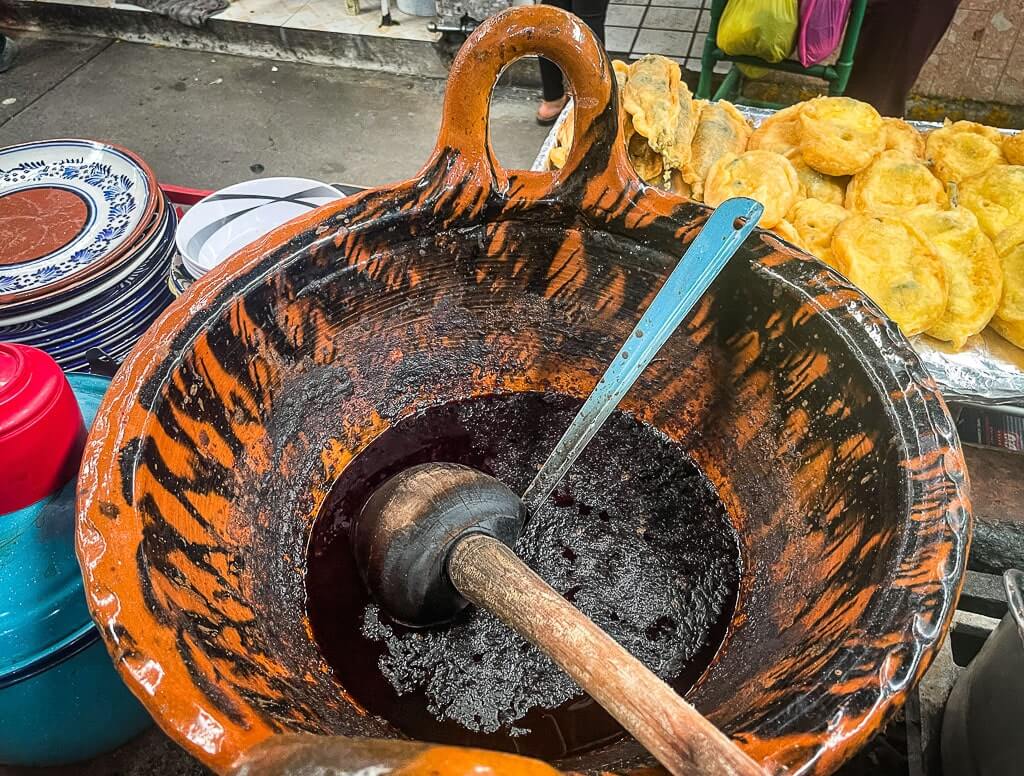 Where to find the best mole poblano in Puebla?
Be sure to indulge in this delicious dish at El Mural de los Poblanos, one of my favorite Puebla restaurants where the walls are adorned with murals depicting Puebla's history. Don't miss their extensive mole menu that also includes other traditional mole dishes like pipian verde, pipian rojo, adobo, and manchamanteles.
Some other excellent places to try authentic Mole Poblano in Puebla include the cozy restaurant called La Casita Poblana and the famous La Noria (vegetarian and vegan-friendly).
Or sign up for this excellent Puebla food tour to taste some iconic dishes including the famous mole poblano with a passionate local tour guide.
Chiles en Nogada
Next up on my Puebla foodie list is another iconic symbol of Mexican cuisine – Chiles en Nogada.
Chiles en Nogada, like mole poblano, originated in a Puebla convent in the 19th century. The nuns of the convent prepared this novel dish to impress their Emperor, Agustin de Iturbide when he visited Puebla after signing the Mexican Treaty of Independence.
Coincidentally, the three colors – green, white, and red – were the same colors of the Mexican flag. Therefore, this dish was just perfect to celebrate Mexico's independence.
Chiles en Nogada consists of stuffed poblano peppers filled with a mixture of chopped meat, fruits, and spices, fried in lard, and garnished with a creamy walnut sauce and pomegranate seeds.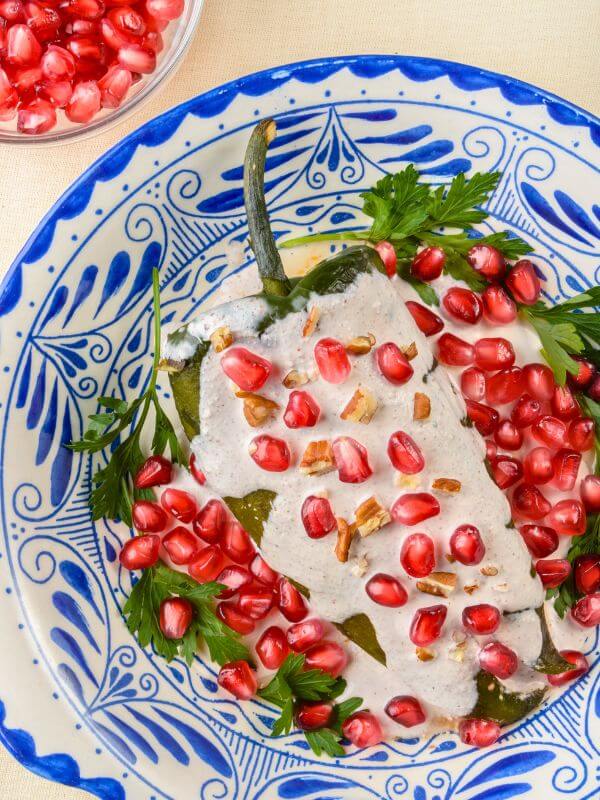 Chiles en Nogada is a seasonal dish and available only around the Mexican Independence Day in August and September. Mexico celebrates its Independence Day on the 16th of September and the nogada dish is a pretty common sight in restaurants at that time.
However, if you are not visiting in season, don't be sad. You can always try the delicious chiles rellenos – poblano chiles stuffed with cheese and batter-fried. Pueblans surely have a thing for stuffed chilies!
Where to find the best chiles en nogada in Puebla?
To find the best Chiles en Nogada in Puebla, go to Mi Viejo Pueblito, a restaurant that offers fantastic ambience and nogada dishes throughout the year. Other great places include El Mural de los Poblanos, Casareyna, and Restaurante El Sombrero.
✦ Pro Tip: Food is one of the main reasons I always visit Puebla apart from the history and architecture. Is Puebla really worth visiting? What do you think? Find out here.
---
Pipian
Puebla is the land of amazing sauces and pipian is one of my favorites. Just to let you in on a secret – I prefer pipian verde over mole poblano!! Shhh!!!
Pipian is a traditional Mexican sauce made with ground pepitas – squash or pumpkin seeds, nuts, chiles, and spices. The pumpkin seed are usually roasted before being ground into a paste with garlic, onion, cilantro, oregano, and other herbs. This process enhances the flavors of the sauce. The key ingredient of pipian is pepita which is absent in the famous "mole poblano".
There are two kinds of pipian – pipian verde (green pipian or mole verde) and pipian rojo (red pipian or mole rojo). The Totonac people in the north also have a white variety called pipian blanco. Plus, there are several variations that every home and restaurant usually has.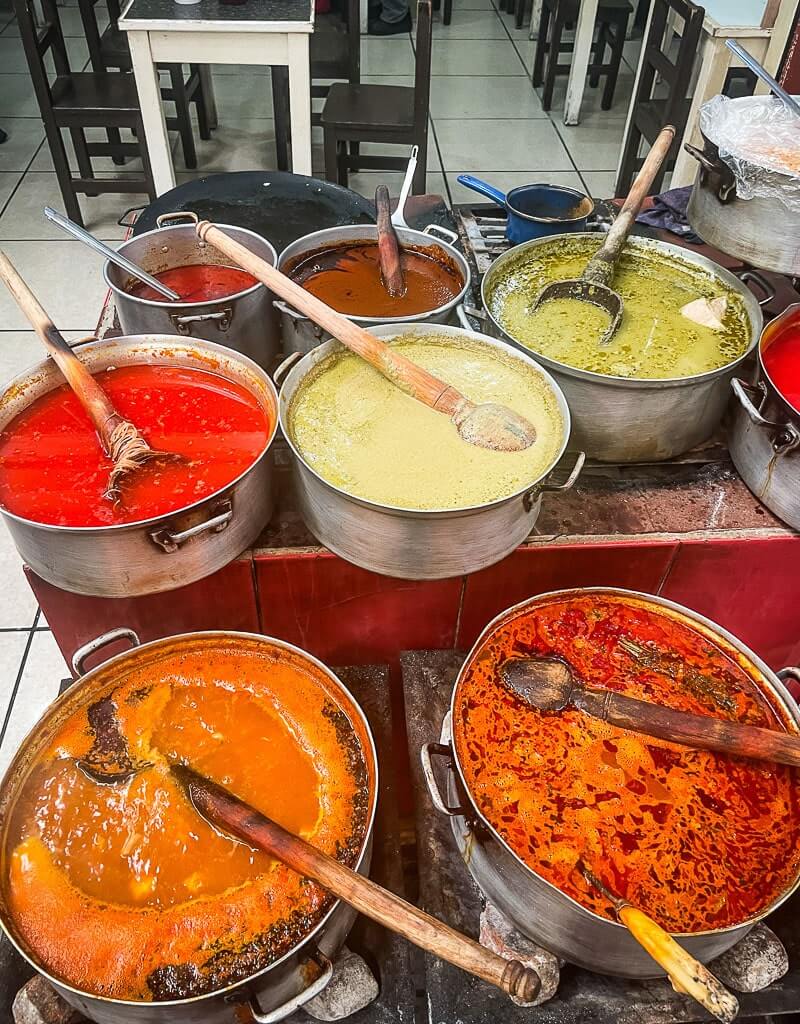 Pipian has a nutty flavor that is slightly sweet and mildly spicy from the chiles. It can be served as either a sauce over chicken or as an accompaniment to meats or stews.
The best places to try pipian in Puebla are El Anafre Rojo, Los Sabores de Puebla, and El Mural de los Poblanos. We also had some of the best pipian at food stalls in San Pedro Market, Cholula.
✦ Pro Tip: Visiting Puebla and looking for the best places to eat? Check out our guide for the 10 Most Unique Puebla Restaurants that serve the best food.
---
Cemitas
No visit to Puebla is complete without having a cemita, the city's famous sandwich. I love to call them Puebla Burgers and that works well for my 10-year-old who loves McDonald's!
Packed with avocado, string cheese, breaded meat (usually beef or chicken), and distinct papalo (a type of Mexican herb) leaves – all sandwiched between a specially baked bun (also called cemita) sprinkled with sesame seeds – this is a meal you won't want to miss.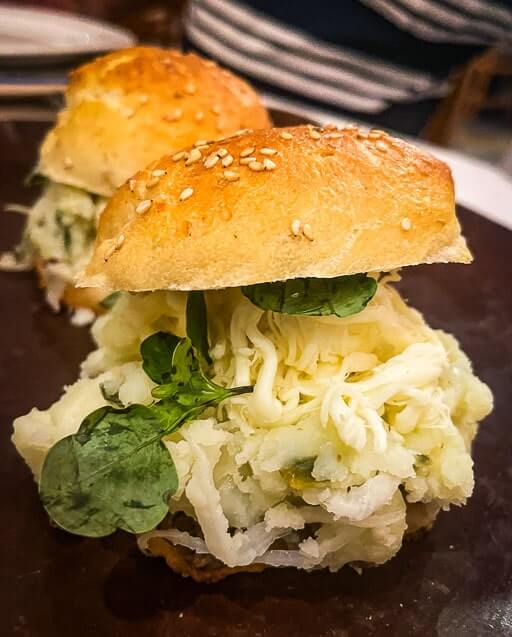 Where to find the best cemitas in Puebla?
To get the best cemitas, head to Super Cemitas El As de Oros stall in Mercado de Sabores Poblanos, a local food market that offers an amazing variety of traditional dishes from Puebla. Cemita las Poblanitas in Mercado del Carmen is another favorite cemita haunt.
📖 Related Read: Eating cemita sandwiches is one of the best things to do in Puebla. What are the others? Find out in our epic Puebla bucketlist.
---
Tacos Árabes
Another must-try dish in Puebla is Tacos Árabes or Arab Tacos, a distinct taco that is a delicious blend of Mexican and Lebanese flavors.
When Lebanese immigrants came to Mexico in the 1930s, they brought with them their breads, spits, spices, and cooking styles. The Lebanese introduced their own version of the shawarma, made with shaved lamb or mutton and served on Arabic pita bread. This was then adapted to the Mexican palate by substituting pork for the lamb and serving it on a large tortilla.
The preparation of Taco Árabes includes marinated pork cooked on a vertical spit, sliced, and served on a pita-style tortilla, with a unique garlic yogurt sauce. The tacos are, then, topped with onions, cilantro, and pineapple for an extra burst of flavor.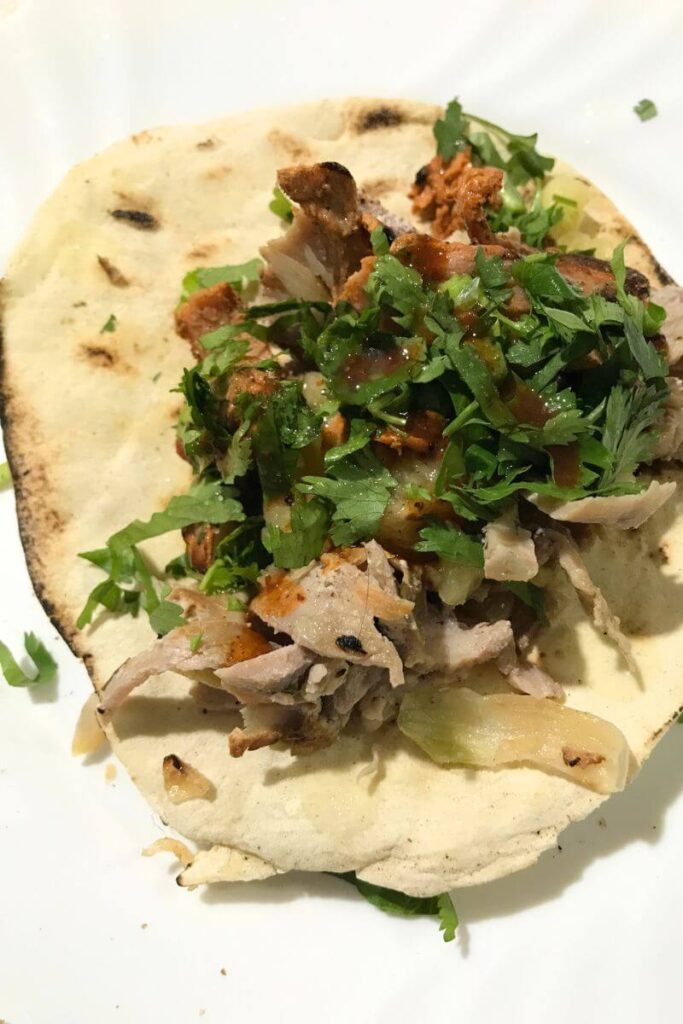 How is Taco Árabes different from Tacos Al Pastor?
If you're confused between Taco Arabes and Tacos Al Pastor like I was for a long time, let me clarify your doubt now.
Although, the meat in both is cooked on a vertical spit, the marinades are quite different. For instance, Taco Arabes uses a combination of Arabic and Poblano spices whereas Tacos Al Pastor use something more indigenous called the Mexican Adobada. Also, Taco Arabes is served on Arabic pita bread whereas Tacos al Pastor are served on corn tortillas.
Where to find the best Taco Árabes in Puebla?
Be sure to visit Antigua Taqueria La Oriental, a Puebla institution that has been serving amazing tacos árabes since the 1940s. This is also where locals head to for a taste of their famous tacos. The stand also offers other delicious options, like quesadillas and enchiladas.
Enmoladas
Enmoladas are a variety of mole-covered enchiladas found in Puebla, Mexico.
Think of stuffed enchiladas smothered with a rich layer of mole poblano. That's enmolada for you! They are also called enchiladas con mole or enchiladas with mole sauce.
Enmoladas are prepared with tortillas that are filled with a variety of ingredients like potatoes, chicken, beef and cheese; then covered in a rich and spicy mole sauce. They are usually served with sour cream, onions, lettuce and radishes.
Enmoladas are a great option for vegetarians and meat-lovers alike! The variety of moles available in Puebla make it possible to enjoy this delicious dish in many different ways. Plus, these enchiladas can be accompanied by a range of sides like Mexican-style rice, beans and even salads.
Where to find the best enmoladas in Puebla?
For the best enmoladas in Puebla, look no further than La Mexicana. Their enmoladas are covered in a rich mole sauce and served with sour cream and onions. La Mexicana also has a 3-mole option. You can have mole poblano, pipian rojo, and pipian verde – all in the same enmolada dish.
Mole Tamales
All food in Puebla is about mole. Well, most of it! Therefore, it is not uncommon to find tamales stuffed with chicken in mole sauce. And, honestly they taste delicious.
Our breakfast on most mornings in Puebla was a combination of mole tamales and the dulce ones. You'll find them at all street corners with vendors selling all kinds of tamales around breakfast time.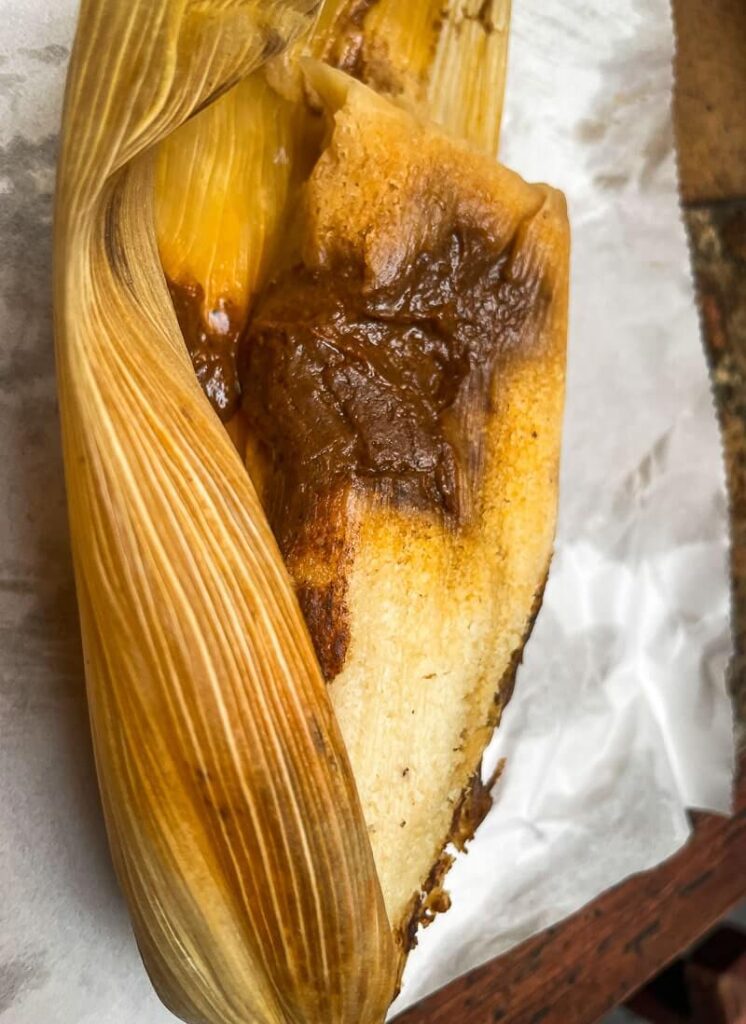 Keep an eye out for vendors with the big steel drums (that's where their tamale stash lies!). Or look out for local groups enjoying their morning tamales. There will usually be a vendor around. We found our favorite tamale lady the same way.
Mole de Panza or Menudo
Mole de Panza is a traditional dish from Puebla, Mexico. It's made with cow stomach (panza) that is cooked in a flavorful sauce made with chiles, onion, garlic and other spices.
Also known by other names such as menudo and pancita, mole de panza has a festive significance. It is typically cooked as a meal for newlyweds or at special occasions like baptisms. It's also known by other names such as menudo or pancita.
Mole de Caderas or Huaxmole
Mole de Caderas, also known as Huaxmole, is another festive dish that originated in the city of Tehuacan in Puebla.
Huaxmole is traditionally prepared from the hips and backbone of goats raised on a special diet simmered slowly with chillies, avocado leaves, onion, garlic, and Tehuacan-special wild green beans.
Originally a dish of the poor, the huaxmole is now an exotic Mexican specialty that's available only during the annual goat butchering festival, somewhere between October and December. More often than not, mole de caderas is priced higher than mole poblano!
Chalupas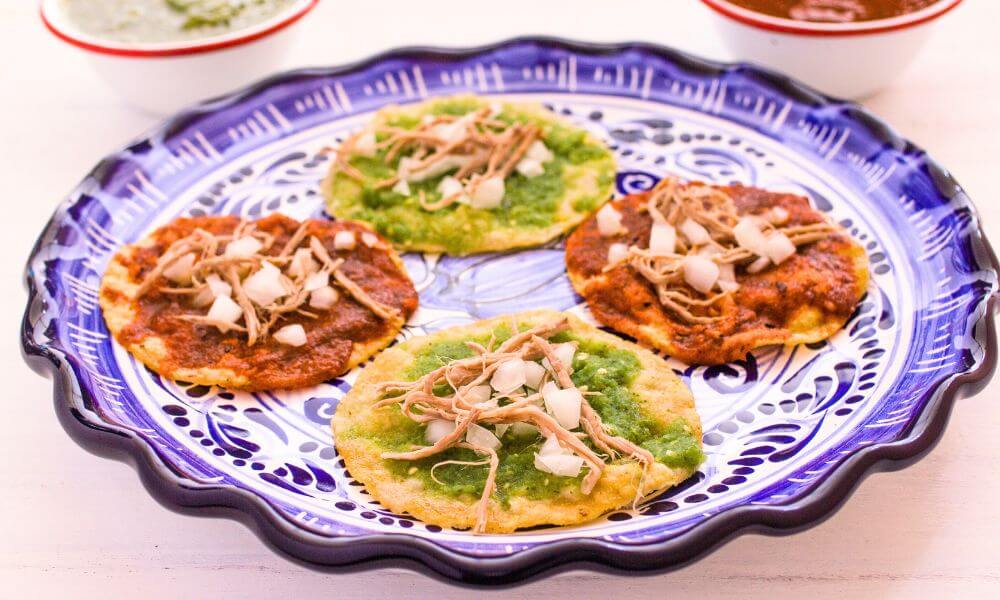 If you're a fan of street food, chalupas are a must-try in Puebla. A typical Poblano dish, chalupas are small corn tortillas fried in oil, topped with shredded meat (usually chicken or pork), and topped with green or red salsa.
Chalupas are a favorite Puebla snack or antojito. They are quick and easy to eat as well as easy on the pocket.
Some of the best places to try them are Comal Restaurant and Antojitos Tomy in the historic center of Puebla.
✦ Pro Tip: Planning to visit Puebla? Check out the 4 Best Ways to get from Mexico City to Puebla.
---
Chapulines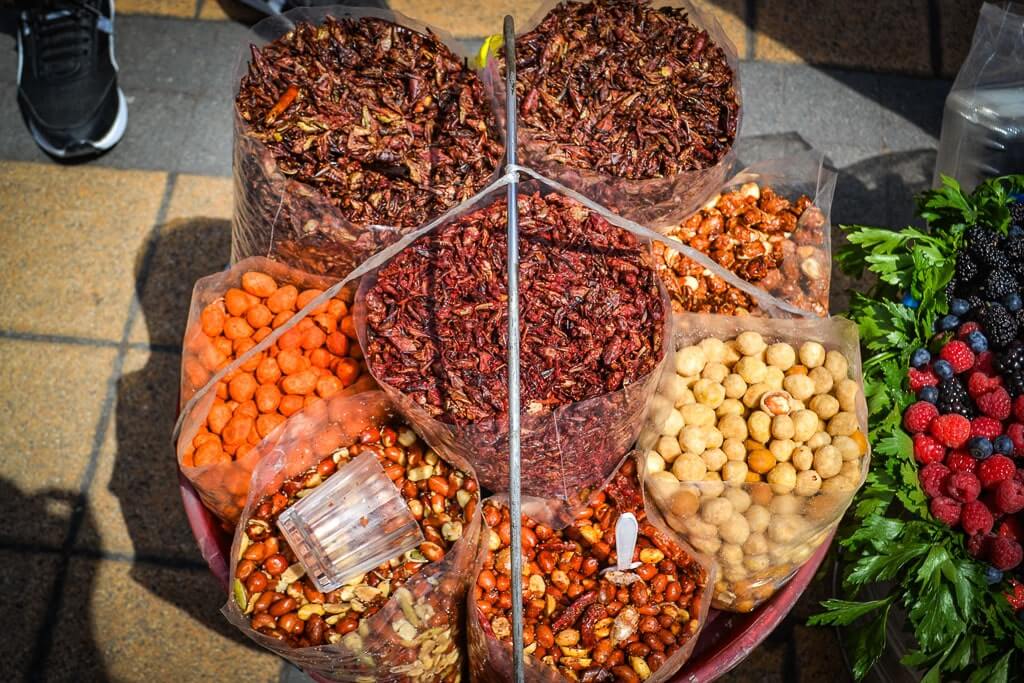 Chapulines or fried grasshoppers are a delicacy in Mexico. Often eaten with a dash of lime, chili, and salt, chapulines are a quick and easy on-the-go snack.
Even though chapulines are mostly found in Oaxaca, they are not uncommon in Puebla. Just look around and you'll find vendors selling chapulines alongside roasted groundnuts.
Chile Navideño
A festive and traditional sweet in Puebla, Chile Navideño or Christmas Chile is a stuffed chili pepper often enjoyed during the Christmas season.
Dried and smoke chiles are used in the preparation of Chile Navideno and every home has their own recipe for the stuffing. Very often, the chiles are filled with a mixture of meat, nuts and dried fruits, such as raisins, walnuts, and pineapple, and then soaked in piloncillo syrup. Some families also use roasted grasshoppers for stuffing too!
This delightful holiday treat is a perfect balance of spicy, sweet, and tangy flavors. You can find Chile Navideño at local markets during the holiday season or try your hand at making it in your own kitchen with this amazing recipe by Beatriz, a chef from Central Mexico.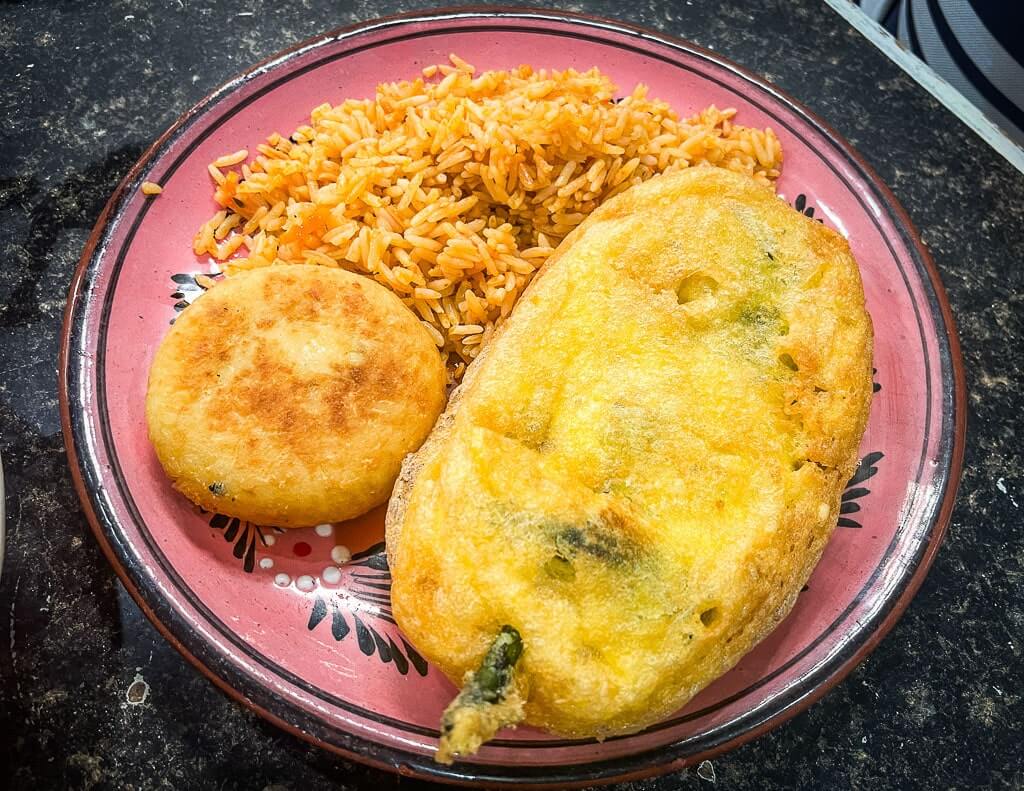 Molotes
Another scrumptious street food that you must not miss in Puebla is molotes. Originating in the state of Puebla, molotes are deep-fried corn masa (dough) pockets filled with different ingredients such as potatoes, cheese, mushrooms, chicken, or chorizo. They are also made with all-purpose flour.
Molotes can be found all over the city, but we found the best molotes at the food stalls in Cholula's San Pedro Market. Another great spot to taste this poblano delicacy is the well-known Fonda de Santa Clara Restaurant. Trust me, you'll want to savor these crispy, flavorful deep-fried pockets at least once while in Puebla.
Dulce Tipicos – Must-try food in Puebla
Puebla is well-known for its traditional sweets called Dulce Tipicos. They even have an entire street dedicated to sweets. It is called Calle de los Dulces. If you've got a sweet tooth and you're visiting Puebla, then you've got to try these sweet little things.
Dulce Típicos were produced by the combination of indigenous, Spanish, and Arab cultures. Most originated in convents and quickly became local favorites.
The most popular ones include camote (sweet potato candies), borrachitos (flour and sugar candies dunked in a bit of liqor), Tortitas de Santa Clara (shortbread cookies with colorful fillings), mueganos (fried dough coated in sugar), and jamoncillos (milk fudge). If you're looking to buy some foodie souvenirs from Mexico, then these sweet treats are perfect.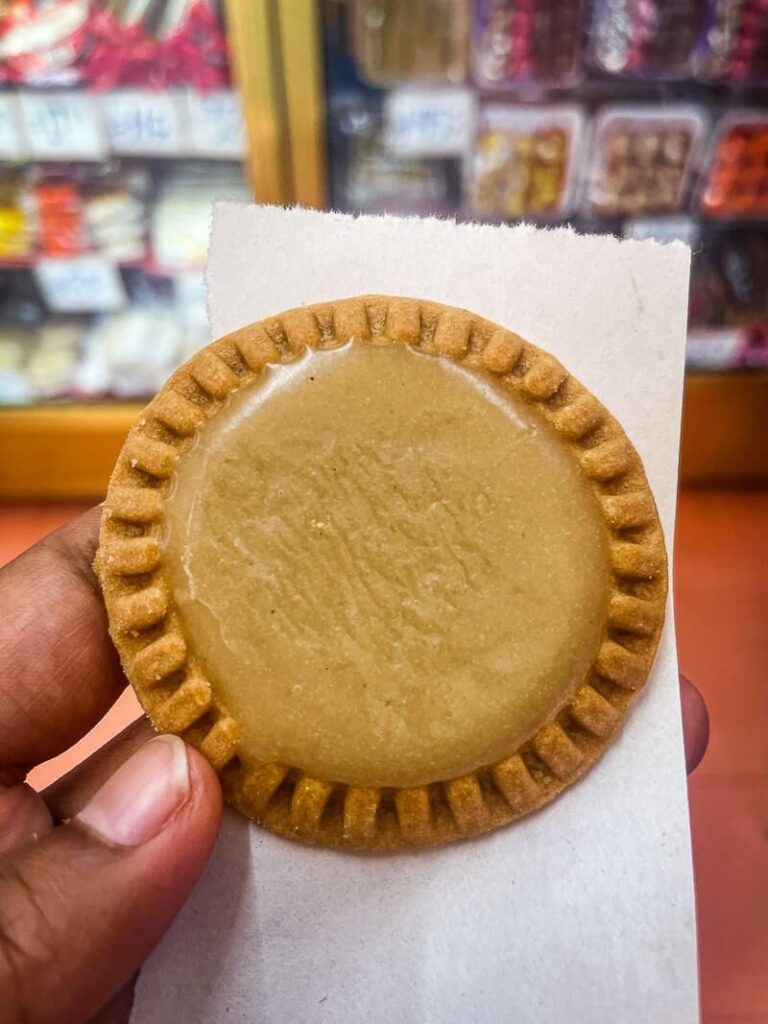 Where to find the best dulce tipicos in Puebla?
The best place to try and buy Dulce Tipicos in Puebla is the famous Calle de los Dulces, or Sweets Street. Most dulcerias (sweet shops) open around 10ish. La Gran Fama is one of the oldest and most renowned sweet shops in the city.
Pulque
An alcoholic beverage with ancient origins, pulque is made from the fermented sap of the maguey plant, a type of agave native to Mexico. With a milky-white appearance and a somewhat viscous texture, pulque has a unique taste that is enjoyed by both locals and tourists.
Drinking pulque is essentially imbibing a bit of poblano culture because this drink is sacred for Pueblans.
It was, and is still, used in religious ceremonies. The people of Cholula celebrate the Festival of Drunkenness called the Tlahuanca where hundreds of liters of pulque are distributed freely and people are encouraged to get drunk. Also, at the Great Pyramid of Cholula, you can see an ancient mural depicting pulque drinkers. The pyramid dates to the 3rd century BCE.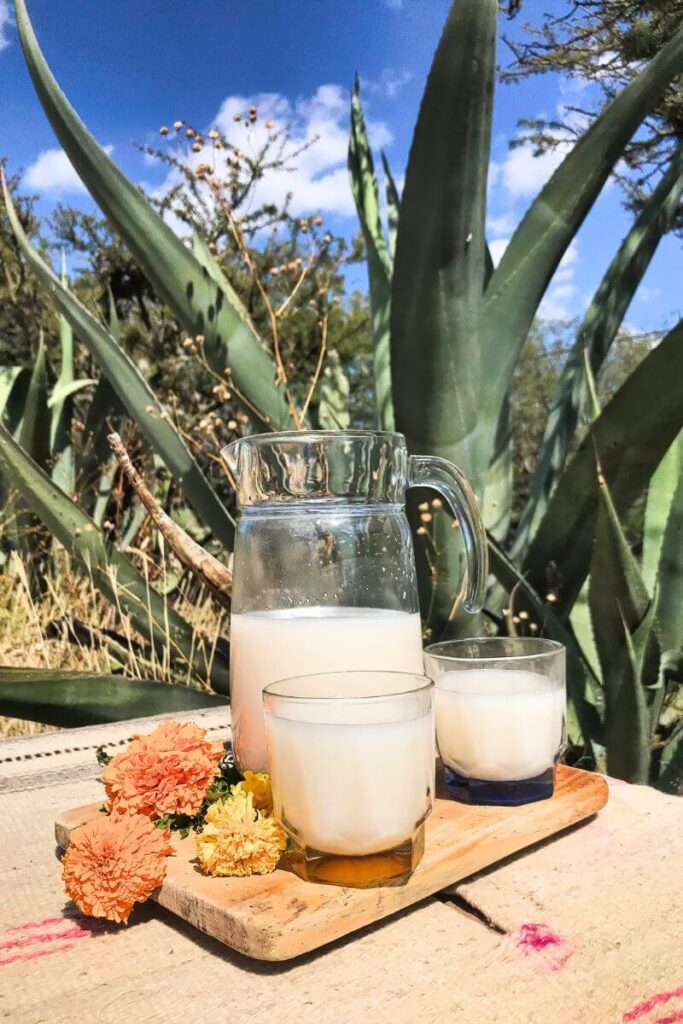 Puebla is known for its lively pulquerias, bars that specialize in this ancient drink. Be sure to visit El Nahual Pulqueria, a legendary pulque bar, which is a favorite among locals. Calavera Coyote Pulqueria is another great place.
Pasita: Puebla's Signature Liqueur
Pasita is a traditional, raisin-flavored liqueur commonly served as an aperitif. Dark, sweet, and with an alluring scent, pasita is often served with a piece of raisin and a small, skewered chunk of salty cheese as a palate cleanser.
I recommend visiting La Pasita Bar, a historic watering hole dating to 1916, where you can enjoy the classic pasita in a unique and authentic setting. This popular cantina tour also takes you to the best canteens (Mexican bars) including La Pasita and gives you a taste of Puebla's best liqueurs.
Rompope
Another delicious liqueur, rompope is a creamy, egg-based drink with a rich consistency similar to eggnog. It is made from a rich combination of egg yolks, milk, sugar, cinnamon, vanilla, and rum. Because of its sweet velvety taste, rompope is often used in desserts and ice creams.
Often called the Mexican eggnog, rompope is typically enjoyed in Puebla during festive occasions and celebrations. You'll find the best rompope around Christmas.
First crafted by nuns in Puebla's Convent of Santa Clara in the 17th century, rompope is now readily available in Puebla's supermarkets. You can also sample locally made versions at La Pasita.
Best Puebla Food Tours & Cooking Classes
Food tours and cooking classes are great ways to experience the local cuisine of a place. Locals always give you deeper insights into the culinary delights of a place and direct you to hidden gems that you'd never discover on your own. Don't you agree?
Puebla has some great food tours and cooking classes. Just sign up for one of the following and learn all about Poblano food and cooking styles.
✦ Pro Tip: If you're looking for more interesting tours and excursions in Puebla, check out our Best Puebla Tours Guide.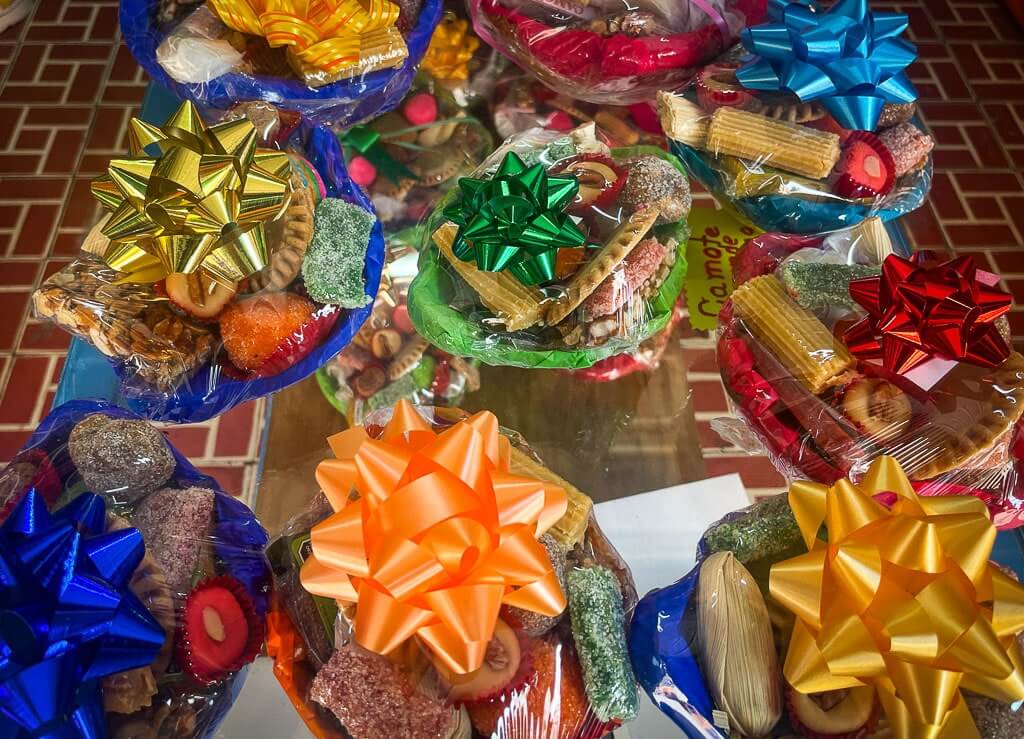 Puebla Food FAQ
What stuffed food originated in Puebla?
Puebla is well-known for its stuffed poblano peppers (chilies) that are absolutely delicious. The most famous Puebla stuffed pepper is chiles en nogada – a festive dish that marks Mexico's Independence Day. Chile Navideños are stuffed chilies prepared specially for Christmas while chile rellenos are cheese-stuffed chilies that are eaten everyday.
What food is Puebla known for?
Puebla is known for being the birthplace of many exotic Mexican dishes including the famous mole poblano, the festive chiles en nogada, the delicious cemita sandwiches, the sweet dulce tipicos, and the popular alcoholic drink pulque.
Is it safe to eat street food in Puebla?
Yes, it is safe to eat street food in Puebla. Look for street vendors that have the longest lines and you should be fine. However, do not drink tap water in Puebla and use a water filter or bottled water instead.
What is the history of food in Puebla Mexico?
Food in Puebla Mexico has a long history with many of the recipes dating back to ancient Mesoamerican times. Later, the arrival of the Spanish, the French, and the Lebanese also had significant effects on Puebla's food as we can see in the breads, the tacos, and the moles of the region.
What is Puebla style food?
Puebla style food includes a mole or sauce that is served over meat dishes along with a side of rice. Stuffed chilies or poblano peppers also form a big part of Puebla cuisine as well as sweet liqueurs like pasita and rompope.
Loved our Puebla food guide? Pin it for later!