Last Updated on September 12, 2023 by Soumya
Visiting Cholula Mexico and looking for the best things to do? Wondering what are the must visit attractions of Cholula? Traveling to Cholula from Puebla on a day trip and keen to visit the top places?
Here's my detailed travel guide for Cholula, Mexico that'll answer all your questions and some more.
Cholula, also called Cholula de Rivadavia, is an ancient city steeped in history and legends. Once the home of several ancient civilizations, Cholula boasts of an incredible pre-Hispanic pyramid and impressive colonial churches such as La Iglesia de Nuestra Señora de los Remedios and the Church of Santa Maria Tonantzintla. The city is also known for its Talavera tile factories, thriving local markets, and diverse culinary delights.
As you can guess already, there are lots of fun things to do in Cholula, Mexico. Further because of its close proximity to the city of Puebla, Cholula makes for a wonderful side trip. Therefore, you should definitely visit the beautiful Mexican town of Cholula.
---
Please note: This post may contain affiliate links which means I may earn a commission if you make a purchase by clicking a link on this post. This will be at no additional cost to you. Affiliate links help me keep this website up and running. Thanks for your support!
Planning your Cholula, Mexico trip last minute?
If you are booking your trip to Cholula last minute, don't worry. We have you covered. Here are some of the best tours and hotels in the city.
Top Experiences and Tours in Cholula
Top Hotels in Cholula
---
About Cholula Mexico
Cholula is one of Mexico's beautiful Pueblo Magicos located just a few minutes away from the colonial city of Puebla. The twin volcanoes, Popocatepetl and Iztaccihuatl are right next door. I have heard that on a clear day, you can see Popocatepetl looming right behind the Church of Our Lady of Remedies. Sadly, we didn't see it on our visit!
Mexico's Cholula is one of the oldest, continuously-inhabited cities in the world. Several ancient civilizations have called it their home including the Olmecs, the Teotihuacanos, and the Toltecs.
Cholula is home to the Great Pyramid or Tlachihualtepetl, a massive structure from the 3rd century BCE that is also the largest pyramid in the whole world, even bigger than the Pyramid of Giza. A beautiful, 16th-century colonial church – the Church of Our Lady of Remedies – sits on the top of the pyramid.
The city of Cholula actually comprises of two different towns – San Pedro and San Andres, each with their own churches and plazas. The Cholula attractions in this bucket list are spread over these two towns! The Great Pyramid is on the San Andres side.
Cholula has hundreds of churches, so many that it is often dubbed as the "City of Churches". Hernan Cortes ordered the building of churches on every pre-Hispanic temple that he could find in the region. Consequently, Cholula ended up with nearly 40 parishes and Greater Puebla City with over 250.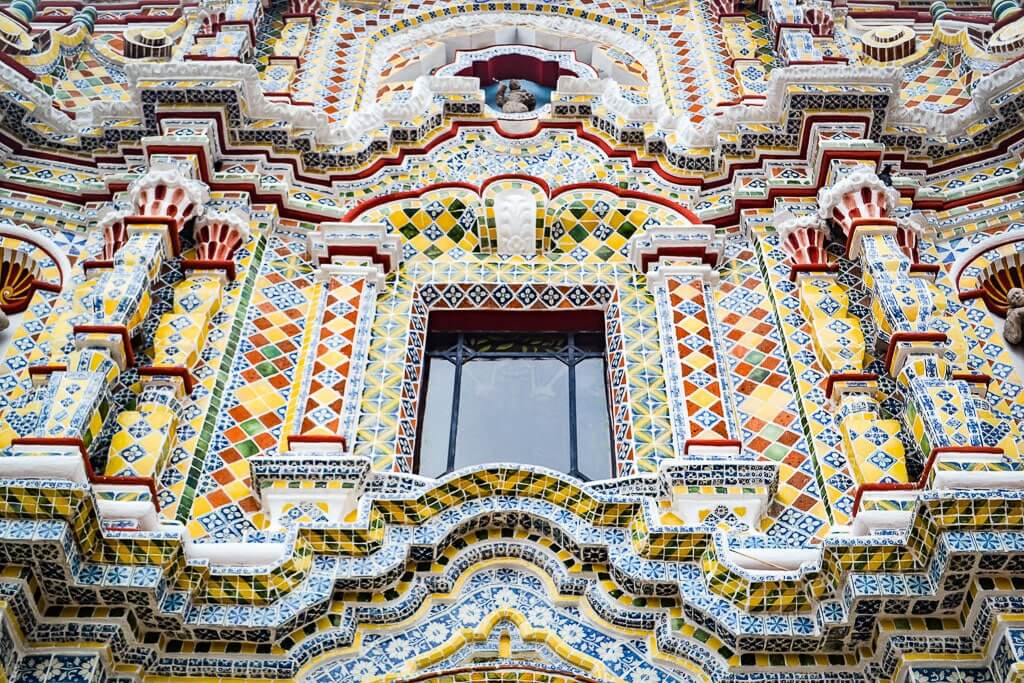 How to get to Cholula Mexico?
Because of its close proximity to Puebla, Cholula is often visited on a day trip from the bigger city. The easiest way to do that is to join a guided tour of Cholula from Puebla.
Best Cholula Tours from Puebla
This private tour of Cholula from Puebla is one of my favorites. It includes pick up from your Puebla hotel, transfers in a private vehicle, and the services of a local tour guide. You'll see all the best attractions of Cholula on this tour including the Great Pyramid and the churches of Santa Maria Tonantzintla and San Francisco Acatepec. This tour is not available on Sundays and Mondays because the Great Pyramid is closed on those days. ↳CLICK TO FIND OUT MORE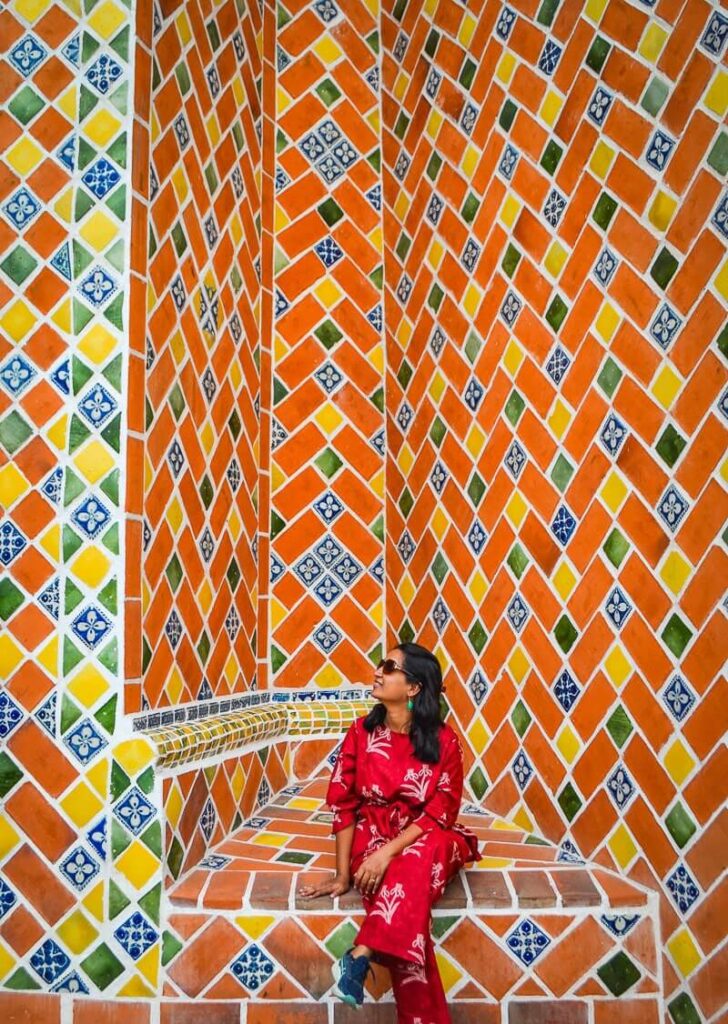 Getting to Cholula by Bus and Taxi
Local buses do ply between Cholula and Puebla but honestly, their schedules are a little too haphazard. However, if you have the willpower, commuting between Puebla and Cholula by bus is not impossible.
The bus transit options on Google Maps provide a fairly accurate picture. Additionally, you'd want to bookmark the website of Puebla Urban Transport which gives you details of routes that government buses ply on.
We were once stranded in Cholula once with no taxi/Uber in sight. Then, we boarded whatever local bus was coming our way and it cost about 10 pesos to get to one point to another within Cholula. The bus was clean and safe but the whole process did give me some palpitations. The best way to avoid this is to take a guided tour and be safe.
Turibus Mexico runs a daily, affordable bus service from Puebla Zocalo to Cholula and Atlixco. However, they have suspended their services lately. But you can always check if their buses are up and running here.
You can also drive to Cholula or take the taxi. To rent your car in Puebla, compare prices on Discover Cars here. Hiring an Uber from Puebla to Cholula costs about 110 pesos ($6.5).
Best things to do in Cholula Mexico
Apart from being home to a massive pyramid, Cholula is chock full of stunning churches, trendy cafes and restaurants, and impressive boutiques. It goes without saying that there are so many fun things to do in Cholula.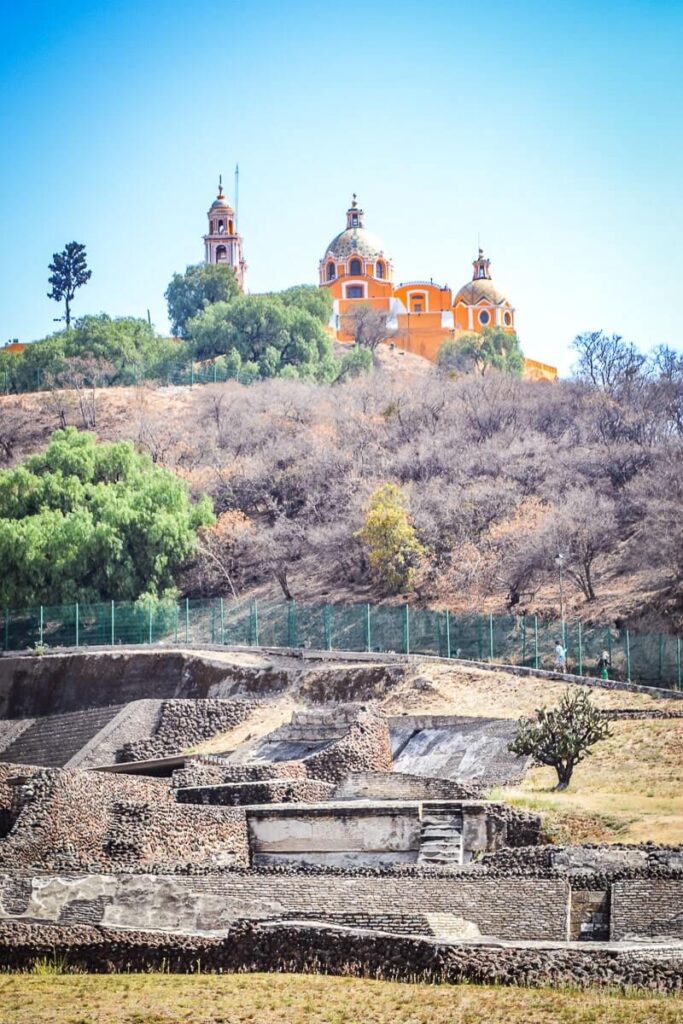 Visit the Great Pyramid of Cholula
The most unmissable thing to do in Cholula, Mexico is to visit the Great Pyramid, of course. The pyramid is often the main reason why tourists flock to this charming city in the first place!
Dating to the 3rd century BCE, the Great Pyramid of Cholula (aka Tlachihualtepetl) is the largest pyramid in the Americas and the most voluminous monument in the whole world, with a volume larger than that of the Giza Pyramid in Egypt.
Tlachihualtepetl Pyramid was once a shrine dedicated to the ancient Mexican God, Quetzalcoatl. Today, it looks a like a large hill covered with vegetation.
On the top of the hill (aka the pyramid) stands the beautiful yellow Church of Our Lady of Remedies.
In 1519, Spaniards marched on the city of Cholula and massacred thousands of residents. Then, Hernan Cortes ordered the construction of churches on the top of every native shrine. That's how the Church of Our Lady of Remedies came to be built over the Cholula Pyramid.
Even though we cannot see the entire pyramid today, it is easy to gauge its size by taking a tour of the archeological site. Ruins of ancient buildings, stairs leading to nowhere, and occasional mural paintings dot the site. At the end of the trail, you'll find a smaller pyramid that you can still climb. The Courtyard of Altars is another highlight.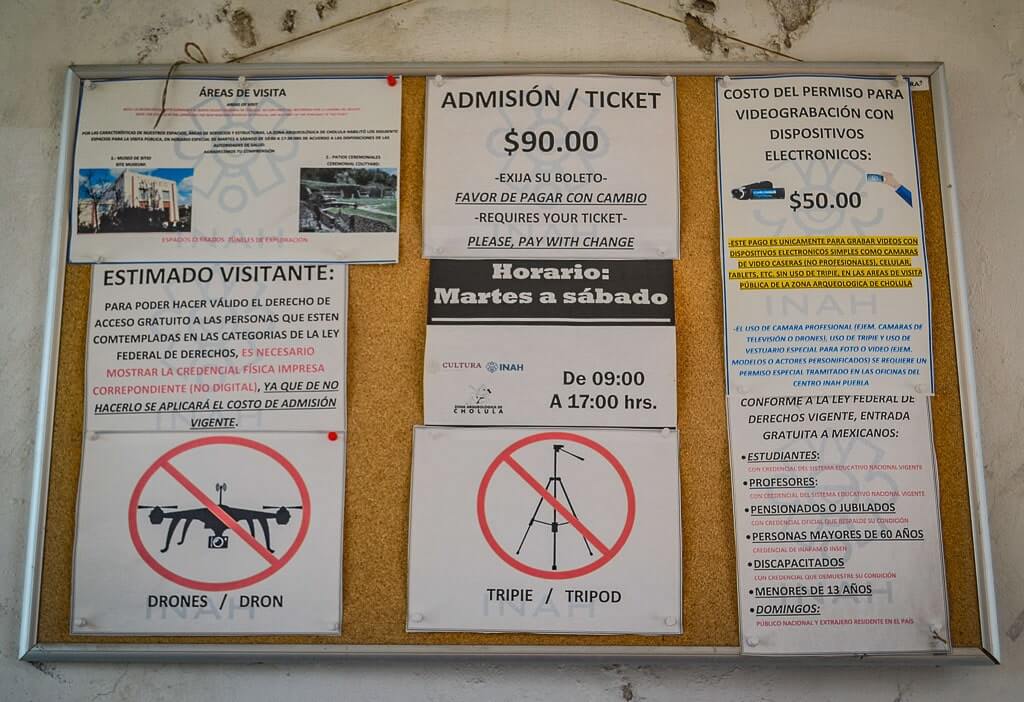 Know before visiting
The Great Pyramid of Cholula is open from 9:00am – 5:00pm, Tuesday – Saturday. It is closed every Sunday and Monday. Even if someone is selling you a Cholula tour for Sunday/Monday, it means you'll just pass by the archeological site instead of actually going inside.
Admission is 90 pesos and an additional 50 pesos for video cameras. Tripods and drones are not allowed.
Before COVID, visitors could enter the tunnels of the Great Pyramid. The tunnels are not open to public anymore!
Hike to Iglesia de Nuestra Senora de los Remedios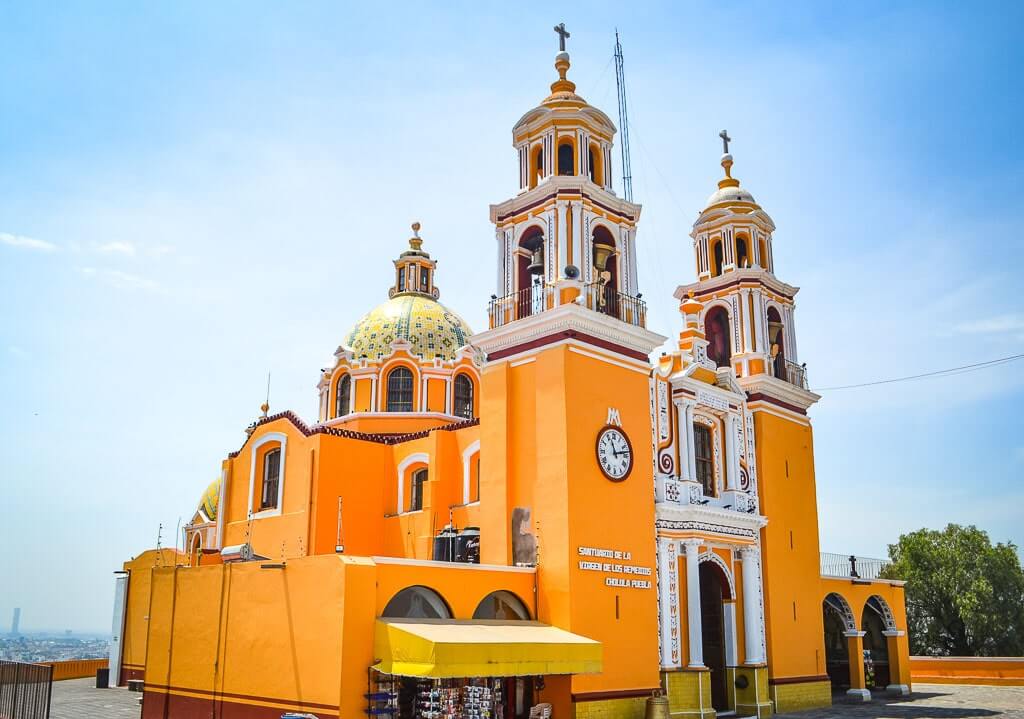 A 15-min hike from the archaeological site will take you to the yellow church on the top of the pyramid. This is Iglesia de Nuestra Senora de los Remedios or the Church of Our Lady of Remedies, one of Mexico's most important pilgrimage sites.
A Catholic church dating to the 16th century, the Church of Our Lady of Remedies is dedicated to the Virgin of Remedies.
It is a beautiful baroque church with a neoclassical altar and 24-karat gilded panels. The beautiful frescoes on the basilica walls are over 400 years old.
Built atop the Great Pyramid of Cholula, the church provides panoramic views of the city and beyond.
From here, you can see the neighborhoods of San Pedro and San Andres as well as many other churches that dot the city of Cholula.
Check out the Cholula Museums
Cholula has two museums located right next to each other, just beside the archeological park. The Regional Museum of Cholula is the bigger one while the Site Museum or Museo de Sitio de Cholula is the smaller one.
Housed in an old psychiatric hospital building, Cholula's Regional Museum is a treasure house of Mesoamerican art, both historical and contemporary. They have a wonderful collection of alebrijes (brighly-colored animal sculptures) and interesting displays of the region's geography and proximity to volcanoes. The museum is open from 10:00am – 5:00pm, Tuesday – Sunday. Tickets are priced around 45 pesos and entry is free on Sunday according to their official website.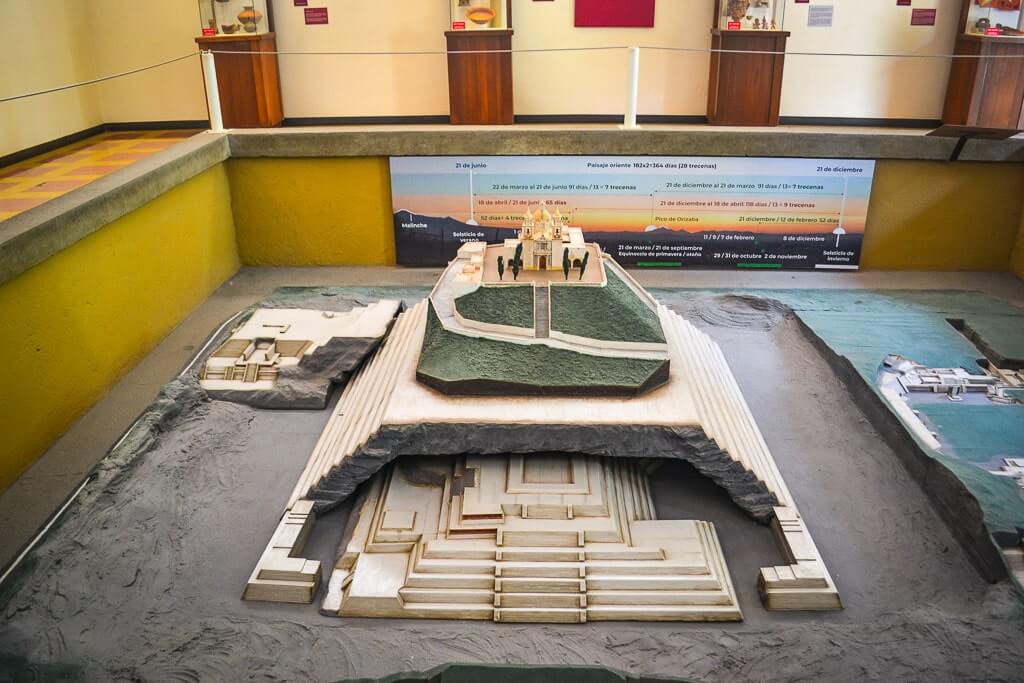 The Sitio Museum is a smaller museum dedicated to the archaeological ruins. It has a ton of documentation on the history of Cholula and a nice collection of excavated artifacts. Perhaps, the most interesting thing on display is the model of the Great Pyramid which helps put everything that you have seen so far into perspective.
Visitors often get confused between the two museums and think of it as just one. In fact, we also got confused and ended up visiting just the Sitio Museum. But there are actually two and they are located quite close to each other. Check our interactive map for directions.
Marvel at the Church of San Francisco Acatepec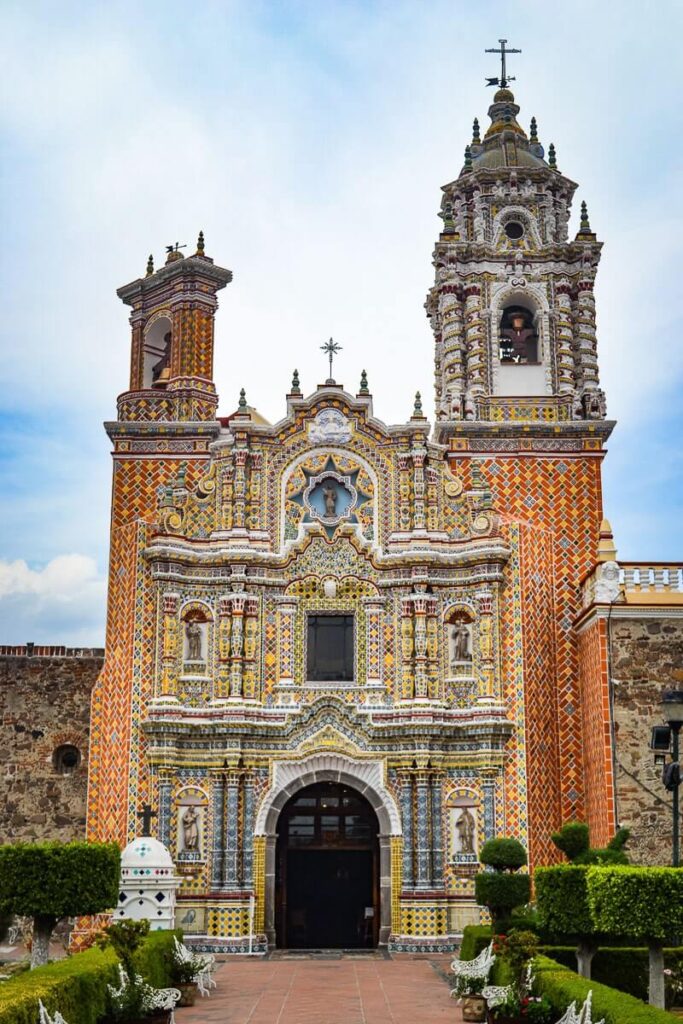 San Francisco Acatepec is a breathtaking church located in Puebla, Mexico. In my opinion, this is the prettiest church in Puebla.
The beauty of the church is rooted in its magnificent facade, which is adorned with exuberant displays of Talavera tilework. These tiles, in hues of blue, yellow, and white, form an intricate pattern against the red brick facade, creating a spectacular sight.
The history of San Francisco Acatepec dates back to the 16th century when the Franciscans built a small convent here. In the 17th century, they hired local craftsmen to build the an elaborate church. This led to a unique combination of indigenous artistic traditions with the baroque style introduced by Spanish conquerors, creating the exotic Mexican Baroque style.
Visiting San Francisco Acatepec is a must when in Cholula. Not only does it provide an opportunity to admire an architectural masterpiece, but it also offers a chance to delve into the cultural richness of Mexico. If you're lucky, you might experience a beautiful wedding or baptism celebration. Who knows!
Be awed by the Church of Santa Maria Tonantzintla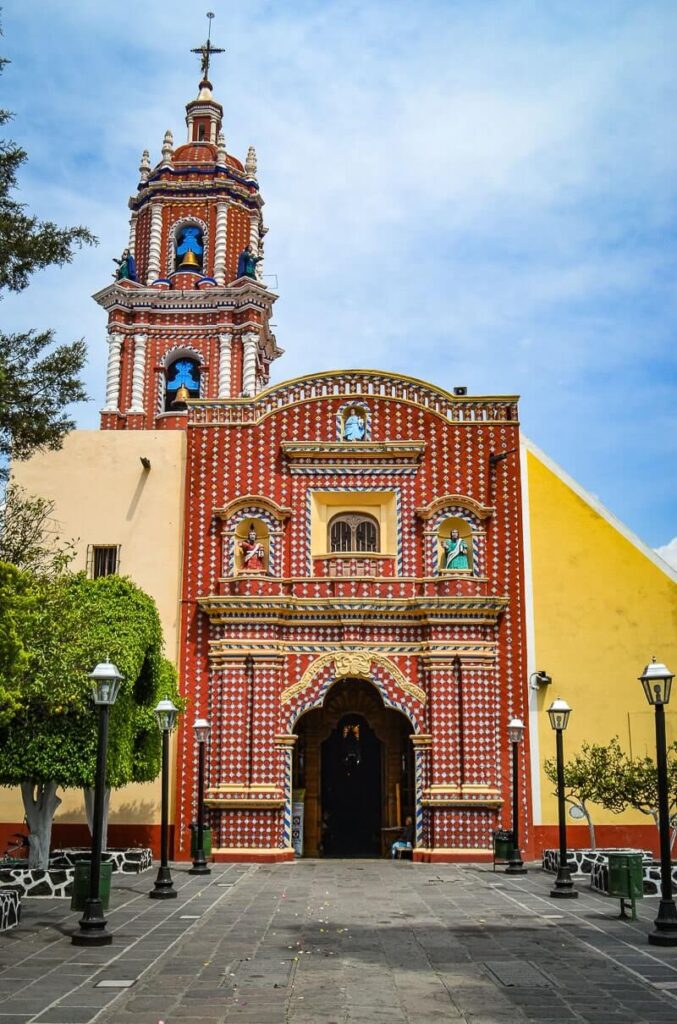 The Church of Santa Maria Tonantzintla in Cholula is another impressive colonial church! Dating to the 16th century, the church is dedicated to the Assumption of the Virgin. This church is also a beautiful representation of Mexican Baroque, a rich combination of Spanish and local styles.
The church has an admirable red facade covered with tiles. However, it is the interiors of the church that completely blow your mind. As you step in, marvel at the jaw-dropping ornamental plasterwork depicting cherubs, saints, and indigenous symbols such as local birds, tropical fruits, and dark skinned angels. Local iconography, bright decorative colors, and gilded ornamentation make the Church of Santa Maria Tonantzintla a fascinating display of Mexican art and culture.
Note that you cannot take pictures inside the church. Therefore, I have no pictures of the interior and I'm so sad about that! This is a beautiful church and the whole world needs to see it. Guess they want you to visit Cholula and see it for yourself!
Check out other beautiful Cholula churches
Templo San Bernardino Tlaxacalancingo: A beautiful but lesser-known baroque church in San Andres Cholula is Church of San Bernardino. With a stunning orange facade covered in tiles and an interior of gilded yellow, the Temple of San Bernardino is one of the prettiest churches to visit in Cholula.
The church is located in a sprawling complex which includes a huge courtyard and a small side chapel. The yellow courtyard is pretty breathtaking too and perfect for photographs!
San Gabriel Franciscan Convent: Flanking one edge of Plaza de la Concordia, the Convent of San Gabriel is an impressive colonial church dating to early 16th century. It was built on a native temple dedicated to Quetzalcoatl and is one of Mexico's largest Franciscan convents.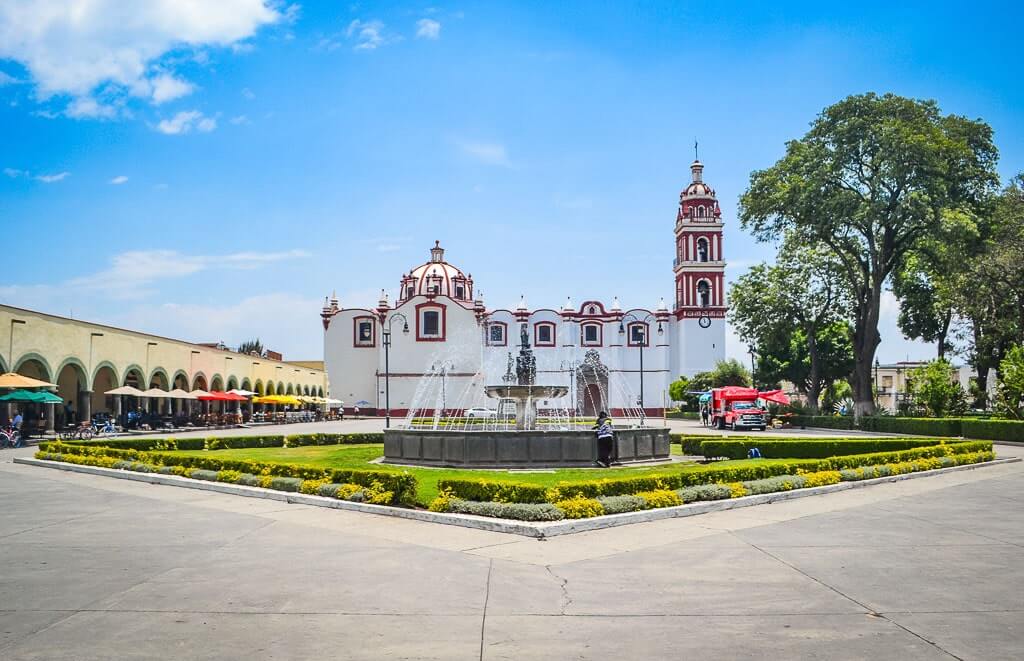 Enjoy the vibe of Plaza de la Concordia
Cholula has a lively public square called Plaza de la Concordia. This plaza is literally the beating heart of Cholula and the place for all kinds of local gatherings, festivals, and evening fiestas.
The iconic Saint Gabriel Convent lines one edge of the plaza, its ornate archways reminding us of the region's colonial past. Boutique shops and quaint eateries dot the other sides, offering a delightful mix of local flavors and artisanal crafts.
The square thrives with energy at all hours, from the early morning market hustle to the laid-back afternoon siestas under lush trees. If you want to feel the true vibe of Cholula, come to Plaza de la Concordia.
Try local food and drinks
One of the best things to do in Cholula is to try some local poblano food and drinks.
Owing to its long and eclectic history, the state of Puebla is home to many iconic Mexican dishes such as mole poblano and chiles en nogada. European and Arabic influences have given birth to innovative culinary wonders such as taco arabes and cemita sandwiches.
And, how can we forget about drinks! Pulque is Puebla's drink of the gods while pasita, a sweetened liqueur, and rompope, an eggnog with a twist, are a couple of incredible poblano innovations.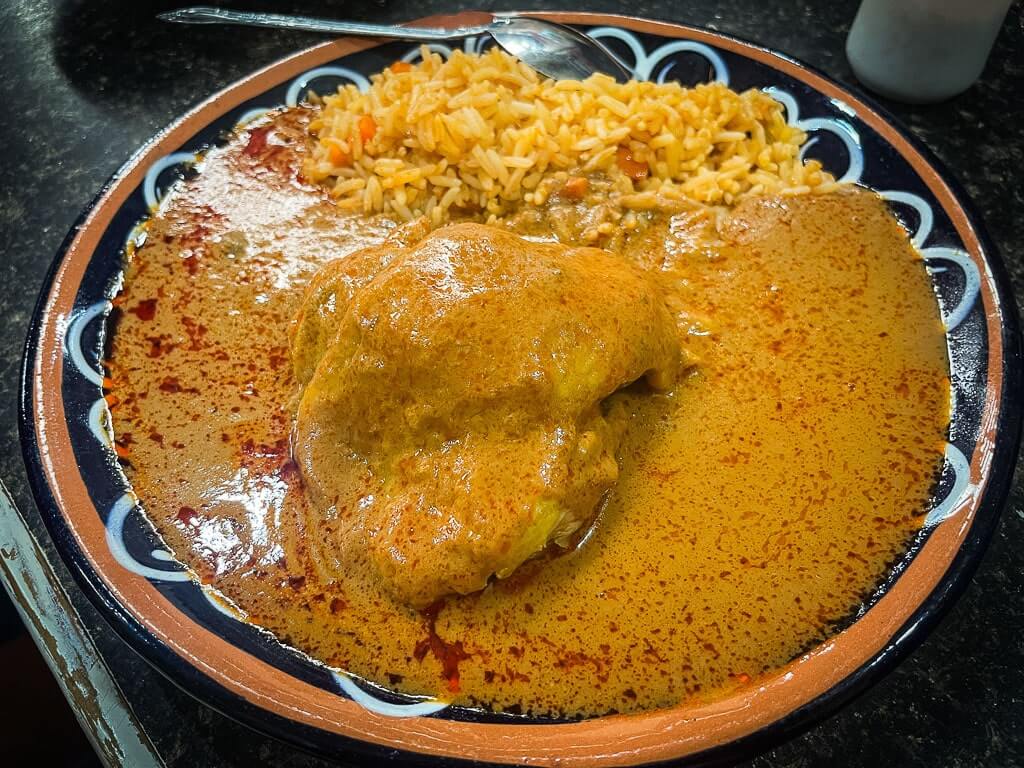 Best places to eat in Cholula
San Pedro Market: One of my favorite places to eat in Puebla, Cholula's San Pedro Market is the most authentic place for pipians and moles. Their cemita sandwiches are fab and so are the squash flower tortillas. Around Dia de los Muertos, vendors stock up pan de muertos breads which are a must-have.
Ciudad Sagrada: If you're looking for a fine dining restaurant that serves authentic Mexican flavors with the best views of the pyramid and the hilltop church, then head to Ciudad Sagrada.
La Norberta: Nice terrace restaurant with a view of the hilltop church of Cholula. Guests love their homemade blue corn tortillas, chalupas, and enfrijoladas.
Meson Garibaldi Poblano: The best place for breakfast in Cholula, Meson Garibaldi serves authentic Mexican food.
Restaurant Corazon de San Pedro: Nice place with great fusion food, lovely ambience, and amazing service. Perfect for romantic dates and celebrations.
I just found out that Viator has added a great Cholula cooking class on its list of must-do Cholula tours. Now, this is something that goes straight into my Cholula bucket list for the next time. You can check out the cooking class here and let me know how it is if you take it.
✦ Trivia: Did you know that Cholula has a festival to celebrate drunkenness??? The Tlahuanca is a pre-Hispanic festival celebrating "spiritual drunkenness" in San Pedro Cholula. During lent, locals and tourists drink thousands of liters of pulque (that is distributed freely) in an attempt to get closer to God. How interesting is that!
Explore San Pedro Municipal Market
The San Pedro Market in Cholula is a vibrant marketplace full of colors, flavors, sounds, and visuals that truly capture the essence of Central Mexico. Bursting with local produce, traditional crafts, and tantalizing street food, this market is a treasure trove for culture vultures and food enthusiasts alike.
What I loved about San Pedro was its authenticity. Here, you'll find no tourist traps or mass-produced trinkets. Instead, you'll discover a lively hub where locals shop, haggle, and gather.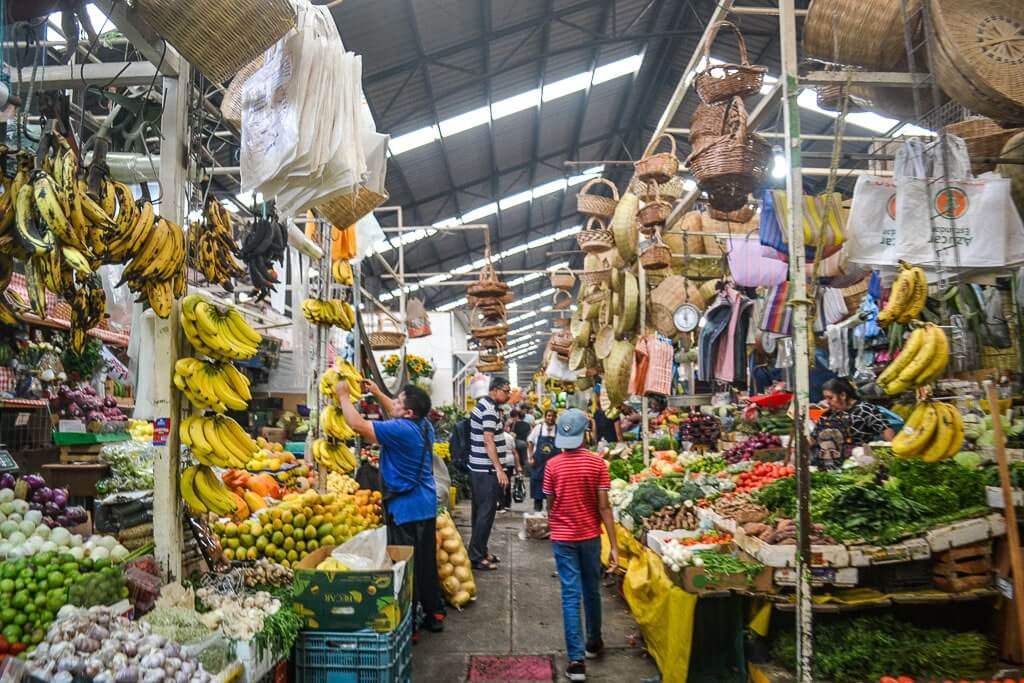 Experience Cholula's Container City
The Container City is a vibrant and happening spot that's an absolute must-see when visiting Cholula. Crafted from recycled shipping containers, it is a colorful labyrinth of boutiques, eateries, art studios, and bars, all nestled together in an absolutely unique architectural delight.
Cholula's Container City is a cultural hub that breathes life into the town's art and culture scene. Think of it as a melting pot of creativity, where local artisans, entrepreneurs, and food lovers come together. Strolling through its maze-like corridors, you'll discover a treasure trove of handcrafted products, stylish threads, and culinary surprises.
Shop for unique trinkets, taste local delicacies, sip on craft beers, or simply soak up the lively atmosphere. And when the sun sets, the city buzzes with energy and Container City throbs with live music and laughter. If you're looking for things to do in Cholula at night, the Container City should be the perfect fit.
Take a Talavera factory tour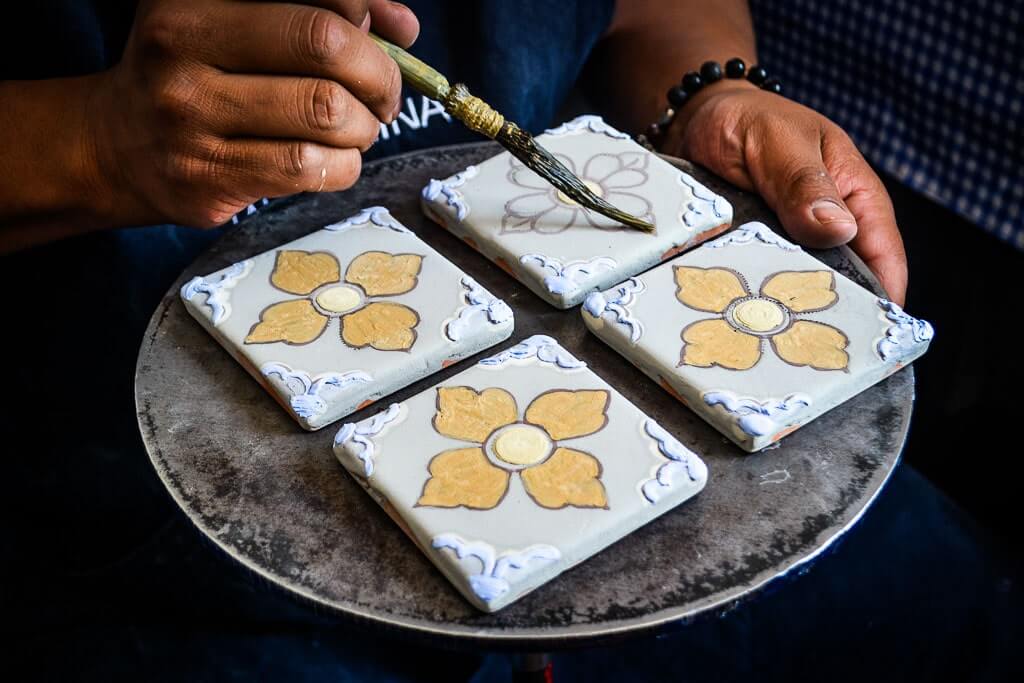 When traveling in the city of Cholula, you cannot miss the ubiquitous presence of Talavera tiles. Glazed, symmetrical, and colorful – Talavera tiles are everywhere. See if you can find a Cholula church without the tiles and let me know!
Tile-making has a long history in Mexico. When the Spanish arrived in Mexico in the 16th century, they brought with them the centuries-old pottery techniques from Talavera de la Reina, Spain. The fusion of these techniques with local craftsmanship gave birth to the distinct style known as Talavera Poblana.
Talavera Poblana is distinguished by its milky-white glaze, a characteristic that sets it apart from other types of pottery. Over the centuries, it has been embellished with a variety of designs, from geometric patterns to indigenous floral and fauna motifs, reflecting a confluence of cultural influences. UNESCO recognized Talavera Poblana as an Intangible Cultural Heritage of Humanity, a testament to its historical and cultural significance.
If you're visiting Cholula, do not miss doing a Talavera factory tour. The tour is not just about admiring exquisite tiles; it's like walking through the rooms of a living museum where talented artisans busily work on clay and turn them into amazing, hand-painted Talavera tiles.
You'll get to see the entire process – how the humble lump of clay changes into an explosion of beautiful patterns and colors that is the final product. I did the tour with Talavera Santa Catarina and was truly impressed by their contributions to the art of Talavera making.
Go souvenir shopping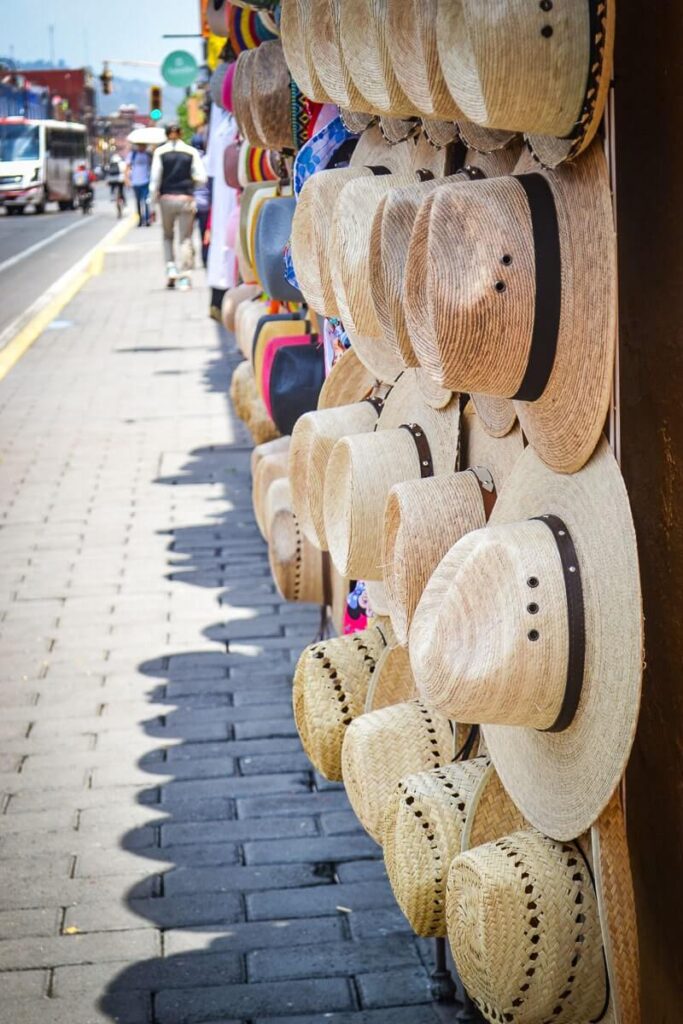 Shopping for souvenirs is fun in Mexico especially because there is so much variety to choose from. The souvenir shops at Cholula are no different.
As you walk from the Archaeological Zone to San Pedro Cholula, you'll find scores of souvenir shops lining the streets. They sell everything from fridge magnets and keychains to attractive sombreros and beautiful Mexican dresses.
If you're looking for authentic Mexican handicrafts with a modern twist, then head to La Monarca (Google Maps), a local handicraft shop located within walking distance of the archaeological park. They specialize in textiles, footwear, silver accessories that tell you lots about Mexico's art and culture, albeit in contemporary designs. All their pieces are handcrafted by local artisans. Check out their Instagram page here to view their designs.
Tour Cholula on a double-decker bus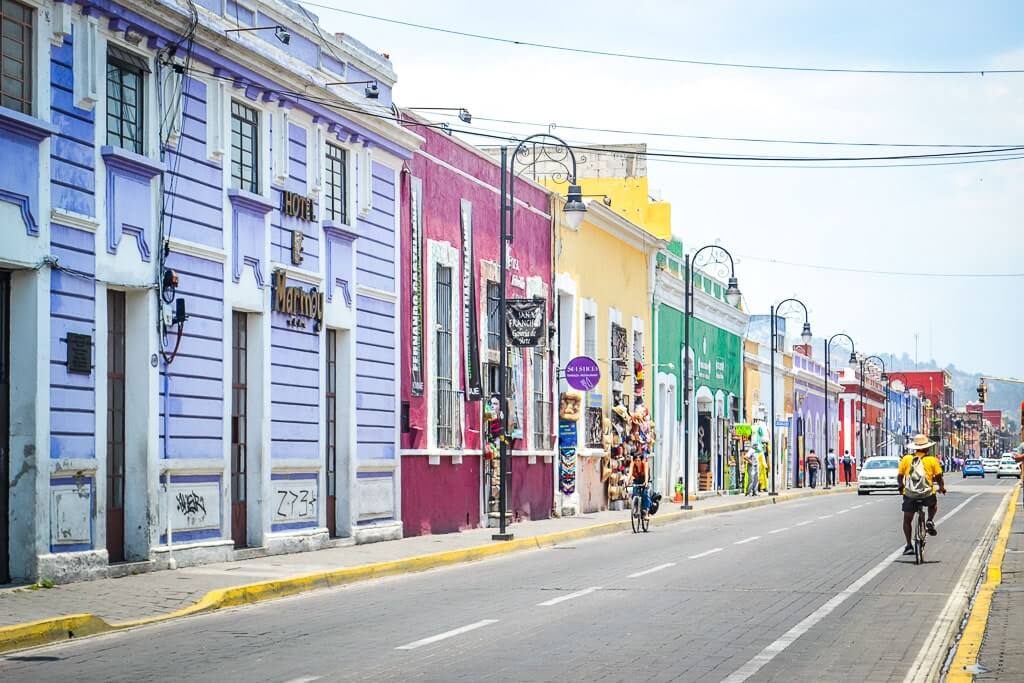 If you're short on time and wish to see all the best attractions of Cholula, then this 6-hour double decker bus tour of Cholula is the best way to do it.
You'll begin the tour in Puebla (so, no need to worry about transport!), visit Plaza de la Concordia, see the Convent of San Gabriel, and head to the Great Pyramid. Then, you'll see the Church of Our Lady of Remedies and continue to two more magnificent churches – San Francisco Acatepec and Santa Maria Tonantzintla.
Priced at a little over $11, this tour is the most efficient and cost effective way to see the best that Cholula offers.
Two things to note – the Great Pyramid tunnels have been closed since COVID. So, you'll want to check with the tour operator if they still do a tunnel tour or just a tour of the archeological site. Also, the website mentions only Spanish guides for the tour. But, they do provide English guides if you need one. So, be sure to convey your needs to the tour operator.
Interactive Map of Cholula Attractions
Where to stay in Cholula Mexico?
The best place to stay in Cholula is in the historic center i.e. within walking distance from the Great Pyramid, Plaza de la Concordia, and San Gabriel Convent.
Both San Pedro and San Andres neighborhoods have good hotels but San Pedro has more highly-rated heritage properties. That's why San Pedro is always my preferred place to stay. Here are a few great recommendations of the best hotels in San Pedro, Cholula.
Estrella de Belem B&B and Spa: If you're looking for a luxurious stay in Cholula, check out this 19th-century mansion that is now a cozy boutique hotel. They have a beautiful indoor garden and a rooftop pool with the best views of the pyramid and the church. Check out reviews on Expedia | Booking.
Quinta Luna: Housed in an old, hacienda-style mansion complete with a courtyard and hanging bougainvillea, Quinta Luna is a beautiful place to stay in Cholula. You get cozy rooms and a delicious breakfast without burning a hole in your pocket. Book your stay at Quinta Luna on Expedia | Booking.
Santa Josefita B&B: If you'd like a budget accommodation, check out Santa Josefita B&B. Located in a historic building in Cholula, Santa Josefita B&B is a sustainable property with lovely rooms, classic breakfast, and beautiful wall decor. Book you stay at Santa Josefita B&B on Expedia | Booking.
I would like to point out that visitors often stay in Puebla and travel to Cholula on a day trip. Puebla is a larger city and and has many highly-rated hotels. You could do that too or spend a night or two in Cholula and immerse yourself deeply in local Choluteca vibes!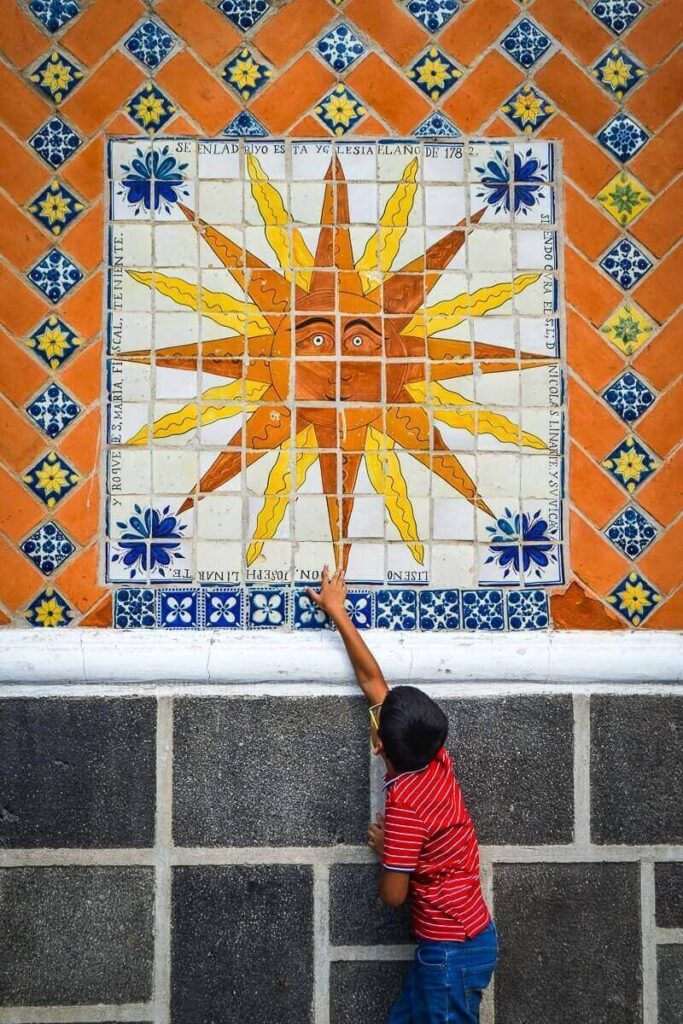 Best time to visit Cholula Mexico
The best time to visit Cholula is in spring, March through May. These months bring with them warmer temperatures, often floating around the comfortable 70s, ideal to be outdoors and explore archeological sites and do some church hopping.
Cholula Mexico Travel FAQ
Is Cholula Mexico worth visiting?
Yes, Cholula Mexico is absolutely worth visiting because of its long and storied history, a massive pyramid that is the largest in the world, and stunning colonial churches that sport colorful talavera tile-adorned facades and exquisite Mexican Baroque interiors.
What is Cholula Mexico known for?
Cholula Mexico is known for its Great Pyramid that is the largest in the world, bigger in volume than even the Great Pyramid of Giza in Egypt. It is also one of the oldest continuously inhabited cities in the world.
Why visit Cholula?
Visit Cholula to experience pre-Hispanic history of more than 2000 years that is still alive at the Great Pyramid of Cholula, one of the largest manmade structures in the world. Cholula is also the best place to witness the beauty of Mexican Baroque architectural style at its numerous colonial churches draped with colorful talavera tiles.
Is Cholula safe?
Yes, Cholula is one of the safest places to visit in Mexico. Just follow the general rules – avoid dark alleys at night, no flashy jewelry, don't carry too much cash on you – and you should be fine.
How long to stay at Cholula?
1-2 days are ideal to see the best attractions of Cholula including the Great Pyramid, the Church of Our Lady of Remedies, and the baroque churches of Santa Maria Tonantzintla and San Francisco Acatepec, enjoy the vibes of the Container City and Plaza de la Concordia, shop and eat good food.
Loved our Cholula Mexico Travel Guide? Pin it for later!