Last Updated on December 5, 2023 by Soumya
Wondering how to get from Mexico City to Puebla? What is the best transportation between Mexico City and Puebla? Is there a bus to Puebla from Mexico City? Or do you need to hire a taxi?
In this ultimate transportation guide, I tell you all about the 4 best ways to get to Puebla from Mexico City DF and how each compares with the rest.
Puebla is a beautiful colonial city in Mexico. It has a rich history and culture and is home to some of the most ornate baroque churches in the country. The iconic mole poblano was born here and so was Talavera pottery. The Great Pyramid of Cholula is not too far either. It is one of favorite places to visit in Mexico.
The best reason to visit Puebla is that it is only a couple hours away from the Mexican capital! So, even if you're short on time, you can do a quick day trip to Puebla and be back in CDMX the same day. Just pick the Mexico City to Puebla transport option that works best for you and get ready to explore!
Read Next: 35 Best Things to do in Puebla
---
Please note: This post may contain affiliate links which means I may earn a commission if you make a purchase by clicking a link on this post. This will be at no additional cost to you. Affiliate links help me keep this website up and running. Thanks for your support!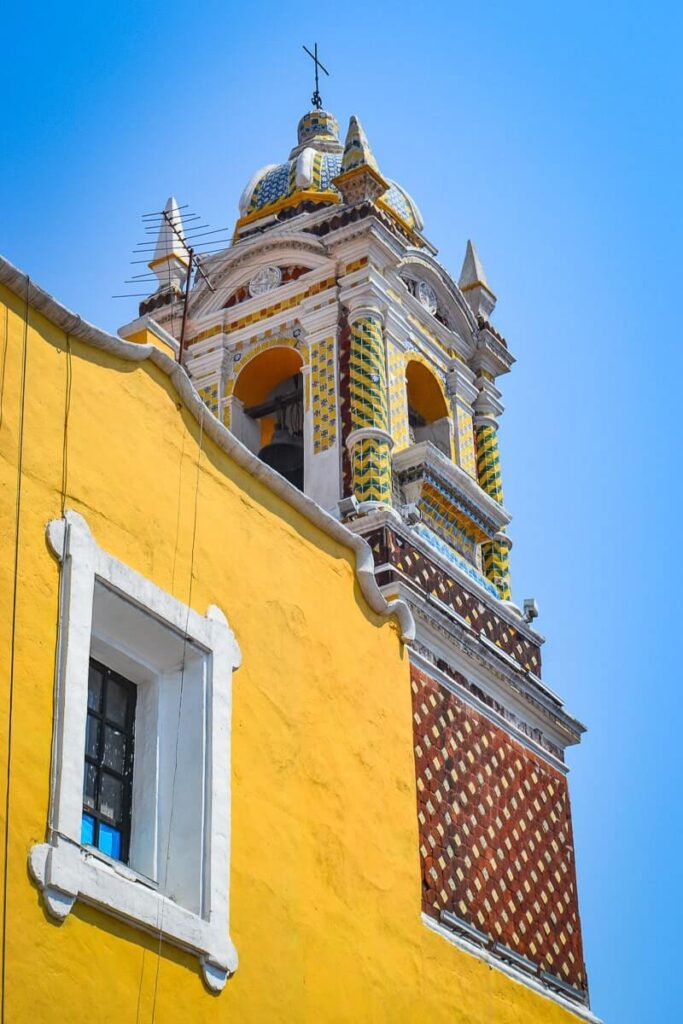 How to get from Mexico City to Puebla?
Take the Mexico City to Puebla Bus
The cheapest way to get to Puebla from Mexico City is by bus.
I love traveling by bus in Mexico. Mexican buses are comfortable, usually on time, and easy to figure out. They connect every nook and corner of Mexico and are equivalent to trains in Europe.
The bus journey from Mexico City to Puebla takes around 2.5 hours. Tickets cost anywhere between 250 – 400 pesos ($15 – $25) depending on the bus class and company.
Bus stations to know about
The primary bus station in Mexico City that has frequent buses to Puebla is TAPO – Terminal de Autobuses de Pasajeros de Oriente (Google Maps). The closest metro station to TAPO is the San Lazaro Station that lies on Line 1 (Pink Line) and Line B.
If you want to go to Puebla directly from the Mexico City International Airport (AICM), then there are 2 bus stations that you should know about – AICM Terminal 1 and AICM Terminal 2.
Check AICM website here for a rough idea of bus fares, schedules, and airport terminal map. Schedules and fares may not always be updated on this website. So, I highly recommend that you check those on the merchant websites (linked below) before booking.
Please also note that the AICM website only mentions Estrella Roja bus schedules for Puebla but ADO buses also run from the airport.
Puebla has 2 main bus stations that serve Mexico City – CAPU – Central de Autobuses de Puebla (Google Maps) and Paseo Destino Terrapuerto (Google Maps).
The bus stations in Puebla are not at walking distance from the Historic Center. So, you'll have to hire a taxi or an Uber to get you to the hotel. There are prepaid taxi counters at the bus station where you can book a taxi. Both cost around 100 pesos ($6).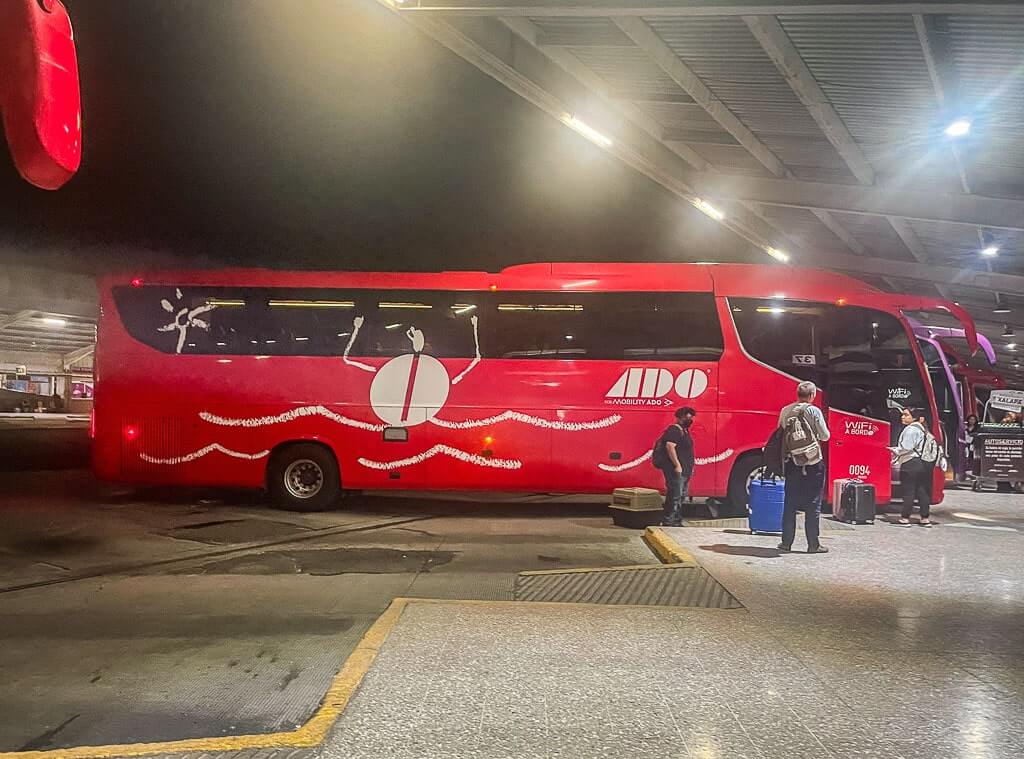 Companies that run Puebla buses from CDMX and vice-versa
Three bus companies operate direct buses from Mexico City to Puebla – AU, Estrella Roja, and ADO.
AU Bus
AU is actually a less premium brand of the ADO Group. These buses are called Economic Direct and rank somewhere between First and Second classes. Therefore, the facilities on board are limited. They have no toilets on board which can be an issue for a longish trip like this one.
Estrella Roja Bus
Estrella Roja buses run from TAPO and Mexico City Airport to CAPU and Paseo Destino Terrapuerto in Puebla. You can purchase tickets at the bus station ticket counters or book them ahead of time on their website here. The Estrella Roja website is in Spanish and may not be the most convenient place to book tickets, though.
ADO Bus
ADO buses are my all-time favorite. They are well-maintained and have USB ports for charging phones and laptops. In my opinion, they are one of the most comfortable buses that I have traveled in Mexico.
ADO has several buses from TAPO and the Airport in Mexico City to CAPU and Paseo Destino Terrapuerto in Puebla.
The first ADO bus for Puebla departs at 1:40am from the Mexico City Airport and there are buses every 20 mins or so till 10:30pm or so. Buses from TAPO start around 5:30am in the morning till about 11:00pm at night. Similar hours for Puebla bus stations too. Check out all bus schedules on Busbud website here.
There are some ADO buses from Mexico City's Sur Bus Station but they are not as frequent. In Mexico City, TAPO is your best bet. Or the Airport if you're leaving directly from there.
The best way to book your ADO bus tickets
Book them at the ADO ticket counter at the bus station.
Book them on Busbud, my favorite ticket booking platform for ADO buses. It is available in English and is super easy to navigate. ↳BOOK YOUR BUS HERE
Pro Tip: Sometimes buses in Mexico can get quite chilly because of air-conditioning. So, it helps to have a small jacket with you.
Rent a Car
Renting your own car in Mexico City gives you freedom and flexibility to plan your day. You are not dependent on bus schedules and can drive to Puebla any time of the day though I highly recommend that you leave early in the morning because traffic in Mexico City gets really really bad.
↳Rent your car in Mexico City here.
If you decide to rent your own car, check out the driving directions on Google Maps here. You'll be driving via Autopista Mexico – Puebla/ 150D which is a toll road (toll roughly 200 pesos – approx. $12). ↳ Check here for rental car availability and rates.
If you opt to drive to Puebla from Mexico City, be sure to stop at Ex-Hacienda de Chautla, a beautiful plantation hacienda dating to the 18th century complete with an European-style mansion, gardens, and walking trails.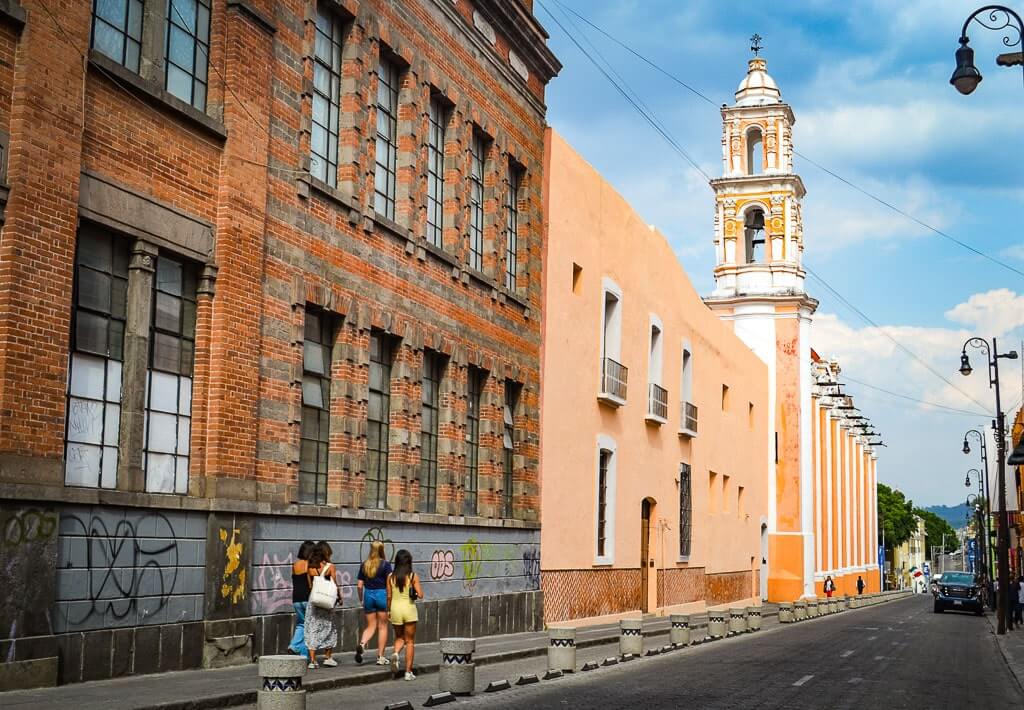 Hire a Private Transfer from CDMX to Puebla
If you'd rather not drive on your own, then booking a private transfer from Mexico City DF to Puebla is a good choice.
Schedule a transfer from Mexico City Airport to Puebla on Welcome Pickups website here. Welcome Pickups is a fast and reliable pickup service that connects licensed drivers with tourists who need them. The best part about Welcome Pickups is that they track your flight and can reschedule if it gets delayed or something. Check out Welcome Pickups here. Transfer from Mexico City Airport to Puebla Center will roughly cost $250.
Sevi Travel Ideal Tours is a highly-recommended travel agency in Puebla that does airport and hotel transfers to and from Puebla. We were checking them out when we were planning our Puebla trip from Mexico City. If you wish to avail their services, check out their reviews here.
Book a Day Tour to Puebla from Mexico City
Day trips are ideal for those who are short on time and want to see the best of Puebla in one day. If you're not comfortable driving in Mexico or riding a bus, then taking a day tour to Puebla from Mexico City is a great way to see this colonial city.
All day tours include pickup from your Mexico City hotel or a common meeting point and the services of a knowledgeable tour guide. Therefore, you can just sit back and relax your trip to Puebla.
Here are a couple of the best day tour recommendations from Mexico City to Puebla. The first one is my favorite.
This small-group excursion from Mexico City takes you on a tour of the Great Pyramid of Cholula, the churches of Santa Maria Tonantzintla and San Francisco Acatepec, and the colonial monuments of Puebla's Historic Center. You'll experience the stunning baroque architecture Rosario Chapel and learn all about the history of Puebla with an amazing tour guide. ↳BOOK THIS PUEBLA SMALL-GROUP TOUR NOW
Fly to Puebla? Not Really!
Puebla does have an airport, called the Puebla International Airport, but there are no direct flights between Mexico City and Puebla.
Puebla and Mexico City DF are just 2 hours apart by road. So, it makes no sense to have a flight between the two cities. The easiest way to travel between CDMX and Puebla is by bus or by day tour.
However, the presence of an airport means that you can directly fly to Puebla and skip Mexico City. This makes sense if you've no travel plans in Mexico City and want to see only Puebla.
United, VivaAerobus, and Volaris operate flights to Puebla International Airport. United Airlines has a flight from Houston to Puebla few days a week. And there are direct flights to Puebla from Cancun.
If you decide to arrive at the Puebla International Airport directly, then you will want to check out this highly-rated transfer from the Puebla Airport to your hotel in Puebla.
↳BOOK YOUR PUEBLA AIRPORT TRANSFER NOW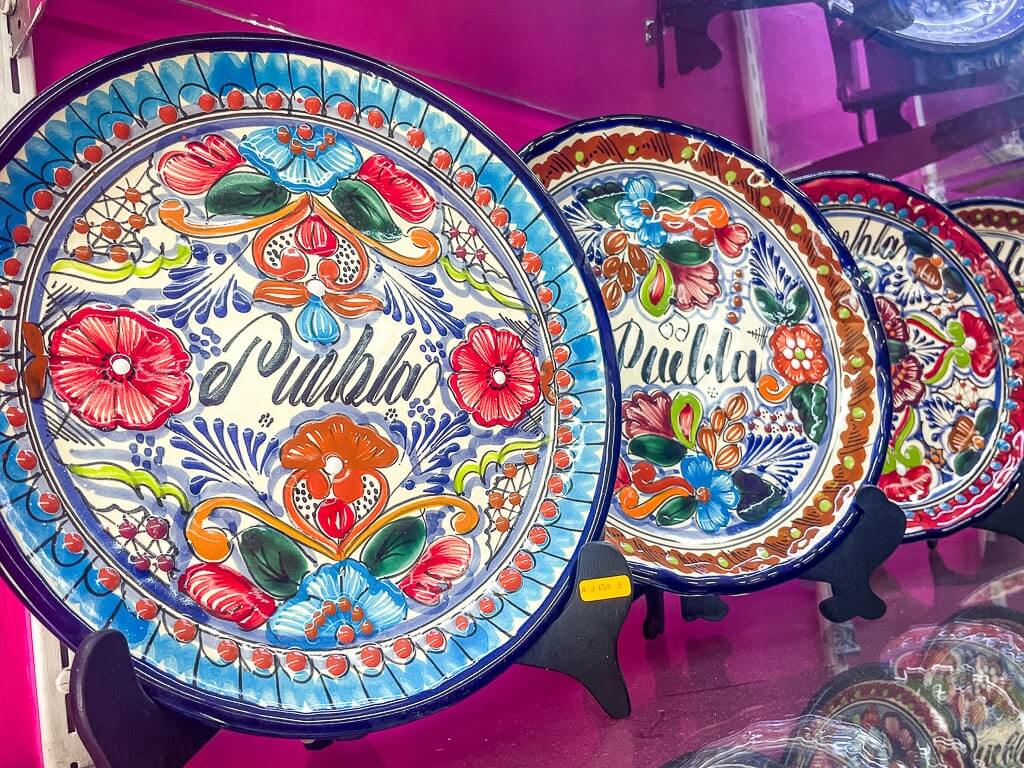 Getting to Puebla from Mexico City – FAQ
Is there a bus from Mexico City to Puebla?
Yes, there are several buses from Mexico City to Puebla and vice versa. Bus companies such as ADO, AU, and Estrella Roja operate buses between the two cities that run from TAPO bus station in CDMX to CAPU and Paseo Destino Terrapuerto in Puebla.
What is the best bus to take from Mexico City to Puebla?
ADO buses are the best buses to take from Mexico City to Puebla because they are comfortable, neat, and have restrooms on board. They are one of Mexico's highest-rated bus companies. You can check ADO bus availability and rates here.
How to take bus from Mexico City Airport to Puebla?
You can take either an ADO or Estrella Roja bus to Puebla from Airport Terminal 1 or 2 at the Mexico City Airport. Airport ADO buses run every 20 mins throughout the day barring a couple of hours at night.
Can I take an Uber from Mexico City to Puebla?
Yes, technically you can take an Uber from Mexico City to Puebla. The ride should cost you around 2000 pesos ($120) on the app. However, I have heard of instances when drivers have demanded double the price (because they have to come back too!) or canceled at the last minute.
To avoid all that, it is best to book a cab and get a confirmation beforehand. Welcome Pickups provides safe and reliable transfers from the airport. You can also check Sevi Travels Ideal Tours who can pick you up from anywhere in Mexico City.
Is Puebla a day trip from Mexico City?
Yes, Puebla can be done as a day trip from Mexico City. If you start early in the morning, then you can explore Puebla's best attractions and see the Great Pyramid of Cholula in one day. This small-group tour of Puebla does a great join of fitting in everything.
Loved our Mexico City to Puebla Transport Guide? Pin it for later!