Last Updated on March 5, 2023 by Soumya
Winter travel in India can be fun especially if you choose your destination right. This awesome list of the best places to visit in winter in India curated by travel experts will help you do exactly that and so much more.
India is a huge country with varied landscapes and climates. Winter holiday destinations in India can vary from sunny warm beaches to snowy mountains to magnificent world heritage sites.
In this extensive winter bucket list collated for travelers like you, you will learn.
All about the best places to visit in winter in India from all corners.
Tips from seasoned travelers to help you plan a memorable trip to each of these places.
If you are a history lover, I am sure you will love our post on the most magnificent Indian palaces. It will definitely add to your collection of the best winter holiday destinations in India. If not, read along to find a healthy mix of nature, art, and culture.
Please note: This post may contain affiliate links which means I may earn a commission if you make a purchase by clicking a link on this post. This will be at no additional cost to you. Affiliate links help me keep this website up and running. Thanks for your support!
Best places to visit in winter in Western India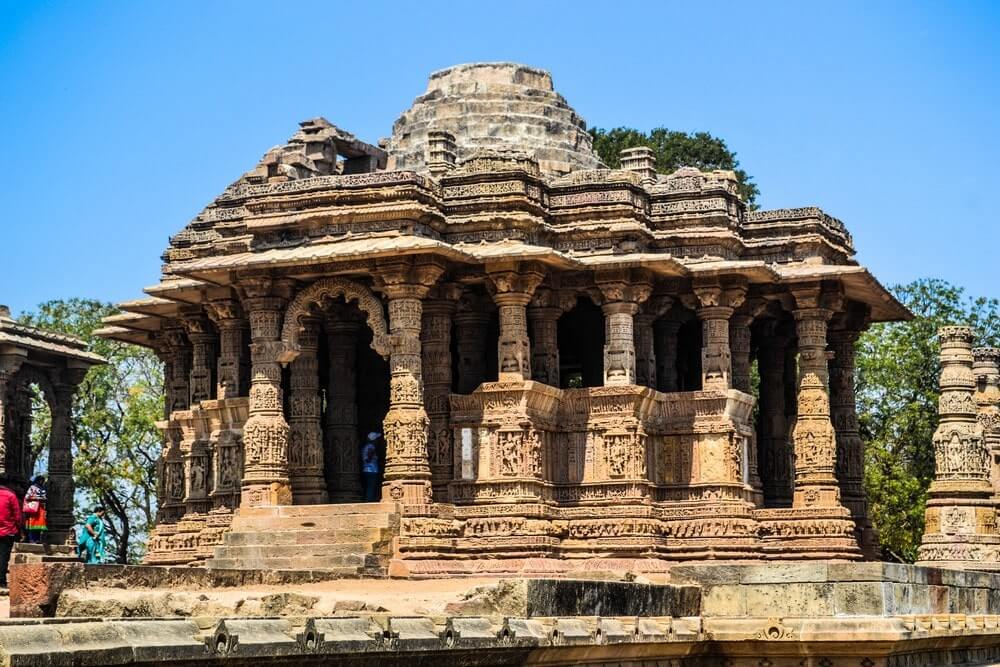 Ahmedabad, Gujarat
Editor's choice
One of the best places to visit in India during winters (also one of my favorites) is Ahmedabad in Gujarat. Temperatures drop to early twenties and exploring all the history in and around Ahmedabad becomes a pleasant experience.
The walled city of Ahmedabad is as old as 600 years and is India's first UNESCO heritage city. It is not only home to Mahatma Gandhi's Sabarmati Ashram but is also the perfect example of Indo-Islamic fusion architecture. You can easily spend a couple of days exploring the city.
If you are here for longer, try taking some great day trips from Ahmedabad. The Sun Temple of Modhera, Queen's Stepwell at Patan, ancient town of Vadnagar, and the Harappan ruins of Lothal are all close by.
Also read: 21 Best things to do in Ahmedabad, Gujarat.
Jaisalmer, Rajasthan
Recommended by Jyoti from Story at Every Corner
Jaisalmer is the crown jewel of Rajasthan's glamorous history and culture. Magnificent havelis, rich Jain temples, a famous fort, desert safaris, serene lake and stories of the silk route changed Jaisalmer forever – more than once.
Jaisalmer is filled with fascinating stories, some real and some folklore. But the most fascinating stories are those of the Jain merchants of Jaisalmer and their havelis.
The silk route, that spanned from Europe all the way to China, brought traders to Jaisalmer. Savvy Jain merchants found their niche in jewelry, spices and more. They generated enormous wealth that fueled the construction of havelis and temples that looked like the exquisite jewelry adorned by the residents.
Wealth also brought arts, fine taste, luxury and politics to Jaisalmer. A visit to the beautiful sand city is a must to understand Rajasthan's rich culture, and you can do so in the comfort of modern amanitas and good winter weather. Winter is also great for Rajasthan's cultural experiences and the rich food. It will leave you craving for more.
Bundi, Rajasthan
Recommended by Stella from Around the World in 24 hours
Bundi is the perfect place to visit for any traveler looking to experience a gorgeous bit of Rajasthan in the winter without all the crowds.
It's a direct train trip away from Delhi but gets only a fraction of the visitors that Delhi does during the winter. The average temperature in winter in Bundi is around 20 degrees Celsius, which is perfect for exploring Bundi's lovely attractions, most of which are outdoors.
The most famous attraction in Bundi is Bundi Palace, which the author Rudyard Kipling fell in love with when he visited Bundi. You can explore on your own with a small admission fee, or pay a little extra and get guidance from a local. This beautiful Indian palace is covered in gorgeous paintings in the Bundi School style, which is noted for its bright blue and green colors.
Indian winter is also a great time to see Bundi's famous stepwells. The Raniji stepwell is the most notable because of its beautiful elephant carvings. Finally, the nights can get chilly in Bundi. So bundle up with one of the famous local pieces of weaving. You can watch a master craftsperson create a shawl on a loom and then use it to warm yourself up on those Bundi winter nights!
Rann of Kutch, Gujarat
Recommended by Rachita from MeanderWander
Rann of Kutch in Gujarat is one of the largest salt deserts in the world. That makes it one of the top places to visit when you are traveling in Gujarat.
What is interesting about Rann of Kutch is that it stays submerged underwater from March to October. Then, it dries up by the end of October and turns into a salt marsh/desert. If you wish to witness the salt desert, then the best time to visit is in the winter months November – February.
This is also the time when the colorful Indian festival, Rann Utsav is celebrated. You can indulge in shopping for local art and handicraft, try local cuisine, watch the folk dances and cultural performances, and experience authentic Gujarat at this festival.
One of the best things about visiting Rann of Kutch is getting to stay in a tent outside the desert so that you can watch beautiful sunrises and sunsets. So, if you are looking for a unique place to visit in winter in India, then Rann of Kutch should definitely be your top choice.
Also read: 16 Best things to do in Kutch Gujarat.
Palolem, Goa
Recommended by Akshay from Couple of Journeys
One of the best winter holiday destinations in India is Palolem in Goa. The primary reason being: unlike other areas in Goa which are thronged by tourists, Palolem remains relatively uncrowded. Even during winters!
Palolem beach is one of the most photogenic places in Goa. Crystal clear waters run alongside white sands. Local fishing boats and food shacks give the beach a unique, laid back vibe.
It is a great idea to laze around in the soft sands of Palolem and soak in the mild winter sun of Goa. You could also head to the backwaters around sunset and check out a variety of colorful birds lining its shores. And finally end your day with a candlelight dinner at the beach. If you are looking to do some shopping, the little market near the beach is a great place to get started.
Additionally, Palolem also allows you the flexibility to take boat rides to other lesser-known beaches of Goa. Two other beaches that you must definitely visit from Palolem are the Butterfly beach and the Honeymoon beach.
Pune, Maharashtra
Recommended by Trisha from Try Wandering More
Pune is the second-largest city in western India, second only to Mumbai. Despite that, it's got a lot of greenery and doesn't feel overly crowded. It also has a rich cultural heritage and offers a variety of forts, museums, gardens, and spiritual centers to explore.
If you want to escape extreme winter temperatures or are looking for a relaxing winter break in India, Pune is perfect. Just bring a light jacket as the weather is only slightly nippy – perfect for getting out and about.
In Pune, you can visit the historical Aga Khan Palace where Mahatma Gandhi was imprisoned, the ruins of Shaniwarwada, the royal residence of King Bajirao, Lal Mahal Fort, and the Osho Ashram. Do not miss bar hopping and grabbing a bite at quaint cafes in the plush Koregaon Park and having a Maharashtrian meal at Shreya's!
The best thing to do, however, is to take day trips outside of Pune. In the hills of the Western Ghats, you can camp at Pawna Lake, enjoy spectacular views at Lonavla's Tiger Point, hike to forts like Rajmachi and Sinhagad, and go paragliding in Kamshet. All of this makes Pune a great extended staging point on your visit to Goa or Mumbai.
Related: Travel guide to Aga Khan Palace, Pune
Udaipur, Rajasthan
Recommended by Vaisakhi from Just Words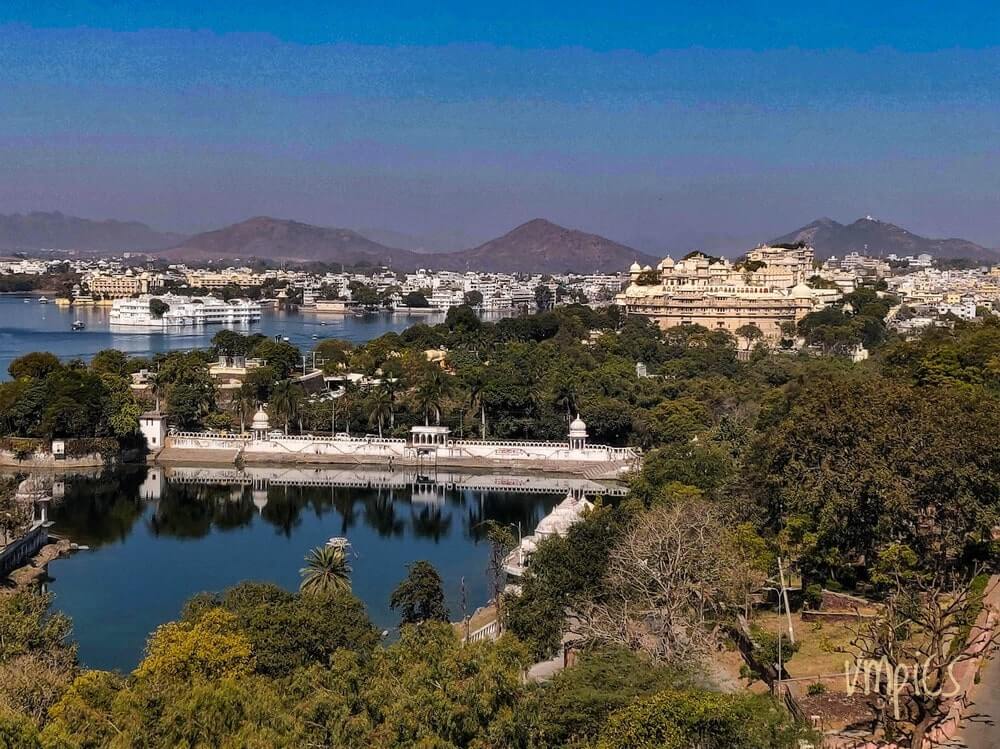 Udaipur, or the "City of Lakes", in the royal state of Rajasthan in India, doesn't require a lot of introduction. It is situated in the lap of the Aravallis and is flanked by five lakes in a semi-arid region of Rajasthan.
If you had to pick the best time, late November to January is great to enjoy the sights of the majestic City Palace in Udaipur. Moderate temperatures of winter will let you spend a lazy cool winter afternoon boating around Pichola lake while admiring the stunning white marble Jag Mandir.
You can take a walk in Nehru Garden which combines elements of Mughal Gardens of Kashmir and Brindavan Gardens of Mysore. It is also the perfect place to watch the sun go down in Udaipur.
During the penultimate week of December, the city hosts Shilpgram Mahotsav where you can explore local heritage through visual and performing arts. Udaipur has been deemed the best romantic destination of the Indian subcontinent and it totally lives up to this acclaim. Additionally, its proximity to historical sites like Chittorgarh, Kumbhalgarh, and Ranakpur makes it the perfect winter destination for a long weekend!
Recommended: 17 Spectacular royal palaces of India
Mumbai, Maharashtra
Recommended by Kay from PCH1 Road Trip
Mumbai is one of the best places to visit in India during winter for multiple reasons. The usually hot and humid weather in the city cools down quite a bit in the winter months and the incessant monsoon rainfall gives way to splendid greenery across the entire city. This is also the time when Mumbai hosts plenty of events and activities including Christmas celebrations and the Kala Ghoda art and craft festival.
There are plenty of things to do in Mumbai on a winter trip to the city. Visit Gateway of India and admire its impressive architecture. See the resplendent Taj hotel and take a ferry ride to the popular Elephanta Caves. Explore the newest UNESCO site in town, Mumbai's Art Deco Ensemble. Or take a stroll at the most happening seaside promenade, Marine Drive.
Of course, no visit to the city is complete without a trip to the beach or a heavy dose of street food. Visit the clean and beautiful Girgaum Chowpatty or Juhu Beach to enjoy the sunset. If you want to skip the crowds, consider a visit to the beaches early in the morning – you will likely have the place to yourself! For nature lovers, a trip to peaceful and serene Sanjay Gandhi National Park is a great way to end the trip.
Best places to visit in winter in Southern India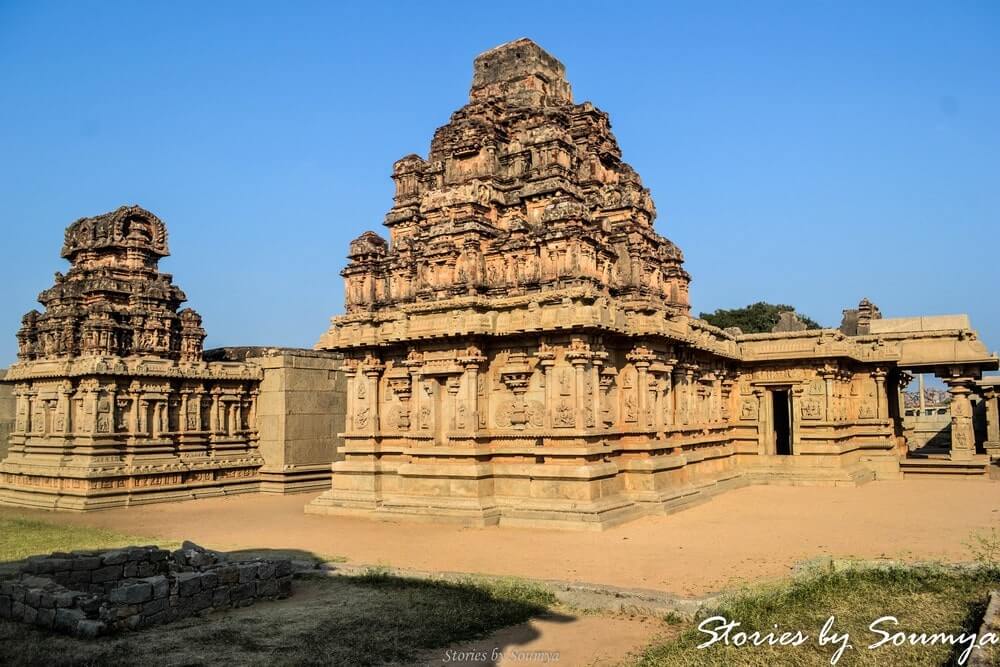 Hampi, Karnataka
Editor's choice
Winter season is a boon to be traveling in and around southern India and the UNESCO heritage site of Hampi is no different.
Once a prosperous ancient capital city of the Vijayanagara Empire, Hampi stands in ruins today. It is a sprawling archaeological site located by the River Tungabhadra amidst a scenic landscape dotted with boulders.
There are several things you can do in Hampi including checking out Hampi's stunning temples, taking a coracle ride on the Tungabhadra, bouldering, or strolling through the impressive royal enclosures. And you should absolutely not miss the Vijaya Vittala Temple with its iconic stone chariot. Or the Virupaksha Temple for its mind-blowing frescoes and pet elephant!
It is also during winters that the Festival of Hampi or Hampi Utsav is celebrated. Puppet shows, musicals, fireworks, and an entire gamut of cultural activities happen during Hampi Utsav in first week of November. No doubt, Hampi is a traveler's delight during winters.
Recommended: Best things to do in Hampi India
Mahabalipuram, Tamil Nadu
Recommended by Bhushavali from My Travelogue by Bhushavali
Every Chennai-ite's favorite hangout destination is a UNESCO World Heritage Site called Mamallapuram located right in the outskirts of Chennai.
Mamallapuram or Mahabalipuram is a group of rock-cut monuments that was built in 7th-9th CE during the Pallava dynasty. Famous spots within the archaeological complex include the Shore temple and the Arjuna's Penance Panel.
Arjuna's Penance is an architectural and cultural marvel filled with the carvings of several gods, celestial beings, fables and more. The most identifiable sculpture in this panel is of course the elephant. The realistic rendition of baby elephants between the legs of an adult elephant is especially adorable.
You need at least one complete day to see all of Mahabalipuram. Being an open-air monument beside the beach, summers in Mahabalipuram can get a bit unbearable. Winter is a good time to go in order to avoid the extreme heat, except for the few days when the north east monsoon causes very heavy rainfall.
Hyderabad, Telengana
Recommended by Sonakshi and Mainak from Places in Pixel
Hyderabad, also known as 'the land of Nawabs', is a historical city in the Southern India. It is a must-visit destination for travelers with an inclination towards history and culture.
The city of Hyderabad is filled with some of India's most impressive examples of Islamic architecture. It is also famous, not just in India but in many parts of the world, for its delicious 'Hyderabadi dum biriyani'.
The only not-so-happy aspect is that Hyderabad is pretty hot and unpleasant during the summer months. But the advent of winter makes it easy to explore this densely populated old city. For instance, the short hike to the top of the famous Golconda fort is a delightful experience in winter but quite unenjoyable in the sweltering heat of summer.
When in Hyderabad (especially during winters), don't miss visiting Chowmahalla Palace, Charminar, Golconda Fort, Ramoji Film City, and Qutub Shahi Tombs.
In addition, do try out Irani chai (especially from the shops around Charminar) and the famous Paradise Biriyani from one of its popular outlets in Secunderabad.
Gokarna, Karnataka
Recommended by Ellis from Backpack Adventures
Gokarna is India's upcoming beach destination that is increasingly getting more popular. And for good reasons. What makes Gokarna so popular is its laid back atmosphere as well as a variety of things to do.
There is not just one beach in Gokarna but more than six. Some are so remote that they can only be accessed by boat or on foot. Besides relaxing at the beach one can also do the popular Gokarna beach trek, visit local markets, or explore the small temple town nearby that is a popular pilgrimage site for Hindus.
The festival of Shivaratri in Feb-March sees huge celebrations here as thousands of pilgrims flock to the temples in town. The highlight of this festival is the holy chariot procession that goes through the entire town.
Gokarna is a great winter holiday destination in India for those looking to escape the cold of the north. Gokarna's climate in winter is perfect with pleasantly warm temperatures.
Outside of the festival time, Gokarna is a sleepy little town and the perfect place to unwind yourself from the chaos of India.
Allepey, Kerala
Recommended by Trijit from Budget Travel Buff
Alleppey, a serene backwater town in Kerala, is one of the cheapest places to visit in India.
Even though Alleppey receives tourist footfall all year round, the best time to visit Alleppey is in winter when the temperatures are low, ranging between 17ºC to 32ºC. Houseboating, boat rides, and other tourist activities are in full swing and a light jacket is enough even at night.
Winter is the best time to enjoy Allepey's stunning natural beauty and indulge in numerous outdoor activities. The main tourist attractions of Alleppey include its famous backwaters, lagoons, beaches, and avenues for various adventure sports.
And your trip to Alleppey is incomplete without a houseboat trip in the backwaters. It feels like heaven when the houseboat glides through the serene backwaters alongside a verdant green stretch of paddy fields – an absolute visual treat for the eyes!
Don't forget to rejuvenate your body and soul with Ayurveda while you are here. There are several ayurvedic spa centers that offer therapies, massages, and other treatments with medicinal oils.
Havelock Island, Andaman and Nicobar
Recommended by Pooja from Fairytale Studios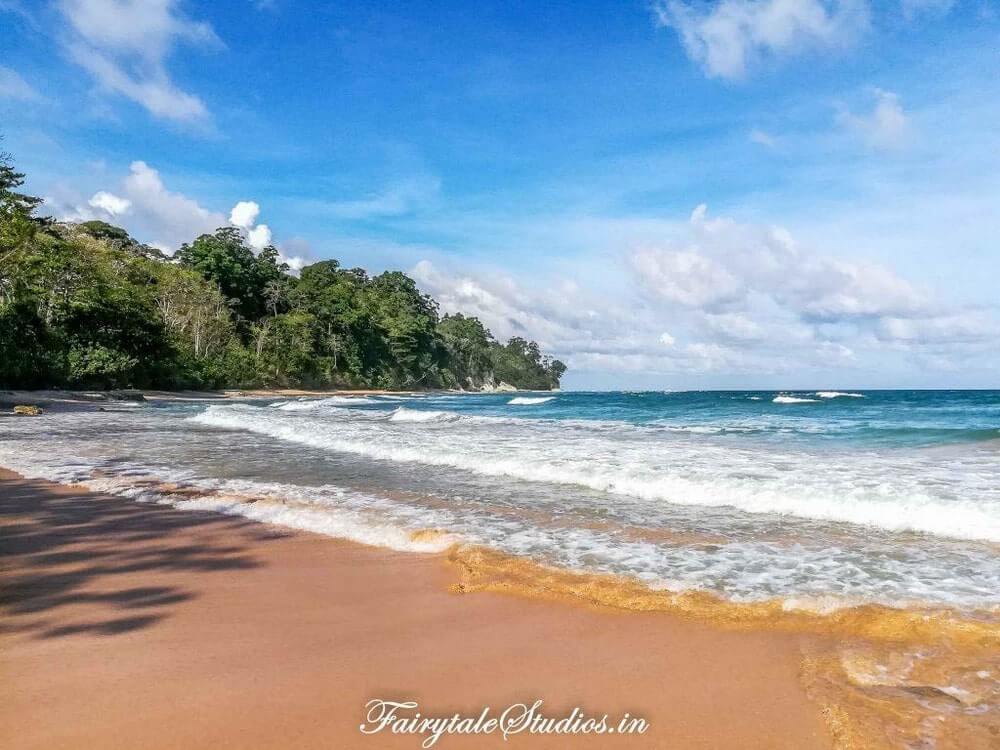 Havelock Island is among the most visited islands in Andaman and Nicobar. And is an incredible mixture of white-sand beaches, beautiful nature and under-water activities.
Temperatures on Havelock are mostly in the higher thirties °C (nineties °F) throughout the year. But winter ushers in cooler periods and is ideal for a visit to this beautiful island. Even under-water visibility is better during this time that aids in a perfect scuba diving experience in the crystal-clear waters around Havelock Island.
Since the weather in winter is not too hot and humid, you can opt to stay for longer on the pristine beaches of Havelock Island. Rent a scooter and take a tour of the entire island on your own. If you are a seafood lover, you will go gaga over the huge variety of sea-food that is sourced here during winter.
Havelock Island in India is the perfect winter destination for you to soak in some winter sun and enjoy the festive season.
Munnar, Kerala
Recommended by Diana from The Globetrotting Detective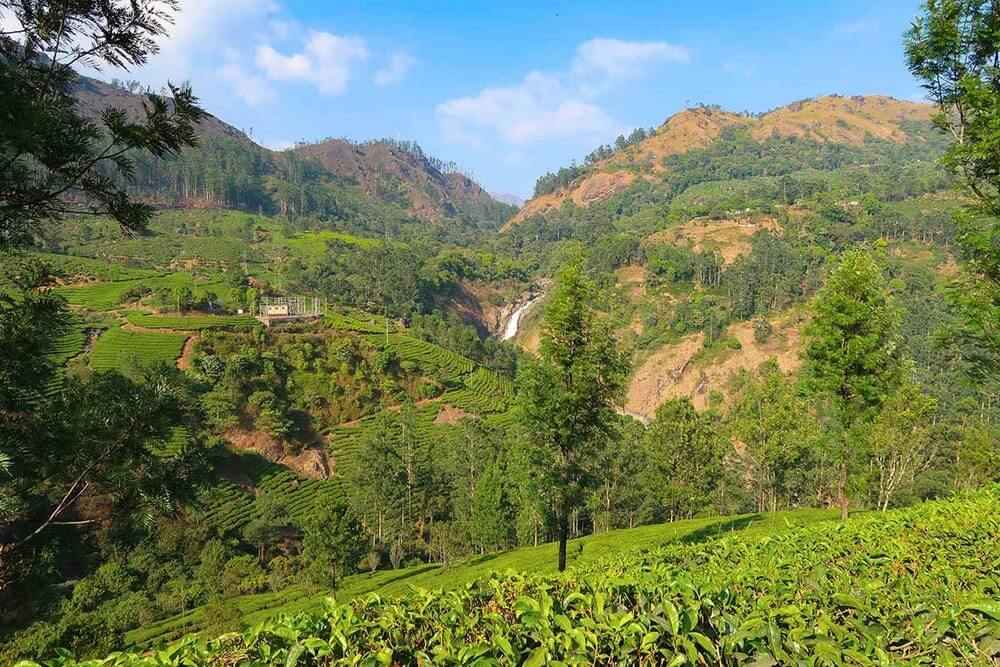 Munnar is one of the prettiest natural wonders of God's own country, the Indian state of Kerala. It's located as high as 1,600 m (5,200 ft.) in the Idukki district of Kerala.
Munnar and the villages around Munnar are extremely peaceful and quiet. They are surrounded by never-ending, picture-perfect tea plantations, lush green forests and valleys, dramatic hill ranges, sparkling waterfalls, rare flora, and fauna. They offer a plethora of activities for the visitors.
If you are fond of tea, then you have probably heard of Munnar. Some of the best tea in India is made here. Tea plantations of Munnar are definitely a highlight; the most famous ones being Pallivasal, Chinnakalal, and Kolukkumalai.
Last but not least, there are huge national parks in Munnar. Eravikulam National Park is a pretty one where you can even spot wild animals if you are lucky.
Winter is absolutely the best time to visit Munnar. The average temperature in winter is 23 °C (73.4 °F) and the place is lush green after the rains. It rarely gets cold in Munnar but you can carry a light jacket for your morning explorations.
Thanjavur Tamil Nadu
Recommended by Khusboo from Munni of All Trades
Thanjavur, formerly known as Tanjore is one of the most popular destinations of Tamil Nadu. Home to the renowned Brihadeeswara temple, Thanjavur Maratha Palace, bronze foundries, Tanjore paintings and the dancing dolls, Thanjavur holds a prominent position in the arts and culture scene of South India.
A little known attraction is the Vaduvoor Lake which is famous for attracting thousands of migratory birds from Russia, Europe and the Americas every year during the winters. Their bird walk is easily one of the best things to do in Thanjavur.
Winter is considered to be the best time for a trip to Thanjavur for multiple reasons. Most of the temples require you to enter the premises barefoot. This becomes especially tough during the summer season when temperatures soar to 36°C (97°F).
During winters, Thanjavur is lush with greenery, enjoys a pleasant climate and gives you the opportunity to go beyond the monuments and explore its natural beauty. Thanjavur is great in the shoulder months (end of October or early February) if you wish to avoid crowds and rains.
Best places to visit in winter in Eastern India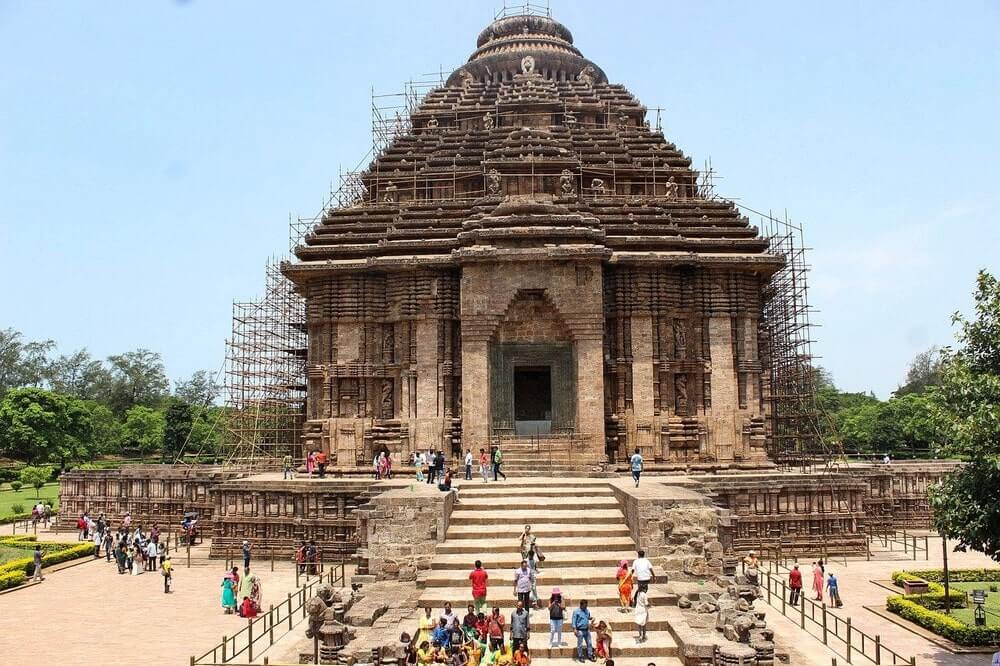 Golden Triangle of Odisha
Recommended by Claudia from The Visa Project
The Golden Triangle tour in Odisha connects the capital city of Bhubaneswar, the beach and pilgrimage destination of Puri, and the UNESCO World Heritage site of Konark Sun temple. While visiting India on a tourist visa last December, I did the golden triangle tour and I highly recommend it.
Winter is the best time to do this tour since, at other times of the year, the weather is usually hot and humid.
If you are flying to Odisha, you can start from the capital city, Bhubaneswar. It is home to many ancient temples like Mukteswara, Rajarani, and Lingaraja. The 2nd-century rock-cut caves of Khandagiri are definitely worth a visit. So is the Shanti Stupa at Dhauli.
Puri is one of the four main pilgrimage destinations for Hindus owing to the presence of the 13th-century Jagannath Temple. Although non-Hindus are not allowed inside, they can see the structure by paying a nominal fee from the Raghunandan Library. You can stroll or swim at the golden beach at the edge of the town, and enjoy a camel ride as well.
An hour-long bus ride from Puri takes you to the 13th-century Sun Temple of Konark. Even though it is in ruins ruins, its architecture is awe-inspiring. If you visit in winter, you can also watch the Konark dance festival, a five-day celebration of India's classical dances.
Related: The other sun temple of India in Modhera Gujarat
Dawki, Meghalaya
Recommended by Anjali from Travel Melodies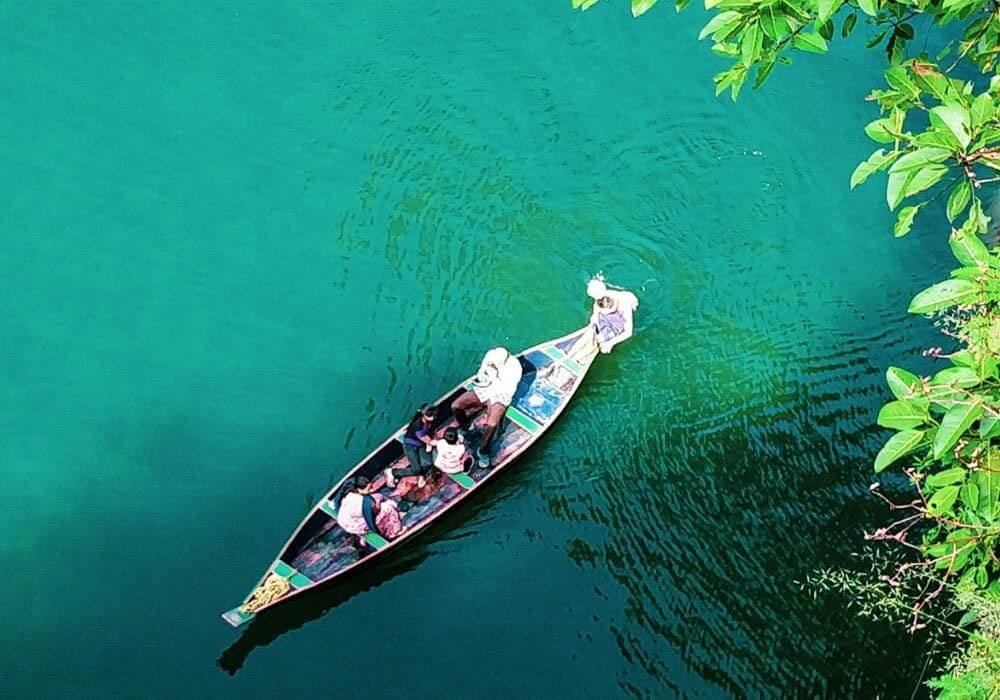 Dawki in Meghalaya is undoubtedly one of the best places to visit in winter in India. A beautiful little town nestled in the West Jaintia Hills, Dawki is around 95 km from Shillong and just about 2 km from the Bangladesh border.
Dawki is best known for Umngot River, a glassy stream that has earned a position in the cleanest rivers list of India. You must have seen dreamy pictures of boats cruising down the emerald-green river that's so clear that you can easily see the riverbed.
If you want to enjoy and capture an Instagram-worthy picture like the ones you have seen, the winter months of November – January are the best. That's when the river is clear as crystal! Taking a boat ride in a mirror-like lake (it literally feels as if the boat is floating in the air) is a one-of-a-kind experience!
The famous Dawki Suspension Bridge over Umngot River serves as the only road route between India and Bangladesh and is of great value, historically. Built by the British in 1932, it remains one of the busiest trade routes between both countries for coal and limestone. Don't forget to visit the Dawki-Tamabil Border, an international border that's friendly and welcoming.
Mangalajodi, Odisha
Editor's choice
Mangalajodi in Odisha is a lesser-known nature reserve that is best suited for birders and nature lovers. Located on the northern shores of the brackish Chilika Lake, Mangalajodi turns into a paradise every winter.
More than 200 species of birds flock to Mangalajodi from Eurasia and the Arctic every winter. Between Novemeber – February, this small swampy village turns into a birding heaven. They feed, breed, and raise their young ones. You can watch most of them from very close quarters of your small boat called Nauka.
The best way to visit Mangalajodi is to stay overnight at the ecotourism guest house in the village. And do a couple of boat tours in the swamp, one in the morning and one during dusk. These are the times when the birds and up and about: looking for feed, jumping in and out of water, being cacophonous.
Refer to our Mangalajodi bird sanctuary guide to plan your trip here.
Mon District, Nagaland
Recommended by The Travelling Slacker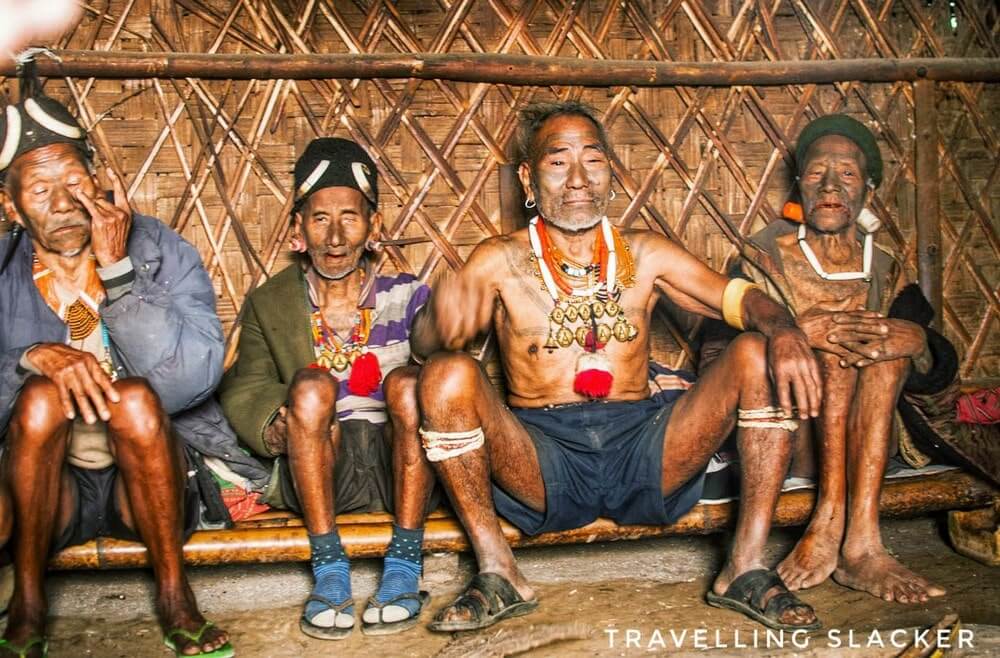 If you want to go slightly out of your comfort zone in the Indian winters, Mon District in Nagaland, the abode of Konyaks, should be your best bet. It is not the average tourist spot and it can be challenging if you are on your own. But the ruggedness is the true beauty of it.
Konyak Nagas are still famous as the "tattooed headhunters" although they have moved on from that life. There are still a few people in their 80s and 90s who have the experience and memories of "old ways" and you can meet them when you are in Mon.
The region is centered around the town of Mon, which is a dusty little town but the primary attractions are villages like Hongphoi and Longwa. Hongphoi is where you can meet many elderly ex-headhunters. Longwa on the other hand is a large village on the Indo-Burmese border, with half the village practically in Myanmar. It is also the best place to explore Konyak culture.
The best way to get to Mon District is through Sivasagar district of Assam. The nearest major airport is Dibrugarh and you'll find accommodation in Mon town and Longwa village.
Gangtok, Sikkim
Recommended by Allan from Live Less Ordinary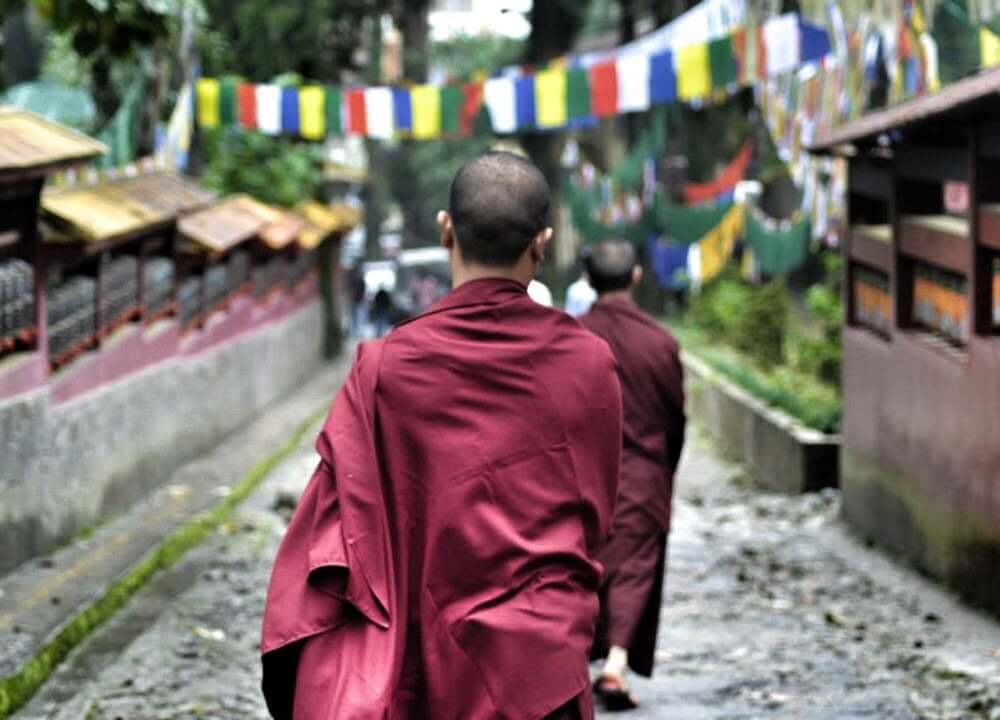 Located in the lofty heights of Sikkim province, Gangtok is not only the perfect base for exploring the Indian Himalayas, but is also a fascinating town in itself. As the capital of Sikkim, the former British hill town remains a quaint and characterful destination with a mix of Bhutan, Tibet, and Indian Bengal.
In the back hills of Sikkim is the Enchey Monastery which is home to local Tibetan monks. The town otherwise centers around New Market and Mahatma Gandhi Market which is Gangtok's pedestrianized zone. Here locals and tourists mingle at the shops and restaurants. You will also find places to organize guides and tours further in Sikkim.
Excursions in Sikkim are a must from Gangtok with some of the most exciting escapades close by. The list includes Kangchenjunga, the world's 3rd highest mountain, Rumtek Monastery, and Changu Lake found on the remote borders to China.
Gangtok is cold in the winters and there is always the chance of snow in the mountains. This makes it a wonderful winter holiday destination in India.
Best places to visit in winter in Northern India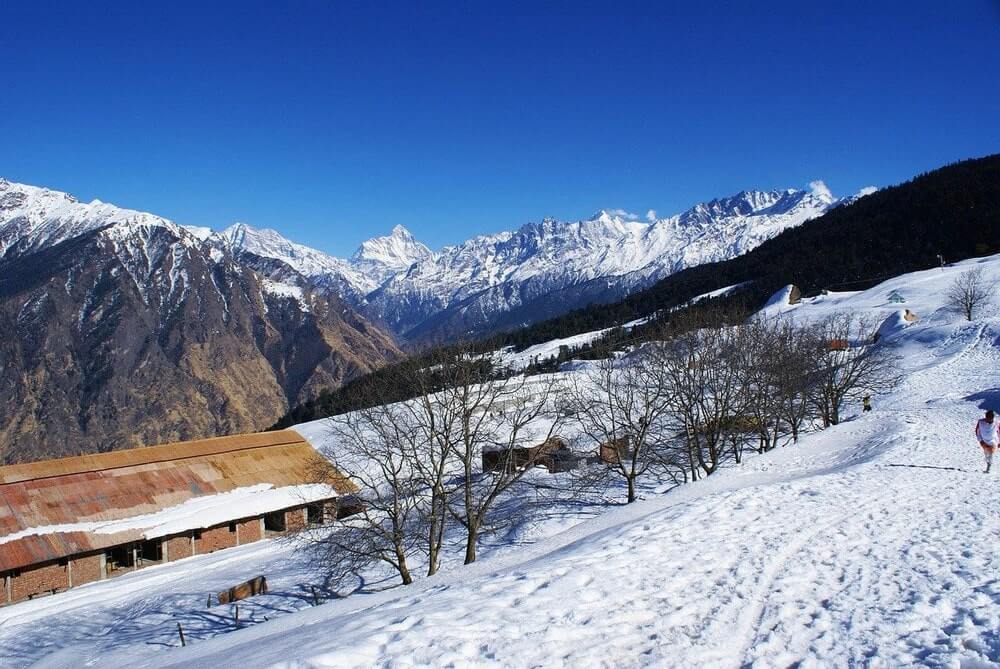 Auli, Uttarakhand
Editor's choice
One of the best places to visit in India in winter especially for adventure seekers is Auli in Uttarakhand. And if you are longing for some snow, then Auli is the best place to experience it.
Located in the Chamoli district of Uttarakhand, in the middle of the picturesque Garhwal Himalayas, Auli is an absolute gem of northern India. Between the months of December – February, it becomes a winter wonderland making it the perfect place for winter sports such as skiing, snowboarding, and snow trekking.
If you are not keen on winter sports, there are several other things to do in this small Himalayan hamlet. The gondola ride from Joshimath to Auli is very popular. It is also one of the longest in Asia.
Auli is a great place to experience some stunning sunrises and sunsets. Plus, you will be rewarded with amazing panoramic views. Once done with all that, just sit back, relax, and enjoy your time in Auli with a traditional Garhwal meal.
Varanasi, Uttar Pradesh
Recommended by Subhadeep from My Travel Frames
When in India, there is one place that every traveler wishes to visit and that is Varanasi or Banaras. You may fall in love Banaras or hate it for the crowd and chaos but you cannot ignore its eternal appeal.
An endless stretch of happening ghats, a maze of narrow alleyways, the charm of daily morning and evening arati, the charisma of auspicious Kashi Vishwanath Temple and delicious street food are surely going to make a permanent impression in your heart.
The best time to visit Varanasi is during winters when the sun is not harsh and the air is crisp and cold. The early morning mist gives an enchanted feel to the ghats. It is absolutely magical to experience a wintry sunrise at the Subah-e-Banaras in Assi Ghat.
An early morning boat ride on the Ganges is even more beautiful in the winter because of large flocks of migratory birds that gather here. And of course, you never get tired of walking the quaint streets or the endless ghats of Varanasi.
Additionally, Banaras is home to the famous festival, Dev Deepawali that is held at the beginning of winter every year. And then come the festivals of Makar Sankranti, Basanti Panchami, and Holi that you can thoroughly enjoy when in Banaras.
Orchha, Madhya Pradesh
Recommended by Emma from Emma Jane Explores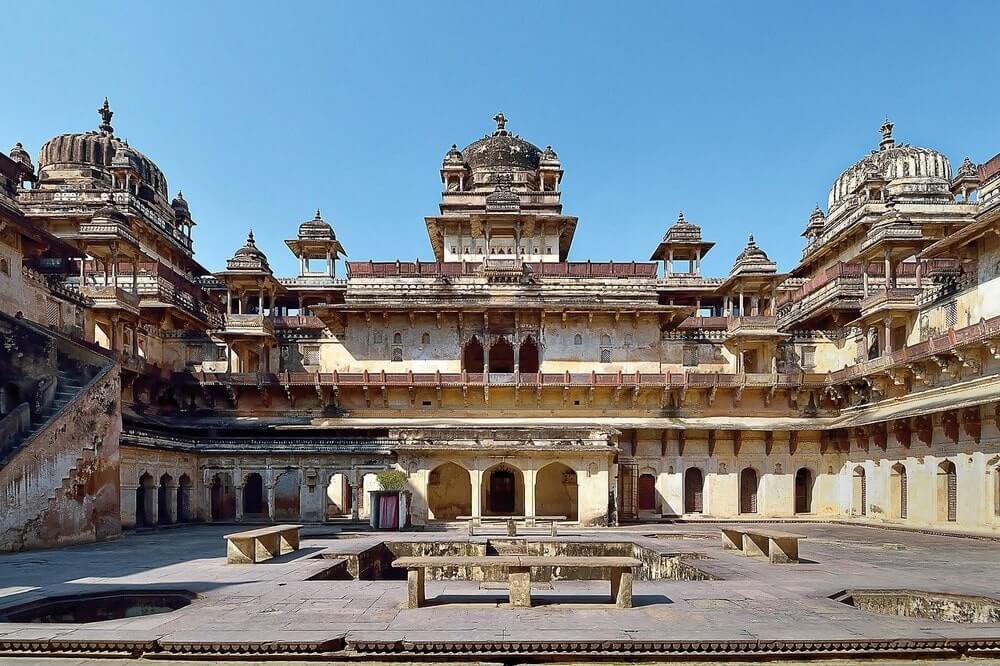 Travelling to India in winter can be a shock to the system as it definitely gets cold up north. But the weather remains pretty mild in Orchha. Whilst it is always fun to explore the major cities, a visit to this little town is a great way to explore the country's rich history and get a little off the beaten path in India.
Orchha is located in Madhya Pradesh, around 8 hours' drive from Delhi and just under 5 hours from Agra. Considering the region has a very proud and long history, there is plenty to explore here – particularly in terms of ancient architecture.
One of the most impressive sights here is the imposing and beautiful palace-fort of Raja Mahal. It is utterly enormous and looks great in photos, its high walls well-preserved though weathered by the elements. Also worth exploring is the Ram Raja Temple, easily recognizable by its domes standing up against the horizon.
Because the weather is comfortable in winter, Orchha is very much an outdoors city with markets and stalls lining the small village where tourists can buy souvenirs or get henna tattoos. Those wanting a cultural experience can visit the main temple in the city to watch a religious ceremony or even take a home cooking class with one of the local families.
Taj Mahal, Uttar Pradesh
Recommended by Sally from our3kidsvtheworld
A trip to India is not complete without a visit to Taj Mahal, the number one tourist attraction. With tourist attractions of this caliber, expect a large crowd of tourists to share the experience with.
Winter is the prefect time to visit the Taj Mahal especially with kids. Not only will the crowds be a little less but you'll also miss the oppressive heat of summers. The best time to visit is at sunrise. You'll need to arrive early at 5.30am and the gates will start seeing people through approximately 6am – give or take. It's India time after all.
I recommend a private tour for seeing the Taj Mahal. Like all things in India getting organized can be a bit confusing if you haven't been before. Local guides also possess a wealth of information regarding the history of Taj Mahal built in 1632 by the Mughal emperor, Shah Jahan.
Manali, Himachal Pradesh
Editor's choice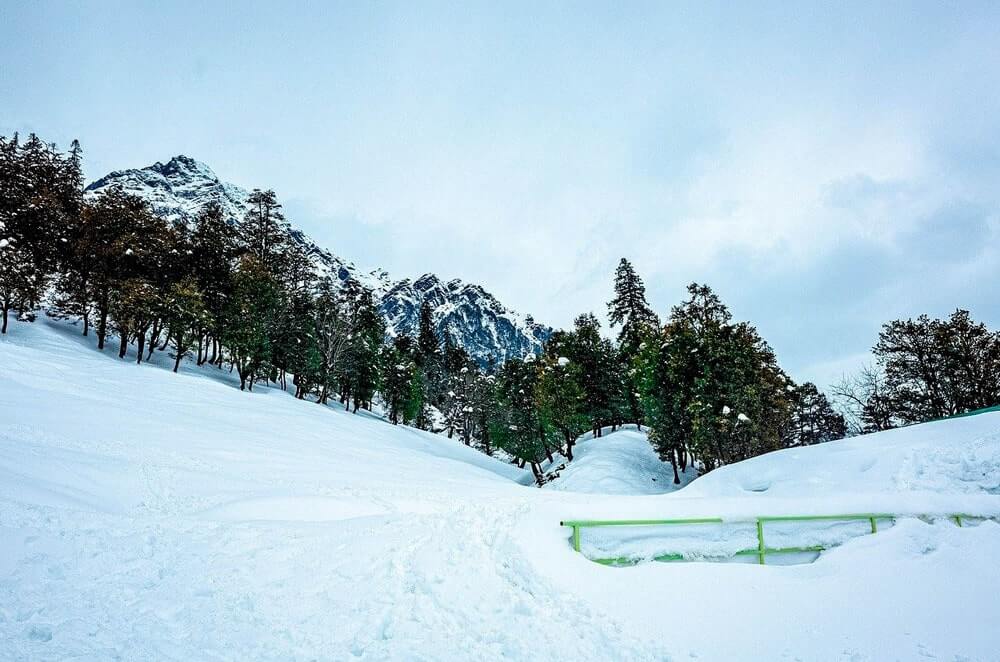 And last but not the least on our list of the best places to visit in India in winter is Manali, Himachal Pradesh. With fresh snow covering those hilly slopes, Manali becomes a winter wonderland every year.
Even though summer is a great time to visit Kullu-Manali, these places are great for winter too. Especially for those who wish to engage in winter sports such as skiing, sledging, and riding on snow scooters.
There is just so much going in this small town even in the cold months. Manali Winter Carnival, an amazing display of local culture and cuisine, is usually held in the months of Jan/Feb.
If you aren't here during the festival, don't worry. You can still stroll the streets of Old Manali, visit the Tibetan monasteries, take a dip in the hot springs of Vashisht after which you can satiate your hunger at one of the many cafes/restaurants in Manali.
Did we miss some of your favorite winter destinations in India? Do you think this list could be even longer? Let us know in the comments below and we will make sure we add them on our itinerary next time.
More India Resources
Planning to visit some amazing places in winter in India? Pin our post for later!