Last Updated on February 15, 2022 by Soumya
Ahmedabad is a culturally rich and vibrant city in India. Apart from being the financial hub of Gujarat, Ahmedabad is home to history and culture from ages ago. In fact, it was the first Indian city to be declared a UNESCO Heritage City in July 2017. Amdavad, as it is locally referred to, has a number of amazing sites to explore within the city limits. But more than that, it has tonnes of interesting spots within a 100km radius. In this post, I intend to cover some of those exciting places near Ahmedabad that you could explore within a day.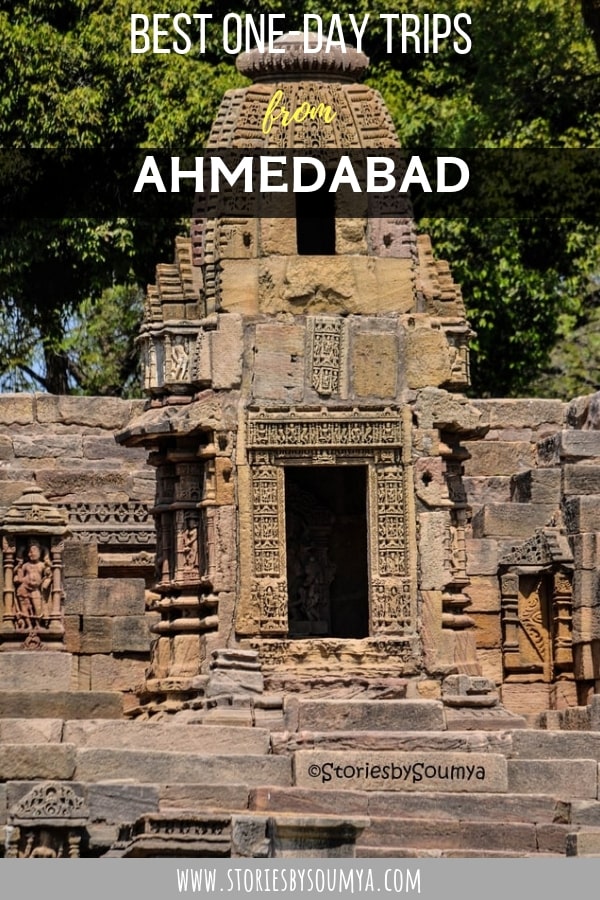 Best places to visit near Ahmedabad for one day
We were in Ahmedabad for a couple of days earlier this year. More than local points of interest, we were excited about what Ahmedabad could offer us within a few hours drive. And there was so much! Places of historical interest dot the entire state of Gujarat. So it was no surprise that we found tons to do within 100kms of Ahmedabad's boundary. These are the 4 best places that I visited near this cultural capital of Gujarat.
All of them have a historical touch to them. This post is, therefore, a very helpful one for history lovers. Others can also supplement their Ahmedabad itineraries with one or few of these.
Sun Temple, Modhera
The Sun Temple at Modhera is one of the many temples in India dedicated to Hindu Sun God, Lord Surya. That is why they are also called Surya Mandirs. Modhera Sun Temple was built by King Bhimdev of the Solanki Dynasty in the 11th century AD. The architecture is one of the finest in India and the temple boasts of an opulently carved ceiling in the Garbagriha or the inner sanctum of the temple where the image of Sun God was kept. A large stepwell-styled water reservoir called Surya Kund, that features beautifully sculpted figures and smaller temples, adorns the front of the temple.
Modhera is one of the most prominent north Gujarat tourist places as well as a remarkable choice among historical places of Gujarat. If you are looking for interesting places to visit near Ahmedabad for one day, then Modhera should definitely be on your list.
Click here for a Complete Travel Guide to Modhera Sun Temple.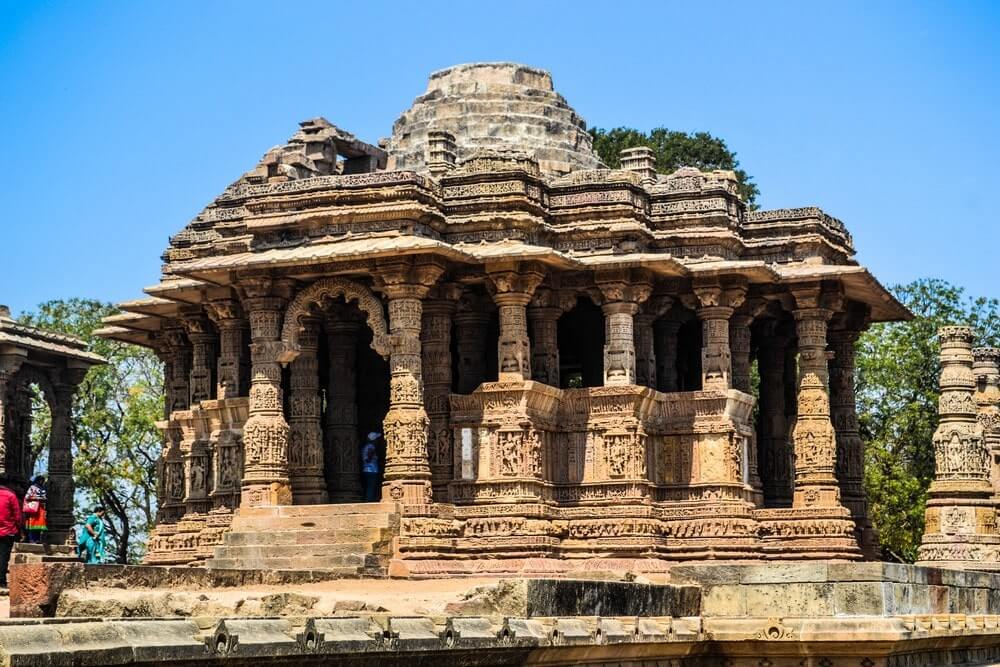 Where: Located southwest of Mehsana District in Gujarat, 25 km from Mehsana city and 98 km from Ahmedabad.
When: The best time to come here is during winters when the temperatures are lower. If you are looking for an additional touch of Indian heritage, you can plan your trip to Modhera in the third week of January when the Modhera Dance Festival is held.
How: You can hire a private taxi to get to Modhera from Ahmedabad. Taxis are always preferred in these areas because the roads are smooth and the journey does not take very long. The journey takes about 2 hours one-way. Private and government buses also run between Ahmedabad and Modhera and are easier on the pocket. Click here to book your bus tickets.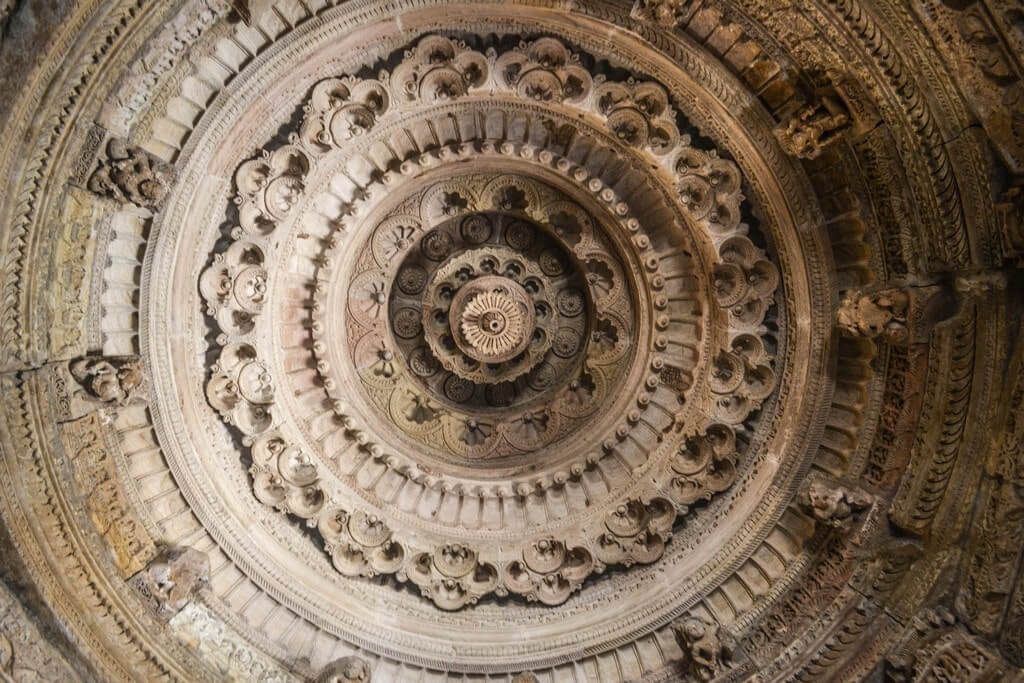 Rani ni Vav, Patan
The state of Gujarat is dotted with step wells of all kinds and sizes. Step wells have long been used as water reservoirs in the arid regions of western India. Apart from being sources of precious water, step wells are beautiful expressions of art and sculpture. A must-see for any art connoisseur or history lover. To learn more about why you must see these majestic step wells, click here.
Step wells are called "vav" in Gujarati, the local language. Rani ni Vav is located on the banks of river Saraswati in Patan and was built by Queen Udaymati in memory of her late husband, King Bhimdev. The well is 7 storeys deep and is almost a thousand years old. Rani ni Vav is believed to be the grandest stepwell in Gujarat. It is now a UNESCO World Heritage Site and draws tourists from India and abroad. It is one among the top 10 historical places in Gujarat.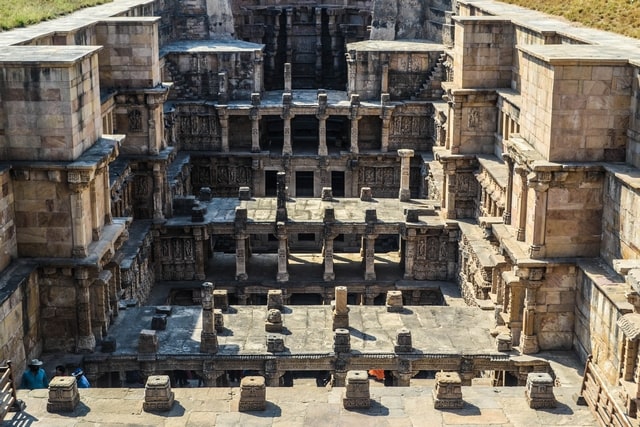 Where: Located in Patan, 125 km from Ahmedabad.
When: Temperatures are lower between October and March and therefore, that is a good time to visit.
How: A private car is the most convenient option between Ahmedabad and Patan. In fact, Patan and Modhera are often clubbed together in one day. You could also do a combination of train and bus or only train to reach Patan.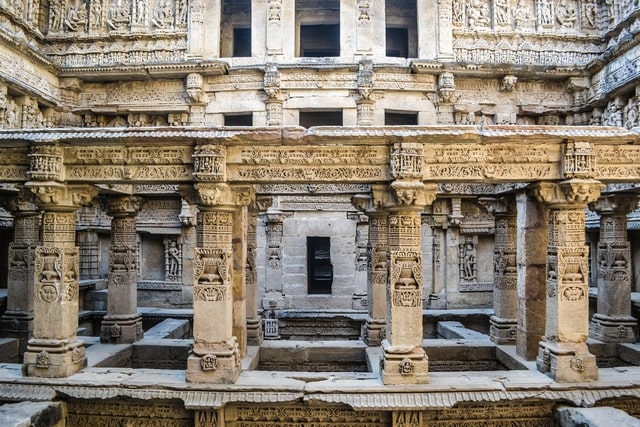 Lothal
Lothal is an ancient Harappan site from 5000 years ago and is located a little more than 75 km from Ahmedabad. An important port city of the Indus Valley Civilization, It is believed that Lothal built the world's oldest dockyard which you can still view as you enter the site. The city is divided into two distinct parts: Upper Town and Lower Town. Interesting aspects are the underground drainage system bits of which can still be viewed and the bead-making kiln of Lothal. Click here for a complete itinerary of Lothal and some useful travel tips.
Along with Dholavira, Lothal is part of an exotic list: the list of ancient civilization sites of the world. Indus Valley Civilization was one of the most advanced civilizations of the ancient world. While many of its sites remain across the border in Pakistan, Lothal offers us a peek into the routines and culture of people from 5000 years ago.
Where: Located in Saragwala, Gujarat, 75 km from Ahmedabad.
When: Again the best time to visit Lothal is during winters. Gujarat is an arid state and can get really hot in summer.
How: The best way to get to Lothal is by a private taxi from Ahmedabad which will take 1.5 hr one-way. Alternately, you could also take a train to Bhurkhi on the Ahmedabad-Bhavnagar railway line and then take a local bus from there. You will probably need to walk a bit in the last leg of the journey.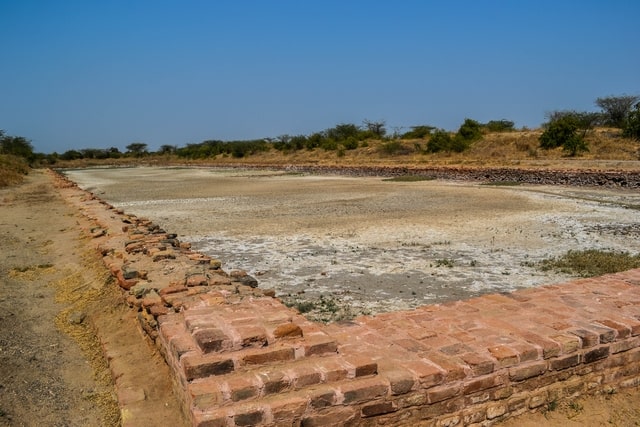 Adalaj ni Vav
The Adalaj Stepwell or the Rudabai Stepwell is located in the village of Adalaj, very close to Ahmedabad. It is less than 20 km from Ahmedabad. Built in the 15th century, the stepwell is 5 levels deep. The stepwell has a tragic tale behind it. It is about Queen Rudabai who jumped into the well to showcase her love for her dead husband. The architecture here is unique because you can see a blending of Islamic patterns with Hindu and Jain architecture. To find out why it is so, click here.
It is considered one of the most convenient places to visit near Ahmedabad for one day since it is pretty close to the city. It is often clubbed together with city tours. However, a history lover like me considers any clubbing grave injustice to the beauty of Rudabai's Stepwell. Wandering through those stairs and admiring the motifs and engravings could take a day in itself.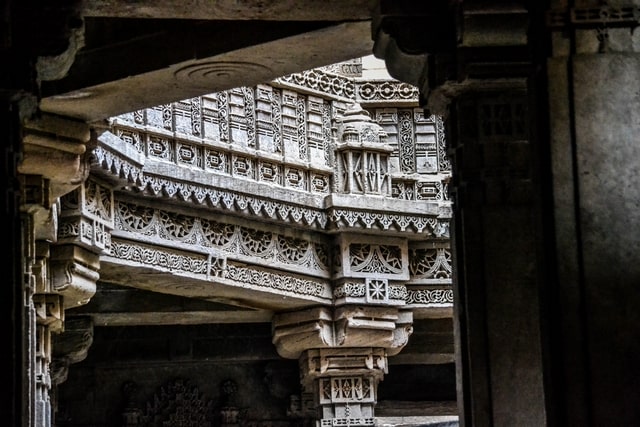 Where: Located in Adalaj near Gandhinagar, 19 km from Ahmedabad.
When: Again winters are the best time. The stepwell is open between 6 am – 6 pm every day.
Admission: INR 25 ($0.35) for Indians and SAARC Nationals | INR 300 ($4) for others
How: You can take a private taxi to Adalaj from Ahmedabad or a bus to Gandhinagar. A taxi from Ahmedabad takes about 40 minutes. You can also board an AMTS (Ahmedabad Municipal Transport Services) bus from Laldarwaja Terminal in Ahmedabad to Adalaj Gam. The bus drive takes around 1.5 hours. The stepwell is a 15 min walk from the bus stop.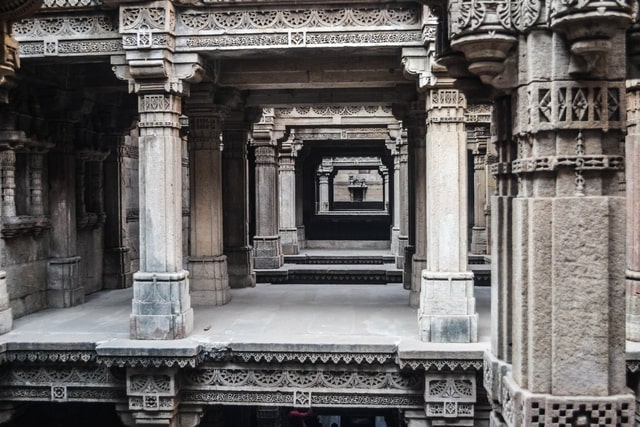 Did you make a day trip to any of these places near Ahmedabad? How was your experience there? Did you travel on the bus or by car? Did I miss your favorite location near Ahmedabad? Feel free to drop me a comment below and let's get the conversation going.
Like this Ahmedabad day trips guide? Pin it for later!