Last Updated on March 2, 2022 by Soumya
Planning a trip to Gujarat in India? Have you thought about including the beautiful Modhera Sun Temple in your itinerary? Well, you must if you haven't yet.
One of the most exquisitely-sculpted temples in India, the Sun Temple in Modhera Gujarat is a prominent shrine dedicated to Hindu Sun God. Even though no worship is offered here anymore, Modhera holds a special place in the history and culture of Gujarat and is an absolute must-visit when in Ahmedabad.
The sun temple is a complete package of interesting history, exquisite architecture, and abundant glimpses of Indian culture. If you love art, architecture, history, then this Sun Temple in Gujarat is the perfect Indian destination for you.
Here's my detailed guide to visiting the Surya Mandir at Modhera, usually done as a day trip from Ahmedabad. You will learn
All about the architecture, interesting facts, and history of Modhera Sun Temple.
Practical information needed to plan a DIY trip to Modhera from Ahmedabad and how to add Patan to your itinerary.
If you feel overwhelmed at any point in time, you can try out this private guided tour that will take you to both Modhera Sun Temple and Patan. If not, read along to carve your own tour of this magnificent sun temple in Gujarat.
Modhera Sun Temple history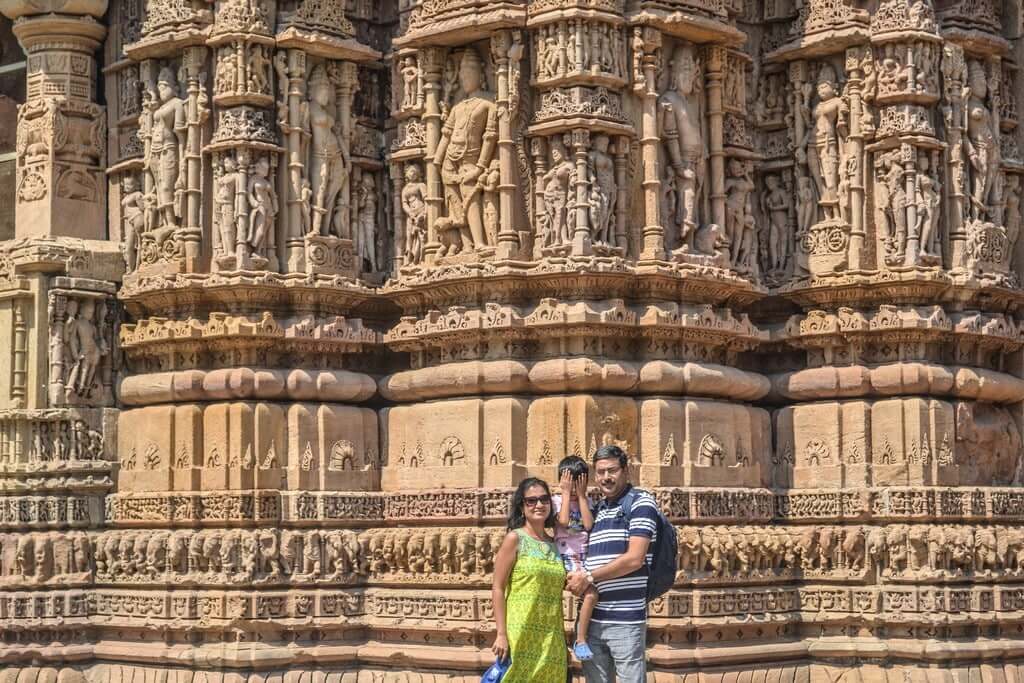 During my initial research, I was surprised to discover that the Modhera Sun Temple went back longer than the Sun Temple at Konark, a UNESCO World Heritage Site. King Bhimdev of the Chalukya dynasty, who were believed to be descendants of Lord Surya, built the Modhera temple between 1026-27 AD. Konark Sun Temple was constructed later in the 13th century.
The temple at Modhera is locally referred to as Modhera Surya Mandir. "Surya" means sun and "mandir" refers to temple.
There are two theories relating to its destruction and how it ended up in ruins.
Destruction of the sun temple
One historical tale tells us that Mahmud of Ghazni attacked the city of Modhera around 1025. The army of King Bhimdev faced him at Modhera, But there were not very successful in warding off the attack.
Mahmud plundered the sun temple left with his loot. The Chalukyas rebuilt it soon after only to be re-attacked by Allaudin Khilji on a later date when it was completely destroyed.
There is another story which tells us that Mahmud of Ghazni actually attacked the temple after it was built and left with the original idol of the deity. The temple was pillaged and plundered by Allauddin Khilji at a later date and left in ruins.
Whatever the sequence of events, the original idol of Sun God no longer exists at the Modhera Sun Temple and no worship has been offered ever since the idol went missing.
Please note: This post may contain affiliate links which means I may earn a commission if you make a purchase by clicking a link on this post. This will be at no additional cost to you. Affiliate links help me keep this website up and running. Thanks for your support!
What to see at Modhera Sun Temple in Gujarat?
Modhera Sun Temple is divided into 3 axially-aligned parts: the main temple called the Guda Mandapa, an assembly hall called the Sabha Mandapa, and a stepwell-styled tank called the Surya Kund. The temple is built in Maru-Gurjara style, also known as the Chalukya style.
As you enter the archaeological complex, you will first see the stepped well and the Sabha Mandapa and Guda Mandapa beyond that. The walk from the stepwell to the Guda Mandapa is often referred to as a walk from Death to Moksha in the Hindu culture. Let's delve a little deeper into each of these 3 parts.
Surya Kund or the Step Well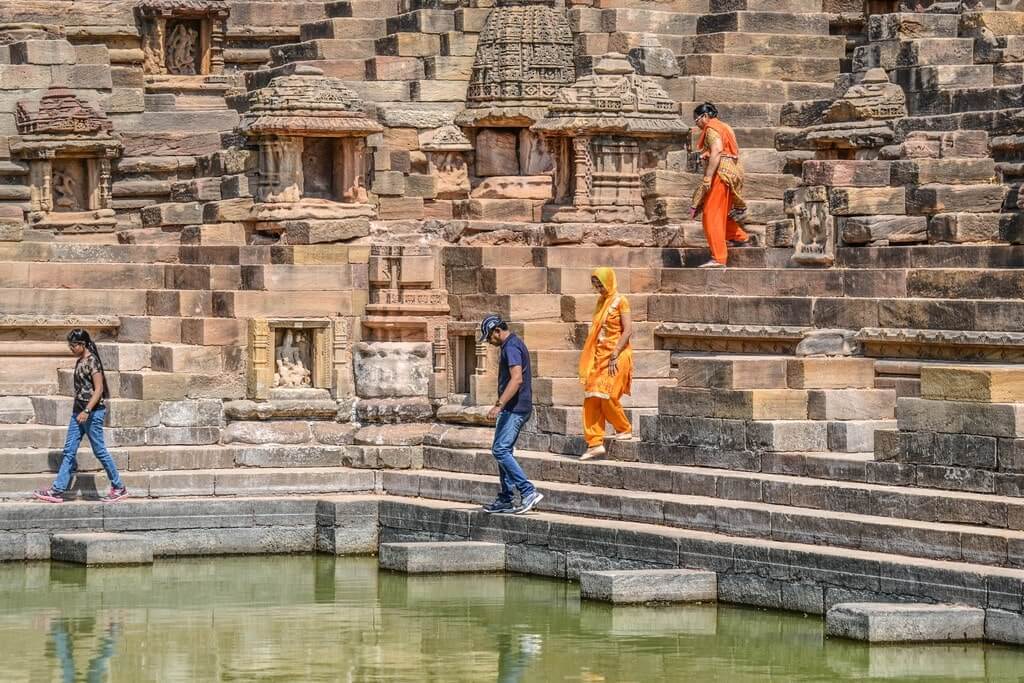 The Surya Kund (also referred to as Rama Kund) is a stepwell-styled water tank that marks the beginning of the temple complex. Earlier, devotees used to take a bath here before heading to the main temple.
An interesting facet of the Surya Kund is the presence of 108 small shrines on its steps. They are dedicated to several other Hindu Gods such as Ganesha, Nataraja, Sheshashayi Vishnu. This is quite unique and not usually seen at other stepwells in India.
Here, you will also find a temple dedicated to Shitalamata, the Goddess who fought chicken pox, a dreaded disease in medieval India. There is an interesting story behind it. Whenever chicken pox raged Modhera, Shitalamata came to the rescue of her devotees with a broom and neem leaves. Neem is a proven antioxidant that provides relief during this dreaded disease. No doubt, locals decided to dedicate a temple to Shitalamata.
Sabha Mandapa or the Assembly Hall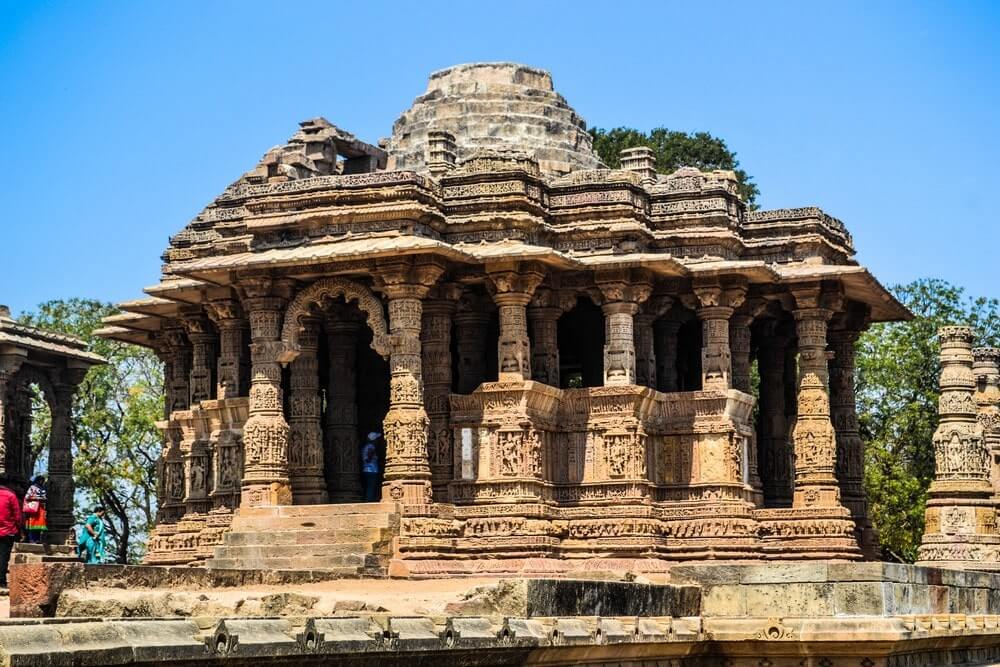 After finishing your tour of the Surya Kund, head towards the Sabha Mandapa or the Assembly Hall.
It is octagonal in shape and open on all sides. The roof is supported by 52 beautifully carved pillars that represent 52 weeks of the year. These pillars bear exquisite Torana arches/gateways that decorate entry points.
It is believed that the Sabha Mandapa was used for public meetings and religious functions.
The hall possesses an opulently-carved, stone ceiling that is a major highlight of Modhera Sun Temple. It was definitely one of the most beautiful ceilings I had ever seen. The symmetry of the structure was unparalleled and the flowers and motifs that hung right out of it seemed like the most beautiful things on the earth. The intricacies and detailing simply took my breath away.
Outer walls of the assembly hall contain images of various gods and scenes from Ramayana and Mahabharata.
During the day, the ceiling and pillars disseminate an ethereal hue as the sun shines in through the openings. It is almost like Sun God or Lord Surya shines in to dispel all darkness from the world.
Recommended: Other architectural attractions near Ahmedabad
Guda Mandapa or the Sanctum Sanctorum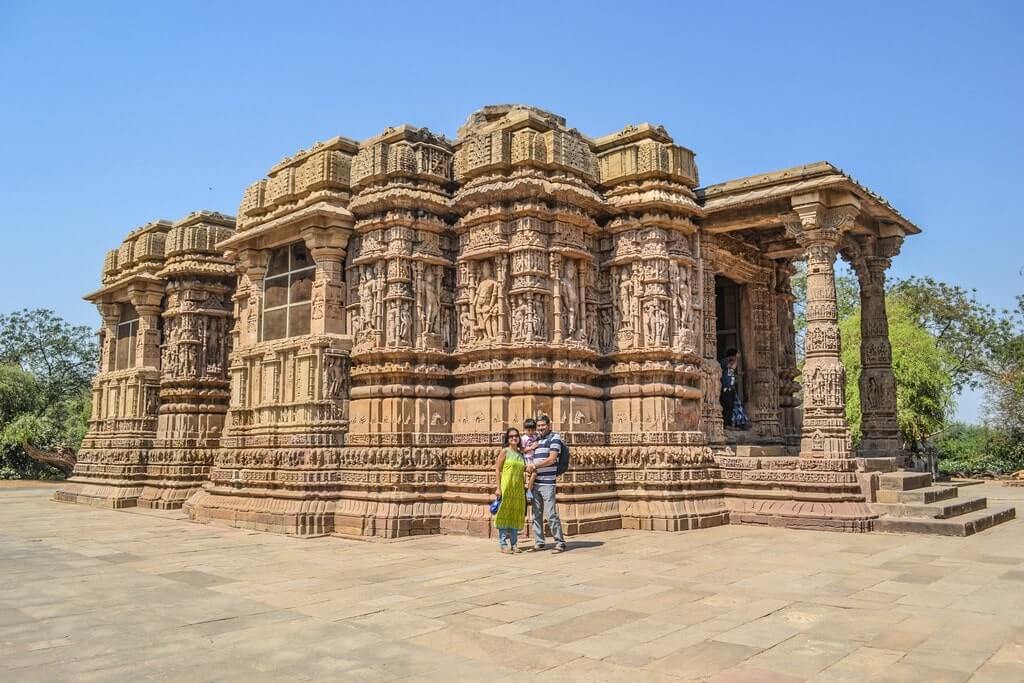 The last structure in the complex is the Guda Mandapa. It is the inner sanctum of the temple and was designed to host the idol of the deity which no longer exists. The shrine is also known as the "garbagriha". It is constructed on a plinth that is shaped like an inverted lotus.
The Guda Mandapa is designed in a way that the first rays of the sun touch the idol on equinox, twice a year. You will see this principle at play at the Konark Sun Temple too.
Carvings on the walls of the main temple are beautiful and represent various stages of human life from birth to death. There are figures of musicians, gods, and goddesses.
The outer walls of the sanctum represent Sun God in 12 different styles for 12 different months. There are scenes from Ramayana and Mahabharata and getting a guide is a good way of spotting these sculptures. Here, you will also find several amorous sculptures. Plus, there is a relief that shows a pregnant woman, surrounded by midwives, giving birth.
Also read: 21 Best things to do in Ahmedabad, Gujarat.
Modhera Sun Temple Museum
If you wish to know more about the history of the site and check out a display of archaeological artefacts, head to the museum at Modhera Sun Temple. It is open between 10 am – 5 pm every day except on Fridays.
Surya Mandir at dusk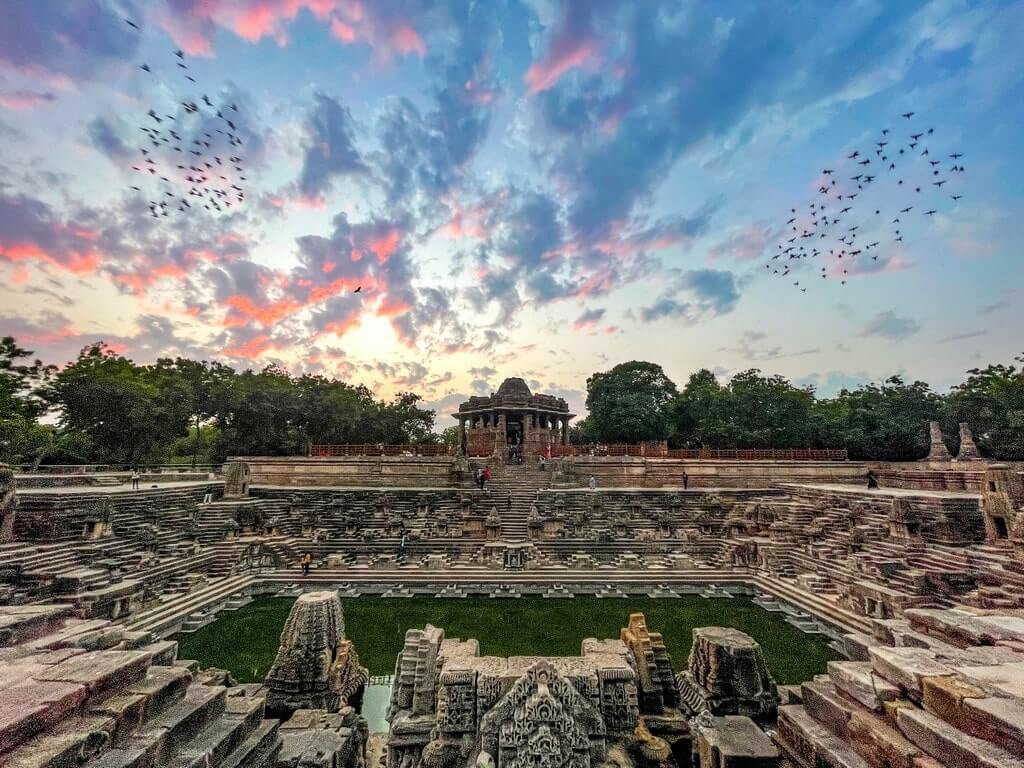 I have visited Modhera Sun Temple twice, first one during the day and second right as dusk was settling in.
I got a deep insight into the beautiful and intricate architecture of the temple on my first visit. However, on my second visit, I was thoroughly enraptured. I was captivated by the beauty of the temple at dusk.
As the sun slowly went down, the sky turned orange, and birds flew back to the nest, the silhouette of the Sun Temple stood out as a beautiful reminder of its glorious past.
When it became completely dark, the temple including the stepwell lighted up. And it was a sight to behold. Honestly, it was magic. There are no words that can express my feelings at the sight of the lighted-up sun temple. The only thing that I can probably say is that this is something I can see every day of my life.
I highly recommend visiting the Sun Temple around 3 – 4pm in the afternoon when the sun is still shining bright. Explore the architecture and museum between 4 – 6pm, watch the sunset at 6pm, and get wowed by the lighting after dark.
Modhera dance festival
The state of Gujarat is home to a number of colorful festivals every year. The kite festival, Modhera dance festival, and the Rann of Kutch festival are some of the most popular ones.
Gujarat Tourism Corporation hosts the Modhera Dance Festival every year in the 3rd week of January, right after the popular Gujarati kite festival of Uttarayan. It is locally known as Uttarardh Mahotsav.
Modhera dance festival celebrates the myriad dance forms of India and is a unique peek into India's culture and heritage. The program is usually scheduled at night and the temple is beautifully lit up for the purpose. For more information, click here.
Interesting facts about Modhera Surya Mandir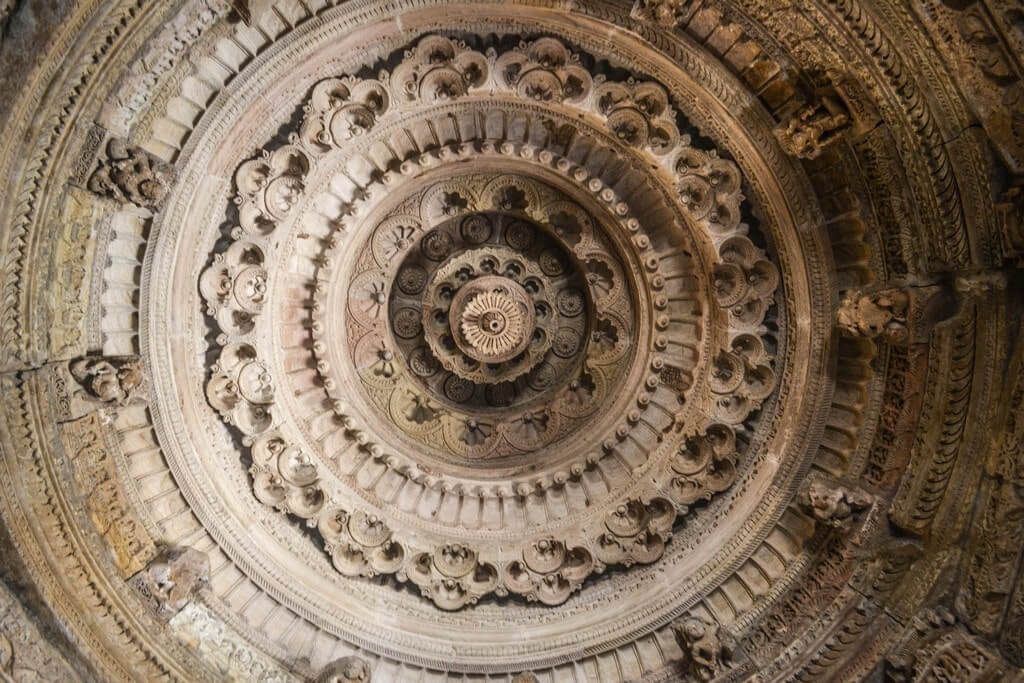 The sun temple is located exactly on the Tropic of Cancer. This ensures that, on equinoxes, the first rays of the sun always fall at the deity's feet in the inner sanctum. Even though there is idol in the temple now, the sun follows the same pattern.
At the Sabha Mandapa, you will see 52 pillars representing the 52 weeks of a year.
The grand, delicately sculpted ceiling of the Sabha Mandapa is a huge draw for tourists here. It almost feels like you are staring on to an upturned flower in its full bloom. The work on the ceiling is intricate and may have taken a long time to build in that era.
Uttarardh Mahotsav (Modhera Dance Festival) gets its name from the movement of sun towards the north (uttar) as the winter ends.
Best time to visit Modhera Sun Temple
Summers are hot in Western India. Therefore, it is always advisable to travel to Gujarat in the winters after the temperatures have gone down a bit. October – March is considered a good time to visit Modhera. December – January is the best.
During this season, the place is all green and you can spot peacocks in the surrounding park. Also, you can catch the world famous, Modhera Dance Festival, that is in January every year.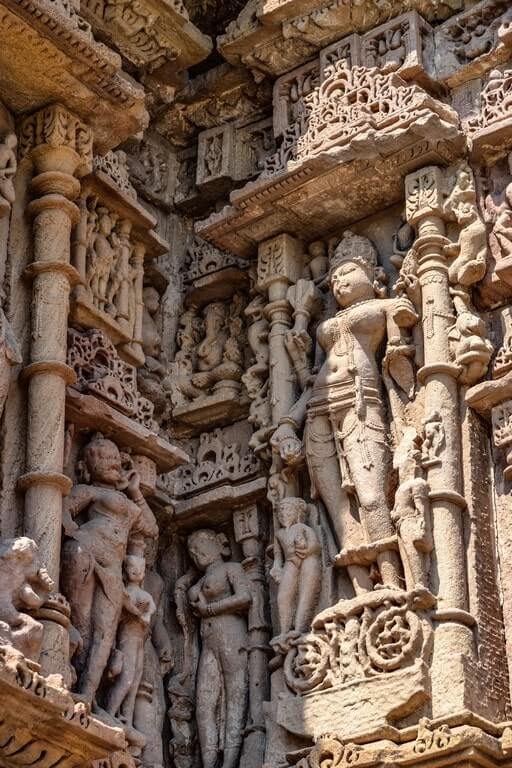 Modhera Sun Temple entrance fee and hours
Entry to Modhera Sun Temple is inexpensive, priced at INR 25 for Indians and INR 300 for foreigners (as on December 2021). Photography is free of charge but you cannot set up tripods on the ancient structures. You cannot fly drones either.
The temple is open every day between 7 am – 6 pm.
There is also a museum in the premises that is maintained by Archaeological Survey of India. The museum is open between 10 am – 5 pm every day except for Fridays and public holidays when it remains closed. If you cannot spot the museum, ask one of the caretakers on site. They will point you to it.
Hiring a guide
You can hire a tour guide for as low as INR 300 (approx $4) here. The last time I hired a guide was in 2018, the rates may have gone up a little bit now. You can ask for a guide at the ticket counter.
Guides may not be super helpful if you have already done some research but for $6-7 they will tell you a good bit. Personally, I always like to get a tour guide because that gives me the perspective of a local who has been around in the same place for quite some time. They are well aware of myths and stories and this usually gives an interesting twist to historical tales. Plus, they always know more about the sculptures and where to find what in that amazing maze of figurines and motifs.
Or you can one of the recommended guided tours that I have spoken about here.
How to get to Modhera?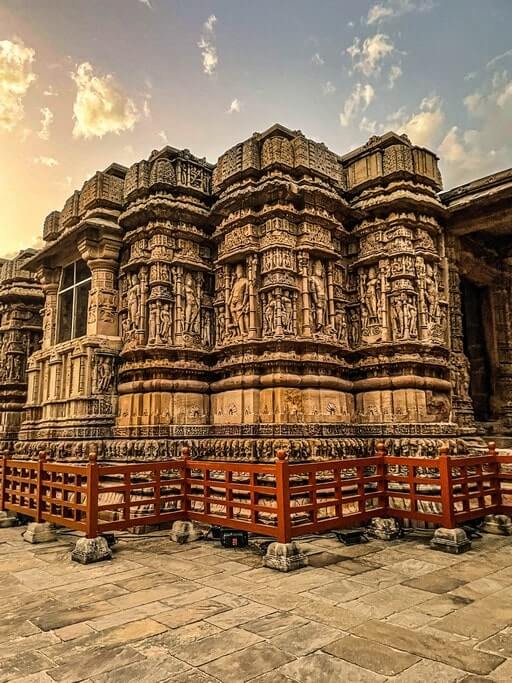 Modhera Sun Temple is located in the Bechraji area of Mehsana District in Gujarat, India. This place is about 62 miles (100 km) from Ahmedabad and 16 miles (25 km) from Mehsana.
The nearest airport is that of Ahmedabad. So, you will have to fly into Ahmedabad first and then take a bus/train/taxi from there.
The most preferred travel option is by road. You can hire a private taxi from Ahmedabad. We booked an Ola-Outstation cab (Ola/Uber – anything works) and did Patan and Modhera on the same day. The journey takes about 2 hours one-way.
Private and government buses also run between Ahmedabad and Modhera and are less expensive than taxis. Click here to book your bus tickets.
You can also take a train to Mehsana, which is the closest railway station. Then you can board a taxi or a bus to get to the temple.
A convenient option is to book a guided tour of Modhera that also clubs together other nearby attractions.
Recommended guided tours for Modhera
A guided tour is a great way to see these attractions together. Plus, it takes away the headache of planning the trip on your own. Your chauffer will pick you up and drop you at the exact locations. And of course, tell you some interesting local myths and legends.
Here are a few good recommendations for Modhera guided tours.
This highly-rated private tour will take you to the magnificent Modhera Sun Temple and the Queen's Stepwell as well as give you rich insights into the lives of women in Gujarat from the medieval times.
On this private tour, you will visit Modhera temple, Rani ki Vav, and learn about Patola weaving in Patan.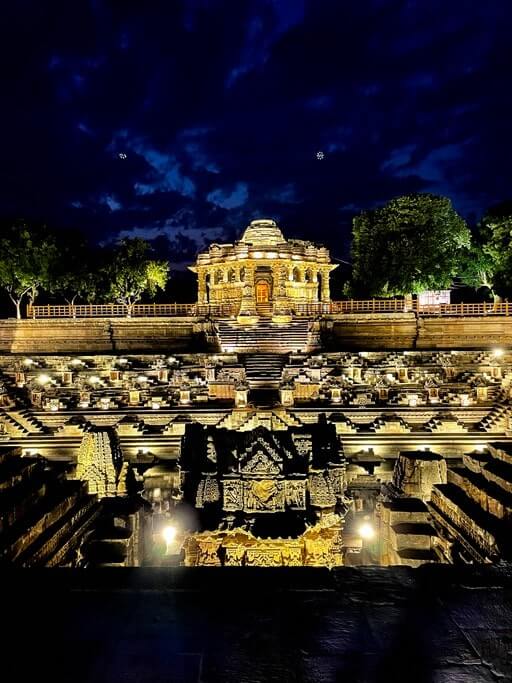 Places to visit near Modhera Sun Temple
Exploring the Modhera Sun Temple can take anywhere between 1-2 hours. A visit to Modhera is usually coupled with a stop at Rani ni Vav in the town of Patan. A couple of other attractions that you can add to your day trip are the Patola Museum and the holy town of Siddhpur.
Rani ki Vav, Patan
Close by is an intriguing stepwell from the bygone era, Rani ki Vav.
This Queen's stepwell is a UNESCO World Heritage Site and home to excellent carvings and an innovative way of storing water in western India.
Recommended: Guide to visiting Rani ki Vav in Patan Gujarat.
Patan Patola Heritage Museum
In the city of Patan, you will also find a heritage museum of Patan Patola sarees. It is run by the Salvi family which has specialized in the art of double-ikat weaving since the 11th century. Patola sarees are one of the most expensive pieces of clothing in the world. In India, you will mostly find the uber-rich donning them.
Siddhpur
In Siddhpur, you will find the ruins of a 12th-century temple dedicated to Lord Shiva called the Rudra Mahalaya Temple.
There are a number of other temples in the vicinity such as the Modheswari Maa Temple, Ramji Mandir, and Hanuman Temple if you wish to offer worship.
Where to eat and stay near Modhera?
Stay options
Even though Mehsana is closer to Modhera and has a railway station, it is better to stay in Ahmedabad for the night.
Accommodation options in Ahmedabad are better and far more numerous than those in Mehsana.
I highly recommend Fortune Landmark Hotel, a 5-star hotel of the ITC Group, for its spacious rooms, great food, and impeccable service. If you are looking for a nice place in Gandhinagar, try Fortune Inn Haveli.
I have heard great things about The House of MG and am really looking forward to staying there on my next trip. If you are a heritage-seeker, you should definitely check this hotel.
Holiday Inn Express is also a great place to stay for budget travelers. Their rooms are comfortable and breakfast is decent: includes both Indian and Continental options.
Eating options
There is a café right next to Modhera Sun Temple if you wish to munch on something. Their masala chai is really good.
Like any other Indian city, Ahmedabad possesses a number of great eating outlets as well. Trying out the delectable Gujarati Thali is a must when you are here. Gordhan Thaal is a good place to start out on an authentic Gujarati Thali experience.
Loved our Modhera Sun Temple guide? Pin it for later!