Last Updated on September 26, 2022 by Soumya
Are you looking for the best things to do in Kutch, Gujarat? Planning your next Gujarat getaway and wondering what are the most amazing places to visit in Kutch? Well, look no further because I have just the perfect Kutch travel guide for you.
I recently took a road trip through the arid regions of Kutch in Gujarat and discovered many wonderful places. I experienced a stunning sunset at the White Rann, discovered some of Nirona village's almost-extinct handicrafts, spotted wild asses in Little Rann, and got into a fun mood at the colorful Rann Utsav. There were so many wonderful things to do in Kutch that I could go back and spend a month there and still not be done.
So, here's my detailed guide on the 16 best things to do in Kutch, Gujarat. Here you will learn
All about 16 iconic places to visit in Kutch and why you need to add them to your Kutch itinerary.
How to plan a memorable Kutch trip plus loads of tips on where to shop, eat, and stay.
For a good time, I thought Kutch was only about the Rann Festival, white salt deserts, and wild asses. But did you know that there are scores of historical places to visit in Kutch? Or the fact that Kutch is home to some of India's most pristine beaches? We will discover all that and more in this ultimate Kutch travel guide.
Amazing things to do in Kutch, Gujarat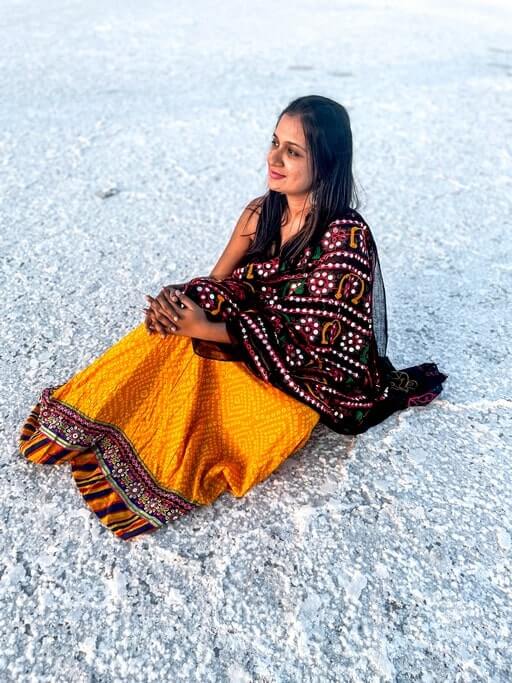 They say, "Kutch nahi dekha to kuch nahi dekha". "If you haven't seen Kutch, you haven't really seen anything."
Honestly, after my recent trip to Kutch, I strongly believe in this adage. Kutch is so full of amazing places and unique things that visiting India without exploring Kutch is almost a crime.
Located on the westernmost end of Gujarat, bordering Pakistan, is the irresistible Kutch district that boasts of a long history and stunning natural beauty. Kutch was once the cradle of the ancient Indus Valley Civilization, housed the illustrious Kingdom of Cutch, and suffered a devastating earthquake in 2001. It is home to one of the largest salt deserts in the world, the enigmatic hills of Kalo Dungar, and the near extinct Asiatic Wild Ass. Kutch has an arid terrain where people have added color to their lives through art, craft, dance, and music.
Kutch is a destination with tons of interesting things to do and seeing all of them would probably take a lifetime.
My bucket list for Kutch keeps growing every day as I discover new places to visit, new arts to discover, and new foods to try. So, here's my list of the most incredible things to do in Kutch, Gujarat which, I am sure, will keep growing longer with time.
Please note: This post may contain affiliate links which means I may earn a commission if you make a purchase by clicking a link on this post. This will be at no additional cost to you. Affiliate links help me keep this website up and running. Thanks for your support!
Attend the colorful Rann Utsav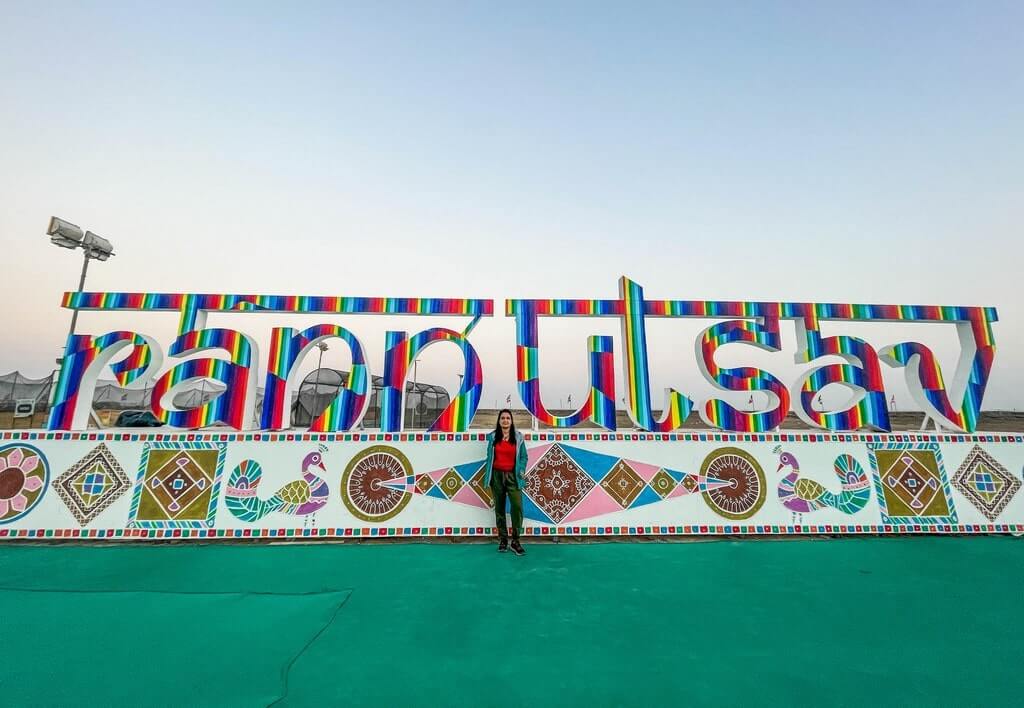 The Rann Festival, commonly known as Rann Utsav, is held in Rann of Kutch every year from the 1st of November to the 20th of February.
This unique festival celebrates the beauty of the India's largest salt desert, its people, their culture and heritage. In short, Rann Utsav is a celebration of life, resilience, and the ability of humans to create wonders even in the face of adversity.
In the 4 months of the Rann Festival, local artisans set up numerous handicraft stores. Food stalls pop out of nowhere. And hotels and resorts set up temporary but luxurious accommodations. It is like one huge fest that lasts for 4 long months giving you plenty of opportunities to eat, shop, dance, and be merry.
It is a great idea to plan your Kutch trip around the same time as the Rann Utsav so that you can see the best that the festival has to offer as well as visit several other destinations within Kutch.
Also see: Complete guide to planning your Rann Utsav trip
Experience a sunrise/sunset at White Rann
If there is just one thing you want to do in Kutch, then go watch a sunrise or sunset in White Rann. I did the sunset tour and some of my friends went for the sunrise trip. Both were equally magical.
The White Rann or Safed Rann is a salt desert that begins in Kutch, Gujarat and goes all the way till Sindh, Pakistan. During the rainy season, the low-lying mudflats of White Rann get filled in by salt water. After the rains, the water cannot recede (because of gravity) and slowly begins to evaporate, thus leaving the salt behind.
What results is a beautiful white salt desert that stretches till the eyes can see. And watching the sun go down against a vast expanse of white is simply magical!
December – January is the best time to visit White Rann. If you wish to take your experience a notch higher, then do a tour on a full-moon night. That is beyond magic!
Stay in a traditional bhunga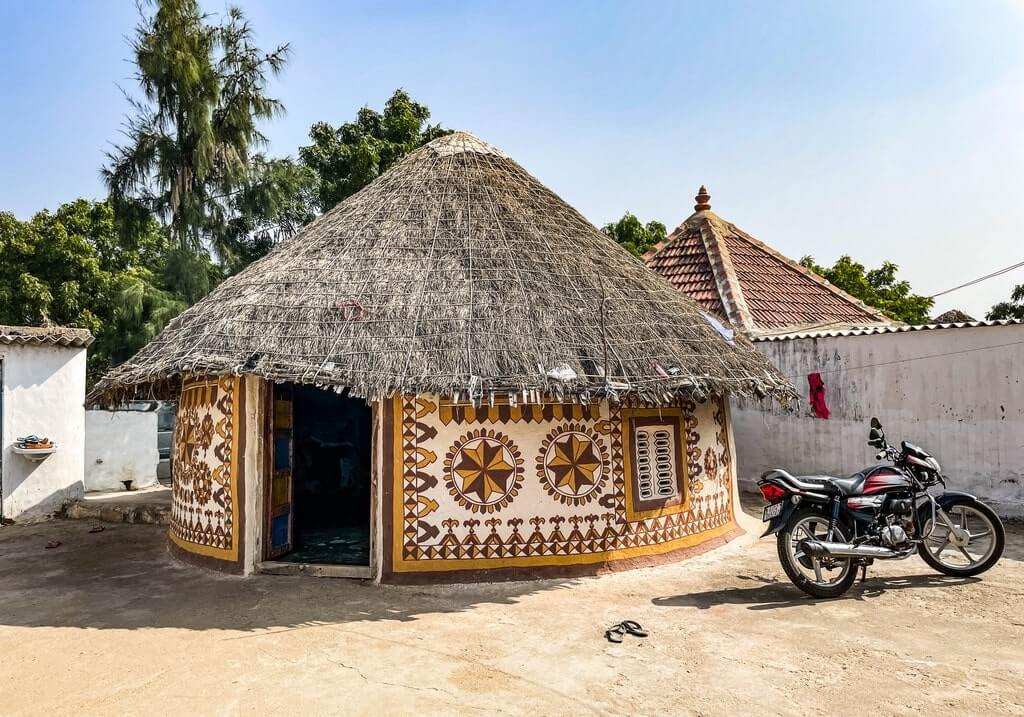 Bhungas are traditional Kutchi houses that are circular in shape and have thatched roofs. They are built in a special way so as to resist earthquake tremors and moderate the extreme temperatures of Kutch.
Very often, these bhungas are decorated in beautiful Lippan art. Lippan is a mud-and-mirror art that is native to the Kutch region. A mixture of clay and camel dung covers the interiors of the bhunga. A stunning assemblage of mirror work over the clay gives each bhunga a character of its own. The exterior walls are further painted in bright colors and remarkable designs.
Wouldn't it be amazing to stay in one such traditional Kutchi house?
Luckily, several homestays in the region provide us with an opportunity to do so. Also, I loved the bhungas and the art inside them at the Gateway to the Rann Resort, if you are looking for a luxurious stay.
Visit the ruins of Dholavira, a UNESCO World Heritage Site
I haven't had the chance to visit Dholavira yet but it is very high on my Kutch bucket list. Especially after seeing the ruins of Lothal, on a day trip from Ahmedabad, I have been itching to explore the archaeological site of Dholavira, one of the largest Harappan sites in India.
The excavations at Dholavira reveal that the city was a major urban center during the time of the Indus Valley Civilization. It was first settled in between 3000 – 2500 BC thus making it more than 4500 years old. Dholavira was added to the UNESCO World Heritage list in July 2021.
The ruins give us deep insights into the lives and living conditions of the people of the Harappan civilization. This makes Dholavira one of the best historical places to visit in Kutch.
It is now easy to get to Dholavira from Bhuj and the Rann. The drive takes around 2.5 hours (one way) with the new connecting road in place. Earlier, the drive used to take 5 hours (one way) thus making it painful for a day trip. But now things have gotten better.
As of December 2021, a new kuccha road is in place that reduces drive time from 5 to 2.5 hours. By the end of 2022, a pucca road should come up too. I got this information from my travel guide in Rann of Kutch who also arranges day trips to Dholavira. If you need his contact details, drop me a message here.
Get wowed by the views from Kalo Dungar
If you thought the Rann of Kutch was all about flat white deserts, then you are wrong. Because right here, in the middle of Rann, is a series of hills, the highest among them being Kalo Dungar.
Kalo Dungar literally translates to Black Hill. There is an interesting story why it is called so. In the olden days, when the people of Sindh traveled to Kutch, they could see nothing but barren land. It was either the white salt deserts or the mudflats of the Rann. After walking for days, they would spot the hills of Kalo Dungar. These hills appeared black from a distance and that's how the name stuck.
From the top of Kalo Dungar, you will get stunning views of the White Rann as it stretches all the way from Gujarat to Sindh. On a clear day, you will be able to see the border of Pakistan as well.
Some of the resorts can also arrange for you to visit the India-Pakistan border at Nada Bet, Gujarat. Here, you will experience something similar to what you see at the Wagah Border in Punjab.
The best way to get to Kalo Dungar is by a private transport. Resorts also have their Kalo Dungar tours which typically happen on buses. The bus will drop you at a parking lot 500m below the hilltop. From there, you can take a jeep (INR 30 one way), ride a camel (INR 100 one way), or simply walk to get to the top. Remember that even if you take a jeep (which I did), you will have to climb 50 odd stairs to get to the top of the viewpoint.
Pay your respects at the 400-year-old Dattatreya Temple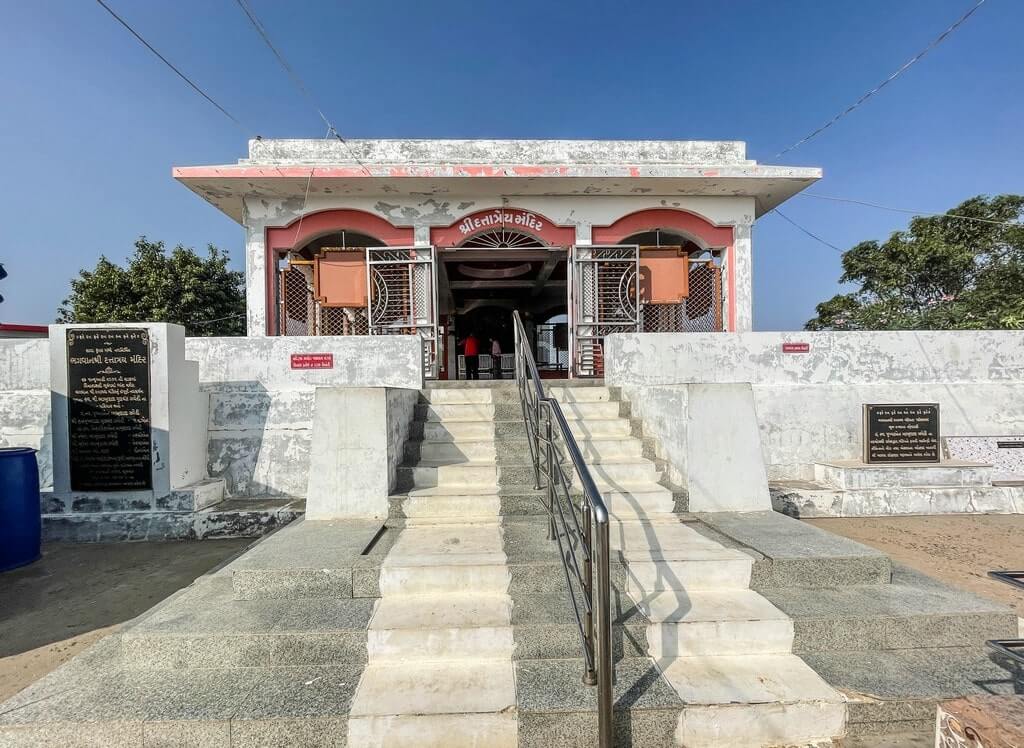 If you are visiting Kalo Dungar, do not forget to pay your respects at the 400-year-old Dattatreya Temple that is located on the same hill.
The temple is the abode of Lord Dattatreya, a saint who once visited the hills of Kalo Dungar. It is believed that he encountered a pack of hungry jackals and offered them a part of his body for dinner.
Even today, the temple authorities cook prasad (offering to God) every night and offer it to the jackals who still feed on it. The offering is called long prasad which is probably a corrupted version of "le ang" (take my body part).
Discover the dying arts of Kutch at Nirona village
Now this was one of my favorite places to visit in Kutch – the vibrant and colorful village of Nirona. It is incredible how many different art forms the village of Nirona is home to.
Rogan art
First, make a stop at the Khatri household which has preserved the very beautiful Rogan art for the past 400 years.
It is believed that Rogan art came to India from Persia. Today, only the Khatri family creates authentic Rogan artefacts.
Using castor oil (also known as rogan) and a metal stylus, the artists create stunning patterns on cloth. Their "Tree of Life" designs are the most popular and sell for thousands of rupees. Prime Minister, Narendra Modi, gifted a Rogan Tree of Life to Barack Obama during his US visit in 2014.
Follow the official Instagram account of Nirona's Rogan Art here.
Copper bells
Handmade copper bells – another interesting art form that the family of Husen Luhar creates from scrap metal. Enter into their courtyard and you will be greeted by the rings and chimes of hundreds of bells.
The family makes copper bells from scrap iron that is obtained from cars and other junk, beats them into a thin iron plate, coats them with copper, and creates beautiful shapes from them. Then, they make these shapes into bells by just fixing them on top of each other, without any welding. Simply watching the process is such a fulfilling experience. You wouldn't want to come back without buying one for yourself. Here is their official Facebook page though it hasn't been updated in quite sometime.
Also, remember to listen to Husen Luhar playing the morchang. That, my friends, is absolutely divine.
Lacquer art
Usually, I would associate lacquer art with bangles but in Nirona, I found lacquer art in the most unusual of things – bread rolling pins, spatulas, and utensils. There were toys too but I found no lacquer bangles here.
Lacquer, which is obtained from the sap of a tree, is mixed with various organic colors to coat wooden objects and give them vibrant colors and designs. So, if you are in the mood to add some color to your kitchen, do make a stop at the home of lacquer artisans in Nirona.
Visit the resurrected village of Gandhi nu Gam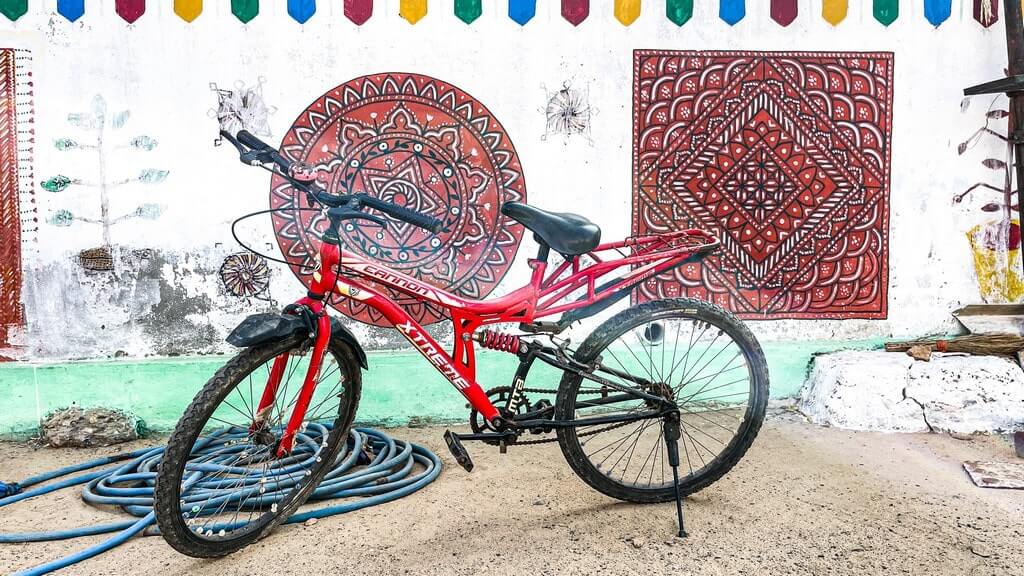 We all know of the devastating earthquake of 2001 that destroyed much of Bhuj and Kutch. Thousands died, villages perished, and people were rendered homeless. What was left was rubble and ruins all around!
Vastu-Shilpa Foundation (VSF) took up the herculean task of resurrecting 13 villages in the region. Gandhi nu Gam was one of them. A plan was drawn. Locals were involved and Gandhi nu Gam rose like a phoenix from the ashes.
As soon as you step into the village today, you see colorful bhungas dotting the place. Women in vibrant attires sell pretty handicrafts. What we cannot see is the strong will power and determination of the people who literally came back from the dead.
Enjoy a beach day at Mandvi
Do you know that Kutch has beaches too? Yes, the Kutch district in Gujarat has a long coastline that borders Gulf of Kutch. This gives rise to sprawling, golden sand beaches, many of which lie undiscovered.
Mandvi is one such beautiful beach in Kutch. It is located just an hour away from Bhuj and makes for a great day trip.
Feel like a royal at Vijay Vilas Palace in Mandvi
The city of Mandvi was once a prosperous port city. Consequently, it held great importance for the Kingdom of Cutch.
Maharao Shri Khengarji, one of the most renowned maharajas of Kutch, went on to build his summer palace in Mandvi. His son, Shri Vijayaraji, used the palace very frequently. It came to be known as Vijay Vilas Palace.
The palace is a stunning example of Rajputana architecture and features beautiful stone carvings, jalis, murals, and colored glass work. An in-house museum gives you deep insights into the history of the monument and the region.
Explore the royal cenotaphs of Chhatedi Bhuj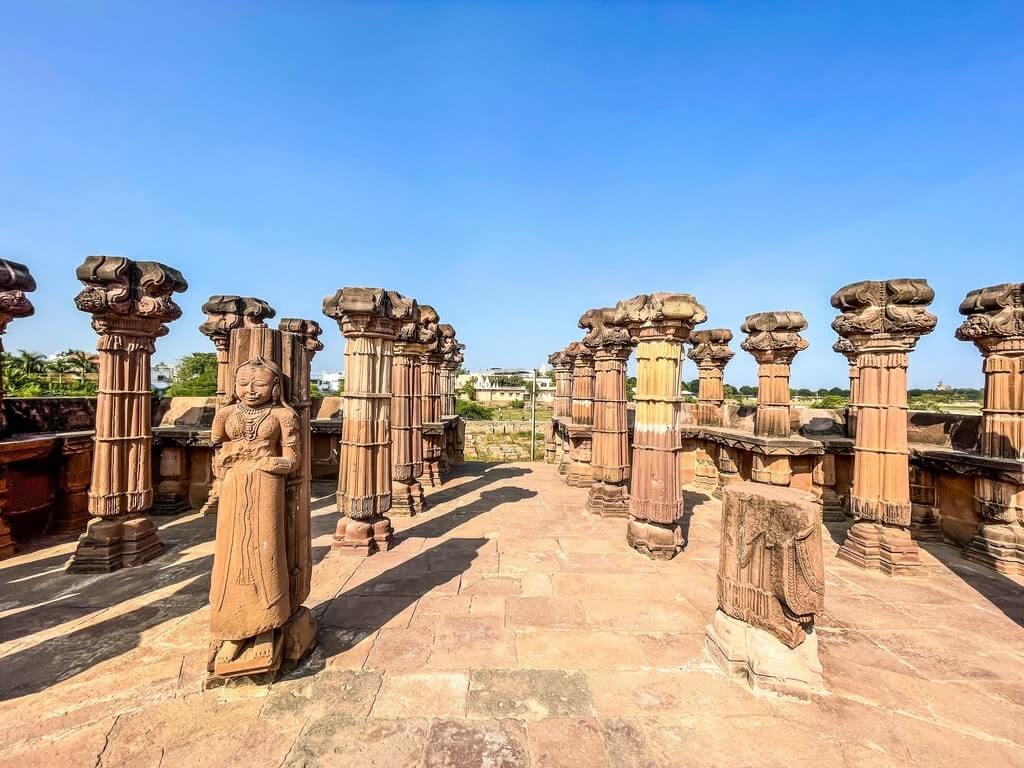 Looking for more historical things to do in Kutch? Visit the royal cenotaphs at Bhuj Chhatedi.
These are the cenotaphs of the members of Kutch's royal family. Jadeja rulers built them in the 18th century. The cenotaphs are shaped like umbrellas and hence, called chhatris. Architecture is a mix of Mughal and Rajput styles.
The largest cenotaph in the complex is the Rao Lakpatji Chhatri at the far end of the enclosure. You can only see the arches of this chattri that are still intact. The domes fell during the earthquake of 2001 and haven't been restored yet. Right in the middle of the structure is a stone slab that suggests that the 15 wives of Rao Lakpatji gave up their lives at his funeral pyre.
Bhuj Chhatedi is free to enter and is open from sunrise to sunset.
Shop till you drop at Bhujodi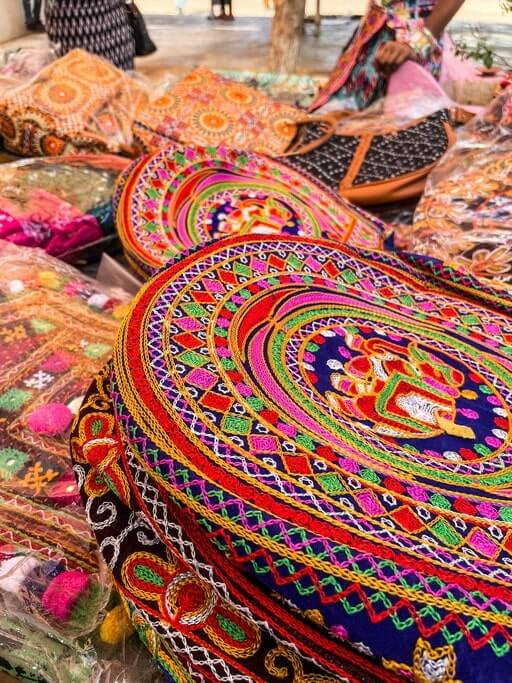 Bhujodi is an art and craft hub that is located right next to the city of Bhuj. Here, you will find numerous examples of Kutchi handicrafts such as shawls, dupattas, bags, footwear – all loomed in the open courtyards and verandahs of the Vankar community that resides here.
If you haven't already purchased your Kutch knick-knacks and souvenirs, then Bhujodi is a good place to stop. You will be overwhelmed by the choices here.
Walk through the palaces of Bhuj
When in Bhuj, do not miss two iconic palaces – Prag Mahal and Aina Mahal.
Built in 1865 in the Italian Gothic architectural style, Prag Mahal has an ornate Durbar hall that is replete with statues and carvings. Its 45m clock tower is especially remarkable. As you stand outside the palace appreciating its beauty and craftsmanship, it's quite easy to get confused if you are in India or medieval Europe.
Aina Mahal, on the other hand, is a palace filled with mirror work. Hira Mahal and Fuvara Mahal here are truly beautiful.
Discover the colors of Kutchi villages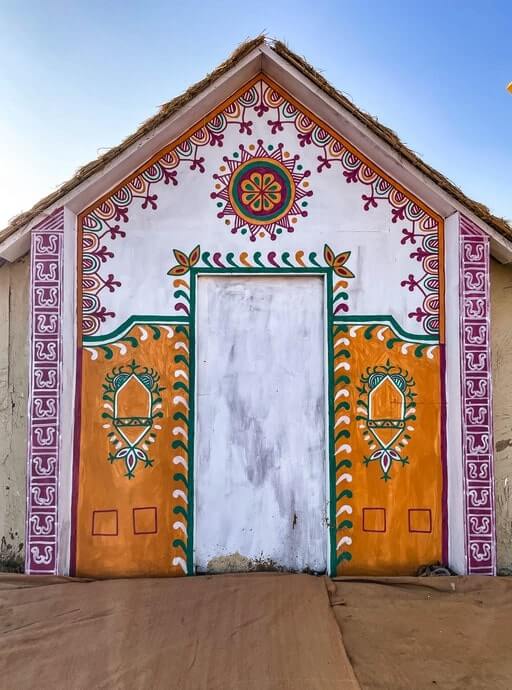 What I loved about walking through the lanes of Kutchi villages was the abundance of colors in them. Vibrant doors, charming alleyways, and smiling faces were waiting for me at every corner.
If you have some time to spare, walk through these character-filled lanes of Kutch's villages and tell me what you find at every turn.
Go stargazing in Rann
Yes, you can actually go, stargaze at a remote spot in the White Rann.
Even though the entire Rann is a great place to look up and see the stars, it is kind of difficult in the resort areas because of too much light. However, your resort (Dhordo Tent City does this) can organize a stargazing tour for you.
You will head to a spot that is about 10kms away from Dhordo where you can see the milky way in all its glory. They also have telescopes to make your tour even more interesting. If you are a stargazer or a photographer, you would not want to miss this.
Visit the Wild Ass Sanctuary in Little Rann of Kutch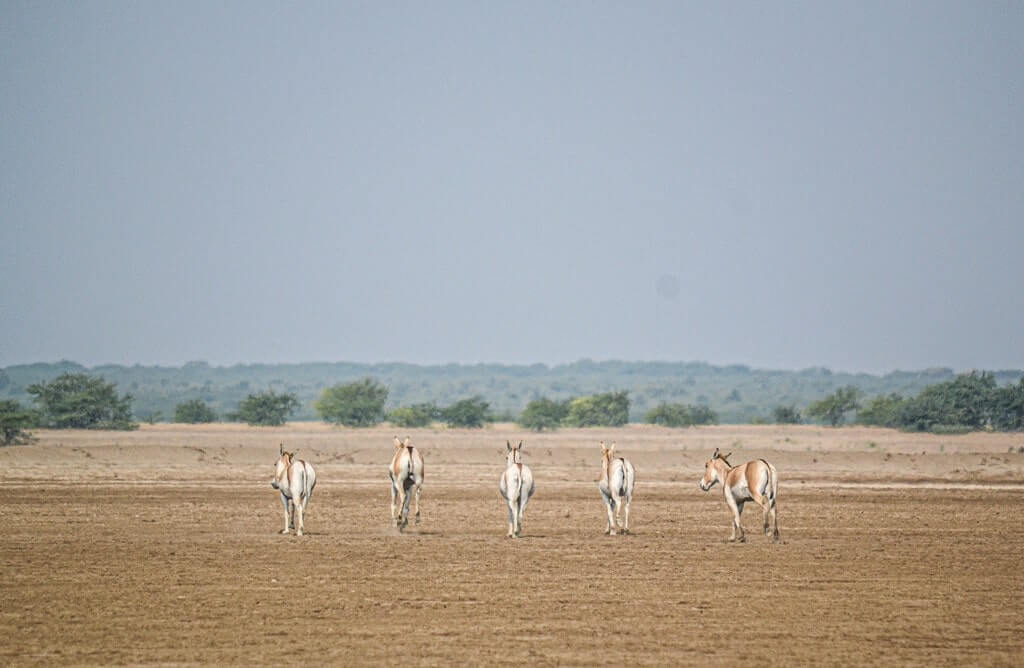 I was quite surprised to find out that Rann of Kutch was not just about culture, history, and colors. It was also a lot about wildlife.
I did a open jeep safari in Little Rann of Kutch and thoroughly enjoyed the experience. Little Rann of Kutch or LRK is home to the Asiatic Wild Ass, a near threatened species. Here, you will find the Indian Wild Ass Sanctuary, one of its kind in the world.
The safari takes you through the arid lands of the Rann where you will spot wild asses, numerous birds including lesser flamingoes and short-eared owls. You can also see the process of salt making in designated areas.
Best time to visit Kutch
The best time to visit Kutch is during the winters when temperatures are low and the weather is mild. The famous Rann Utsav is also held in the winters and it is absolutely the best season to see the white desert.
November – February is perfect. Be sure to carry a jacket with you because evenings get cold here.
Where to stay in Kutch?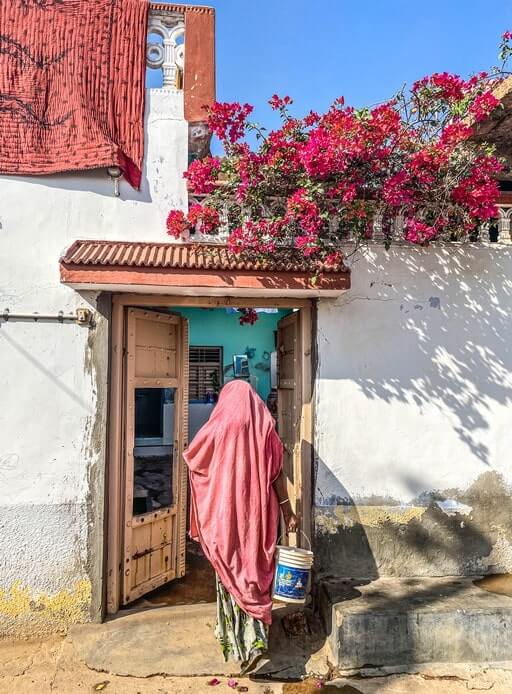 Bhuj, the largest and most important town in Kutch district, is a great place to stay and explore the many beautiful places of Kutch. Many of the destinations that I have spoken above are just a day trip away. Plus, Bhuj has some of the best hotels and homestays in the region.
If you are looking at value for money, try "Go Desert" Homestay located in Sanskar Nagar, Bhuj. Amazing hosts, yummy food, and clean rooms are their USPs. In case you want to spend your days at an established hotel, try Fern Residency with excellent food, spacious rooms, and a great location. If you love grand havelis and open courtyard homes, try The Kutchh Courtyard – an innovative concept by the husband and wife duo – Abhinav and Smita.
If you are visiting Little Rann of Kutch, consider staying at Rann Riders in Dasada. Set in the middle of marshy wetlands, the place boasts of authentic bhunga homes and delicious local food. Try their farm fresh juices – the guava one is the best. They will also arrange safaris for you in the Wild Ass Sanctuary.
Many tourists visit Kutch to witness the vibrant Rann Utsav. For that, you would want to stay somewhere close to the festival and the White Rann. I stayed at Rann Utsav – Tent City and loved my experience. If you are looking for traditional bhungas in the region, try Gateway to Rann Resort. See more recommendations on my detailed guide for the Rann Festival.
How to get to Kutch?
The best way to get to Kutch is to arrive at Bhuj, the headquarters of Kutch District. If you are traveling from Mumbai, you are in luck because Bhuj has a small airport and just one Alliance Air flight flies in and out of Bhuj to Mumbai, 4 days a week. Have a look at the Bhuj Airport official website for flight updates.
If you are traveling from anywhere else in the country, you will need to take the train or the bus. Train journey from Ahmedabad to Bhuj takes about 7 hours while a bus ride can take you anywhere between 8-10 hours. Book your train tickets on IRCTC and bus tickets on Redbus.
Once you are in Bhuj, you can hire a private taxi to get to various destinations in Kutch. Feel free to get in touch with Iqbal Kumbhar on +91 99747 33551 or at [email protected], a registered guide under Gujarat Tourism, for all your taxi and local tour guide needs.
Practical information to plan your Kutch trip
Finding good Wi-Fi may be a problem in the entire region. Even your trusted mobile network may be quite patchy. So, be prepared for that.
When I traveled to Kutch in December 2021, Vodafone 4G network worked decently in and around Dhordo village, Bhuj, and Nirona. Connectivity was bad on the hills of Kalo Dungar and the White Rann.
Carry or buy colorful and/or traditional clothes to wear at the White Rann. They look great against the white landscape.
It is hard (almost impossible) to find good non-veg food in Rann of Kutch. I would recommend sticking to the local, vegetarian fare.
Gujarat is a dry state. So, no alcohol.
Kutch Gujarat FAQ
What is special in Kutch?
The special thing about Kutch is that it is home to one of the world's largest salt deserts known as the White Rann, a near-threatened wildlife species called the Asiatic Wild Ass, and several colorful art forms such as Rogan art, Lacquer art, and Lippan art.
Where should I stay in Kutch?
When visiting Kutch, it is ideal to stay in Bhuj. Bhuj is the largest city in Kutch district and has good accommodation options. If you are visiting for the Rann Festival, you can stay in Dhordo or Khavda. Refer to our Kutch accommodation section for details.
What is the best time to visit Kutch?
The best time to visit Kutch is during the winter months of November – February when the White Rann is at its prettiest, temperatures are low, and all of Kutch is filled with a festive vibe due to the ongoing Rann Utsav celebrations.
How do I get to Kutch?
The best way to get to Kutch is from the city of Bhuj which has a small airport, a railway station and several bus stops. Refer to our section on how to get here for details. Once you arrive at Bhuj, you can hire a private taxi and do day trips to each of these Kutch destinations. If you are staying at one of the Rann resorts, they will pick you up from Bhuj.
What is famous in Kutch for shopping?
Kutch is the best place to shop for handicrafts. Here, you will find several exotic art forms such Kutchi mirror work, Rogan art, Lacquer work, copper bells and wind chimes, and Lippan art. Bhujodi near Bhuj is the best place to shop for souvenirs.
Is it worth visiting Rann of Kutch?
Yes, Rann of Kutch is absolutely worth visiting because of its unique white salt desert that stretches right from Kutch in India to Sindh in Pakistan. This salt desert, also called the White Rann, is at its beautiful best during the winter season when all the water has evaporated and the white salt glistens and glimmers in sunlight. It's almost magical to watch a sunrise or sunset at White Rann. Even more magical is experiencing the Rann on a full-moon night.
Is alcohol allowed in Kutch?
No, alcohol is not allowed in Kutch. Gujarat is a dry state. Hence, you will not find any alcohol in Kutch.
Are Bhuj and Kutch the same?
No, Bhuj and Kutch are not the same. Kutch is the westernmost district of Gujarat of which Bhuj is the headquarters. Bhuj is the largest city in the Kutch district and is home to several palaces, shopping areas, and the famous Bhuj Chhatedi.
Loved our Kutch travel guide? Pin it for later!