Last Updated on March 2, 2022 by Soumya
Planning a trip to Vadnagar, Gujarat? Wondering what are the most amazing things to do in Vadnagar? How could you possibly get to Vadnagar and what will you see there?
Well, here's the best Vadnagar travel guide that tells you exactly what to do.
The city of Vadnagar in Gujarat rose to fame recently when it gave India its 14th Prime Minister, Shri Narendra Modi. It was here that Mr. Modi spent a good part of his childhood, helping his father sell tea at the Vadnagar Railway Station, a tourist attraction in its own right.
However, there is another side of Vadnagar that most of us don't know – the historical side. Vadnagar is one of Indian subcontinent's oldest inhabited cities and has a history that is more than 2000 years old.
Among the many interesting things to see in Vadnagar, you will find two stunning entrance arches from the 12th century, a 400-year-old Shiva temple, and crumbling facades of old havelis with numerous stories behind them. Vadnagar's walled town is a history lover's paradise. And so are Buddhist monastery excavations on the other side of the town.
With this ultimate travel guide, you will be able to plan the most amazing trip to Vadnagar with exciting things to do, best places to stay, and the easiest ways to get there.
Brief history of Vadnagar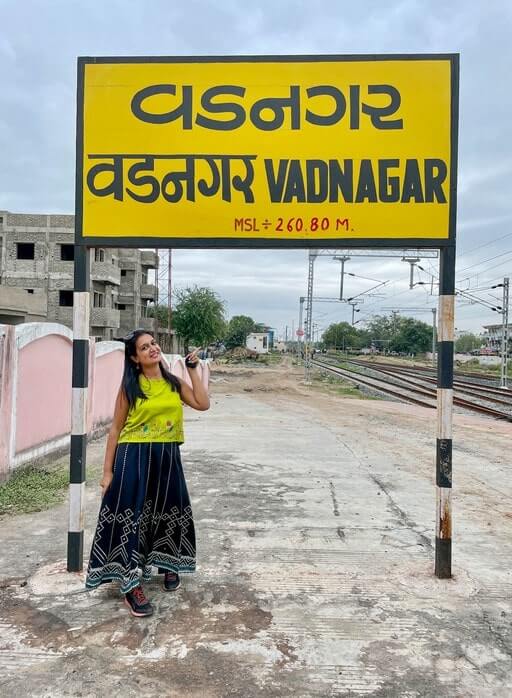 Vadnagar in Gujarat has a long and rich history. There are varied accounts on how far Vadnagar's history could have stretched. Let's have a look at some of them.
Some oral accounts suggest that Vadnagar was around since the time of the Indus Valley Civilization (around 4500 years ago) which means it could have developed along with other Harappan cities of Gujarat i.e. Dholavira and Lothal. However, there is no written or archaeological evidence to support this claim.
We see a reference to Vadnagar in Hiuen Tsang's travelogues from the early 7th century. He refers to Vadnagar as Anandapura and talks about several Buddhist monasteries in the region. Excavations have yielded a Boddhisatva statue dating back to 3rd or 4th centuries. Plus, Archaeological Survey of India (ASI) has discovered the remains of an ancient Buddhist monastery in town.
It is quite possible that Vadnagar was earlier called Anandapura or Anartapura. Probably, Vadnagar was the capital of the ancient Anarta Kingdom which finds a mention in the Hindu epic of Mahabharata. Other religious texts refer to Vadnagar as Chamatkarapura because a king was magically cured of leprosy in this town.
Vadnagar was always home to the Nagar Brahmins, an ancient Brahmin community that lived in and around Gujarat. Nagar Brahmins are devotees of Shiva and worship him in the form of Hatkeshwar Mahadev.
8 Best things to do in Vadnagar Gujarat
Pay your respects at the Hatkeshwar Mahadev Temple
Since Vadnagar is the village of Nagar Brahmins, it is imperative that you will find a Hatkeshwar Mahadev Temple here. Built in the 17th century, Vadnagar's Hatkeshwar Mahadev Temple is exquisitely carved with scenes from Ramayana and Mahabharata, Hindu deities, musicians, and dancing apsaras.
The Shiva Linga at this temple is believed to be self-generating or swayambhu. That's why this temple is much revered and forms an essential part of the Hindu temple circuit in Gujarat.
Explore the ruins of an ancient Buddhist Monastery
Vadnagar is a treasure trove of history. Apart from being continuously inhabited for more than 2500 years, this town had a thriving Buddhist monastery between 2nd and 7th centuries.
Chinese traveler, Hieun Tsang visited Vadnagar in the 7th century AD and wrote about the presence of 10 Buddhist monasteries here.
Recent archaeological excavations in Vadnagar show the presence of 2 votive stupas, an open courtyard, and 6-7 monastic cells around it. The plan is quite similar to the Buddhist monasteries of Ratnagiri and Lalitagiri in Odisha which were constructed around the same time.
The last time I enquired visitors were not allowed inside the monastery ruins. But you can always take a tour from outside and be reminded of Vadnagar's glorious past.
Get wowed by the Kirti Torans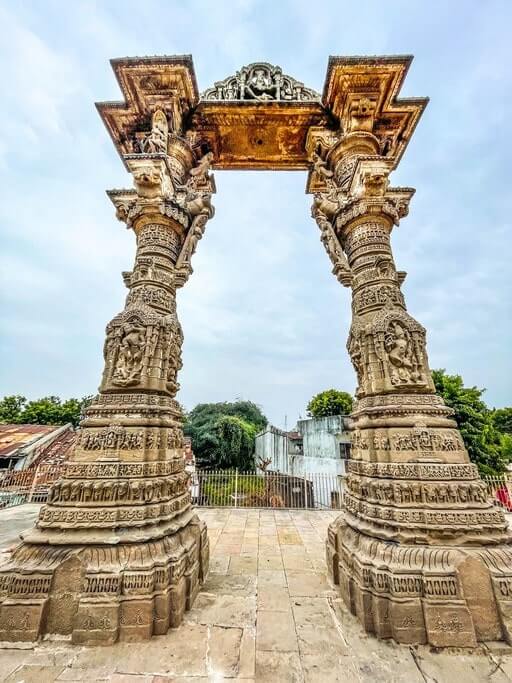 The most iconic monuments of Vadnagar are the two Kirti Torans located within the old town by the Sharmishtha Lake.
Built in the 12th century during the reign of Solanki rulers, these Kirti Torans or victory arches commemorate war wins. They are 40 feet in height, built in red and yellow sandstone, and extensively carved with battle and hunting scenes.
Two victory arches gloriously stand by each other. Apparently, they were both part of a huge temple complex in the olden times but none of that exists today. And no written evidence exists either.
Nonetheless, these arches make for a great photo-op in Vadnagar. Further, they stand as a stark reminder of the exotic Solanki or Maru-Gurjara style of architecture that was prevalent during the rule of the Solankis or the Chaulukyas in Gujarat.
If you love architecture, you will love browsing through our other posts on Maru-Gurjara architecture.
Learn all about Bhavai Folk Theater
Vadnagar in Gujarat presents travelers with an opportunity to learn about a unique art form: Bhavai.
Believed to have originated in the 14th century, Bhavai is a theater form dedicated to Mother Goddess, Amba. It is performed solely by male artists who dress up to represent various characters that usually convey a social message through their stories.
At the Vadngar Government Museum, you will find a section dedicated to Bhavai art apart from historical artefacts from different eras. It makes for a great pit stop if you are keen to learn more about the region's history and culture. The museum is open from 10:30 am – 5:30 pm every day except for public holidays and 2nd & 4th Saturdays.
You may also like: Yakshagana – An all male theater form from Coastal Karnataka
Walk through the colorful lanes of Old Vadnagar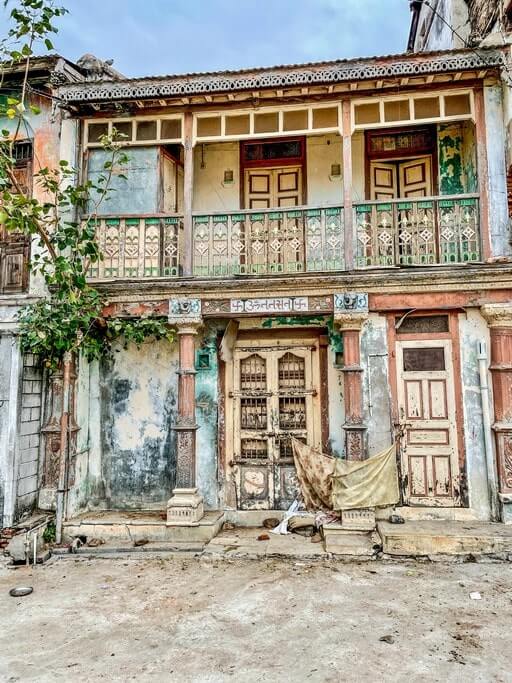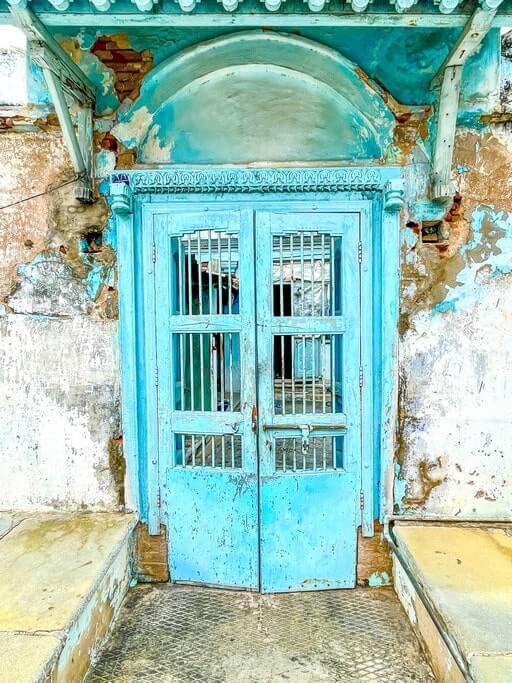 In order to get to the Kirti Torans, you will need to walk through the charming lanes of Old Vadnagar. I suggest you don't hurry through them. Rather, spend a few relaxing moments here and appreciate the beauty that surrounds you.
Old Vadnagar or the walled town is extremely picturesque. Here, you will find pretty houses and colorful doors. The havelis of Nagar Brahmins are especially striking. They stand in a time warp recounting tales of a bygone era.
In front of these quaint homes, stand the smiling residents of Vadnagar who are ready to offer you water and tea at the fall of a hat. They are happy to pose for pictures and if you know a bit of Gujarati, they will be glad to regale you with old stories.
Attend the Tana-Riri music festival
The legend of Tana-Riri goes a long way in Vadnagar. Tana and Riri were two sisters who lived in the 16th century. They were born to Sharmishtha who was the daughter of Narsinh Mehta, a notable poet-saint of Gujarat.
Those were the times of Akbar and Tansen. For some reason, Tansen had to sing Raag Deepak which was so hot and powerful that it resulted in burns on his entire body. Somebody equally talented had to sing Raag Malhar to cure Tansen of his burns. It was decided that Tana and Riri would sing Raag Malhar which they did and cured Tansen.
When Akbar heard of their prowess, he wanted them to sing for him. This, however, was unthinkable for the Nagar Brahmin sisters. They would never sing outside their village temple, let alone in the king's court. In order to avoid a war-like situation with the king, the sisters decided to commit suicide by jumping in a well. Thus, was immortalized the story of Tana-Riri.
Tana and Riri are so famous here that every year, Gujarat dedicates a music festival to the two sisters. It is called the Tana-Riri Music Festival.
Usually celebrated in the month of November, Tana-Riri Music Festival honors the singers and the singing talent of India. The festival is a musical extravaganza where singers from all over the country come and perform. There is a festive vibe in the air that also gives a deep insight into the musical genius of India.
Enjoy the cool vibes of Sharmishtha Lake
Sharmishtha Lake is a huge water body in Vadnagar that gives you ample opportunities to spend time on its banks. However, be aware not every section of the lake is clean enough. When I visited the eastern banks of the lake in December 2021, they were quite filthy.
The people of Vadnagar believe the lake to be of ancient origins. It was created by the waters of Kapila River flowing down from the Aravallis. The lake has huge potential and could become a thriving tourist attraction if developed.
Check out the famous Vadnagar railway station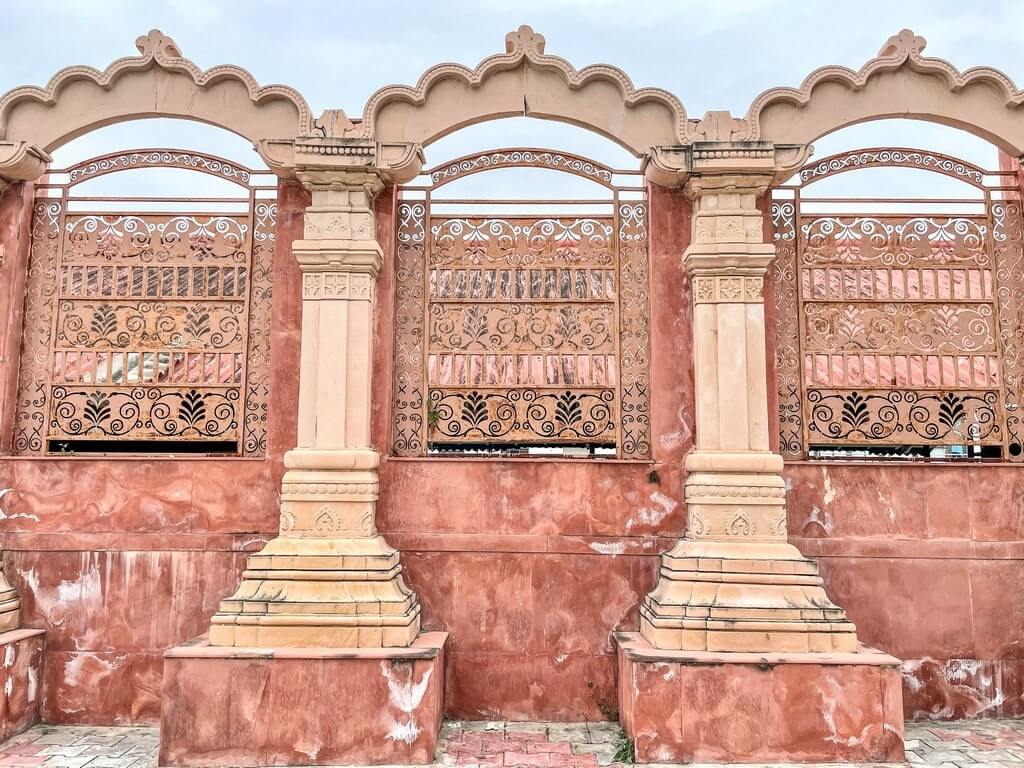 When you are in Vadnagar, you would not want to miss the Vadnagar Railway Station that shot to fame once Narendra Modi became the prime minister of India.
Shri Narendra Modi used to help his father sell tea at the railway station as a child. Even today, you can see the crumbling remains of that tea shop from where India got its 14th Prime Minister.
The station is attractive with toran arches for entry gates. There are carvings here that you can appreciate. The railway station is part of a government development scheme at the moment and is slated to become an epic tourist destination in the coming years apart from being one of the most important stations on the Mehsana-Taranga railway line.
Other interesting places to visit in Vadnagar
A few other great places to visit in Vadnagar include the Swaminarayan Temple, Kalikaa Maa Temple, Ambaji Temple, Paschim Mehta ni Vav, and Gauri Kund.
Interactive map of best places in Vadnagar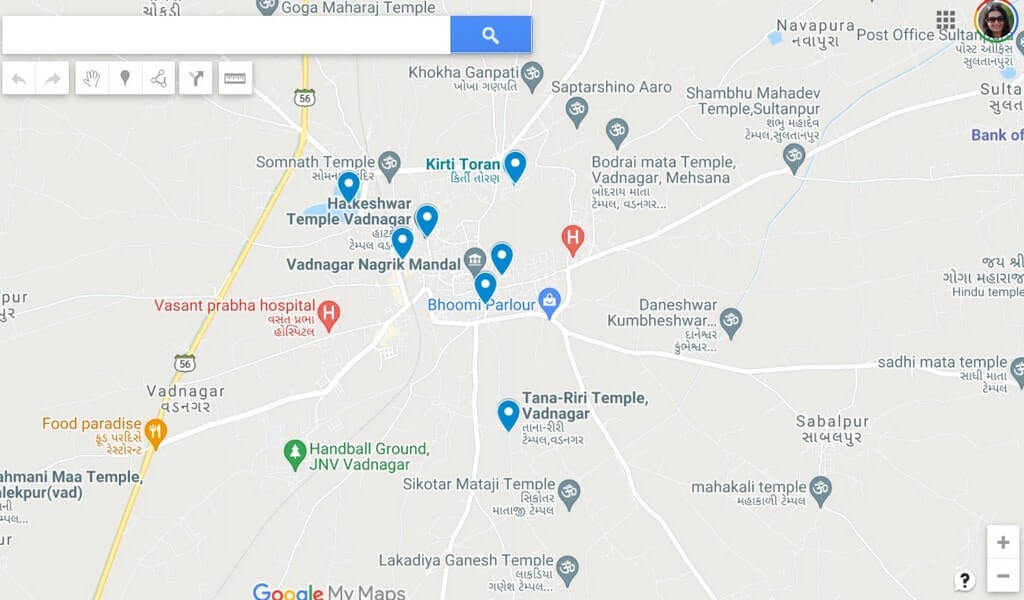 Best time to visit Vadnagar
The best time to visit Vadnagar is during the winter months of November – February. Temperatures are lower and the heat is bearable. That makes it easier for you to go around the town exploring things on your own.
How to get to Vadnagar, Gujarat?
Vadnagar is an ideal day trip destination from either Ahmedabad (2 hours away) or Gandhinagar (1.5 hours away). If you are staying in Mehsana (which makes for an ideal springboard for the Modhera Sun Temple and Rani ki Vav in Patan), then you can get to Vadnagar in just under an hour. 50 minutes to be precise.
The best way to get to Vadnagar from either of these places is by road. Hire a private taxi (Ola/Uber work best) for the day and use the car to commute between attractions in Vadnagar.
You can also take a bus from either Ahmedabad/Gandhinagar to Mehsana and then another bus from Mehsana to Vadnagar. Bus is a longer but more budget-friendly option. Click here to book your bus tickets on Red Bus.
Where to stay in Vadnagar, Gujarat?
There aren't any great places to stay in Vadnagar – only a couple of guest houses that you'll need to check in with once you arrive there. Further, Hatkeshwar Mahadev Temple also has a rest house where you can get a bed for cheap. Be sure to enquire with the priest during your temple visit.
A smarter idea is to stay either in Ahmedabad, Gandhinagar, or Mahesana and visit Vadnagar as a day trip from there. As discussed above, Vadnagar is only 50 minutes away from Mehsana, 1.5 hours from Gandhinagar, and 2 hours from Ahmedabad.
I stayed at Fortune Inn Haveli, a nice and cozy place in Gandhinagar before driving down to Vadnagar the next day. Ahmedabad has fancier options such as The House of MG and Fortune Landmark Hotel. If you are traveling on a budget, consider Holiday Inn Express.
If you would like a more relaxed day trip to Vadnagar and less travel, Mahesana or Mehsana is a good place to stay. Hotel Fun City and Capital O 38789 Hotel Stay Plus are two decent options.
Vadnagar travel FAQ
Who built Kirti Toran Vadnagar?
A king of the Solanki dynasty in Gujarat built Kirti Toran in Vadnagar. It is hard to point out exactly which king commissioned the building of Vadnagar's Kirti Torans. However, if we put the timelines together, these arches would have been built during the rule of Jayasimha Siddharaja, a prominent Solanki king.
Where is Kirti Toran situated?
Kirti Toran is situated within the old walled town of Vadnagar, Gujarat, right next to the Sharmishta Lake.
What is the old name of Vadnagar?
In the olden times, Vadnagar was known as Anandapura or Anartapur. Accordingly to some Hindu religious texts, it was also called Chamatkarpur at one point in time.
Which festival is celebrated in Vadnagar?
Tana-Riri Music Festival is celebrated in Vadnagar every year in November.
Which monument of Vadnagar district is famous?
The most famous monument of Vadnagar district is the pair of Kirti Torans or victory arches that were built in the 12th century. They are located within the walled town, very close to Sharmishtha Lake.
Loved our Vadnagar travel guide? Pin it for later!