Last Updated on November 9, 2022 by Soumya
Planning to attend Rann Utsav in Kutch this year? Keen to find more about Rann Utsav packages and deals but not sure where to begin? Don't worry, I was on a similar boat too.
That is, until I attended the famous Rann Mahotsav in 2021 and was able to demystify the entire Rann booking process.
So, here goes my complete guide on how to plan the best ever trip to Kutch's Rann Utsav.
You will find all you need to know about Rann Utsav packages, tents, and bhungas, and how to book them. I also talk about what is included in these packages and if you can attend the festival without opting for one.
Plus, you will also learn how to make the most of your time at Rann Utsav, which day trips to take, and how to plan for them. After all, there are so many wonderful places to visit in Kutch and so many wonderful Kutchi arts to discover! Why just restrict ourselves to our Rann resorts!!
Rann Utsav – A mélange of nature and culture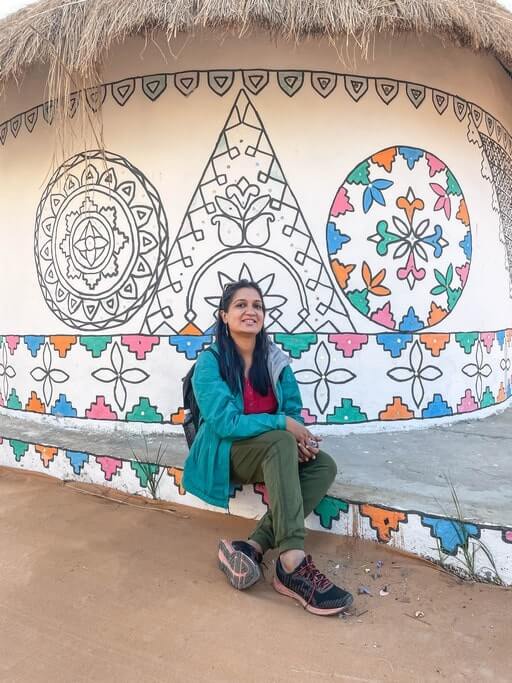 Rann means desert and utsav means festival. The term "Rann Utsav" literally translates to "festival of the desert".
In Gujarat, Rann Utsav is a celebration of nature, culture, and the people of Kutch.
The festival celebrates the unique landscape of Kutch – a salt desert that shines every winter and the marshy wetlands that are filled with exotic wildlife. It celebrates a wide array of art and craft that have evolved in Kutch over centuries, thanks to the diversity of its tribes and cultural transfusion across borders. It celebrates the poise and resilience of its people who have seen rainless years and devastating earthquakes, yet have always risen like the phoenix.
At the Rann festival, you will be greeted by vibrant colors of Kutch embroidery, stay in Lippan-covered bhungas, listen to Kutchi folk songs, and stare at miles of uninterrupted, shimmering white salt.
RANN UTSAV = NATURE + PEOPLE + CULTURE
Please note: This post may contain affiliate links which means I may earn a commission if you make a purchase by clicking a link on this post. This will be at no additional cost to you. Affiliate links help me keep this website up and running. Thanks for your support!
Evolution of Rann Utsav
Gujarat Tourism started this festival as a 3-day initiative in 2005. Now, it has bloomed into a 4-month affair, beginning in November every year and ending in February.
It is held in Dhordo, a small village that lies on the fringes of White Rann.
Earlier, the celebrations used to be more like a fest with locals setting up food and souvenir stalls in the market. Tourists used to come in and see the White Desert, eat local food, and buy local art.
Of late, two government-certified partners, The Tent City and White Rann Resort, have taken the celebrations a notch higher by creating huge gated resorts. These offer traditional accommodation with a bit of luxury, regular cultural programs, adventure activities, in-house craft bazaars, and curated Kutch itineraries. This adds to the overall festive mood in Dhordo.
Dates for Rann Utsav
The Rann Festival is usually held between the months of November – February. The dates for Kutch Rann Utsav 2021 are 1st November 2021 – 20 February 2022.
As per the official website of Gujarat Tourism, the dates remain the same for 2022-23 and 2023-24.
Rann Utsav packages
First, let's tackle the question of Rann Utsav packages. What are they and why do they exist?
In my opinion, Rann Utsav packages exist to give the guests a festive feel and to deal with transport issues in the desert.
Only Tent City and White Rann Resort offer Rann Utsav packages.
Access to more cultural activities
If you opt for a package, you get to stay inside a gated resort (Tent City or White Rann Resort) and experience a plethora of cultural and adventurous activities that happen inside. There is dance, music, games, food, shopping – everything at your disposal. In short, you get to stay right in the middle of a festival.
If you do not opt for a package, you cannot attend these celebrations.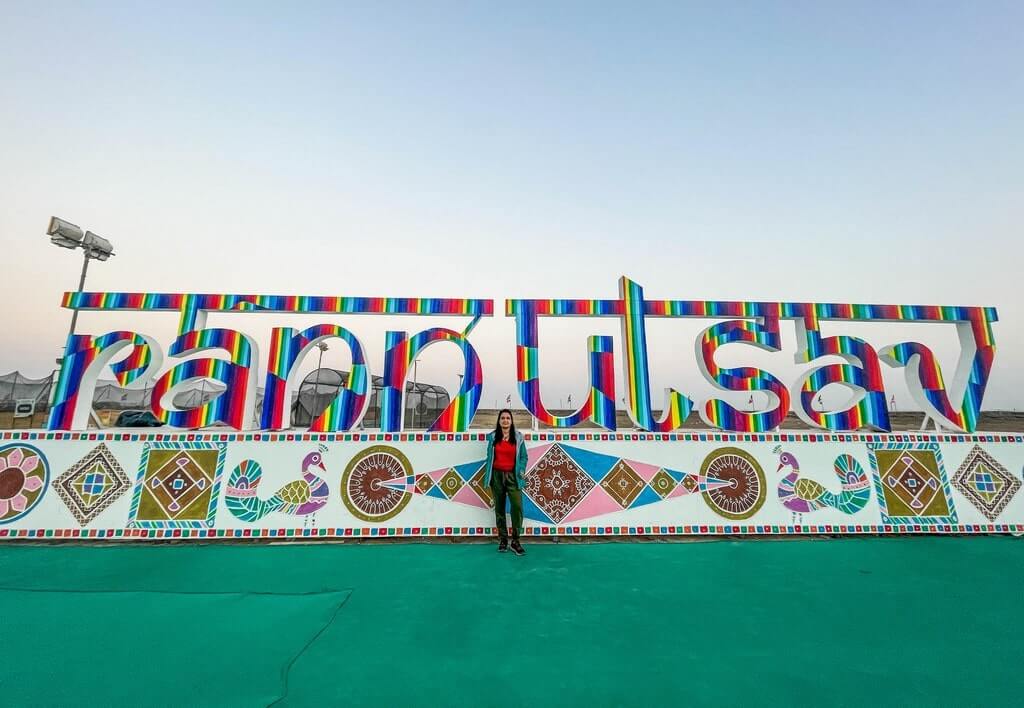 Easy travel
Packages make traveling in the desert super easy.
It is not easy to get around Rann of Kutch by public transport. Buses are few and far in between. Plus, it is not easy to get to the White Rann, Kalo Dungar, Gandhi nu Gam from Dhordo.
Rann Utsav packages usually include pick-up from Bhuj airport or railway station as well as day trips to these nearby destinations. Some of the most popular destinations included in Rann Utsav packages are the following.
Sunset/sunrise tour of White Rann.
Tour of Kala Dungar and Gandhi nu Gam.
Sightseeing tour of Bhuj that includes Bhujodi, Kutch Museum, and Shri Swaminarayan Temple.
Sightseeing tour of Mandvi that includes Vijay Vilas Palace, Shyamji Krishna Varma Memorial, and the beach.
Plus, there are several other destinations in Kutch that you can visit by paying extra. Have a look at our Kutch bucket list to get an idea of all the wonderful things that you can see here.
No Rann permit hassles
Third, you avoid the hassles of procuring your Rann permit (I talk more about it below) if you have a package. Your resort takes care of it.
Booking the best Rann Utsav package
Trying to book the best Rann Utsav package can be an overwhelming process especially because of the amount of information that is out there.
When I was doing my own research for the Rann Festival, I was pretty confused by the number of websites that turned up on the first page of Google. All of them looked and sounded similar for a first-timer like me. I am glad I was able to go on this media trip with Gujarat Tourism and Incredible India so that I could simplify the entire Rann Utsav booking process for you.
Do I need to book a Rann Utsav package?
No, you do not need to book a Rann Utsav package to be able to attend the festival.
You can stay at one of the many resorts/homestays in Dhordo or Bherandiala (this place is famous for its mawa dessert) and still experience the local festival by visiting the handicraft and food stalls set up in Dhordo village. Gateway to Rann Resort in Dhordo is also an amazing place to stay.
However, you will not be able to attend the cultural celebrations inside the gated resorts.
Plus, you will need to arrange your own transport if you wish to travel to these stalls from where you are staying or if you want to do some day trips in Rann of Kutch. For example, you will need a personal vehicle to go to White Rann, Kalo Dungar, Dholavira, or Bhuj. For some areas like the White Rann or Kalo Dungar, you will need a special Rann permit (get it online here) too. If you can hire a private taxi with a local driver, then you are good to go.
If not, then I would highly recommend booking a Rann Utsav package.
Benefits of booking a package deal for Rann Utsav
Booking a package takes out a lot of stress from the trip planning process. One you book a package, you just need to show up in Bhuj and the rest will be taken care of. Transport, permits, food, and stay are all included in the packages offered.
Also, with a package, you will be able to attend far more cultural activities, fests, and bazaars either at Tent City or White Rann Resort.
Getting a Rann package is definitely an easier and more convenient way to enjoy your Rann experience. However, it does take away some flexibility from your experience. You will need to travel on buses with other tourists at fixed times.
Available packages for Rann Utsav
Rann Utsav – Tent City (often referred to as Dhordo Tent City or just Tent City) and White Rann Resort are the only two resorts that provide guests with the option of booking Rann Utsav packages. Both resorts are certified partners of the Gujarat government and have similar, if not identical, packages.
Find all packages of Tent City listed on their official website here.
Find all packages of White Rann Resort listed on their official website here.
All other websites that you see on the first page of Google offer packages from either of the two resorts mentioned above.
Here are some broad differences that I found between the packages offered by White Rann Resort and Tent City.
Tent City vs White Rann Resort
Tent City offers 3 kinds of packages (1N/2D, 2N/3D, and 3N/4D) whereas White Rann Resort offers 2 kinds of packages(1N/2D and 2N/3D).
White Rann Resort offers you both tent and bhunga accommodation whereas Tent City offers you only tent accommodation.
Most other stuff that is included in their packages (food, adventure rides, cultural activities, craft village) is kind of similar. By the way, Tent City has a spa and a gym. I am not sure if White Rann Resort has one.
Prices of Rann Utsav packages
Prices vary by the category of tents/bhunga and by date. If you have a look at the packages listed above, you will notice that it is cheaper in November and February and during weekdays. Weekends, Christmas, and Full Moon nights, and December – January are more expensive.
Rann Utsav online booking
You can book a Rann Utsav package online on the official websites of either Tent City or White Rann Resort. If you are more comfortable with an aggregator website such as Booking, try the following links.
Where to stay at Kutch Rann Utsav?
If you are opting for a packaged deal, then Rann Utsav Tent City and White Rann Resort are great places to stay. Tariff at both places is on the higher side but that includes a lot of complimentary activities such as cultural events, adventure activities, and day trips to nearby destinations.
If you do not want to take up a Rann Utsav package but are still looking to stay in a luxurious bhunga, try Gateway to Rann Resort. This place is more affordable but obviously, you need to plan your own day trips and Rann tours.
If you need a budget accommodation, try the smaller hotels and homestays of Dhordo and Bherandiala.
Personal experience of staying at Rann Utsav – Tent City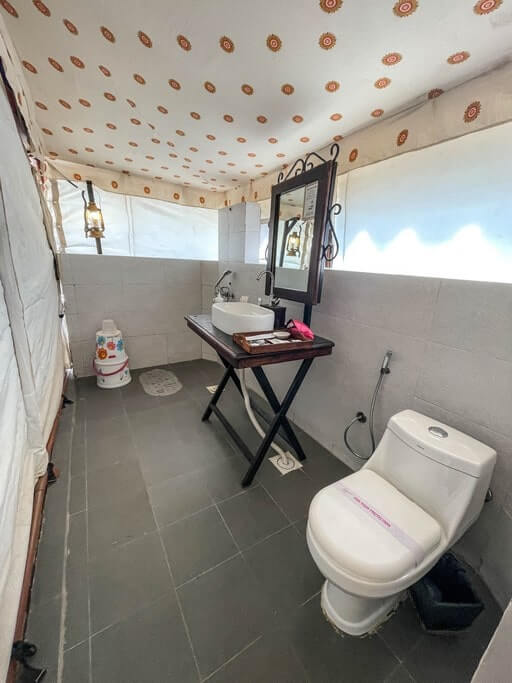 I stayed at The Tent City for 2 nights and can speak of my experience there. I stayed in a premium AC tent that was equipped with a king-sized bed, living area with a sofa set, dressing area, and a bathroom. There was hot water round the clock and an AC to combat day time heat. My tent also had a seating area outside where I could just plop myself and watch the world go by.
The tents in Tent City are divided into several clusters. Each cluster has 35-40 tents, an entrance gate, and a recreational area in the middle. There are no locks on the tent but they are safe. Security guards are present at the entrance 24*7.
I was in Cluster C which was closest to the dining area as well as the shopping arcade within the complex. I could walk to every other place. However, if you are in one of the faraway clusters, then you can use golf carts to ferry yourself.
Food served at Tent City is vegetarian. Both the usual vegetarian and Jain options are available. Meals typically contained one soup, a couple of starters, green salad, main course which had rice, chapati, and 4-5 vegetarian curries, buttermilk, and a couple of desserts.
The resort had arranged for us to travel to White Rann for sunset, Kalo Dungar, and Gandhi nu Gam with a certified tour guide. Those trips were absolutely amazing.
How to get to Rann Utsav in Kutch?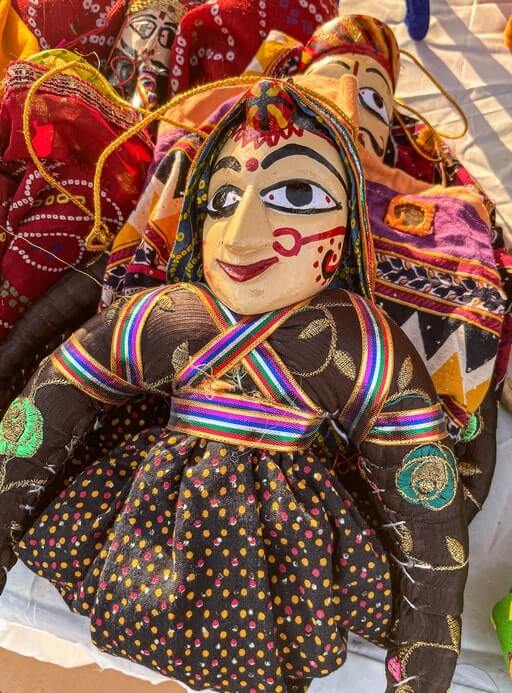 The easiest way to get to Rann Utsav is to first get to Bhuj, the headquarters of Kutch district. You can either fly to Bhuj (albeit only from Mumbai) or take a train/bus from Ahmedabad. Check out the details in my Kutch travel guide.
Once you arrive in Bhuj, your resort will pick you up from the airport or the station if you have booked a packaged deal.
If not, you will need to hire a private cab to take you around. Connect with Amazing Kutch Tourism for the same.
Other amazing things to do in Kutch
When visiting Kutch for the Rann Utsav, you need not just confine to the festival grounds. There are so many other wonderful things to do in Kutch that you will be spoiled for choices.
Most of these destinations like the hills of Kalo Dungar, the craft village of Nirona, and the historical monuments of Bhuj are just a day trip away.
Luxury resorts like the Tent City and White Rann Resort usually include some of these Kutch destinations in their Rann Utsav packages. For others, you will need to pay extra and/or hire a cab on your own.
Practical information for planning your Rann Utsav trip
Mobile networks are usually patchy. Even though I had heard that Jio and Airtel worked well, I was surprised to find that both of them were down in Rann of Kutch. Surprisingly, Vodafone worked fine for all the days that I was there. Our resort was supposed to have Wi-Fi but it was down for the two days that I was there.
If you are planning for a photoshoot in White Rann, carry a set of traditional Kutchi clothes for the authentic look. If you wish, you can also buy local clothes and jewelry in Dhordo/Kalo Dungar/Gandhi nu Gam. Entire ensembles are available for rent in Bhuj as well.
It is hard to find non-vegetarian food at the Rann Utsav. I would recommend sticking to local vegetarian fare.
If you are craving for some Indian Chinese, pani puri, or potato twisties, try Urban Kutch – a local restaurant with a modern twist.
Rann Utsav FAQ
What happens in Rann Utsav?
At Rann Utsav, you will experience snippets of Kutchi culture through dance, music, art, and crafts. You will also get to see the White Rann at its prettiest because this is when all the water will have evaporated leaving behind a shimmering salt desert.
Why is Rann Utsav celebrated?
Rann Utsav is celebrated to honor the people of Kutch, their lives and their culture. It also celebrates the unique natural landscape of Kutch and how it has shaped the lives of its people.
Is Rann Utsav worth visiting?
Yes, Rann Utsav is absolutely worth visiting because it shows you the magic of nature, the resilience of Kutchi people, and the amalgamation of culture over centuries.
What is the fees of Rann Utsav?
There is no fee for the Rann Utsav. Usually, everything including food, stay, activities, and some day trips are covered under Rann Utsav packages. If you need to shop or travel to other locations, you will need to pay separately.
How do I book a tent in Rann Utsav?
You can book a tent in Rann Utsav by checking out our package booking section. Both Tent City and White Rann Resort offer tents that are equipped with a bedroom, a living area, and a bathroom that always has hot water.
Loved our Rann Utsav travel guide? Pin it for later!