Last Updated on May 5, 2021 by Soumya
Are you planning a trip to coastal Karnataka and have added Malpe beach Udupi to your itinerary? I am sure you are looking for the best things to do in Malpe beach including the best places to stay. This post of mine is going to help you with that.
On my recent tour of Karnataka's coast, Malpe Beach was one of my favorite destinations. That was because Malpe beach in Udupi is not just a place to experience the most thrilling adventure sports but also the perfect place to take a deep dive into Mangalorean cuisine and Coastal Karnataka culture. I have amazing memories from Malpe and would love for you to have them too.
In this complete travel guide of Malpe beach, you will learn.
All about the best things to do in Malpe beach and when to do them.
How to plan your day with help from local stakeholders and experience local culture?
Best resorts and hotels in and around Malpe beach and how to have a holiday that fits your budget.
Let's get started with some of the most interesting Malpe beach activities and then drill down into local experiences.
Best things to do in Malpe beach Udupi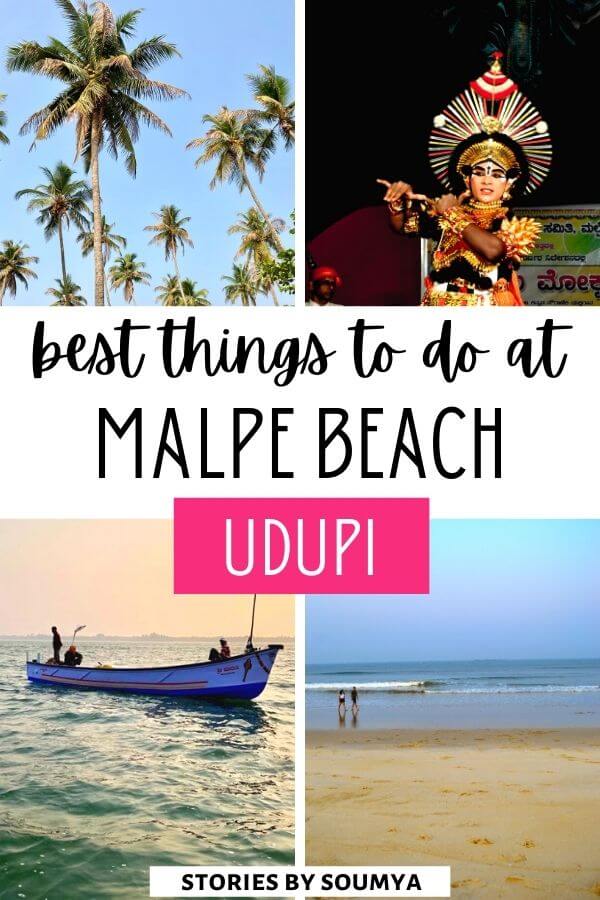 Please note: This post may contain affiliate links which means I may earn a commission if you make a purchase by clicking a link on this post. This will be at no additional cost to you. Affiliate links help me keep this website up and running. Thanks for your support!
Visit St. Mary's Island
One of the best things to do at Malpe beach is to take a short, 2-hour trip to the nearby St. Mary's Islands. A set of 4 small islands, this Malpe beach island is unique because of its exclusive rock formations that cannot be seen anywhere else but the Giant Causeway in Northern Ireland and some places in Iceland.
These rocks are sheer vertical cliffs of all sizes and heights with hexagonal cross-sections. With soft white sands, tall swaying palms, and azure blue waters, these rocks present us with one of the most surreal sights in India. It is as if an artist was at work here, carving nature into its full glory.
Check out our ultimate travel guide to St. Mary's Island.
Engage in thrilling water sports
If you are the adventurous kind, then you can easily spend a day or two on Malpe just enjoying water sports. I tried winch parasailing for the first time in my life and it was amazing. They took us to the middle of the sea on a motor-boat and all I had to do was get into the harness and fly in the air. Click here to book your parasailing ride at Malpe beach.
Some of the other water sports available at Malpe beach are jet-ski, beach parasailing, banana boat rides, zorbing, stand-up paddling, kayaking, speed boating and surfing.
Go for a sea walk
One of the newest attractions of Malpe beach is the very picturesque Malpe Seawalk. Apart from giving you a stunning view of the beach and the sea, it is also the perfect place to get some pictures for your gram.
Malpe Seawalk is located by the Malpe harbour which you can get to by following the Malpe-Udupi road. Or simply walk from the Malpe beach. You can watch fishermen going out for their catch, enjoy a sunset by the sea, or just soak in all the beauty around you.
Lounge on the beach
Of course, this goes without saying, isn't it? When you are at a beach as pretty as Malpe, then you cannot help but spend some time just lounging around and appreciating the beauty of it. There are benches under palm trees where you can just sit down for a good chat or have a small picnic.
Explore the amphitheater
This is right next to the Malpe Seawalk and is a much newer addition. A part of the shoreline has now been converted into a huge amphitheater that can seat 250 people at a time, attractive sculptures, and a huge garden.
This is not just another way of wooing more tourists to the beach, it actually provides great insights into the local culture. For example, the sculptures represent local life – of fishermen going out into the sea. Also, I watched a Yakshagana performance at the amphitheater right here.
Watch a Yakshagana performance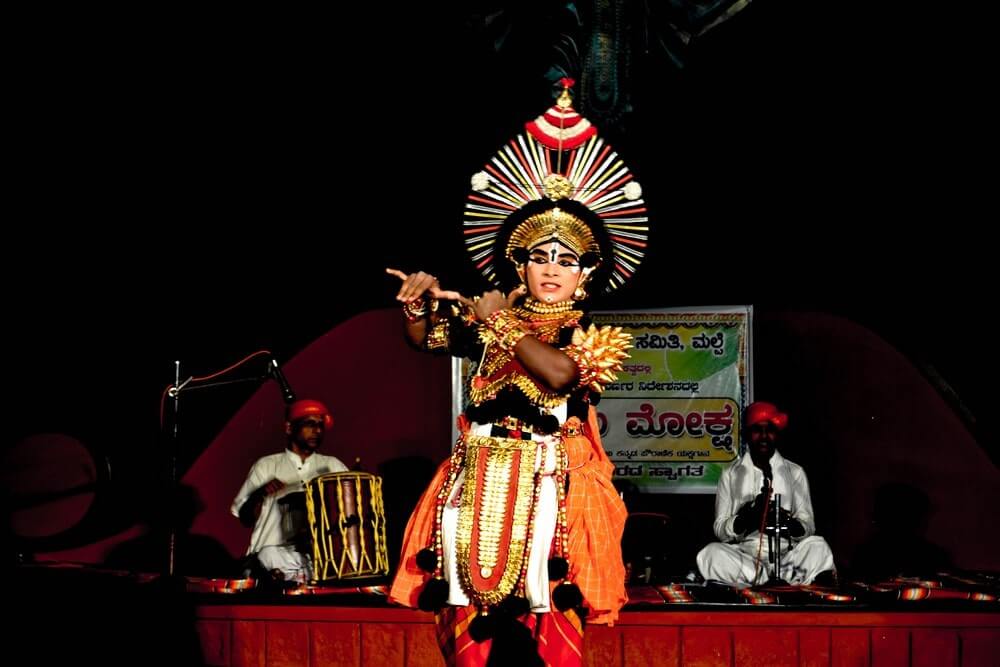 Honestly, watching a Yakshagana performance is one of the best things to do at Malpe beach. And like I said, the open air amphitheater on the beach is the perfect place to watch it. You will have to plan a little because performances are not held regularly here. Connect with Sudesh Shetty [[email protected]], the head of Malpe Development Committee, in case you are interested in one. Or check out the Facebook page of Malpe Beach which gets regularly updated with events and happenings.
Yakshagana is a traditional dance-cum-theater form of coastal Karnataka. It is usually based on a story from the Hindu epics, Ramayana and Mahabharata, and involves amazing dancing prowess, elaborate costumes and head-dresses, and intricate facial make-up. If you are a culture vulture like me, then you are going to love it.
Read my simple-to-understand, 5-minute read on Yakshagana dance before you plan to include that in your itinerary.
Visit Malpe port and fishing harbor
Malpe is an important trading port and fishing harbor on the western coast of India. For centuries, Malpe port was the connecting point between Tulu Nadu and the western world. It was also inhabited by the Mogaveeras, a fishing community that did brisk business on the coast, for a long time.
Today you can visit the fishing harbor and see a number of fishing boats lined up. You will also see fisherwomen selling fresh catch of the day. Crabs, shrimps, and a variety of salt water fish abound.
Taste the delicious coastal cuisine
Good food and coastal Karnataka go hand-in-hand. An abundance of sea food, age old recipes, exclusive spices make the coastal Karnataka cuisine lip-smackingly delicious.
Try an ultimate coastal spread on Malpe beach at Fisherman's Bay Beach Cafe with some chicken pulimunchi, chicken sukka, grilled fish, kori roti, and of course some prawn ghee roast. The food here is heavenly. And if you are a vegetarian, there are plenty of options for you too.
Related: 17 Best dishes of Mangalorean cuisine
Watch a beautiful sunset
And of course, you have to watch a stunning sunset when you are in Malpe. All the beaches of Karnataka, by virtue of being on the west coast of India, present you with beautiful sunset viewing opportunities. Check out the sunset times here and don't miss one when you are in Udupi.
Best hotels near Malpe beach
If you wish to spend a few days at Malpe in order to enjoy the sun, sand, and the sea, then here is a list of great hotels near Malpe beach for all budget types.
Paradise Isle Beach Resort (Booking | Tripadvisor): Located right on the silver sands of Malpe beach, Paradise Isle Beach Resort is exemplary of luxury and comfort. Stunning sea view rooms, an ocean-view restaurant with seafood specialties, swimming pool and spa make your holiday so much memorable.
HisGrace Beach Cottages & Tents: Located only 700m from the Malpe beach, this property has some really good customer reviews. It is known for its fabulous location, great hospitality, and amazing food.
Hometown Galleria, Manipal (Booking | Tripadvisor): If you are not really looking for a beachfront property and wish to stay in the city, try Hometown Galleria in Manipal. Clean, comfortable rooms, a restaurant, and a fitness center are the key highlights of this property.
Or book the best hotel on Booking or Tripadvisor.
Best time to visit Malpe beach Udupi
The best time to visit Malpe beach is during the winter (Nov – Feb) and summer (Mar – May) months when all the water activities are in full swing and skies are clear. Personally, I am a little biased towards winter because temperatures are mild and humidity is low. So, if you are looking for a good winter vacation destination in India, then Malpe beach is a good idea.
Monsoons are a bad time to visit Malpe beach. St. Mary's Island and several water activities are closed because of rising water levels and rough seas. Plus, it is difficult to enjoy your time on the beach in all that rain.
How to get to Malpe beach near Udupi?
Malpe beach is located at a distance of 6km (3.7 miles) from Udupi. It is easy to get here by car, bus, or tuk-tuk. If you are coming from Mangalore or Bangalore, you can take the train to Udupi Railway Station. And then take a cab or tuk-tuk from there to get to Malpe beach.
Several buses also run from Mangalore to Udupi. Book your bus ride on KSRTC website here. If you are looking for a cab to take you around Malpe or the whole of Karnataka's coast, I highly recommend R. R. Tours & Travels [Contact number: +91 9845331926].
Malpe beach FAQ
Is Malpe beach safe?
Malpe beach is a safe beach on the Karnataka coast. The waters are not harsh and the surface is sandy and pebbly not rocky. You can easily walk in the waters even if you do not know how to swim. But make sure you stay close to the shore.
Is Malpe beach open?
Yes, Malpe beach is open during summer and winter months.
How far is Malpe beach from Udupi?
Malpe beach is a little under 6km (3.7 miles) from Udupi. You can get to Malpe from Udupi by car, taxi, or tuk-tuk. The ride takes only 15 minutes. You can also take a bus from the Udupi bus station.
How do I get from Malpe beach to St. Mary's Island?
You can take a ferry from Malpe beach to St. Mary's Island. The ferry service runs between 9 am – 5pm every day except during monsoons. Check out our guide to St. Mary's Island for details.
Is St. Mary's Island open now?
Yes, St. Mary's Island is open during winter and summer. Every year, the island is closed between May 15 – September 30 on account of monsoons.
Malpe Beach Travel Essentials
Udupi is the best place to stay when traveling to Malpe beach. Find the best hotels in Udupi.
Check out Tripadvisor Reviews here for Udupi.
If you are looking for specially curated tours for Malpe beach, please feel free to connect with Poonam Shetty from Dream Holidays, Manipal [+91 96865 74959] and/or Roshan Pinto from R.R.Tours & Travels [+91 98453 31926]. I highly recommend both of them for their local insights and ability to provide the best travel experiences.
Before planning your trip, check out our ultimate list of the best places to visit in Coastal Karnataka and find out what to eat in Coastal Karnataka.
The coast is sunny and hot throughout the year. Do not forget to pack your sunscreen and hat.
Be sure to carry your swimming costumes for some wonderful time at the beach.
Loved our guide for Malpe beach in Udupi? Pin it for later!