Last Updated on March 2, 2022 by Soumya
Lothal, an ancient Harappan city, beckoned to me from the browned pages of an old history book. A few images of life from 5000 years ago flashed by right in front of my eyes. The lingering hope of seeing Mohenjo-Daro and Harappa continued to ebb. But my resolution to explore the Indian side of the Indus Valley Civilization grew stronger. I was super excited when we decided on a spontaneous trip to Ahmedabad. A day trip to Lothal from Ahmedabad seemed like a must-do on a 2-day itinerary. Not very far away, Dholavira continued to hover around to be seen and experienced another day.
Trivia: Both Lothal and Mohenjo-daro mean "Mound of the Dead" in Gujarati and Sindhi respectively.
About Lothal
Lothal is located at a distance of 80 km from Ahmedabad in the western state of Gujarat in India. That is why it makes for such a great day trip. Archaeologists discovered the ruins of Lothal in 1954 and it has been a popular historical destination ever since.
Back in 2400 BC, Lothal was an important port city of the Harappan civilization. Lothal features a tidal dockyard, a boundary wall, well-planned settlements with neatly-laid roads, and an efficient sewage system. A number of Harappan weights, seals, and painted pottery were also found here. These findings, inextricably, linked Lothal to other planned cities of the Harappan civilization, namely Mohenjo-Daro and Harappa.
"Harappan pottery is distinctive, with designs in black, of plants, birds and abstract forms, frequently painted on a red surface. Pottery is a clue to locating Harappan sites." – Romila Thapar, Indian Historian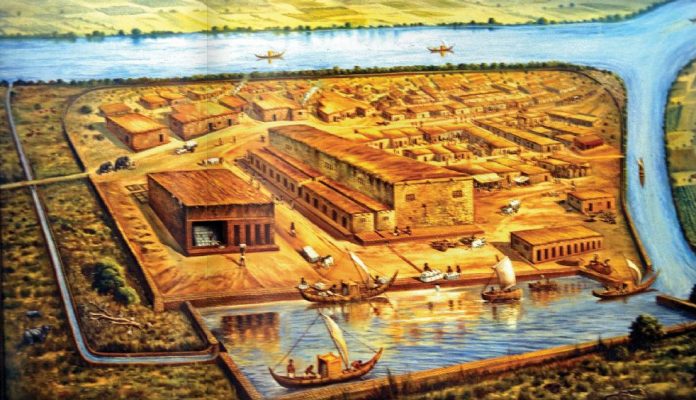 What to see in a day in Lothal
Lothal is a true paradise for history-lovers. If you are not a history person, a day in Lothal might seem a chore. However, if you love ruins, a day trip to Lothal from Ahmedabad will enchant you. It will take you back to life 5000 years ago where there's a lot to see and imagine.
Do not forget to check out our article on other interesting day trips from Ahmedabad.
The Oldest Dockyard in the World
Lothal was a prominent port city of the Harappan civilization and possessed a massive dockyard. The massive dock is located on the eastern edge of the archaeological site and was equipped to berth and service ships. It is the first thing you see when you enter the site. Kiln-burnt bricks were used to build the walls of the dock. The dock is believed to have been constructed close to the Sabarmati river which has since changed course.
Trivia: Lothal's dockyard is the earliest known dockyard in the world.
The Upper Town of Lothal
Lothal was divided into two sections like any other contemporary Harappan city – the Upper Town or the Acropolis and the Lower Town. The Upper Town is located on the south-eastern corner of Lothal and 4 meters above the Lower Town. Key officials and other important people lived in the upper part. It features a large warehouse, wide streets, drains and bathing platforms. It also includes a well for potable water.
The Lower Town of Lothal
The lower town housed the common man. It consisted of both commercial and residential spaces. The commercial area had bead-making factories, shops, and merchant dwellings. Merchant dwellings could be identified by the presence of kilns, seals, and other ancient artifacts. The residential area consisted of individual houses and was equipped with an effective drainage system.
Trivia: The Harappan civilization is known in the world for its scientifically-constructed underground drainage system – a unique city-planning feature from 5000 years ago.
The Bead-making Furnace
In the Lower Town, you can also see a bead-making furnace enclosed in a steel mesh. Lothal was known far and wide for its bead-making industry. Harappans invented a unique bead-making technique which made their beads popular across the world.
Archaeologists have found beads from Lothal in lands as far as Mesopotamia and Egypt, another proof that Lothal was a thriving trade center. So, if you are visiting Lothal from Ahmedabad, you should not miss seeing the bead-making furnace.
The Archaeological Museum
The Archaeological Museum in Lothal was opened in 1976. More than 5000 artifacts were excavated at the site. Almost a thousand are on display at the museum in Lothal. You can see some beautiful Harappan pottery, beads, seals, terracotta ornaments, copper and bronze objects here. You can also see photographs and plans of the city of Dholavira, another ancient Harappan site in Gujarat.
The museum is open between 10 am – 5 pm and provides a much-needed respite from the scorching heat outside. It is closed on Fridays. You need to pay an entry fee of Rs. 5 for the museum. Entry into the archaeological site is free. You will also need a photography permit if you wish to take pictures inside the museum. The video here takes you on a virtual tour of the museum and gives you an idea of what you can expect to see.
Traveling to Lothal from Ahmedabad
How to Get Here
Ahmedabad is the closest airport. Once you get to Ahmedabad, you can either opt for a private taxi or a combine a bit of train and bus. A private taxi (Ola and Uber are convenient options) will cost you around Rs. 3000 ($45) for the 1.5-hour trip and back. Alternately, you can take a train to Bhurkhi on the Ahmedabad-Bhavnagar railway line and then take a local bus from there.
Other Travel Tips
Winter is the best time to visit Lothal.
Carry a hat, a sunscreen, and sunglasses. It can get really sunny especially in the afternoons even during winters.
Carry lots of water and other fluids. Even a 30-minute walk across the archaeological site will drain you.
There are no guides available and there is no proper labeling at the site. Read up a bit and get an idea of prominent monuments/directions before you get here. The artist's impression presented above can be quite helpful.
There are a couple of Indian toilets behind the museum available for tourists to use. However, they may not be the cleanest ones and the availability of water might be an issue. So make sure you carry some extra bottles of water.
Have you been to Lothal? Do you want to go there? Drop me a line below and let's get the conversation going.
Read all about my travels in Gujarat here.
Like It? Pin It!